Chicken Pineapple Pizza gives a fun new twist to traditional Hawaiian pizza by using BBQ sauce, adding chicken and pineapple, and piling it high with plenty of cheese! Of course, you can make homemade pizza crust, but we really like using a flatbread for this pizza recipe!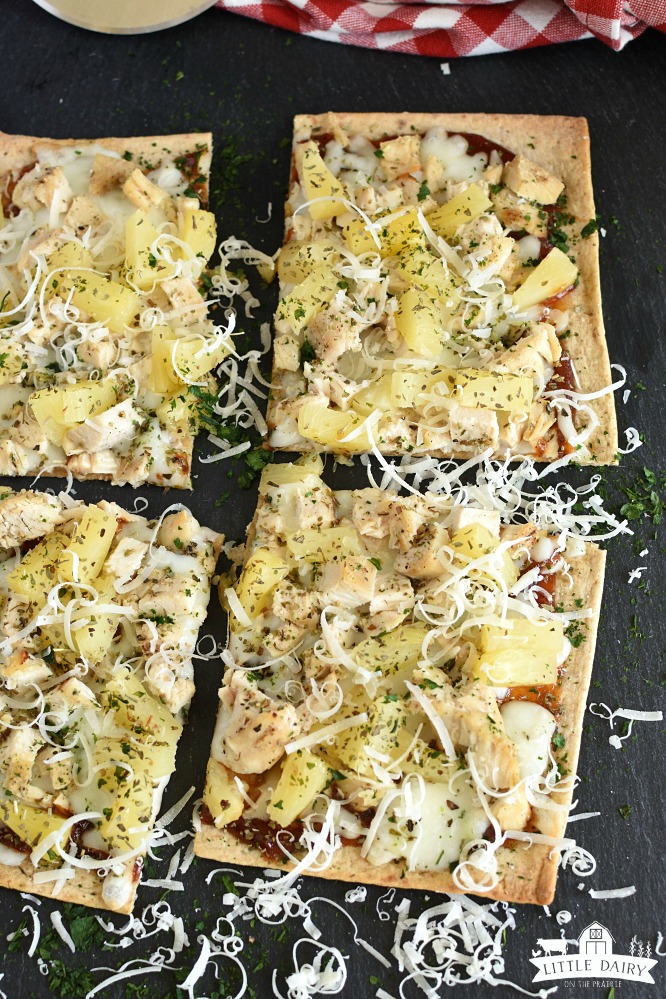 This post was updated in 2020 to add a new text and nutritional information. The recipe stayed the same!
Remember when I shared The Best 3 Ingredient Grilled Chicken Recipe with you? In that post, I suggest grilling up extra chicken to have on hand for creating quick and easy meals later on in the week.
I've always been a huge fan of cooking extra meat and then repurposing it into new dinner ideas for the next couple of days. It is such a time saver and I'll take all of those I can get!
Grilling chicken ahead of time and having it ready makes throwing lunch together a breeze. It's perfect for throwing on a pizza crust and turning into Hawaiian BBQ Chicken Pizza.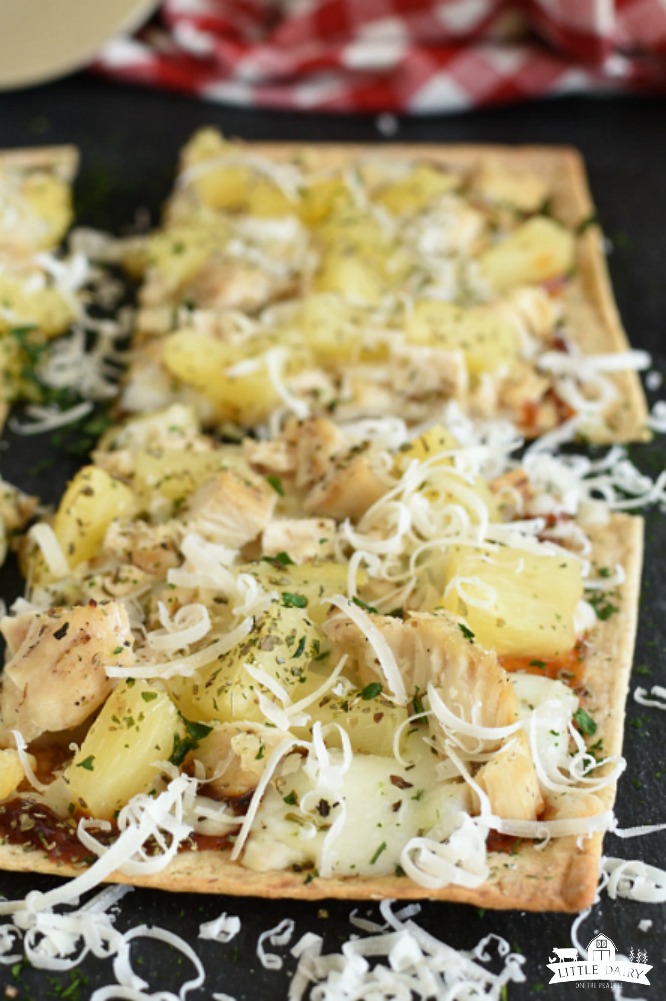 Hawaiian BBQ Chicken Pizza Ingredients
The ingredients you'll need to make this recipe are simple! I'm going to give you a run down, and some options for substituting if you need to!
Pizza Crust – We used Flatbread because it's quick and easy. Scroll down to see other options.
Pizza Sauce – BBQ sauce balances out all the flavors perfectly. I love keeping my homemade barbecue sauce in the fridge because it's my kid's favorite condiment.
Chicken – Grilled chicken is my favorite, but you can also use rotisserie chicken or even the precooked chicken from the freezer section of the grocery store.
Pineapple – You can use either canned or fresh. Use tidbits or chunks. Crushed pineapple will make your pizza soggy.
Cheese – Mozzarella is best! California Kitchen makes this pizza using Gouda. I like adding a little grated Parmesan to the top!
Optional Toppings – Purple onions, bacon, ham, and green peppers would all be fantastic on this pie!
How to make homemade pizza
This pizza is so easy to make! I'll walk you through it step by step!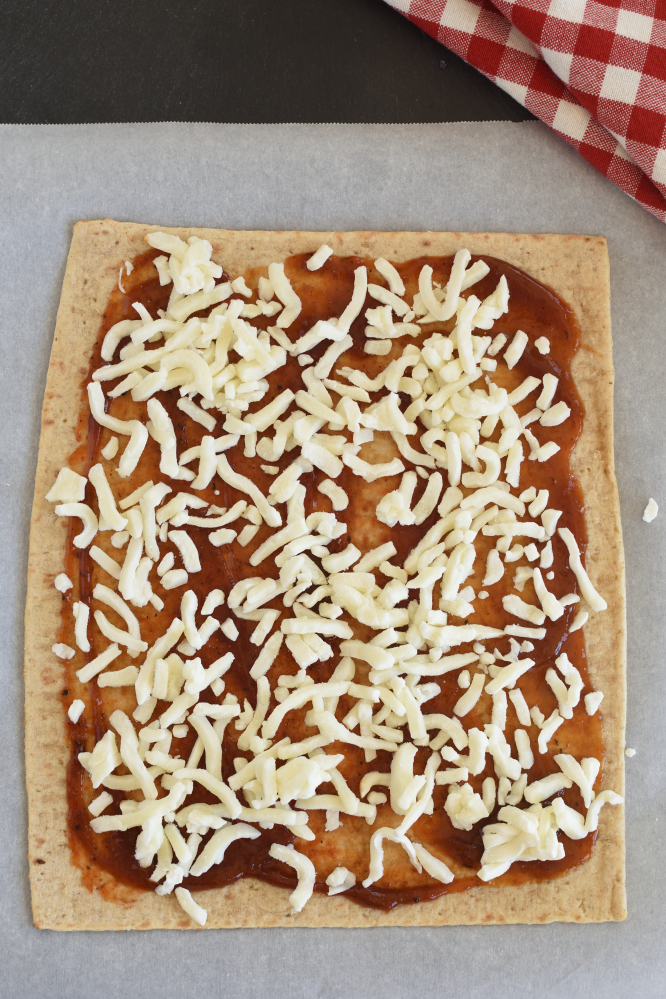 STEP 1: Spread BBQ sauce over pizza dough.
STEP 2: Sprinkle with grated mozzarella cheese.
Check out my guide to storing cheese!
STEP 3: Sprinkle chicken over cheese.
STEP 4: Sprinkle pineapple over pizza.
(Optional STEP 5: Sprinkle on more cheese. More cheese is always better!
STEP 6: Bake pizza. If you're using a flatbread crust it will take 10-15 minutes at 400 degrees.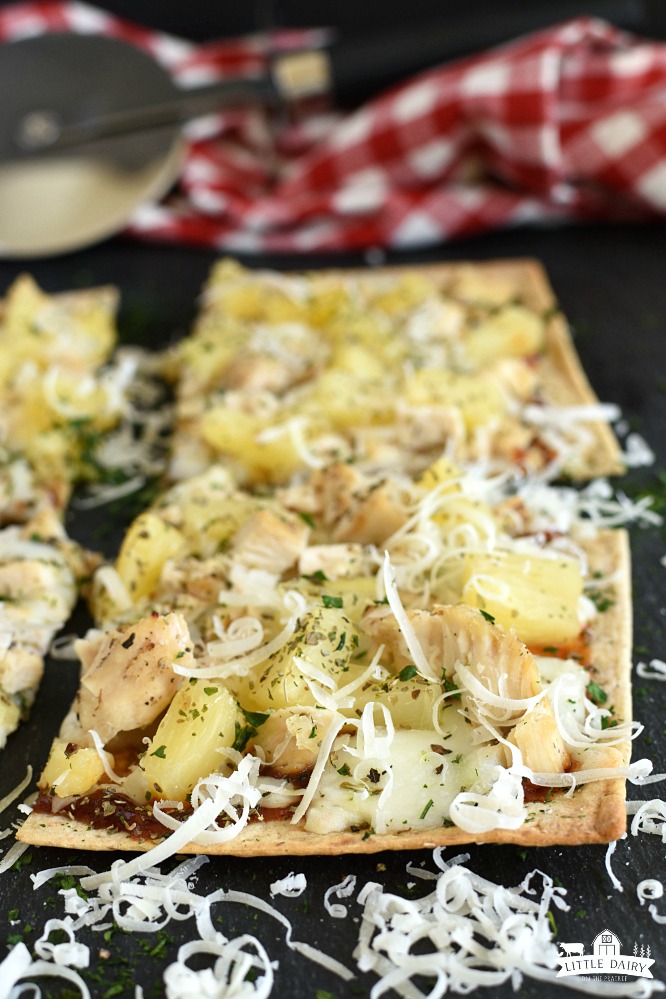 Easy Pizza Crust Ideas
When you're short on time you might find yourself wondering, "What can I use instead of pizza crust"?
You know I don't live right by Papa Johns so when I want pizza I have to make it from scratch! Somedays I just don't want to mess with making a homemade crust. Here are ideas of what you can use for a pizza base.
Flatbread – That's what I used for this recipe. It freezes well too! So it's easy to keep on hand and it thaws pretty quickly since it's thin.
French Bread – Cut the loaf in half longways and use the insides to layer your pizza toppings on. Try Whole Wheat French Bread.
Flour Tortilla – Set it on a baking sheet, spray it with cooking spray. Bake for about 5 minutes at 350 degrees. Then add toppings and bake until toppings are heated through and cheese is melted.
English Muffin – Split the muffin in half use it as the crust.
Bagels – Split them in half and layer toppings on.
Potato Skins – This is a great gluten-free option. Bake potatoes, then remove flesh from the insides. Brush outsides with olive oil, add toppings to the insides and bake until cheese is melted and skins are crispy.
Pita Bread – Add toppings and bake.
Frozen Bread Dough – Rhodes bread dough is my fave!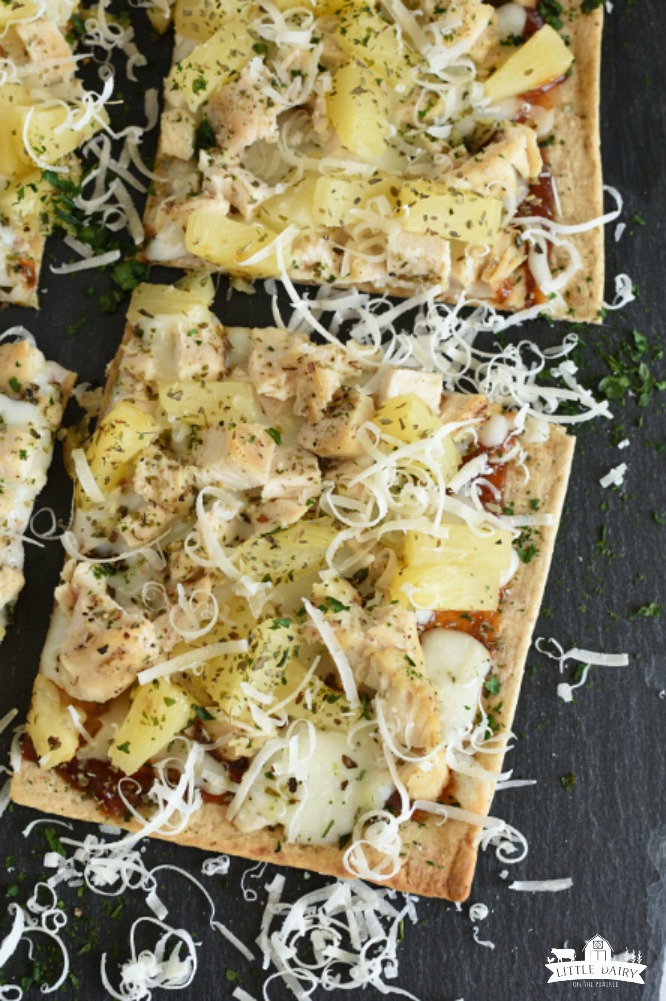 Other Homemade Pizza Recipes
We love having pizza night around here! And remember that always means were making pizza because Pizza Hut and Domino's sure don't deliver out here on the farm!
Here are a few fun pizza topping ideas for homemade pizza we've come up with!
Grab my Pineapple Chicken Pizza Recipe!
If you love Hawaiian pizza this recipe is going to be a quick winner at your house! There's just something about BBQ sauce, chicken, and pineapple on pizza! I think you're going to love how easy it is to make flatbread chicken pizza too!
Hawaiian BBQ Chicken Pizza
Hawaiian BBQ Chicken Pizza is a quick and easy meal that thw whole family will go crazy for! It has barbecue sauce, sweet pineapple, grilled chicken, and plenty of cheese! I used a flatbread crust because it's so fast!
Ingredients
1

flatbread

¼

cup

barbecue sauce

1

cup

mozzarella cheese

1

cup

grilled chicken

diced or sliced

½

cup

pineapple tidbits

drained

1/4

tsp

Italian seasoning,

or to taste

1/4

cup

Parmesan cheese

grated
Optional Pizza Toppings
2

slices

Bacon

Cooked and crumbled

1/4

cup

ham

cooked and diced

1/4

cup

green peppers

diced
Instructions
Move rack to center position in oven and preheat to 400 degrees. Or preheat grill to about 400 degrees.

Set flatbread on a parchment lined or greased baking sheet.

Spread barbecue sauce over flatbread leavinng a 1/2 inch border.

Sprinkle grated cheese on top.

Add chicken and pineapple.

Season with Italian seasoning

Bake for 10-15 minutes.

Remove from oven and let rest for a couple minutes.

Garnish with grated parmesan cheese and chopped parsley if desired.

Serve with additional barbecue sauce or ranch dressing.
Notes
Chicken – use leftover grilled chicken, rotisserie chicken, or shredded chicken
Cheese – Fresh mozzarella is wonderful! Gouda would be fantastic too!
Toppings – I like to pile the toppings pretty high! Feel free to use more or less toppings!
Nutrition
Calories:
487
kcal
|
Carbohydrates:
37
g
|
Protein:
37
g
|
Fat:
21
g
|
Saturated Fat:
11
g
|
Cholesterol:
105
mg
|
Sodium:
1079
mg
|
Potassium:
383
mg
|
Fiber:
2
g
|
Sugar:
21
g
|
Vitamin A:
615
IU
|
Vitamin C:
6
mg
|
Calcium:
478
mg
|
Iron:
2
mg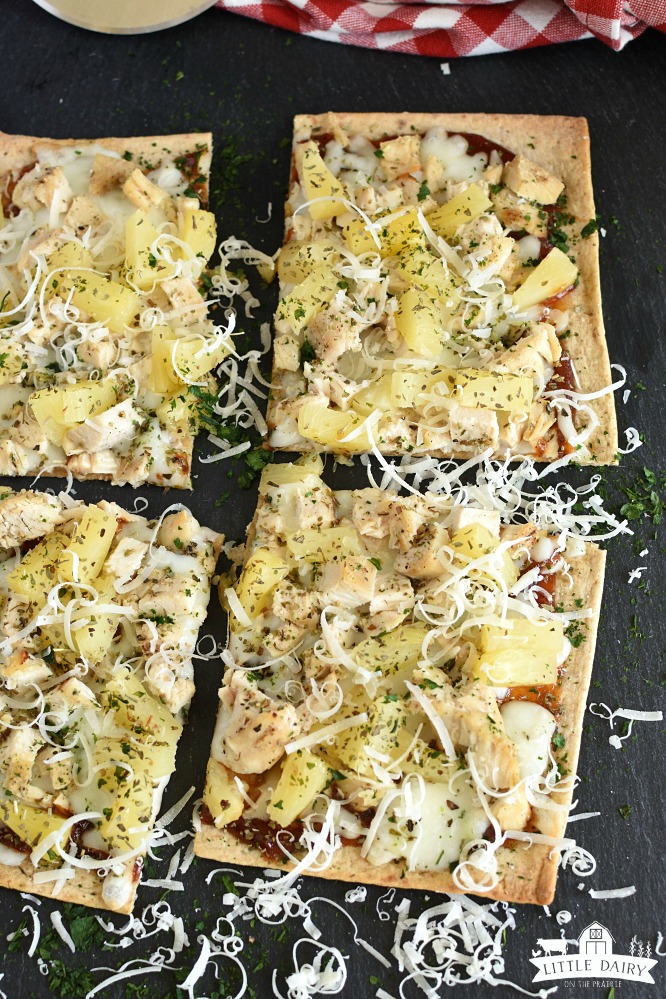 tried this recipe?
Make sure to share it with me! Leave a review or tag me on Instagram
What's happening on the farm?
Summers on the farm are absolutely crazy! Everyone has headed a different direction all day long, and usually half of the night too! Our kids are an important part of our summer crew and honestly we couldn't do it without them!
When we start harvesting we're always optimistic that we'll get finished up quickly. But that all depends on the weather and how many times the equipment breaks. When the sun is shining we're going pedal to the metal! We start early, quit working late, and we don't take lunch breaks.
I have to admit though, I love that these kids have plenty to do! They're learning so many life lessons! One of them is that they have to wait until I show up at the field to deliver lunch to them! Hey, they love seeing me coming and I'll take it!