Learn how to store cheese in the fridge or the freezer to keep it fresh. I also have tips for buying cheese in bulk and storage tips to keep it from molding.
Storing cheese is a great way to work on food storage.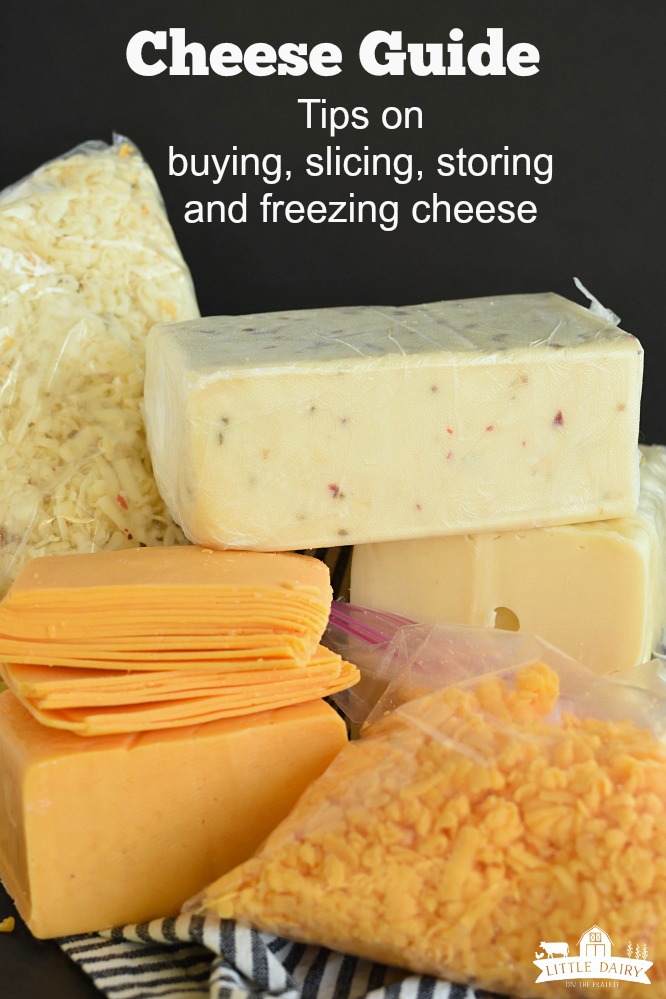 Thanks to Dairy West for sponsoring today's post! #Ad #UndeniablyDairy
Be sure to check out their website to learn all about the dairy industry!
June is Dairy Month and so I'm celebrating with this cheese guide!
You know as a dairy farmer's wife cheese is a pretty big deal! I always tease my dairy farmer husband and tell him I've been supporting him since way before I ever met him because I eat so darn much cheese! After being on vacation for a few days I really start craving cheese! There are a few things a girl shouldn't have to live without and cheese is definitely one of them!
We don't make ordinary lasagna, scrambled eggs, garlic bread, or salad. No joke our lasagna weighs about 10 pounds because it has about 5 pounds of cheese layered inside! We add it to everything you can think of and a few more recipes you probably wouldn't think of! If you haven't had Cheddar Sausage Pancakes you haven't lived!
The cheese case at the grocery store is loaded with as many varieties as you can dream up. We've fallen in love with Cranberry Stilton, Feta, Smoked Gouda, and Justin likes different blue cheeses. I'm not so much into the blues.
Although we enjoy several different types of cheese we pretty much stick with the basics; cheddar, Swiss, Pepper Jack, Colby Jack, parmesan, mozzarella, and provolone. These are the staples when it comes to basic cooking, sandwich making, and just plain old eating.
We don't make ordinary lasagna, scrambled eggs, garlic bread, or salad. No joke our lasagna weighs about 10 pounds because it has about 5 pounds of cheese layered inside! We add it to everything you can think of and a few more recipes than that! If you haven't had Suasage and Cheddar Cornmeal Pancakes you haven't lived!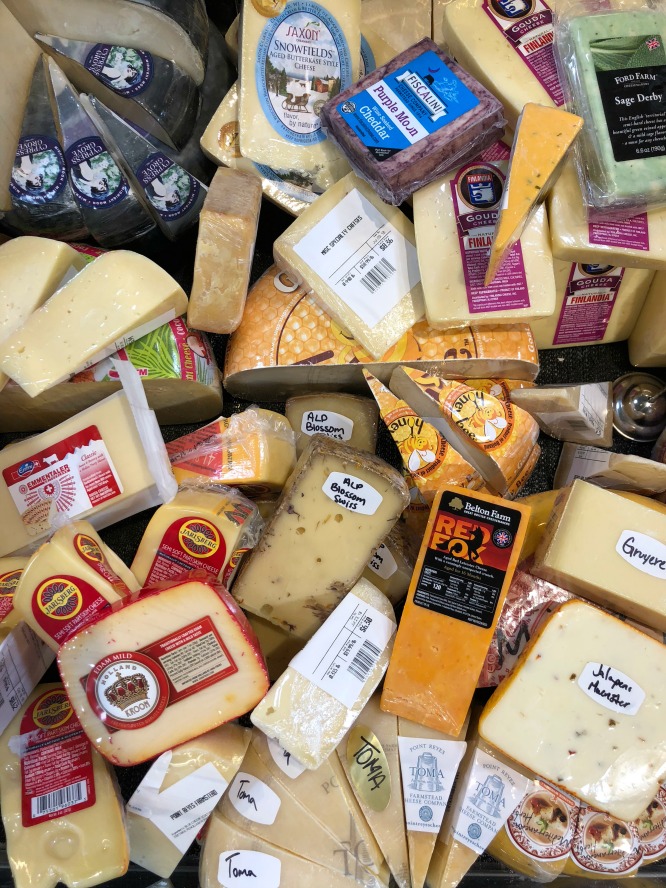 Tips on buying, preparing, freezing, and storing cheese!
Since we consume more cheese in a month I thought I'd share a few tips with you. I'll show you what kind of cheese I buy in the grocery store, how I prepare it ahead of time so prepared ahead of time which makes it extra easy to add to recipes, and how to store it so it keeps in the fridge longer, and how to freeze it.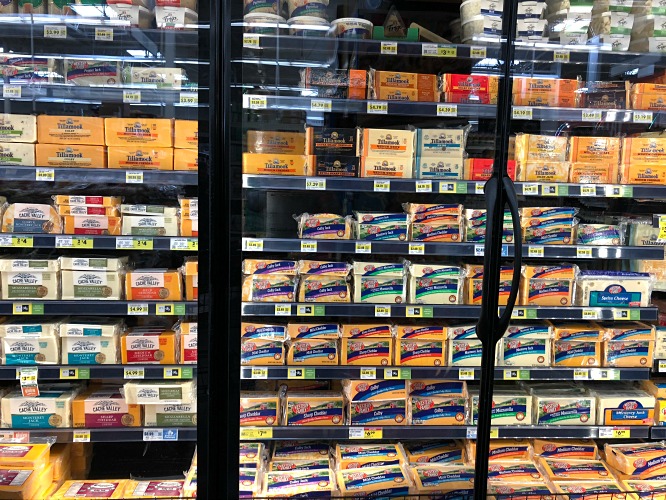 What's the difference between white and yellow cheddar?
White and yellow cheddar are produced exactly the same way except yellow cheddar has coloring in it to create that traditional yellow cheddar color we're all familiar with.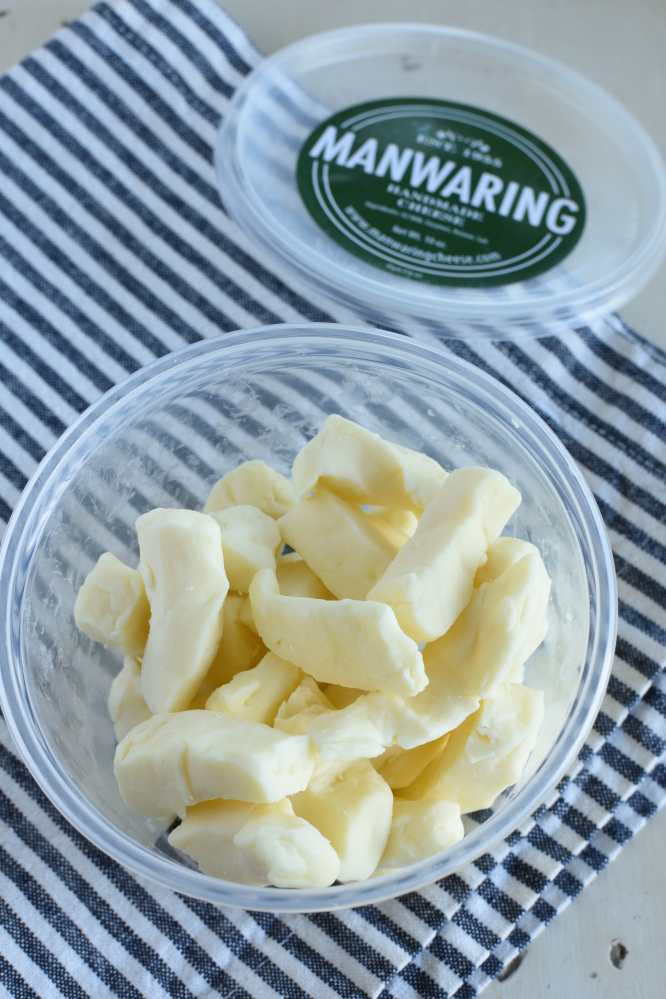 What are cheese curds and what's the best way to eat them?
Cheese curds are random pieces of fresh cheese. They are usually anywhere from 1/2 " to 1" long and about ½ wide.

During the cheese making process big chunks of cheese are run through a "cubing machine" where it's cut into curds. Next they are salted. Some cheese makers grab some curds from the batch and package curds at this stage of the cheese making process.

Curds are fresh and squeaky.

My family LOVES microwaving them for about 10 seconds. They get extra squeaky and gooey! They are one of our favorite snacks!

Any curds that aren't sold to be eaten as fresh curd are pressed into big blocks to be cut and sold as bricks of cheese. Usually blocks of cheese are aged before being sold.


Tips for buying cheese:
I'm pretty sure people come visit me just for the cheese! Whenever I have company they rant and rave about how we have the best cheese. Here's what I buy.
There are several brands of cheese out there and I really haven't found one name brand that I prefer over another. In fact, some cheeses are produced in the same batch and sold under different brand labels.
Some stores sell "random weights" or "end cuts". This is the cheese I buy most often. It's the same as other cheese just in odd shaped bricks. It's typically a little fresher and less aged than the other cheeses.The mild cheddar cheese variety is usually really fresh and almost squeaky!

Random weights are typically less expensive which is always a bonus when you're trying to feed a family on a budget!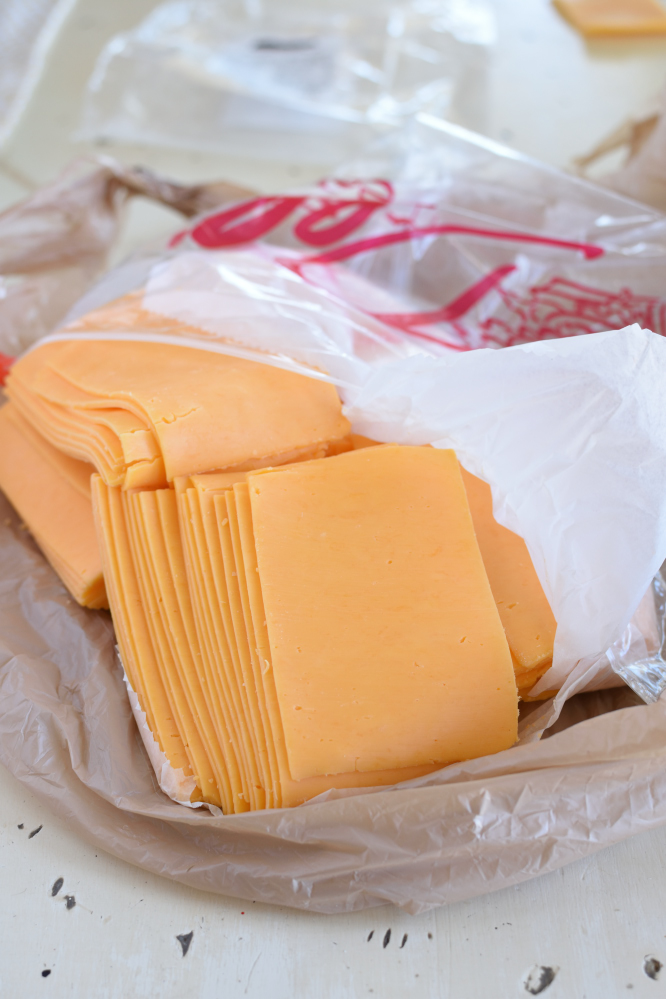 Tips for preparing cheese ahead of time, in bulk.
Preparing cheese ahead of time, and in batches means it's always ready to go when I need it. It also means I only have to wash the cheese grater, knife, and cutting board one time. This is how I do it.
Most grocery store delis will slice any brick of cheese you purchase in their store for you. I know you can purchase pre sliced cheese in the deli case, but I prefer getting it sliced because it's less expensive and fresher. Plus I get to choose how thick, or thin I want it sliced. Remember to drop a brick of cheese off at the deli before you start shopping and it will be ready to pick up before you check out! No waiting!

If your deli doesn't offer this service you can slice a whole brick of cheese all at once and then store it in an airtight container. I usually use a sealable bag, but my family goes through two pounds of cheese super fast!

When you are ready to make a grilled cheese, or you're making sandwiches for lunches this step is already done! So nice!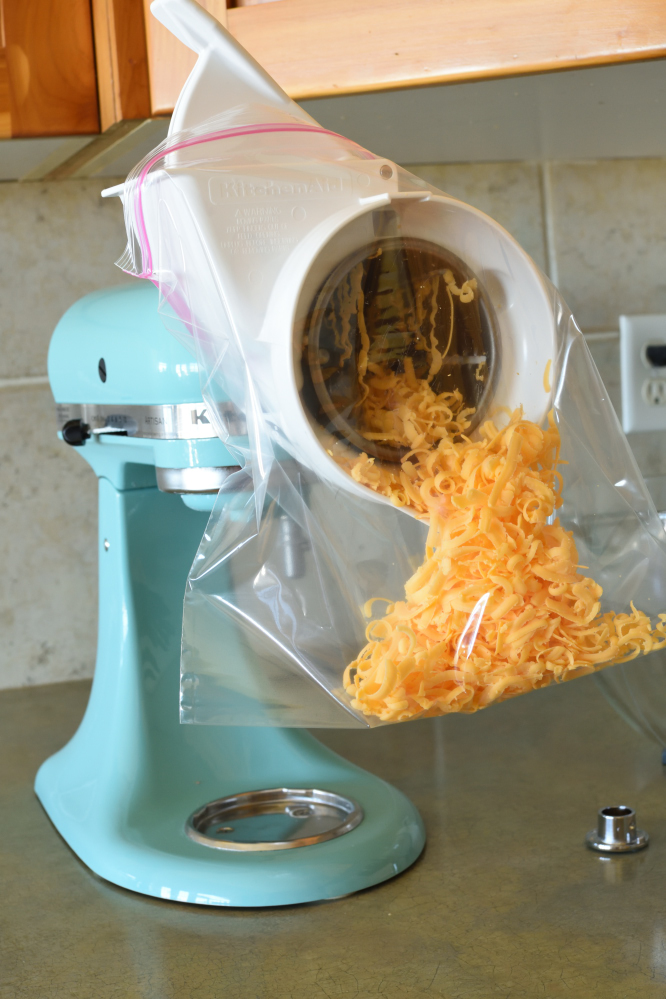 Grating cheese in big batches is much more efficient than grating a little every time you need cheese.
Of course you can buy pre grated cheese in the grocery store. It's much more expensive than grating it yourself. It also has an anti caking agent in it that inhibits it's meltability a bit. It works if you don't have time to grate your own, but I think once you start grating in bulk you'll agree it's worth the little bit of extra effort.

I use a food processor or my Kitchenaid grating attachment. Both make the job quick and easy with very little elbow grease required! It take me about 5 minutes to grate 4 pounds of cheese.

Freeze softer cheeses, like mozzarella for about 10 minutes before grating.

Store grated cheese in a sealable bag.

It's so easy to add grated cheese to salads, potatoes, scrambled eggs, on top of spaghetti, etc. once it's already grated.

My family goes through about 2 pounds of grated cheddar every single week!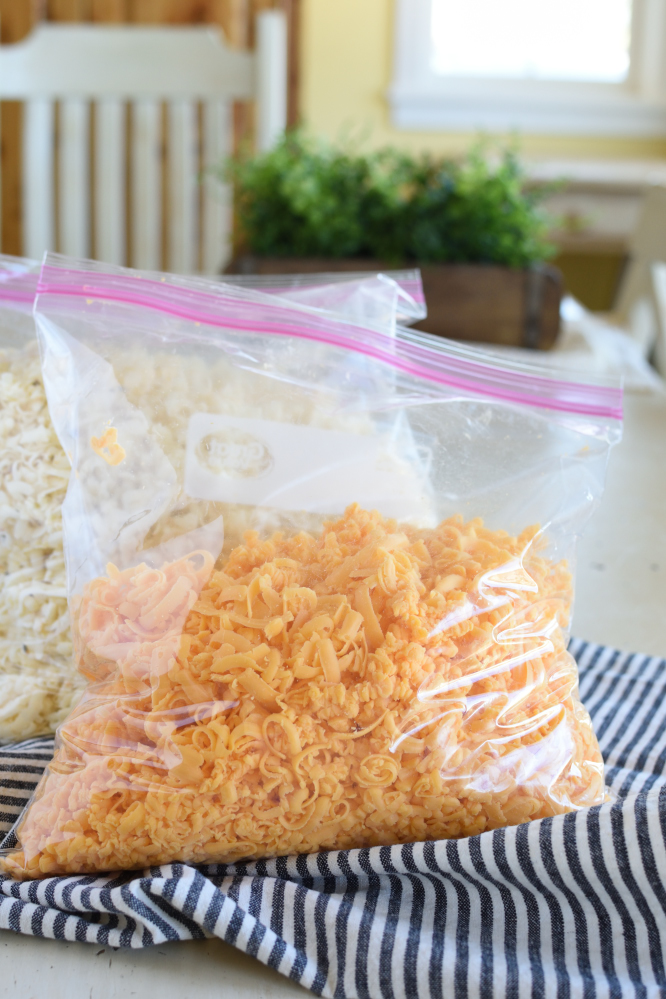 Can I freeze cheese?
Most cheeses can be frozen! Some cheeses get just a little bit crumbly after they have been frozen.
Grated cheeses do very well when frozen. I do this all the time!

You can freeze and entire brick of cheese as is.

I prefer to slice cheese before freezing it. It holds it's shape a better after thawing.

Freeze cheese in an airtight freezer sealable bag, or vacuum sealed bag.

Thaw cheese in the refrigerator.

I've stored cheese in the freezer for 3-6 months before.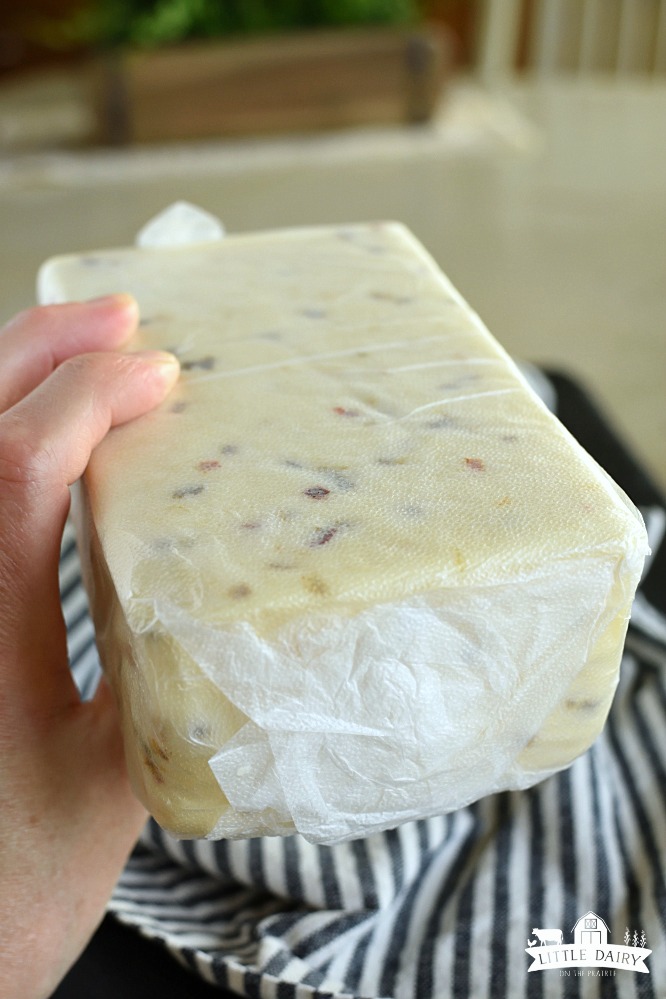 How to store cheese.
I toured a cheese plant and asked them why cheese gets moldy in my fridge when cheesemakers age cheese for years. Here's what I learned.
Cheese gets moldy when it's exposed to the air. When they age cheese it's sealed and not exposed to air.

Use press and seal type of wrap on the exposed end of a brick of cheese.

Make sure you press it all over the surface of the cheese and it will keep for a long, long time!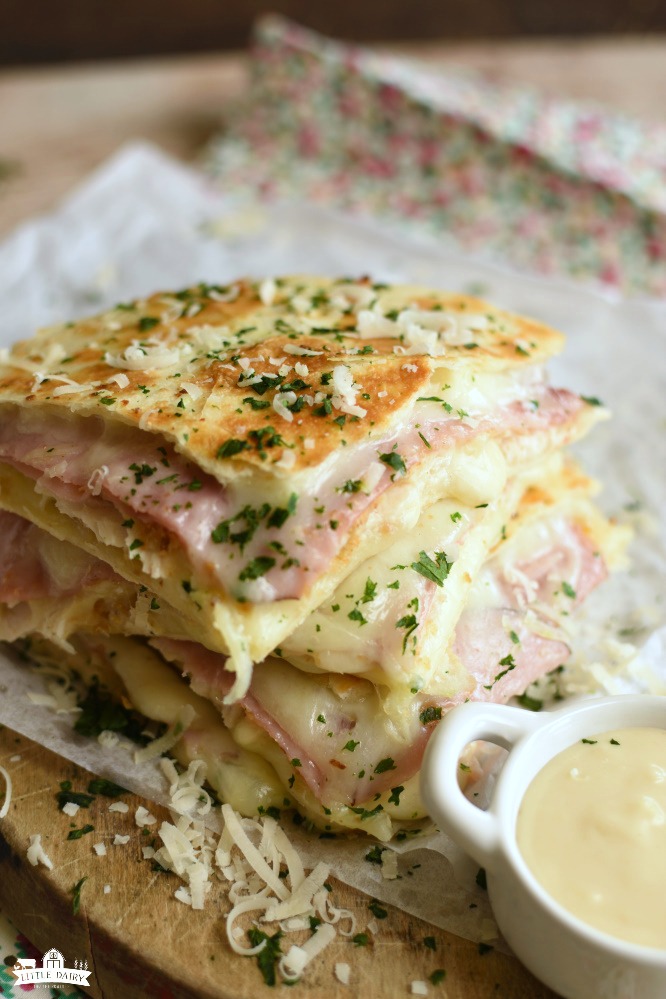 Here are some extra cheesy recipes you'll love!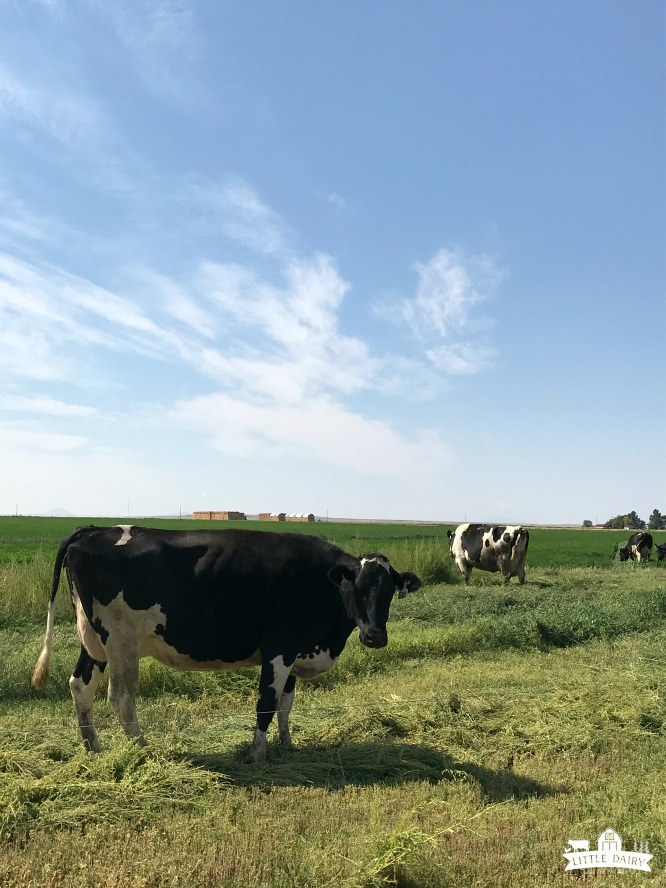 A little about our dairy farm!
We milk about a thousand cows 2-3 times a day on our farm.
Dairy farms measure and sell milk by the pound. Our farm produces about 70,000 pounds of milk each day. That's a little over 2 million pounds of milk per month. A semi truck hauls about one truck load per day from our farm. All milk produced at our farm is transported to a cheese plant, processed into cheese, and sold to Chipotle restaurants.
It takes about 10 pounds of milk to make one pound of cheese. Let me do the math for you, our cows produce about 7,000 pounds of cheese each day! Since our cheese isn't sold under a certain label we don't even get to buy our own cheese!
Our milk travels about 70 miles to the cheese plant where it's processed. From there it's shipped all over the states.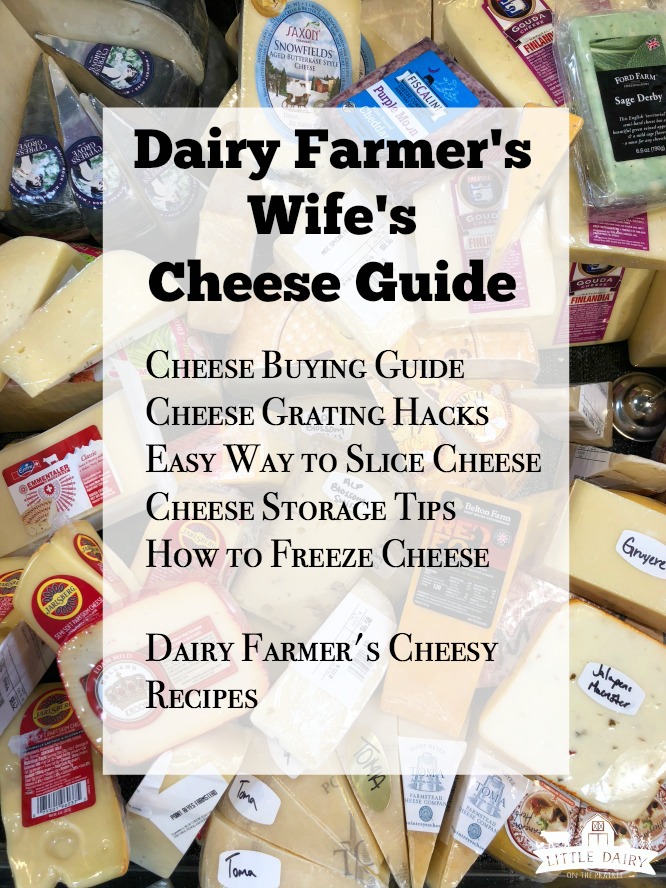 A cheese guide summary!
Microwave cheese curds and eat them just like that! It's the best snack!

Buy cheddar cheese end cuts

Let the deli slice cheese for you

Use a food processor to grate cheese in bulk

Freeze grated cheese to use later.

Adding cheese to any recipe will make it better!