Can you imagine anything more insanely delicious than cookie dough Dessert Pizza? There's so much to love about this fun new sweet twist on a favorite; chocolate chip cookies, hot fudge, and pizza crust! This pizza comes together in a flash and only uses 4 ingredients!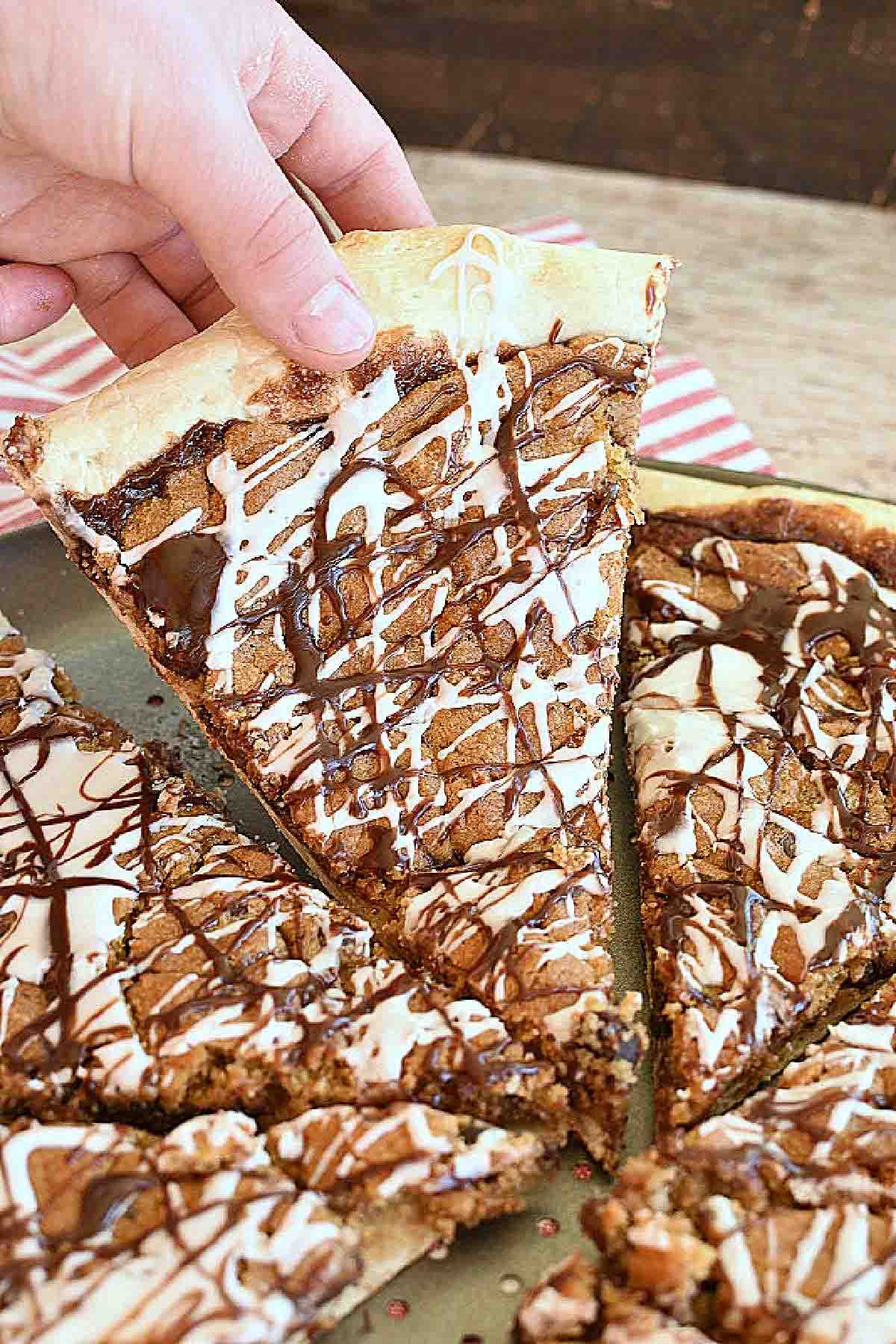 Why This is the BEST Pizza Dessert
This recipe was originally posted in 2018 and updated in 2021 to include more information. The recipe is the same.
When I wrote this recipe I was in the middle of homeschooling my 4th grader! NOT fun!
I'm already a super busy working mom and adding one more thing to my plate was about more than I could handle.
Are you feeling my pain? I bet you've been in those exact same shoes before. Maybe it wasn't homeschool that was taking all your time, but I know you have your own version of a full plate.
That's why I survive on recipes like THIS! It's so easy to make and my kids went crazy for it!
A pizzeria in town made this pizza and I fell in love with it. I was NOT in love with the fact that it was a buffet. I'm not into any restaurant that has a sneeze guard! Just saying!
Anyway, I was determined to learn how to make that pizza at home and I finally nailed it! It's even better than what you can order from Pizza Hut, Papa Murphy's, Dominos, or my beloved buffet place!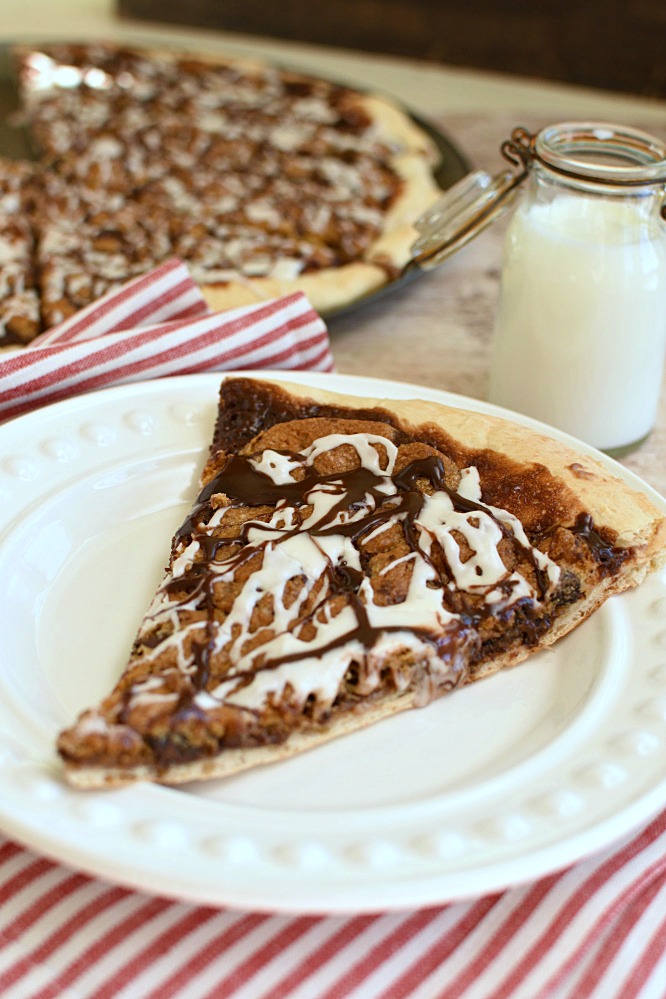 Ingredients in Cookie Dough Pizza
I love giving you suggestions for substitutions because I want you to be able to make this recipe even if you don't have all the ingredients on hand!
CRUST: Rhodes frozen dough, store-bought pizza dough, or homemade pizza crust. Using frozen dough really does make this recipe quick and easy!
SAUCE: My favorite is my Homemade Hot Fudge Sauce). You could also use Nutella or store-bought chocolate fudge sauce.
COOKIE DOUGH:

Store-bought chocolate chip cookie dough, or your favorite homemade cookie dough recipe if you're feeling ambitious!

You'll need to make a small batch or bake or freeze the extra cookie dough.
GLAZE:

I like using a can of prepared vanilla frosting. If you want to make your own, simply add enough milk to powdered sugar to create soft frosting consistency

. You'll need about 1/2 cup powdered sugar and start with a teaspoon of milk.
How to Make Cookie Pizza
Making pizza for dessert really is so easy! Let me tell you about a few of the tips I learned to make it even easier and fool-proof!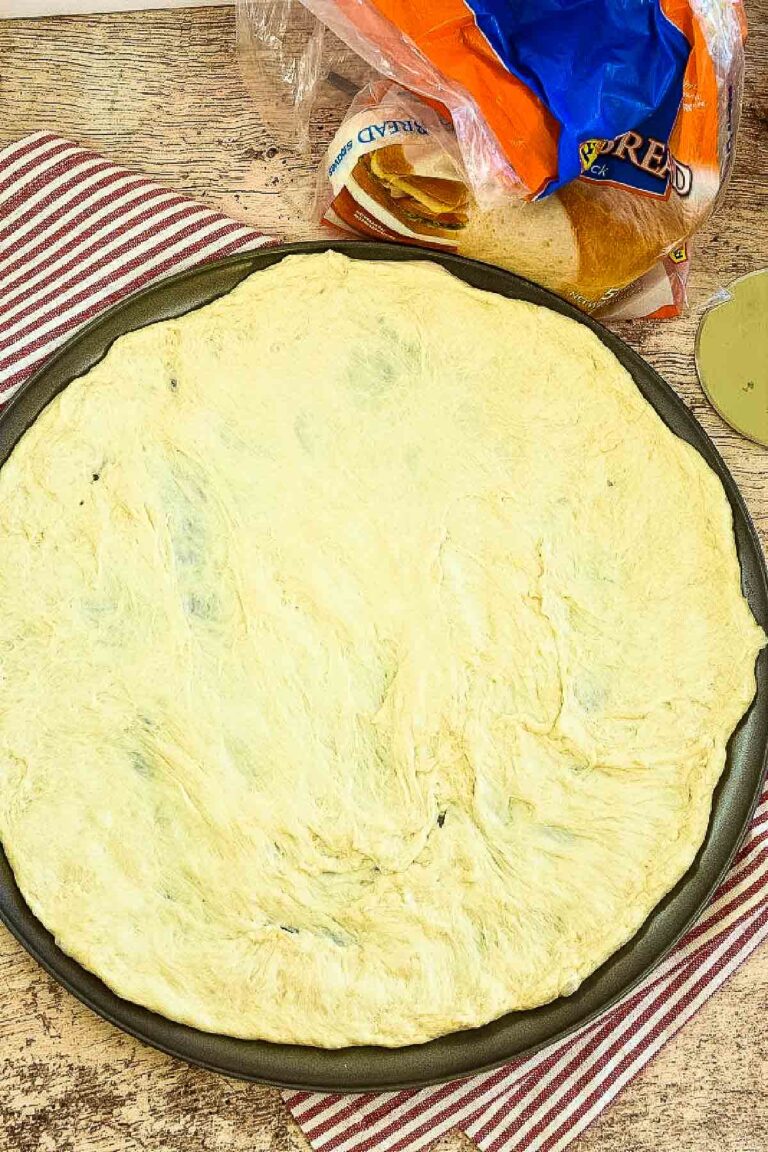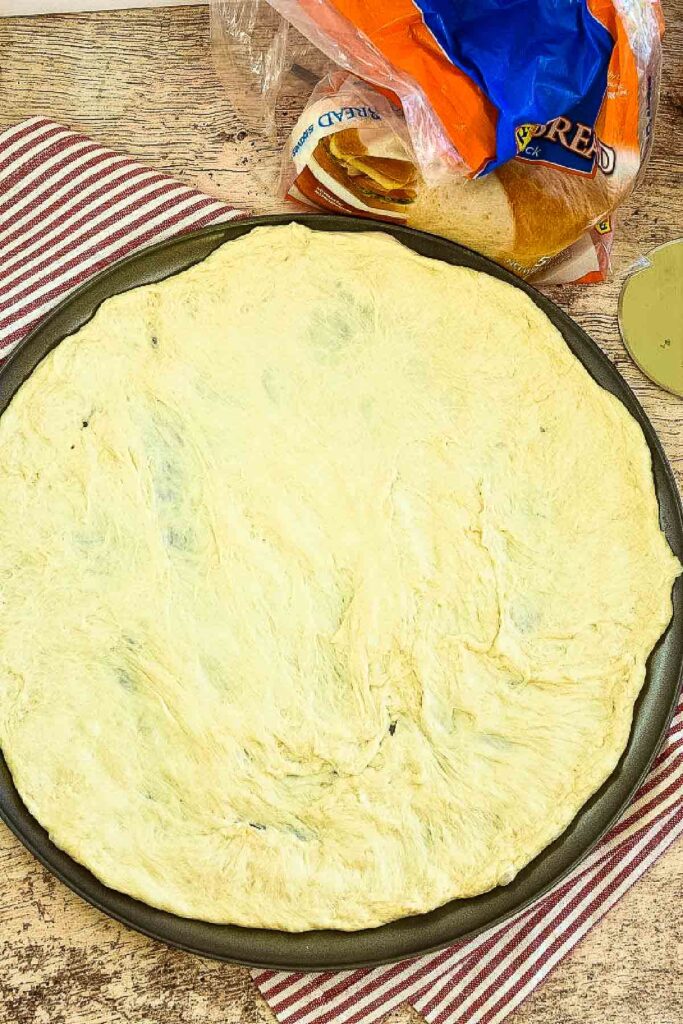 STEP 1: Rolling out pizza dough can be tricky! It's elasticity makes it stretchy and it always wants to shrink back into a tiny ball! The most important part is kneading the dough first, then let it set for a minute to relax. It will be so much easier to work with and shape. Grease the pan first, unless it's a pizza stone. Use your fingers to press it towards the edges of the pan. If the dough is sticking to your fingers you can spray your hands with nonstick cooking spray. If it's still shrinking after you've smoothed it, let it rest for a few minutes and press again.
STEP 2: Spreading chocolate sauce over the pizza crust is much easier if it's warm. Microwaving hot fudge sauce is the easiest way to make it spreadable. Only heat what you need.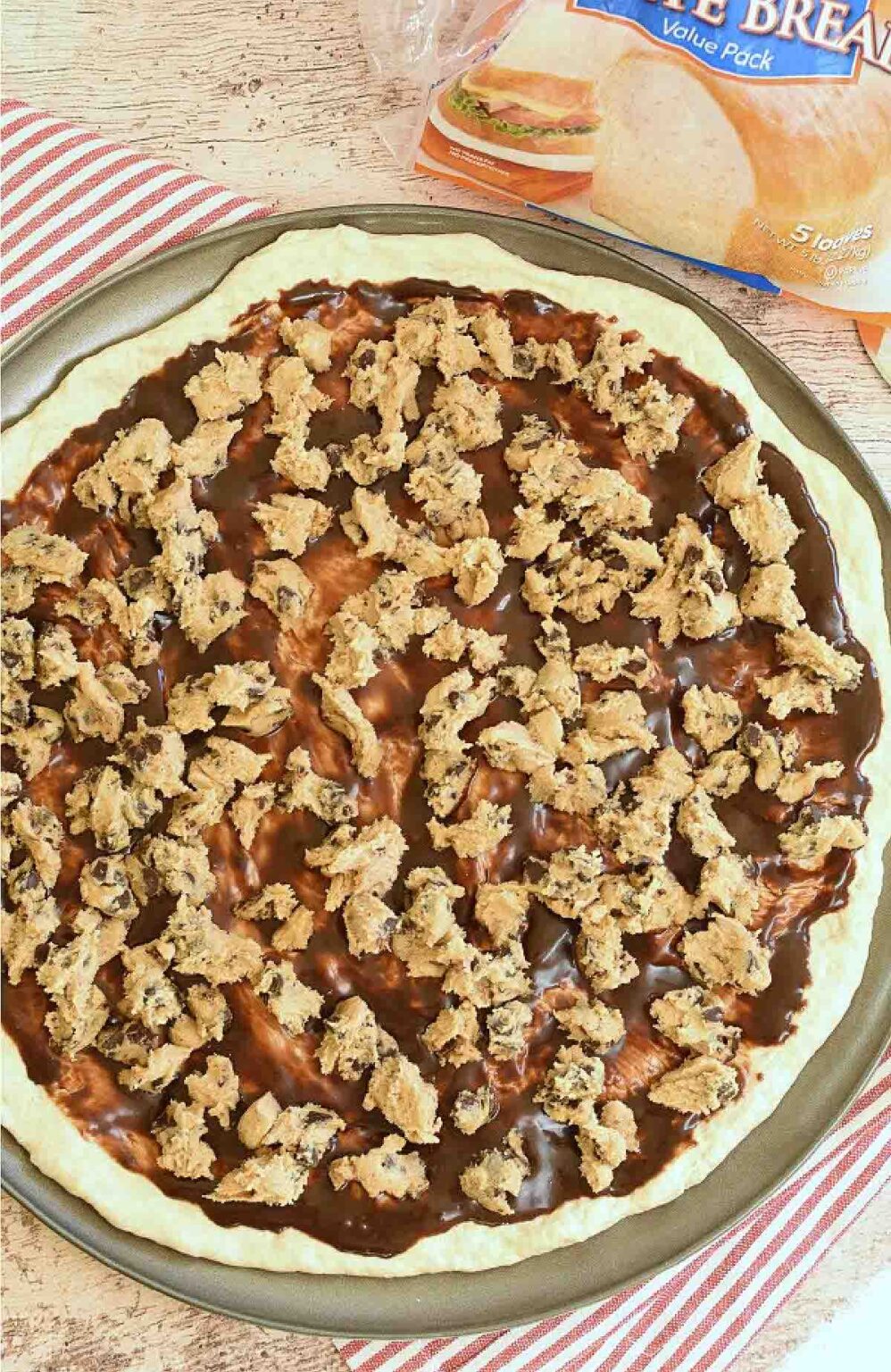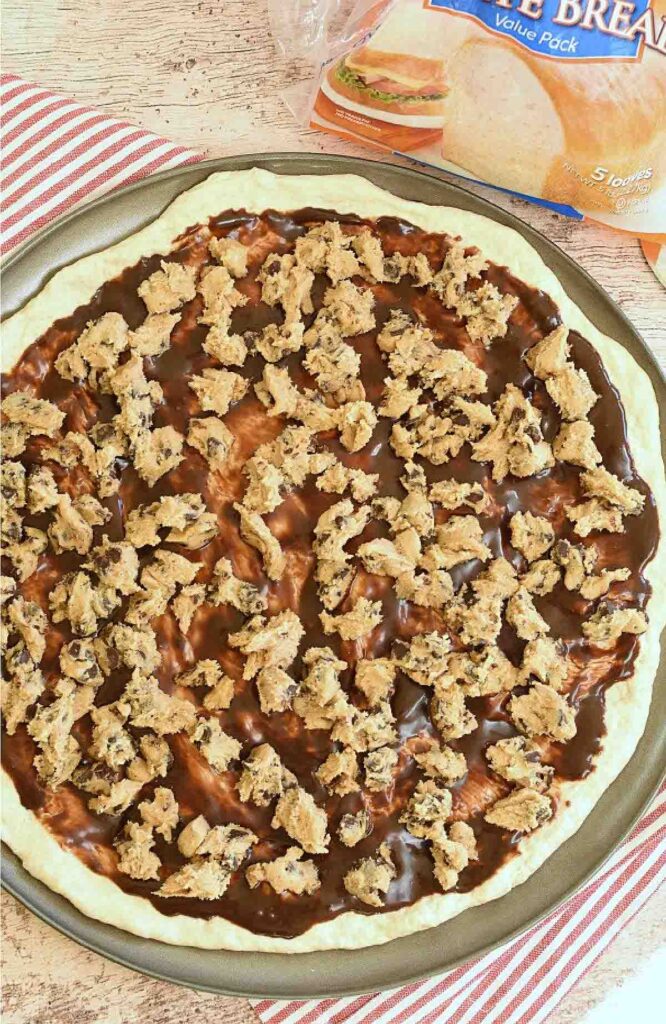 STEP 3: Add raw cookie dough over the chocolate sauce layer. Cookie dough is clumpy and sticks together. It's totally okay if the chocolate chip cookie dough isn't completely covering the whole pizza. Cookies spread as they bake. The easiest way to add the cookie dough is to open get a large serving spoon and get a big spoonful of cookie dough. Use a butter knife to cut little pieces of dough off of the serving spoon and let them fall onto the pizza. Seriously, don't worry about it looking rustic! It will all work out!
STEP 4: Bake the pizza dessert in a preheated oven with the rack in the center of the oven.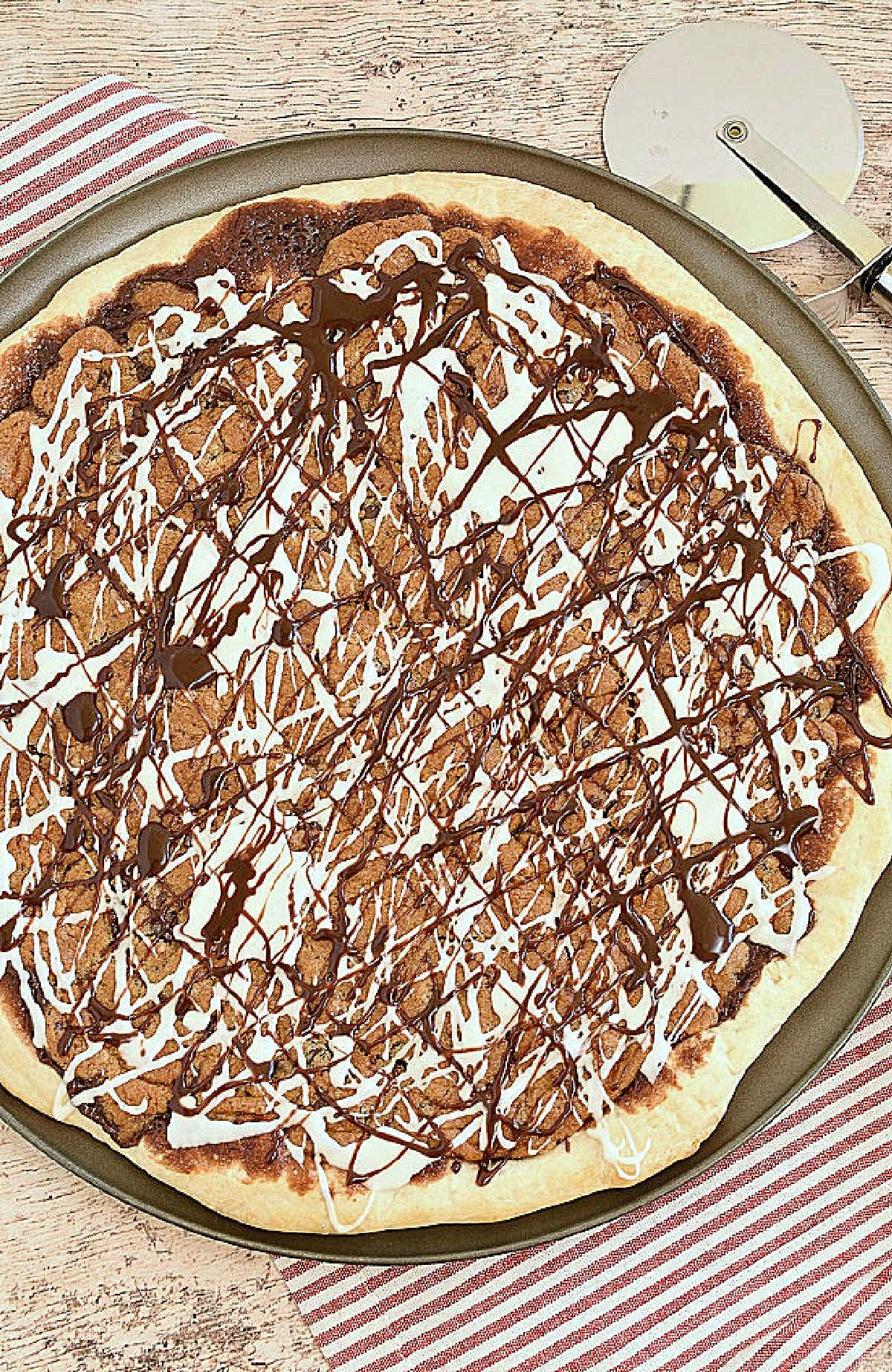 STEP 5: Drizzle vanilla icing over the pizza. (See tips in the ingredients section above). Warm up a few Tablespoons of vanilla frosting in the microwave for a few seconds to make it easier to drizzle. Either use a spoon to drizzle or pour it out of a measuring cup.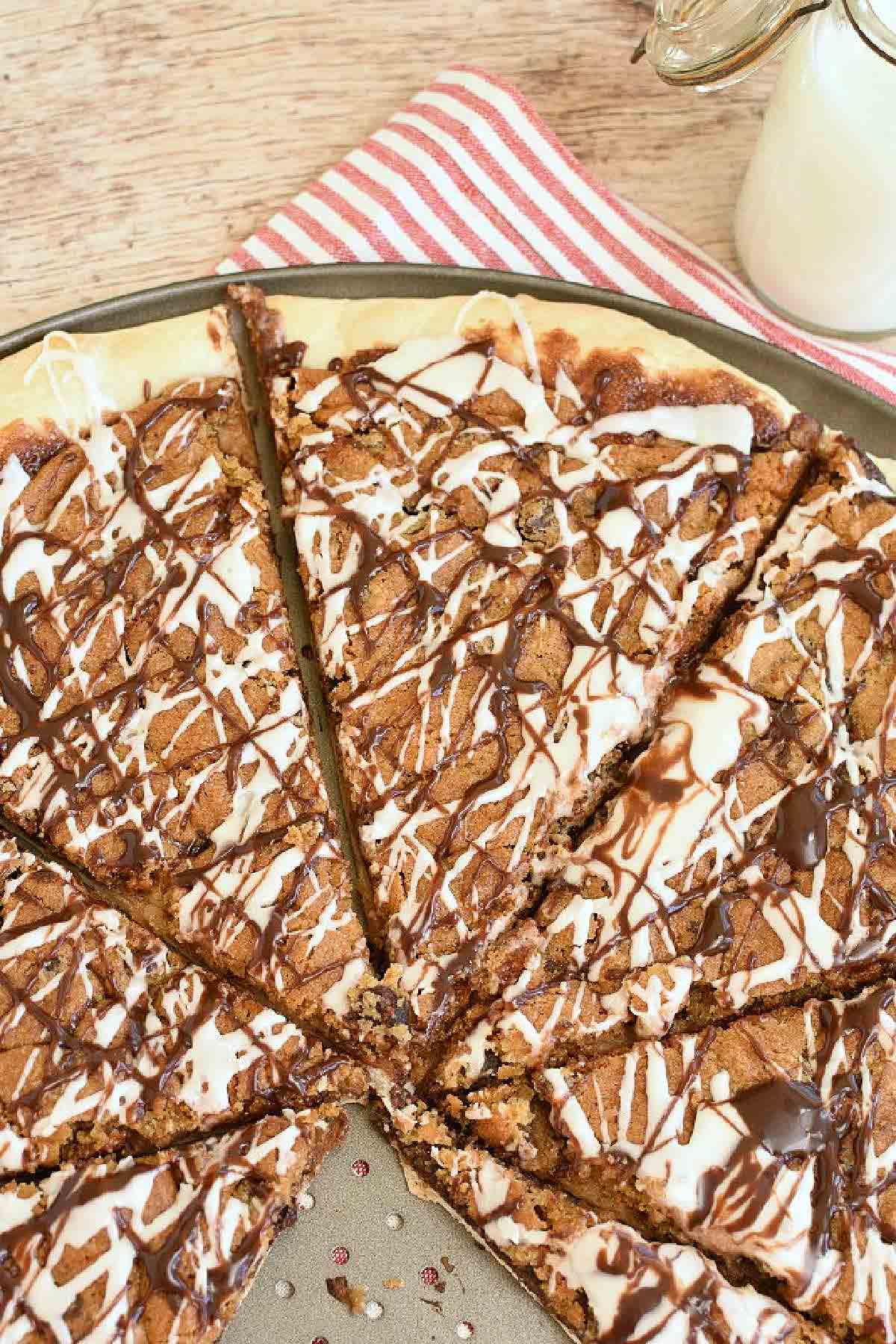 FAQs about Dessert Pizza
How do I store leftover pizza?
Let pizza cool before storing. Stack pizza in an airtight container with pieces of parchment paper or aluminum foil between layers. Keep in the refrigerator for up to three days.
Can I freeze pizza?
Absolutely! Pizza freezes really well! You can assemble the pizza and freeze it unbaked for up to three months. Or, freeze leftover pieces of pizza in airtight containers or freezer bags. My kids love taking leftover pizza to school for lunches. It doesn't get any easier than grabbing a slice from the freezer and sticking it in their lunchboxes.
Is dessert pizza a pizza?
Heck yes! It's built on a crust, has sauce, and toppings! It counts! You can get creative with the toppings. Use fruit, cookies, caramel, peanut butter cups, marshmallows, apples and cinnamon, or any other sweet toppings you can think of!
What goes with pizza?
Of course, a green salad and ranch dressing are perfect with pizza. But what about dessert? I love serving more pizza…dessert pizza! If you're looking for other options ice cream is always a hit.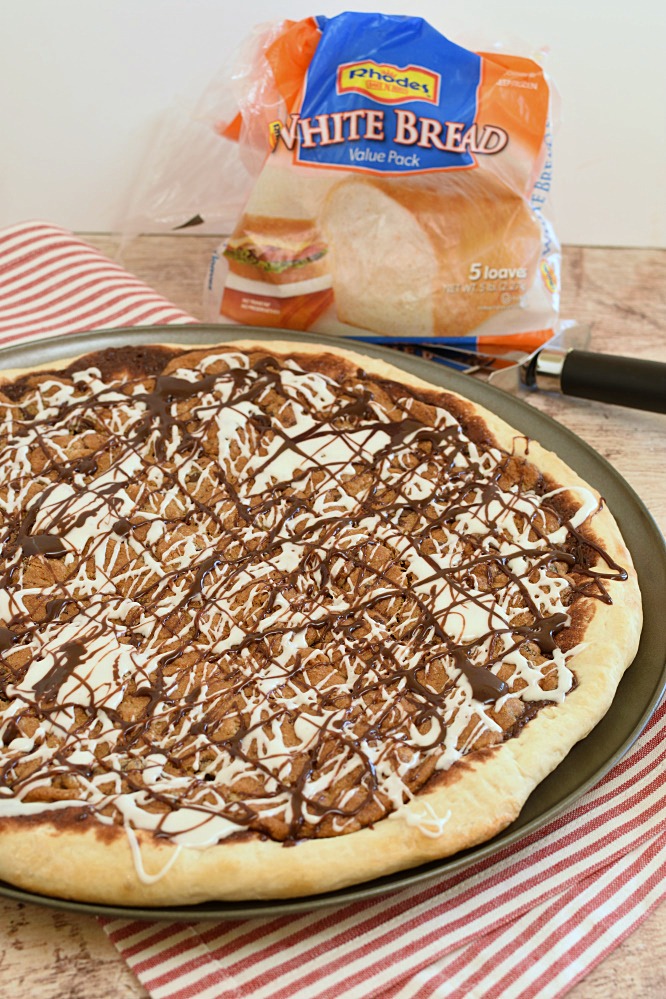 More Easy Cookie Dessert Recipes:
If I had to chose one dessert for the rest of my life, it would definitely be chocolate chip cookies! But, really I've never met a cookie I didn't love!
Here are a few more really easy cookie recipes I know you'll love! Cookie dough mix, store bought cookie dough, and cake mix cookies make desserts extra quick and easy. Most of these recipes start with one of those time savers!
I love it when you make my recipes and give me feedback! If you have a minute please comment below and leave a star ranking! Also, be sure to follow me on Pinterest, Instagram, and Facebook!
Chocolate Chip Cookie Pizza Desserts Recipe: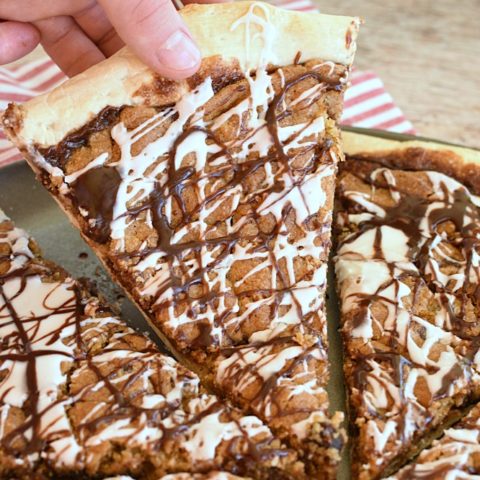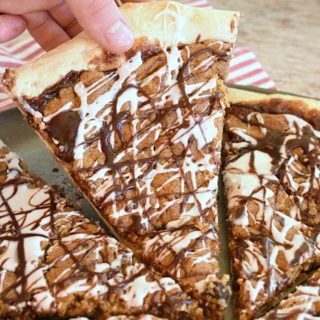 Cookie Dough Dessert Pizza
This cookie pizza recipe is so much better than any dessert pizza you get from the pizzeria! Use your favorite crust recipe, or store bought, chocolate hot fudge sauce, cookie dough, and a drizzle of vanilla icing!
Ingredients
1

pizza crust

3/4

cup

hot fudge sauce

16

ounces

cookie dough

1/4

cup

vanilla frosting
Instructions
Move rack to the center position in the oven. Preheat oven to 400 degrees.

Grease pizza pan and roll dough out, or spread it in pizza pan to make the crust.

Warm up 1/2 -¾ cups hot fudge sauce. I stick it in the microwave for a few seconds. You just need it warm enough to spread easily.

Crumble cookie dough over hot fudge sauce. I use my trusty fingers.

Bake for 12-15 minutes.

Let pizza cool for about 5 minutes.

Warm up additional hot fudge sauce and vanilla icing and drizzle over pizza.

Slice into pieces and dig in!
Notes
Pizza Crust: There are lots of options for making the crust on this pizza. I use a 12″-14″ pizza pan. A half sheet pan will also work perfectly!
Store-bought pizza crust
Use frozen white bread dough
Homemade pizza crust
Cookie Dough:
I like buying prepared cookie dough for this recipe because it's so fast and easy.
Homemade cookie dough will work great too.
Tips for using frozen dough for pizza crust:
Thaw Rhodes frozen dough according to package directions. I used one loaf and let it sit out overnight. Before spreading the dough out I always let it rest for a few minutes and it seems to make it so much easier to work with.

One frozen loaf of dough is just right for a 15-inch pizza pan.
Nutrition
Calories:
409
kcal
|
Carbohydrates:
65
g
|
Protein:
6
g
|
Fat:
14
g
|
Saturated Fat:
4
g
|
Cholesterol:
5
mg
|
Sodium:
431
mg
|
Potassium:
133
mg
|
Fiber:
2
g
|
Sugar:
29
g
|
Vitamin A:
17
IU
|
Vitamin C:
1
mg
|
Calcium:
51
mg
|
Iron:
2
mg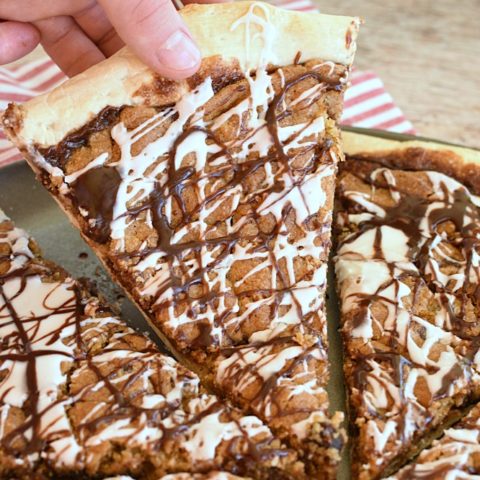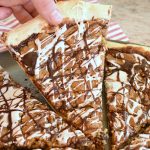 tried this recipe?
Make sure to share it with me! Leave a review or tag me on Instagram