If you've ever wondered "can you freeze ham" you're life is about to get easier! Learn how to freeze ham and you'll have a head start on so many easy meal ideas!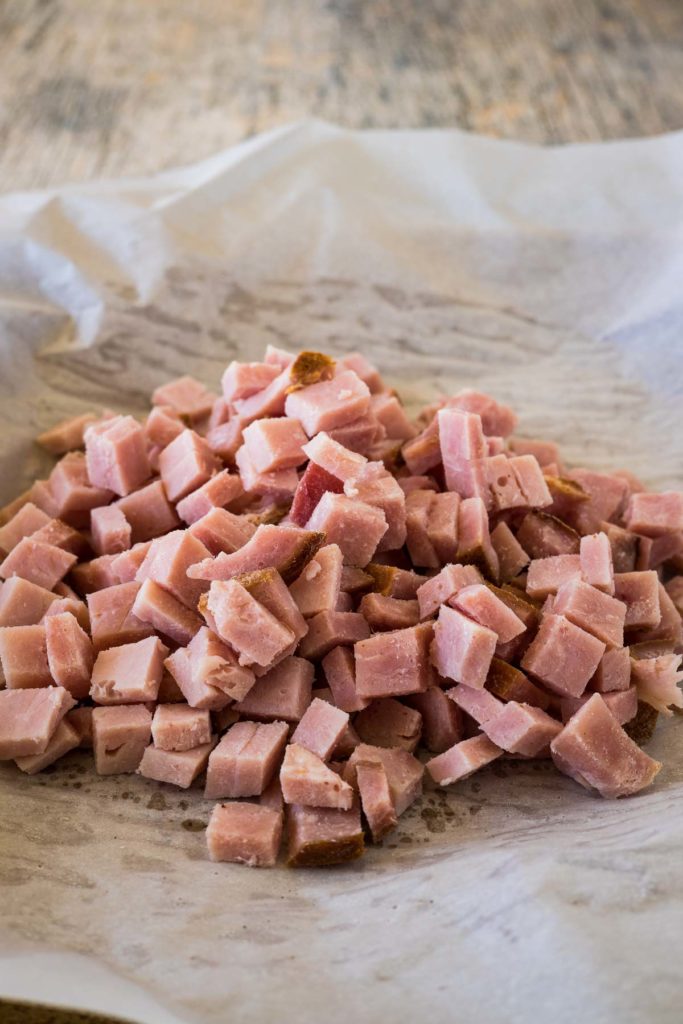 It's a lifesaver:
Buying a ham can feel like a commitment! They're big. By the time I use the last of the leftover ham I'm usually ready to be done with it.
It's genius to freeze cooked ham for later! There are millions of leftover ham recipes! It's a game changer!
Pulling ham that's ready to go out of the freezer is the BEST head start on so many easy recipes and meal ideas.
Use it in breakfast, casserole, soup, and salad recipes.
Makes quick and easy meals, especially breakfast!
You don't have to eat the whole ham all at once.
Eliminates food waste.
Can You Freeze Cooked Ham:
YES! You can freeze all different kinds of ham! You can even freeze the ham bone! Honey ham, spiral ham, diced ham, smoked, deli ham, leftover ham all freeze beautifully!
There seems to be some confusion with people wondering I freeze ham that's already been cooked. Many hams you buy from the grocery store have already been cooked. They can be frozen within two days of buying them and cooked later. Or they can be reheated within two days of buying the ham as long as the ham is stored in the fridge.
After cooking or heating a ham, it's totally fine to freeze leftovers. Thaw them later. And cook the ham again. Which means it would be cooked twice.
This site has ALL the information about safely cooking ham.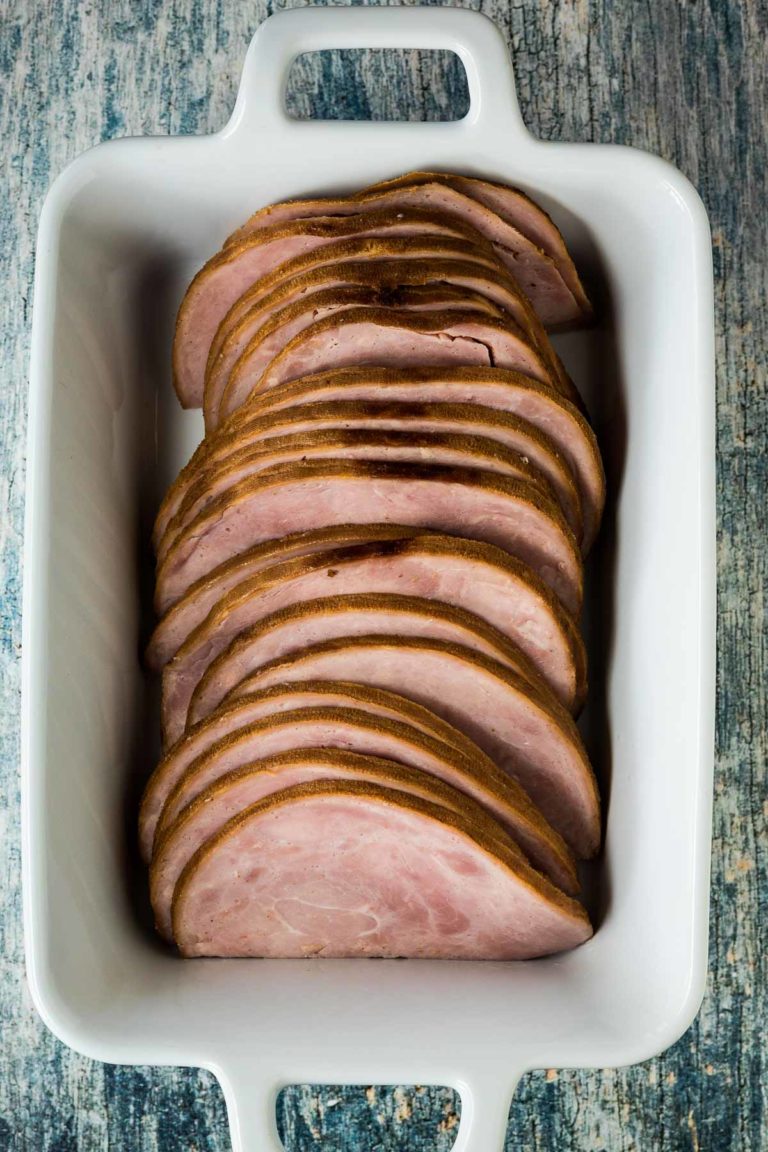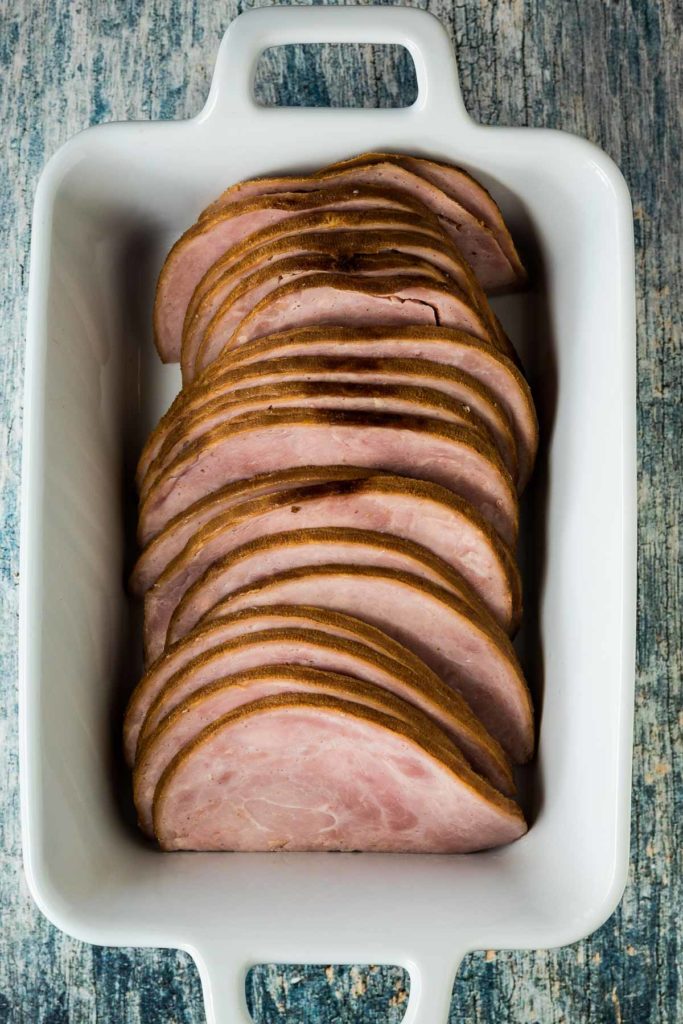 How to Freeze Ham:
Freezing ham is so easy to do! But, there are a few tricks you'll want to know!
Freeze (or refreeze) ham within 3 days of thawing just to be sure it's safe!
Dice ham before freezing for adding to recipes like soup, scrambled eggs, etc. Freeze it in portions or amounts you'll need for recipes.
Flash freeze ham steaks or diced ham by setting it in a single layer on a baking sheet and freezing just until firm, about 30 minutes. Then store in an airtight container. This makes it easier to thaw only the amount you need.
Freeze in an airtight container squeezing out extra air from the bag. A vacuum bag works great if you have a vacuum sealer.
Be sure to label bags. Use the oldest leftover ham first.
How long can you freeze a ham:
Fresh ham that has been cooked can be safely frozen for 3 to 4 months. It can also be refrigerated for up to four days.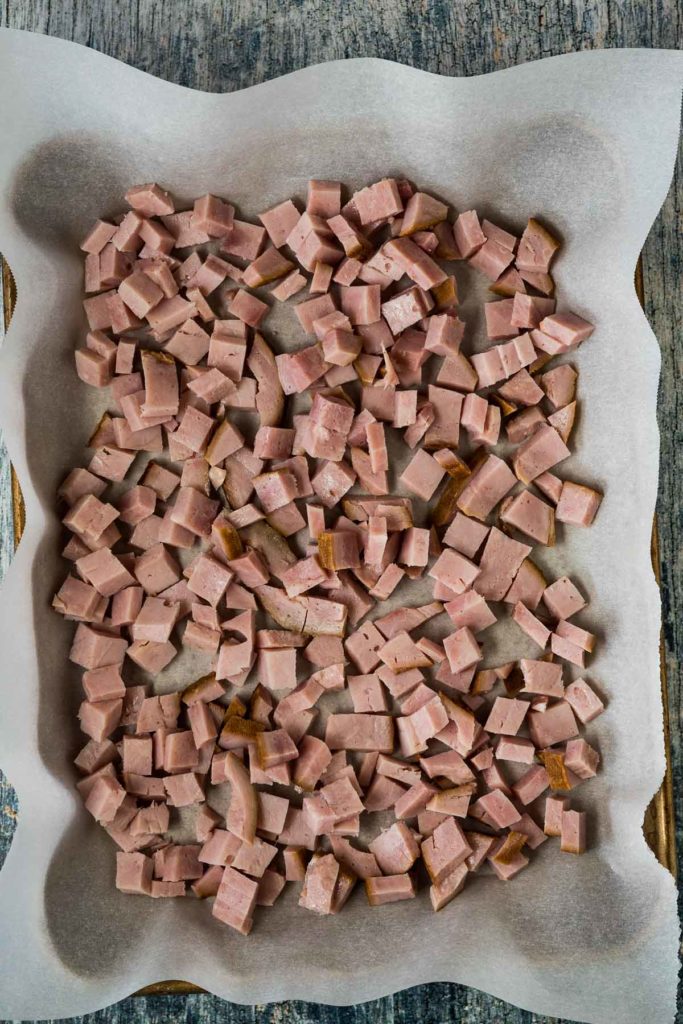 How to Thaw Frozen Ham:
The safest way to thaw leftover ham is in the refrigerator. The amount of time it takes depends on how thick the meat is.
Most often I freeze ham in steaks or diced ham. Leaving it in the fridge overnight usually will allow enough time for thawing.
When I'm adding ham to soup I don't even thaw it first. Just throw it in and cook it with the rest of the ingredients.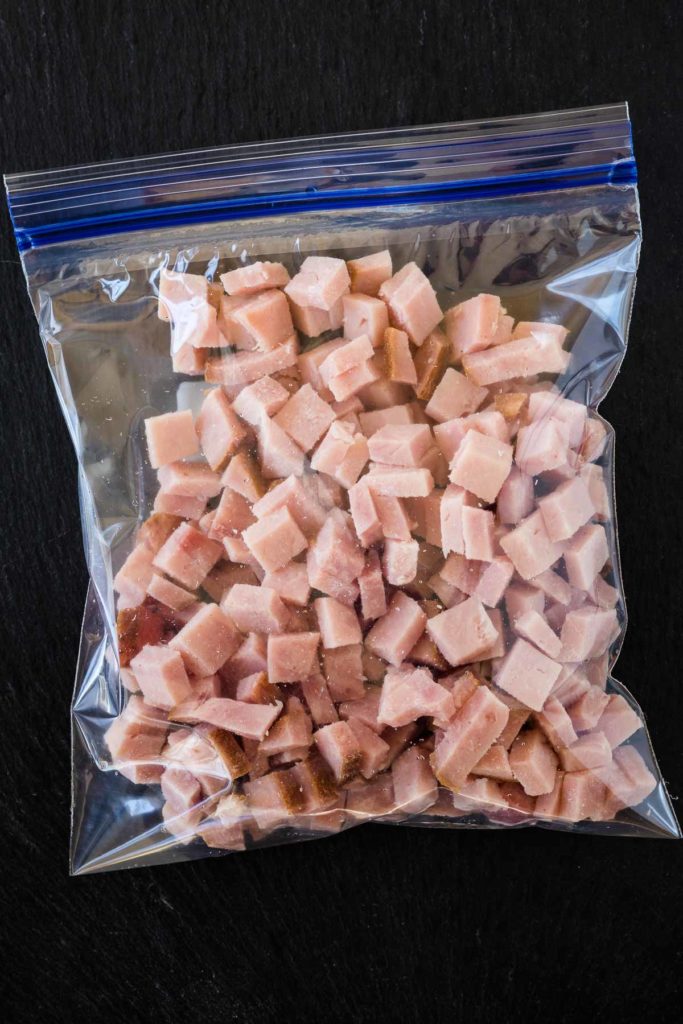 How to Reheat Leftover Ham:
The most important thing to know about reheating ham is that it needs to be reheated to 140 degrees.
Freezing ham can dry it out and change the texture just a little bit. Most of the time I like using freezer ham in casseroles, soups, on pizza, etc. so it's not too big of an issue. I have tips for each method of cooking to help keep it from getting too dry.
Oven:
Wrap ham in foil, adding a little bit of apple juice, pineapple juice, or chicken stock to the foil. Adding liquid to the foil helps keep the ham from getting dry while it bakes.
Set in a baking dish.
Bake at 325 degrees until it reaches an internal temperature of 140 degrees. This is the safe temperature for heating ham.
How long will it take to bake leftover cooked ham? Plan on about 10-15 minutes per pound of already cooked sliced ham. For bigger chunks of ham, you'll need to cook them longer. Plan on about 18 minutes per pound for whole and half bone-in hams.
Instant Pot:
Set a rack in the pressure cooker and add a cup of chicken broth, pineapple juice, apple juice, ham stock, or water.
Wrap ham in aluminum foil. Set on the rack.
Cook ham for 2 minutes per pound on high pressure. Add 10 minutes to the total time to allow for the aluminum foil.
Quick-release pressure.
Crock Pot:
Wrap ham in foil, adding a little bit of chicken broth, ham stock, pineapple juice, etc. to the foil.
Place in the slow cooker.
Cook on low for about 2-3 hours for a small ham, or 4-6 hours for a large ham.
Skillet & Microwave:
I love thawing diced ham in the microwave (or thaw it in the fridge overnight) and adding it to scrambled eggs. Fry it in a skillet for a few minutes then add eggs.
Ham steaks can be fried in a skillet.
Ham can be reheated in the microwave.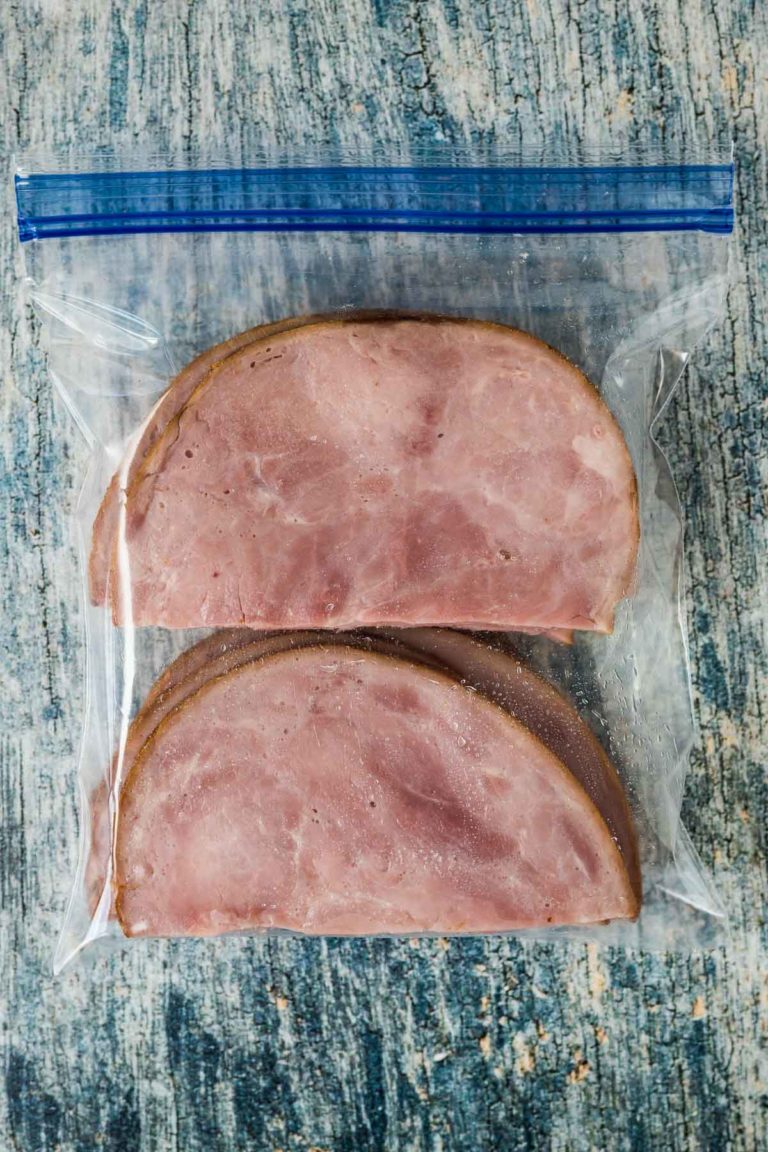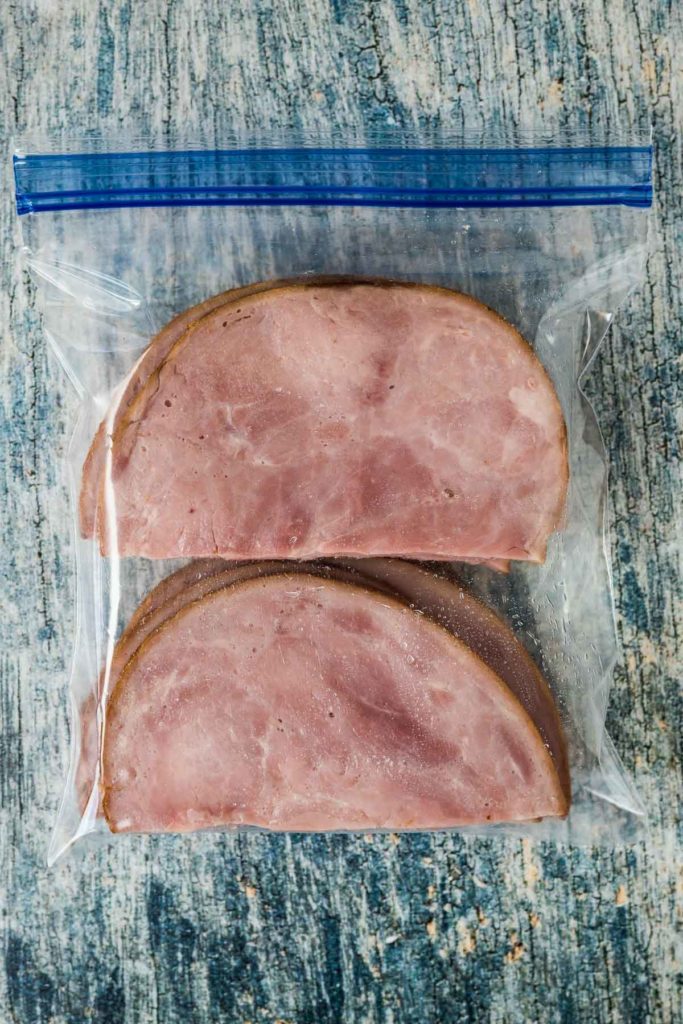 Is it Safe To Eat Cold Ham?
Some hams are ready to eat, and some are not. Hams that need to be cooked will clearly state that on the packaging.
Cooked ham can be eaten cold straight out of the package without cooking them at all if they've been packaged in a federally inspected plant. Be sure to check the label!
For cooked hams that have been repackaged in any other location outside the processing plant or for leftover cooked ham, heat to 165 °F.
Some hams are labeled as a cook before eating. Cook these hams in an oven that is at least 325 degrees. Cooke them to an internal temperature of 145 degrees. Source.
Leftover Ham Recipes