Peanut Butter No Bake Cookies are a classic for a good reason (love ya chocolate and peanut butter)! This is one of the quickest and easiest cookie recipes ever, plus you only need a few ingredients to make them! I'll show you my easy secret for making the PERFECT no bake oatmeal cookies every single time!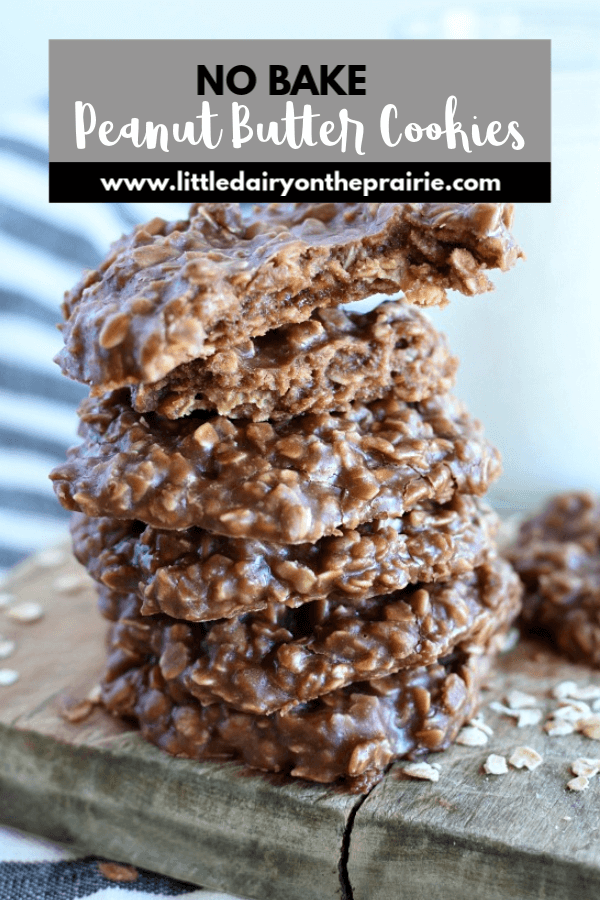 NOTE: This post was updated in January 2020 to include new text. This recipe was already amazing and stayed the same!
I've been using this recipe for years and never planned on sharing it with you because the internet is flooded with millions of versions of this classic cookie.
I'm finally sharing it for selfish reasons. Every time I make these cookies, I scrounge around to find THIS recipe. I have about a billion recipes at my house and it's easy to lose one and I'm not the best at remembering numbers, so I NEED the recipe.
Adding it to my archives of easy cookies and no-bake desserts means I don't have to search high and low for this recipe anymore. You guys are going to love this simple recipe to get you through those busy days when you don't have time for the oven!
Readers Review
My brother requested no bake cookies for Christmas. So I followed your recipe to the letter (I'm not very experienced in the kitchen) and I gotta tell you, they turned out perfect. Delicious! Who knows, this may be the start of more time in the kitchen for me. Thank you so much.

Joe H.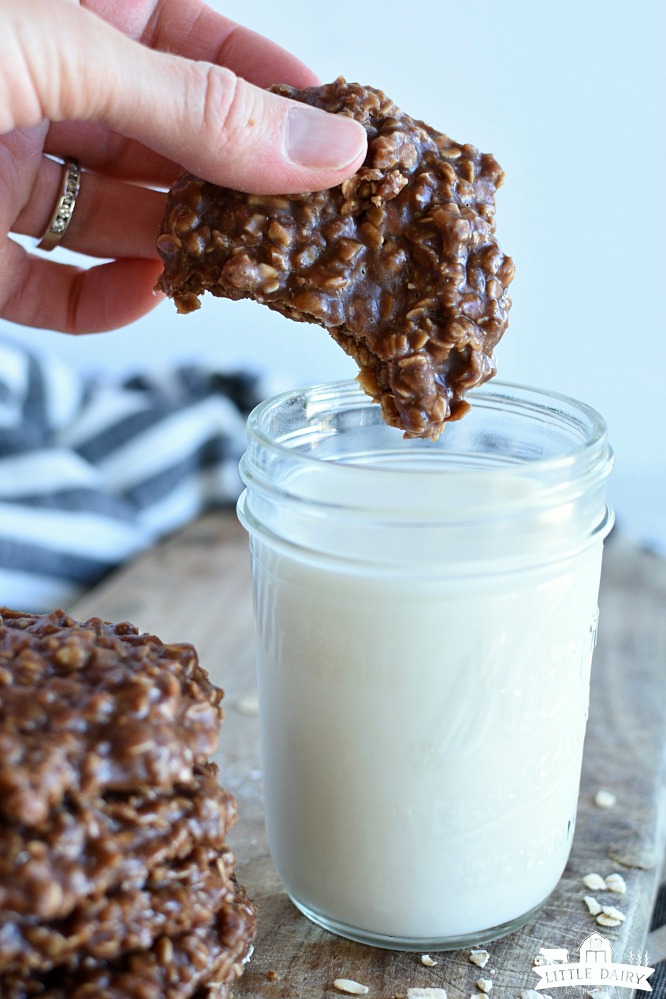 why these are the BEST no bake peanut butter cookies
I've tried lots of recipes. Some only have peanut butter, but this one has chocolate! Which is heavenly! They're fudgy and set without being gooey or dry.
They're never dry or gooey – not all no-bake cookies are created equally! Some are thin, some are thick, some are dry, some are too soft! These are just right!
Chances are you have all the basic ingredients in pantry and fridge already
They're quick and easy and only take about 10 minutes to make
Need gluten-free cookies? Use gluten-free oats and you've got it!
LITTLE DAIRY ON THE PRAIRIE SECRET TO MAKING NO BAKE COOKIES:
TEMPERATURE – make the cookies over medium heat. High heat will bring the cookies to a boil too fast. Be patient.
FULL ROLLING BOIL – Sugar, cocoa, butter, and milk MUST come to a full rolling boil.

It's considered a full rolling boil when the mixture continues to boil even when it's being stirred

It will have bubbles across the top of the surface. See picture below.

TIMING – As soon as the mixture comes to a full rolling boil start timing for ONE MINUTE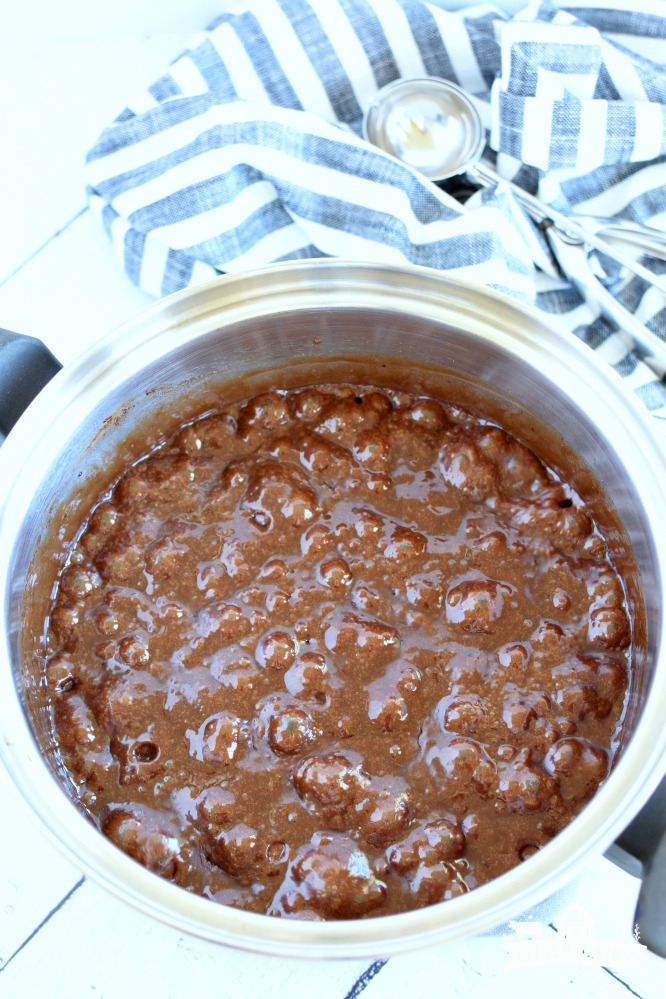 ingredients in no-bake chocolate oatmeal cookies
Some days I really wish I could get a grocery store to deliver to my house, then other days I'm glad I can go for a four-mile walk and not see another human!
One thing for sure, if I don't have the ingredients on hand I'm not running to the store after them. The ingredients used in this recipe are simple and they're easy to stock up on.
Butter – use real butter
Granulated Sugar
Milk – I use evaporated milk, but you can use whole or 2%.
Cocoa – Dutch-process or natural
Peanut Butter – I haven't tried making these with natural peanut butter so I can't say how that would work.
Oatmeal – Quick oats are my favorite. Steel-cut, old fashioned, or rolled oats can be used instead, however, they aren't as chewy if they're pulsed a few times in a blender or food processor. Once again, use gluten-free certified oats for gluten-free cookies.
Vanilla – optional but good.
Dash of salt – optional, it helps offset all the sweet.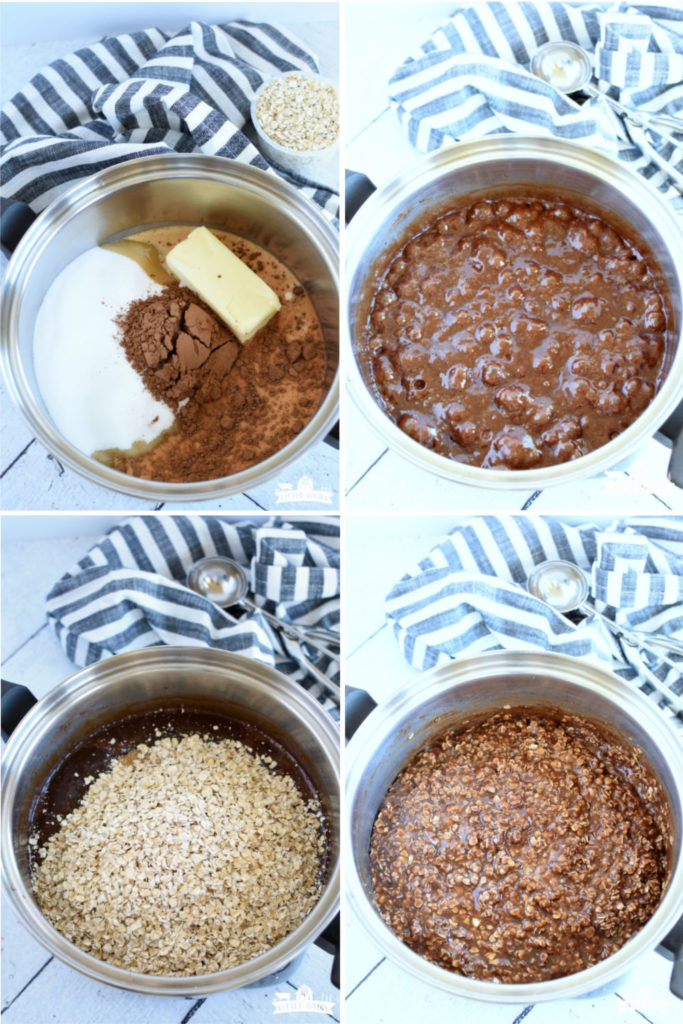 how to make no-bake cookies (see my pro tips above)
Measure all ingredients before you start making the cookies
Line a baking sheet with wax paper or parchment paper
Whisk sugar and cocoa together in a saucepan. This prevents lumpy cocoa.
Add butter and milk.
Over medium heat bring mixture to a ROLLING BOIL – see my pro tip above to see exactly what this is.
As soon as the mixture is at a rolling boil, set a timer for exactly ONE MINUTE
After one minute, remove from heat and add vanilla, peanut butter, oats, and salt.
Stir
Drop on prepared baking sheet
Let cool completely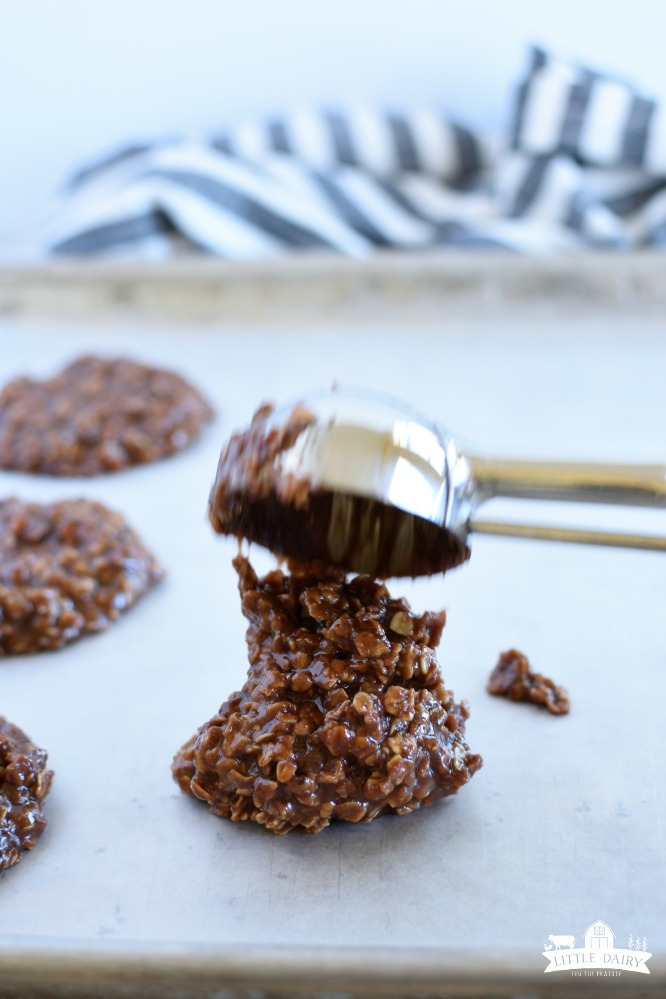 FAQ's about making no bake cookies
how to shape no bake cookies
A cookie scoop works great.
A tablespoon works too.
Work quickly because the cookies will set up quickly.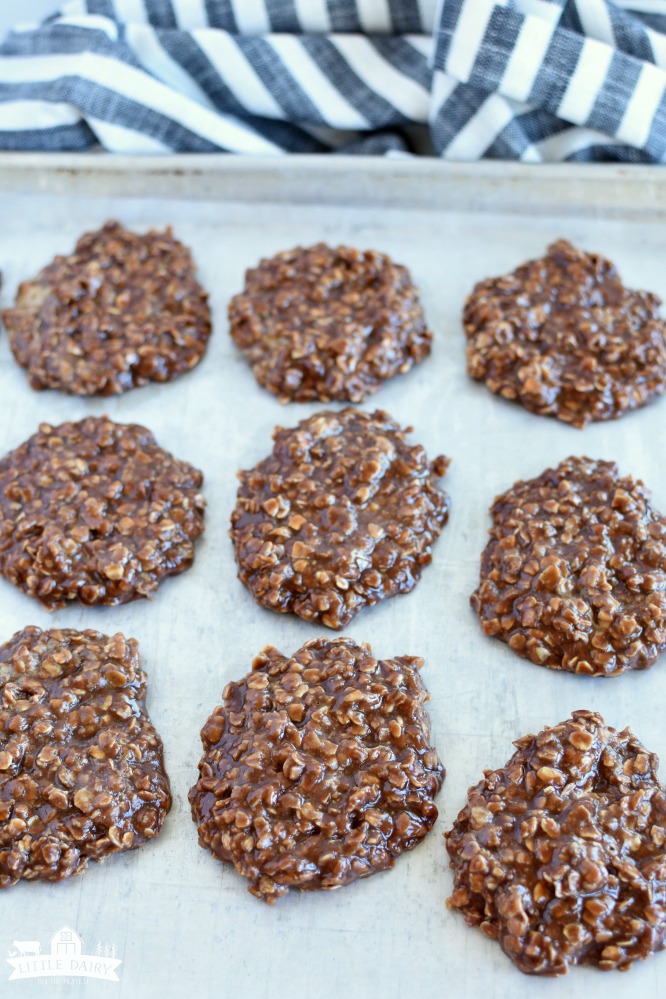 how to store cookies
Airtight container- They'll last at room temperature for up a week.
Refrigerator- no need to refrigerate no-bake cookies
Freezer – up to three months in an airtight container. Let cookies completely set. Freeze on cookie sheet for about 30 minutes. Remove and place in an airtight container.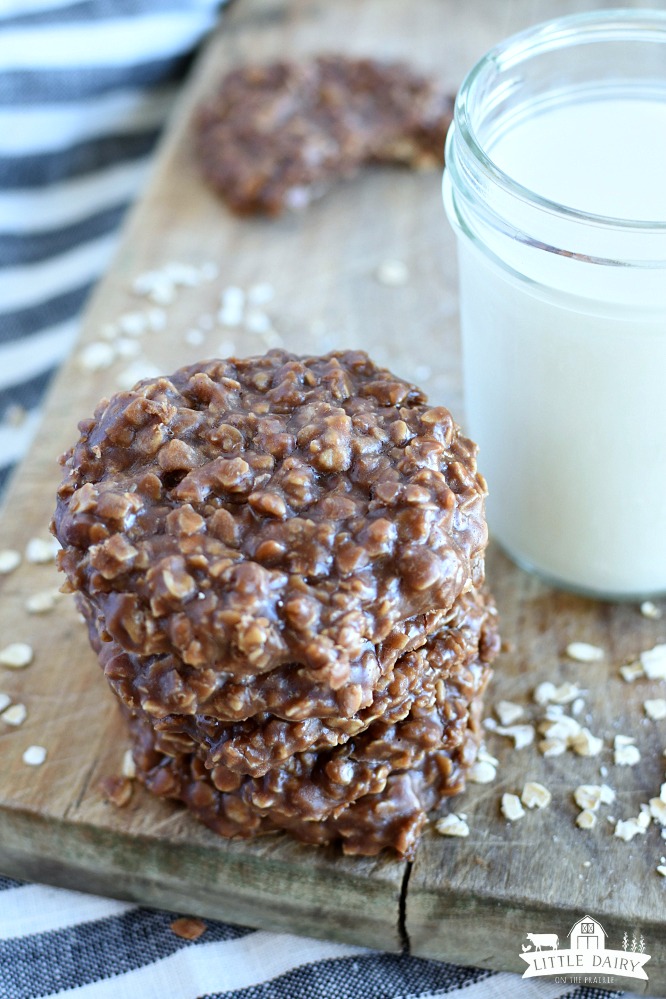 no-bake cookies without Oatmeal
no-bake cookies with oatmeal
peanut butter desserts recipes
If you have a couple of minutes you have enough time to make a batch of no-bake peanut butter cookies! You'll be glad you did!
Classic Peanut Butter No Bake Cookies
No Bake Cookies are classic peanut butter and chocolate dessert! Using simple ingredients you probably already have in the pantry, and this simple little tip you'll have perfect cookies in minutes!
Ingredients
1/2

c.

butter

2

c.

sugar

1/2

c.

milk

4

T.

cocoa

1/2

c.

peanut butter

3 1/2

c.

quick oats

may substitute 1/2 shredded coconut for 1/2 c. of oats if desired

2

tsp.

vanilla

dash salt
Instructions
Measure peanut butter, oats, and vanilla. Set aside.

Line a baking sheet with parchment paper or wax paper.

Bring butter, sugar, milk, and cocoa to a boil over medium heat. As soon as the mixture begins to boil time for 1 minute, then remove from heat.

Add vanilla, peanut butter, oats, and salt. Stir.

Quickly drop on prepared baking sheet.

Let sit until completely cooled and firm.

Store in an airtight container.
Nutrition
Calories:
131
kcal
|
Carbohydrates:
19
g
|
Protein:
2
g
|
Fat:
6
g
|
Saturated Fat:
3
g
|
Polyunsaturated Fat:
2
g
|
Cholesterol:
7
mg
|
Sodium:
68
mg
|
Fiber:
1
g
|
Sugar:
12
g
tried this recipe?
Make sure to share it with me! Leave a review or tag me on Instagram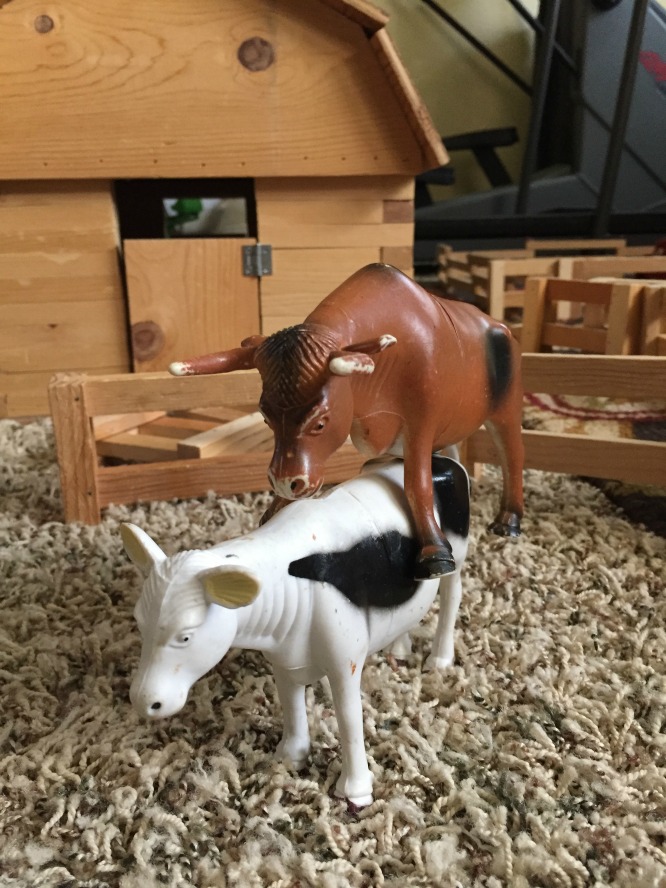 what's happening on the farm?
My boys just don't like school. They never have. They never will. We have way too many exciting things happening on the farm to mess around with school. Please understand I know education is important. They do their homework and all three of them are planning on furthering their education at college. It's just more fun to be out hands-on on the farm.
Payson, my youngest was struggling with one of the concepts his teacher was teaching him at school. The teacher didn't think he was going to get it. I worked with him at home and he owns that concept now!
A few days after his teacher called me I went downstairs and saw how he had his little farm set up…complete with animal reproduction happening! That's when I thought to myself, he might not understand why a and g make two different sounds but he has the most important concepts in life figured out! I bet the other first graders didn't know about that!