Smooth salted caramel, crunchy toffee chips, and chocolate wrapped up in super easy No Bake Caramel Cookies! I can't think of a thing not to love about these cookies!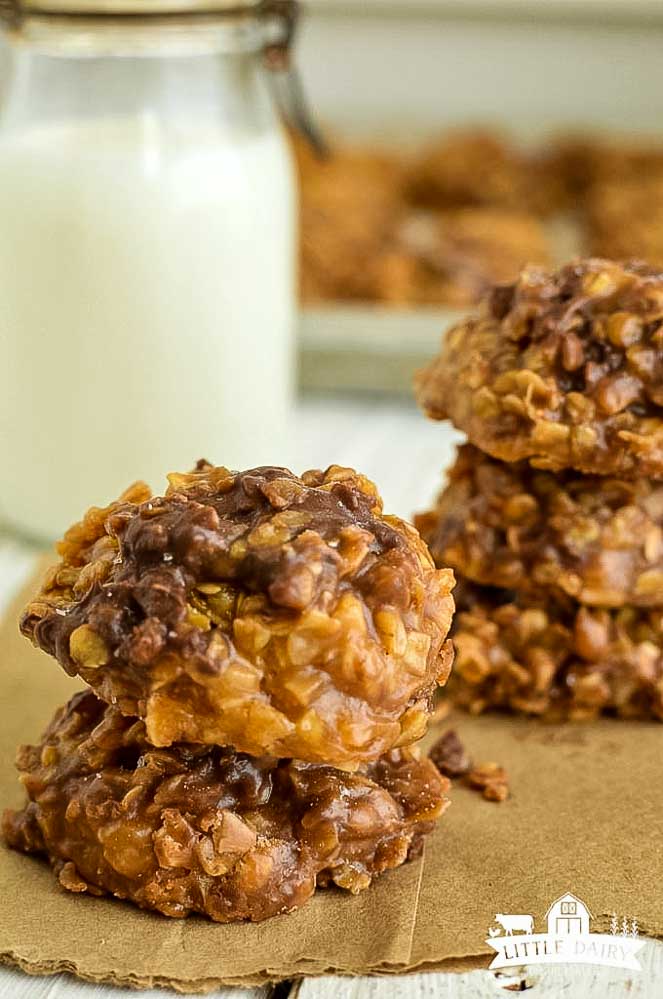 I love no-bake cookies, and I love caramel! Who doesn't right? Today is the first day I've been home since my boys started school. That's right a whole day to do whatever I wanted, ya right! I started with laundry and dishes, sprayed weeds in the yard, paid a few bills, and picked up my boys' rooms. Normally I have them clean up their own rooms, but today I was proud of them for getting up and practicing the piano without even being asked so I decided I would be a little nice. Even though it was my intention of making cookies for the boys to come home to, the same thing happened to me that always happens and I got busy doing other things and could see I was running out of time. That's when I resorted to No Bake Caramel Cookies! Ten minutes later I crossed cookie making off my to-do list and moved on to filing! (Making cookies is more fun!)
All you have to do is boil some sugar, butter, and milk. Add a little salt, butterscotch pudding (ya that's right), oats, and stir it. Let it cool while you line a cookie sheet with wax paper, you could sweep the floor while the cookies cool a little too…if you hurry you can sweep the floor. Add chocolate chips, toffee chips, and give it a quick stir. You don't want to over stir or the chocolate chips will melt everywhere, which probably wouldn't be an entirely bad thing. I like my chocolate a little separated from the caramel so you get a little of everything in each bite.
Drop them on a cookie sheet and let them sit for at least 15 minutes if you can wait 30 minutes is better.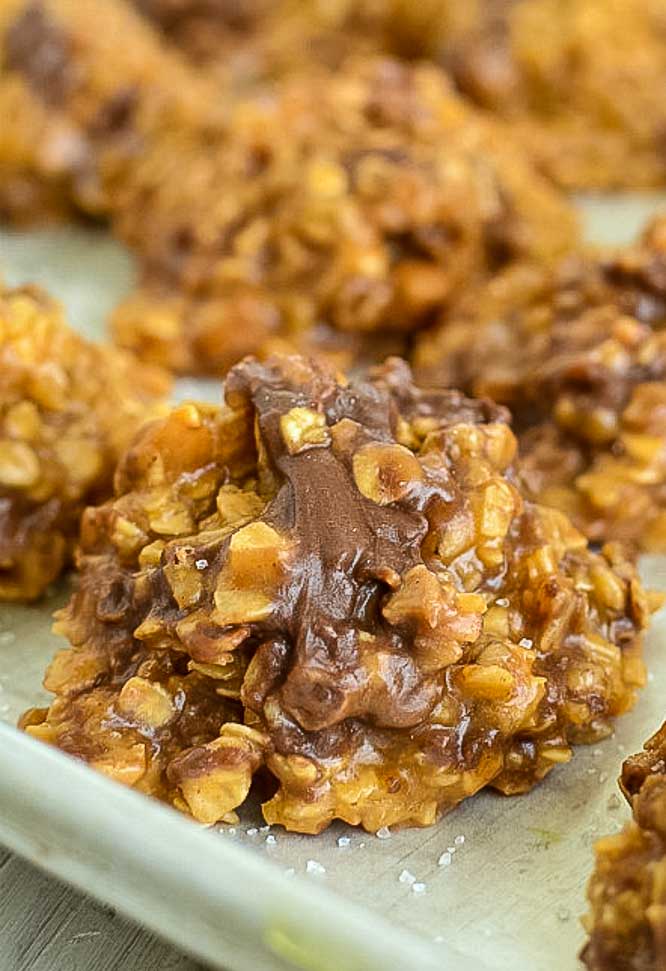 Grab a glass of milk and enjoy! Don't get me wrong…I love classic No Bake Cookies! But CARAMEL NO BAKE COOKIES, you have to admit that is a fun twist on a good ol' classic! I love them! Really, I do!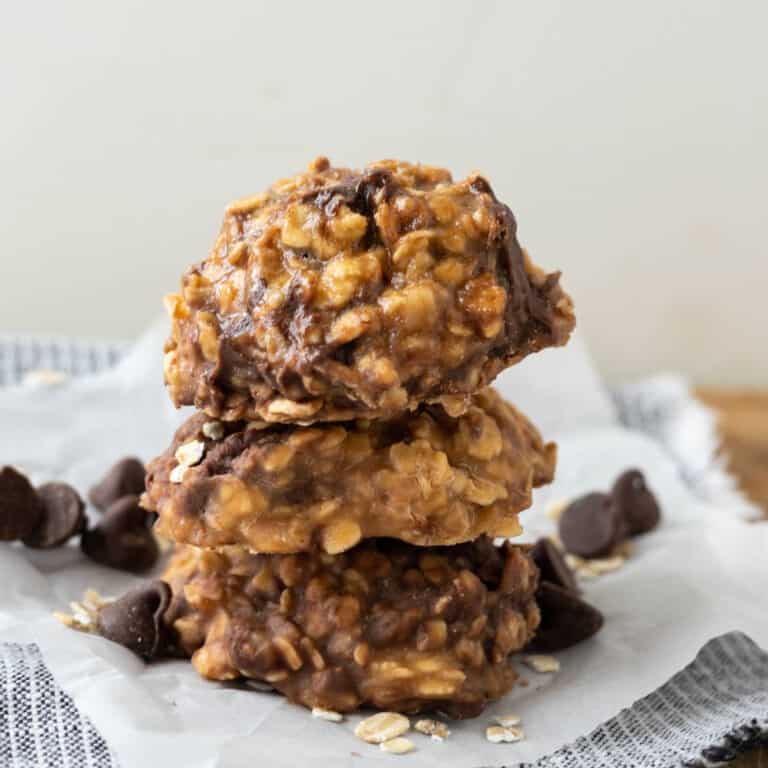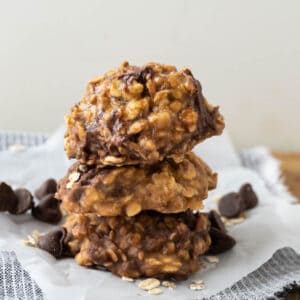 No Bake Caramel Cookies
No Bake Salted Caramel Cookies are made in minutes using a box of instant butterscotch pudding mix! You'll love the salty sweet twist on the classic no bake cookie recipe!
Ingredients
2

cups

granulated sugar

3/4

cup

butter (1 1/2 sticks)

2/3

cup

evaporated milk

3.4

ounces

instant butterscotch pudding mix

3 1/2

cups

quick oats

dash

salt

to taste

1

cup

semi-sweet chocolate chips

1/2

cup

toffee chips
Instructions
Line a baking sheet with parchment paper or wax paper. Measure the oats. Set aside. Put the chocolate chips in the freezer.

Add sugar, butter, a dash of salt, and evaporated milk to a medium sauce pan. Stirring frequently bring to a full rolling boil over medium heat. Boil for 30 seconds. A full rolling boil is a vigorous bubbling boil that doesn't stop when stirred.

Remove from heat and add oats and dry pudding. Stir. Let sit for a few minutes until it cools a little bit.

Add chocolate chips and toffee chips to the cookie mixture. Gently and quickly stir, do not over stir or else the chocolate chips will be completely melted.

Scoop cookies and drop them onto parchment paper. Sprinkle a little bit of the sea salt over the cookies before they cool. I like using coarse sea salt.

Let sit for at least 15-30 minutes.
Notes
PUDDING:
This recipe originally called for a 5.1-ounce package of butterscotch pudding. Apparently, that size is really hard to find. I've tested this recipe using a 3.4-ounce package and it works great.
Since I created this recipe Jell-O created Caramel pudding! That flavor works great also!
I've tested this recipe using cook-and-serve pudding and it worked great. Add cook and serve pudding mixture with the butter, sugar, and evaporated milk in Step 2.
OATS: I like using quick oats. You can also use rolled or old-fashioned oats. They will be a bit chewier.
TIMING: These cookies are really easy to make! However, timing is really important!
You need to bring butter, sugar and evaporated milk to a full rolling boil over MEDIUM heat.
A full rolling boil is when the mixture keeps boiling even when it's being stirred.
It's important to bring the mixture to a boil over medium heat. If you cook it too fast the cookies will most likely be runny or sticky. If you cook the mixture too long the cookies will be hard and dry.
How to Store No Bake Cookies
Store at room temperature in an airtight container.
Cookies will last for up to 3-5 days.
I've never tried freezing these cookies, although I do know no-bake cookies typically freeze well.
Nutrition
Calories:
169
kcal
|
Carbohydrates:
24
g
|
Protein:
2
g
|
Fat:
8
g
|
Saturated Fat:
5
g
|
Cholesterol:
15
mg
|
Sodium:
58
mg
|
Potassium:
73
mg
|
Fiber:
1
g
|
Sugar:
16
g
|
Vitamin A:
170
IU
|
Vitamin C:
1
mg
|
Calcium:
21
mg
|
Iron:
1
mg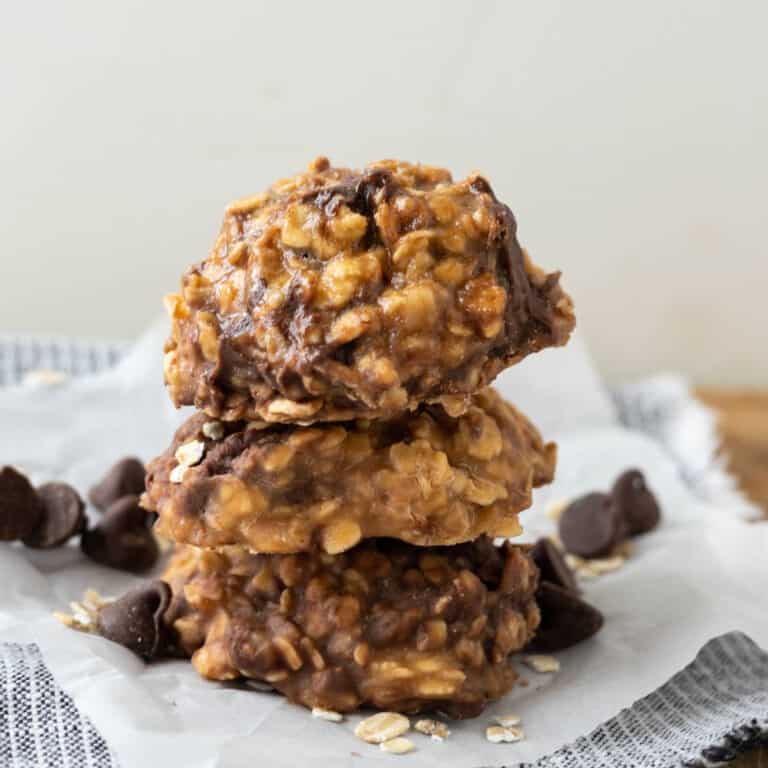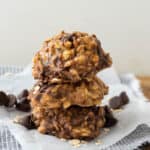 tried this recipe?
Make sure to share it with me! Leave a review or tag me on Instagram