These Family Menu Dinner Ideas are exactly what you need if you're looking for quick and easy weeknight dinners for family!
They're fun dinner ideas and are perfect family meals on a budget! You'll love these ideas!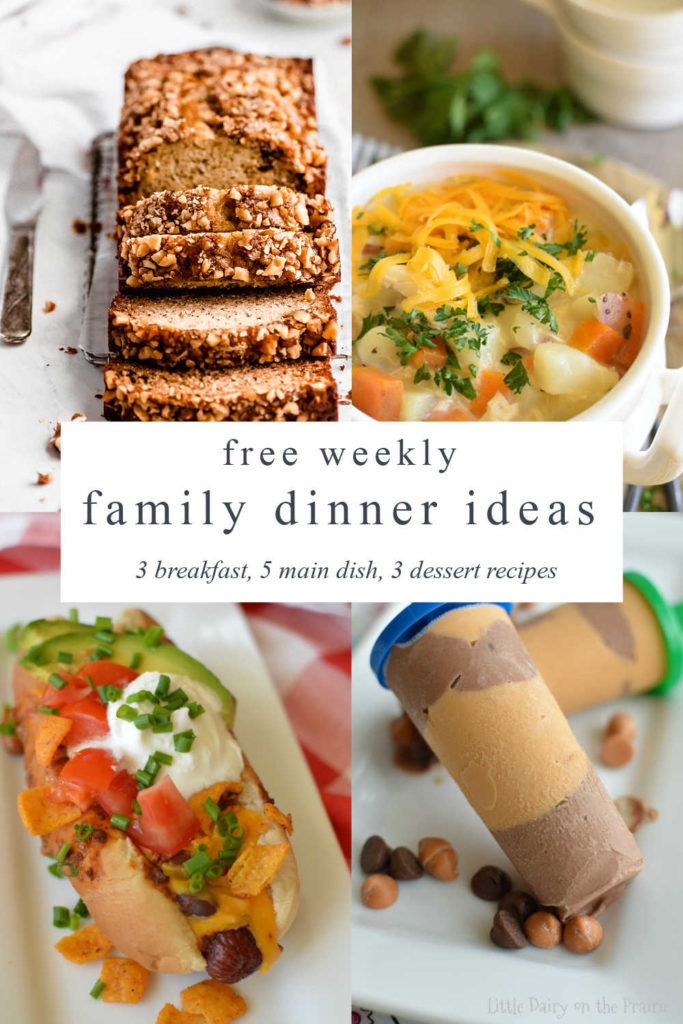 Easy Breakfast Ideas
Mornings are hectic! That's all there is to it!
These recipes will help make mornings smooth and still make breakfast doable!
I've got a banana bread recipe for you that can be made ahead of time. Serve with Sunshine Smoothies or Banana Splits with Greek Yogurt!
My kids go crazy for Breakfast Quesadillas. Prep most of it the day before and all that's left in the morning is throwing it together.
Family Menu Dinner Ideas
It's completely normal to get stuck in a run when it comes to fun dinner ideas for family! Not to worry, I've got you covered.
I've got some recipes and easy family dinner ideas that I know you're kids will go crazy for and help you keep family meals on a budget at the same time! #winning
Most of these recipes can be made ahead of time, and others just take minutes to whip up.
Family Menu Dinner Ideas – Desserts
Kids like to turn their noses up at veggies…it's a given!
I've got a couple recipes for you that I'm pretty sure they're going to DEVOUR! No complaining here!
We love these baked potato chips with of the sandwich recipes on my site.
Kid-friendly desserts
Dessert is my favorite part of the day and it's probably every kids favorite part of the day too!
These are recipes that I KNOW your kids will love. Plus they are great recipes to get the kids in the kitchen and to help make.
Be sure to check out all my no-bake desserts since they're a great place for kids to start when they're learning how to cook. They're also awesome if you're in a huge hurry and don't have time for baking.
These recipes are the perfect ending to all the family dinner menu ideas I shared with you today.