Mexican Pork is sometimes called Mexican Pulled Pork, or Carnitas. This recipe has the best flavor. It's perfect in tacos, soup, stew, or other Mexican dishes.
If you are in a hurry make Mexican Pork in the Instant Pot. Or, cook it low and slow in the crock pot.
Um…my life is crazy busy, especially during the summer when we're harvesting our crops.
It's an all hands on deck time of the year. We drive our tractors past each other and wave. That's what family time looks like. That's okay though! We all like it!
But, we all still get hungry! And that's when recipes like Mexican pulled pork are winners! Actually, it's always a winner. But it really shines when we don't have a even a minute to think about making meals!
Why You'll LOVE Mexican Pork!
Zero prep! Seriously, throw everything in the slow cooker or pressure cooker and you're done! EASY! Quick and Easy!
There are endless Mexican pork recipes you can make with this! Think sweet pork salad, pulled pork tacos, carnitas, pork burritos, chili, soup, stew, and pretty much any other Mexican pork dishes you can think of!
Leftovers are amazing! See #2 for ideas of what to make with it!
This is a cheap meal! Pork roast is so inexpensive these days.

Mexican Pork Ingredients:
I'm not going to lie to you. There have been many times I've opened a package of taco seasoning, thrown it on my pork roast, and cooked it up.
It's delicious, but taking a few extra minutes to make your own is worth the little bit of extra hassle. You can even make it ahead of time.
Pork Roast: see note below
Spices: paprika, cumin, chili powder, onion powder, oregano, salt, pepper
Orange Juice: Frozen concentrate works great. You can use freshly squeezed if you're ambitious. I'm not!
Lime juice & Lemon Juice: From a bottle is fine.
Soy Sauce: I like low sodium. Use whatever you have.
Olive Oil
What kind of pork roast should I use to make Mexican Pork?
I use a Boston Butt Roast, which is basically the same thing as a shoulder roast. Nope, the butt roast doesn't come from the rear end of the pig! This roast will have some fat marbling in it. The fat helps keep the roast from getting too dry. You will have to separate the fat from the pork meat when shredding it.
How to Make Mexican Pork:
Okay, this Mexican pork roast probably isn't one of those authentic Mexican pork recipes, but it's still good! Gringo style!
STEP 1: Mix seasonings. Or use a taco seasoning packet if you want.
STEP 2: Set roast in pressure cooker or instant pot.
STEP 3: Rub roast with seasonings. Just use your hands!
STEP 4: Cook.
STEP 5: Shred to make Mexican Pulled Pork.
Do I need to sear a pork roast before cooking it?
Back in the day I think everyone seared roasts before cooking them. Searing a roast helps lock the juices inside the roast keeping it moist throughout the cooking process.
Pressure Cookers and Slow Cookers work a little differently than an oven. In my opinion, they stay plenty moist without the extra searing step. Hooray for not having to sear! It's one extra step, and it makes my hair smell like meat, my house smell like meat, and my stovetop get splattered with oil. I can do without all of those things!
Sprinkle the seasoning on the roast and gently rub them in with your fingers and you're good to go!
How long should I pressure cook a pork roast?
The longer the pork cooks the more likely it is to fall apart. Maybe I'm lazy, or maybe I like fall extra tender meat but that's what I'm after…falling apart pork!
I'm sure it's possible to overcook a pork roast, but I always set my pressure cooker on high pressure for 90 minutes, for a pork roast that's less than five pounds.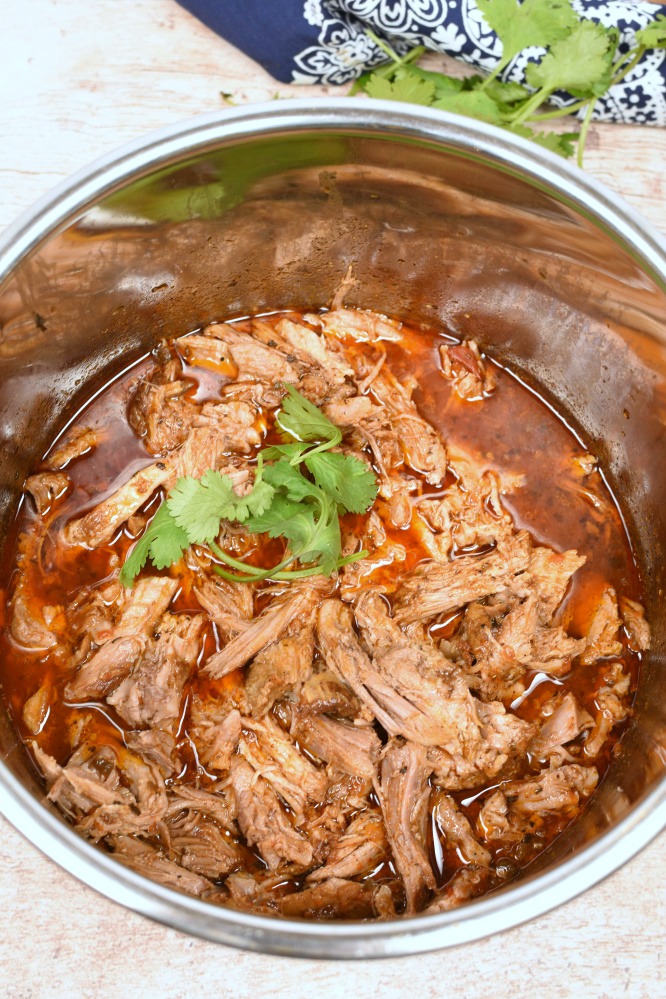 Leftover Pork Recipes, Mexican:
Well, let your imagination run wild coming up with new and amazing ways to use up the leftovers! My family loves it in salads, quesadillas, on tortas, to make enchiladadas, burritos, and nachos.
Here are a few recipes that we make exactly as they are written except we substitute Mexican Pulled Pork for the chicken or beef. Trust me, leftovers never looked or tasted as good as they will with this recipe!
I love it when you make my recipes and give me feedback! If you have a minute please comment below and leave a star ranking! Also, be sure to follow me on Pinterest, Instagram, and Facebook!
Mexican Pork Recipe!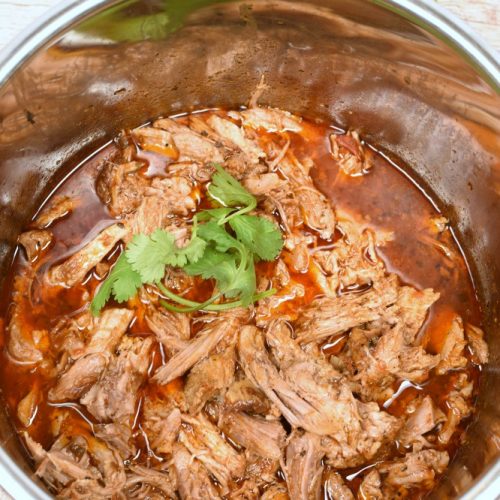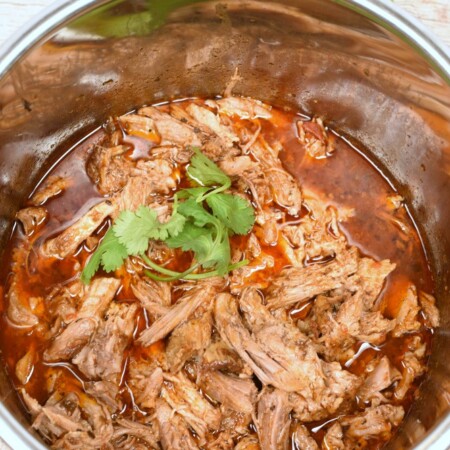 Pressure Cooker Mexican Pork
Pressure Cooker Mexican Pork is a cook once, eat twice pork recipe! The sky is the limit when it comes to using up the leftovers; tacos, salads, tortas, pizza, enchiladas, burritos, quesadillas, and soup! You can serve this basic pork recipe to your family several times in one week and they will never know they're eating leftovers!
Ingredients
4-5

pound

pork roast

2

teaspoon

smoked paprika

2

teaspoon

cumin

2

teaspoon

chili powder

2

teaspoon

onion powder

2

teaspoon

oregano

1/2

teaspoon

salt

1/2

teaspoon

black pepper

1/4

cup

orange juice

1/4

cup

lime juice

1/4

cup

lemon juice

1/4

cup

soy sauce

2

Tablespoon

olive oil
Instructions
Mix all the spices together. Set aside.

Add pork roast to a pressure cooker. Rub pork roast with olive oil. Sprinkle spice mixture over pork roast. Gently rub to help it stick to the pork roast.

In a separate bowl, add orange, lime, and lemon juice, and soy sauce. Whisk together. Pour in the pressure cooker. Pour it next to the pork so the liquid doesn't wash seasonings off of the roast.

Set pressure cooker to high pressure and cook for 90 minutes. After cooking time, allow the pressure cooker to naturally release.

Remove pork from the pressure cooker and shred or pull with two forks. Discard any fat. Return pork to pressure cooker allowing it to soak up the juices.
Slow Cooker Instructions:
Mexican Pork can easily be made in the slow cooker. Follow the instructions the same as listed for a pressure cooker, except cook on high for 6 hours in the Crock Pot. °
Notes
To make Pork Carnitas
toss shredded pork with a generous amount of corn oil and brown sugar to taste. You might not even want to add brown sugar. It caramelized and makes the pork have the best crispy bits.
Line a baking sheet with aluminum foil. Spray with nonstick cooking spray.
Spread shredded pork on the pan.
Bake at 400 degrees for about 15 minutes.
Mexican pork also makes fantastic pork salad, pork chili, Mexican stew, Mexican pork tacos, and other Mexican dishes!
Nutrition
Calories:
466
kcal
|
Carbohydrates:
5
g
|
Protein:
69
g
|
Fat:
17
g
|
Saturated Fat:
4
g
|
Cholesterol:
191
mg
|
Sodium:
896
mg
|
Potassium:
1252
mg
|
Fiber:
1
g
|
Sugar:
2
g
|
Vitamin A:
573
IU
|
Vitamin C:
12
mg
|
Calcium:
44
mg
|
Iron:
3
mg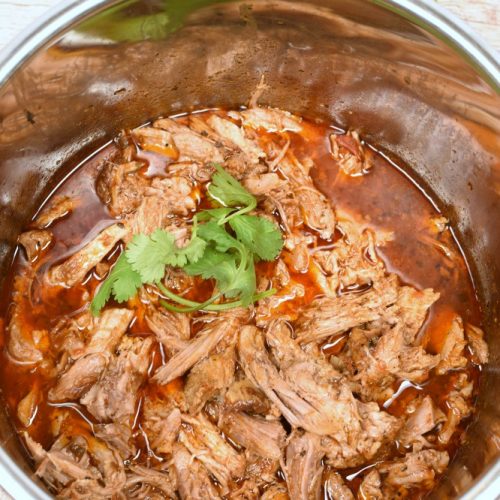 tried this recipe?
Make sure to share it with me! Leave a review or tag me on Instagram