Baked Chili Cheese Dogs is a quick homemade 30-minute (at most) meal that everyone goes crazy for! Load them with your favorite toppings and enjoy! Trust me, it takes regular old hot dogs to a whole new level of good!
You can bake chili dogs in the oven, on the grill, or in the air fryer! It makes life so easy!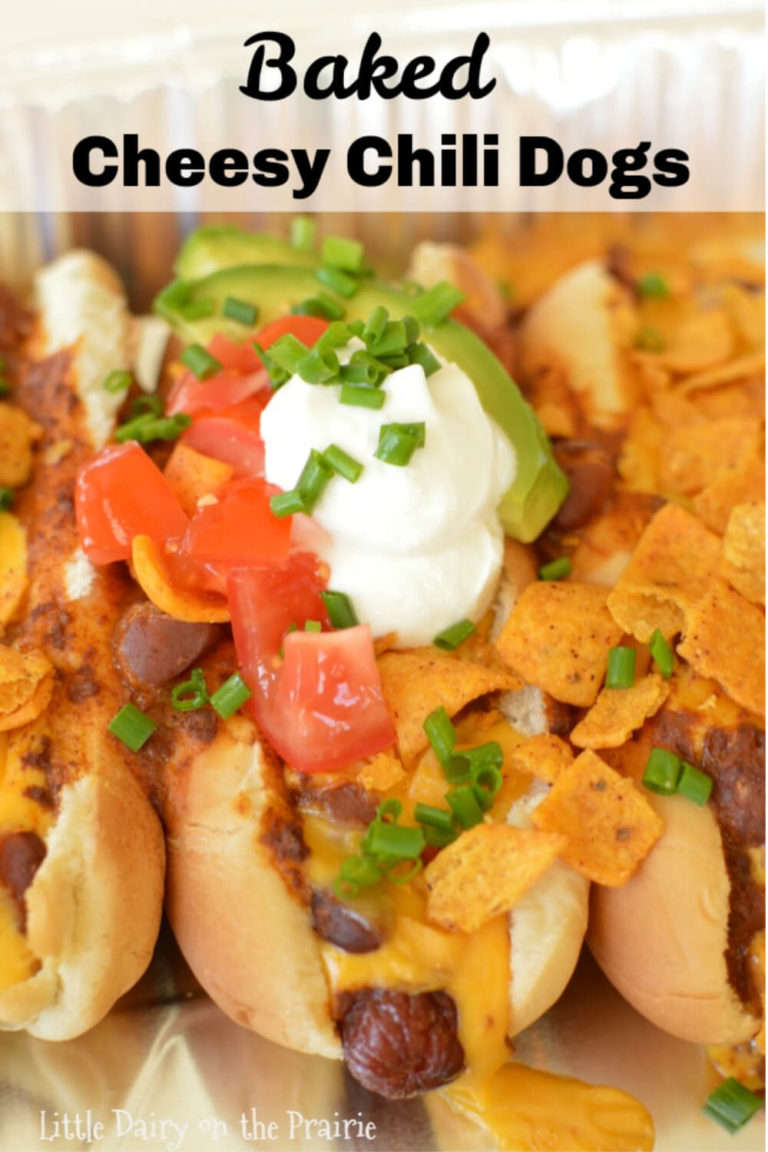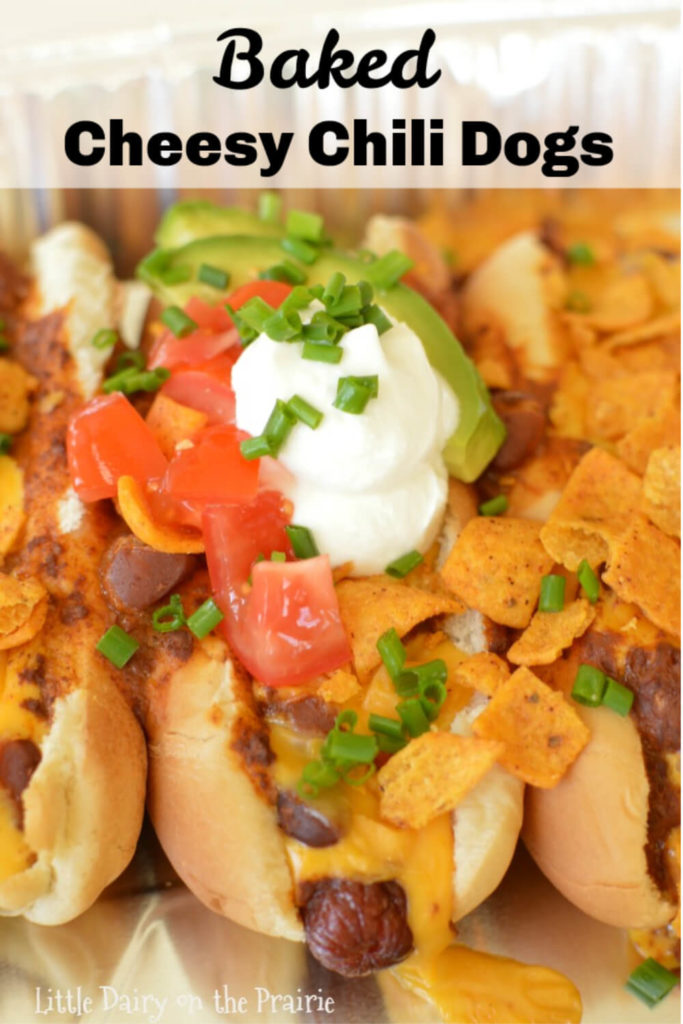 My boys literally get so excited when I make chili dogs! I feel like I'm pretty picky about food and am a bit of a food snot, and I LOVE chili cheese dogs! They're that good!
There are chili dogs and then there are chili cheese dogs! Don't forget the cheese! My family owns a dairy farm and I'm telling you the cheese is important! My chili dog recipe is loaded with it!
Be sure to check out my Cream Cheese Chili Dip! You'll also love making Hot Dog Sliders for kids.
Why This Recipe Works:
They are great for a quick and easy last-minute, I don't have anything planned, kind of meal. You can even prep most of the dinner ahead of time and it will be ready when you are.
This chili cheese dog recipe is also perfect for serving at BBQs and parties because you bake them all at once. There's no need to babysit the grill during the party. And, it's a cheap company meal!
Customize these bad boys with your favorite toppings! The sky is the limit! Keep it simple, or add all the things!
I love that I can make these in minutes or I can make them ahead of time. The recipe is so versatile.
Ingredients Needed:
You're going to need simple, inexpensive ingredients to make this recipe.
It's a great place to use up the ends the end of the bag of chips, or the last of the chopped veggies. Or, use whatever you have on hand.
Let's go over what you'll need for sure.
Hotdogs: You guessed it! You'll need hotdogs! I always splurge (can we even call hotdogs a splurge?) and buy the bun length all beef hotdogs. I'm a beef girl so it's all beef for me. Buy whatever hotdogs you like; beef, chicken, pork, vegetarian, or even brats would be fine.
Cheese: Velveeta is magical! Do some people wonder if Velveeta is real cheese? Yes! It's processed cheese similar to American cheese. It's the best melting cheese and is smooth and creamy! In my opinion, it's the best cheese to use for chili cheese dogs. But, you can always use grated pepper jack, cheddar, mozzarella, or colby jack cheese if you'd like.
Chili: You can use homemade chili if you're ambitious or have leftover chili. Hormel and Nalley are two of my favorite brands. I chili con carne which is chili with hamburger and beans. You can use chili without beans, too.
Buns: Use your favorite brand, or whatever is cheap. It doesn't really matter here!
How to Make Chili Cheese Dogs:
Oven-baked chili cheese dogs are a cinch to make! So easy!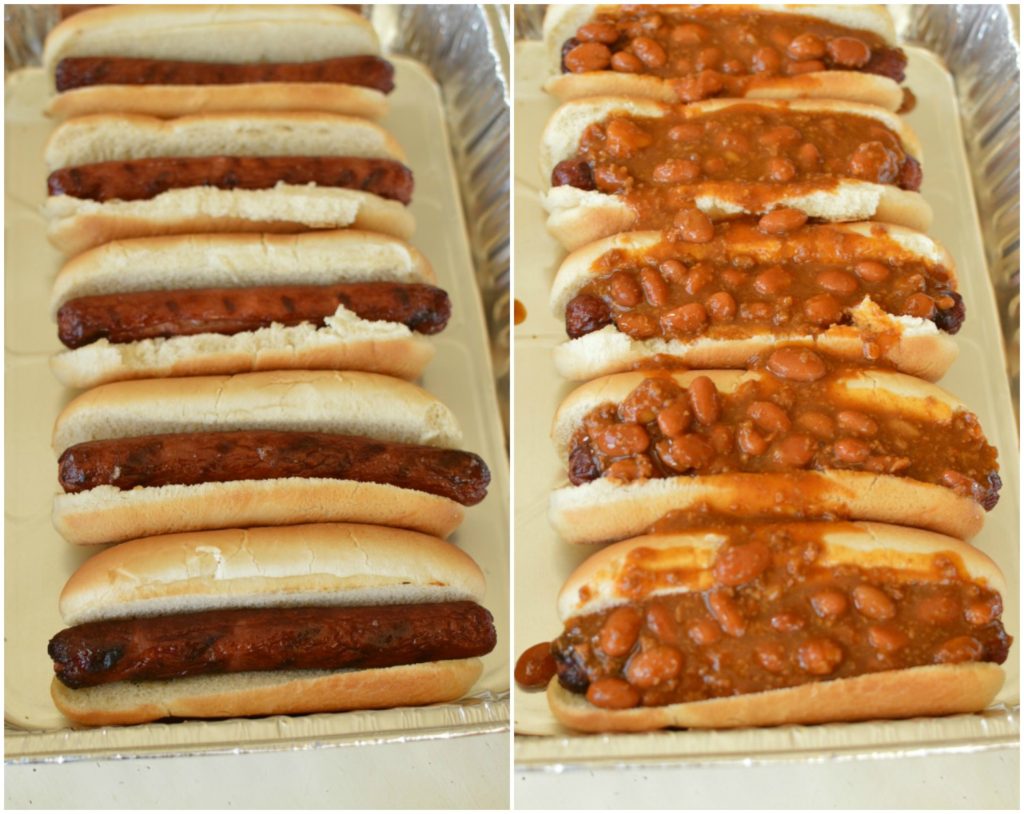 Step 1: Preheat oven or grill to 350 degrees. Set hotdog buns in a 9″x13″ baking dish. Set them in the dish with the spine side down. This will make it easier to load the chili dogs!
Step 2: Set hotdogs in the buns. You do NOT need to grill or cook the hotdogs before putting them in the bun because they are going to cook during the baking time. But, if you like the hotdogs to have those nice grill marks and be a little bit more crispy go ahead and cook the hotdogs in the air fryer, a skillet, or on the grill before placing them in the buns.
Step 3: Spoon chili over the hotdogs.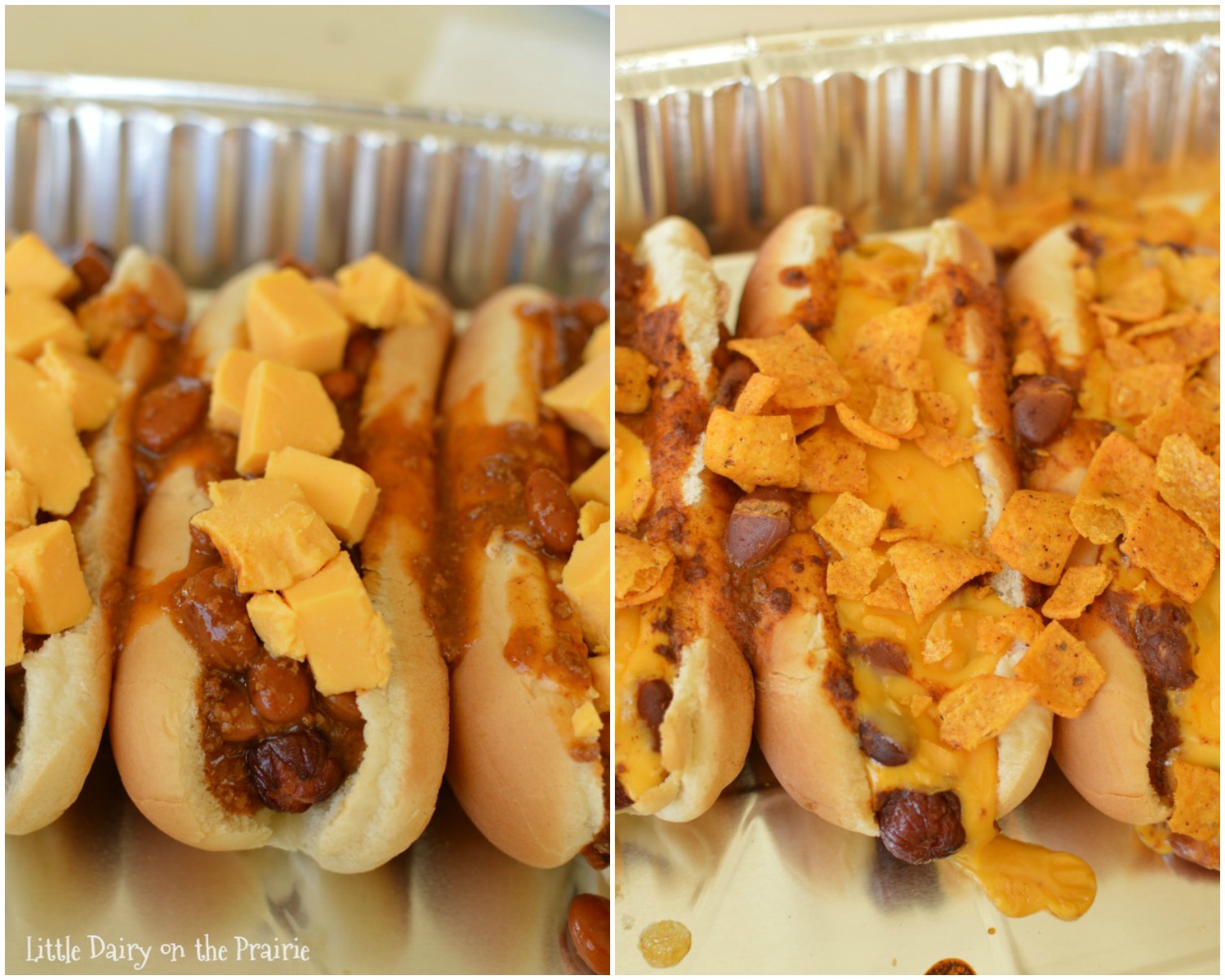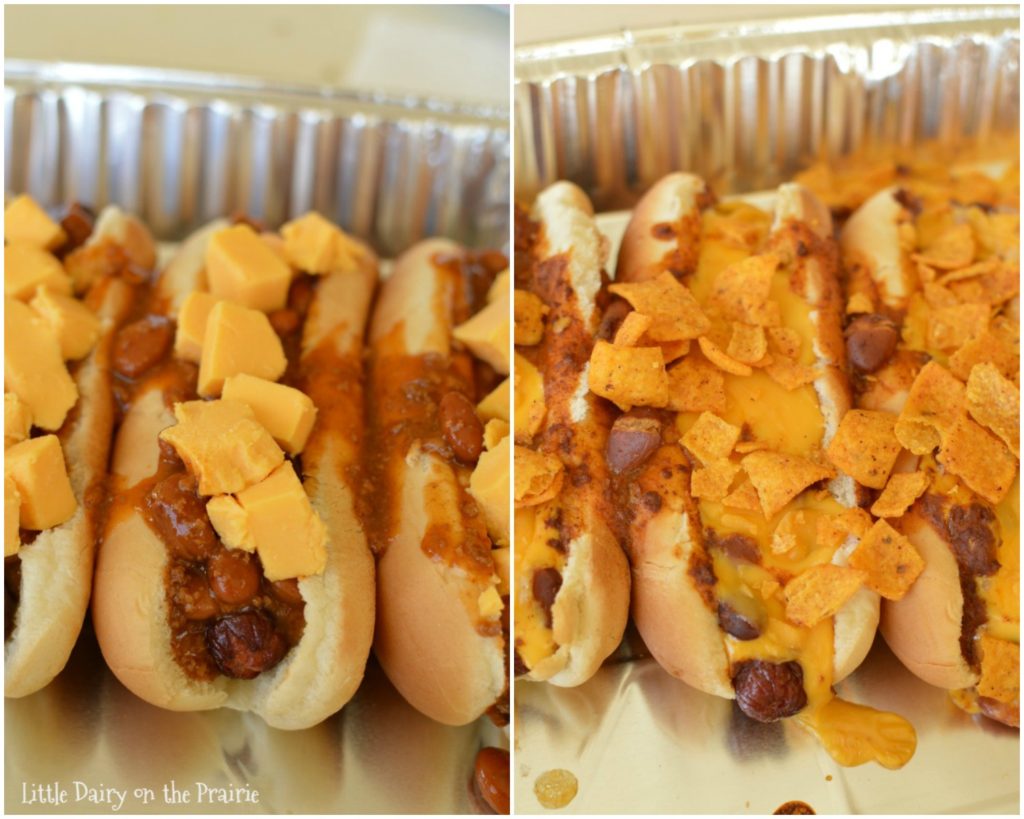 Step 4: Add cheese. I cube Velveeta cheese and set it on top of the chili. If you're using other cheeses, like cheddar, you'll want to grate them.
Step 5: Cover the pan with foil and bake the hotdogs in the oven or cook on the grill for for 25-30 minutes.
Step 6: Add your favorite toppings and serve!
FAQs:
Can you cook hot dogs in the oven?
Yes! As long as they are cooked through. They should be cooked to 160 degrees.
How long do you bake hot dogs in the oven?
It will depend what temperature you cook them at. For this recipe they will bake at 350 degrees for 25-30 minutes. It will take a little longer to cook the hot dogs with chili on them because they are thicker than if you cook hot dogs by themselves.
Can I make chili hot dogs ahead of time?
If you're making homemade chili you can do that part ahead of time. Otherwise, you need to assemble and cook baked chili hot dogs right before serving. They will get soggy if they sit too long.
What goes with Chili Cheese Dogs?
Baked chili dogs are delicious served with any sides you'd serve with hamburgers and hotdogs.
I also like to take add taco type of toppings to these chili dogs!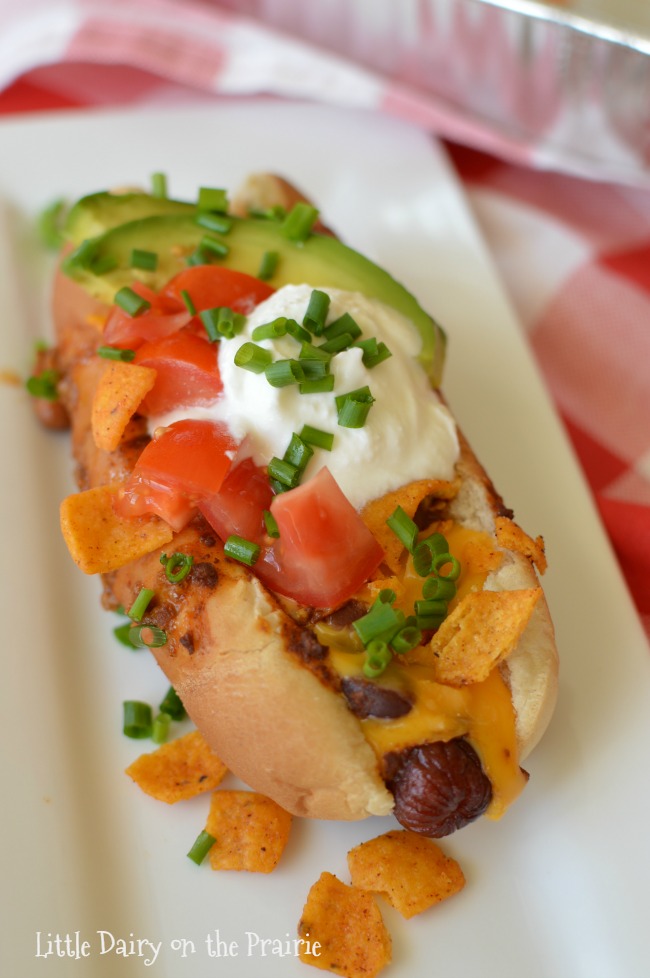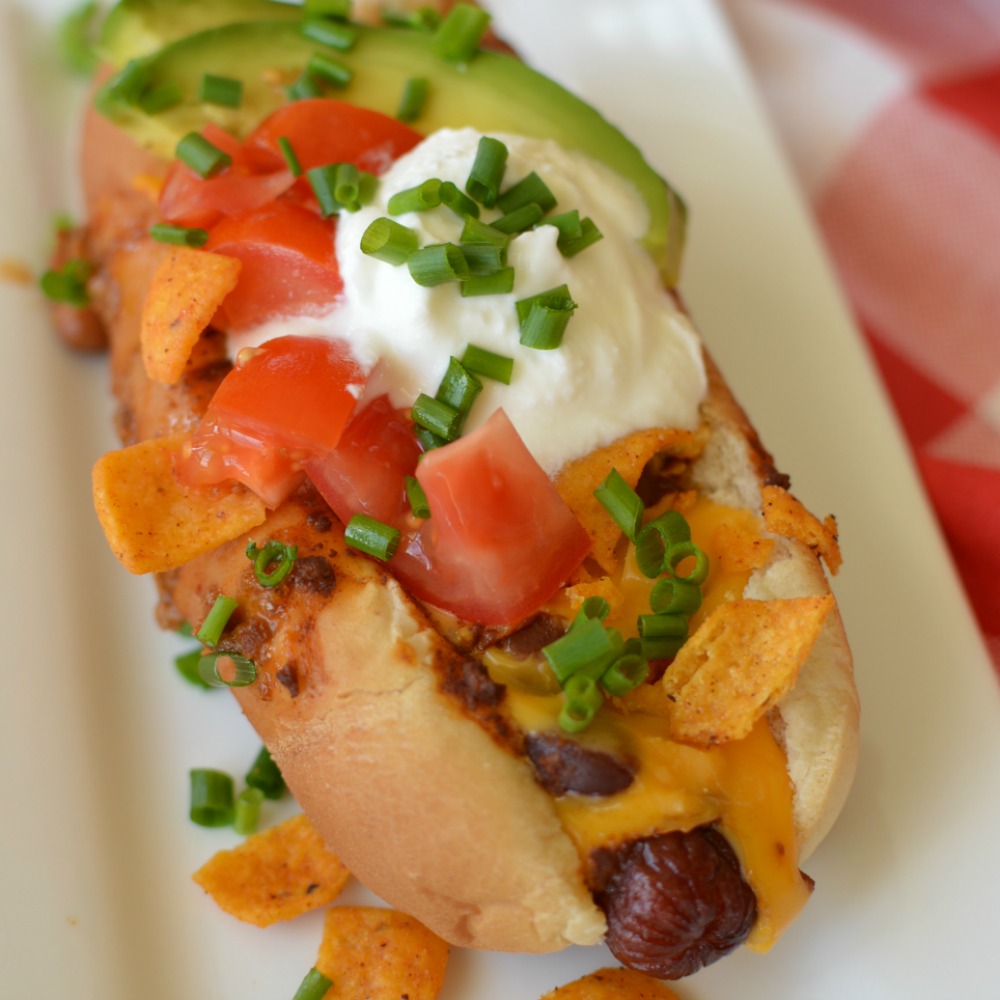 Baked Chili Cheese Dogs
Baked Chili Cheese Dogs is a quick homemade 30-minute (at most) meal that everyone goes crazy for! Load the chili dogs with your favorite toppings and enjoy! Trust me, it takes regular old hot dogs to a whole new level of good!
Ingredients
8

hotdogs

8

hotdog buns

14

ounces

chili

1

cup

Velveeta
Instructions
This recipe can either be made in the oven or on the grill. Preheat the oven to 350 degrees or grill to medium-high heat.

Place hotdog buns, spine down, in a disposable baking pan (you have to use the lasagna size pan to fit them all, or you might have to use two smaller pans). You can also use a glass or metal baking dish. It makes clean-up easier if you line it with aluminum foil or parchment paper.

Spread chili over hotdogs.

Cube Velveeta cheese and sprinkle over the chili.

Cover pan with foil and bake for about 30 minutes or until hotdogs and chili are warmed through and cheese is melted.

Add your favorite toppings.
Notes
Cheese: You can use other types of cheese. Grated cheddar, pepper jack, or Colby jack are great choices. Hot dogs: For crispier hotdogs grill, fry, or cook them in the air fryer before adding them to the buns. Toppings: Add your favorite toppings. See my post for fun topping ideas.
Nutrition
Calories:
736
kcal
|
Carbohydrates:
35
g
|
Protein:
13
g
|
Fat:
61
g
|
Saturated Fat:
12
g
|
Polyunsaturated Fat:
6
g
|
Monounsaturated Fat:
39
g
|
Cholesterol:
46
mg
|
Sodium:
966
mg
|
Potassium:
168
mg
|
Fiber:
2
g
|
Sugar:
5
g
|
Vitamin A:
290
IU
|
Vitamin C:
0.1
mg
|
Calcium:
181
mg
|
Iron:
2
mg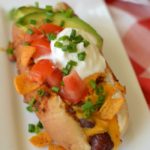 tried this recipe?
Make sure to share it with me! Leave a review or tag me on Instagram


Don't forget to pin it!