Baked Chili Cheese Dogs are so easy to make for crowds! Load them up with all your favorite toppings; sour cream, tomatoes, onions, avocado, and corn chips! If you don't want to crank the oven cook them on the grill!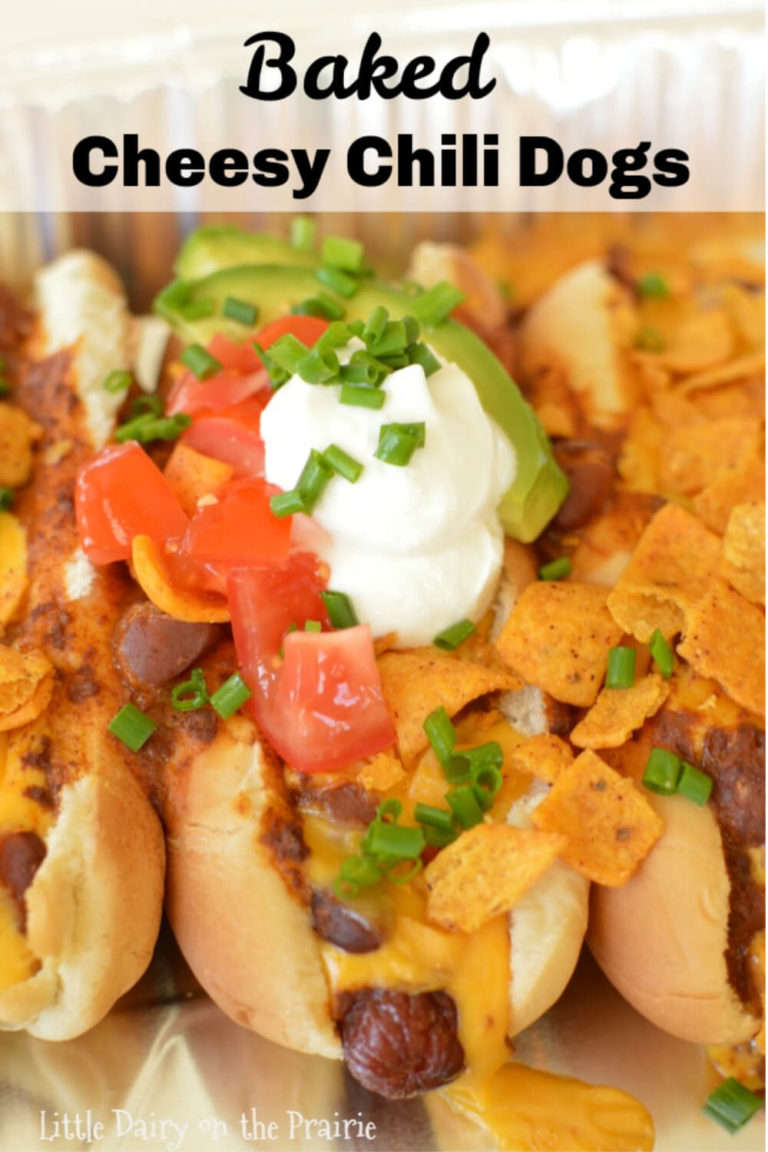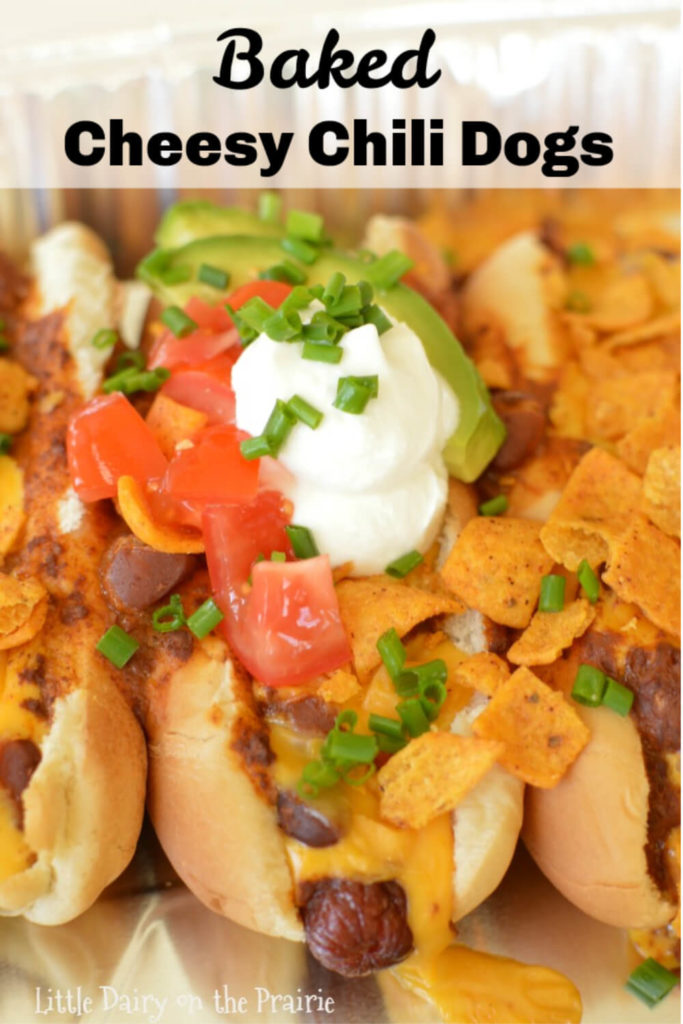 "Chili dogs baby!" Who knows what show that came from? Sometimes I love a good hotdog and let me tell you something extra magical happens to a hotdog when you load them with melted cheese, spicy chili, crunchy chips, and fresh toppings! I'm telling you this is not your average chili dog, its a Loaded Cheesy Chili Dog and it's delicous!
Start off by chopping fresh veggies to go on the top. Get creative, I chose veggies that I would normally top chili with…avocados, tomatoes, cilantro, scallions, etc.
Of course you need lots of cheese to make a Loaded Cheesy Chili Dog! Any kind of cheese is going to be delicious. I've used pepper jack, cheddar, but this time I used Velveeta because it has incredible melting qualities and sometimes I just like the stuff!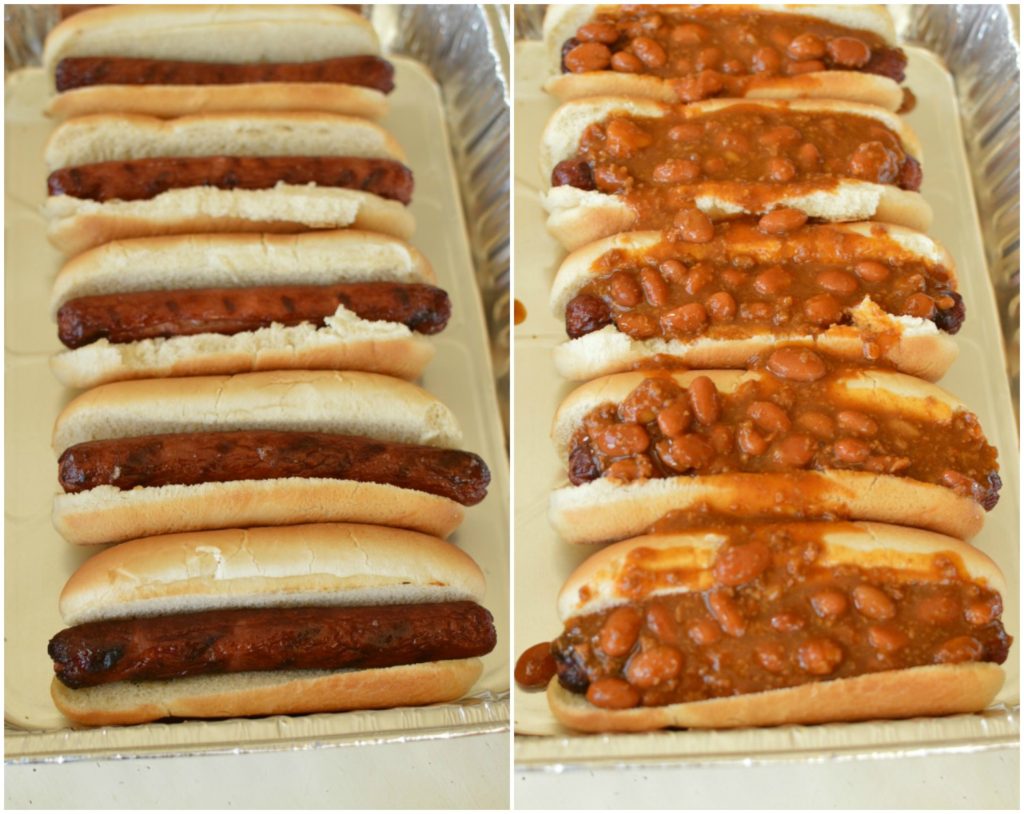 The easiest way to make the chili dogs is to line the opened buns up in a disposable pan and add raw hotdogs to the buns. Since I cooked my chili dogs on the grill I threw the hotdogs on the grill for a few minutes first. This is not necessary but I like the grill marks so I went the extra mile. Trust me, the chili dogs will still be amazing even if you skip this step which you will want to do if you are cooking them in the oven.
Next, add chili. Use whatever kind of chili tickles your fancy.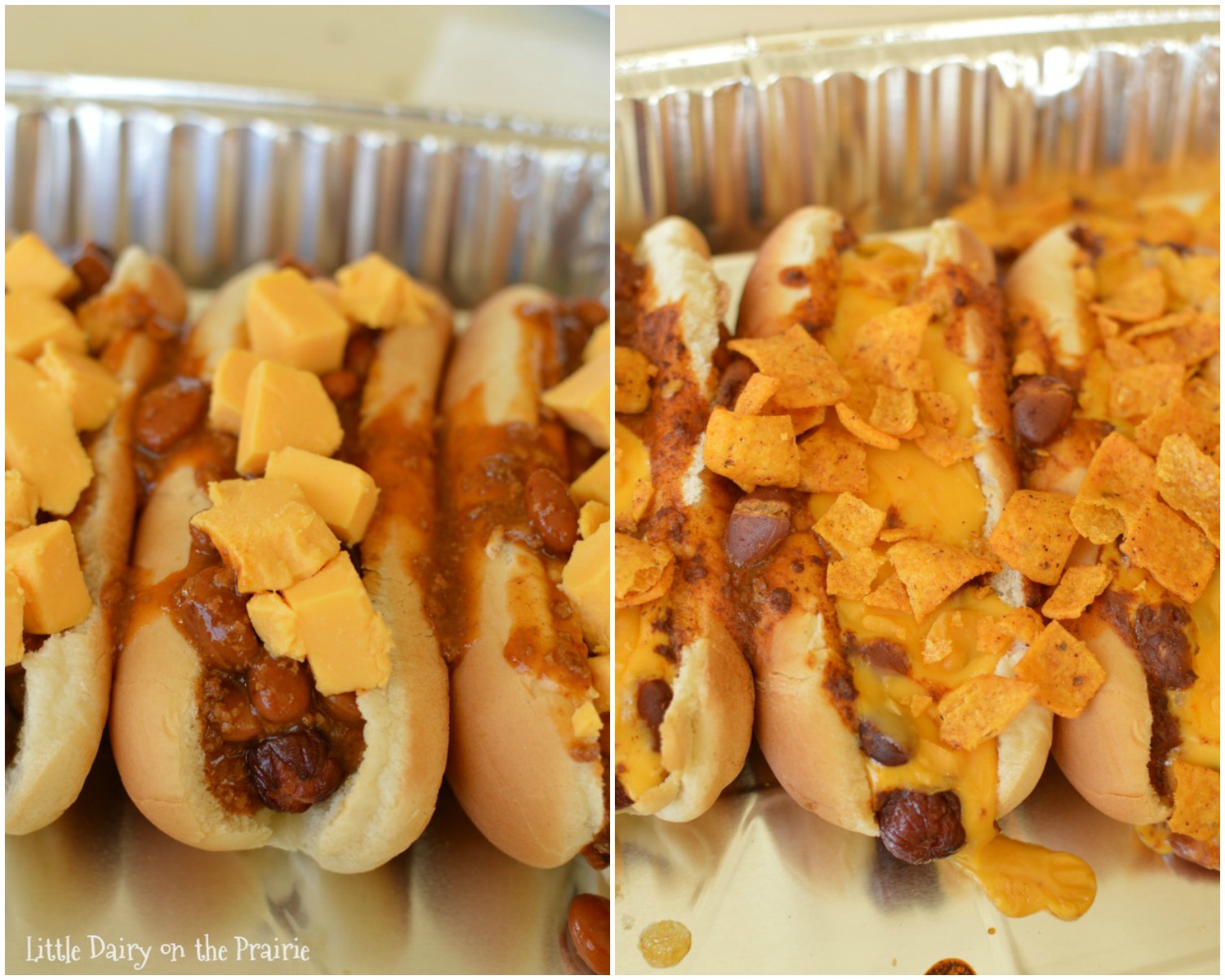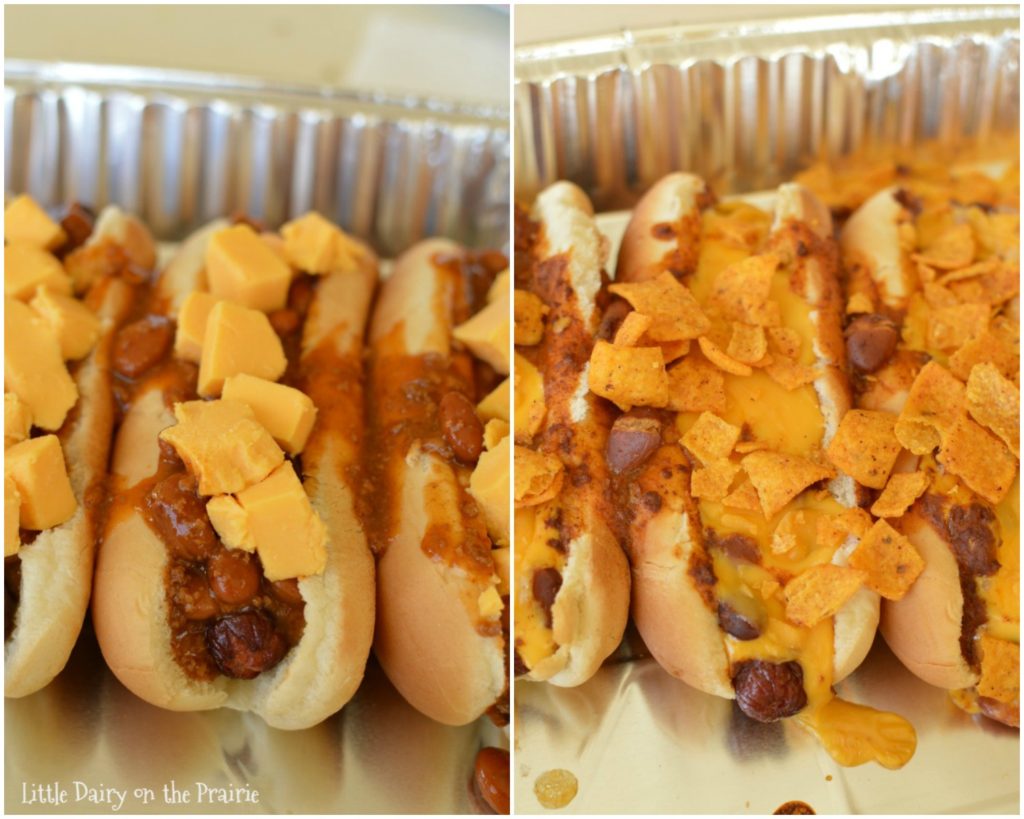 This picture grouping might be a little confusing. Add the cheese and then put the pan of cheesy chili dogs on the grill or in the oven. Let em cook until the whole thing is warm and the cheese is gooey and melted.
After you take the cheesy chili dogs off the grill, or out of the oven, the fun begins. Sprinkle corn chips over the top, it adds a yummy crunch!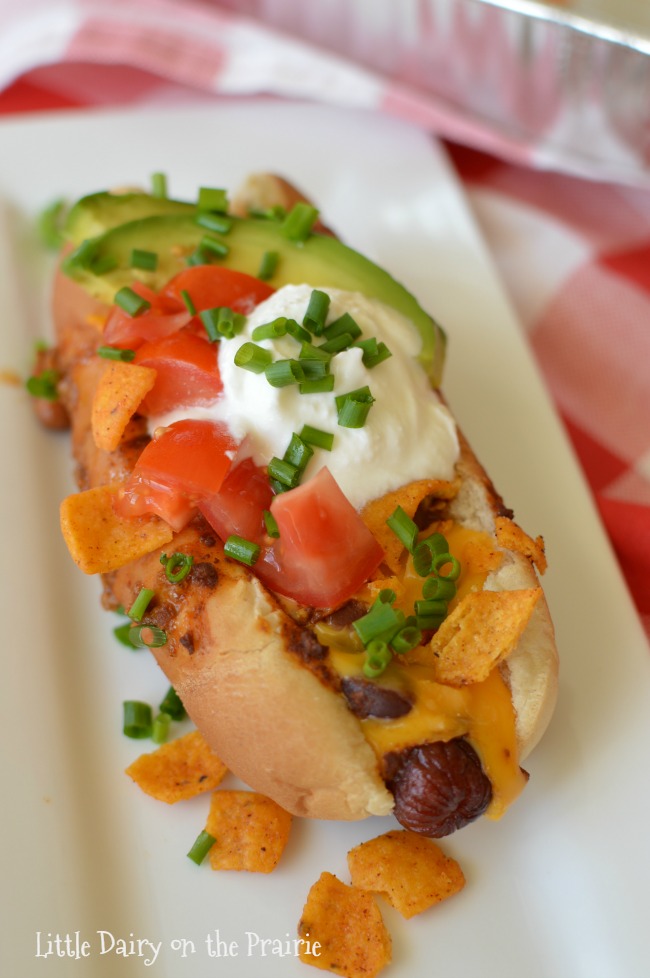 Let your imagination go crazy and add all those yummy toppings that will transform this from an ordinary chili dog into a scrumptious Loaded Cheesy Chili Dog! When I mean loaded, I mean LOADED! We want this puppy to be chock full of extras!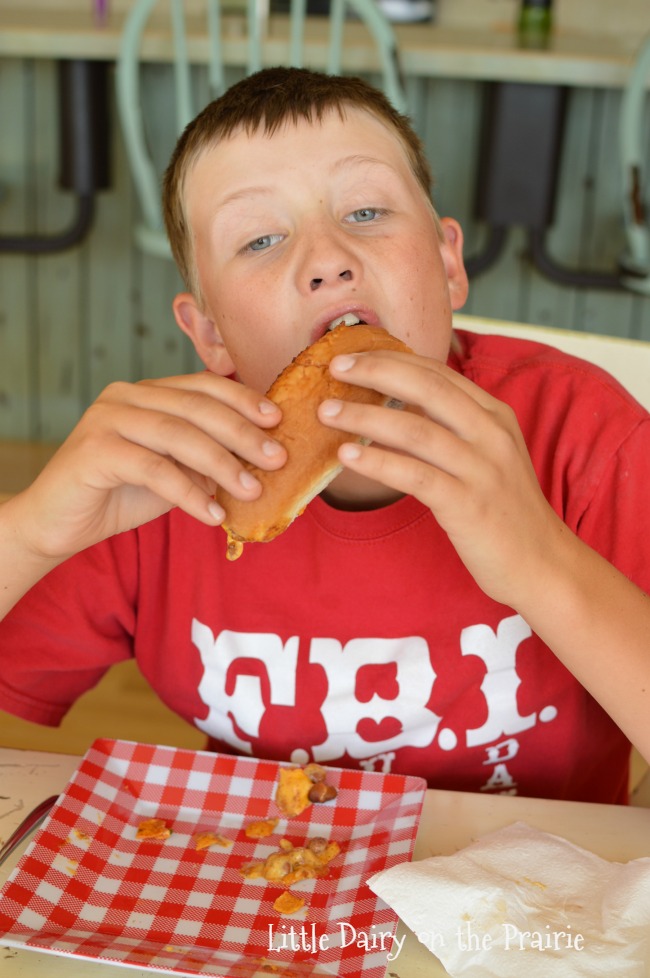 Branson is my pickiest eater. He won't even consider trying foods that are green or resemble a vegetable. For this man, his Loaded Cheesy Chili Dog wasn't so loaded, just chili and cheese. And that's one of the great things about these dogs, everyone can make em the way they like em. But they are best when they are loaded, just sayin!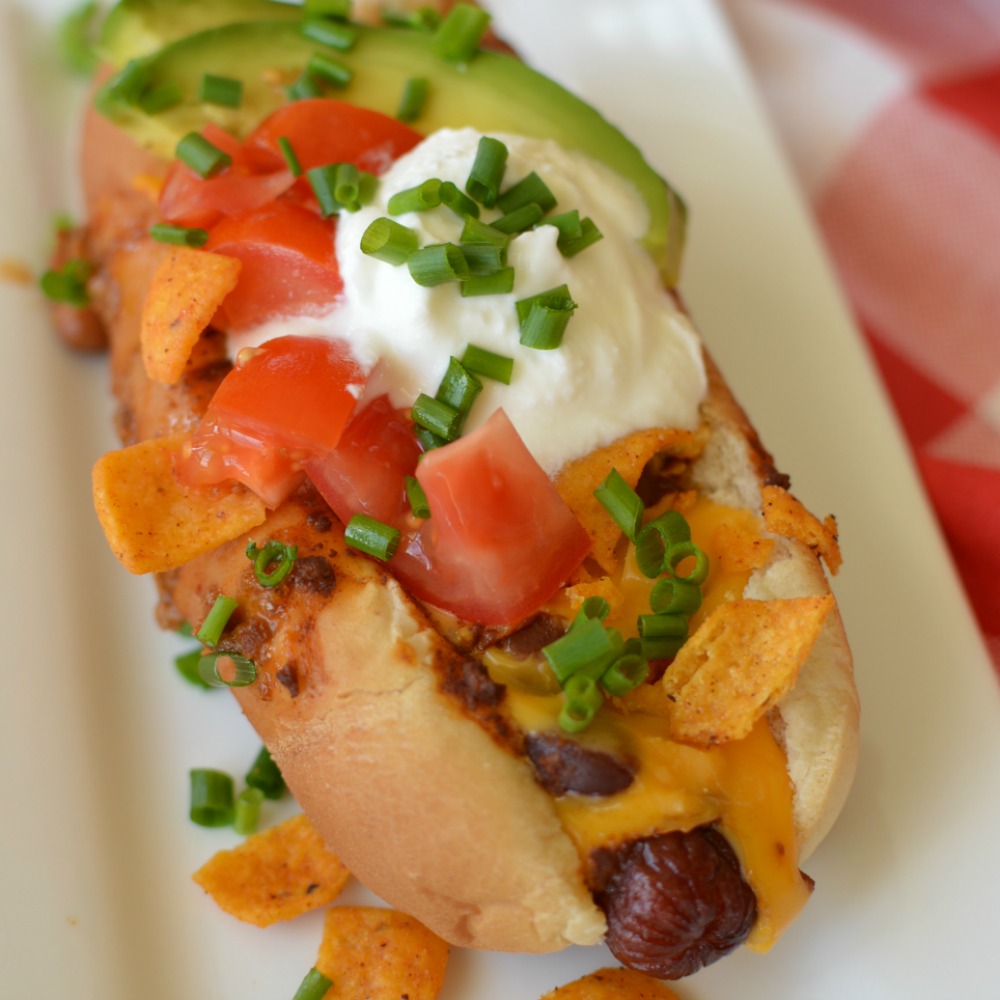 Because Loaded Cheesy Chili Dogs are so easy to make they are perfect for camping, serving a crowd, tailgating, or weeknight meals. And everyone LOVES these things!
Loaded Cheesy Chili Dogs
Loaded Cheesy Chili Dogs will put your average chili dog to shame! Cook 'em in the oven or on the grill, either way they are easy! Let everyone load their chili dog with their favorite toppings!
Ingredients
8

hotdogs

8

hotdog buns

1 14

oz.

can chili

1

c.

grated cheddar or pepper jack cheese

or cubed Velveeta

8

T.

sour cream

1

c.

corn chips

tomatoes

green onions, cilantro, avocado, or any other toppings you like
Instructions
This recipe can either be made in the oven or on the grill. Preheat oven to 350 degrees or grill to medium high heat.

Place hotdog buns, spine down, in disposable baking pan (you have to use the lasagna size pan to fit them all, or you might have to use two smaller pans)

Set hotdogs in buns.(I grilled the hotdogs first but this really isnt' necessary)

Spread chili over hotdogs.

Sprinkle with cheese.

Cover pan with foil and bake for about 30 minutes or until hotdogs and chili are warmed through and cheese is melted.

Load chili dogs with toppings. I think corn chips and sour cream are a must. One of the great things about this recipe is that everyone gets to add their favorite toppings!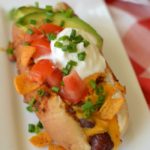 tried this recipe?
Make sure to share it with me! Leave a review or tag me on Instagram
Don't forget to pin it!