I'm sharing all my best tips on how to cook melt in the mouth roast beef in the slow cooker! Cream of mushroom soup and onion soup mix help the roast make its own gravy while it cooks!
The hardest part of this recipe is removing it from the Crockpot because it will be so tender it will literally be falling apart! It's perfect for any special occasion or everyday dinner!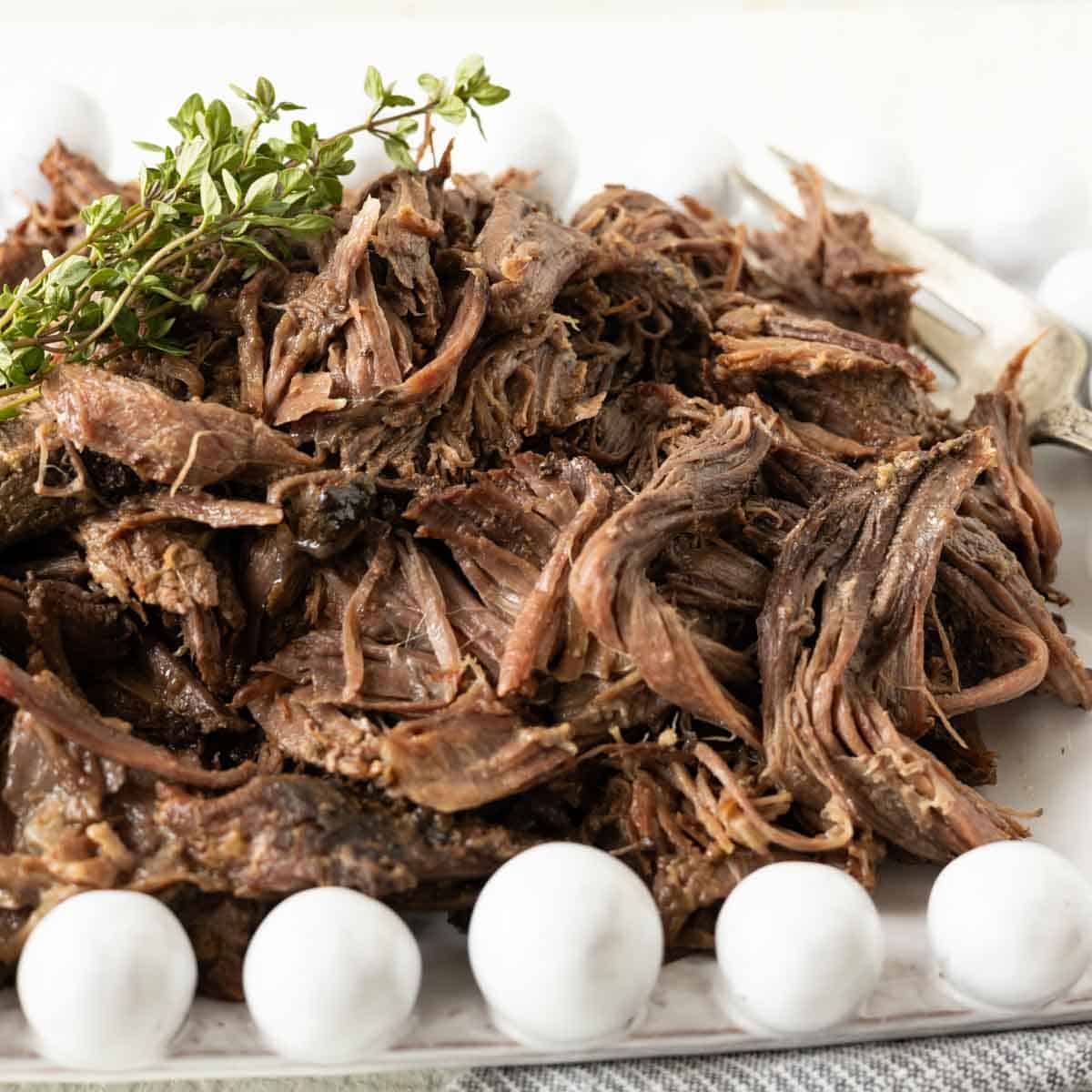 My family owns a dairy farm. Since we have cows we eat beef more often than any other meat. We LOVE a good pot roast! I grew up on Sunday roast and I'm still all about it!
Don't get me wrong, I'm grateful to have a freezer full of beef. But, dairy cows are perfect for ground beef and not so great for roasts and steaks. It took me a bit to figure out how to take a tough cut of beef and turn it into a falling apart piece of meat!
I figured it out though! The trick is to cook it low and slow. There isn't a great way to rush the process. I have learned to LOVE that part of this recipe because I can let it cook all day and not have to think about dinner until I walk through the door at night!
It's especially handy when I'm going to be in the fields for a long period of time and know I'm going to come home hungry! My whole family goes crazy for this pot roast recipe. in fact, my oldest begs for it! Plus, you'll pour a cream of mushroom soup mixture over the roast that turns into the perfect gravy while it cooks! It's magical.
A roast beef dinner is the perfect weeknight hearty meal for weeknights. It's so easy to throw everything in the slow cooker and come home to roast beef with tender potatoes and carrots!
Since we eat roast beef so often I've created a few different recipes. This pot roast recipe is my go-to recipe, but be sure to check out my Mississippi Pot Roast and my Classic Pot Roast. Both are popular for Sunday dinner!
Why This Recipe Works
Before we jump into the details, let's take a minute to talk about why this slow cooker roast beef recipe is an absolute winner. There are a few key reasons:
1. Low and Slow: Slow cooking is the secret sauce behind this mouthwatering dish. Cooking the chuck roast at a low temperature over an extended period of time breaks down tough fibers and collagen, transforming it into a tender, melt-in-the-mouth delight.
2. The BEST Flavor: The combination of mushroom soup and onion soup mix provides a rich and savory base that infuses every bite with deliciousness. It's probably the same recipe your grandma made! It's still popular for a reason!
3. So easy: This is an incredibly easy recipe to prepare. Once you've got everything in the slow cooker, you can pretty much set it and forget it. Plus, you'll have leftovers for days, making it perfect for meal prep or feeding a hungry crowd.
Ingredients You'll Need
Here's what you'll need to gather before you start: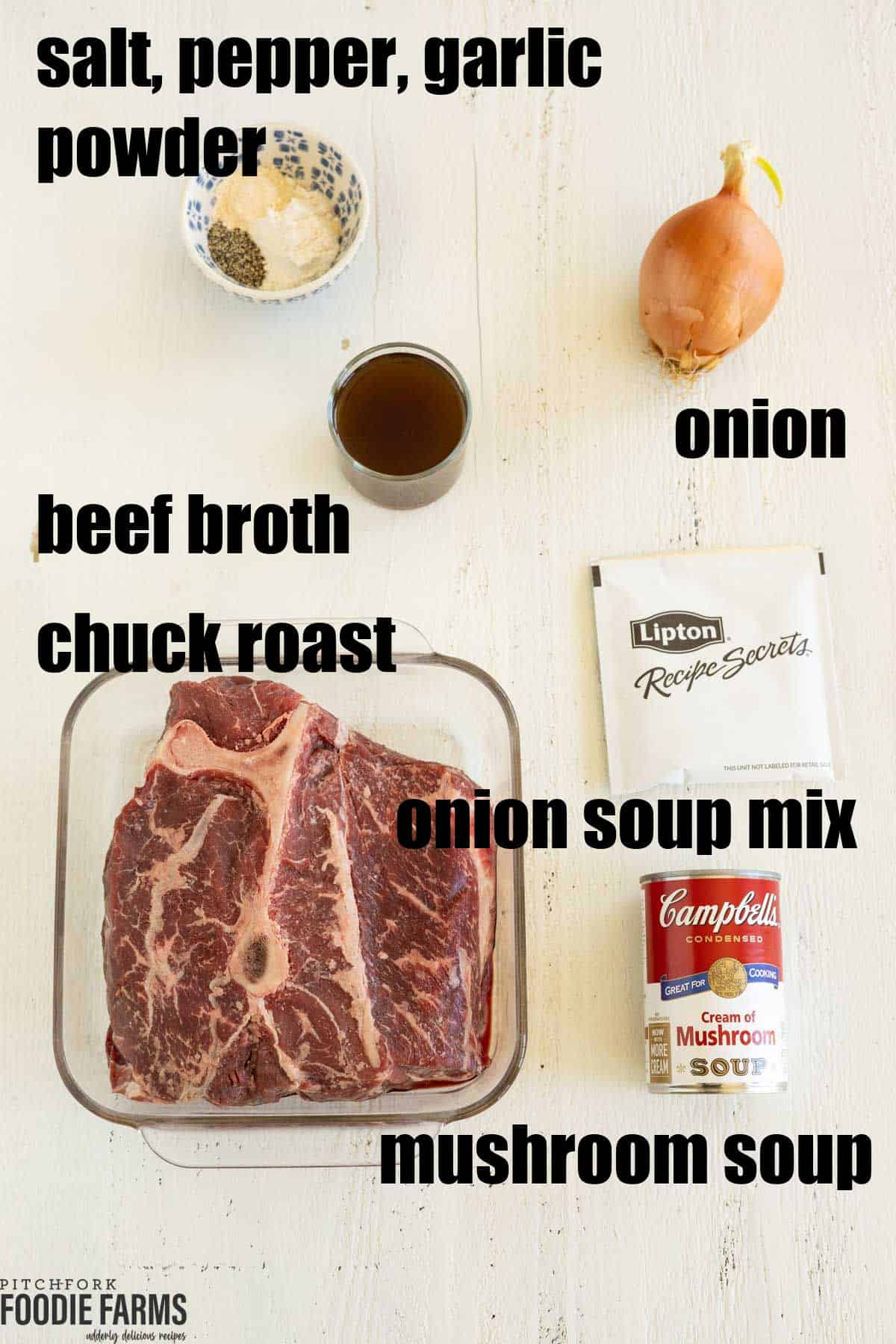 Chuck Roast: 3-4 pound
Condensed Cream of Mushroom Soup: Just the can of soup, don't mix it as directed on the can.
Dry Onions Soup Mix
Beef Broth
Vegetables: Onions, carrots, potatoes (if you want make a pot roast, if not leave them out.) Russet and Yukon Gold are great potato varieties for this recipe.
Extra Seasonings: Salt and black pepper, to taste
Optional Herbs: Fresh thyme or rosemary sprigs (optional)
Extra Flavor: Garlic cloves or garlic powder may be added for added flavor.
The Chuck Roast vs. Eye or Round Roast
Before you head to the grocery store, let's talk about the difference between a chuck roast and an eye or round roast. These are two popular cuts of beef used for pot roast, but they have distinct characteristics.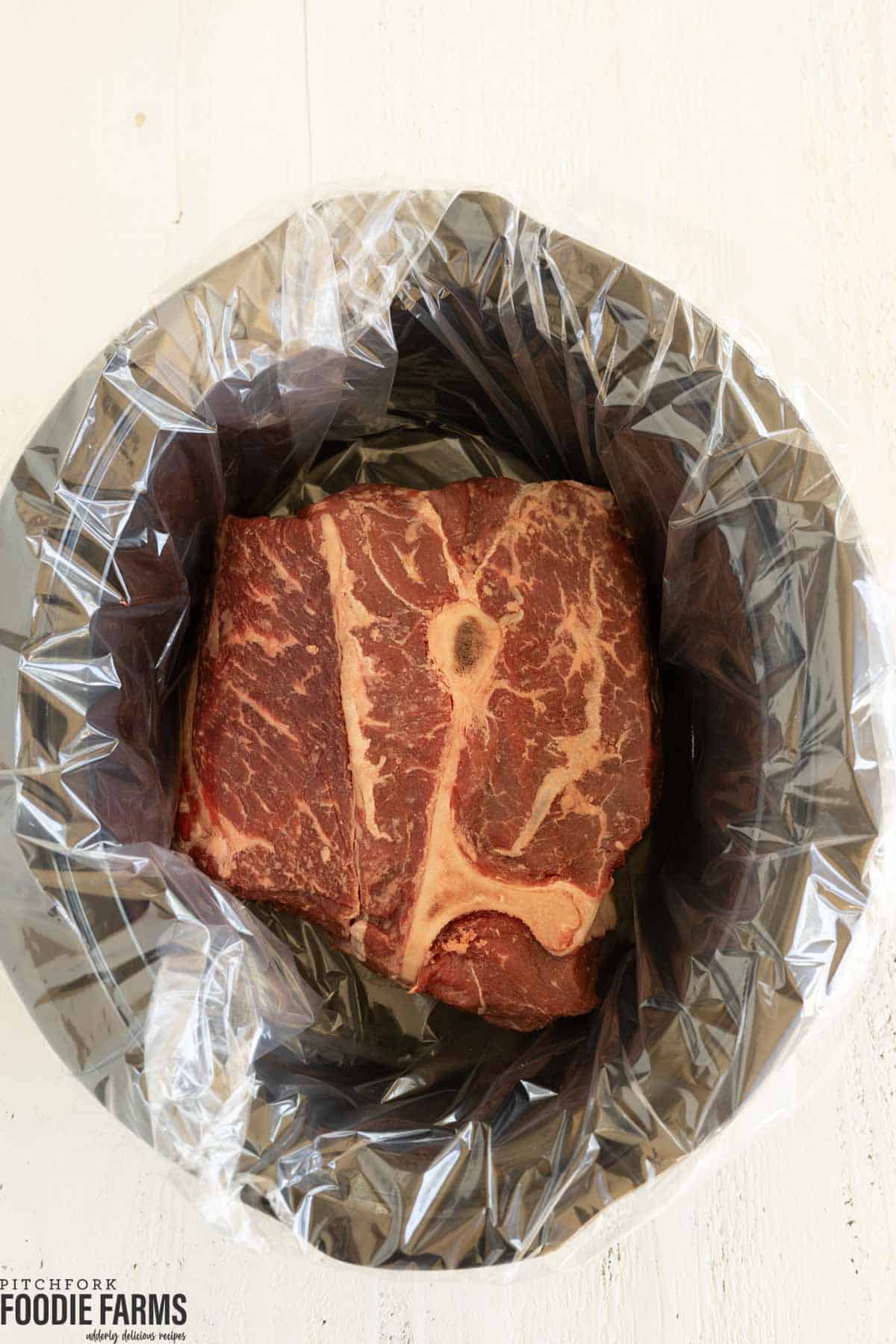 Chuck Roast: This one's the superstar of pot roast. It's taken from the front part, the shoulder part, of the cow, which happens to be a muscle-heavy area. That means it's got a good amount of marbling (fancy talk for fat), which is a good thing when it comes to slow cooking. It practically falls apart after a long, slow cook, making it perfect for those melt-in-your-mouth pot roasts. It's got a rich, beefy flavor that pairs wonderfully with all those yummy veggies and seasonings.
Eye or Eye of Round Roast: This cut, on the other hand, comes from the rear leg of the cow and is leaner than the chuck roast. While it's possible to use eye or round roast for pot roast, it's not as forgiving as chuck roast. It can become dry and tough if overcooked, so you'll need to be extra careful with your cooking times and moisture levels.
Rump Roast: I'm adding info about this beef roast too. It comes from the hindquarters of the cow, which means it's a bit leaner compared to the others. Because of this, it can be a tad less juicy and tender, but that's nothing a good slow-cooking session can't fix. When you cook it right, it can still turn out pretty darn delicious. Rump roast is known for its beefy flavor, and it's often a more budget-friendly cut of meat.
In short, for the ultimate melt-in-your-mouth experience and trying to decide which type of roast to choose, go with the chuck roast.
Variations
Now, while our classic pot roast recipe is a crowd-pleaser, you can always experiment with variations to suit your taste. Here are a few ideas to consider:
Spice It Up: Add a kick to your pot roast by throwing in some red pepper flakes or diced jalapeños. A dash of Worcestershire sauce can also amp up the flavor.
Fresh Herbs: Add herbs like fresh rosemary, thyme, or bay leaves.
Switch Up The Veggies: Use sweet potatoes instead of regular potatoes.
Omit Vegetables: Sometimes I like serving a roast beef with mashed potatoes instead of cooking the potatoes and carrots with the meat.
The beauty of this recipe is that it's incredibly versatile, so feel free to get creative in the kitchen!
How to Cook Melt in the Mouth Pot Roast
Let's learn how to make this melt-in-the-mouth roast beef with these simple steps.
To make it ahead of time add the meat and gravy to the slow cooker ahead of time. I typically do this the day before. Wait to add the veggies just before starting the cooking time so the potatoes don't turn brown.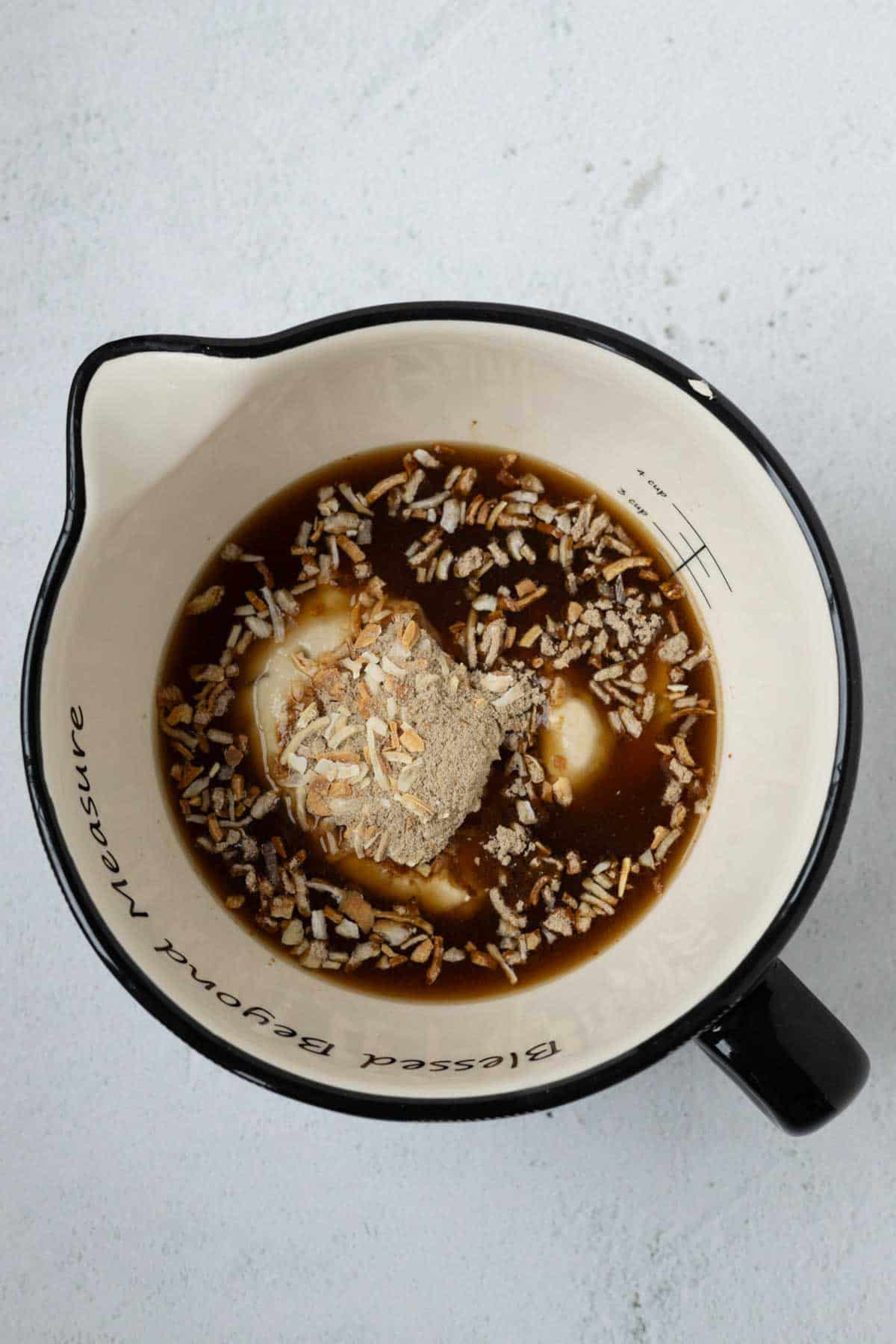 Step 1: Make the gravy. Whisk a can of cream of mushroom soup (no milk added), dry onion soup mix, and beef broth together. Set aside.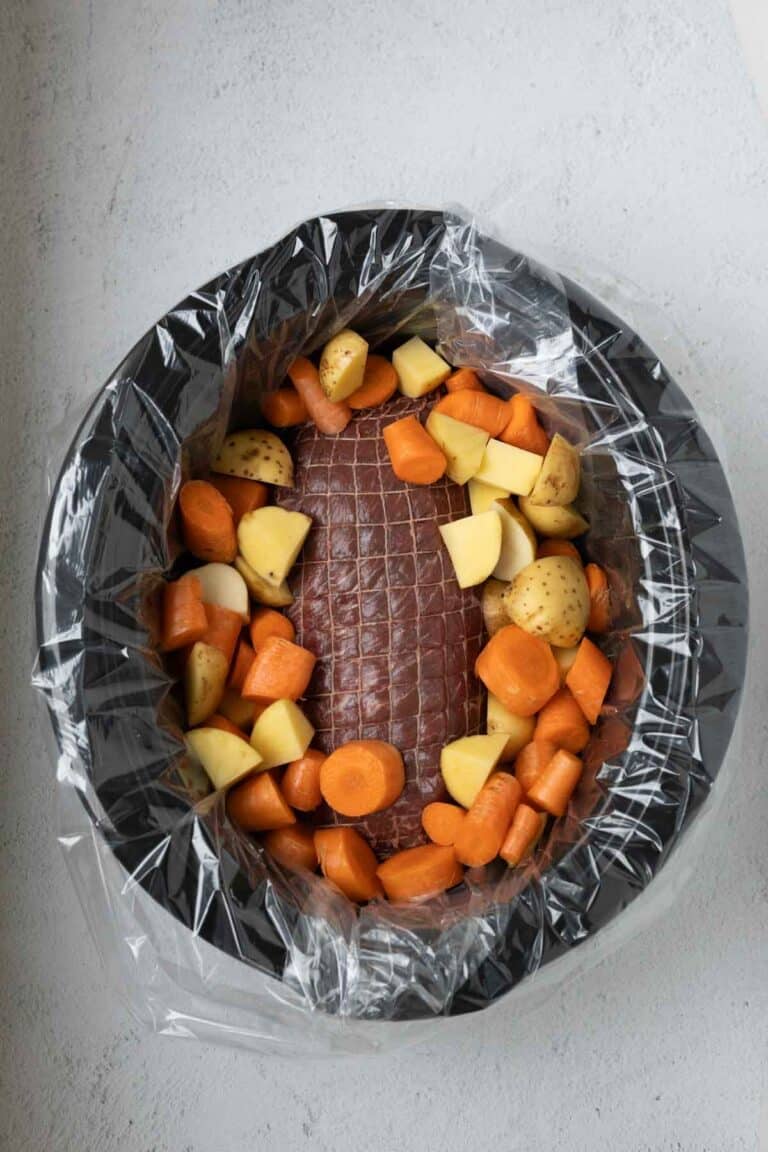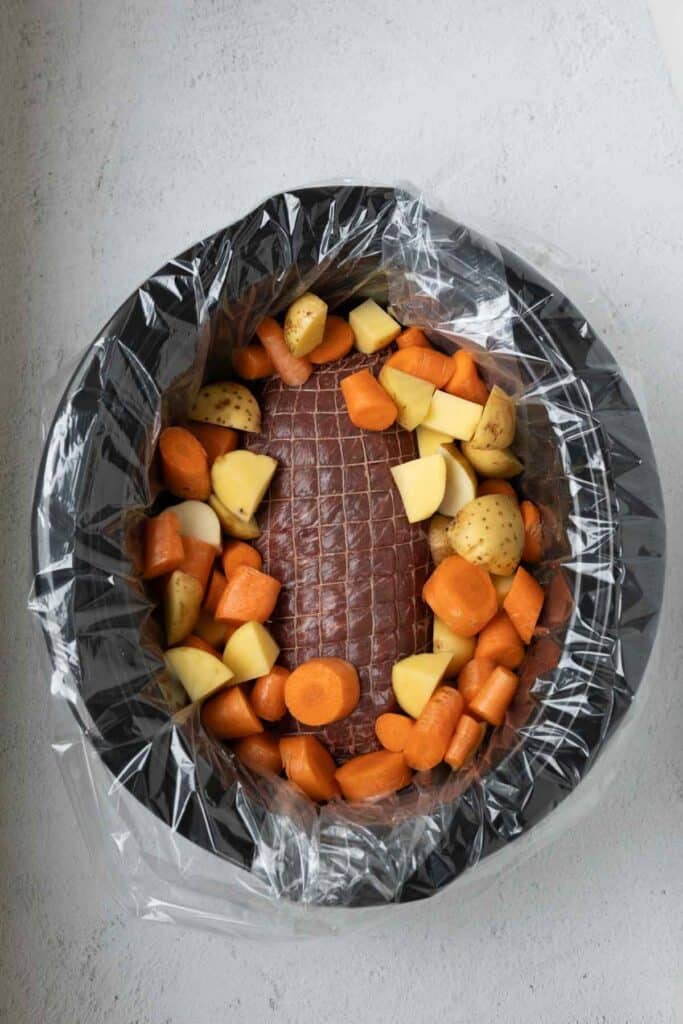 Step 2: Prepare the roast. Start by greasing the bottom of your crock pot to prevent sticking. I also really like using slow cooker liners. They make cleanup so easy! Place the chuck roast in the slow cooker and season it generously with salt and pepper. Set the diced veggies around the roast. NOTE: This picture is a rump roast, not a chuck roast. Trust me, and chuck roast is better!
Step 3: Add the gravy. Pour the mushroom soup mixture over the chuck roast.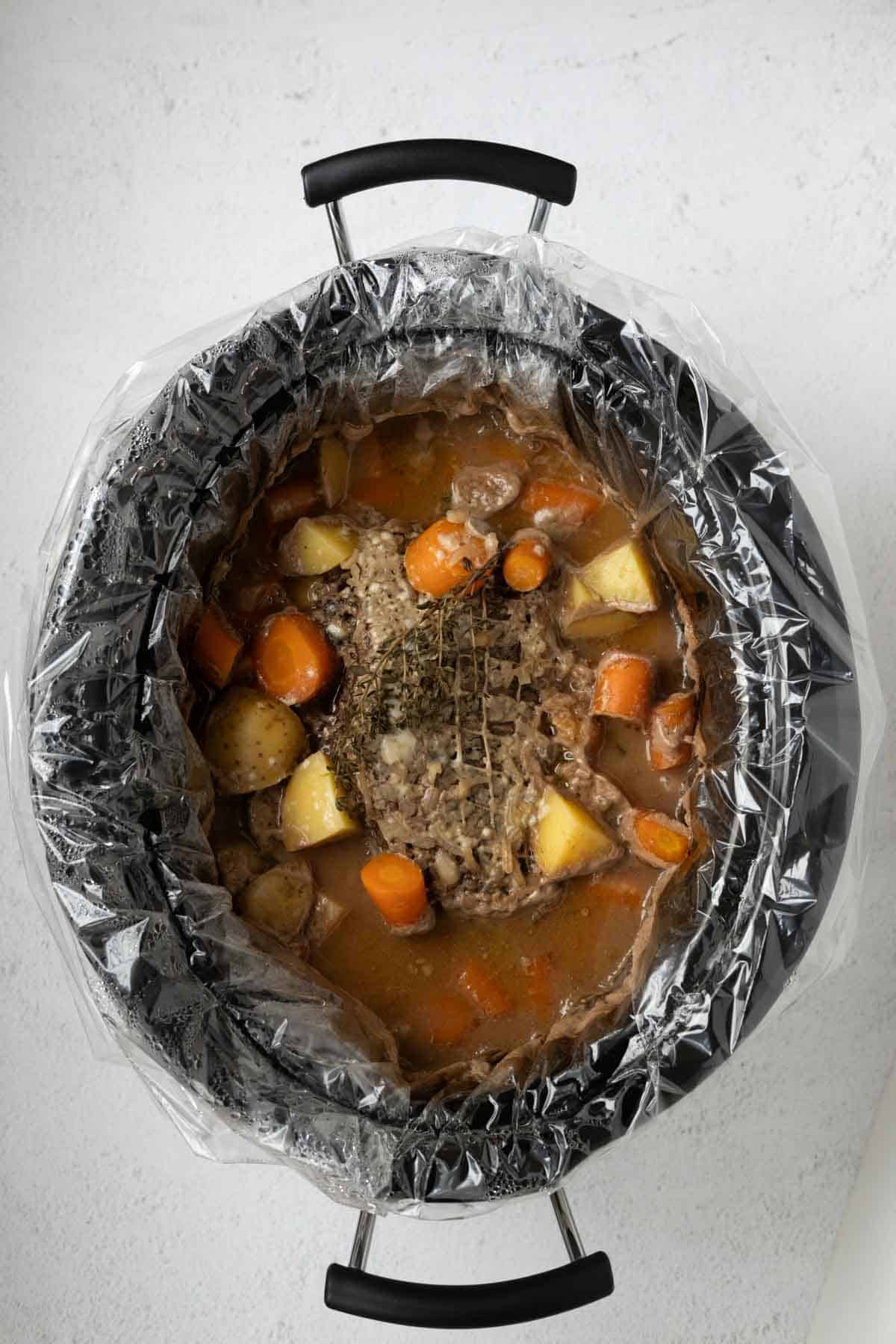 Step 4: Set and forget! Cover the slow cooker and set it to cook on low for 8-10 hours (low heat is my favorite method) or until the meat is fork-tender and practically falls apart. You can also cook it on high for 4-6 hours if you're short on time. Although I'm a huge fan of a meat thermometer you don't need one for this recipe! The best way to tell if it is done is that it will be such a tender roast beef that it will easily shred and fall apart!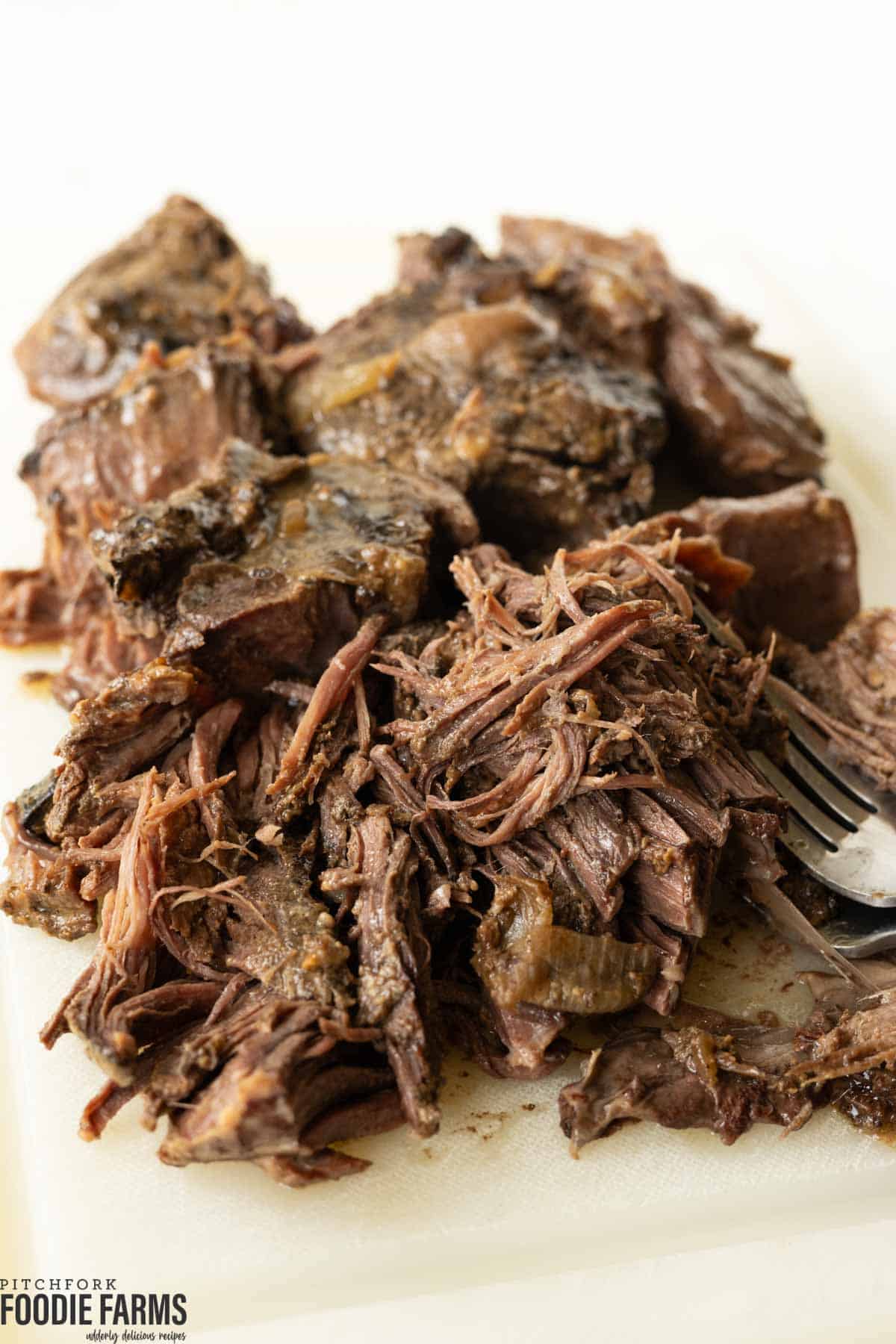 Step 4: Serve and Enjoy! Once the roast beef is ready, carefully remove it from the slow cooker, transfer meat to a cutting board with grooves, cover it with aluminum foil, and let it rest for a few minutes. Using two forks shred the roast beef. If it's not quite tender enough to shred you can slice the roast into thick, juicy portions. Serve it on a platter with veggies on the side of the roast. Ladle gravy over the pot roast.
A large cut of beef like a chuck roast can be considered a tougher cut of meat, which also makes it one of the cheaper cuts of meat. A chuck roast has lots of marbling which adds great flavor.
You'll want to use the slow method to break down connective tissue making it melt in your mouth! A crockpot is the ideal method for cooking roast beef. A pressure cooker can be used, but in my opinion, it doesn't allow enough time to break it down into a tender pot roast.
Add the veggies during the last 4 hours of cooking so they don't get overcooked. I don't always do this because I'm not always around to add them. They'll still be delicious!
Try to refrain from taking the lid off and looking during the cooking time. If you're looking, it's not cooking! The heat escapes when the lid is removed, increasing cook time.
FAQs
Can I cook this recipe with a frozen chuck roast?
While it's generally recommended to thaw meat before slow cooking for even cooking and safety, it's possible to cook from frozen, but you'll need to adjust the cooking time. Expect it to take longer, and make sure it reaches a safe internal temperature of 160°F (71°C).
Can I use homemade mushroom soup instead of canned?
Absolutely! Homemade mushroom soup will take your dish to the next level. Simply sauté some sliced mushrooms in butter, add flour to make a roux, and then stir in chicken or vegetable broth, and cream.
Can I make this in an Instant Pot or oven?
Yes, you can adapt this recipe for the Instant Pot or the oven. In the Instant Pot, cook on the "Meat/Stew" setting for about 60-80 minutes.
What to Serve with Pot Roast
Since a pot roast has meat, carrots, and potatoes you really don't need to add much to the menu. Here are a few of our favorite things to serve with it.
What to do With Leftover Roast Beef
We LOVE having leftover roast beef because it gives me a headstart on so many meals. Once the meat is made, you're halfway there! Here are a few of our favorite ways to use the leftovers.
Melt in the Mouth Beef Roast Recipe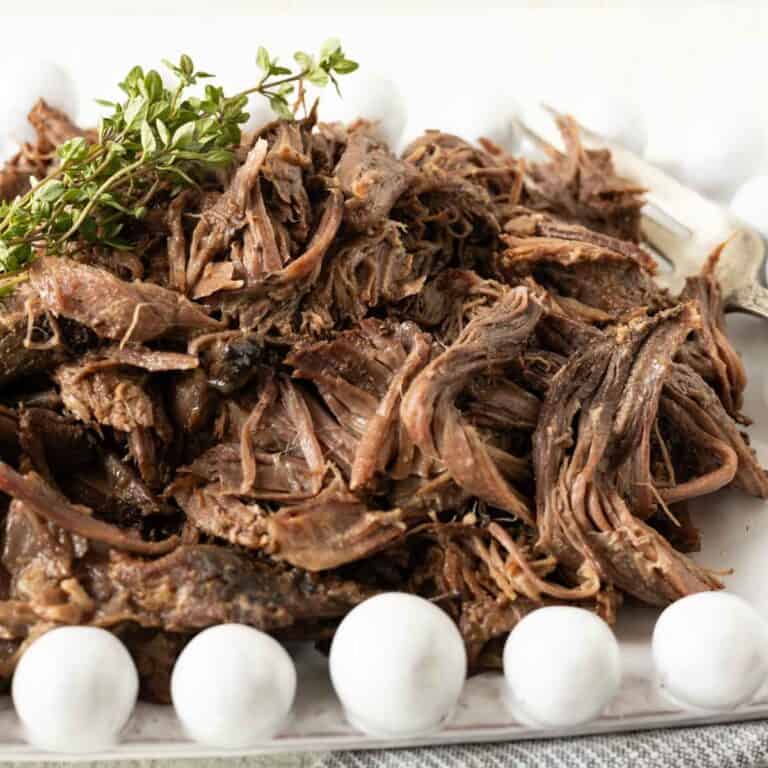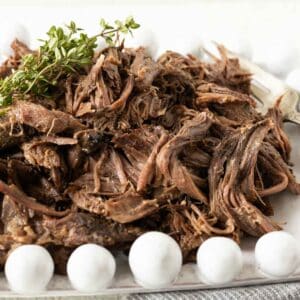 Melt in the Mouth Beef Roast in the Slow Cooker
This melt in the mouth beef roast recipe is the best pot roast made with mushroom soup, dry onion soup mix, potatoes, and carrots! The meat will be so tender it will literally fall apart!
Ingredients
4-5 Pound

chuck roast

10.5

ounce can

cream of mushroom soup

1.9

ounce pkg

dry onion soup mix

1

cup

beef broth

4

medium

potatoes

4

medium

carrots

1

medium

onion

to taste

salt and pepper
Instructions
Make the gravy. Whisk a can of cream of mushroom soup (no milk added), dry onion soup mix, and beef broth together. Set aside.

Prepare the roast. Grease the CrockPot or line it with a slow cooker liner. Add the chuck roast.

Prepare the veggies. Dice carrots, potatoes, and onions into about 1/2 inch pieces. Spread the veggies around the roast.

Add the gravy. Pour the gravy over the roast beef. Add fresh herbs if desired.

Cook. Cook on low for 6-8 hours, or on high for 4-6 hours.

Serve. Remove the roast and let rest on a cutting board for about 5 minutes. The roast should easily shred using two forks. Set veggies in a serving bowl. (See notes below about making gravy.)
Notes
Gravy: For a thicker gravy, add 3 Tablespoons of flour to 4 Tablespoons of water or beef broth. Stir until it's smooth. Pour over the roast and gently stir (it's okay if it's not all the way stirred through) about an hour before serving. The gravy will get thicker as it cooks. Herbs and Garlic: For added flavor add fresh rosemary or thyme to the roast, plus minced garlic cloves before cooking. No Veggies: You can easily make this recipe without adding carrots and potatoes. I always add onions for extra flavor.
Nutrition
Calories:
63
kcal
|
Carbohydrates:
11
g
|
Protein:
3
g
|
Fat:
1
g
|
Saturated Fat:
1
g
|
Polyunsaturated Fat:
0.1
g
|
Monounsaturated Fat:
0.4
g
|
Cholesterol:
2
mg
|
Sodium:
938
mg
|
Potassium:
229
mg
|
Fiber:
2
g
|
Sugar:
2
g
|
Vitamin A:
5097
IU
|
Vitamin C:
3
mg
|
Calcium:
26
mg
|
Iron:
1
mg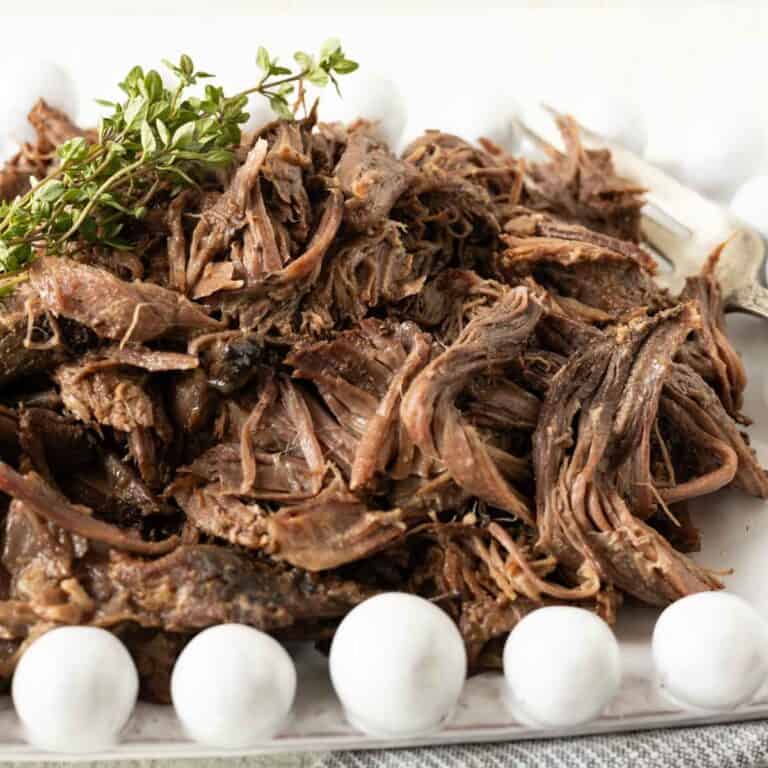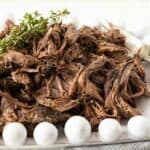 tried this recipe?
Make sure to share it with me! Leave a review or tag me on Instagram