Beef tenderloin is undoubtedly the most tender cut of beef available. Renowned for its tenderness, rich flavor, and versatility, it's often associated with special occasions, holidays, and lavish dinners. This guide has everything you need to know about cuts, quality, cooking techniques, and tips to make sure your tenderloin is perfect every single time!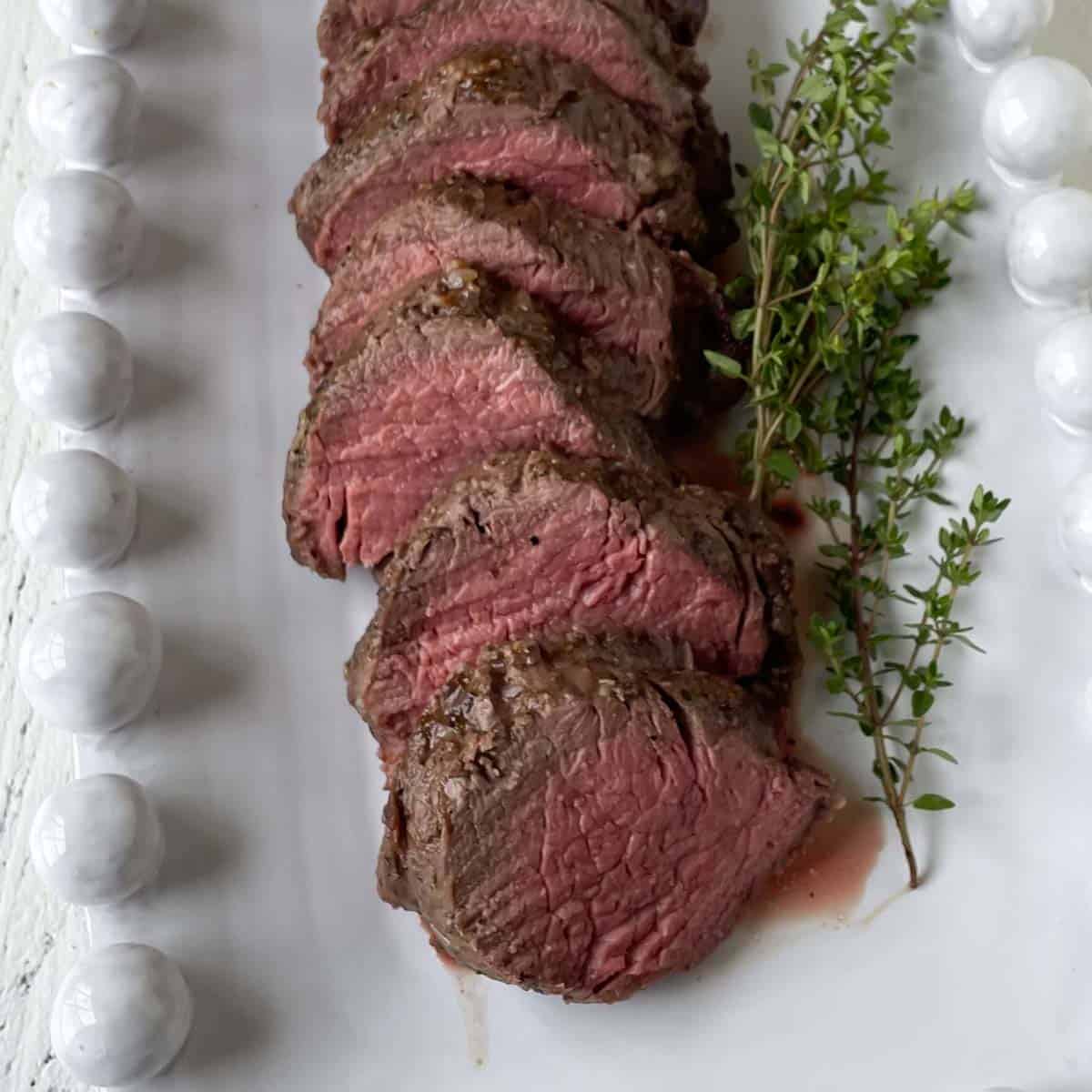 Whether you're a seasoned chef or a cooking enthusiast, you'll fall in love with how easy it is to cook beef tenderloin!
The most popular recipe on my site is my Tenderloin Steaks with Herb Butter (this is the same thing as a filet mignon recipe)! They're seared in a cast iron skillet (or another heavy hot skillet) and then finished off to perfection in the oven!
I've been in love with beef tenderloin since my first bite! I can't even describe how tender it is! Be sure to take a peek at all my tenderloin recipes!
Why You'll Love Beef Tenderloin
I used to make prime rib for special occasions until I discovered how much I love tenderloin roasts! It's my personal favorite go-to special occasion dinner!
Melt in your mouth tender! Beef tenderloin really is the most tender cut of beef!
Quick and easy! It cooks in less time than a prime rib since a beef tenderloin roast is smaller. You'll cook it at a high temperature for a few minutes and then finish it off in the oven or on the grill. I like to season the meat ahead of time and all that's left is throwing it in the oven or on the grill. No more spending all of Christmas day messing with dinner!
Foolproof! Beef tenderloin roast ALWAYS turns out! It will turn out perfectly for your celebration regardless of whether you cook it as a whole roast or cut it into fillet mignon steaks.
What is Beef Tenderloin?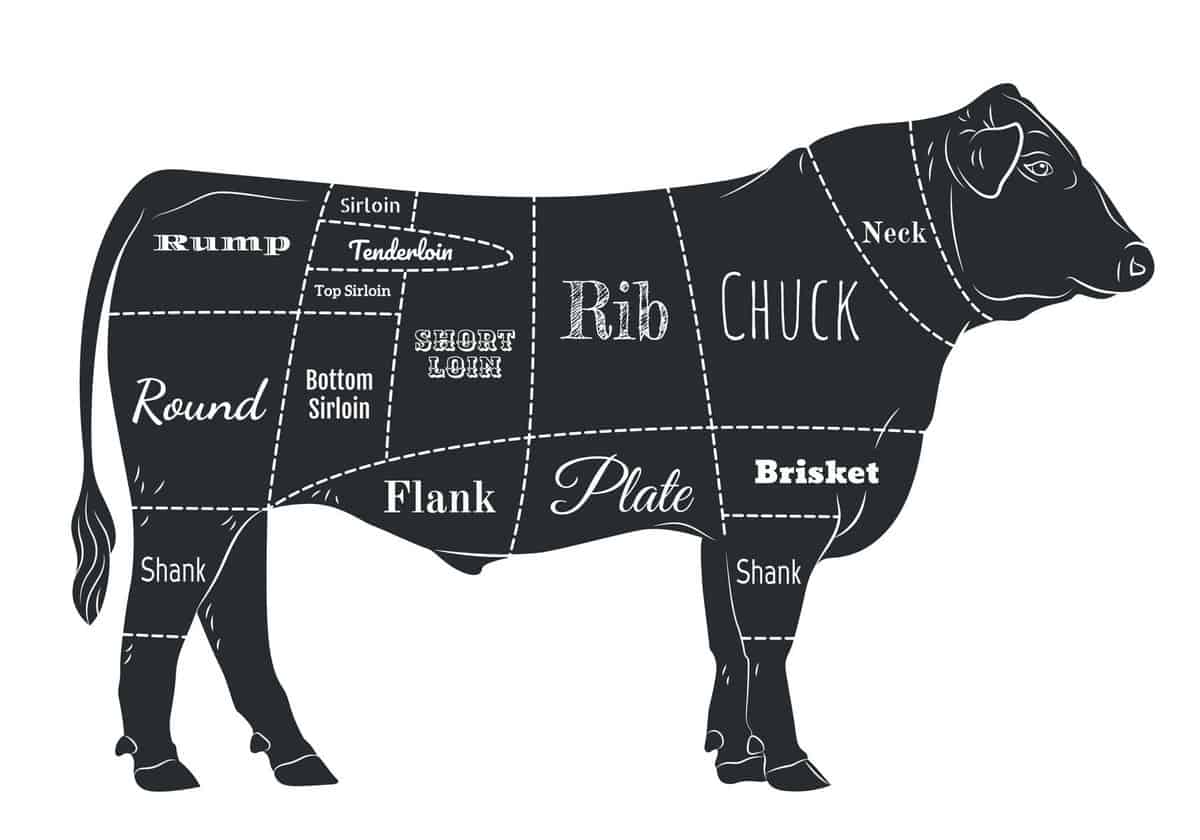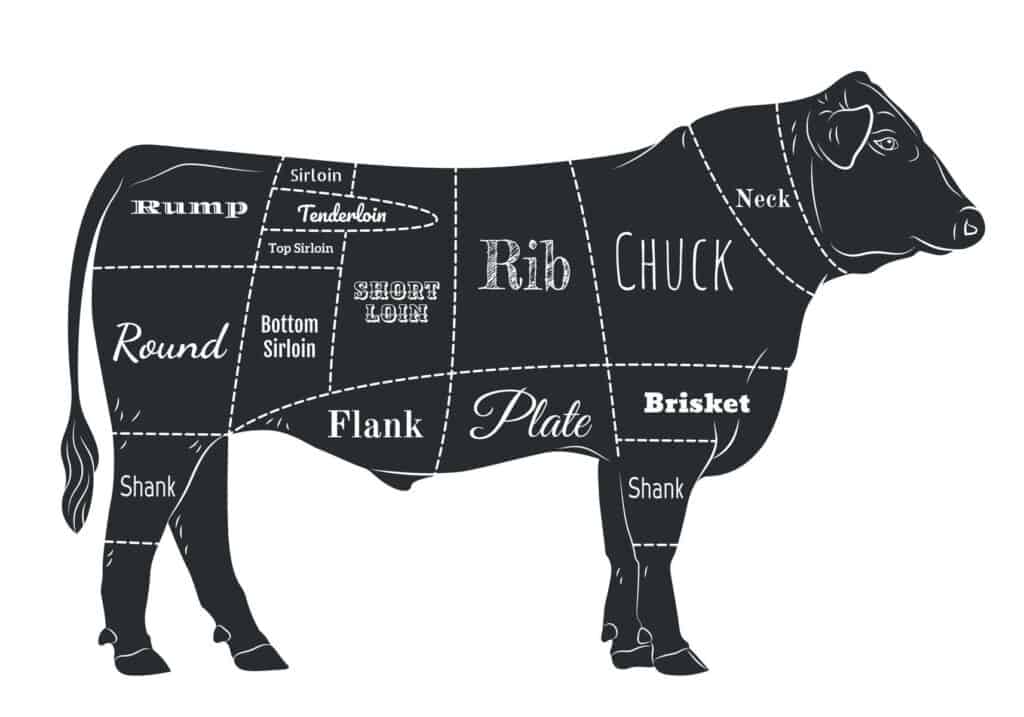 What is beef tenderloin? Have you ever wondered what part of the cow is tenderloin?
Beef tenderloin is a premium cut that comes from the loin area of the cow. The loin is a muscle group running along the spine, and the tenderloin is nestled within it.
This prized cut spans the short loin and sirloin sections and is located under the ribs, making it a muscle that doesn't get much exercise, which gives it the best tenderness.
This is why it's called a "tender" loin. It's one of the primal cuts of beef, specifically the loin primal.
The Whole Tenderloin
What cut is beef tenderloin? There are a few different terms for beef tenderloin. Let's break it down.
The whole tenderloin, also known as the "full tenderloin" or "center-cut tenderloin," is a long cylindrical piece of meat that extends from the ribs to the sirloin. It typically weighs around 5 to 7 pounds and is perfect for feeding a crowd during special occasions or family gatherings.
When purchasing a whole tenderloin, you can request the grocery store's butcher at the meat counter to remove the silver skin and trim any excess fat to save time and effort during preparation. If you purchase an untrimmed tenderloin you'll need to trim the silver skin and remove the chain, wing, and excess fat. It's really not that hard to do and will save money.
I love buying a whole beef tenderloin and cutting it into a small roast, tips, and butt, and using all three of them separately. Using the entire tenderloin to make three different meals reduces the cost per serving.
​Cuts of the Whole Tenderloin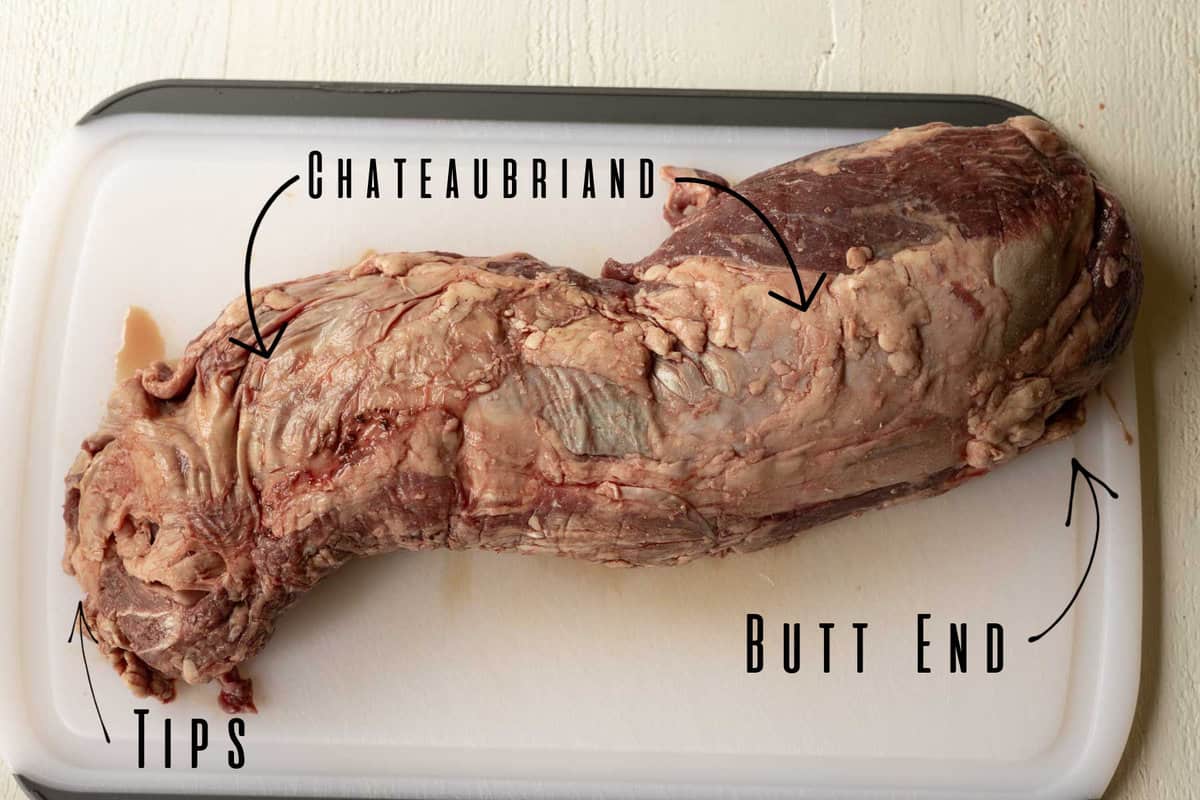 Butt: The butt end is the largest and thickest end of the tenderloin.
Chateaubriand or Tenderloin Roast: The middle section of the whole tenderloin. It's typically pretty uniform in diameter which helps it to cook evenly. This section of meat is what is used to cut into beef tenderloin steak or filet mignons. Be sure to cut them into thick steaks! 1 1/2 to 2 inches is perfect!
Tenderloin Tips: Also called tenderloin tails. It's the thin, pointed end of the tenderloin roast. The best way to cook this piece of meat is by making Tenderloin Tips with Gravy!
Filet Mignon Steaks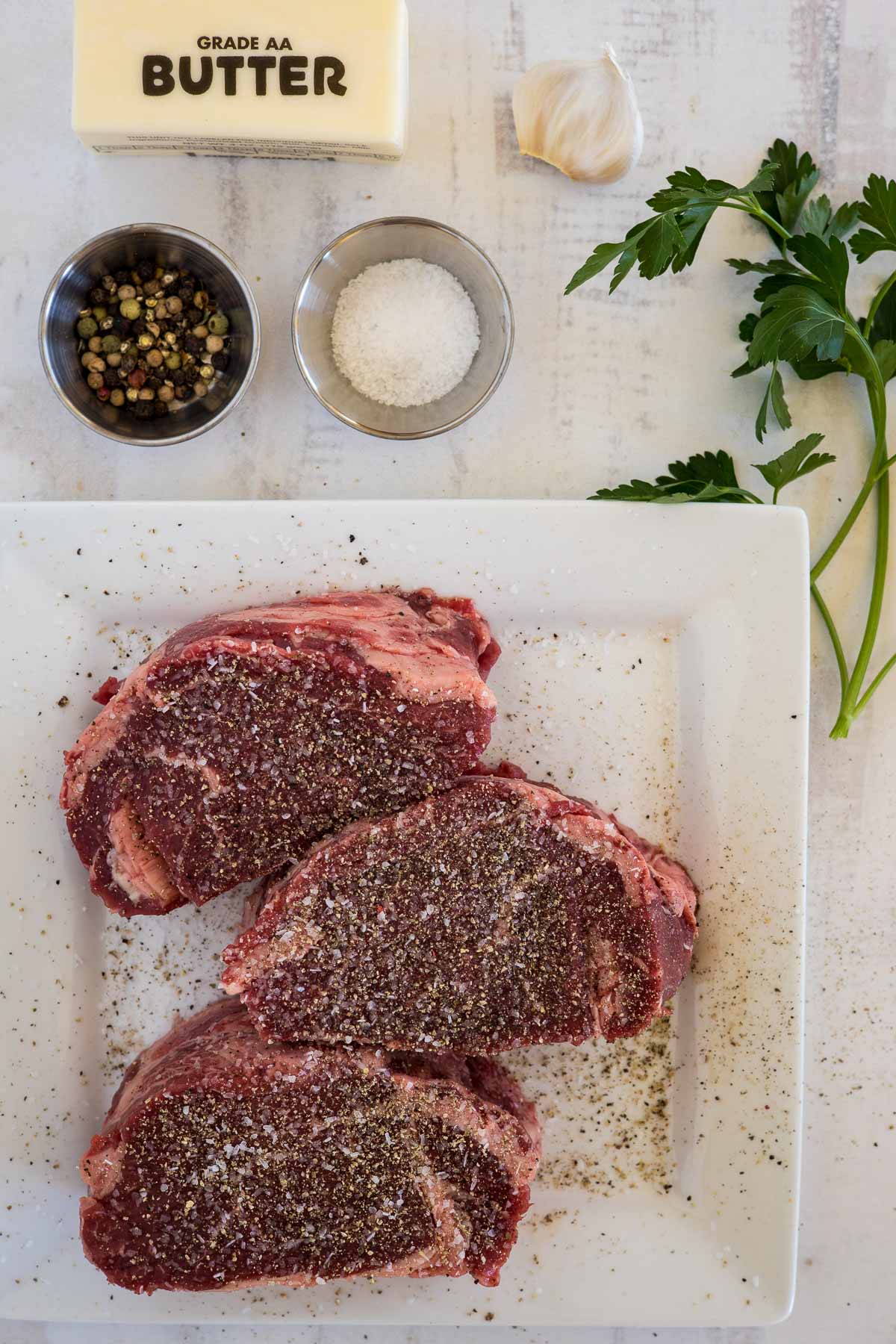 When the whole tenderloin is cut into smaller portions, we get filet mignon steaks. These individual steaks are the most tender steaks, with their melt-in-your-mouth texture and exceptional flavor. They are the steaks cut from the tip end of the whole tenderloin.
Filet mignon steaks are usually around 1 to 2 inches thick, and their weight ranges from about 6 to 8 ounces. Thick-cut tenderloin steaks are best to prevent overcooking and drying them out. They are often served on their own or wrapped in bacon for added richness.
Choosing the Perfect Beef Tenderloin
When selecting beef tenderloin for your special occasion, there are several factors to consider to ensure you end up with the best possible cut.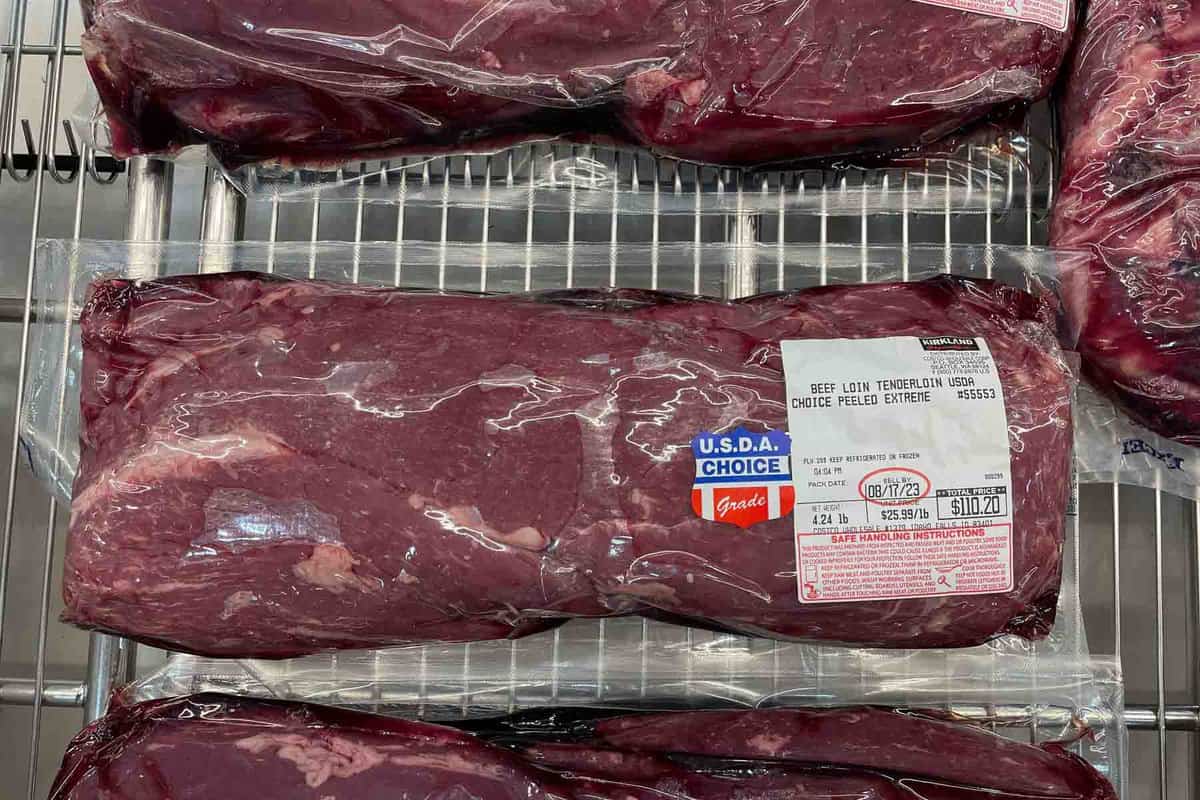 Grade of Beef: Beef is graded based on its quality, and the most common grades are Prime, Choice, and Select. Prime is the highest grade and boasts excellent marbling, making it the most tender and flavorful. However, it can be challenging to find and more expensive. Choice is also a good option, offering a balance between tenderness and affordability.
Size and Shape: The size of the beef tenderloin you choose will depend on the number of guests you're serving. For smaller gatherings, individual filet mignon steaks are a great choice, while a whole tenderloin is ideal for larger groups. Look for a tenderloin with a consistent shape for even cooking. If the tenderloin is uneven, tie it with butcher's twine to make it as symmetrical as possible.
Color and Marbling: Inspect the beef tenderloin for a deep red color and even marbling throughout the meat. Marbling refers to the thin veins of fat running through the muscle, which enhances flavor and tenderness. The more marbling, the better.
Peeled or Untrimmed: Peeled tenderloin roasts already have excess fat and silver skin removed. They are more expensive per pound but don't require extra time or effort. They also have very little waste. Untrimmed tenderloin roasts are less expensive but you'll need to plan on spending some time trimming them. Check out my guide to butchering a whole tenderloin and cutting it into filet mignons. You will have some waste and a few extra pieces of meat to use in beef stew or to make tenderloin tips.
Preparing and Cooking Beef Tenderloin
Before cooking, it's essential to properly prepare the beef tenderloin to make sure it's going to be amazing! Follow these steps to get your tenderloin ready for the oven or grill:
Bring to Room Temperature: Allow the beef tenderloin to sit at room temperature for about 30 minutes before cooking. This ensures even cooking throughout the meat.
Seasoning: Keep the seasoning simple to let the natural flavors shine. A generous sprinkle of salt and freshly ground black pepper will suffice. Optionally, you can add your favorite herbs and spices for added depth.
Searing: To lock in the juices and create a flavorful crust, sear the beef tenderloin on all sides over high heat before transferring it to the oven. Searing typically takes 2-3 minutes per side.
Cooking Temperature: The internal temperature is crucial in determining the level of doneness. I LOVE my Thermapen instant read thermometer! I typically order steaks at medium temperature, but I highly recommend medium rare tenderloin! Here are the recommended temperature ranges:
Rare: 120-125°F (49-52°C)
Medium Rare: 130-135°F (54-57°C)
Medium: 140-145°F (60-63°C)
Medium Well: 150-155°F (66-68°C)
Well Done: 160°F (71°C) and above
I can't tell you how important it is to use a reliable meat thermometer to gauge the internal temperature. It's impossible to tell if it's done by cooking time, the way it feels, or by simply looking at the meat. You need to know what the temperature is.
Understanding Fat Content and Its Role in Beef Tenderloin
Beef tenderloin is known for its tender, lean meat, with minimal intramuscular fat (marbling) and connective tissue.
Lack of fat content contributes to its tenderness, it also means the meat can dry out more easily if overcooked. This is why it's important to not exceed the desired internal temperature for your preferred level of doneness.
130 degrees is my desired doneness temperature. Remember, tent the cooked meat with aluminum foil and rest for 5 minutes. The meat will rise about 5 degrees during the resting period.
Cooking Methods
Tenderloin can be successfully cooked in a variety of ways. It's typically seared at a high temperature and then finished cooking at a lower temperature. Steaks can easily be cooked using the skillet to oven method, or using direct and indirect heat on a grill.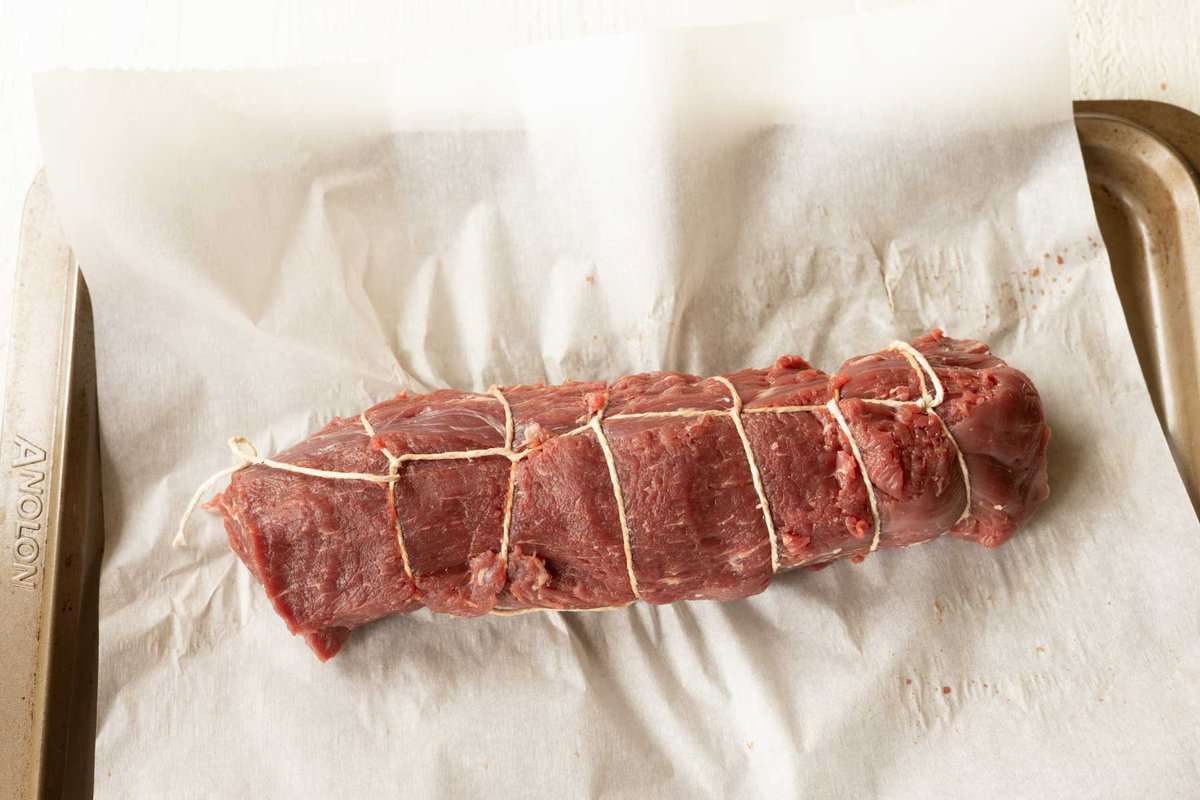 Here are a few suggestions for the different cuts of a whole tenderloin.
Tenderloin Roast: Smoked, grilled, oven-roasting, broiling, or sous vide. You can't beat my Traeger Smoked Tenderloin! It's incredibly easy and so flavorful!
Tenderloin Steaks (Filet Mignons): Skillet and oven, grilled, broiling. We love searing in a skillet and finishing in the oven or the smoker. Be sure to check out my Beef Tenderloin Steaks recipe, it's my favorite beef tenderloin recipe!
Tenderloin Tips and Tails: Skillet. See my Beef Tenderloin Tips recipe!
Storing Beef Tenderloin
Refrigerator: Store uncooked tenderloin in the store packaging in the fridge for up to 3 days. Store leftover cooked meat in an airtight container in the fridge for up to 3 days.
Freezer: Although you can store beef tenderloin in the freezer I prefer to buy it and cook it without freezing it. Freezing tends to dry the meat out a little bit. However, you can freeze uncooked tenderloin in an airtight container for up to 6 months.
Thawing: Thaw frozen tenderloin in the refrigerator overnight.
What to Serve with Tenderloin
​Anything goes! Here are a few simple and easy side dish recipes that go with tenderloin!
Beef Tenderloin is the Most Tender Cut of Beef
Beef tenderloin is the most tender cut of beef, making it the perfect choice for special occasions and celebrations. Understanding the different cuts, selecting the right size and grade, and mastering the art of cooking to the ideal internal temperature will ensure the perfect roast or steaks every single time!
Whether you opt for the whole tenderloin or the cherished filet mignon steaks, the succulent, melt-in-your-mouth goodness of beef tenderloin I know you're going to fall in love with this cut of meat!