Crock Pot Cube Steak is an easy recipe that creates the most fork-tender, falling apart cubed steaks ever! Plus they create their own creamy mushroom gravy as it cooks! Serve it over mashed potatoes, rice, pasta, or by itself!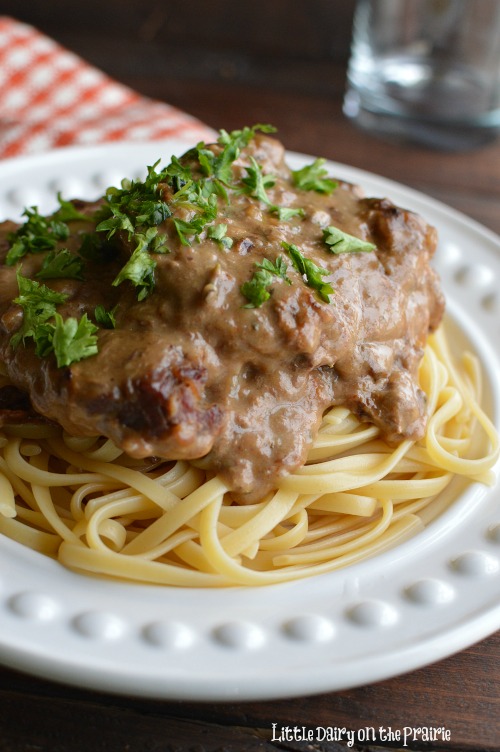 NOTE: This recipe was updated in 2020 to include new images and some extra tips. The recipe stayed exactly the same!
There are a lot of days when I have to help on the farm. By the time I get into the house, I'm tired and hungry. Thank goodness for slow cookers! There's nothing like coming home to the smell of Cube Steak simmering away in a divine mushroom sauce!
If you're wondering what to make with cube steak be sure to check out these other cube steak recipes: Slow Cooker Cube Steak Stew or make my Philly Cheesesteak Quesadilla with leftover cube steak.
Slow Cooker Cube Steak is great for busy days
I come from several generations of farm women. My grandma used to work right along with my grandpa. She was an amazing truck driver, cattle worker, bookkeeper, bread baker, and canner, among other things.
It was so cool that she could go outside in her grubbies and work then come home and get dolled up for some occasion. I love to go outside and help the boys on the farm. But I also like to get dressed up, once in a while and feel somewhat pretty.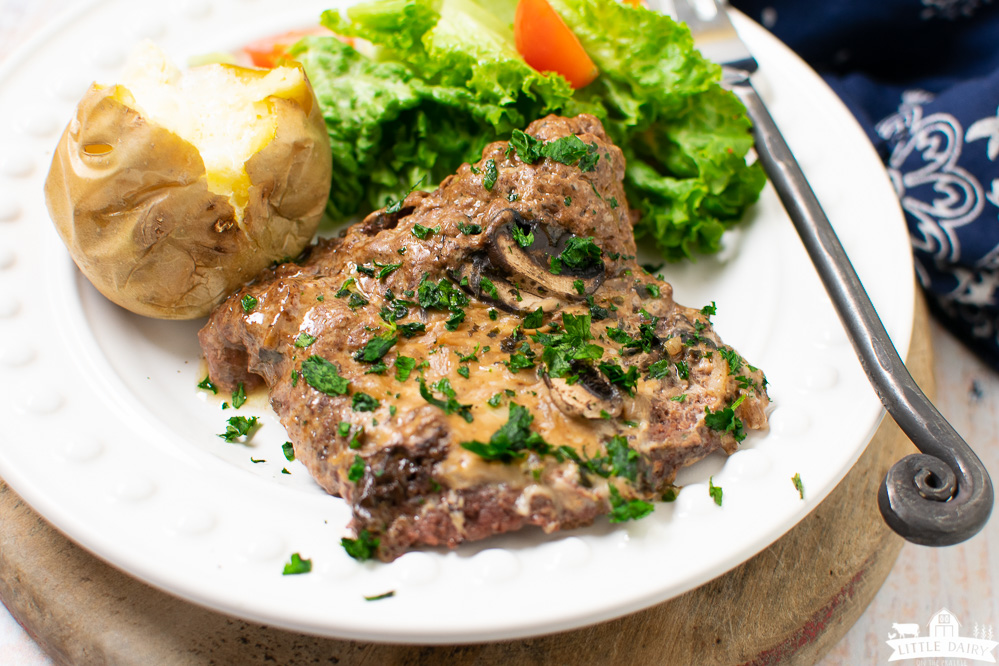 I will always remember the meals we used to have at Grandma's house. She always served bread and sliced cheese….at every meal! What a good lady! How different her life would have been if she would have had owned a slow cooker. My family survives because I own a slow cooker.
There are many days when I am working and don't have an extra minute to think about dinner. When my boys walk through the door after doing their chores, they are HUNGRY! Trust me, something like chicken salad sandwiches is not going to satisfy them.
Why This Recipe Works
There are so many reasons to love this recipe!
Quick and easy! Although you'll need to plan ahead because it takes about 6-8 hours for this cube steak to cook in the Crock Pot, you'll only need about 20 minutes to prepare it! The slow cooker does its magic and when you come home your house will smell divine!
Inexpensive! Cube steak is an inexpensive cut of meat because it's made from some of the tougher cuts of beef. The secret to getting tender cube steak is letting it cook low and slow!
Tried and true recipe! I've made this recipe a thousand times and it's ALWAYS delicious! It's that old-fashioned cube steak recipe with dry onion soup mix and cream of mushroom soup! It basically makes its own gravy without you having to whisk or stand at the stovetop at all!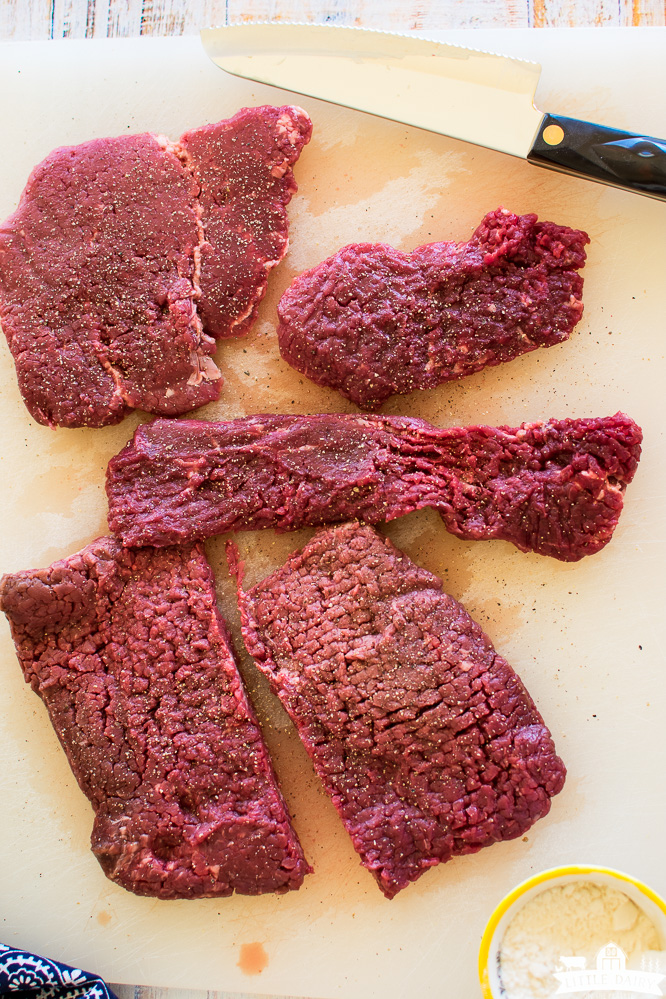 All about Cube Steak
I've answered all the questions about cube steak in this post called What is Cube Steak! I'll walk you through how to tenderize cube steak without a meat mallet. I share the best ways to cook Swiss steak. What it's made of and what cut of meat it comes from.
Seriously, go check it out because it has all my tips on a super quick and easy way to tenderize cube steak! I've been using this method for years and it works great. No special kitchen gadgets or tools are needed!
Ingredients
You'll need simple ingredients to make this recipe. Let's talk about options for substituting.
Cube Steak: If you don't have cube steak you can use round steak. It won't be the same, but it will still be delicious!
Cream of Mushroom Soup: Feel free to use cream of whatever soup. Cream of chicken and cream of mushroom are both great!
Evaporated milk: Since evaporated milk has been heated until about 60% of its water content has evaporated it won't curdle in the slow cooker. Be sure to use evaporated milk, not whole milk or condensed milk.
Dry Onion Soup Mix
Seasonings: This recipe is easy to customize according to your tastes. Adding dry herbs such as thyme, rosemary, and sage are all yummy. Or, you can add garlic powder or onion powder.
Mushrooms: I like fresh best, but canned mushrooms will also work. If you don't like mushrooms leave them out or replace them with diced onions.
How to make Crock Pot Cube Steak
If you're wondering how to cook cube steak so it isn't tough you're in the right place! This cube steak crock pot recipe makes the most tender, melt-in-your-mouth, falling apart cubes steak ever!
It's such an easy recipe because it creates a smothered cube steak without having any extra steps!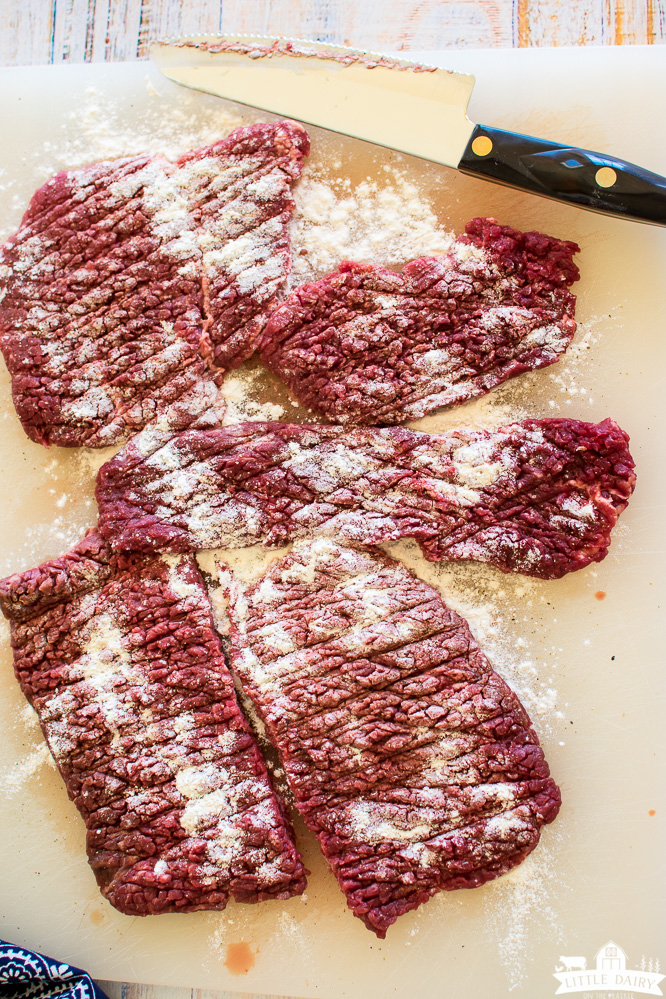 STEP 1: Tenderize cubed steaks as I showed you with all the other everything else you need to know all about cube steak! You're basically going to sprinkle the cube steak with a dusting of flour, salt, and pepper. Then use a meat mallet or cleaver to pound the steak. Flip and repeat. The steak doesn't need to be super thin. Work it until the flour is pretty much worked into the meat. It's a bit like dredging steak, but you don't need to fry it before cooking it.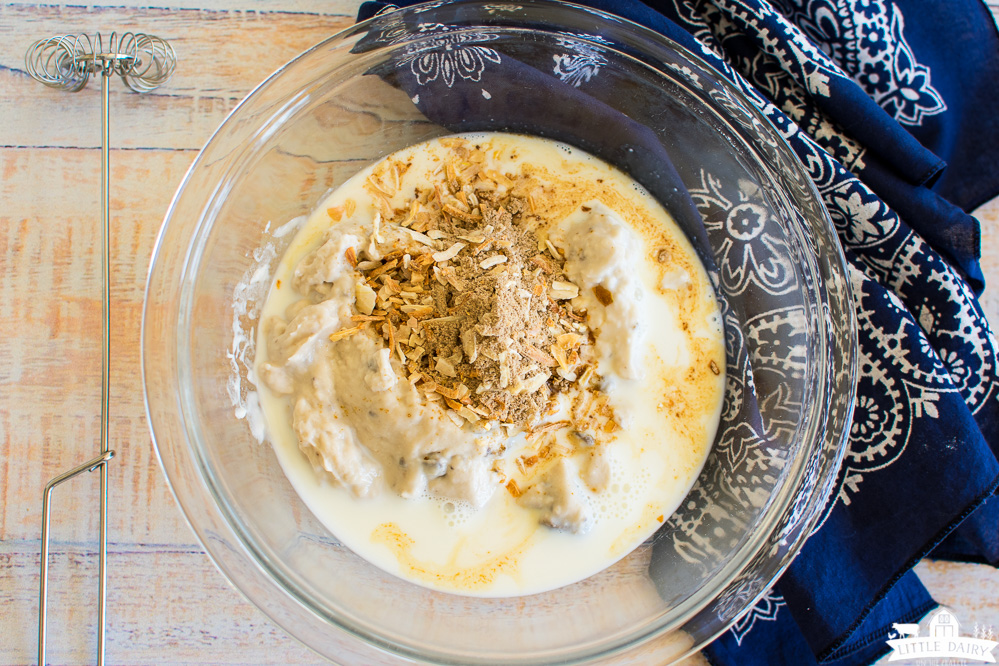 STEP 2: Make the cream of mushroom, or onion gravy, by mixing onion soup mix, cream of mushroom soup, and a little milk together. It will be lumpy but don't worry about that.
STEP 3: Layer half of the cubed steaks in the bottom of a slow cooker then add half of the gravy mix.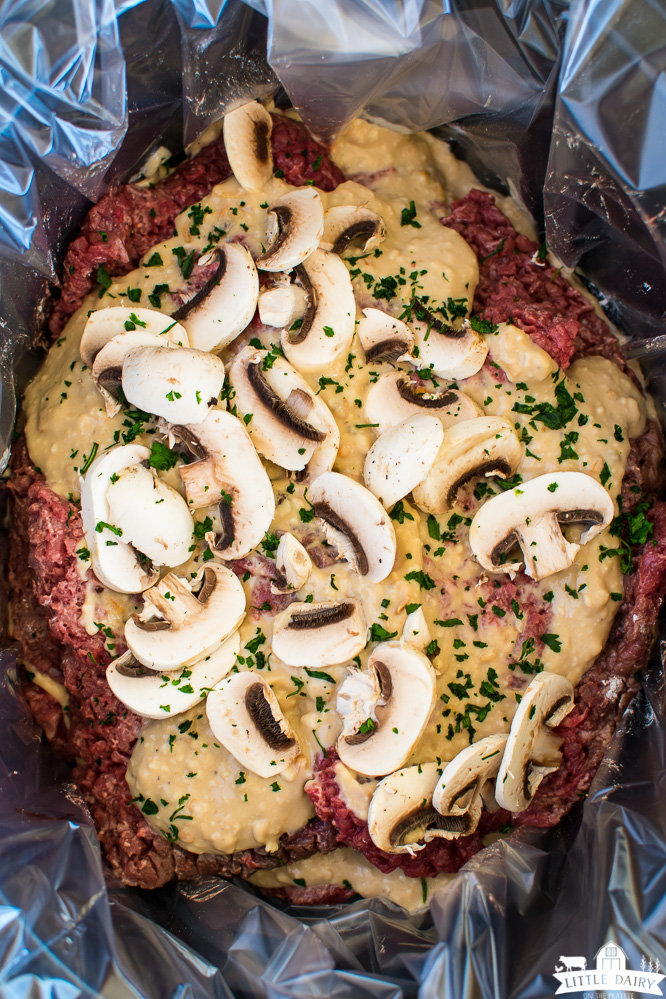 STEP 4: Repeat step 3 layering the other half of the meat and sauce. Add sliced mushrooms if you'd like.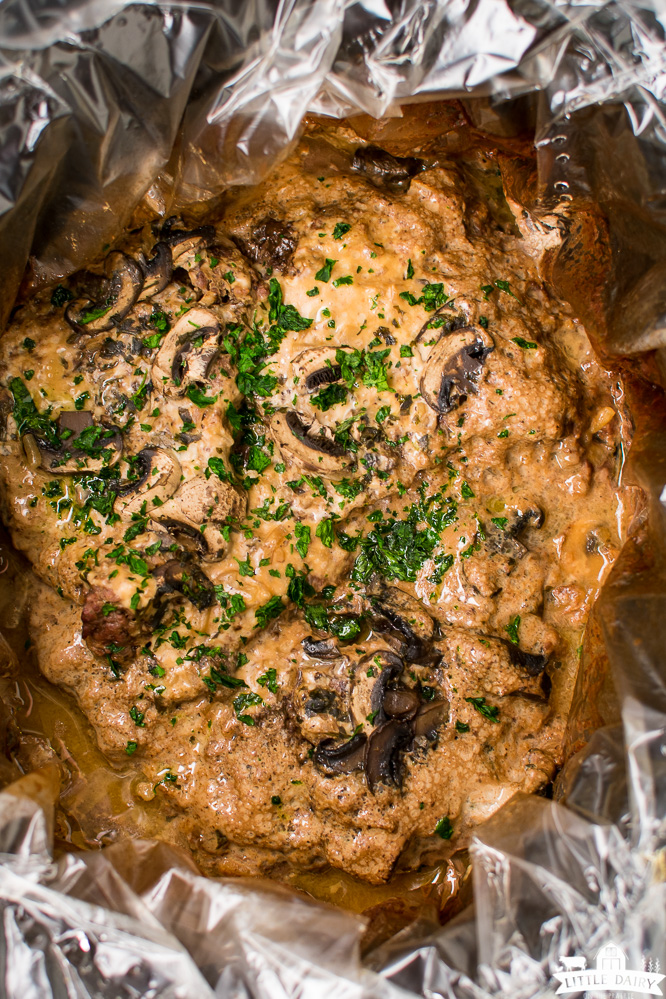 STEP 5: Cook steaks in the crock pot on high for 4-6 hours or on low for 6-8 hours. Garnish with chopped parsley if you'd like!
Cube steak is round steak of top sirloin steak that has been tenderized by the butcher. This is done by running it through a "cubing" machine or being pounded with a mallet. The process breaks down the muscle fibers in the steak making it more tender.
Cooking cube steak low and slow is what makes cube steak tender. I recommend cooking this in the slow cooker on low for 6-8 hours. The flavors get stronger and the fibers in the meat break down making it extra tender.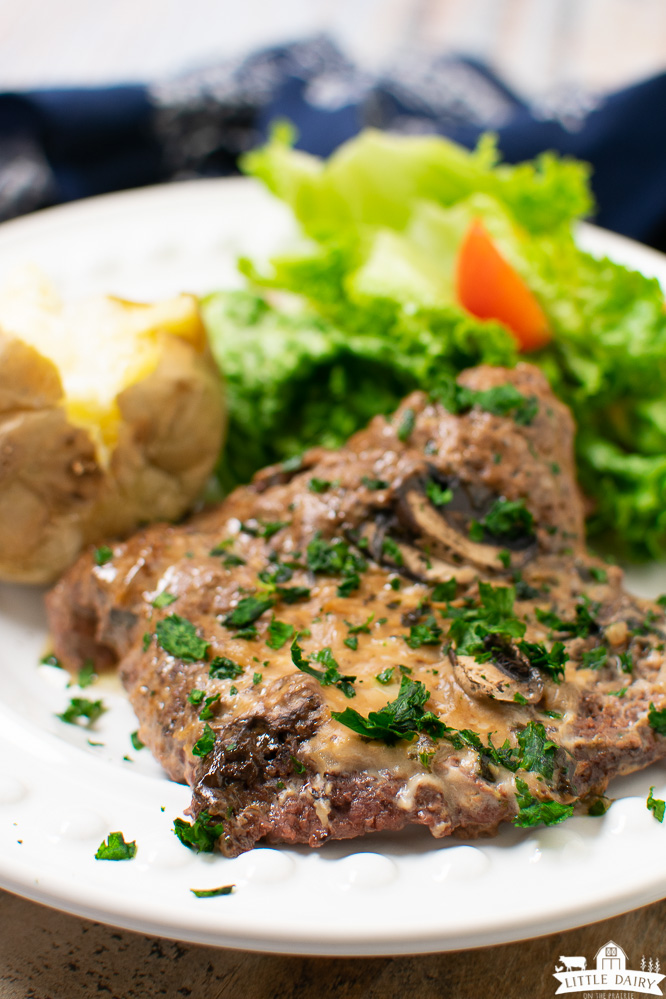 What to serve with Crock-Pot Cube Steaks
We LOVE these steaks served over pasta, rice, or my make-ahead cheesy mashed potatoes, or spinach mashed potatoes. It's also great served by itself with a few sides! These are all great choices.
Get the Crock Pot Cube Steak recipe!
When your crew wants something hearty, something to warm them up. Slow Cooker Cube Steaks in mushroom gravy is one of those recipes that farm women have been passing down over the years.
Comfort food like that hits the spot every time. The longer it cooks the more tender the cube steak gets until it is falling apart. The mushroom sauce is so creamy and delicious it could be eaten alone with a spoon.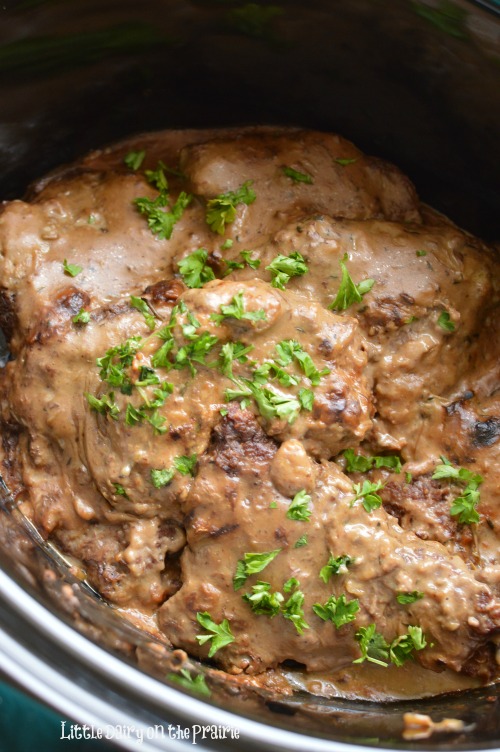 Slow Cooker Cube Steak in Mushroom Sauce
Slow Cooker Cube Steak in Mushroom Sauce is the ultimate comfort food! Add all of the ingredients to the CrockPot and as it cooks it creates a delicious gravy with the meat! Serve it with mashed potatoes, rice, or pasta!
Ingredients
6

whole

cube steaks

1/4

cups

flour

dash

salt and pepper

1

packet

dry onion soup mix

1

10.75 ounce

cans cream of mushroom soup

See Note

1

cup

evaporated milk

1

cup

sliced mushrooms

parsley

for garnish
Instructions
Spray a slow cooker with nonstick baking spray or line with a slow cooker liner.

Lay cube steaks flat on a cutting board. Sprinkle one side with flour, salt and pepper. Pound meat with a meat tenderizer, or a knife. Flip steaks and repeat on the other side.

Mix dry onion soup mix, cream of mushroom soup, evaporated milk, and thyme together. Add mushrooms and stir.

Arrange half of the steaks on the bottom of the slow cooker. Pour half of the mushroom sauce on top. Repeat with the rest of the cube steak and mushroom gravy.

Cook in a slow cooker on low for 6-8 hours or on high for 4-6 hours.

Serve over cooked noodles, mashed potateos, or rice.
Notes
Gravy: For a thicker gravy use 2 cans of cream of mushroom soup. Leftovers: Store leftovers in the refrigerator for up to 4 days. Reheat leftovers in the microwave.
Nutrition
Calories:
101
kcal
|
Carbohydrates:
13
g
|
Protein:
5
g
|
Fat:
3
g
|
Saturated Fat:
2
g
|
Polyunsaturated Fat:
0.2
g
|
Monounsaturated Fat:
1
g
|
Cholesterol:
13
mg
|
Sodium:
583
mg
|
Potassium:
235
mg
|
Fiber:
1
g
|
Sugar:
5
g
|
Vitamin A:
101
IU
|
Vitamin C:
1
mg
|
Calcium:
121
mg
|
Iron:
1
mg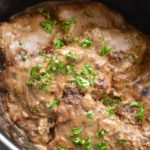 tried this recipe?
Make sure to share it with me! Leave a review or tag me on Instagram