There is really not much better than coming home to homemade cookies! Grab a glass of milk, these Peanut Butter Chocolate Chip Cookies are sure to hit the spot and welcome you home in a big way! They are quick and easy to make and boast that classic peanut butter chocolate combination we all love!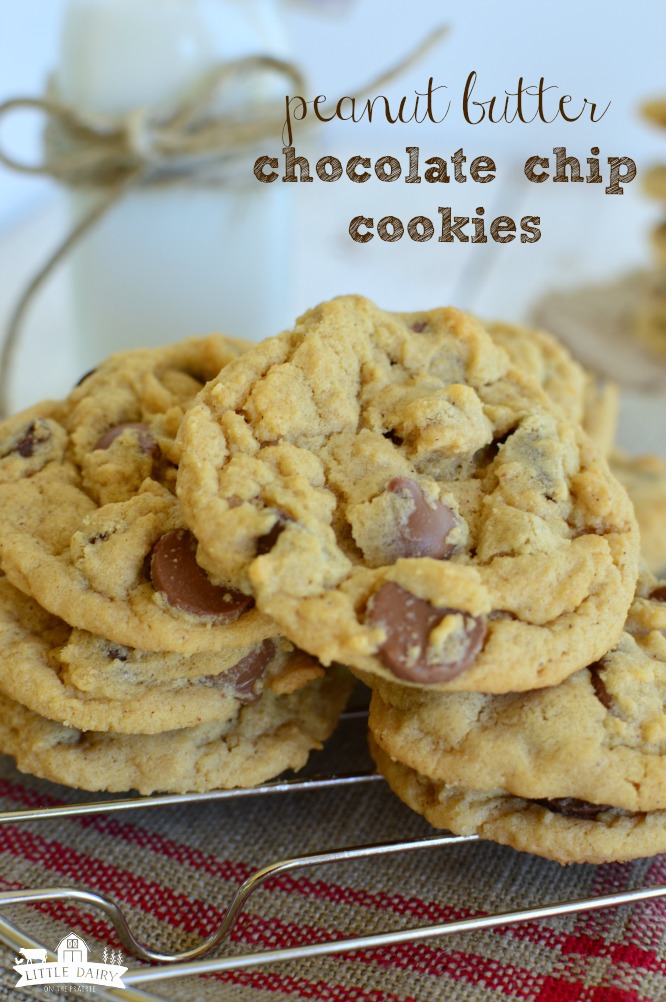 The other day I was not very discretely reminding my children that Mother's Day is right around the corner and that usually husbands and children do something nice for their wives/mother that day.
Branson is my most thoughtful gift giver by far and he piped up and asked me what other people do to celebrate Mother's Day. I explained that sometimes people make dinner for their mom, or take their mom out to dinner, or make a nice card for her, or do extra chores for her, or make her breakfast in bed!
He had this puzzled look on his face…really puzzled. He asked me, "How would I make breakfast while I was in my bed? It would be such a pain to take all the ingredients to my room and I can't even cook down there".
Apparently he thought he was literally supposed to cook breakfast while he was in his bed! And my friends, that's how Mother's Day goes when you live with a house full of boys!
PEANUT BUTTER CHOCOLATE CHIP COOKIES – INSTRUCTIONS
I'm not planning on GETTING breakfast in bed this year. It might be a better idea to whip up some of my favorites foods on my own! Who knows maybe I'll be eating Peanut Butter Chocolate Chip Cookies for breakfast on Sunday!
Peanut Butter chocolate chip cookies are made the same way most cookies are made.
Cream butter, sugars, and peanut butter
Add egg and vanilla. Cream.
Add dry ingredients (combine it in a bowl before adding). Mix
Add chocolate chips, lots of chocolate chips! Stir.
PEANUT BUTTER CHOCOLATE CHIP COOKIES – HOW TO BAKE
Get ready to bake cookies.
Drop cookies onto parchment lined baking sheet.
Slightly flatten cookies using a fork. Make a criss cross pattern.
Bake. Cool. Enjoy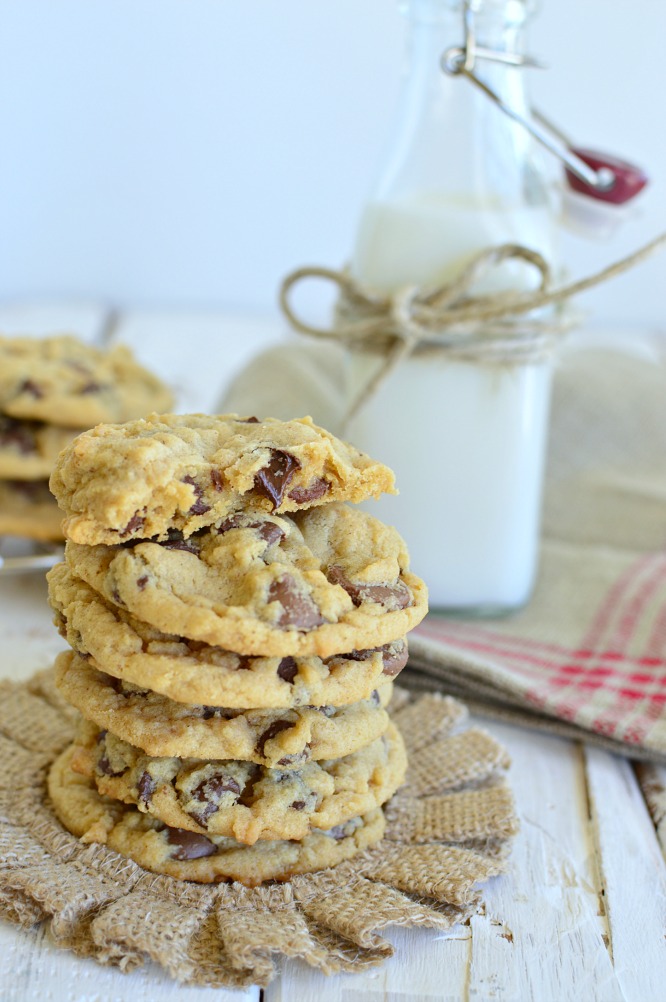 Are you one of those people that could spread peanut butter over a chocolate bar and call it dessert? If you are…you MUST try Peanut Butter Chocolate Cookies right now! You should also try Peanut Butter Fudge Cookie Bars or No Bake Peanut Butter Pretzel Cookies! I have a feeling you are going to love them!
If you're a hustle at all you can whip up a batch of these in less than 30 minutes. I bet you can even sweep the floor and do a few other household tasks while they bake. Or you can hang out and read a book or paint your toenails so they will look pretty for Mother's Day!
PEANUT BUTTER CHOCOLATE CHIP COOKIES – THE PRINTABLE RECIPE
Peanut Butter Chocolate Chip Cookies
These cookies are everything you already love about peanut butter cookies and they are loaded with chocolate! You can't go wrong with this combination!
Ingredients
3/4

c.

butter

softened

1/2

c.

granulated sugar

1/2

c.

brown sugar

packed

1/2

c.

creamy peanut butter

1

egg

1

tsp

vanilla

1 1/4

c.

flour

1/2

tsp.

baking soda

1/2

tsp.

salt

1/2

tsp.

cinnamon

1

pkg. 3.4 oz. instant vanilla pudding

only use the dry mix

2

c.

semi sweet chocolate chips
Instructions
Preheat oven to 375 degrees. Line baking sheet with parchment paper. Set aside.

Combine flour, baking soda, salt, cinnamon, and dry pudding mix in a small bowl. Set aside.

Cream butter, sugars, and peanut butter together.

Add eggs and vanilla. Mix until creamy.

Add dry ingredients and mix until combined.

Add chocolate chips. Stir.

Drop into rounded Tablespoon sized cookies. Slightly flatten cookies using the back of a fork, making a criss cross pattern.

Bake 7-10 minutes. Edges should be set and centers should be soft.

Cool on a wire rack. Store in an airtight container.
tried this recipe?
Make sure to share it with me! Leave a review or tag me on Instagram