This is basically the BEST chocolate chip cookie recipe with peanut butter! These cookies are thick, soft, chewy on the inside, and perfectly crispy on the edges! This recipe is so easy to make from scratch you'll be enjoying cookies in about 30 minutes (no chilling time necessary)!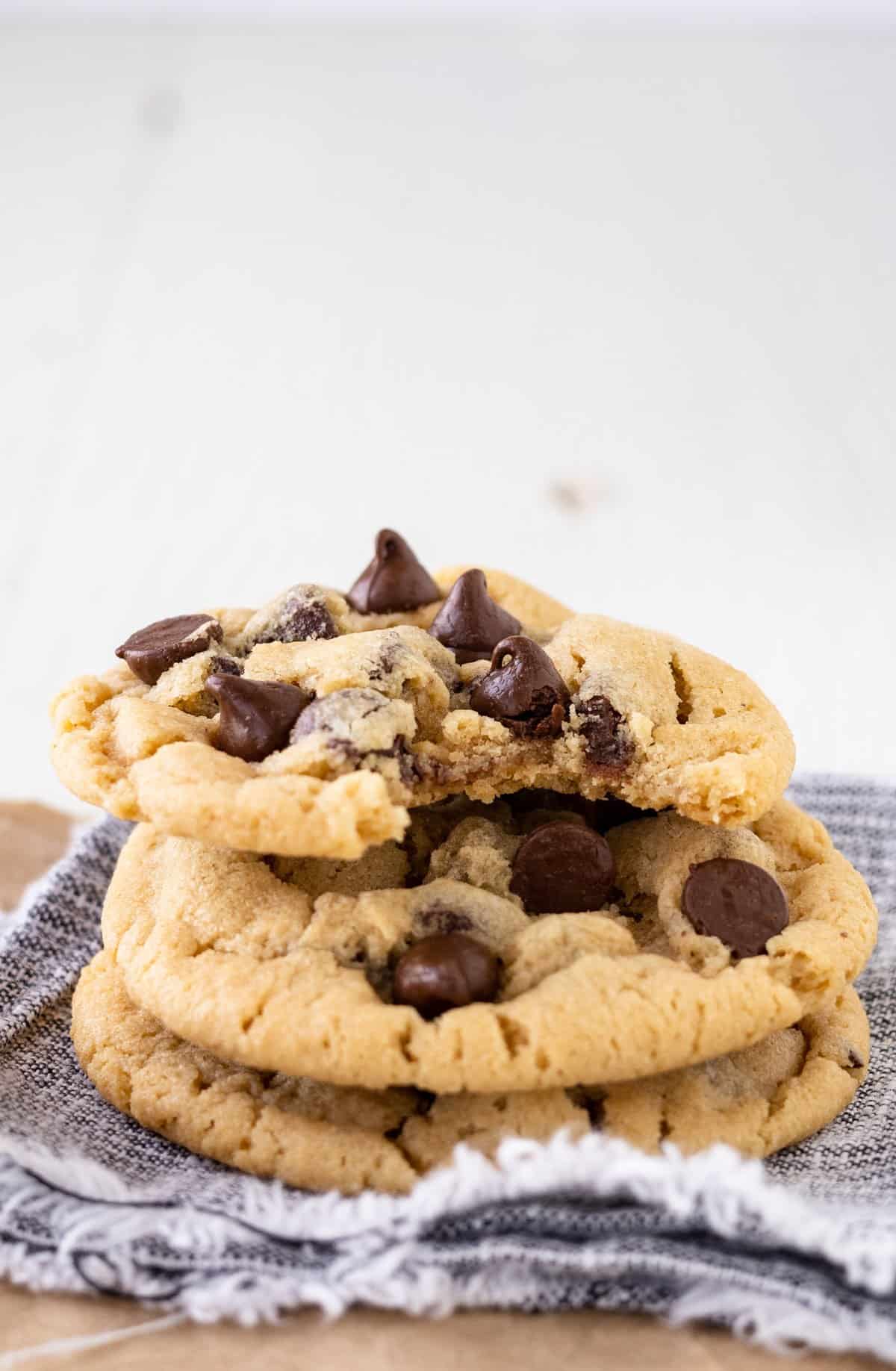 Um, I could literally grab a spoonful of peanut butter and dip chocolate chips right in it! It's the best flavor combo EVER! These cookies are basically the best chocolate chip cookie recipe with peanut butter! What's not to love?
I have to admit that although I'm a huge fan of peanut butter, I'm not in love with all peanut butter cookies. Sometimes they're so crumbly and dry. That's NOT what I'm looking for in the world's greatest cookie! These cookies are buttery and rich, more like a chocolate chip cookie & they still have that amazing peanut butter flavor you're looking for! Perfection!
I feel like I'm qualified to give you all the cookie recommendations since I make cookies at least once a week! This one definitely gets my seal of approval, but be sure to check out my Thick and Chewy Snickerdoodles, Sugar Cookie Bars, Butterscotch Bar Cookies, and Coconut Chocolate Chip Cookies.
Why This Recipe Works:
Perfect texture! These cookies are absolutely melt in your mouth delicious! They're soft, yet chewy, and still a little bit crunchy on the edges.
Quick and easy! No chill time and wait time needed to make this recipe. Although, if you want to make the dough ahead of time you can refrigerate it for up to 24 hours.
Freeze well! Read on for all my tips on how to freeze peanut butter cookie dough and bake it later, or bake the cookies now and freeze them for later. Either way works great!
Ingredients: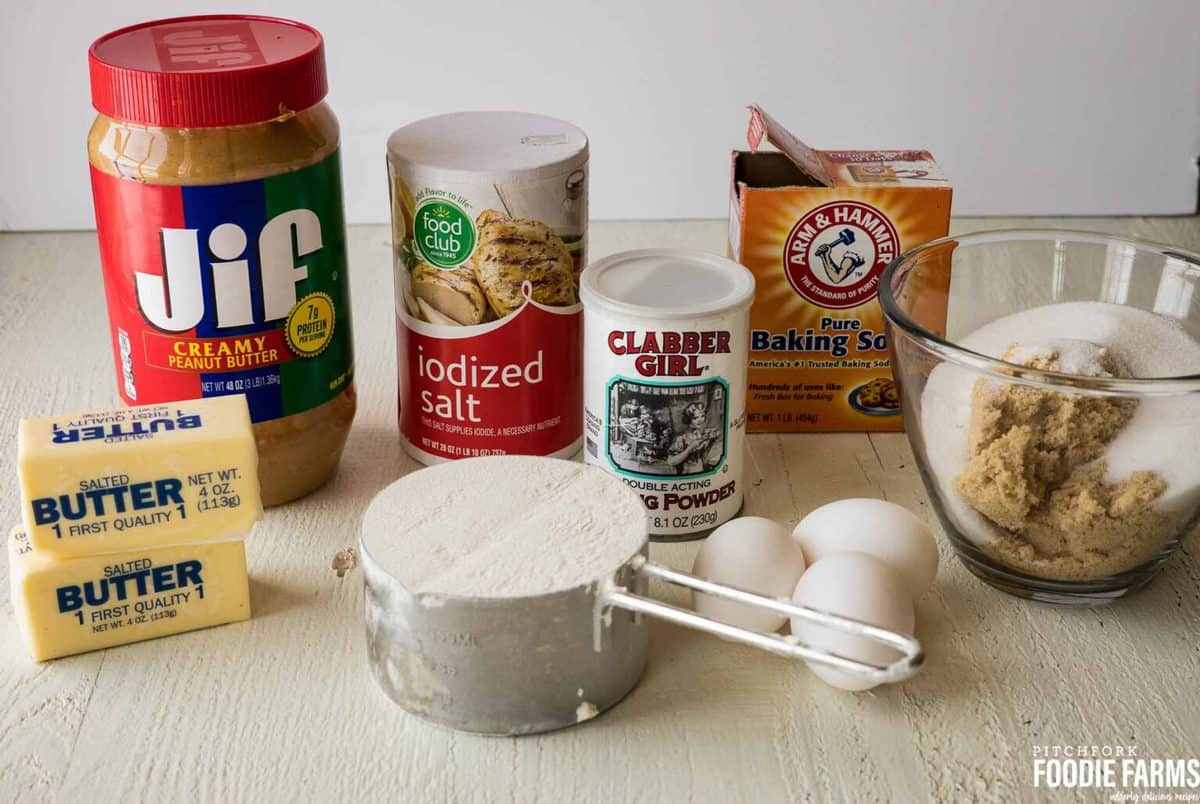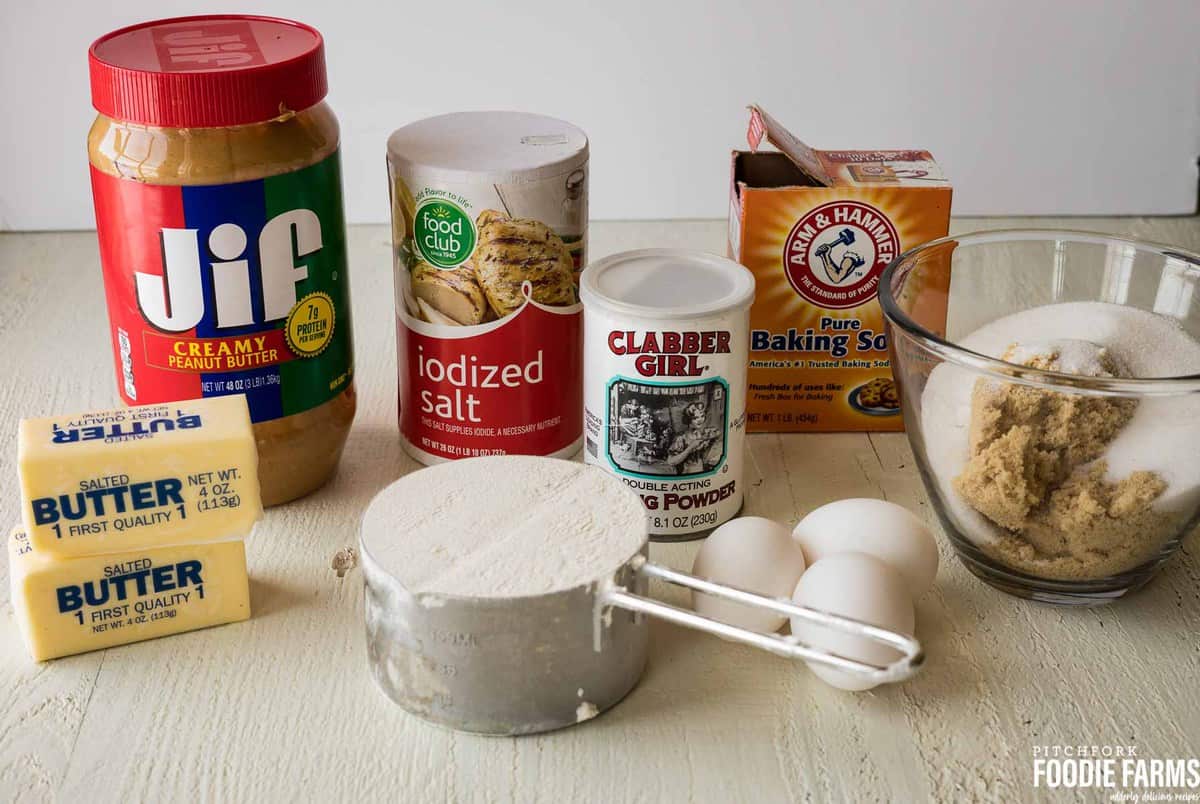 You'll need simple, pantry staple ingredients. There are a few things you need to know to make sure they turn out perfect!
Peanut Butter: Use traditional peanut butter like Jif, Skippy, or Planters. Don't use natural. The natural varieties tend to separate and will create a dry and crumbly cookies. I prefer using creamy peanut butter instead of crunchy. You can use crunchy, but it will obviously have bits of crunchy peanuts in it.
Butter: Use real butter. Salted or unsalted either one are fine. Don't use margarine because it will alter the flavor and texture of the cookies.
Kosher salt: I like using Kosher salt in my cookies because it adds a more intense pop of salty contrast to all the sweet. However, you can certainly use table salt. Reduce the amount by half.
Eggs: Adding 2 eggs plus one yolk makes the cookies thick and chewy.
How Do You Make Peanut Butter Chocolate Chip Cookies?
This recipe really is similar to making a traditional chocolate chip cookie recipe except we're adding peanut butter too. Let's run through it.
Before you start making the cookie dough preheat the oven to 350 degrees. Line a baking sheet with parchment paper. Set aside.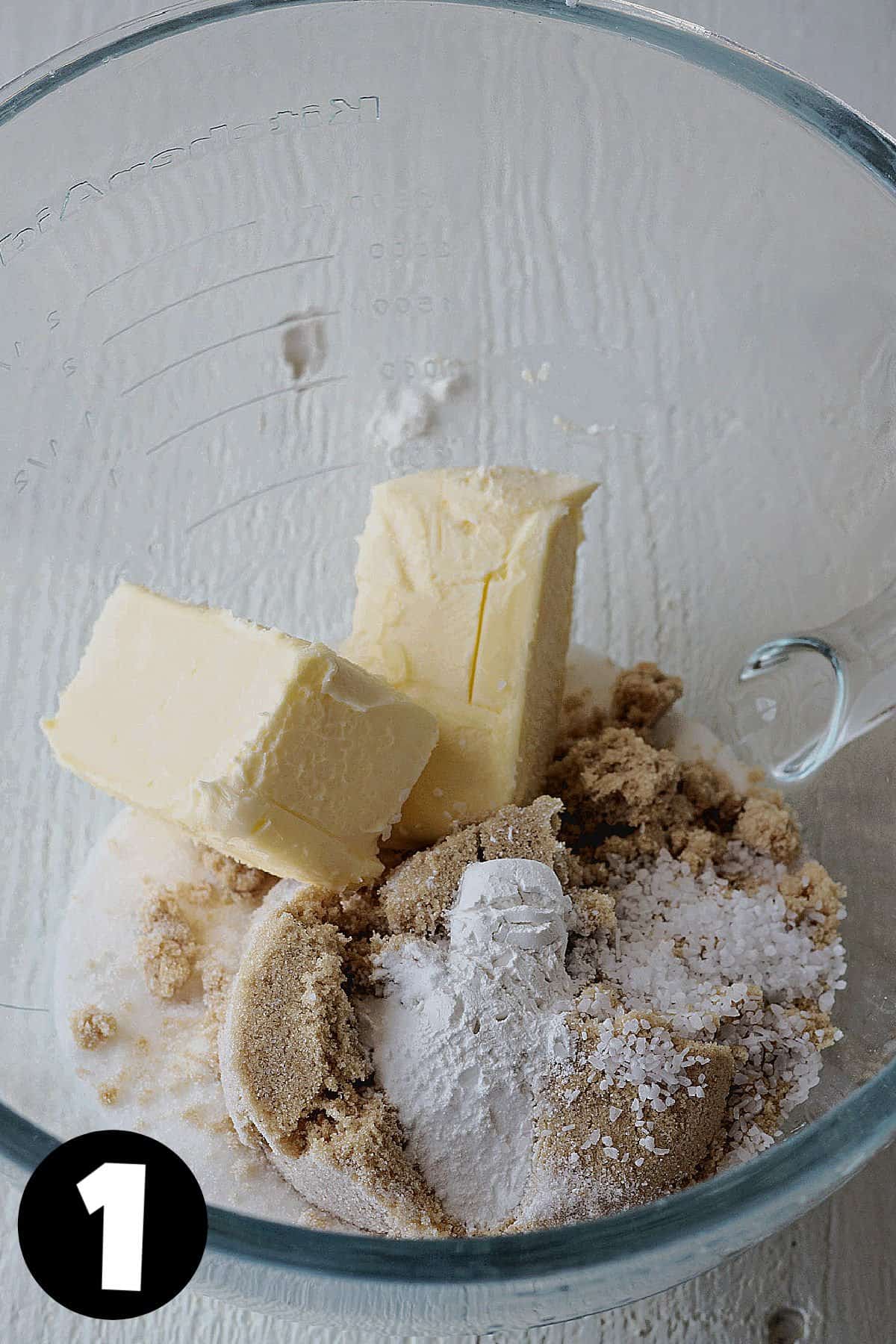 STEP 1: Cream room temperature butter, brown sugar, granulated sugar, salt, baking soda, and baking powder together. Cream until smooth and creamy, about 2-3 minutes. I like using my Kitchenaid stand mixer.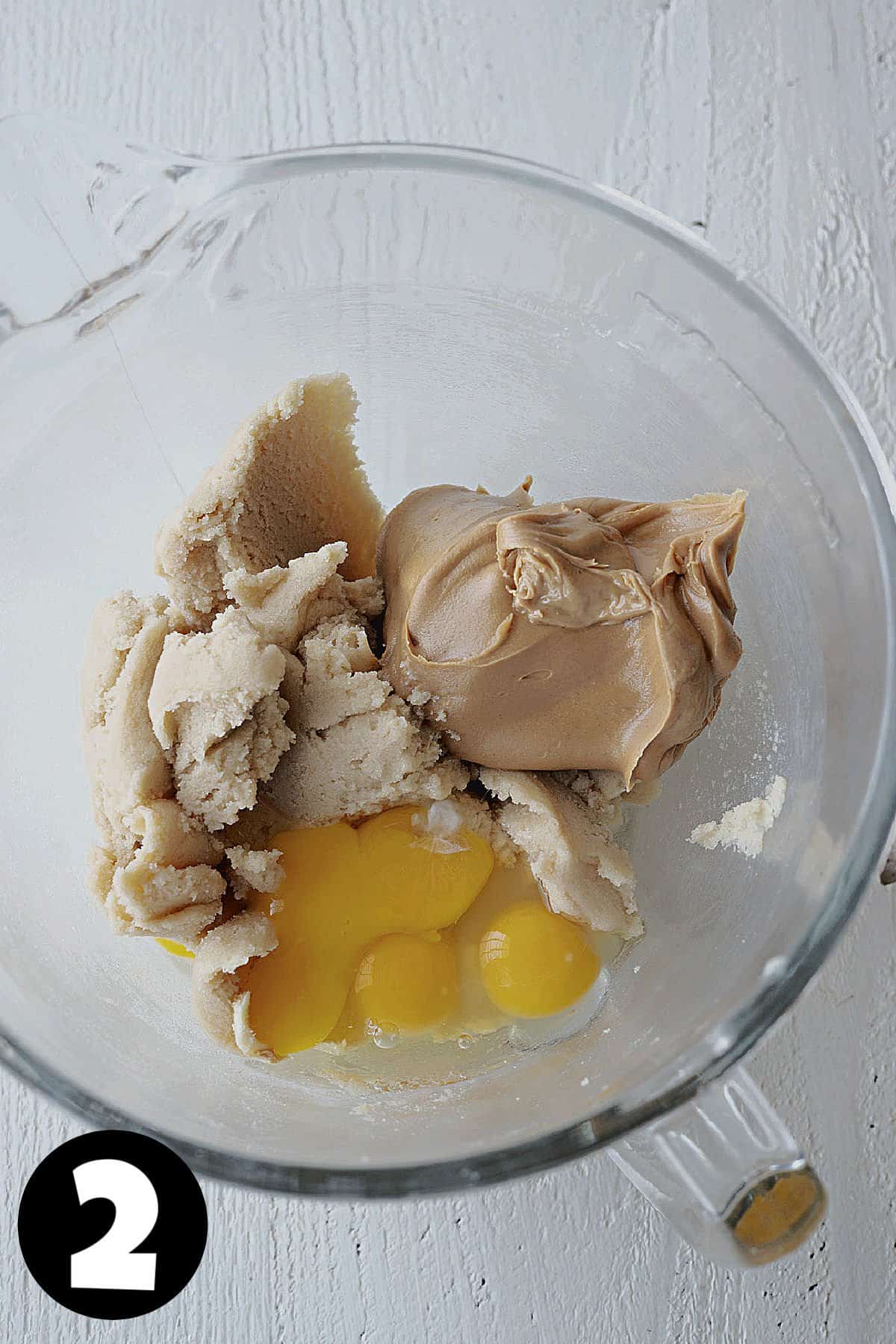 STEP 2: Add peanut butter, 2 eggs, and one egg yolk to the creamed sugar/butter mixture. Cream on medium speed for about 2 minutes.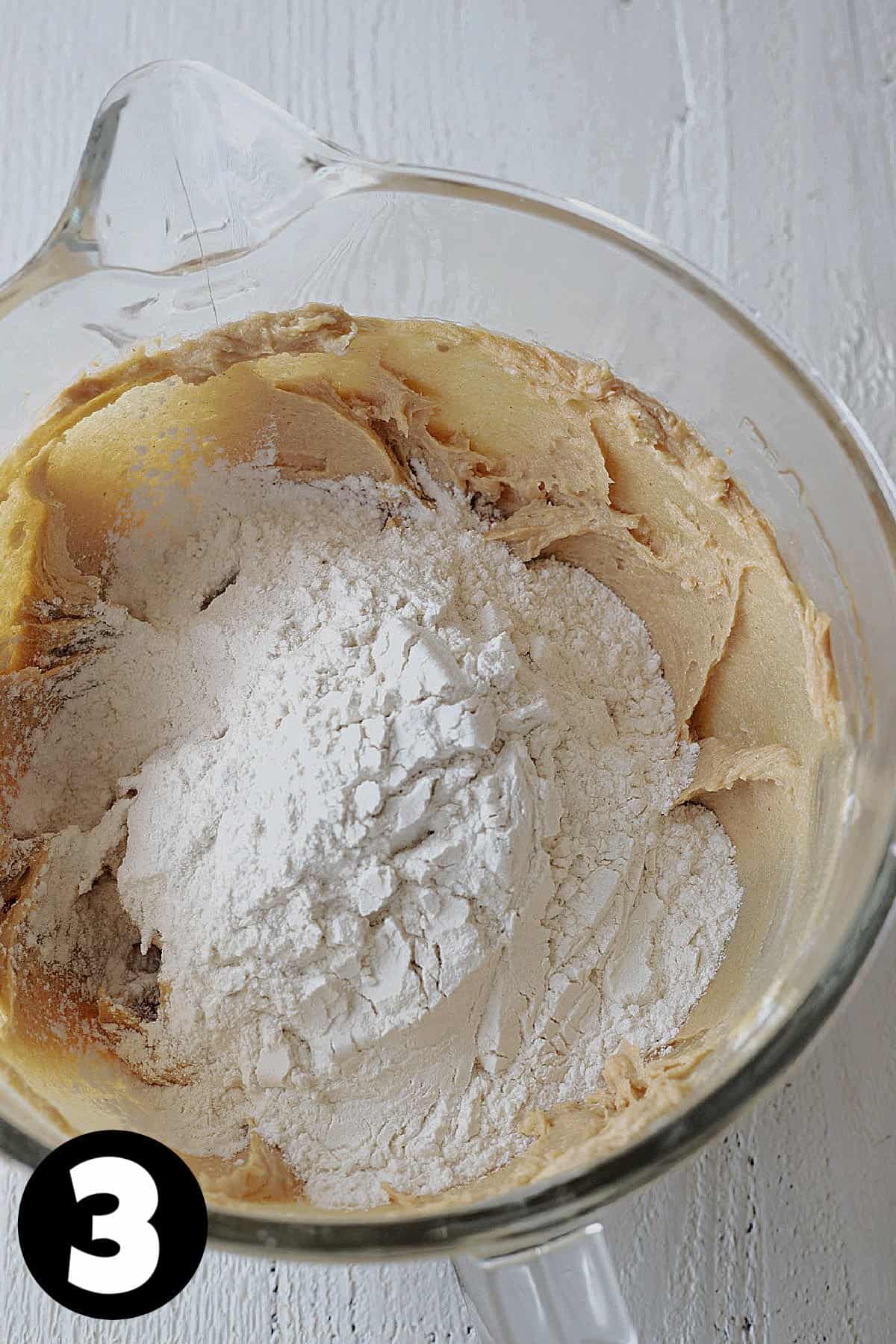 STEP 3: Add flour and mix by hand, or at low speed, just until combined.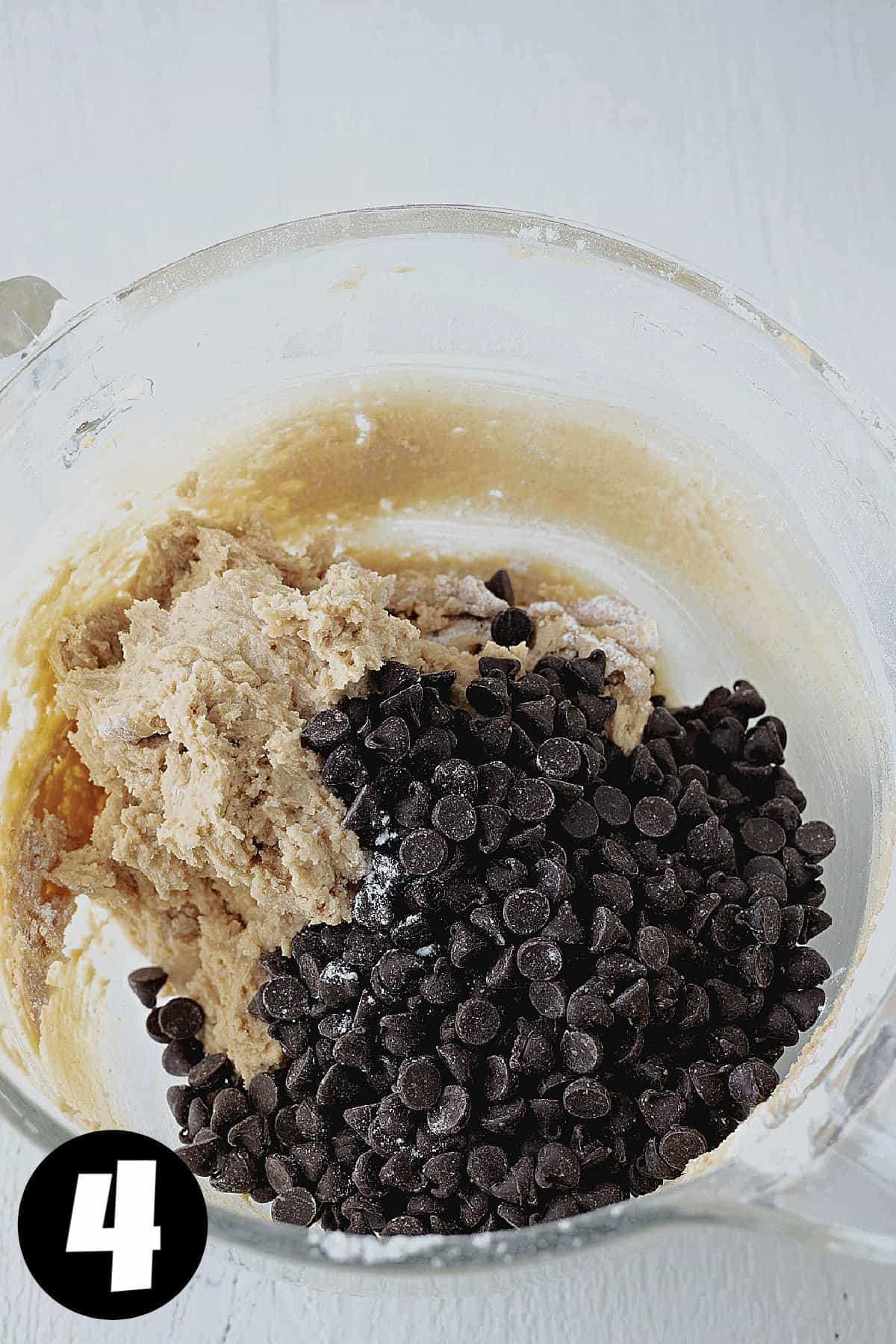 STEP 4: Add chocolate chips, chocolate chunks, or a combination of both. Stir until evenly distributed.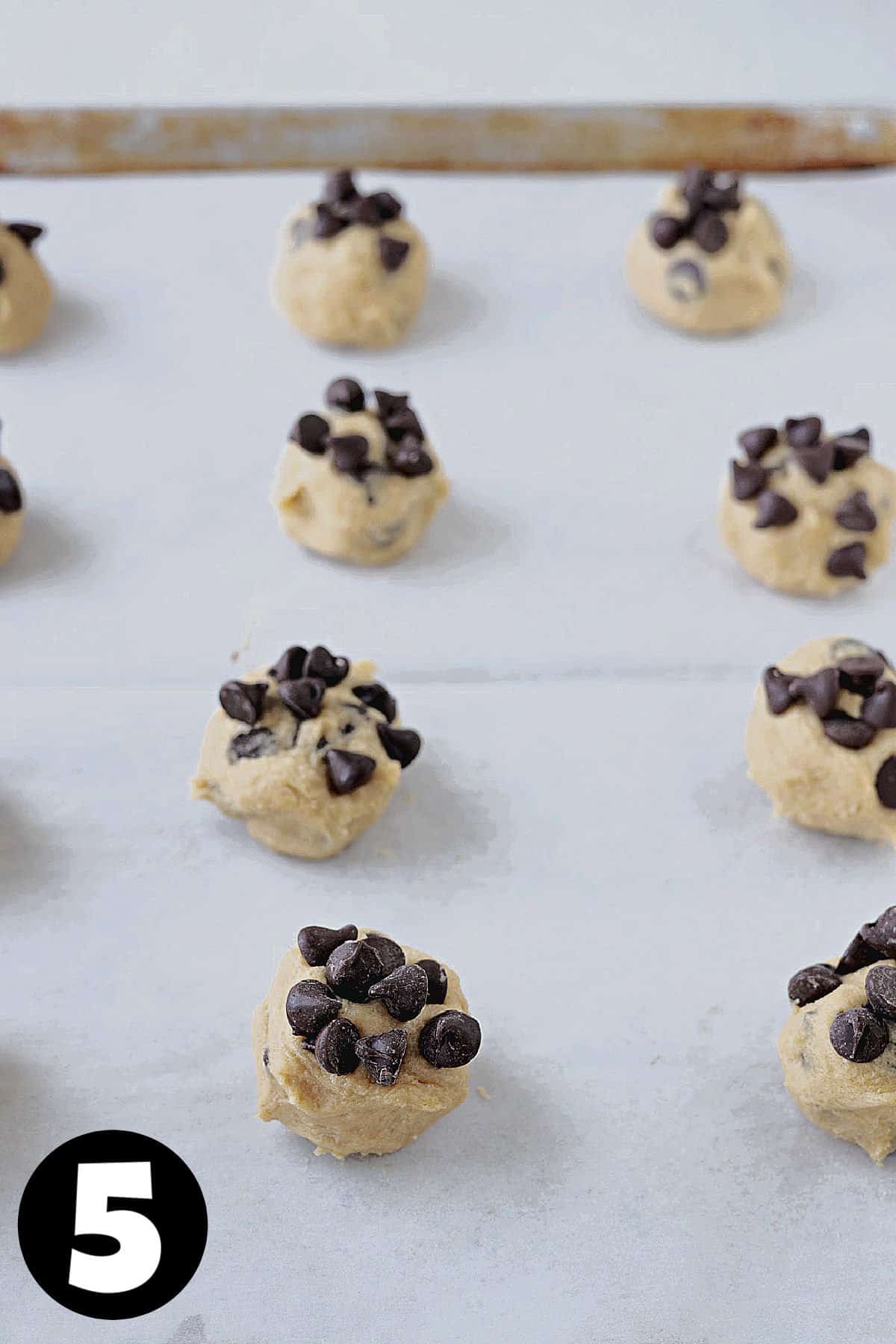 STEP 5: Using a 2 Tablespoon size cookie scoop drop cookies on a parchment-lined baking sheet. You can roll the cookie dough between your palms to make it smooth if you'd like. It makes the cookies a little smoother, but not necessary. I like to add a few chocolate chips to the tops of each ball of cookie dough.
STEP 6: Bake cookies for 10-12 minutes. The time will vary depending on your oven and how big you make the cookies. They should be jiggly in the center and slightly underdone. Let cool on the baking sheet for a couple of minutes. Remove to a wire cooling rack to completely cool.
Butter should be at room temperature for this recipe. That means it will slightly indent when pressed with your finger. It shouldn't be super soft.
I recommend using a light colored baking sheet because darker colored sheets tend to overbrown or even burn the bottoms of the cookies.
Parchment paper is my favorite because it creates perfectly browned cookies. I like it much better than a silicone baking mat because it doesn't need to be washed. Sometimes I fold it in half an reuse it for making cookies another day!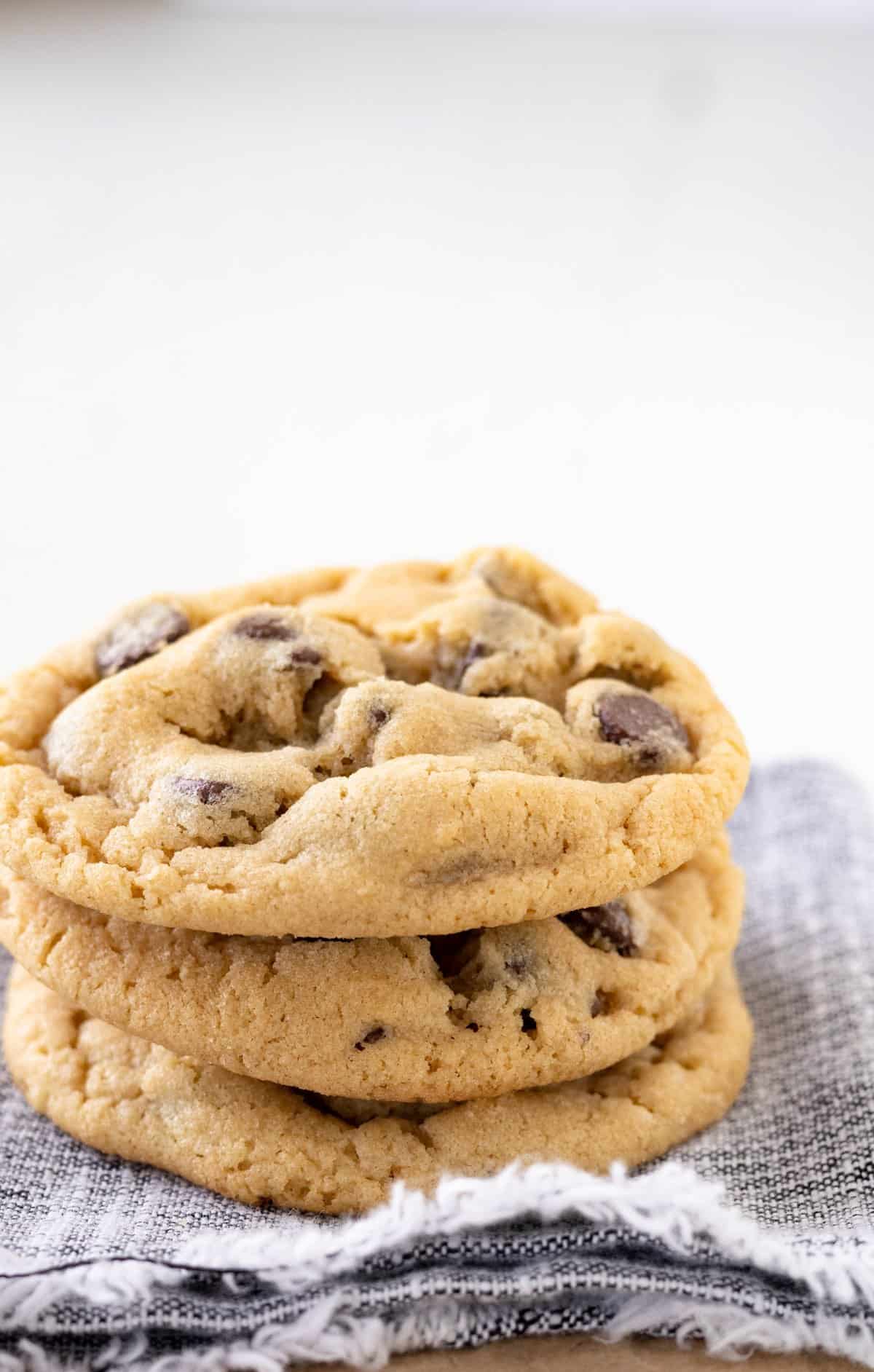 FAQs:
Can you freeze peanut butter chocolate chip cookies?
Yes! Here are the options.
1. Shape the cookies into balls. Set them close together on a parchment-lined baking sheet, but not touching. Freeze until firm. Remove from the baking sheet and add to an airtight freezer container or bag. Freeze for up to three months. When you're ready bake the cookies at 350 degrees for 12-14 minutes. You might have to adjust the baking time depending on how hot your oven cooks and how big the cookies are.
2. Bake and cool cookies as directed. Set on a baking sheet in a single layer. Freeze. Remove to a freezer container. Freeze for up to 3 months. Cookies are deliciously eaten while frozen, thawed to room temperature, or warmed in the microwave for a few minutes.
Do I have to press peanut butter cookies to flatten?
Some peanut butter cookies will hold their shape throughout the cooking process so they need to be flattened with a cup or fork dipped in sugar. This cookie dough is softer than some and will flatten by itself as it bakes.
Why are my peanut butter cookies dry and crumbly?
This can happen for a few reasons. Adding too much flour will make them dry. Even though the dough may be soft, don't be tempted to add extra flour. The natural peanut butter will also produce a dry and crumbly cookie. Overbaking will dry cookies out. A secret to baking perfect cookies is to take them out of the oven before they are baked all the way through. They'll keep baking while they cool on the baking sheet.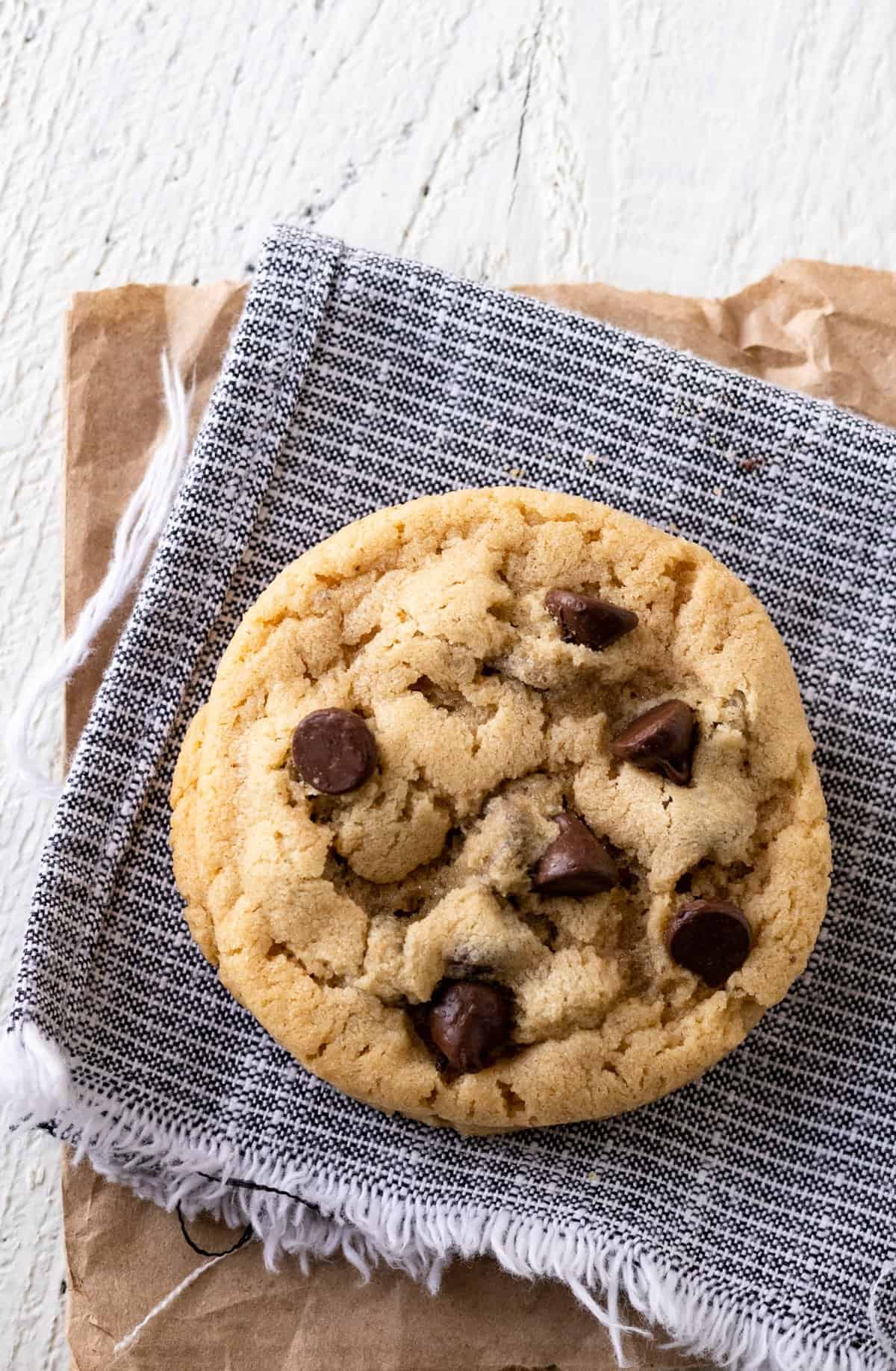 More Chocolate and Peanut Butter Recipes:
Printable Recipe: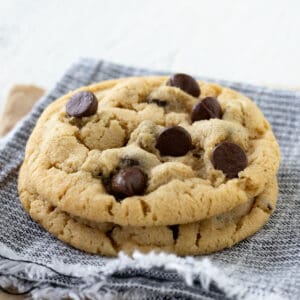 Peanut Butter Chocolate Chip Cookies
These cookies are everything you already love about peanut butter cookies and they are loaded with chocolate! You can't go wrong with this combination!
Ingredients
1

cup

butter

room temperature

1

cup

granulated sugar

1

cup

brown sugar

1

cup

creamy peanut butter

2

whole

eggs

1

egg yolk

1

teaspoon

baking powder

1

teaspoon

baking soda

1

teaspoon

Kosher salt

2

cups

all-purpose flour

2

cups

semi-sweet chocolate chips
Instructions
Preheat oven to 350 degrees. Line baking sheet with parchment paper. Set aside.

Add butter, brown sugar, granulated sugar, baking powder, baking soda, and salt to the bowl of an electric mixer (or a large mixing bowl). Beat until smooth, about 2 minutes. It will be thick.

Add peanut butter, eggs, and egg yolk. Beat until creamy and smooth, about 2 minutes.

Add flour. Beat just until the flour is incorporated.

Drop cookies onto a parchment-lined baking sheet using a 2 Tablespoon-sized cookie scoop. You can leave the cookies dropped, or roll between the palms of your hands to make them smooth. Add additional chocolate chips to the tops of the cookies if desired.

Bake for 10-12 minutes. Let rest on a baking sheet for 5 minutes. Move to a cooling rack to completely cool.
Notes
Use conventional peanut butter, not natural peanut butter for this recipe.
Every oven bakes a little differently. The cookies will still be jiggly in the center and a little bit crinkly on top when they are done.
Cookie dough can be made up to 24 hours before baking. Refrigerate until you're ready to bake the cookies, then let sit at room temperature for about 30 minutes. Bake as directed.
Store cookies in an airtight container for up to four days.
Nutrition
Calories:
186
kcal
|
Carbohydrates:
20
g
|
Protein:
3
g
|
Fat:
11
g
|
Saturated Fat:
5
g
|
Polyunsaturated Fat:
1
g
|
Monounsaturated Fat:
4
g
|
Trans Fat:
1
g
|
Cholesterol:
17
mg
|
Sodium:
155
mg
|
Potassium:
99
mg
|
Fiber:
1
g
|
Sugar:
14
g
|
Vitamin A:
146
IU
|
Calcium:
21
mg
|
Iron:
1
mg
tried this recipe?
Make sure to share it with me! Leave a review or tag me on Instagram