Discover a delightful twist on classic chocolate chip cookies with our chewy Chocolate Chip Coconut Cookies recipe! Made with instant pudding mix for a soft and chewy texture, these cookies are a perfect blend of flavors. Coconut lovers are going to go crazy for these cookies!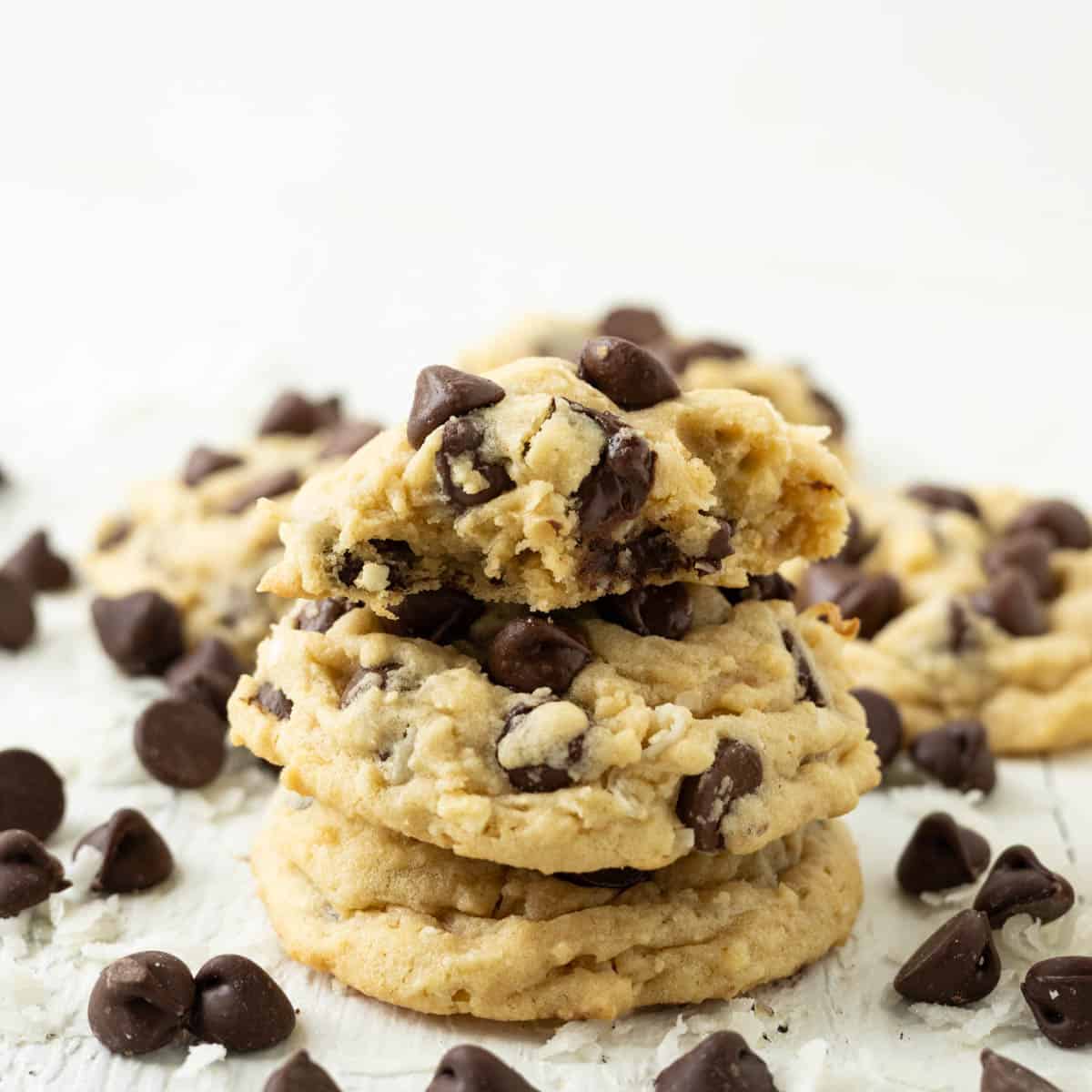 This recipe was originally written in 2016 and updated with new images and extra tips in 2023!
Of course, there is nothing wrong with regular chocolate chip cookies! They're one of our favorite cookies and are on repeat at our house and everyone seems to be completely fine with that!
I have about a billion recipes for making them and love them for different reasons. Some are crispy around the edges and chewy in the center, some are thick and soft, others are thin, flat, and extra crispy.
Sometimes I like to switch up the routine and try something just a little bit different. I'm a HUGE coconut fan so it seemed like a natural fit to make a version of pudding cookies with coconut pudding and shredded coconut!
If you've never tried adding instant pudding to cookies before you are missing out! It makes perfect cookies with a soft center and crispy edges!
My Coconut Banana Bread, Coconut Lime Sugar Cookies, and Ranger Cookies with Coconut and Cornflakes are all so yummy! Oh, and Coconut Lime Monkey Bread is a fun way to add more coconutty goodness to a recipe!
Why This Recipe Works
I originally posted this recipe in 2016 and it has 4.95 stars! It's a tried and true recipe! You know it's going to turn out every single time!
Quick and easy! This recipe is a basic chocolate chip cookie with coconut. There is no chill time or extra steps. It's completely doable even on the busiest days!
Simple ingredients! You'll need typical chocolate chip cookie ingredients, instant pudding mix, and coconut extract. I have suggestions for substituting if you don't have them on hand.
Delicious! These chocolate chip coconut cookies are soft center, a bit chewy, and crispy on the edges. The pudding mix makes them soft and brown sugar makes chewy coconut cookies. They have the perfect coconut flavor, not too strong yet it's definitely there!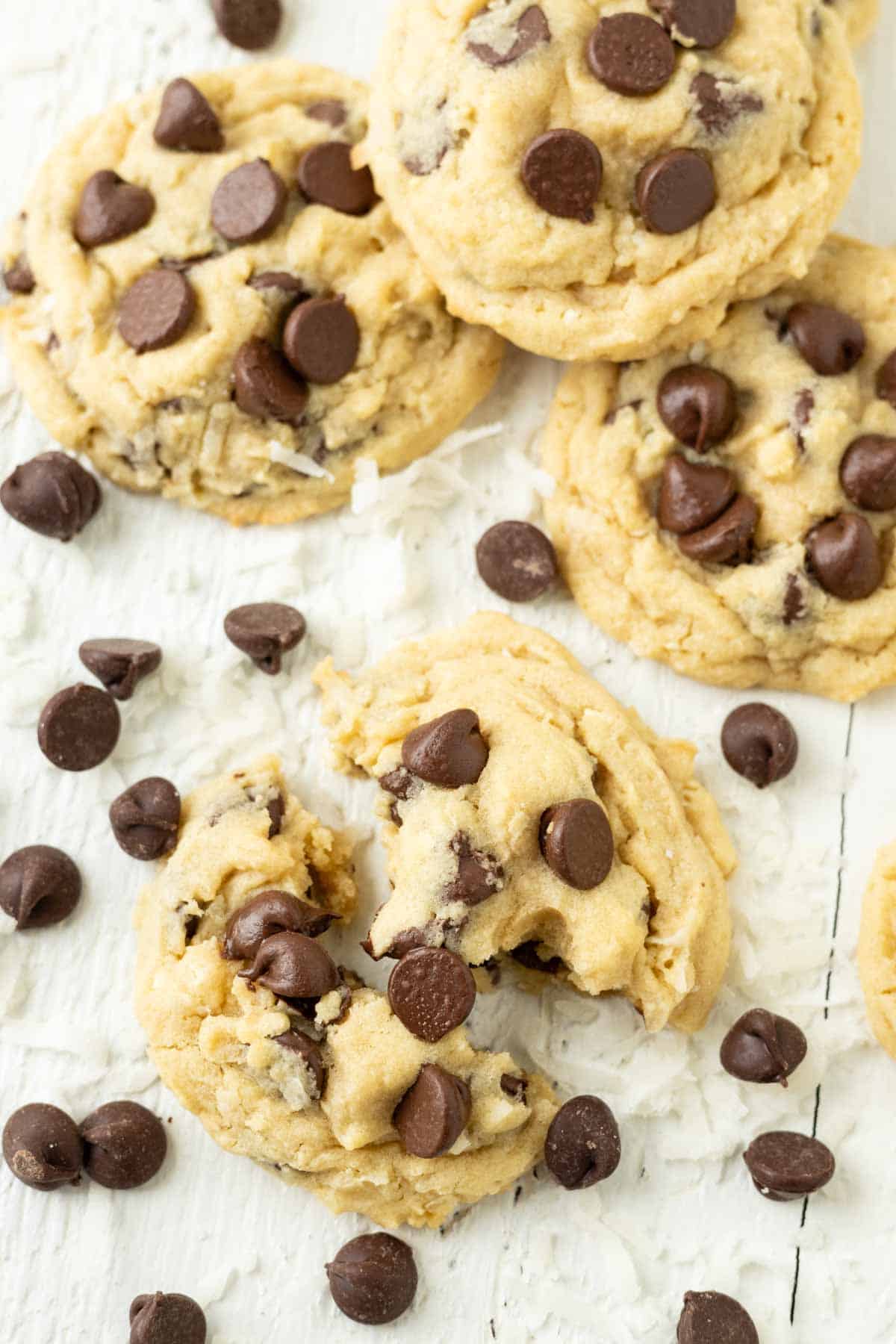 Ingredients
Let's talk about the ingredients you'll need to make these cookies and ideas for substituting.
Butter: Use real butter, it's so much better than margarine. Use salted or unsalted butter.
Brown Sugar and White Sugar: Light or dark brown sugar. I use light brown sugar.
Large Eggs
Coconut Extract: I love the extra punch of coconut flavor, but you can use vanilla extract if you don't have it.
Salt, Baking Powder, Baking Soda: I like Kosher salt the best
3.4 Ounce Package Instant Pudding Mix: Coconut Cream instant pudding is my favorite because it adds to the coconut flavor. I haven't been able to find it in my grocery store lately, but it is on Amazon. Instant vanilla pudding mix will also work.
All-Purpose Flour: I haven't tested this recipe using coconut flour, or other gluten-free flours.
Chocolate Chips: Milk chocolate, semi-sweet, dark, chocolate chunks, mini chocolate chips, or white chocolate chips are all great choices.
Shredded Coconut Flakes: Sweetened coconut or if you want less sugar use unsweetened coconut.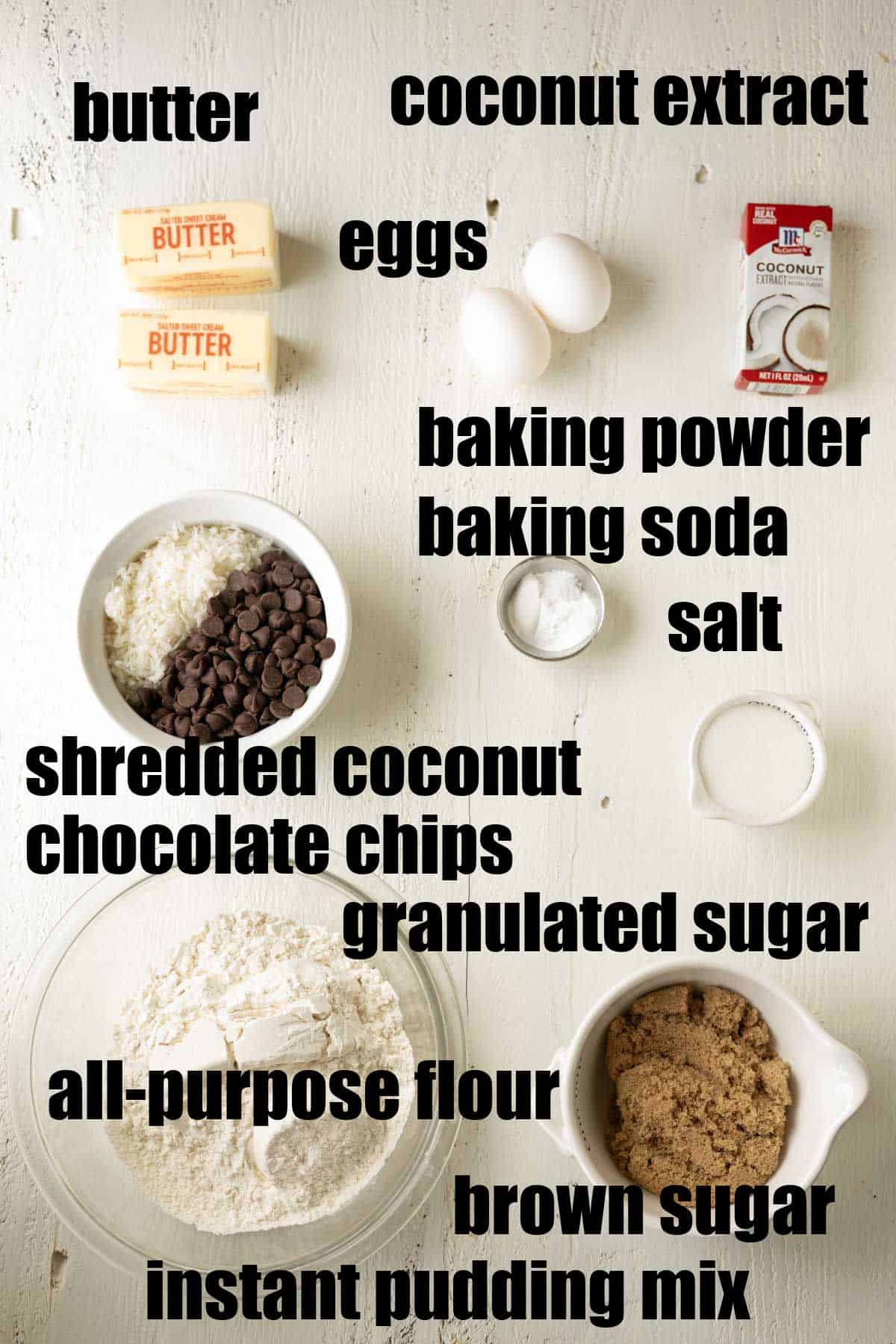 How to Make Chocolate Chip Coconut Cookies
This coconut cookie recipe is really easy!
Step 1: Preheat the Oven: Begin by preheating your oven to 350°F (175°C) and lining a cookie sheet with parchment paper. This ensures your cookies bake evenly and prevent sticking.
Step 2: Cream Butter and Sugars: In a large bowl for an electric mixer with a paddle attachment, cream together the softened butter, granulated sugar, and light brown sugar until the mixture is light and fluffy. This step is crucial for achieving that perfect cookie texture.
Step 3: Add Coconut Extract and Eggs: Add the coconut extract (or vanilla extract) and crack in the eggs, one at a time, mixing well after each addition. Mixing thoroughly ensures that all ingredients are well combined, leading to a consistent cookie dough.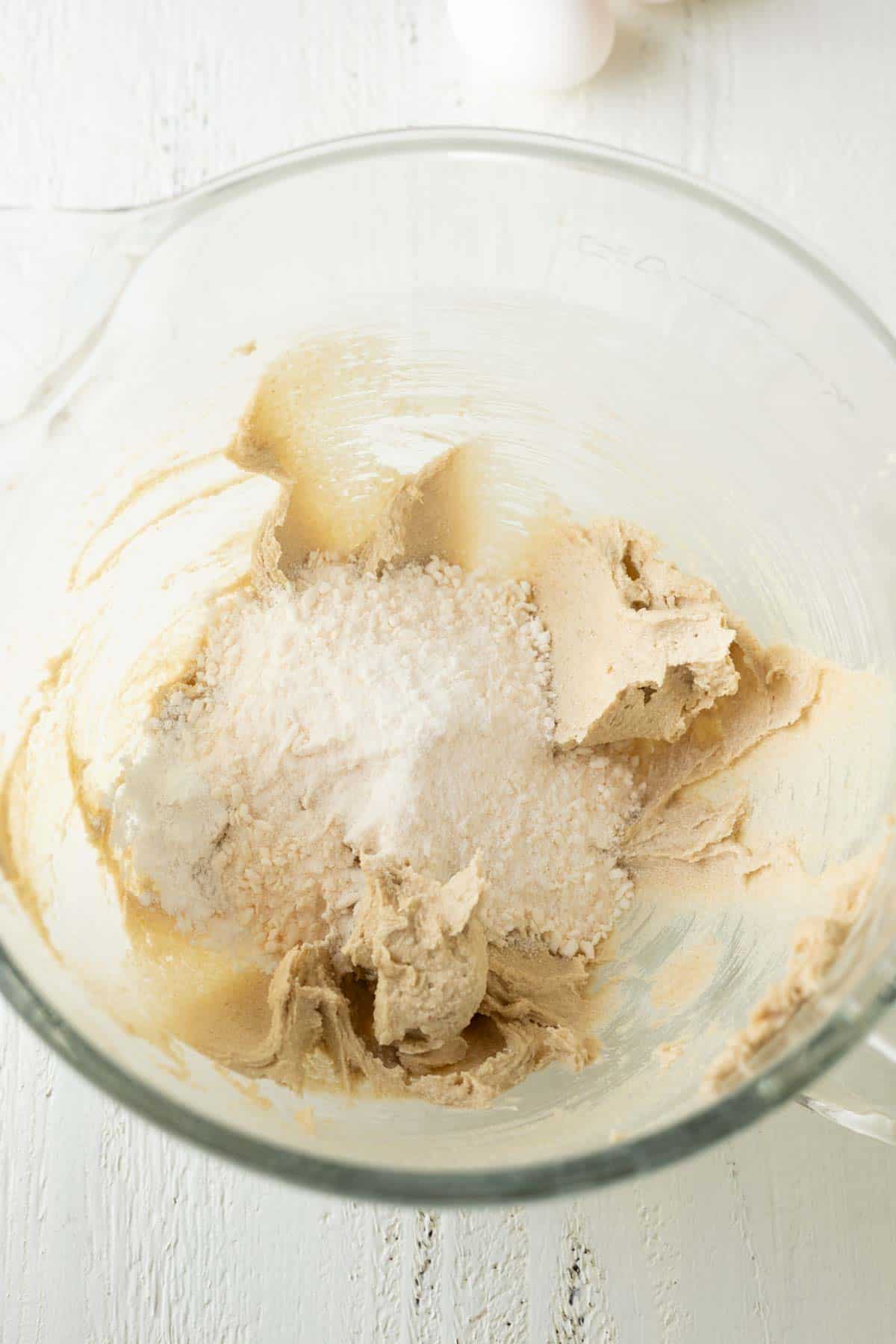 Step 4: Add Pudding Mix, Salt, Baking Powder, and Baking Soda: Add the dry pudding mix, baking powder, baking soda, and salt. Mix to combine. Adding these ingredients before adding flour ensures the dry ingredients get mixed in without having to mix the dry ingredients in a separate bowl.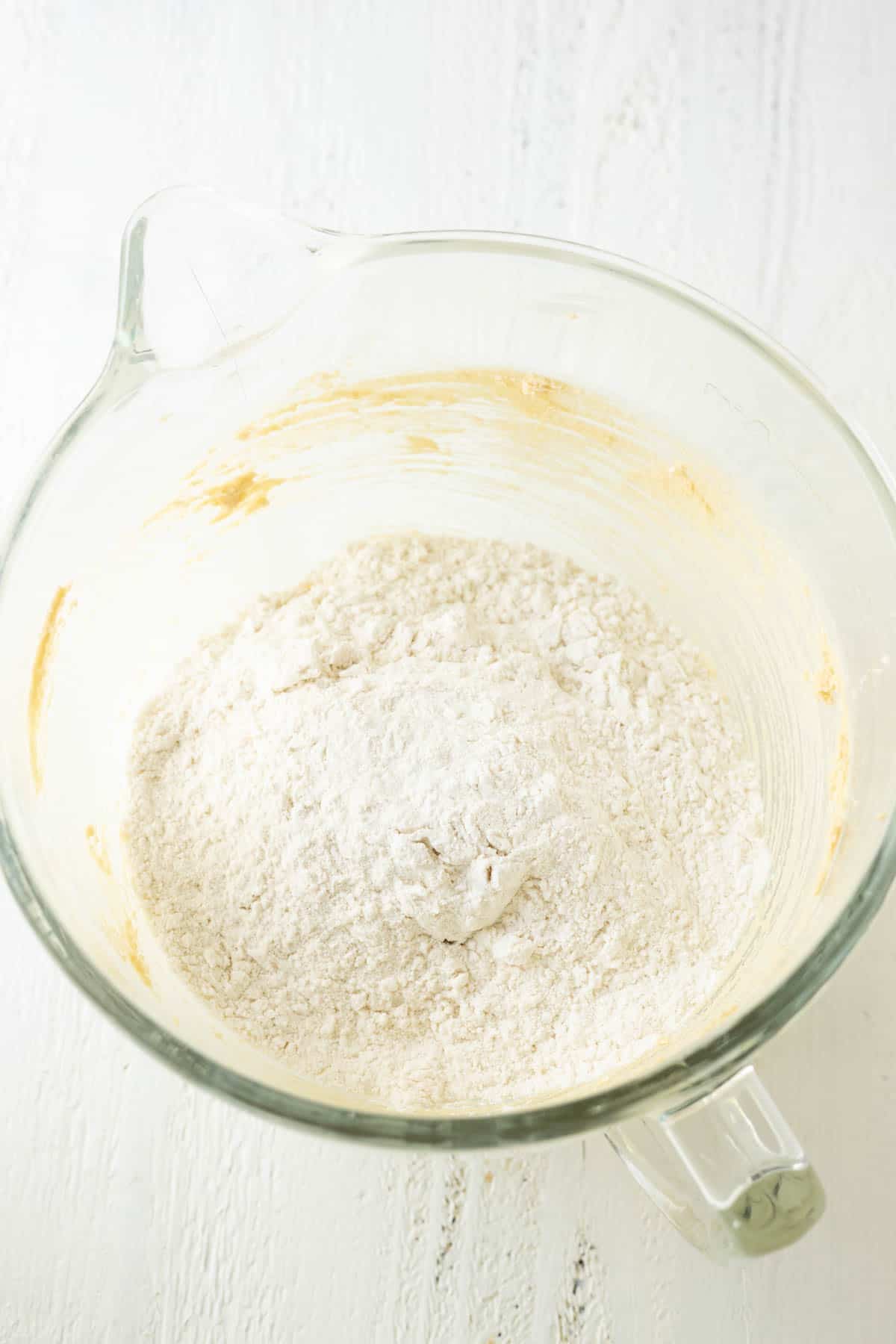 Step 5: Add flour: Add flour and stir until just combined. Be careful not to overmix, as this can lead to tough cookies.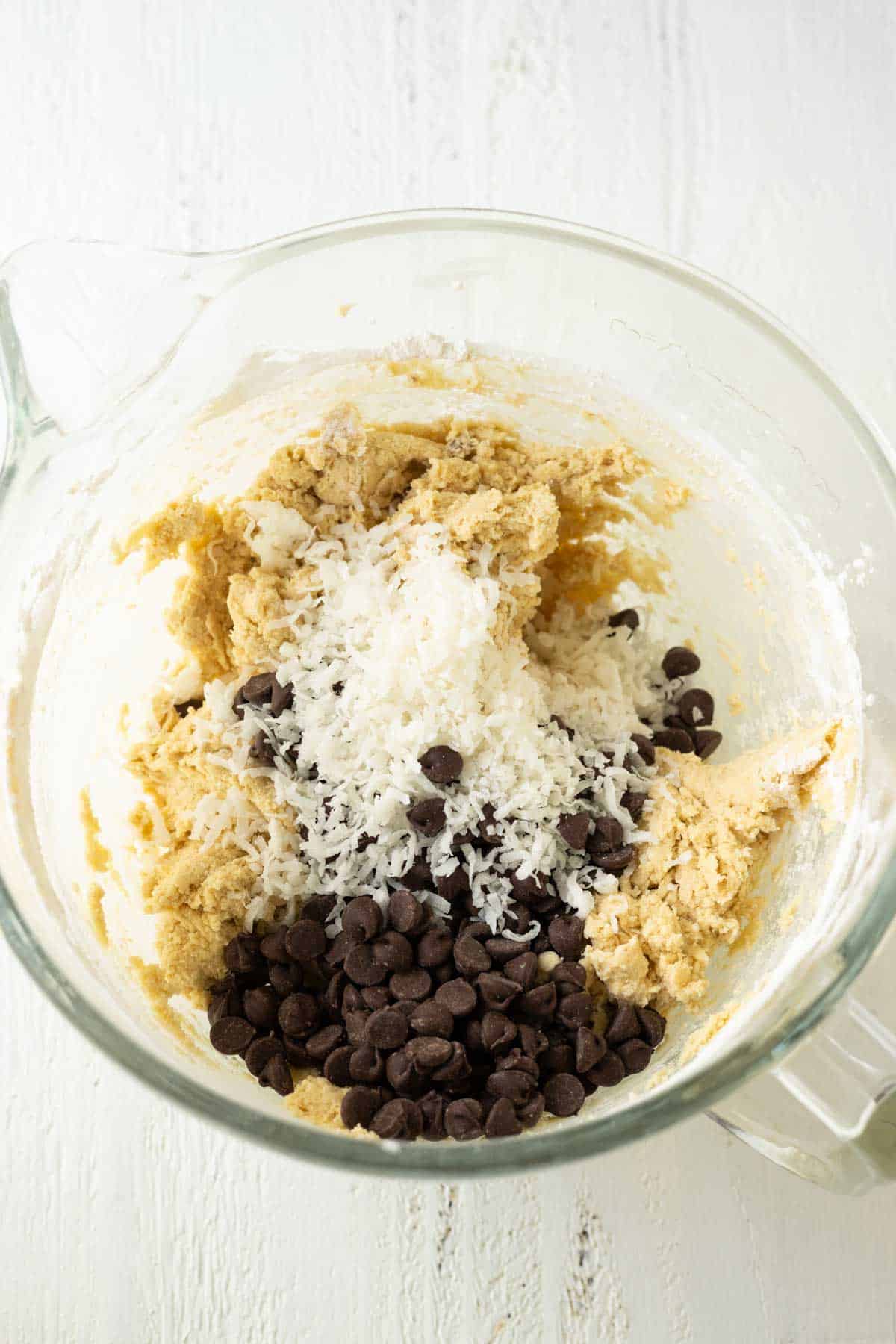 Step 6: Adding Chocolate Chips and Coconut Flakes: Gently fold in the semi-sweet chocolate chips and sweetened coconut flakes into the cookie dough. The coconut flakes add a delightful chewiness and a hint of tropical flavor that complements the chocolate chips beautifully.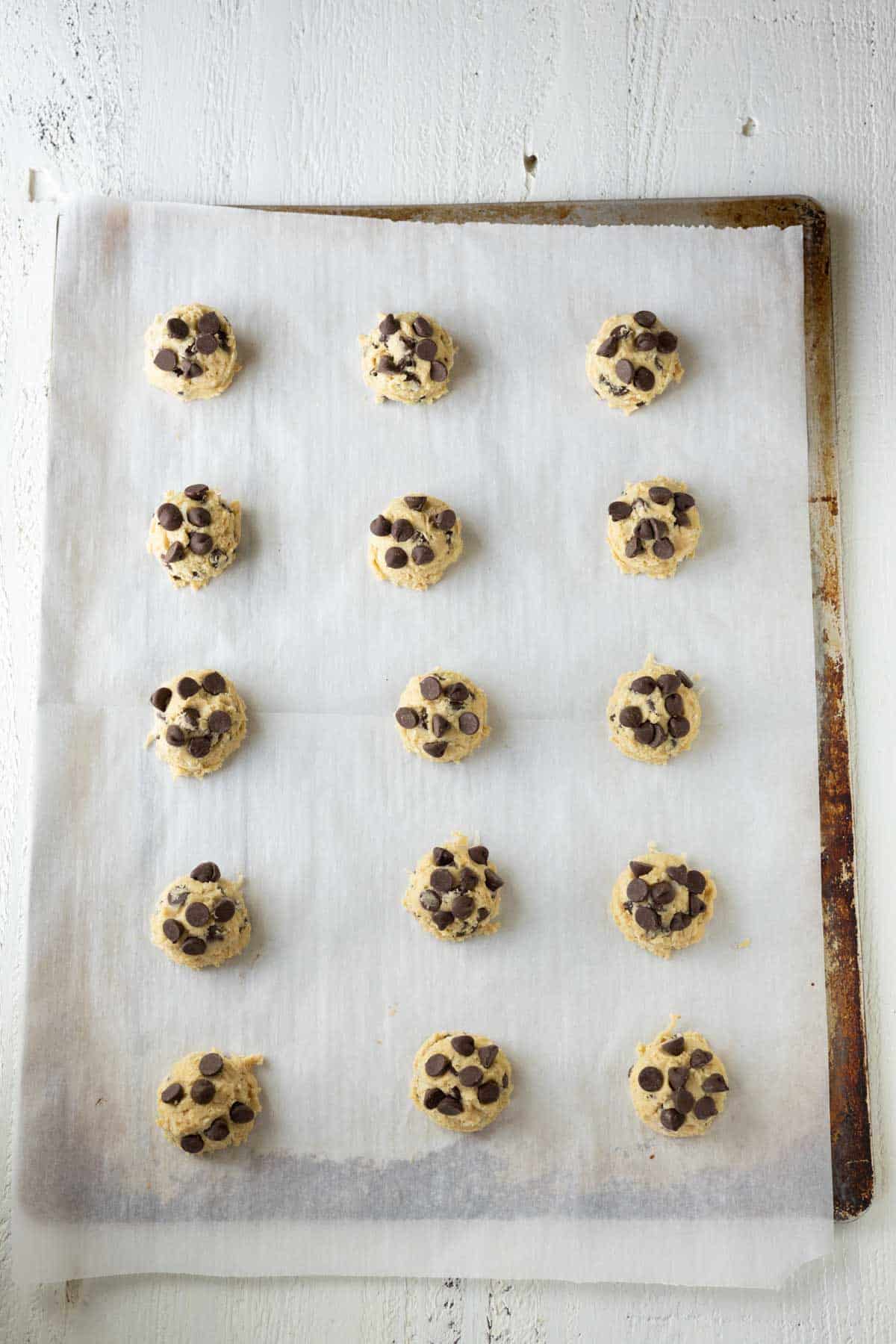 Step 7: Scooping and Baking: Using a cookie scoop or a spoon, drop rounded tablespoons of cookie dough onto the prepared baking sheet, spacing them about 2 inches apart. This allows the cookies to spread and bake evenly. Add extra chocolate chips to the tops of the cookie dough balls if you want.
Step 8: Baking Time: Bake the cookies in the preheated oven for approximately 8-10 minutes, or until the edges are golden brown while the centers still look slightly soft. Remember, the cookies will continue to firm up as they cool, so avoid overbaking.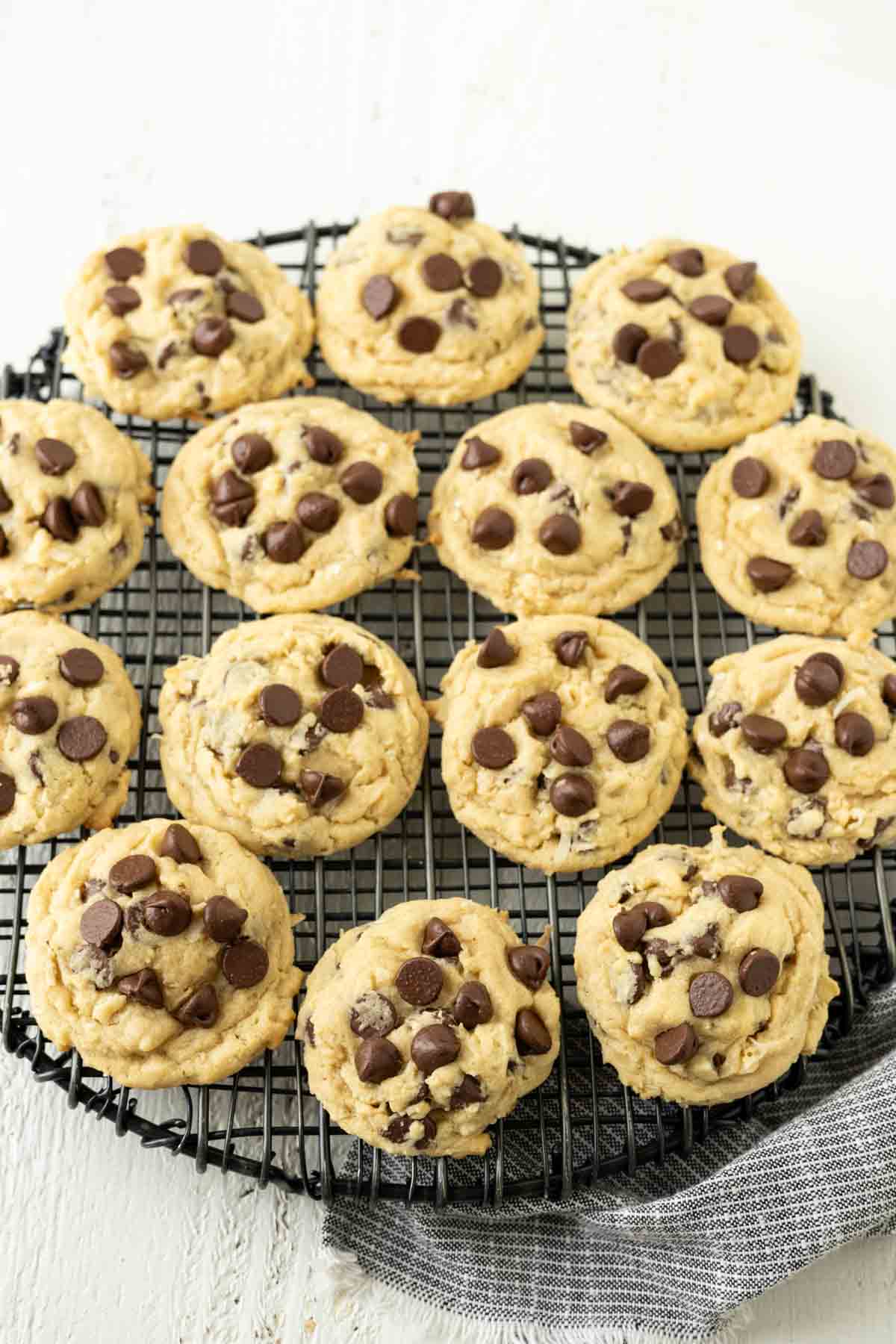 Step 9: Cooling: Once baked, remove the baking sheet from the oven and allow the cookies to cool on the sheet for a few minutes before transferring them to a wire rack to cool completely. This step ensures that your cookies achieve that perfect soft and chewy texture.
Tips for Success
Softened Butter: For best results, ensure that your butter is softened at room temperature before creaming it with the sugars. Softened butter incorporates more air, resulting in a lighter and fluffier cookie texture.
Measuring Flour: When measuring flour, use a spoon to lightly scoop the flour into your measuring cup and then level it off with a flat edge. Avoid packing the flour into the measuring cup, as this can lead to dry and dense cookies.
Don't Overmix: When combining the wet ingredients and dry ingredients, mix until just combined. Overmixing can lead to tough cookies due to excessive gluten development.
Cookie Consistency: The best way to make consistent cookie sizes is to use a cookie scoop. This ensures even baking and a uniform appearance.
Variations
It's fun to switch things up when you're making cookies! These coconut chocolate chip cookies are a really good basic recipe because there are so many fun variations! Here are some ideas to try.
Different Pudding Flavors: Vanilla, cheesecake, chocolate, and butterscotch are all fun flavors. Be sure to use instant pudding.
Add nuts: Pecans, walnuts, and almonds (Finely chop the nuts before adding them.)
Toasted Coconut: ​Toasting the coconut before adding to the cookie dough give the cookies a nutty flavor and crunchy texture. Check out this How to Toast Coconut tutorial.
Shredded Coconut: Pulse coconut in a food processor or blender until finely chopped.
How to Store Chocolate Chip and Coconut Cookies
These cookies probably won't last long! If you do happen to have extras, storing your freshly baked Chocolate Chip Coconut Cookies is as essential as baking them to perfection.
Room Temperature: To keep your cookies soft and delicious at room temperature, place them in an airtight container or a resealable plastic bag. You can even add a slice of bread to the container to help maintain its moisture. Remember to place parchment paper or wax paper between layers to prevent sticking. They'll last at room temperature for up to 4 days.
Freezer: If you're planning for a more extended cookie lifespan, the freezer is your friend! Allow the cookies to cool completely, then arrange them in a single layer on a baking sheet and freeze until firm. Once frozen, transfer them to a freezer-safe container or bag, separating layers with parchment paper. When a craving strikes, simply take out a cookie, let it thaw for a few minutes, and enjoy the same fresh-baked taste as when they came out of the oven.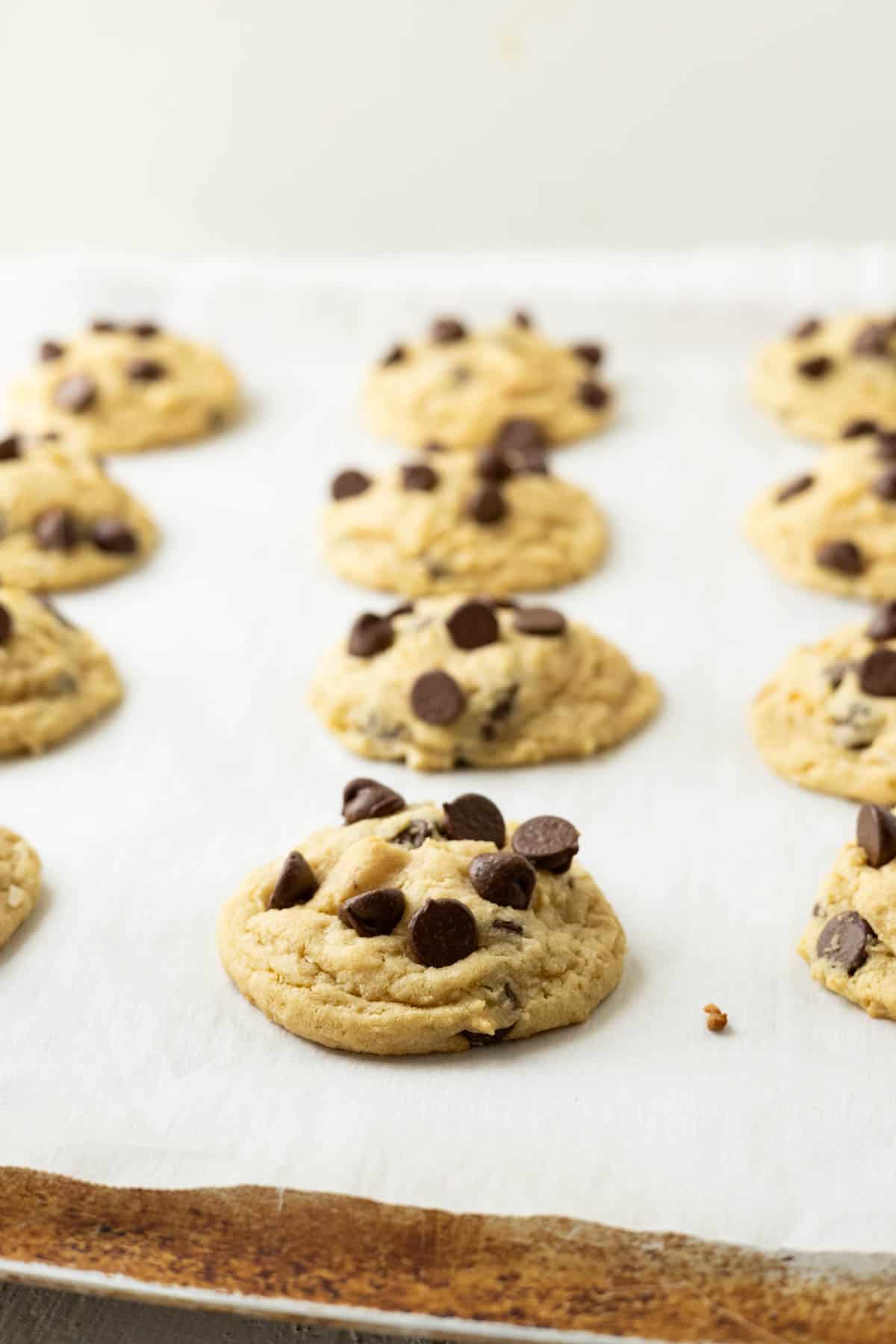 FAQs
Can I use different flavors of instant pudding mix? Absolutely! While coconut or vanilla pudding adds a yummy flavor and texture, you can experiment with other flavors like chocolate or butterscotch to create unique variations.
Can I substitute unsweetened coconut flakes? Yes, you can use unsweetened coconut flakes if you prefer a less sweet cookie. Keep in mind that this might slightly alter the overall sweetness and texture.
Why do my cookies turn out flat? Flat cookies can result from over-creaming the butter and sugar, over-mixing the cookie dough, or using warm butter. Ensure your butter is at the right temperature and avoid overmixing to maintain a thicker cookie shape.
Other Easy Cookie Recipes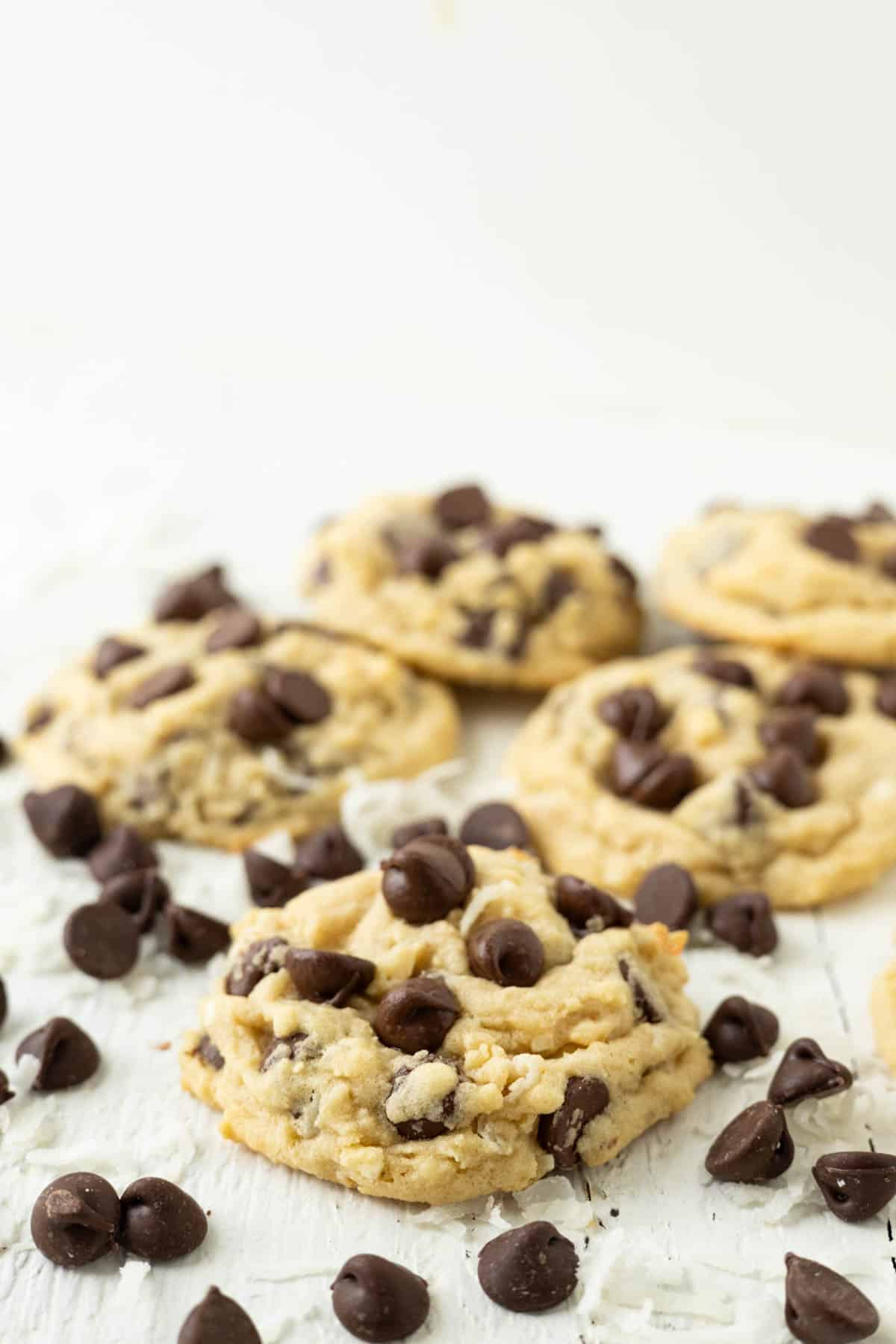 Coconut Chocolate Chip Cookie Recipe
The perfect balance of flavors and textures is sure to make these treats a favorite among friends and family!
Cookie recipes are so much fun because you can make them in so many different flavors, textures, sizes, and shapes! This recipe really is the best of both worlds…classic chocolate chip pudding cookies and Coconut Cookies! If you're a coconut lover looking for another dessert recipe this is for you!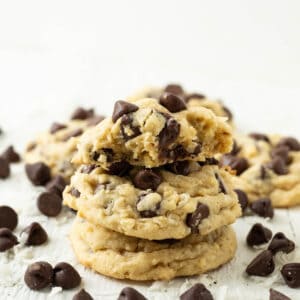 Chocolate Chip Coconut Cookies
This recipe really is the best of both worlds…classic chocolate chip pudding cookies and Coconut Cookies! If you're a coconut lover looking for another dessert recipe this is for you! They're thick and soft, thanks to the addition of pudding!
Ingredients
3/4

cup

butter

room temperature

3/4

cup

brown sugar

1/4

cup

sugar

2

eggs

1

tsp

coconut extract

1/4

tsp

salt

1

tsp

baking soda

3.4

ounces

instant pudding mix

2 1/4

cups

flour

1 1/2

cups

chocolate chips

1/2

cups

unsweetened shredded coconut
Instructions
Preheat oven to 350 degrees. Line a baking sheet with parchment paper, or grease baking sheet.

Cream butter (room temperature) for one minute on medium-high speed.

Add sugars and cream for on medium-high for 2 minutes. Scrape the bowl if needed.

Add eggs, coconut extract, baking soda, and salt! Beat for 2 more minutes.

Add dry pudding mix and beat until combined.

Add flour and beat just until combined. You don't want to overmix.

Add chocolate chips and coconut. Stir until mixed in.

Drop cookies onto the cookie sheet in Tablespoon sized balls.

Bake for 8-10 minutes. Don't over bake. Let cool on cookie sheet for a minute and remove to wire rack to finish cooling.
Notes
Vanilla pudding may be used instead of coconut pudding.
Vanilla extract may be used instead of coconut extract.
Nutrition
Calories:
145
kcal
|
Carbohydrates:
20
g
|
Protein:
2
g
|
Fat:
7
g
|
Saturated Fat:
4
g
|
Cholesterol:
20
mg
|
Sodium:
104
mg
|
Potassium:
26
mg
|
Fiber:
1
g
|
Sugar:
11
g
|
Vitamin A:
148
IU
|
Vitamin C:
1
mg
|
Calcium:
17
mg
|
Iron:
1
mg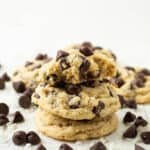 tried this recipe?
Make sure to share it with me! Leave a review or tag me on Instagram