Sweet Peach Cobbler consists of a cinnamon spice filling and a melt in your mouth topping that's just right for breakfast or dessert! You've gotta make it at least once this summer!
If I remember right, peach cobbler is one of my Dad's favorite desserts. My Mom makes a killer peach cobbler and she believes that peach cobbler is a perfect food for breakfast. I agree! It's just fruit and biscuits, with a little cream. Sounds like a perfect fall breakfast or dessert to me! This one is adapted from a recipe my Grandma gave to me!
I love making this peach dessert in the summer when peaches are perfectly juicy and ripe. I also love making it in the winter by grabbing a bag of my homemade peach pie filling from the freezer. Having the pie filling already made is a huge time saver too!
Add white and brown sugar, cornstarch, cinnamon and a little salt to a saucepan. Whisk them all together.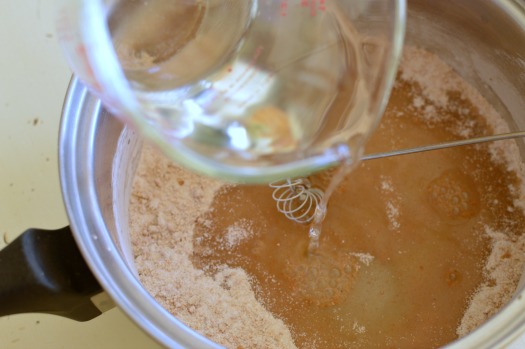 Gradually add some water while stirring. You gotta stir or you will get lumps. Nobody likes lumps.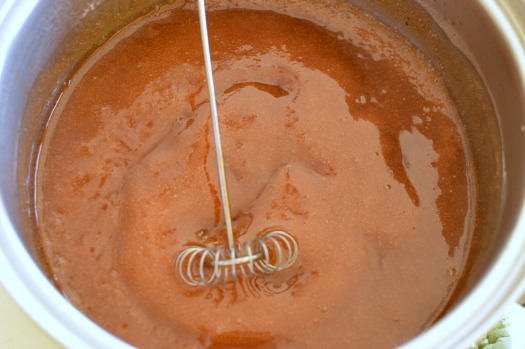 Bring to a simmer over medium to medium high heat until thickened.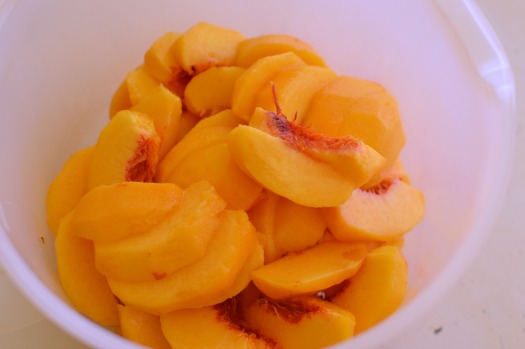 Let the sauce cool while you peel and slice some peaches.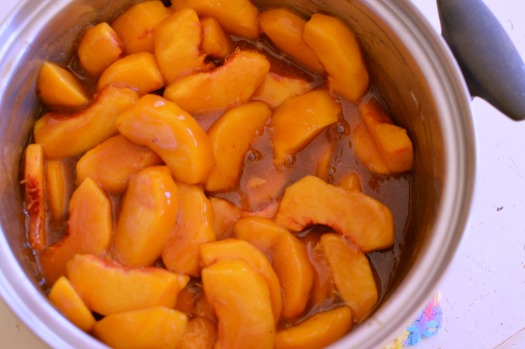 Add peaches to sauce and gently toss to coat.
Pour in a greased baking dish. Top with a little butter!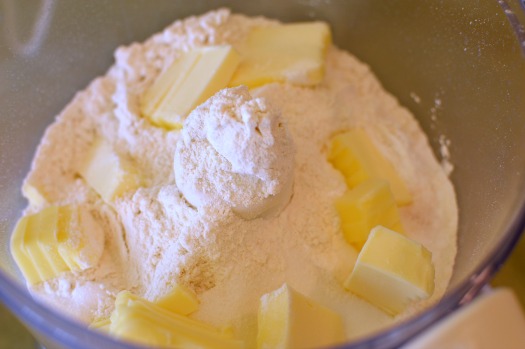 Put flour, butter, salt, baking powder and sugar in a food processor and pulse until it's combined. About the size of peas. If you don't have one cut the butter in with a pastry blender or two knives.
I didn't take pictures of some of the steps. So let me tell you what I did. I turned the food processor on and gradually added some milk until the whole thing was combined. Don't mix too long. You want it to be barely sticking together or the biscuits will be tough.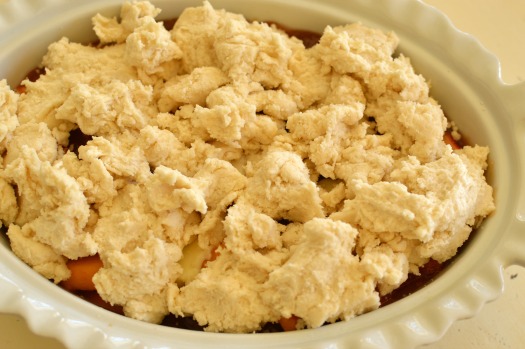 Drop the biscuits onto the peaches. I like to use a big spoon and cut pieces off with a knife. It's okay if the whole thing isn't covered, the dough will spread. We are after the rustic approach anyway.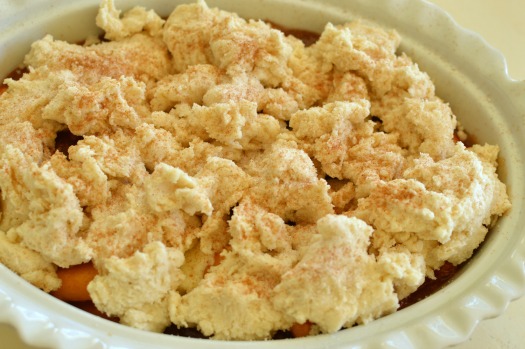 For good measure sprinkle the top with cinnamon and sugar.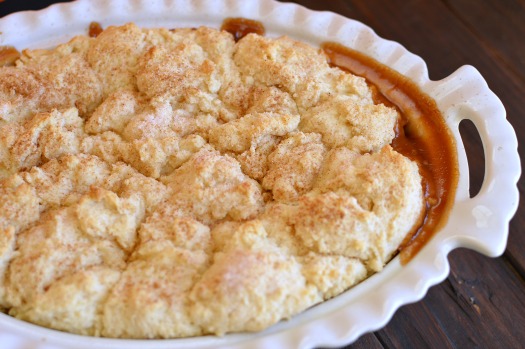 Bake for 30-35 minutes. Enjoy your house smelling like Heaven!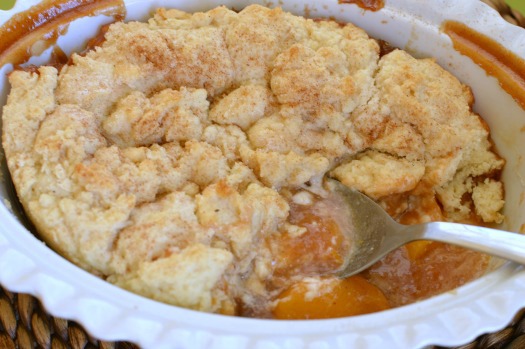 This cobbler is wonderful made with canned peaches. I use peach juice in place of the water in the sauce. Use sliced canned peaches in place of the fresh peaches. Sometimes it's nice to have a little taste of the summer during the long winter months.
The sauce in this cobbler brings all of the flavors of late summer together and the biscuits melt in your mouth!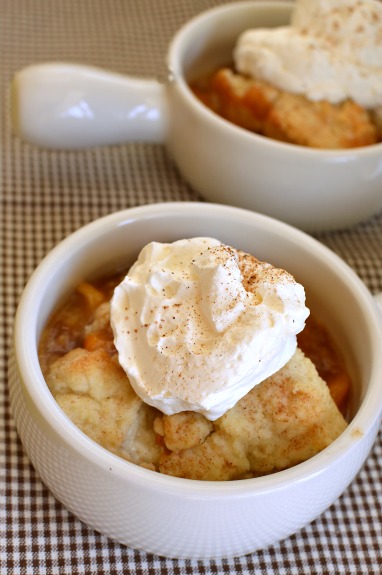 Sweet Peach Cobbler
This peach cobbler is a "must make" at the end of summer. The peaches in their cinnamon sauce are amazing with the melt in your mouth biscuit topping!
Ingredients
FILLING:

1/4

cup

brown sugar

1/4

cup

white sugar

4

tsp.

corn starch

1 1/2

tsp.

cinnamon

dash of salt

1

cup

water

or reserved peach juice

4-5

cups

peaches

peeled and sliced (or one quart if using canned peaches)

2

T.

sliced butter

BISCUITS:

2

cups

flour

1/4

cup

sugar

1

T.

baking powder

1

tsp.

salt

1/3

cups

butter

2/3

cup

milk

TOPPING:

Freshly whipped cream or vanilla ice cream
Instructions
Whisk cornstarch, sugars, cinnamon and dash of salt together in saucepan.

Gradually add water and bring to simmer over medium high heat. Boil for about 1 minute or until thickened.

Peel and slice peaches. Toss with sauce.

Grease 9 x 9 baking pan. Pour peaches and sauce in baking pan.

Slice butter and dot peaches with butter.

Add flour, sugar, salt, baking powder and butter to food processor. Pulse until combined. I usually pulse it until it is about the size of peas.

Gradually add milk to food processor. Pulse only until combined.

Spoon biscuit dough onto peach filling.

Bake at 350 degrees for 30-35 minutes.

Serve warm with vanilla ice cream or freshly whipped cream.
tried this recipe?
Make sure to share it with me! Leave a review or tag me on Instagram