My grandma's old-fashioned peach cobbler is that comforting peach cobbler recipe with cozy cinnamon peaches topped with a biscuit like crust! Fruit cobbler is divine topped with freshly whipped cream or vanilla ice cream. You can easily make this recipe with fresh, frozen, or canned peaches!
The best part is that it only takes about 10 minutes to throw together and then about 30 minutes to bake. It's the perfect quick and easy summer dessert!
Be sure to check out my other peach recipes! Peach Raspberry Freezer Jam, No Bake Peach Icebox Cake, and Baked Peaches and Cream, and Homemade Peach Pie Filling.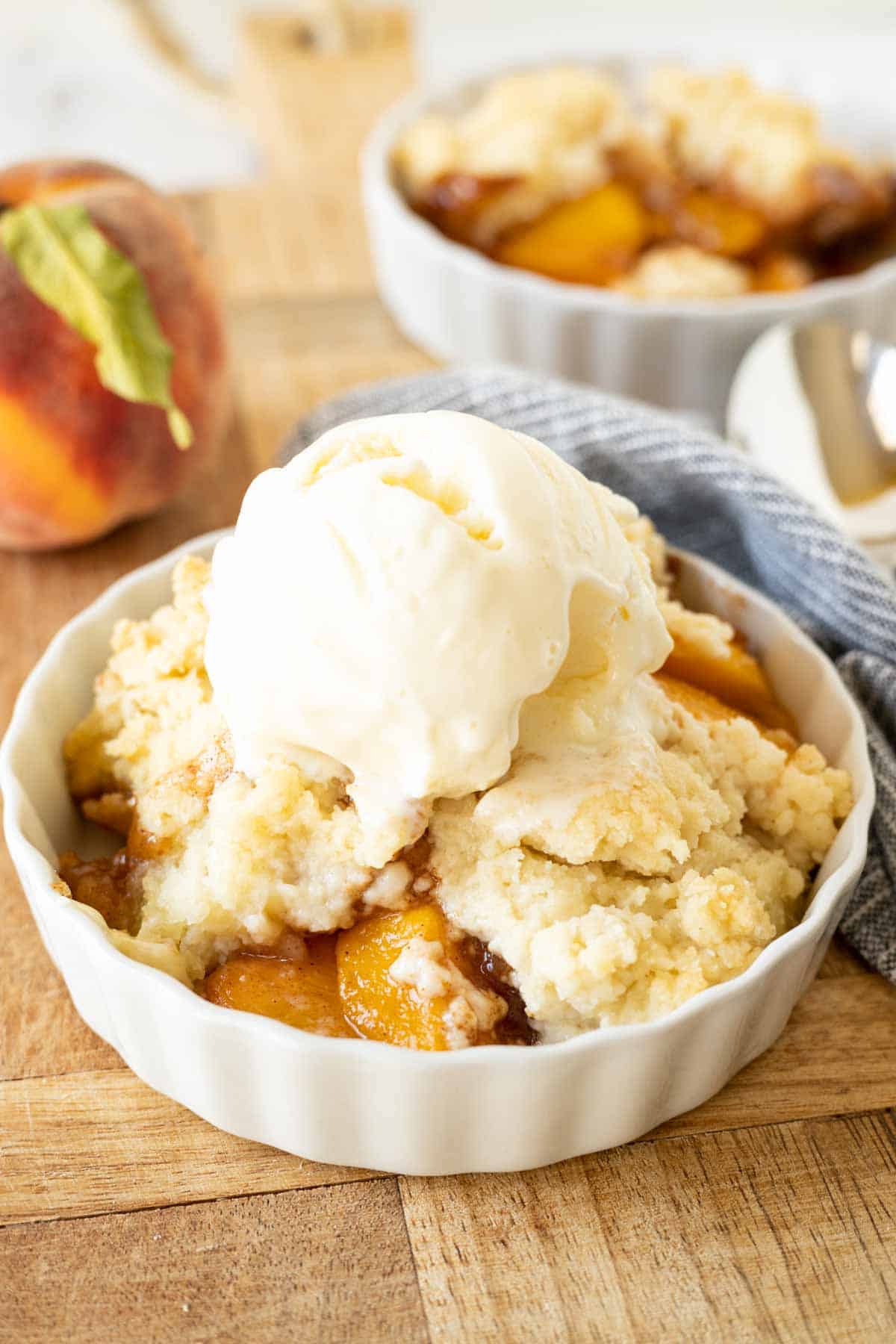 My grandma and my mom used to make this old fashioned peach cobbler when I was growing up!
The topping isn't a cake mix, or even a cake-like topping. It's more of a crispy on the top and soft underneath biscuit like topping.
I know using Bisquick is really quick and easy, but I really think making homemade biscuit like topping is totally worth the little bit of extra effort! It's absolutely amazing with when it's warm and topped with vanilla ice cream!
I love that it can be made in the summer when fresh peaches are in season. Or, I can make it with frozen or canned peaches during the long, cold winter months!
This recipe is so quick and easy to make which is super important or I'm not going to do it!
This post was originally published in 2013 and updated in 2022. The recipe was slightly changed.
Why This Recipe is the Best!
Simple Ingredients! You seriously probably have all the ingredients on hand, except maybe peaches. That's easy to fix though!
Versatile! You can easily make peach cobbler from canned peaches, fresh peaches, or frozen peaches which means you can enjoy this dessert all year long!
Quick and easy! Sometimes old fashioned recipes take FOREVER to make. Not this recipe! It's even faster if you open a jar of peaches or grab frozen peaches out of the freezer.
Ingredients:
I love, love that you only need every day ingredients plus peaches. And, I actually love having peaches on hand because my kids love eating them for breakfast or using them to make Peach Smoothies.
For the Peach Filling
I'm going to tell you how to make this peach filling part from scratch, but you can also make my peach pie filling instead if you've made it ahead of time and frozen it.
If you're using fresh or frozen peaches be sure to drain them first.
Peaches – canned and frozen need to be drained, reserve the juice.
Brown Sugar – you can also use white sugar
Cornstarch – this is a great gluten free option, you could also use flour
Cinnamon – or apple pie spice will work
For the Topping
Flour- All-purpose
Granulated sugar
Baking Powder – make sure it's not expired. Expired baking powder won't rise.
Butter – use real butter. Margarine just doesn't taste as good.
Salt – regular table salt
Milk – any kind of milk will work. Whole, 2%, skim, or evaporated milk.
Instructions:
Step 1: Whisk sugar, cornstarch, cinnamon, and salt together in a saucepan.
Step 2: Add water, or reserved peach juice if you're using canned or frozen peaches. If you don't have enough peach juice add enough water to make a cup. Bring to a boil over medium high heat whisking until thickened. You'll need to whisk it frequently. It usually takes about five minutes and should be thick enough to coat the back of a spoon.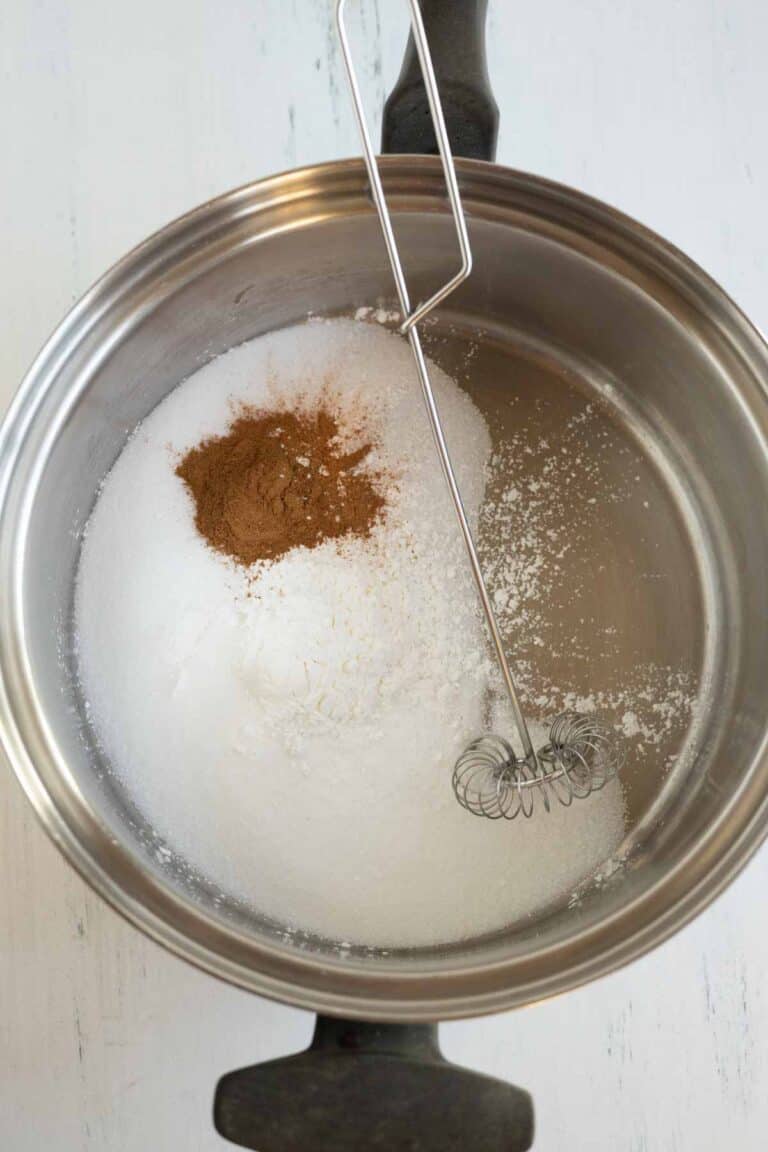 Step 3: Peel and slice peaches. Toss them in the sauce and spread in the bottom of a baking dish.
Step 4: Add flour, baking powder, and salt to a food processor. Cut cold butter in small cubes and add to the food processor. Pulse until it's combined and forms pea sized pieces.
I love my food processor but if you don't have one you can make the cobbler topping with a dough blender. Or, you can cut the butter in using two knives. It will take a little longer, but it will still work.
Step 5: Add slices of butter and set over the peach pie filling.
Step 6: Spread the biscuit topping over the peach pie filling. Don't worry if it doesn't completely cover the peach cobbler filling. It will rise and spread as it bakes.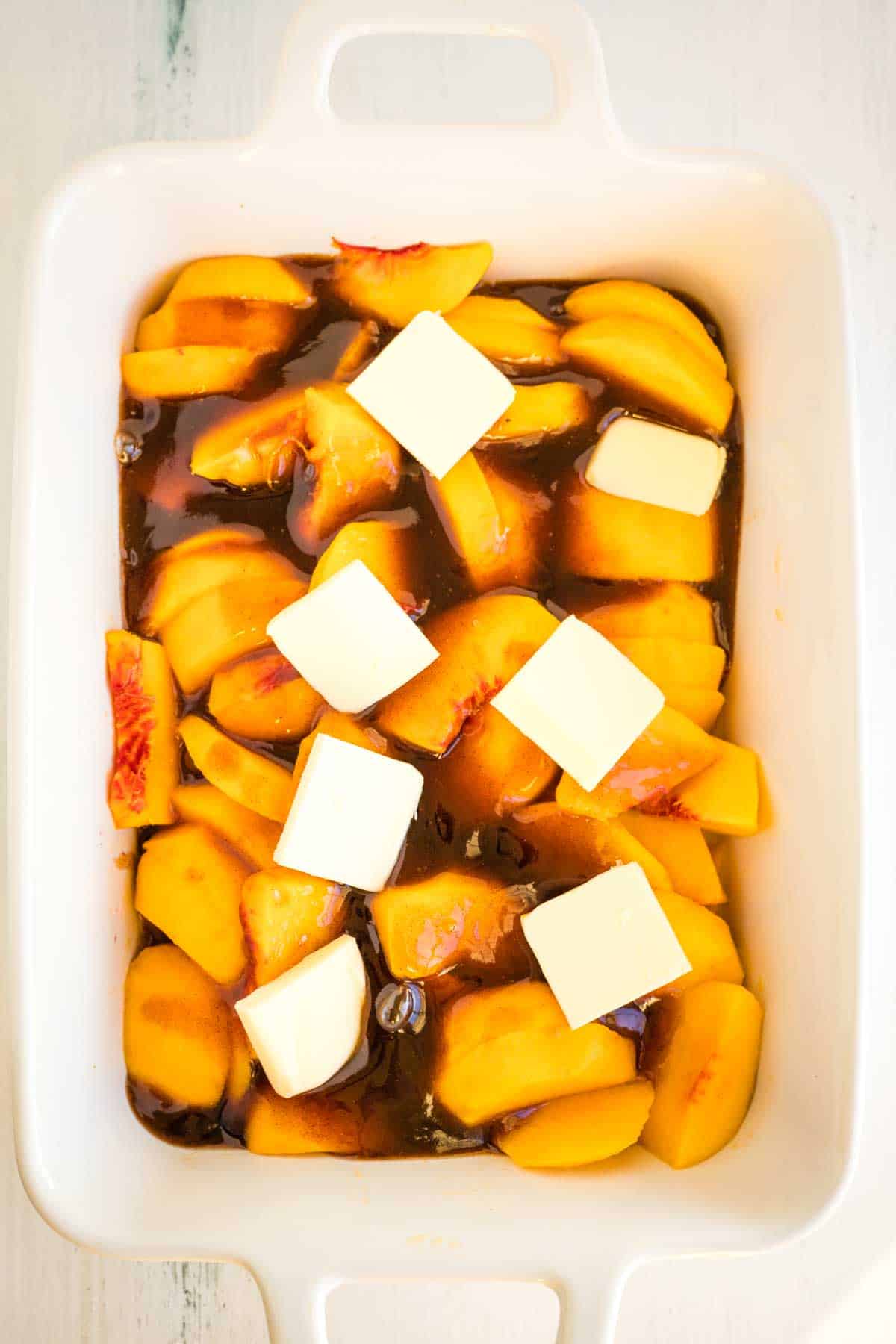 Step 7: Bake the peach cobbler for 30-35 minutes or until the biscuit topping is golden brown on the top.
Sometimes the peach juice from the cobbler will bubble over the top of the pan. I like to set the baking dish on a foil lined baking sheet so that it's easy to clean up just incase it boils over.
If the top gets overly browned before the biscuits are cooked through cover with foil for the rest of the cook time.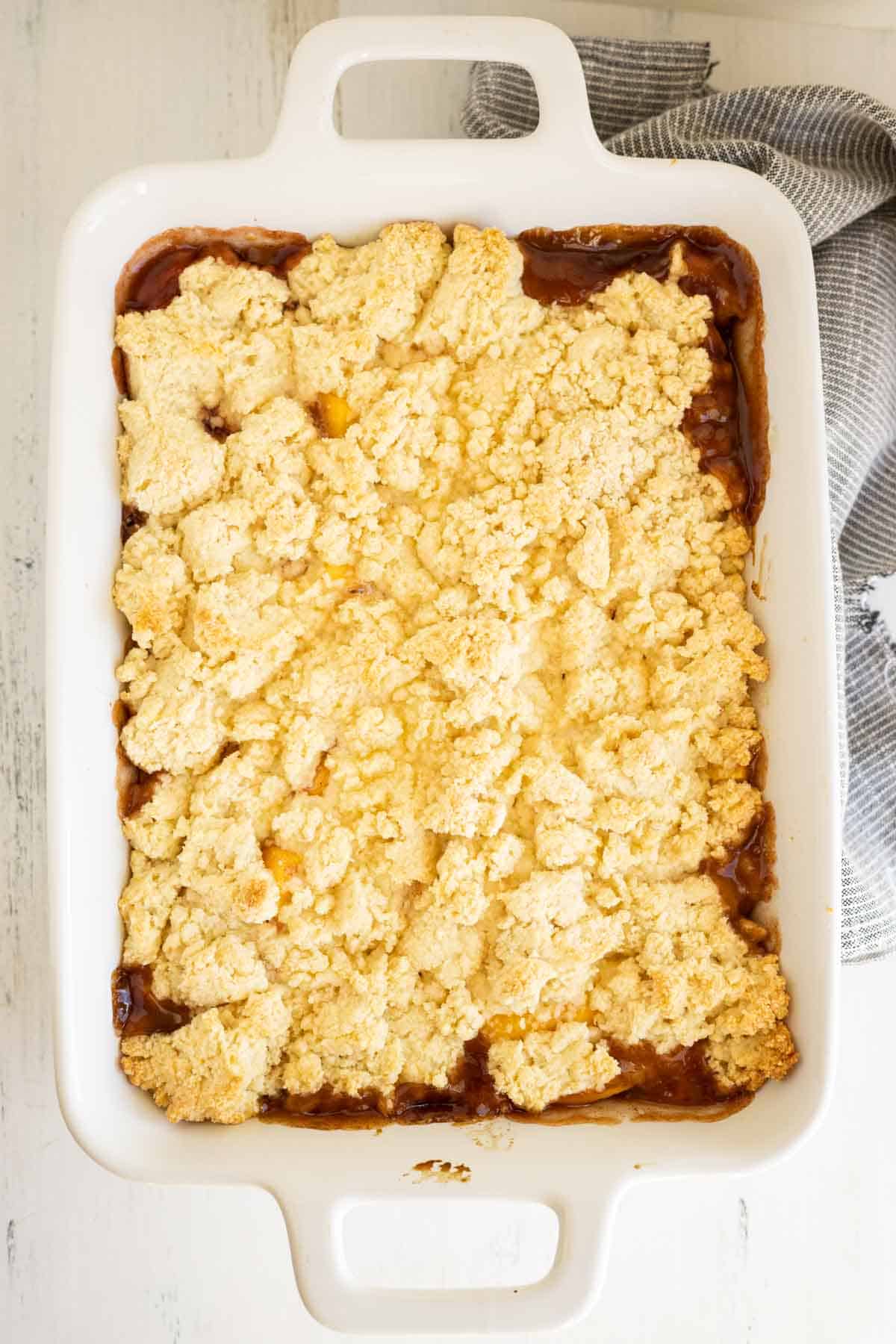 FAQs:
Do you peel fresh peaches for cobbler?
Yes! You can peel wash and peel them as is. Or, you can scald them in simmering water, plunge in ice water, and then peel easily. (check out this peach peeling tutorial)
Do you have to boil peaches before baking?
No. They'll cook as they bake. The only reason to boil them before baking is to make it easier to peel the skin.
Does cobbler have crust on top or bottom?
It depends. There are peach cobbler cake with the cake on the bottom and the fruit on the top, but the cake rises around the fruit filling as it bakes. This old-fashioned recipe has the fruit on the bottom and the crust on the top.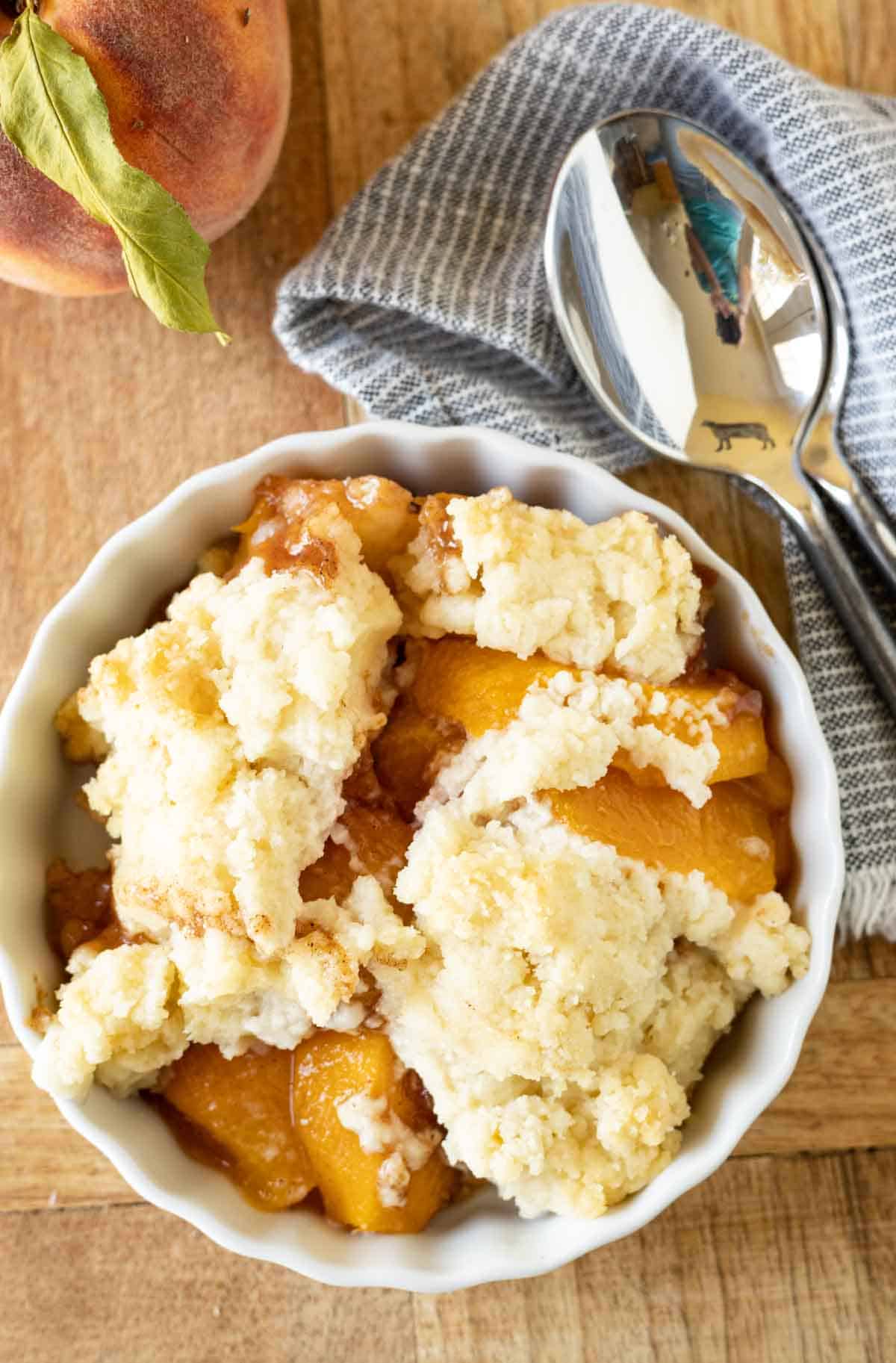 To reheat peach cobbler microwave individual servings (before adding whipped cream of ice cream) for 20-30 seconds, depending on the wattage of your microwave, until warmed through. Or, you can bake the whole pan for at 350 degrees for about 20 minutes. This fruit dessert is best served warm, so it's totally worth the effort!
More Fruit Desserts:
I'm all about dessert, but it has to be an easy dessert or I'm probably not going to have time for it. Here are some super fun and easy fruity dessert recipes.
Recipe: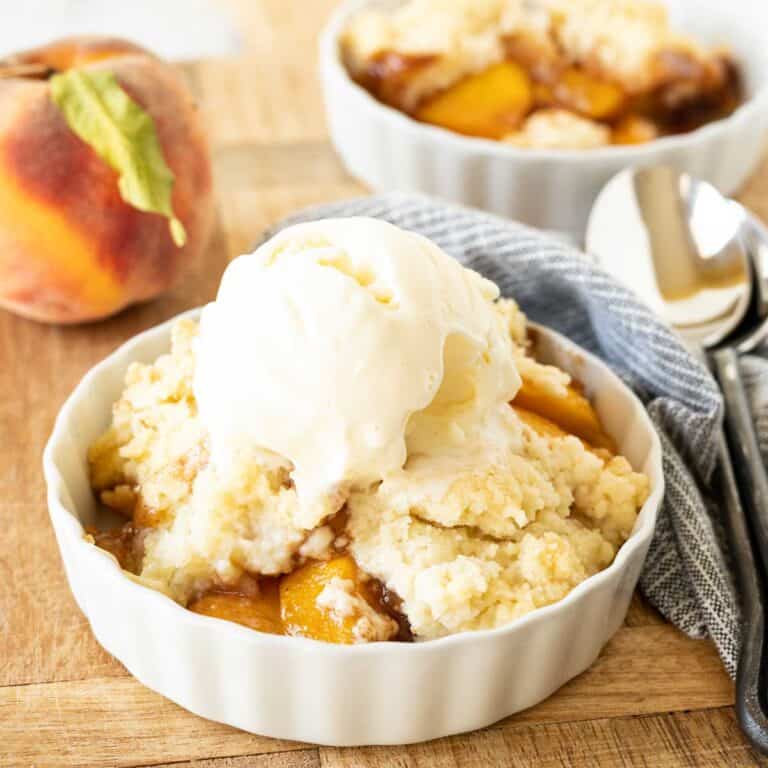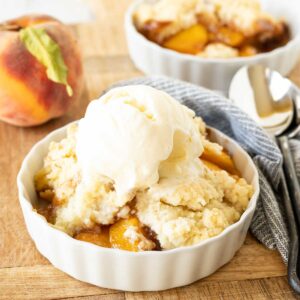 Old Fashioned Peach Cobbler
This peach cobbler is a "must make" at the end of summer. The peaches in their cinnamon sauce are amazing with the melt in your mouth biscuit topping!
Ingredients
For the Fruit Filling
1

cup

granulated sugar

4

teaspoons

cornstarch

1

teaspoon

cinnamon

dash of salt

1

cup

water

or reserved peach juice

4

cups

peaches

peeled and sliced (or one quart if using canned peaches)

2

Tablespoon

butter
For the Crust
2

cups

flour

1/4

cup

sugar

1

Tablespoon

baking powder

1

teaspoon

salt

1/3

cup

butter

2/3

cup

milk
Instructions
For the Fruit Filling
Whisk cornstarch, sugar, cinnamon, and a dash of salt together in a saucepan.

If you're using canned or frozen peaches drain the juice from the peaches and add enough water to equal one cup. If you're using fresh peaches use all water. Gradually add water/juice and bring to a simmer over medium-high heat. Whisk frequently and cook until thickened, about 5 minutes. It will be thick enough to coat the back of the spoon. It will thicken a little as it bakes.

Grease a 9"x13" baking dish. Add sliced peaches.

Pour the sauce over the peaches.

Slice butter and set on the peaches.

Add flour, sugar, salt, baking powder and butter to food processor. Pulse until combined. I usually pulse it until it is about the size of peas.

Gradually add milk to food processor. Pulse only until combined.

Spread the biscuit dough onto the peach filling.

Bake at 350 degrees for 30-35 minutes.

Serve warm with vanilla ice cream or freshly whipped cream.
Notes
Peel peaches before slicing them. You can scald them and peel them, or just peel fresh peaches.
Store leftover cobbler in the refrigerator for up to 4 days.
Peach cobbler is best served warm with vanilla ice cream or whipped cream. Reheat individual servings of cobbler in the microwave. Or, reheat the cobbler in the oven at 350 degrees for about 20 minutes. Time will vary depending on the size of the baking dish.
Nutrition
Calories:
377
kcal
|
Carbohydrates:
65
g
|
Protein:
5
g
|
Fat:
12
g
|
Saturated Fat:
7
g
|
Polyunsaturated Fat:
1
g
|
Monounsaturated Fat:
3
g
|
Trans Fat:
0.4
g
|
Cholesterol:
30
mg
|
Sodium:
553
mg
|
Potassium:
163
mg
|
Fiber:
2
g
|
Sugar:
39
g
|
Vitamin A:
609
IU
|
Vitamin C:
3
mg
|
Calcium:
128
mg
|
Iron:
2
mg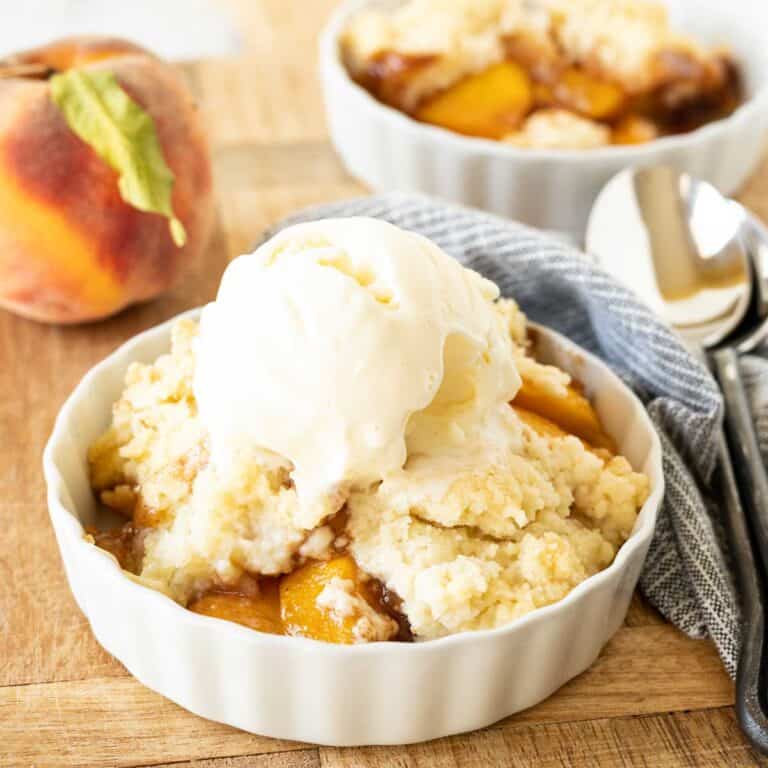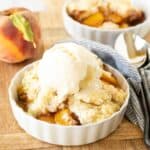 tried this recipe?
Make sure to share it with me! Leave a review or tag me on Instagram