Rhubarb Dump Cake is an easy recipe that takes about 10 minutes of hands-on time + baking! You literally "dump" all the ingredients in a baking dish and bake. The cake mix topping makes it a bit like a fruit crisp or cobbler. It's to die for topped with fresh whipped cream or vanilla ice cream!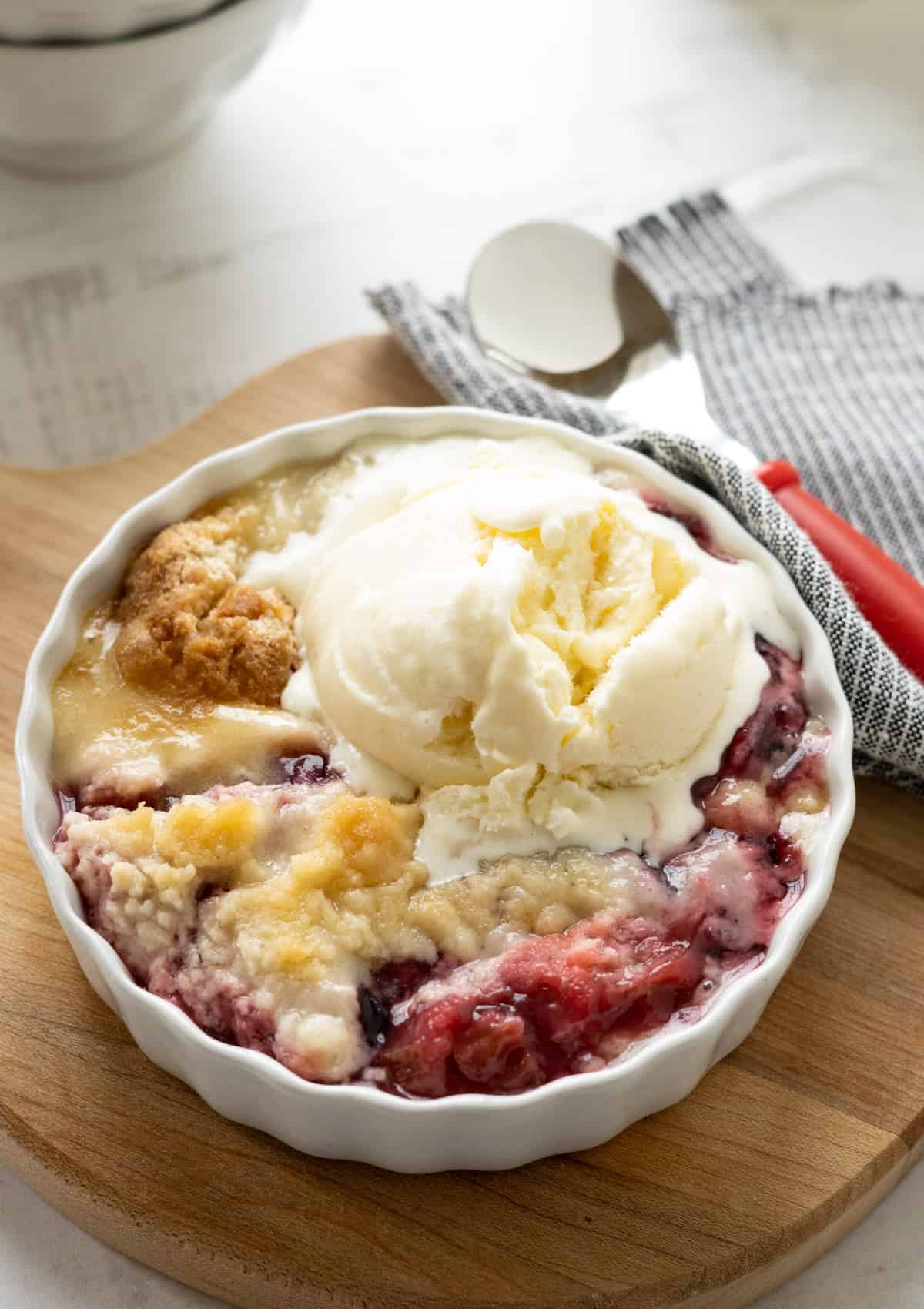 If you've never made a dump cake before you've been missing out! It's the best super easy dessert in the world! This Rhubarb Dump Cake is made with cake mix, strawberry Jell-O, and pie filling! I'm so in love with the fruit cobbler on the bottom and the crisp pieces of buttery cake mix on top! Add vanilla ice cream or whipped cream and it's heaven!
If you're looking for a few more rhubarb recipes be sure to check out my Rhubarb Muffins, Rhubarb Strawberry Jell-O, Rhubarb Cake, and Rhubarb Chocolate Chip Cookies, which happens to be my kids' favorite way to eat rhubarb!
Why You'll Love This Recipe:
There is so much to love about this easy fruit dessert! It's one of my favorite recipes when I have oodles of rhubarb in my garden that needs to be used!
Quick and easy! This recipe will literally take you about 10 minutes of hands-on time! There's no stirring, no mixing bowl, no dirty dishes! Sounds amazing, right!
Use fresh or frozen rhubarb! Either will work perfectly which means you can enjoy this recipe all year long!
It tastes amazing! There is something magical about a warm fruit cobbler paired with a crunchy topping! Add some ice cream and you'll be in heaven!
Dump Cake Ingredients:
Most of these ingredients are simple and ones that are good to have in the pantry. Rhubarb is the only one that's a little different. As always I'm going to give you substation suggestions just in case you don't have everything and don't want to run to the grocery store.
Rhubarb: Fresh or frozen will both work great. If you're using frozen rhubarb be sure to let it thaw first.
Boxed Cake Mix: A yellow cake mix is a popular option, but I really love using a white cake mix too. And if you want to get really creative you can use a chocolate cake mix!
Jell-o: Any red Jell-o will work. Strawberry and raspberry are my favorites. Cherry is also fantastic.
Fruit Pie Filling: Blueberry is my go-to. Cherry, raspberry, or mixed berry are great options too. If you really don't want to use pie filling, you can leave it out, but I think it's much better!
Lemon Lime Soda: I really like using soda pop in my Dutch oven cobblers and dump cakes. Lemon-lime is the best variety, or you can use ginger ale. If you don't have pop on hand, you can always use water or pineapple juice.
How to Make Rhubarb Dump Cake:
Dump cake recipes are so easy to make! They are called dump cakes for a good reason. You literally "dump" everything in the pan and bake it. There is no need to stir the layers together. Magic happens while they bake!
How do you prepare rhubarb? The stalk is the part of the rhubarb you'll eat. The leaves are poisonous (at a very low level) so you'll want to discard them. Trim about two inches below the leaves and about an inch of the root end of the stalk. Wash the rhubarb using a vegetable scrubber.
How to dice rhubarb? Once the stalks are clean pull any strings off the stalks. Use a knife to dice the stalks into about 1/2 inch pieces for making pies, dump cakes, and most other desserts. If you are cooking or stewing the rhubarb it can be left in bigger chunks.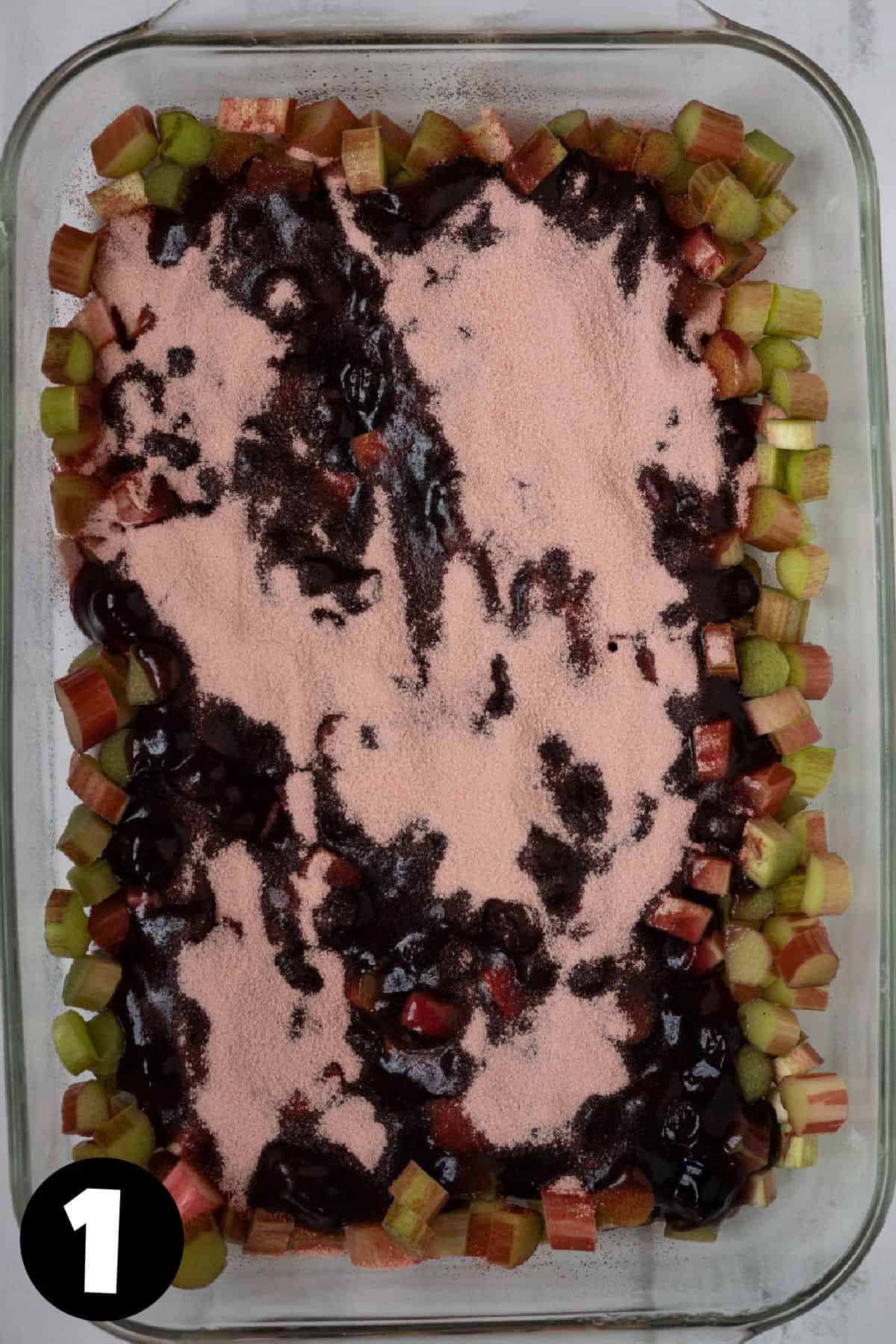 Step 1: Layer diced rhubarb in the bottom of a greased 9 x 13-inch baking dish. Evenly pour pie filling over the sliced rhubarb. Sprinkle dry Jell-o powder over the fruit pie filling. No stirring!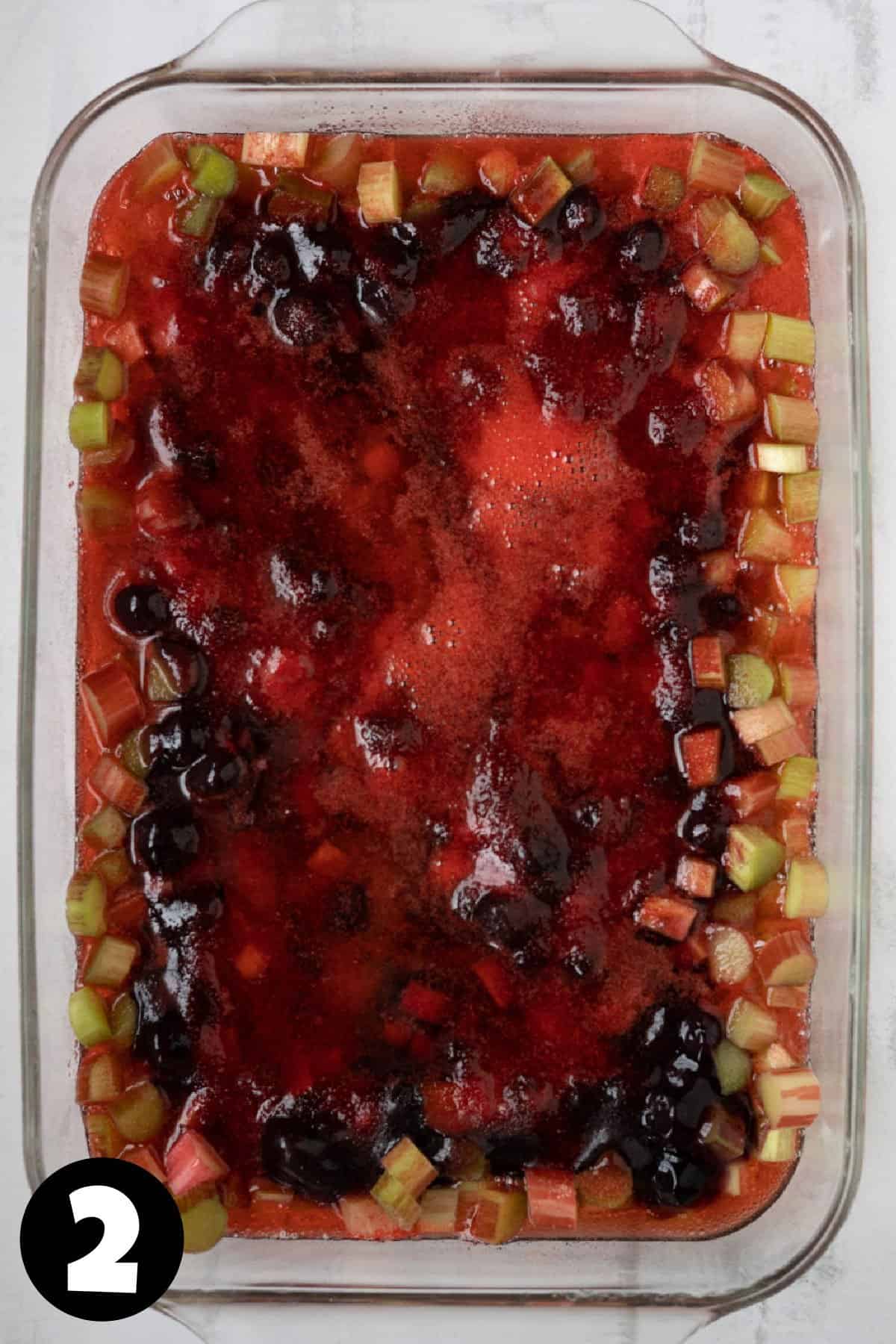 Step 2: Pour lemon-lime soda over the fruit. Don't stir.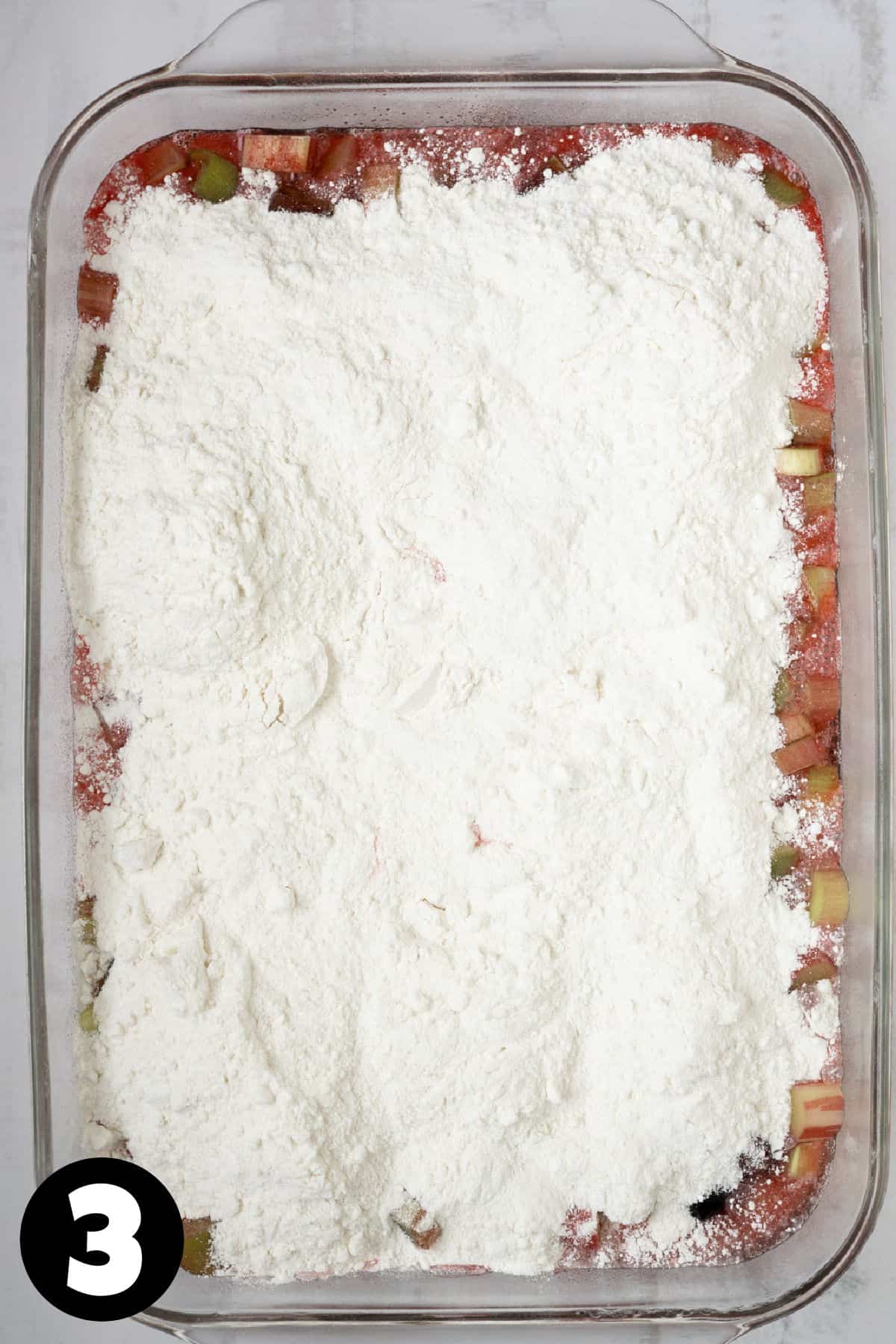 Step 3: Evenly sprinkle a boxed cake mix over the top of the fruit and Jell-O layers.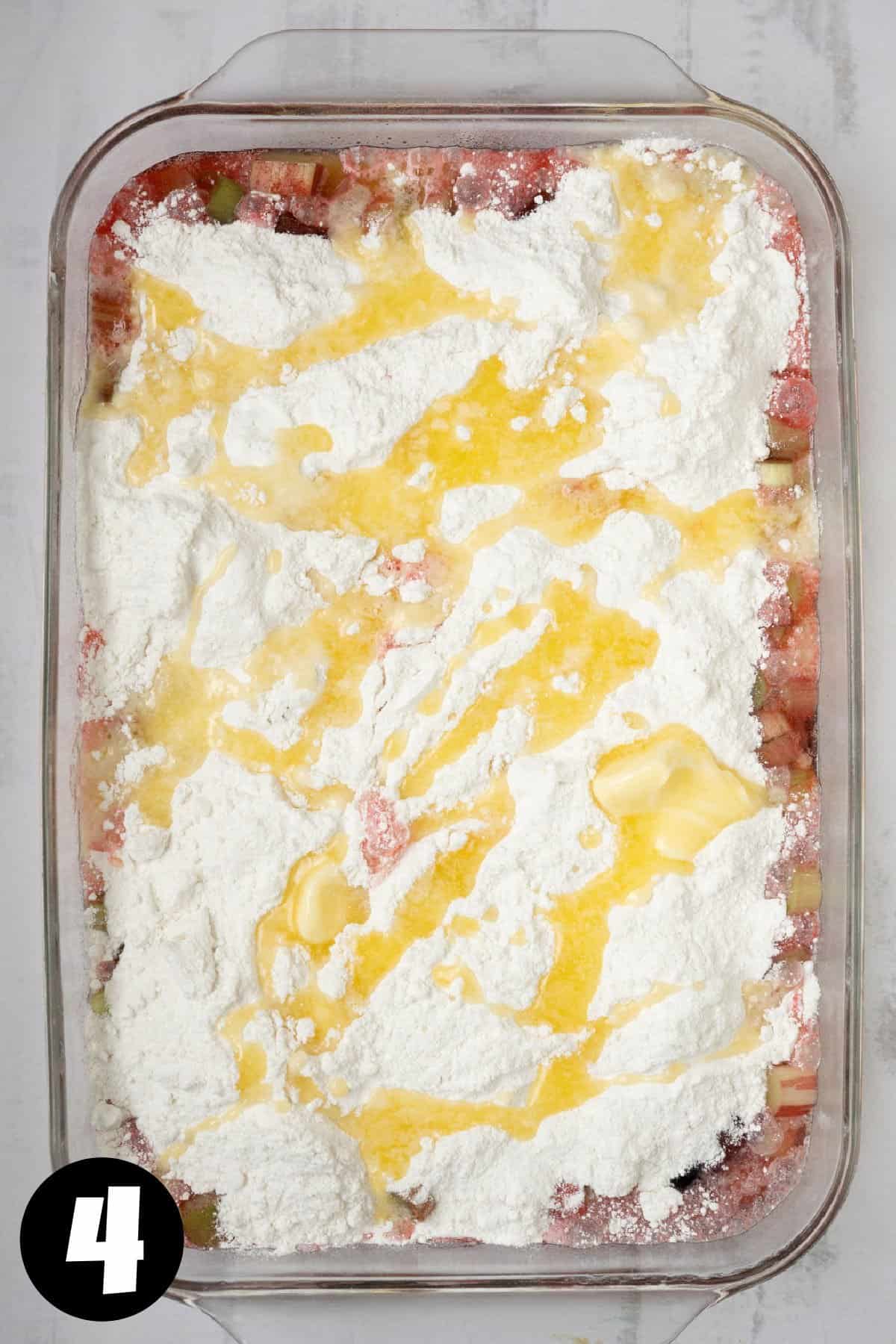 Step 4: Drizzle melted butter over the cake mix. You want to make sure it's as evenly drizzled as possible because the butter is going to give it nice crisp pieces. They're my favorite!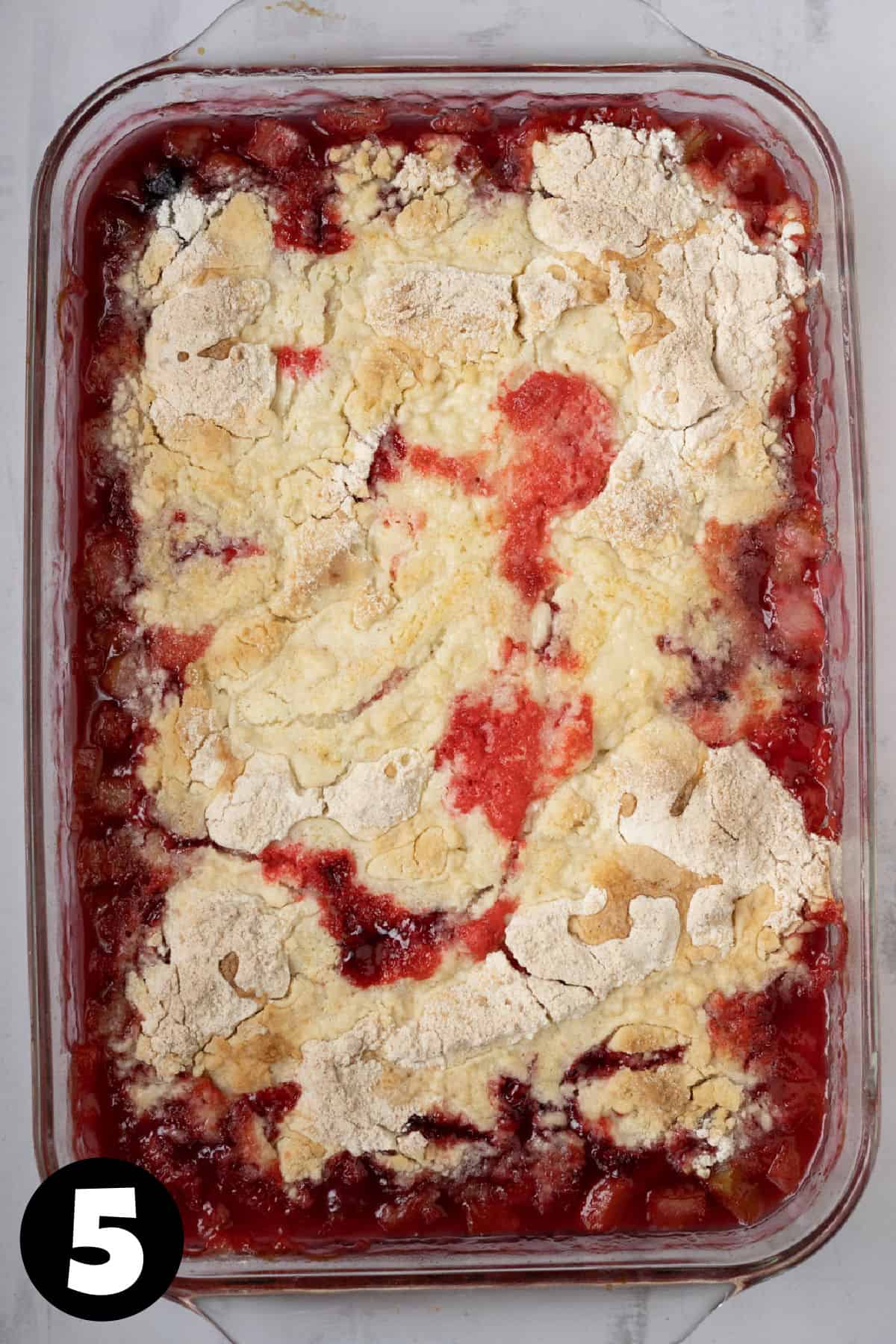 Step 5: Bake the dump cake. The cake mix will get a little bit crisp on top and the cobbler on the bottom will poke through that cake mix layer on the top! You can let the dessert cool a little bit and then serve it, or refrigerate it and let it completely cool before serving it. Either way, it's best with a big spoonful of freshly whipped cream or vanilla ice cream!
FAQs:
Can I use freeze rhubarb?
Yes! Rhubarb freezes beautifully! Clean rhubarb and dice. Spread it on a baking sheet and freeze until firm. Remove from the baking sheet and freeze it for up to a year in an airtight container. Fresh or frozen rhubarb will work for this recipe. Allow the rhubarb to thaw before making the
Do you need to refrigerate the dump cake?
Yes. Since it has fruit filling in it you'll need to keep it in the fridge. It will keep up to four days.
Can I freeze a dump cake and reheat it?
Yes. Freeze leftovers for up to three months. Thaw dump the cake and reheat it in the microwave when you're ready to serve it. Honestly, making a dump cake is so easy that I recommend making it and serving it fresh.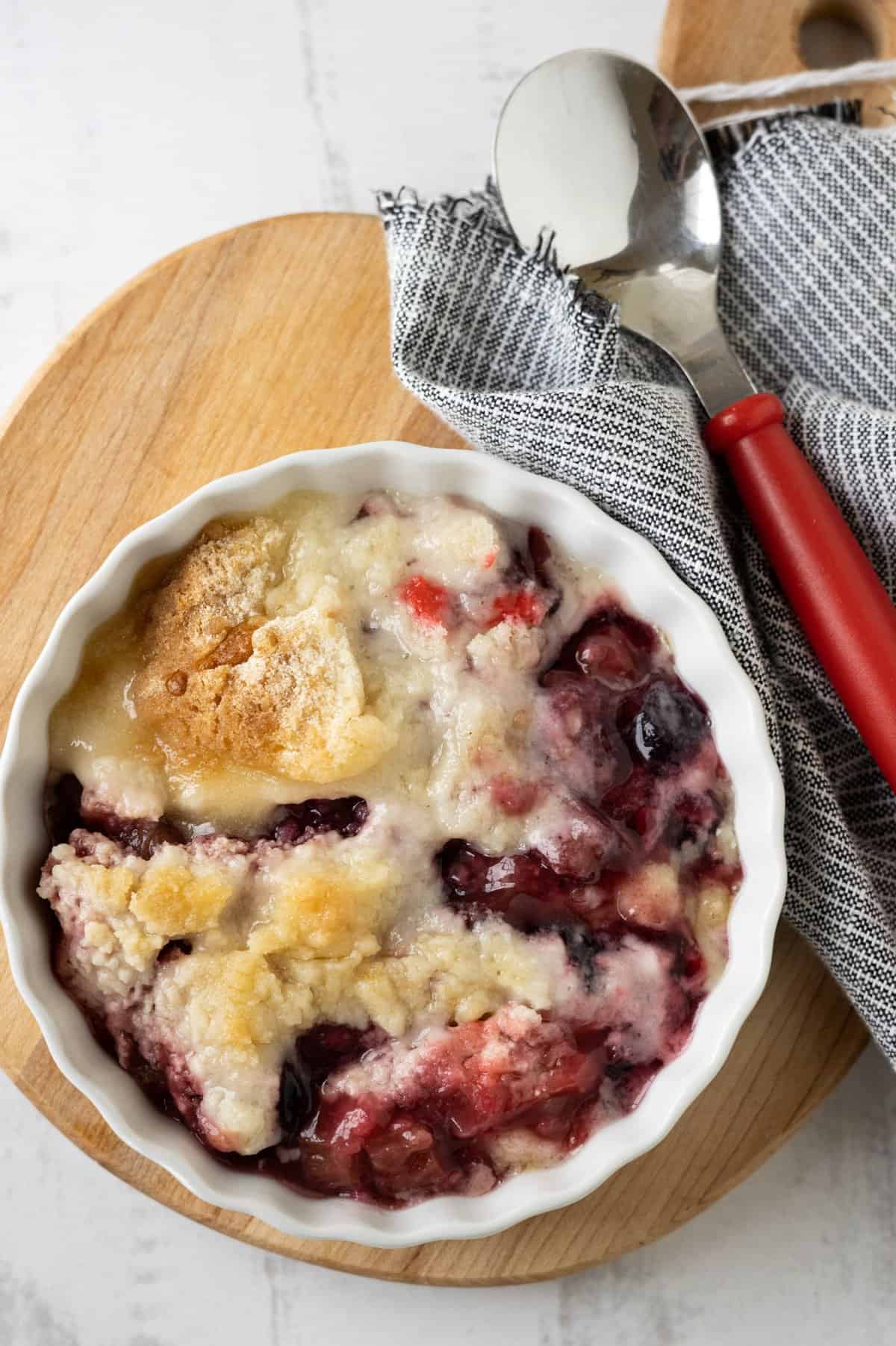 Other Fruit Dessert Recipes:
I'm mostly a chocolate dessert kind of girl. But, when fruit is in season I can't help but use them to make dessert! And, since they have fruit I'm totally game to serve them for breakfast! Here are a few of our favorite super easy fruit dessert recipes!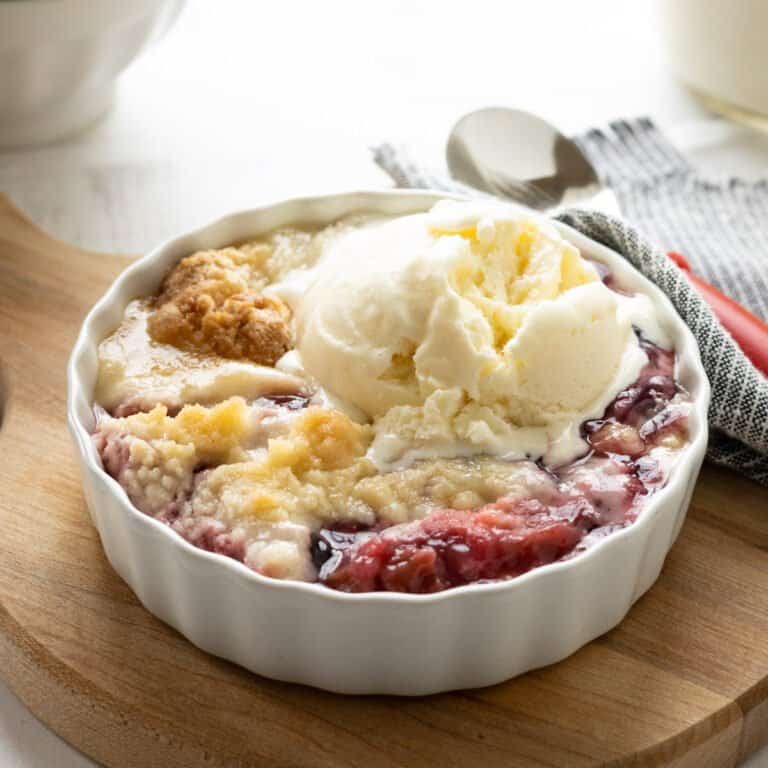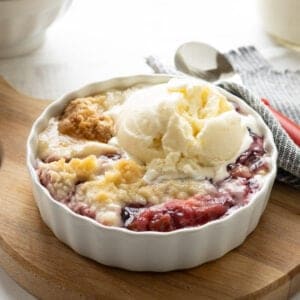 Rhubarb Dump Cake
Blueberry Rhubarb Dump Cake has the perfect mixture of tangy rhubarb, sweet juicy blueberries, and a crunchy topping! Adding a scoop of vanilla ice cream is like adding icing to the cake! Oh, and since this only takes 6 ingredients it's easy as pie to make!
Ingredients
4

cups

rhubarb

diced

21

ounce

pie filling

blueberry, cherry, or mixed berry

3

ounce

strawberry Jell-O

just the dry mix

1

cup

lemon-lime soda

18.25

ounce

white cake mix

or yellow

1/2

cup

butter
Instructions
Preheat oven to 350 degrees. Spray a 9 x 13 baking dish with nonstick cooking spray.

Trim the leaves and root end from the rhubarb stalk. Wash the rhubarb and pull any strings off of the stalk. Dice into 1/2 inch pieces.

Spread diced rhubarb in the bottom of baking dish.

Spread blueberry pie filling over rhubarb.

Sprinkle dry Jell-o over pie filling.

Pour soda pop over Jello.

Sprinkle dry cake mix over fruit layer.

Melt butter and drizzle over the cake mix layer.

Bake 40-45 minutes. It's done when the cake mix layer is golden brown.

Serve warm with vanilla ice cream or freshly whipped cream!
Notes
Ingredients:
Jello – You can also use cherry, blueberry, or raspberry jello.
Cake Mix – I like white, but a yellow cake mix is a great option, too.
Rhubarb – Fresh or frozen
How to serve rhubarb dump cake:
Freshly whipped cream OR
Vanilla ice cream
Nutrition
Calories:
197
kcal
|
Carbohydrates:
30
g
|
Protein:
3
g
|
Fat:
7
g
|
Saturated Fat:
4
g
|
Trans Fat:
1
g
|
Cholesterol:
34
mg
|
Sodium:
219
mg
|
Potassium:
175
mg
|
Fiber:
2
g
|
Sugar:
18
g
|
Vitamin A:
264
IU
|
Vitamin C:
3
mg
|
Calcium:
96
mg
|
Iron:
1
mg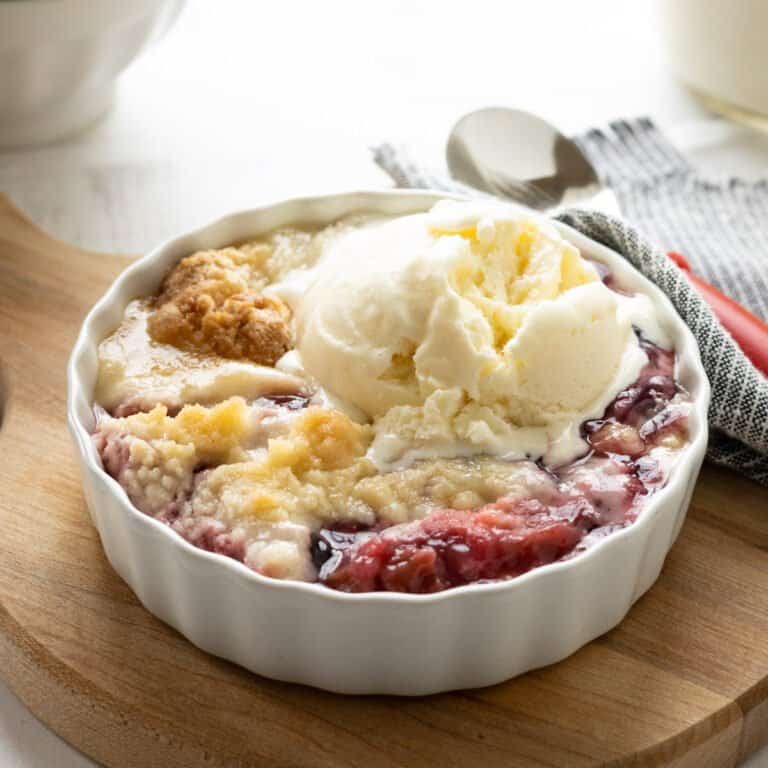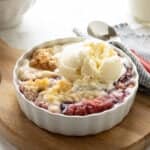 tried this recipe?
Make sure to share it with me! Leave a review or tag me on Instagram