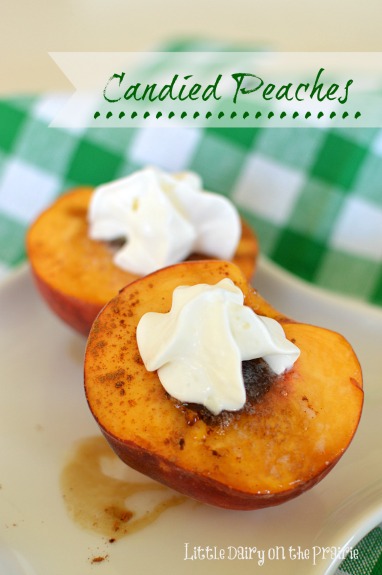 Late summer means it's peach time. You may not know Western Idaho has many fruit orchards. I'm partial to Idaho fruit because I grew up eating it. An old friend, who owned an orchard used to bring my Mom boxes upon boxes of fruit. I remember canning fruit until I thought I would die! Now that I'm the Mom is still can peaches but not as many! Our family enjoys eating them fresh with sugar and cream for breakfast almost everyday during the late summer. Candied Peaches and Cream happen to be another favorite way to eat them.
My college roommate taught me how to make these and I've been eating them ever since! You know if we were making them in college they don't require any fancy ingredients and very little time. We were busy and poor! They were perfect too because boys loved them which meant boys loved us! Here's the low down, cut the peach in half and remove the stone. Spoon a little, or lot, of brown sugar in the pit hole. Slice a little butter, set it on top of the brown sugar. Sprinkle with cinnamon and sugar if you want. Add chopped pecans, coconut or granola if you want.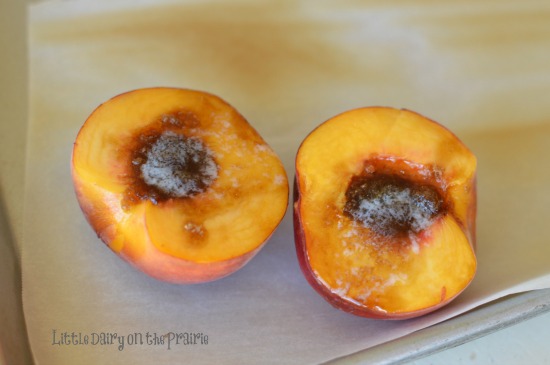 Throw those babies in the oven for a few minutes until the butter is melted and the brown sugar is a little bubbly. Move them under a low broiler just to finish them off.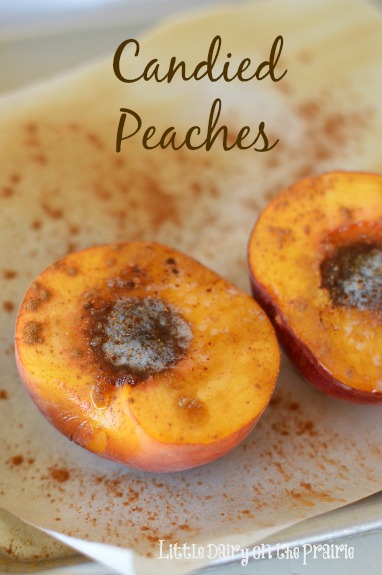 You can stop right here! Let's recap. Candied Peaches begin with a fresh juicy peach and are dripping with butter and caramelized brown sugar. Pretty much…that's a winning combination any day of the week!
Seriously, Candied Peaches with Cream are simple enough for any week night dessert, after school snack or breakfast. They are also so dang cute and tasty they are also perfect for serving to company. It's one of those things you will serve and people will say, "why didn't I think of this".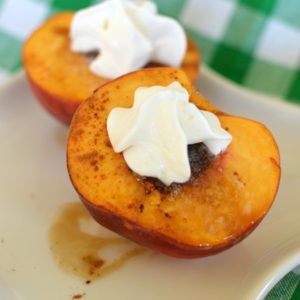 Now, for the cream part, it's important too. You could stop before adding it but then you would have candied peaches, which are dripping with deliciousness too. If you want Candied Peaches and Cream you must use the fun squirty can of whipped cream and pipe a little dollop of whipped cream right on the top. Just make sure it has the "Real Seal" so you know it's the real deal! (I'm a dairy farmer that's important to me!)
I bet you can remember how to make Candied Peaches and Cream without a recipe, just in case here's the printable!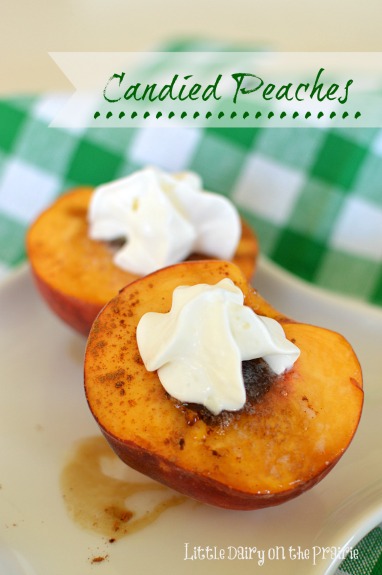 Candied Peaches and Cream
Candied Peaches and Cream take about 7 minutes to make and who can resist a fresh peach dripping with butter and caramelized brown sugar? Top it all off with a sprinkling of cinnamon and whipped cream!
Ingredients
1

peach

1

tsp

brown sugar

I used dark

1/2

tsp

butter

sprinkle of cinnamon

2

T.

whipped cream

Optional

coconut

pecans, granola, mini chocolate chips
Instructions
Preheat oven to 350 degrees.

Cut peach in half and remove stone.

Line baking sheet with parchment paper.

Set peaches inside up on baking sheet.

Spoon brown sugar into the "pit hole" in each half of the peach.

Top brown sugar with a small slice of butter.

Sprinkle with cinnamon.

Bake for 5 minutes.

Move rack a little lower from the broiler than normal. Mine was 8 inches away. Turn oven to broil.

Broil peaches for until the brown sugar has finished caramelizing. Watch close. Sugar burns easily.

Top with whipped cream

Serve
tried this recipe?
Make sure to share it with me! Leave a review or tag me on Instagram

Peaches and Cream is the BEST quick and easy summer dessert recipe! They're divine baked in the oven or on the grill. Then top with freshly whipped cream or a scoop of vanilla ice cream!