If you need a simple and EASY peach dessert you are in the right place! This baked peach recipe takes about 10 minutes to make! Juicy peaches are the star of the show, but adding a little vanilla ice cream or whipped cream never hurt either!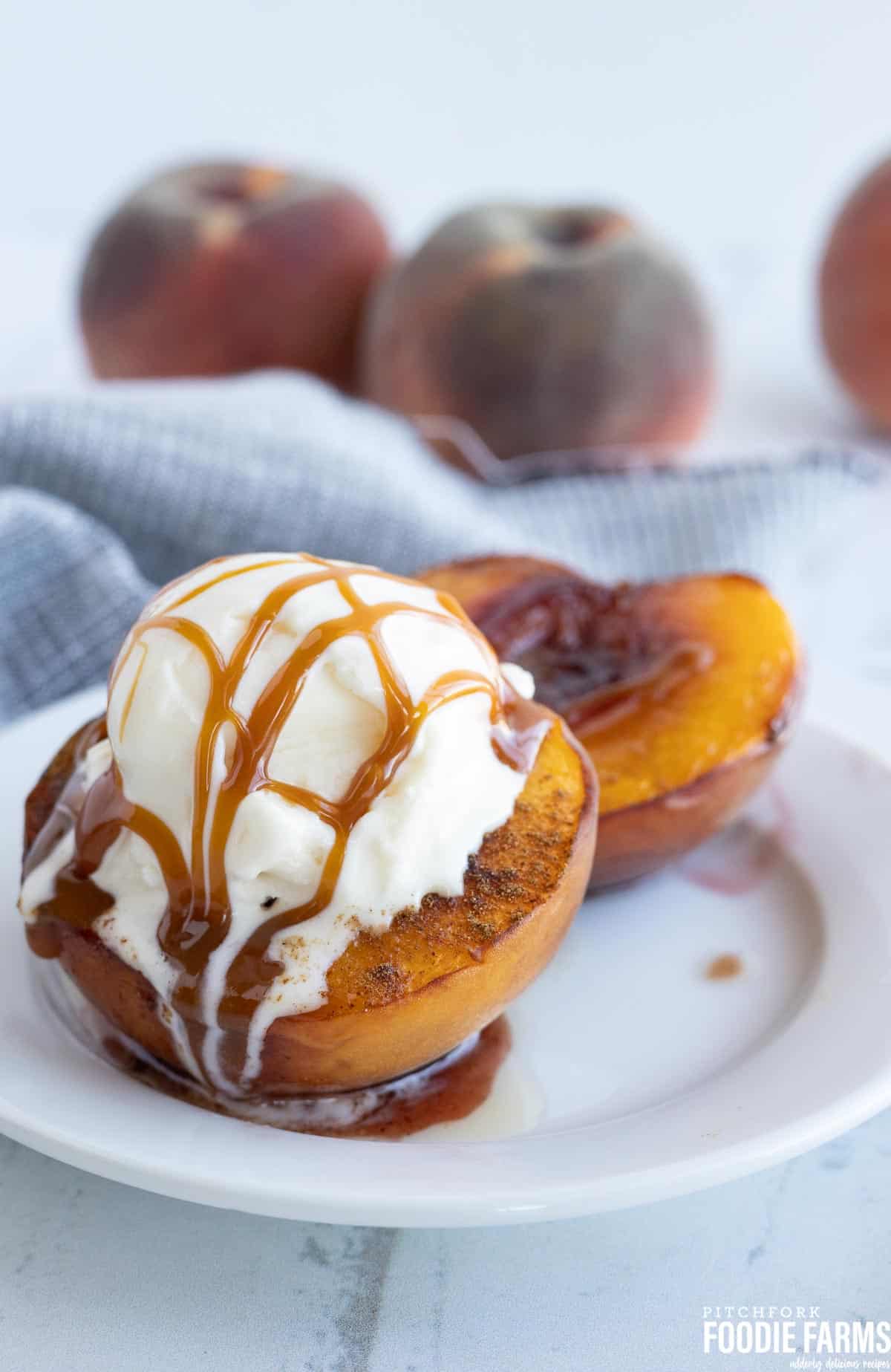 When I was little my mom used to can peaches like crazy! We ate them by themselves and did lots of baking with peaches using them in peach cobbler, making peach pie filling, or peach icebox cake. All those recipes are amazing ways to use fresh, frozen, or canned peaches.
I'd never tried baked peaches until my college roommate introduced them to me. Dang! I was missing out! She made them with canned peaches and it was amazing. But, let me tell you when peaches are in season you have to make baked peaches and cream! It's a bit like a peach crisp or cobbler without the topping, which makes it easier and gluten-free.
Why This Recipe Works:
I've been making these peaches every summer since I was in college! This recipe is definitely one you're going to have to make every summer!
It takes 10 minutes to make this recipe which makes it perfect for busy days or even entertaining!
Say hello easy cleanup! All you have to do is throw away a sheet of aluminum foil or parchment paper! This is less than a one-bowl recipe!
A few simple ingredients are all you'll need.
With a few swaps it can be healthy…or not! You choose!
Ingredients You'll Need: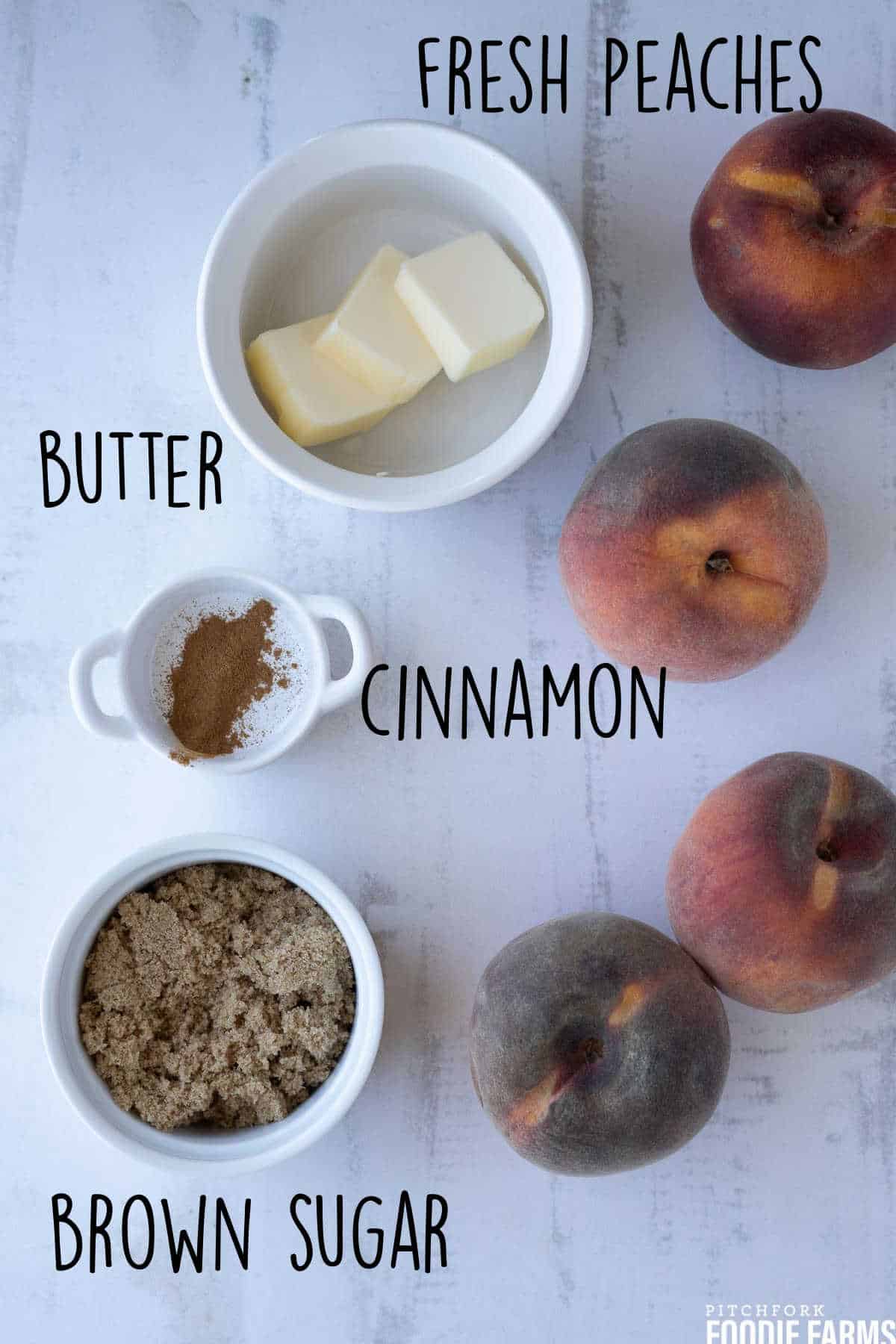 Seriously, simple ingredients are what you need! Plus, I love that you can make this all winter with canned or frozen peaches.
Peaches: I like free-stone peaches (meaning the stone easily releases from the flesh of the fruit). Elberta, Oh Henry, and Elegant Lady are all great options. Georgia peaches are typically in season beginning in May and are shipped throughout the US. You can even use canned or frozen peaches if you'd like.
Brown Sugar: You could also use honey, or omit it altogether for a healthy peach dessert.
Butter: Use real butter, and support your Dairy farmers!
How to Make Baked Peaches (3 Ways):
This recipe is seriously foolproof! You need to know how to turn the oven on and use a knife! That's about it! Scroll down to see how to bake peaches in the air fryer or on the grill.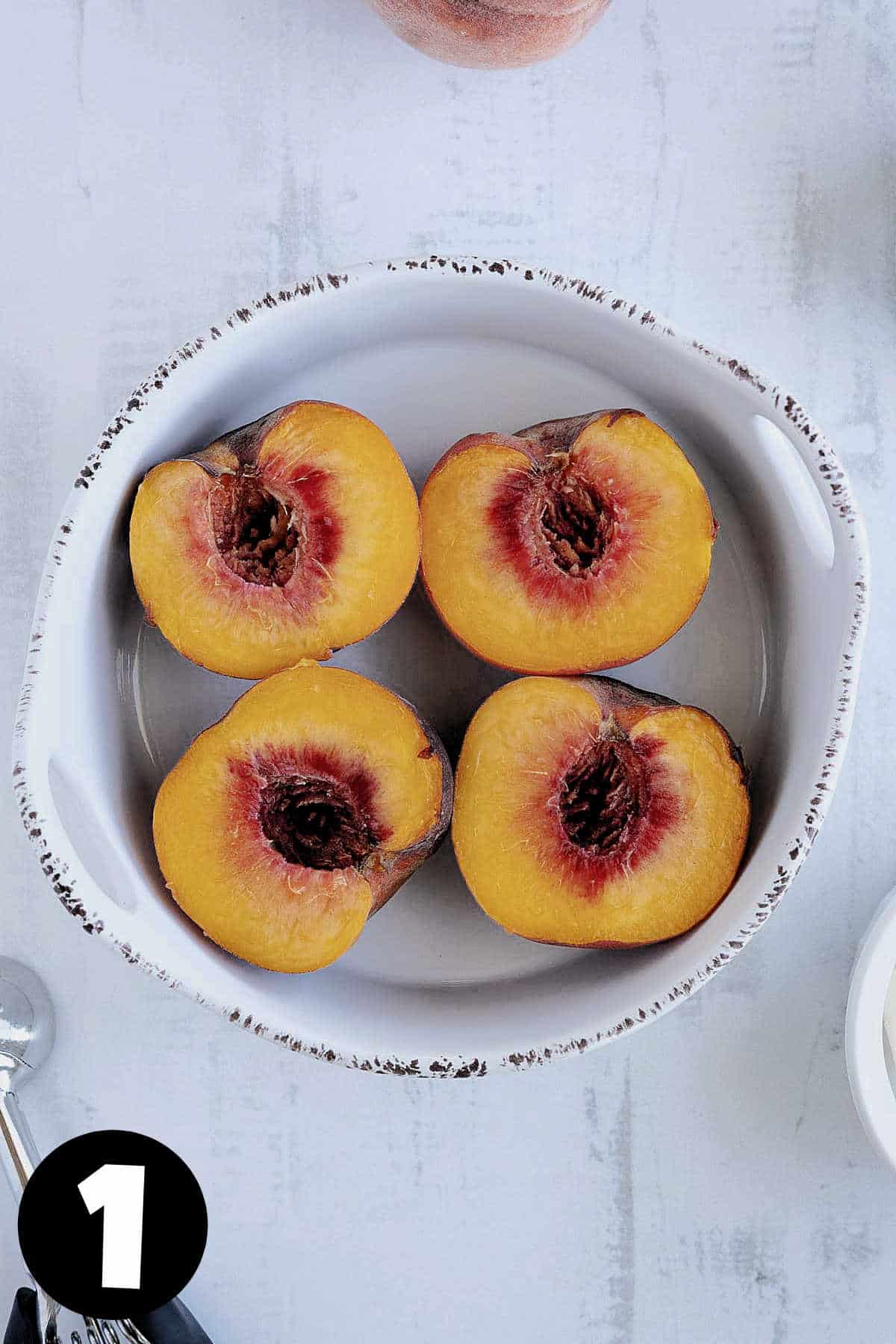 STEP 1: Choose fresh and perfectly ripe peaches without bruises. Cut peaches in half and remove the pit. (I like to peel the peaches with a pairing knife. If you like the skin you can totally leave it on. The skin has extra nutrients so they're actually a bit healthier if you leave them on. The skin will get softer as it cooks.) Set peach halves skin side down in a baking dish.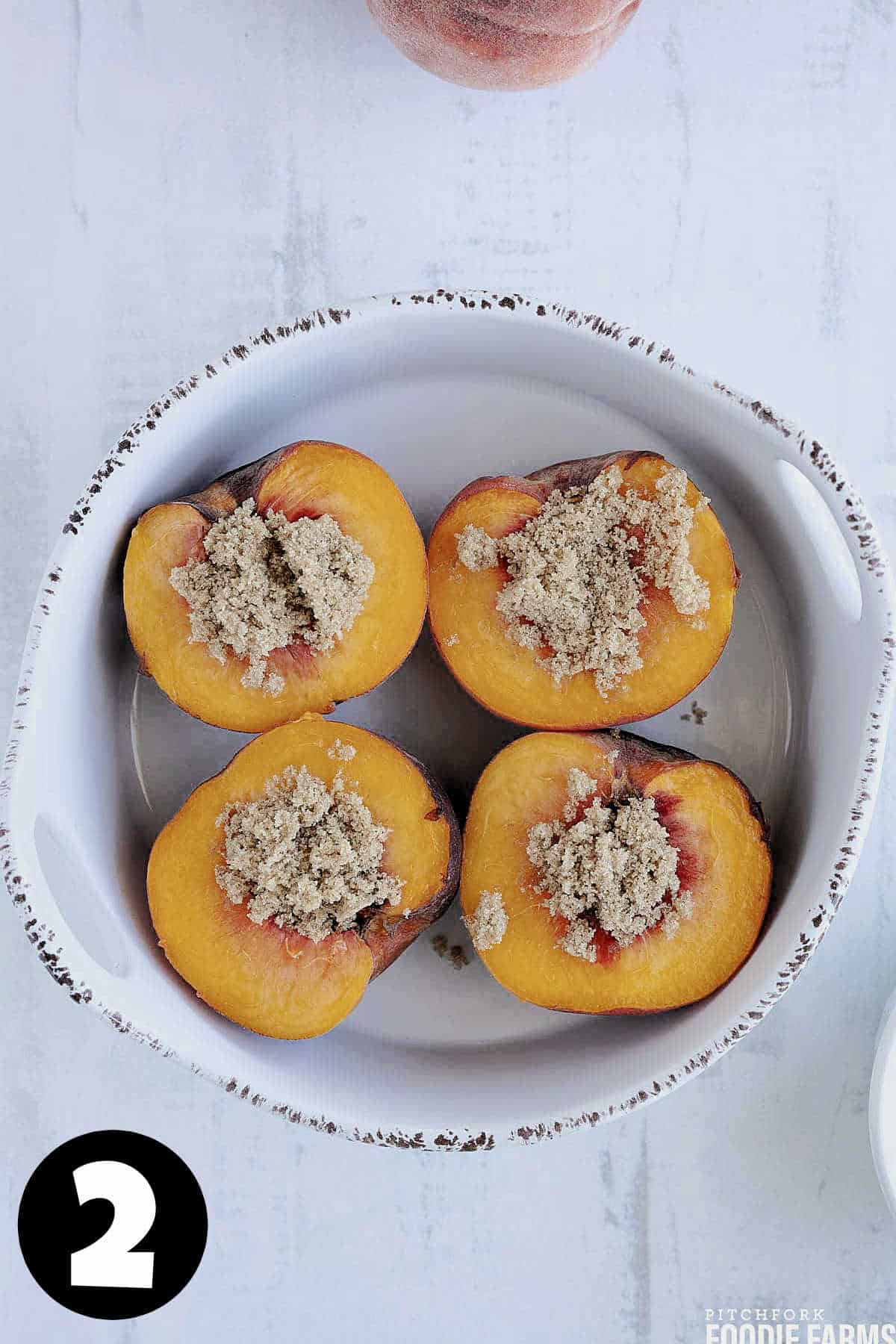 STEP 2: Add a small spoonful of brown sugar to the hole where the pit was removed. You could also drizzle with honey instead of using brown sugar.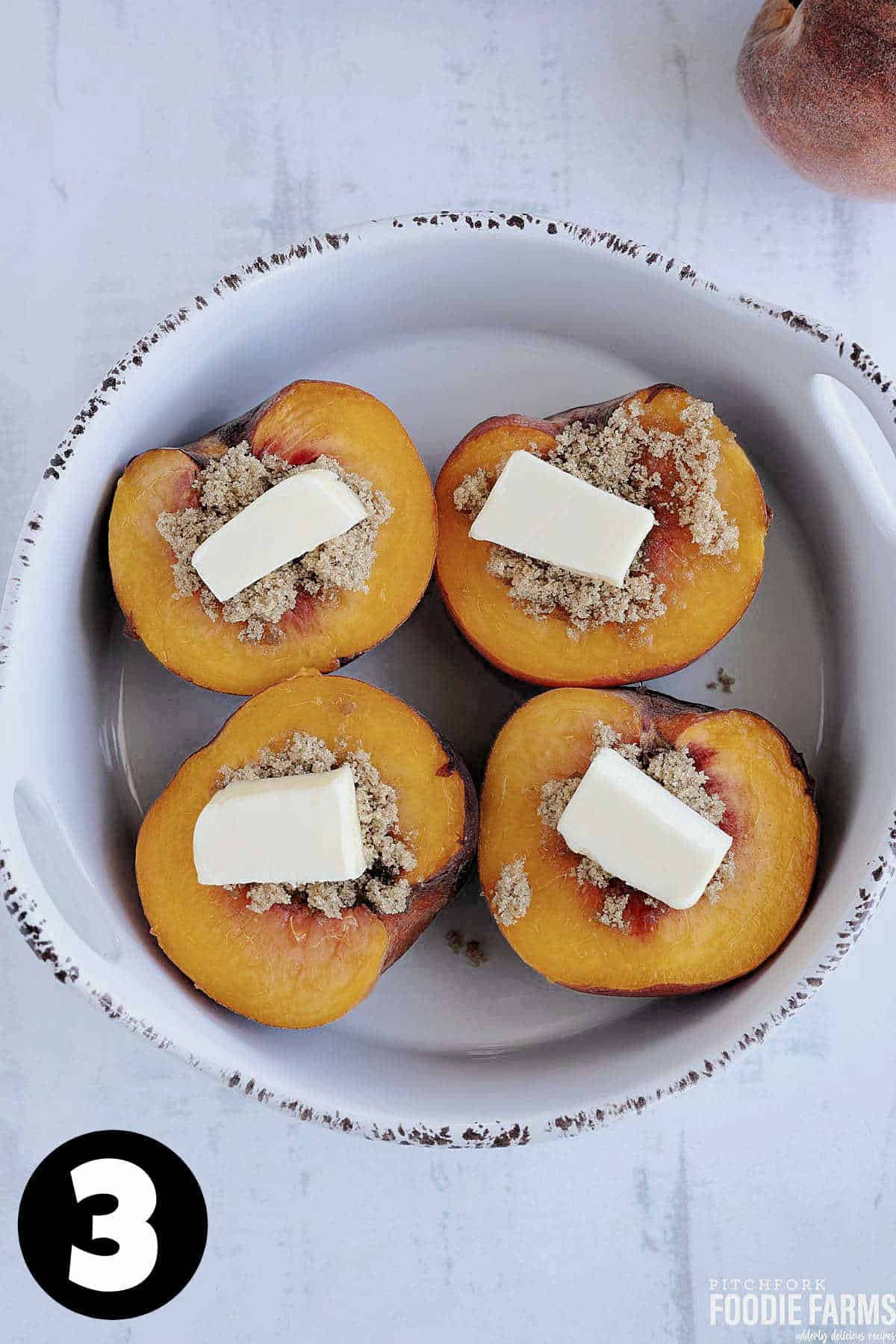 STEP 3: Set a small slice of butter over the brown sugar.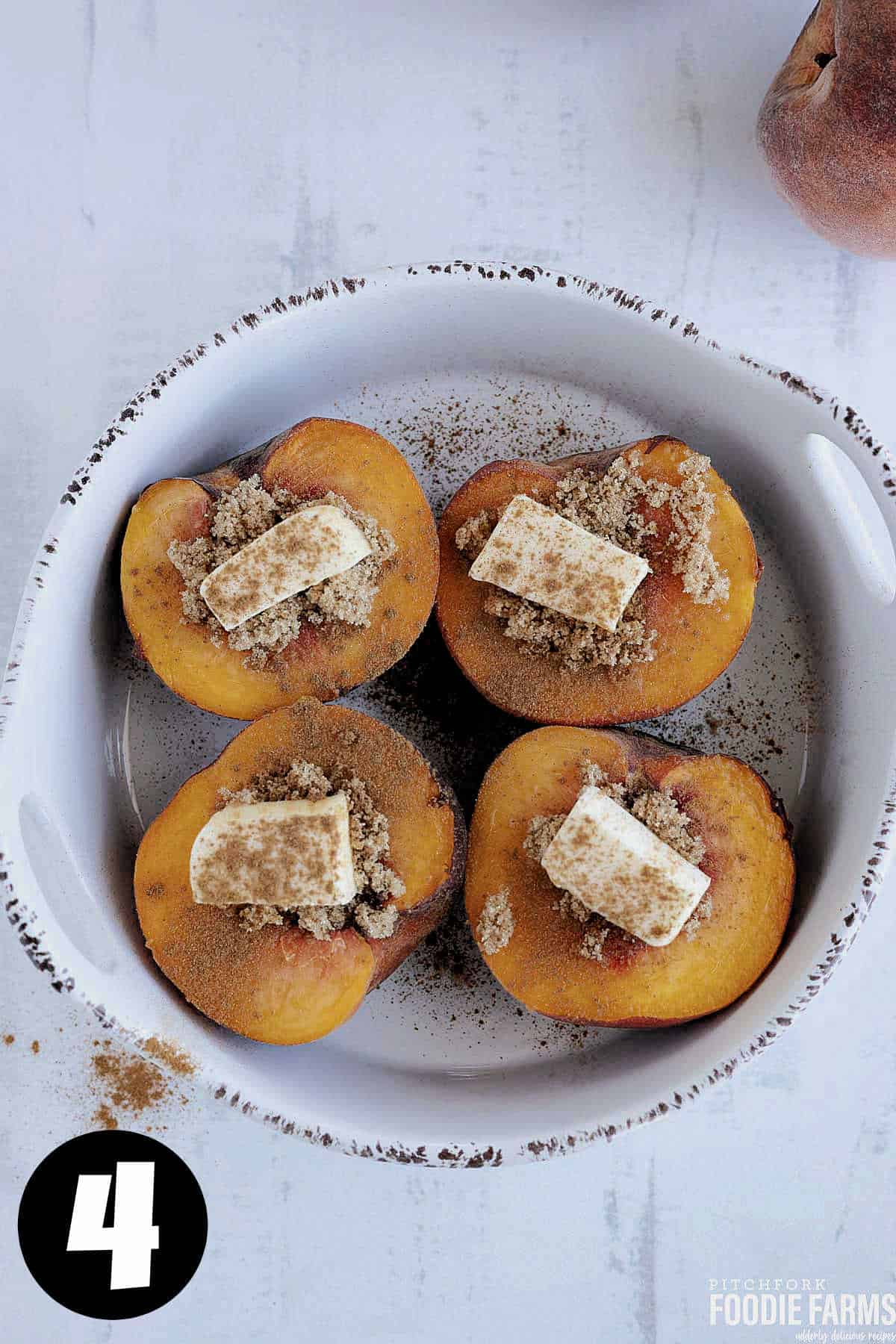 STEP 4: Sprinkle with cinnamon. Be as generous as you like! Nutmeg is also delicious!
STEP 5: Bake peaches for 10 minutes. After baking, you might want the peaches to be a little more caramelized on top. Broil them about 8 inches from the element watching them closely so they don't burn. They should be broiled after about 2 minutes. It gives them a roasted look and taste! Yum!
How to Cook Peaches on the Grill:
Sometimes it's just too hot to turn on the oven. Or if I'm already making grilled chicken or grilled steak I'd rather just make dessert on the grill too!
Heat the grill to about 350 degrees. Make the recipe exactly as listed in the recipe. Add peaches to a foil pan and cook on the grill for about 15 minutes.
How to Cook Peaches in the Air Fryer:
Using the air fryer for cooking peaches makes them extra caramelized and golden brown on top! They're gorgeous and easy! Set the air fryer to 350 degrees and follow the recipe except for cooking in the air fryer instead of the oven. Every air fryer cooks a little bit differently so they might need a couple more minutes to finish cooking. Just make sure the butter is melted and the peaches are warmed.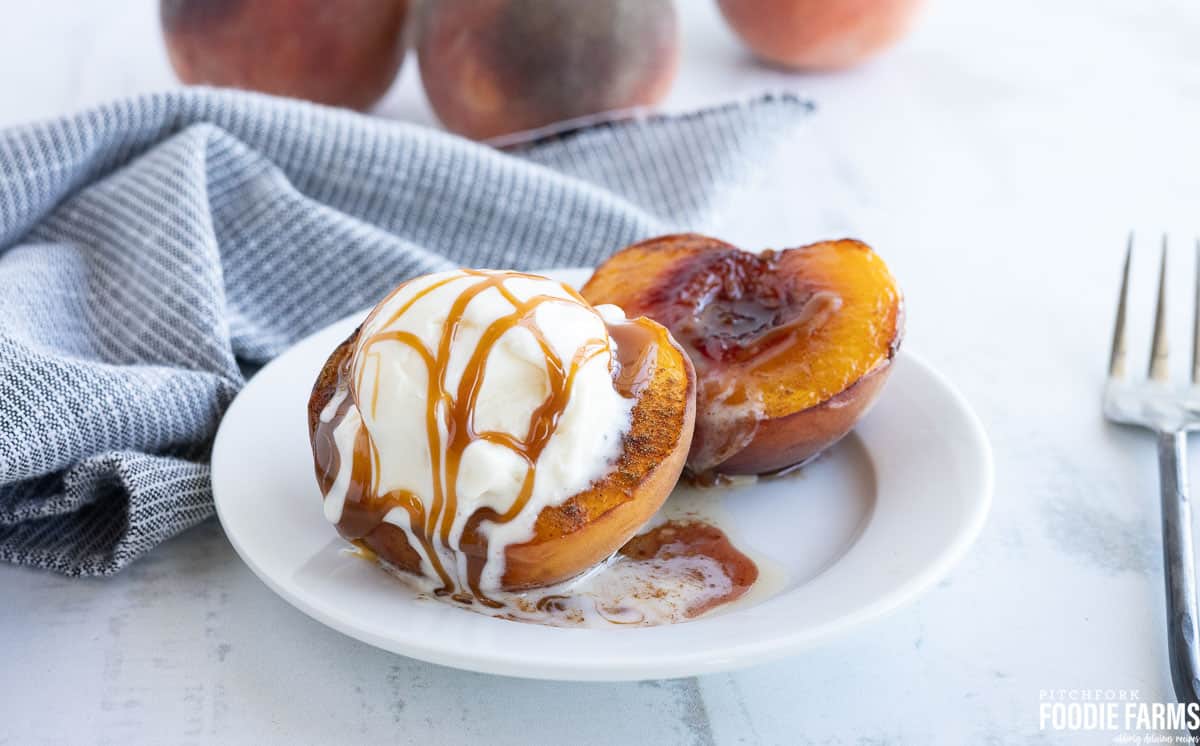 What to Serve with Baked Peaches:
Our favorite way to serve these peaches is with vanilla ice cream, it's like peaches and cream only better!
They are also delicious served with whipped cream.
Or, you can eat them exactly as they are!
Recipe FAQ's
Can I make baked peaches ahead of time?
This recipe is REALLY quick and easy to prep and cook so I don't usually make them ahead of time. You could assemble the peaches, refrigerate for an hour or two, then bake just before serving.
Can I use canned peaches or frozen peaches to make baked peaches?
Yes! Fresh peaches are my favorite, but canned peaches work great too! Frozen peaches are also a good option. Be sure to drain canned peaches and pat dry before baking. Thaw frozen peaches and pat dry before baking.
Can baked peaches be frozen?
Peaches freeze really well! However, if you are freezing peaches you need to blanch them first. To blanch, bring a pot of water to a boil. Wash peaches, leave skins on and set in boiling water for 1 minute. Remove from water and add to a bowl of ice water to stop the cooking process and cool. Assemble peaches with brown sugar and butter. Freeze for up to 6 months. Thaw. Bake as directed.
Other Easy Dessert Recipes:
I'm ALL about super simple and easy desserts! Dessert is a necessity at our house, but I don't always have lots of time to mess with it. Here are a few of our favorites that only take a few minutes to make.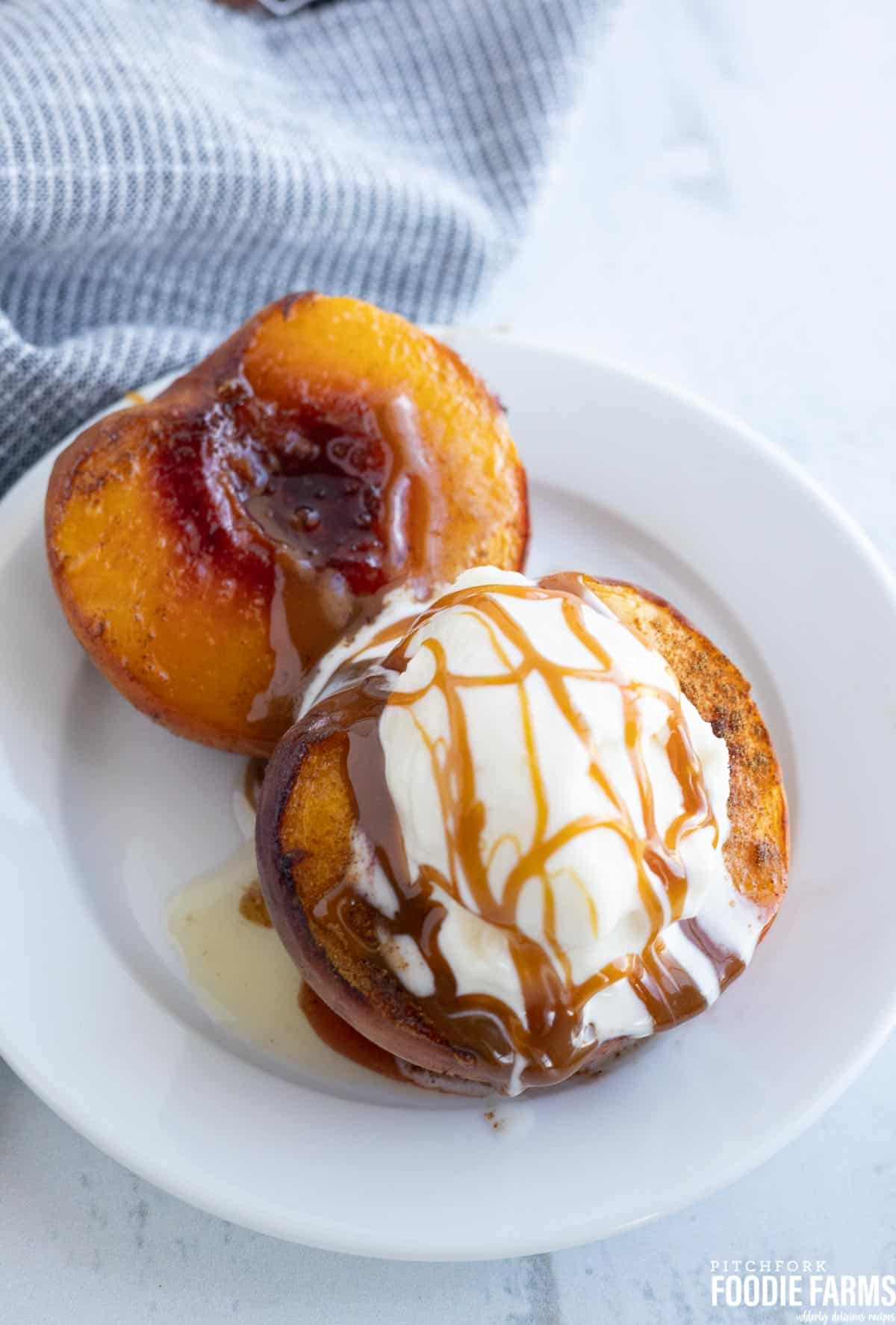 I love it when you make my recipes and give me feedback! If you have a minute please comment below and leave a star ranking! Also, be sure to follow me on Pinterest, Instagram, and Facebook!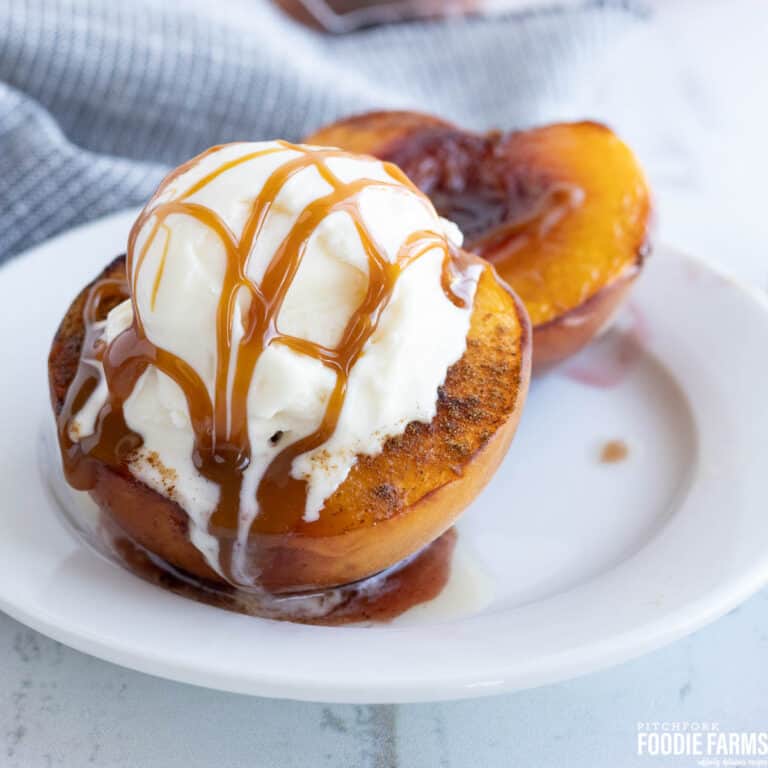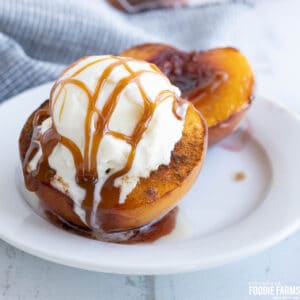 Baked Peaches with Brown Sugar and Cinnamon
Baked peaches is a super fast and easy dessert recipe! They are best made with fresh, juicy peaches that are perfectly ripe in the summer, but they're also amazing with frozen or canned peaches. You can bake or roast in the oven, on the grill, or air fryer! Top with whipped cream or vanilla ice cream!
Ingredients
1

peach

fresh

1

teaspoon

brown sugar

1/2

teaspoon

butter

dash

ground cinnamon

2

Tablespoon

whipped cream
Instructions
Preheat oven to 350 degrees. Line baking sheet or dish with aluminum foil or parchment paper to make cleanup easier.

Slice clean, ripe peaches in half. Remove the stone. Set peaches skin side down in the baking dish.

Spoon brown sugar in the hole where the pit was removed.

Slice butter and set over the brown sugar.

Sprinkle with cinnamon.

Move rack a little lower from the broiler than normal. Mine was 8 inches away. Turn oven to broil. Broil peaches for about 3-5 more minutes until peaches are a little bit roasted and caramelized. Watch the peaches closely because they can burn quickly.

Top with whipped cream or vanilla ice cream.
Notes
Frozen or canned peaches may be used. Thaw frozen peaches. Pat canned or frozen peaches dry before using.
Honey may be used instead of brown sugar.
Air Fryer Instructions: Set air fryer to 350 degrees. Assemble peaches and cook for 10 minutes.
Grilled Peaches Instructions: Assemble peaches as listed in the recipe. Heat grill to 350 degrees. Add peaches to a cast-iron skillet or aluminum foil pan for easy clean-up. Grill for 10 minutes or until caramelized and baked through.
Nutrition
Serving:
1
Peach
|
Calories:
115
kcal
|
Carbohydrates:
19
g
|
Protein:
2
g
|
Fat:
4
g
|
Saturated Fat:
3
g
|
Polyunsaturated Fat:
1
g
|
Monounsaturated Fat:
1
g
|
Trans Fat:
1
g
|
Cholesterol:
12
mg
|
Sodium:
20
mg
|
Potassium:
304
mg
|
Fiber:
2
g
|
Sugar:
17
g
|
Vitamin A:
613
IU
|
Vitamin C:
10
mg
|
Calcium:
22
mg
|
Iron:
1
mg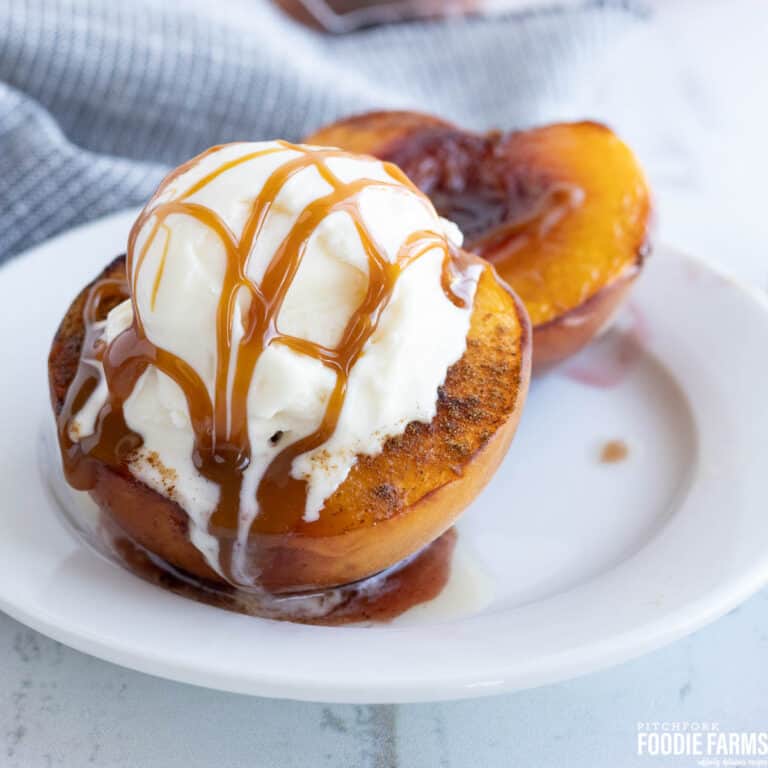 tried this recipe?
Make sure to share it with me! Leave a review or tag me on Instagram