In less than 5 minutes you whip up a batch of this Salted Caramel Apple Dip to satisfy your sweet tooth! I substituted a few ingredients from the original recipe and came up with this luscious skinny version! That's right, no guilt!
We've been eating this dip as an after school snack, dessert, and maybe even a few times as breakfast!
After we built our house my husband promised me that he would help landscape our yard only one time! No landscape remodels! Since I knew I only had one shot at getting things just so, I waited for about four years before doing anything to my yard; no grass, no sidewalk, no flowers. After four years of saving and designing I finally decided to hire a landscaper to come install my yard. So…since my husband never actually landscaped my yard, he technically still owes me a landscape job. He would die if he knew I said that, since he does have to help out occasionally, and since we have remodeled a few things along the way.
This story was the long way of telling you that my landscapers had a few extra trees from another job and was kind enough to give them to me. One tree happened to be and apple tree! Happy dance! I love apples! My tree is finally mature enough to produce a few apples! Happy dance again!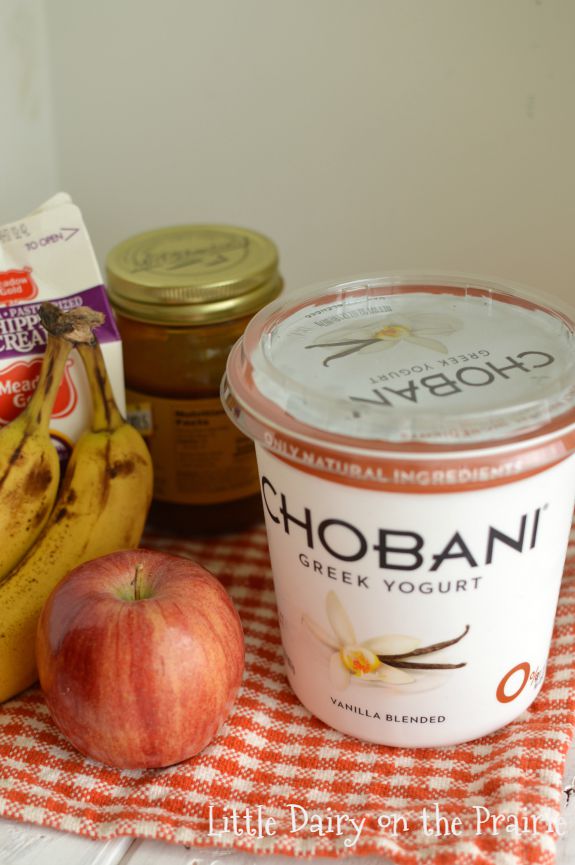 I love to eat an apple every day. My family on the other hand, will eat an apple if it is submerged in caramel, cream cheese, or peanut butter. I decided to take a delicious caramel apple dip and give it a healthy makeover. Let me tell you, all they could focus on was the salted caramel flavor.
Mix a salt, caramel, and thawed whipped topping (nonfat for skinny).
I cannot get enough of the tangy flavor Greek yogurt gives the dip. Be sure and use Greek yogurt because it's thick and gives the dip a little substance, Chobani is my fav because it's super creamy and thick! Check em out! My boys innocently devoured a whole batch of dip and three apples in no time. And that's how you sneak in a serving of fruit and serving of dairy. By the way, if you are looking for more ways to sneak a little extra Greek yogurt goodness into your kids, there are a bunch of amazing recipes over at Chobani!
Seriously, this dip is "forget the apple and grab a spoon" yummy! Remember my apple tree though? In fact, this dip would be luscious with bananas or pears too. I can already tell it's going to be a staple at our house this fall.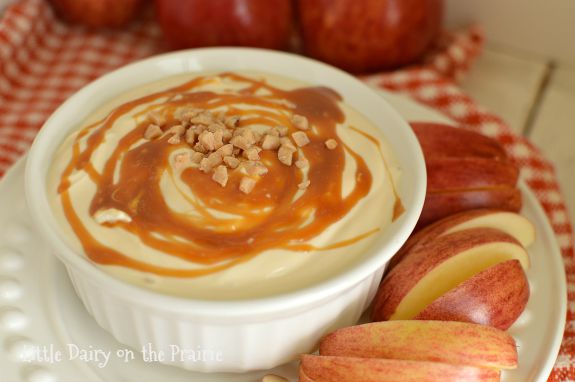 Skinny Salted Caramel Apple Dip
Ingredients
1 8

oz.

whipped topping

thawed (use nonfat for skinny or whip heavy cream if you aren't making skinny dip)

2

T.

caramel ice cream topping

plus additional for drizzling on top (more if you aren't making skinny dip)

dash course sea salt

1 1/2

c.

vanilla Greek yogurt

I used Choboni

apples

pears, bananas for dipping
Instructions
If caramel is thick, warm in the microwave until pourable.

In a medium sized bowl, fold caramel and sea salt into whipped topping until incorporated.

Fold Greek yogurt into whipped topping mixture.

Put topping in a serving bowl. If desired drizzle top with additional caramel and toffee chips.

Serve with assorted fruits.
tried this recipe?
Make sure to share it with me! Leave a review or tag me on Instagram
I thought you might like these fruit dips as well!
Skinny Peanut Butter Apple Dip