Healthy Apple Dip with Greek yogurt is quick and easy to make in about 5 minutes and is the perfect healthy snack or dessert! You'll only need 3 simple ingredients to make this recipe; Greek yogurt, whipped cream, and caramel ice cream topping (no cream cheese, no peanut butter).
Of course, it's amazing with sliced apples, but it's also perfect with all other kinds of fruit like bananas, pears, and strawberries too! Or, you can serve it with pretzels, graham crackers, etc. I love adding a healthy option when I'm making food for parties or serving other appetizers or finger foods. This recipe is always a hit!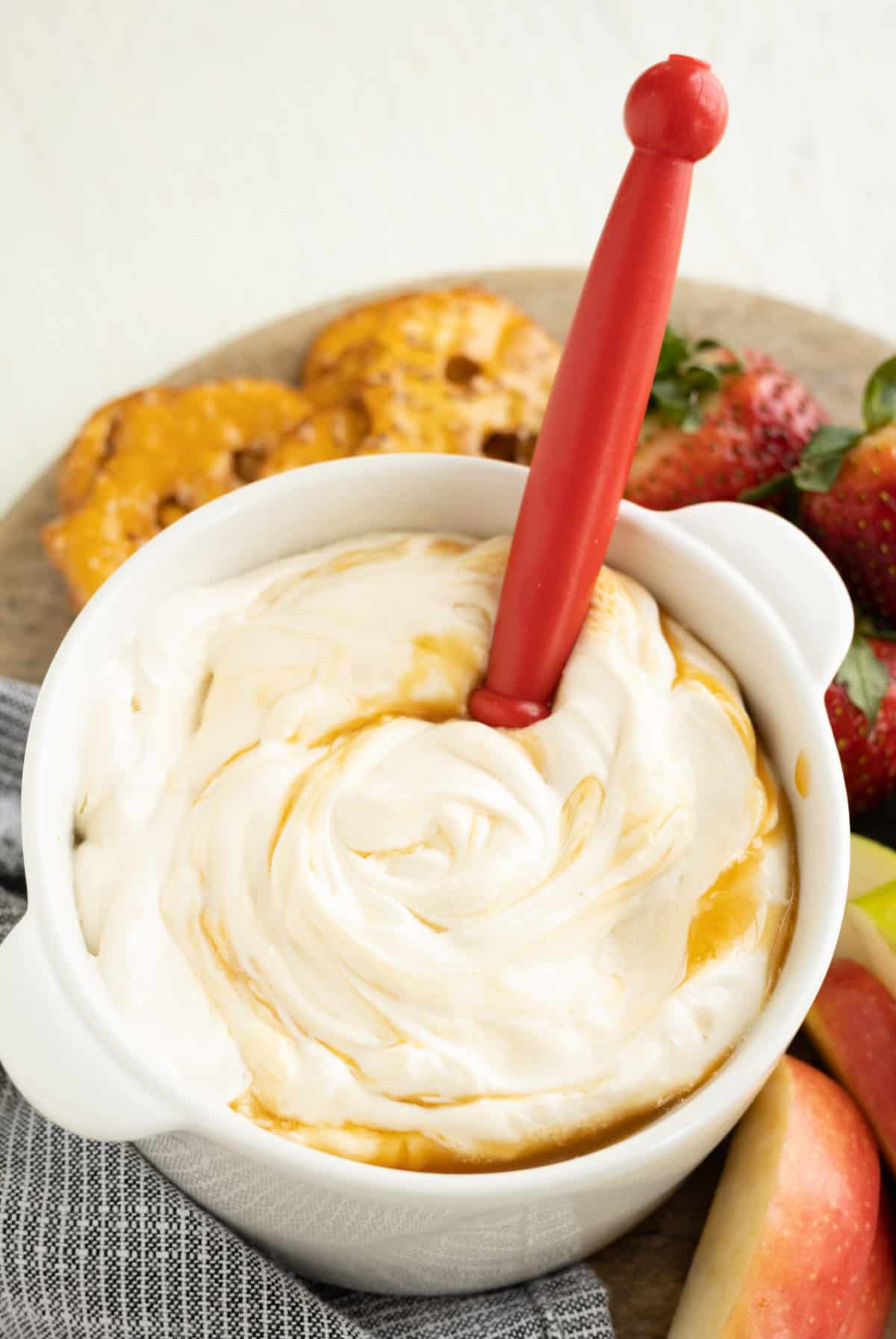 Getting my kids on board with eating fruits and veggies is a bit challenging sometimes. But, they're huge dippers and dunkers so if they have some kind of fruit dip, I can talk them into it. Some caramel apple dips are so stinking sweet that it kind of defeats the purpose of eating healthy fruit. If your kids are dunkers too, be sure to check out my Dilly Dip, Broccoli & Bacon Dip, Cream Cheese Salsa, and Refried Bean Dip.
Okay, let's be completely honest for a minute here. Maybe this dip should be called "healthy-ish" because it still has a little bit of sugar in it. But it's way better than so many apple dips out there. Plus, I'm going to give you some tips for making it super healthy if that's what you're after.
Puff Pastry Apple Tart, Greek Yogurt Apple Salad, and Apple Cream Cheese Spread are some of my other favorite ways to get my kids to eat apples!
Why You'll Love This Recipe:
Yummy! It's tangy, and has the perfect amount of sweetness.
Quick and easy! You need a bowl, a spatula, and about 5 minutes to make this dip.
Light and fluffy! Some yogurt fruit dip recipes are creamy, but not fluffy. The addition of whipped cream makes this one both creamy and fluffy!
Healthy! It does have a little sugar, but it's still a healthy apple dip!
Scalable! Make a little or make enough for a crowd! I suggest making a little extra, because it keeps for a few days and you'll want more! Trust me!
Ingredients Needed: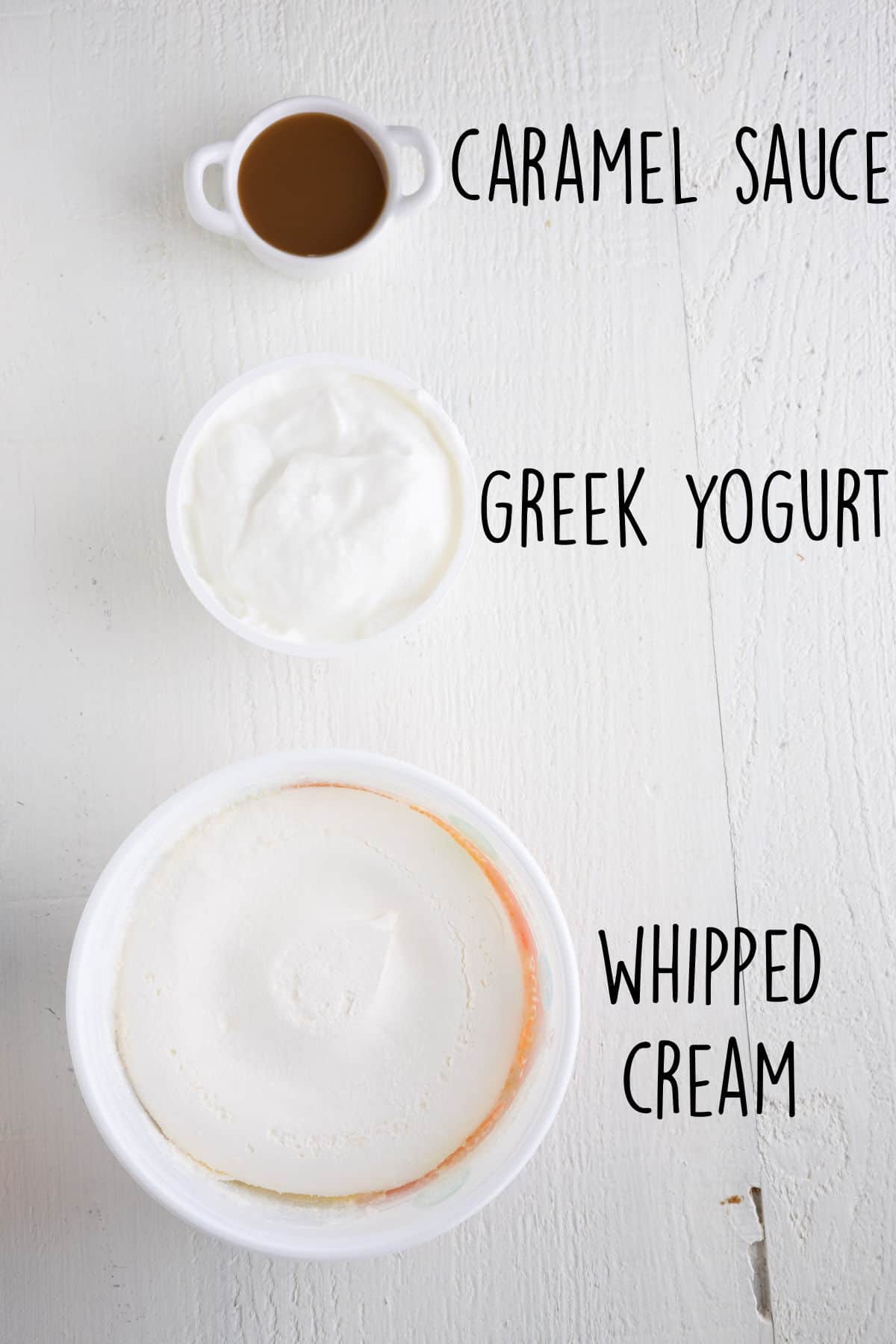 The ingredient list is pretty straightforward. Let's talk about a few of the ingredient swaps and substitutions you could use to make it best suit you and fit your dietary restrictions whether you're keto, vegetarian, or you want it all!
Yogurt: Using Greek yogurt creates a thicker dip, however you can use traditional yogurt if that's what you have on hand. I like using plain yogurt because it doesn't have added sugar. Vanilla yogurt is also delcious as long as you're okay with the a little extra sugar.
Whipped Cream: I always recommend using heavy whipping cream and whipping it yourself because it doesn't have weird added ingredients. But, you can totally use thawed whipped topping if you'd like.
Caramel Ice Cream Topping: Now we're getting to the part that's not super healthy. Feel free to add more or less to taste. Or, if you're looking for a natural sweetener, no refined sugar option, you can use real maple syrup, honey, or monk fruit to keep it keto.
How to Make Healthy Caramel Apple Dip:
This is the easiest recipe ever!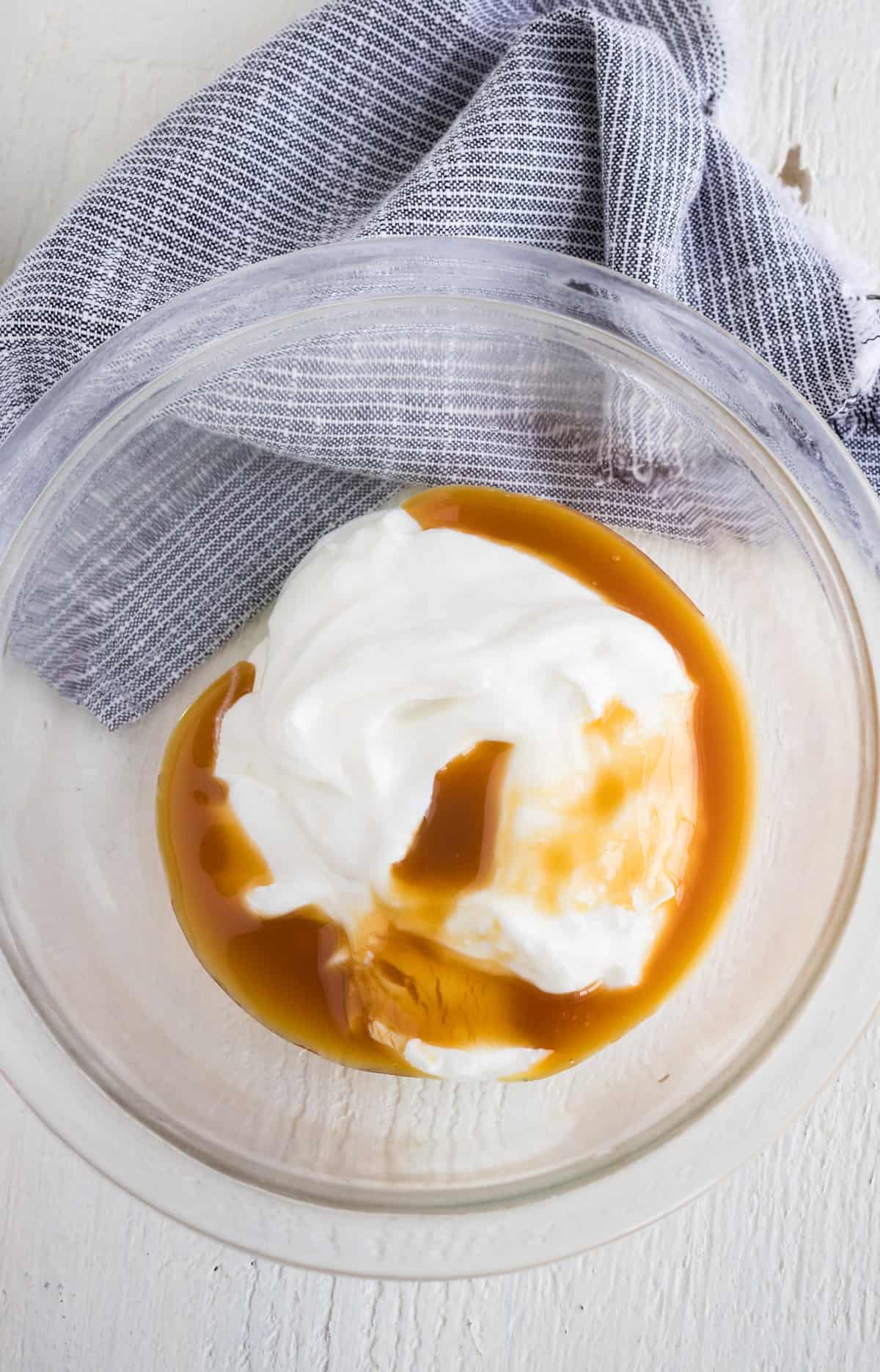 STEP 1: Add caramel ice cream topping and Greek yogurt to a mixing bowl. Stir until combined. NOTE: If the caramel sauce is too thick to stir into the yogurt, microwave it for a few seconds, stir, and repeat until it's thin enough to incorporate. You don't want it to get too warm, just thin enough to stir in.
STEP 2: Add freshly whipped cream to the yogurt mixture. Gently fold with a spatula.
It's pretty to add a little caramel sauce to the top of the dip, gently swirling on the top. It's optional!
I like sprinkling a little course sea salt over the apple dip just before serving! It's gives the dip the best flavor!
Store the dip in the refrigerator. It might separate as it sits. That's okay. Gently stir and serve.
How long will healthy yogurt apple dip keep?
Yogurt fruit dip will keep for about 5 days in the refrigerator, assuming the ingredients used don't expire before that.
Can I freeze Greek yogurt apple dip?
The consistency of yogurt is altered when it's frozen, so it's not a good idea to freeze it. It's so quick and easy to make that I really don't see a reason to make and freeze it ahead of time anyway.
How do I keep apples from turning brown?
The easiest way is to rinse sliced apples in cold water. You can also soak them in pineapple juice for about 20 minutes. Be sure to pat them dry before adding them to a serving tray.
What are the best apples for eating fresh?
Gala, fuji, pink ladies, delicious, golden delicious, and honey crisp are all great choices.
What to Dip in Yogurt Apple Dip:
Although, this is technically a caramel dip for apples it's pretty darn good with other fruits and cookies too. Here are a few ideas.
Fruit: Apples, bananas, pears, oranges, cantaloupe, watermelon, strawberries, raspberries, grapes, kiwi, and pineapple.
Cookies: Oreos, graham crackers, peanut butter crackers, chocolate chip cookies, sugar cookies.
Crackers: Butter crackers, pretzels, wheat crackers.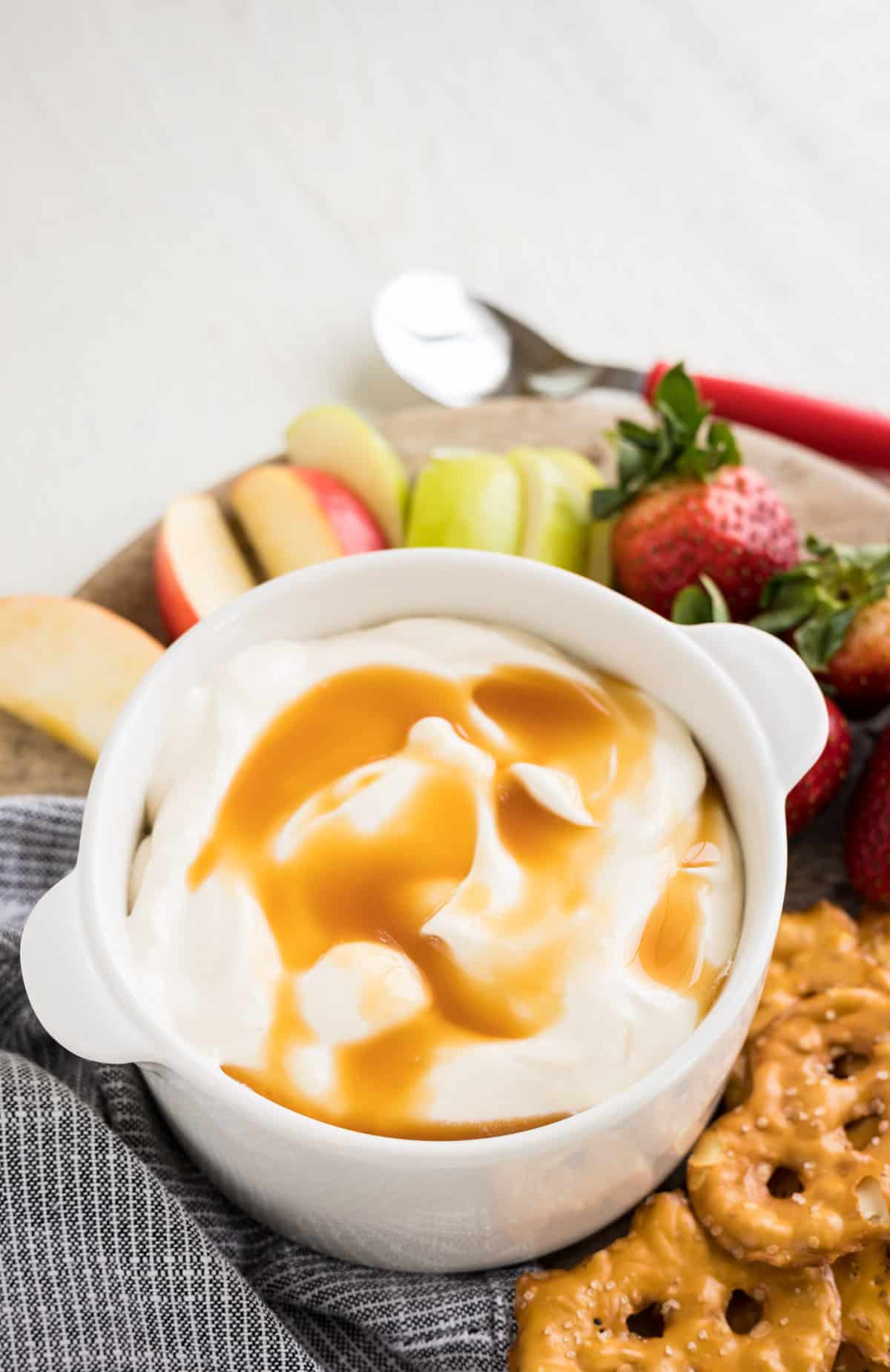 Other Dip for Apples Recipes:
Whether you're looking for a healthy apple dip recipe or a not-so-healthy apple dip…I've got you covered! Some of these are made without peanut butter, others are made without cream cheese. All of these apple dips are delicious! Let me know which you like the best!
Printable Recipe: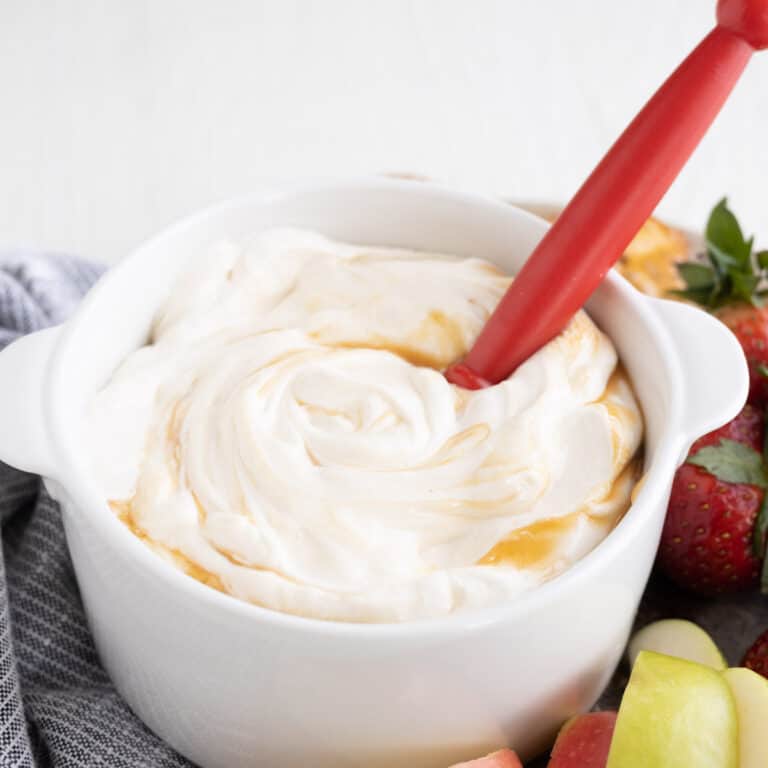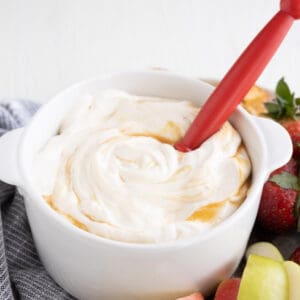 Healthy Greek Yogurt Apple Dip
Caramel Apple Dip with Greek yogurt is quick and easy to make in about 5 minutes and is the perfect healthy snack or dessert! You'll only need 3 simple ingredients to make this recipe; Greek yogurt, whipped cream, and caramel ice cream topping (no cream cheese, no peanut butter).
Ingredients
1/2

cup

heavy whipping cream

2

Tablespoons

caramel ice cream topping

6

ounces

Greek yogurt

dash

sea salt
Instructions
Whip heavy cream until stiff peaks form. Set aside.

Mix yogurt, caramel sauce, and sea salt until combined.

Fold whipped cream into the yogurt mixture.

Garnish with additional caramel sauce if desired.
Notes
You can also use whipped topping instead of whipping heavy cream. I like heavy cream because it's actually made with cream. Besides that, I think everyone should support dairy farmers!
If the caramel sauce is too thick, microwave it for a few seconds until it's pourable. Use more or less caramel ice cream topping to taste. The more you use the more sugar the dip will have!
Vanilla or plain Greek yogurt will work.
This dip will keep in the refrigerator for up to five days. If it separates just stir it.
Nutrition
Calories:
76
kcal
|
Carbohydrates:
4
g
|
Protein:
3
g
|
Fat:
6
g
|
Saturated Fat:
3
g
|
Polyunsaturated Fat:
1
g
|
Monounsaturated Fat:
2
g
|
Trans Fat:
1
g
|
Cholesterol:
21
mg
|
Sodium:
31
mg
|
Potassium:
45
mg
|
Fiber:
1
g
|
Sugar:
1
g
|
Vitamin A:
224
IU
|
Vitamin C:
1
mg
|
Calcium:
36
mg
|
Iron:
1
mg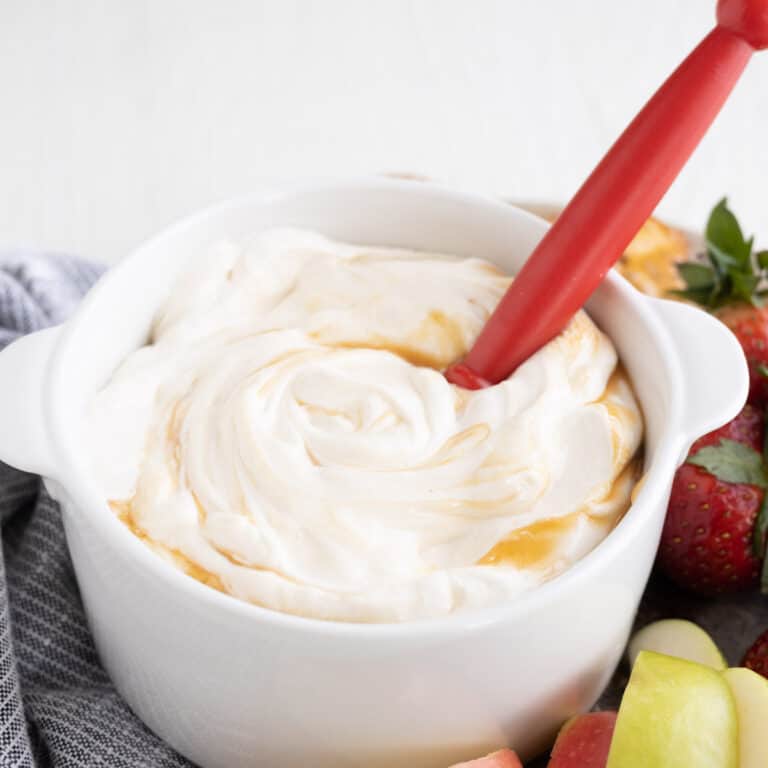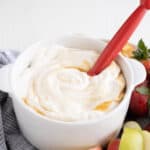 tried this recipe?
Make sure to share it with me! Leave a review or tag me on Instagram