Need a snack you won't feel guilty about giving to your kids? CREAMY PEANUT BUTTER APPLE DIP is packed with protein and will make your kids beg for another apple!
The other day I had a friend ask me how I would respond to the saying, "Life is uncertain, eat dessert first". I excitedly told my friend that I wholeheartedly agree with that statement! And I do! Most days I plan dessert before I even think about dinner! It's my Mom's fault, and I'm sticking to that!
Although I love dessert and admit to eating it twice daily, I also must admit that I am a little bit of a healthy freak too. I crave healthy food. I prefer water to soda pop. I rarely snack and I love exercising! So…maybe dessert twice daily is my guilty pleasure? Either way, I'm going to keep enjoying deadly desserts and tomatoes all in the same day!
I think I just got a little side tracked again. The point of that story was to tell you that when my kids get home from school they are starving! Some days I give them the most sugary dessert you can imagine for an afternoon snack. And sometimes I give them something healthy. And I do feel proud of myself when I give them something that is healthy and they still like the bowl clean. And this peanut butter dip fits into that category! Make it for your little munchkins when they get home from school. They will love the dip and love you for making it. And some days that is the only pay a mom gets! Gotta get the love!
Grab some Greek yogurt. All I had was the honey kind. But plain or vanilla would be great too!
Add some peanut butter!
Sprinkle in some cinnamon and a squirt of vanilla. Beat until smooth and fluffy.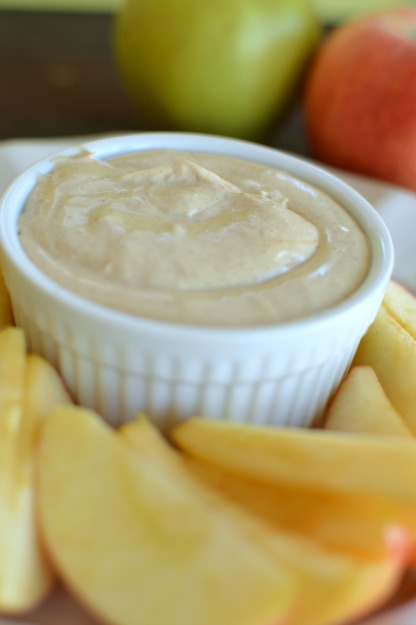 Refrigerate for about and hour. Put in individual serving dishes. Slice some apples and wait for some love to come your way!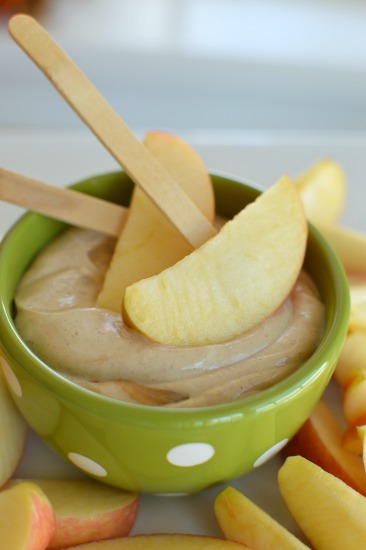 This would be lovely with banana too, if you like bananas. I guess then it wouldn't be Creamy Peanut Butter Apple Dip anymore! Call it what you want it's still the same thing. It would also be tasty with mini chocolate chips mixed in, if you don't care so much about the healthy part.
Couldn't be any easier right? Enjoy your hugs!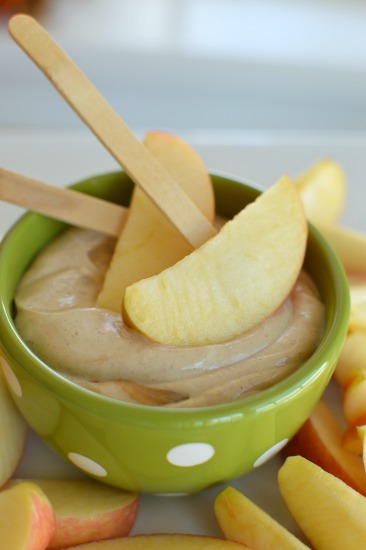 Creamy Peanut Butter Apple Dip
This apple dip is so creamy and yummy that the kids won't even notice that it is good for them!
Ingredients
1

cup

Greek yogurt

1/2

cup

peanut butter

I like crunchy and the kids like creamy

1/2

tsp.

cinnamon

1

tsp.

sugar

optional, my kids eat don't notice when I don't add it

1/2

tsp.

vanilla
Instructions
Put all ingredients in a mixing bowl. Mix with beaters until smooth and creamy.

Refrigerate for an hour.

Serve with sliced apples or bananas.
tried this recipe?
Make sure to share it with me! Leave a review or tag me on Instagram