Cheesy Broccoli and Bacon Dip is one of those appetizers that will make you swoon from the very first bite. It's one of those finger foods that you can't convince yourself to walk away from! I mean really…there's bacon…there's lots of melted cheese…what else is there in life?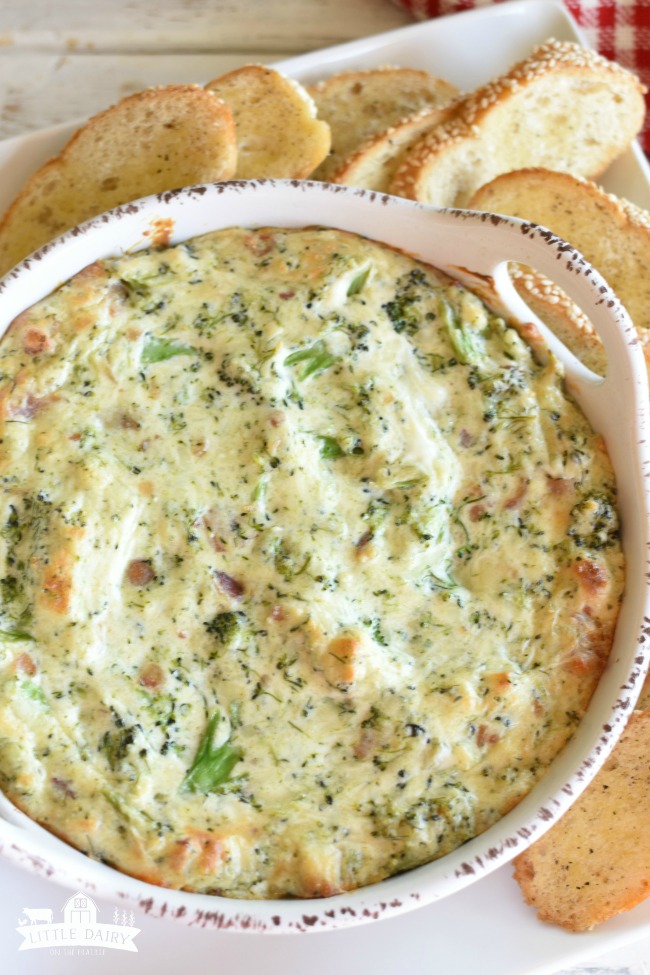 Football season is finally here! By time the summer finally winds down we are always ready to make some tasty appetizers, gather together, and watch some football. Somehow I just wish we could have football season come without the daunting feeling, the feeling that winter is coming and it's going to stay for a long time. At least there is football to get us through the long, dark days of winter. Football and food, food like this Cheesy Broccoli and Bacon Dip, that's what gets us through!
This year my fourth grader is finally old enough to play football at school and he couldn't be more excited! He thinks it's so fun to go push other boys around and get pushed around. He thinks it's fun to put his jersey on and walk around like he's the big man on campus. He's my favorite little football player!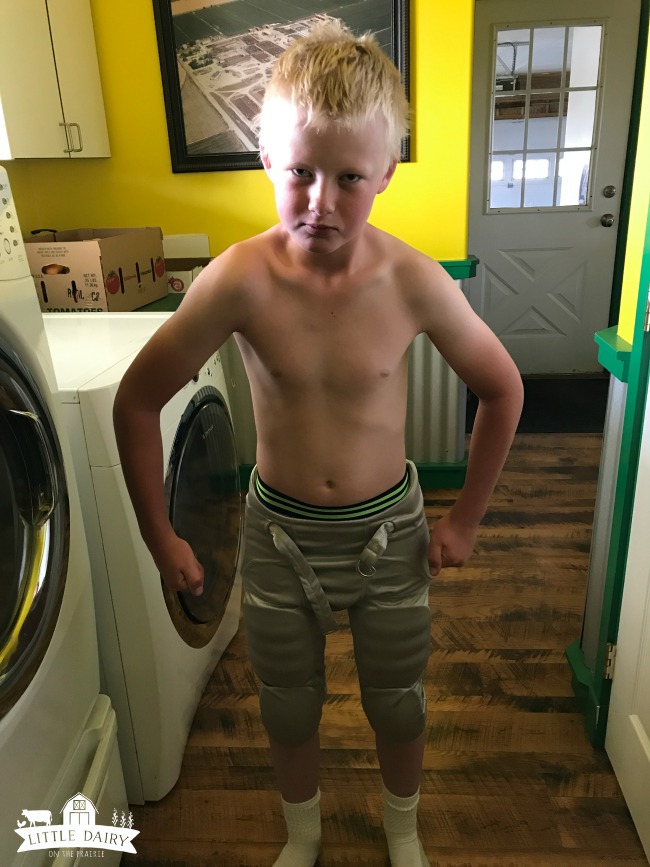 And as much as I love watching college football I have to admit, his little Grid Kid football games are WAY more exciting and fun to watch! I guess it has something to do with the fact that I'm truly emotionally invested in what's happening. It's so fun to watch him and his friends learn all about the sport and play together. Fun! Fun! Fun!
Because we live in such a rural area all of his away football games are well over an hour away from home. Part of the fun of going to the games is when we get to go out to eat afterwards. That's one of the fun parts about chasing Grid Kid football around!
One of the fun parts of watching football on T.V. is parking my rearend on the sofa and settling in with my all of my finger foods! I LOVE finger foods! Why can't we just replace meals with finger foods? Anyway, you are probably starting to put 2 and 2 together and have figured out that food is a huge part of football! One of the really important parts of football! If you agree you need this Cheesy Broccoli Bacon Dip at every game!
Cheesy Broccoli and Bacon Dip is crazy good, it's that appetizer that's always gone first! This is the recipe everyone will beg for! Make it ASAP!
The other day I harvested a huge head of broccoli from my garden and steamed it for dinner. Sometimes when I steam broccoli I throw a little extra in so I can make this dip. I use the same "quick" tip when I fry bacon. I fry quite a few extra pieces so I can quickly make BLT's, add it to the top of soup, toss it in a green salad, or use it in dips l like this. Thinking ahead like that saves me so much time! And it makes throwing it together as easy as mixing a few ingredients together. I LOVE shortcuts!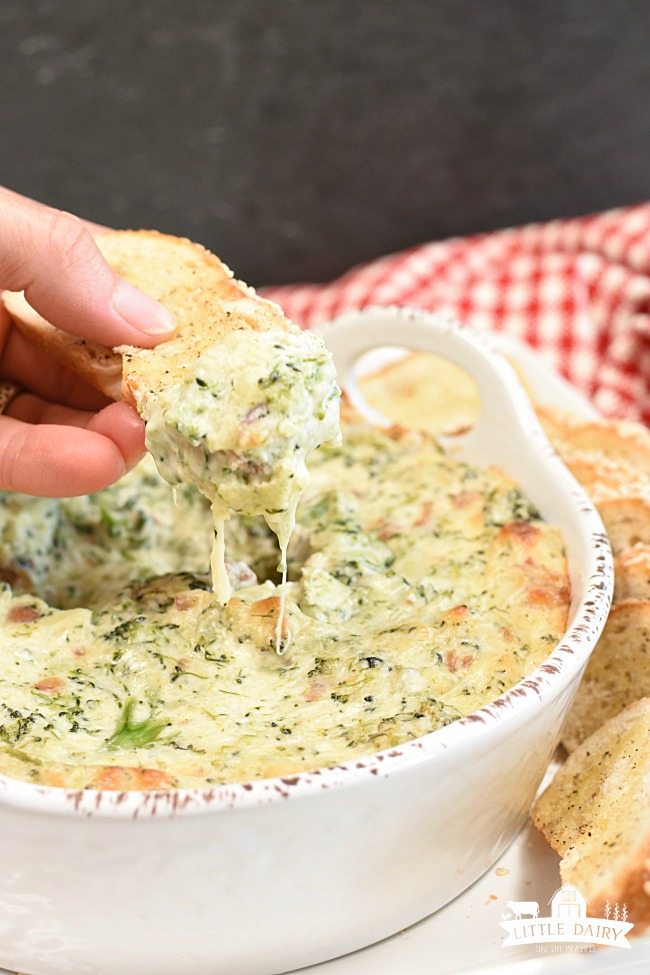 Cheesy Broccoli and Bacon Dip has irresistible gooey cheese, crispy bacon, and bright green broccoli all nestled in a savory cream cheese base! This stuff is what dreams are made of!
Of course this dip is just right for football season. It's also just right for parties, Christmas, New Years, or any other occasion you want to be stuck trying to convince yourself to set down the crostini and walk away from the Cheesy Broccoli and Bacon Dip! I dare you to try to walk away! It's that good!
Here's the printable to my Cheesy Broccoli and Bacon Dip recipe! I think you should make it for your next party for sure!
Save it to your pinterest boards so you will be able to find this recipe forever!
Want more of my recipes sent directly to your inbox? Sign up for my email subscription and I'll send fun ideas right to you!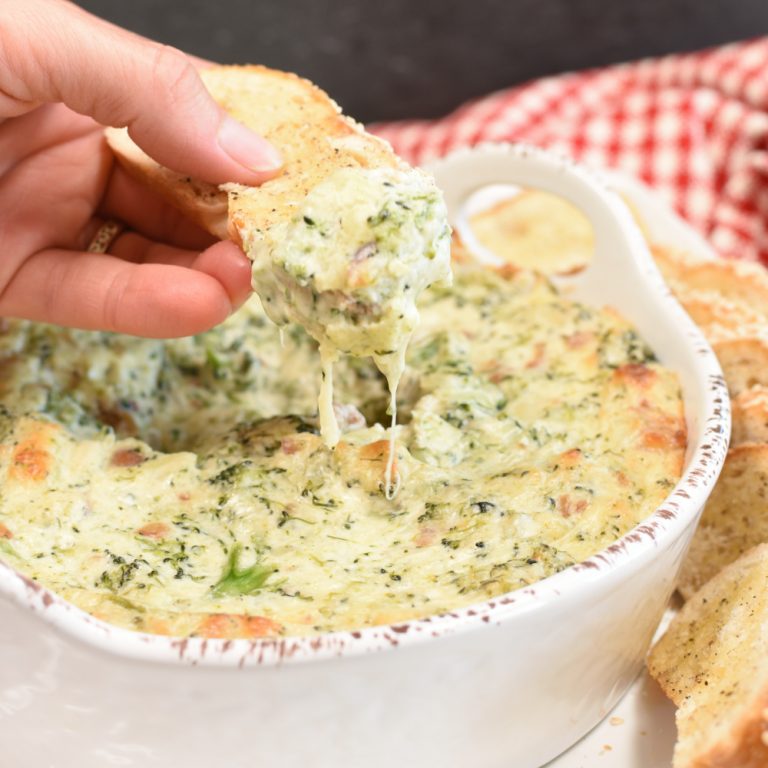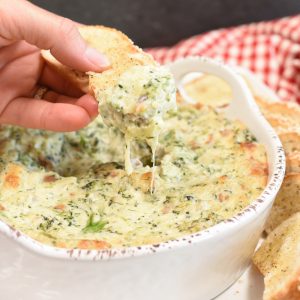 Cheesy Broccoli and Bacon Dip
Cheesy Broccoli and Bacon Dip is that appetizer that only takes a few minutes to throw together and requires astronomical amounts of willpower to walk away from!
Ingredients
1 8

oz.

package cream cheese

room temperature

2/3

cup

sour cream

or plain Greek yogurt

1/4

c.

mayo

1/2

tsp.

seasoned salt

2

cloves

minced garlic

2

c.

chopped and steamed broccoli

1

c.

fried and crumbled bacon

1

c.

mozzarella cheese

1

c.

parmesan cheese
Instructions
Preheat oven to 375 degrees.

In a medium-sized mixing bowl using an electric mixer beat cream cheese until it's smooth. Add sour cream, mayo, and season salt. Mix again until smooth.

Add chopped broccoli, bacon, minced garlic, and both kinds of cheese. Stir to mix completely.

Grease an 8x8 baking pan. Sread dip in pan.

Bake 20-25 minutes or until cheese is melted and it's warmed through.

Serve with veggie sticks, crusty bread, chips, crackers, or crostini.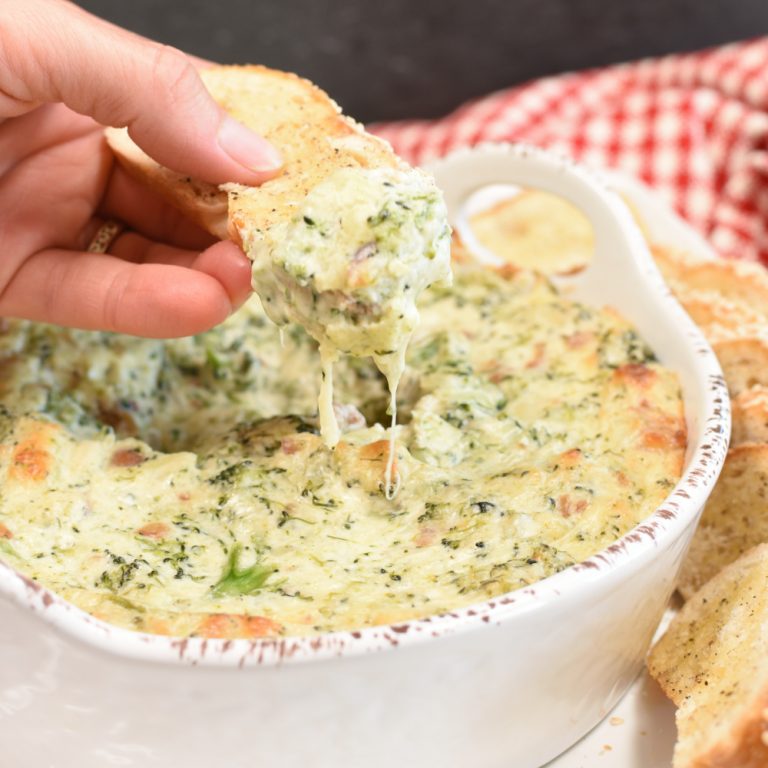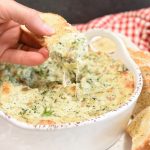 tried this recipe?
Make sure to share it with me! Leave a review or tag me on Instagram