If you haven't ever tried poolside dip you're missing out! I mean with a name like that you just have to try it! This skinny poolside dip is a loaded veggie dip that is so easy to make and is seriously addicting! That's okay though because it's a healthy ranch dip packed with nutritious veggies! It's my go-to quick and easy appetizer recipe!
Serve poolside dip with crackers, and corn chips, or keep things gluten-free and keto and serve it with sliced bell peppers, cucumbers, or other fresh veggies!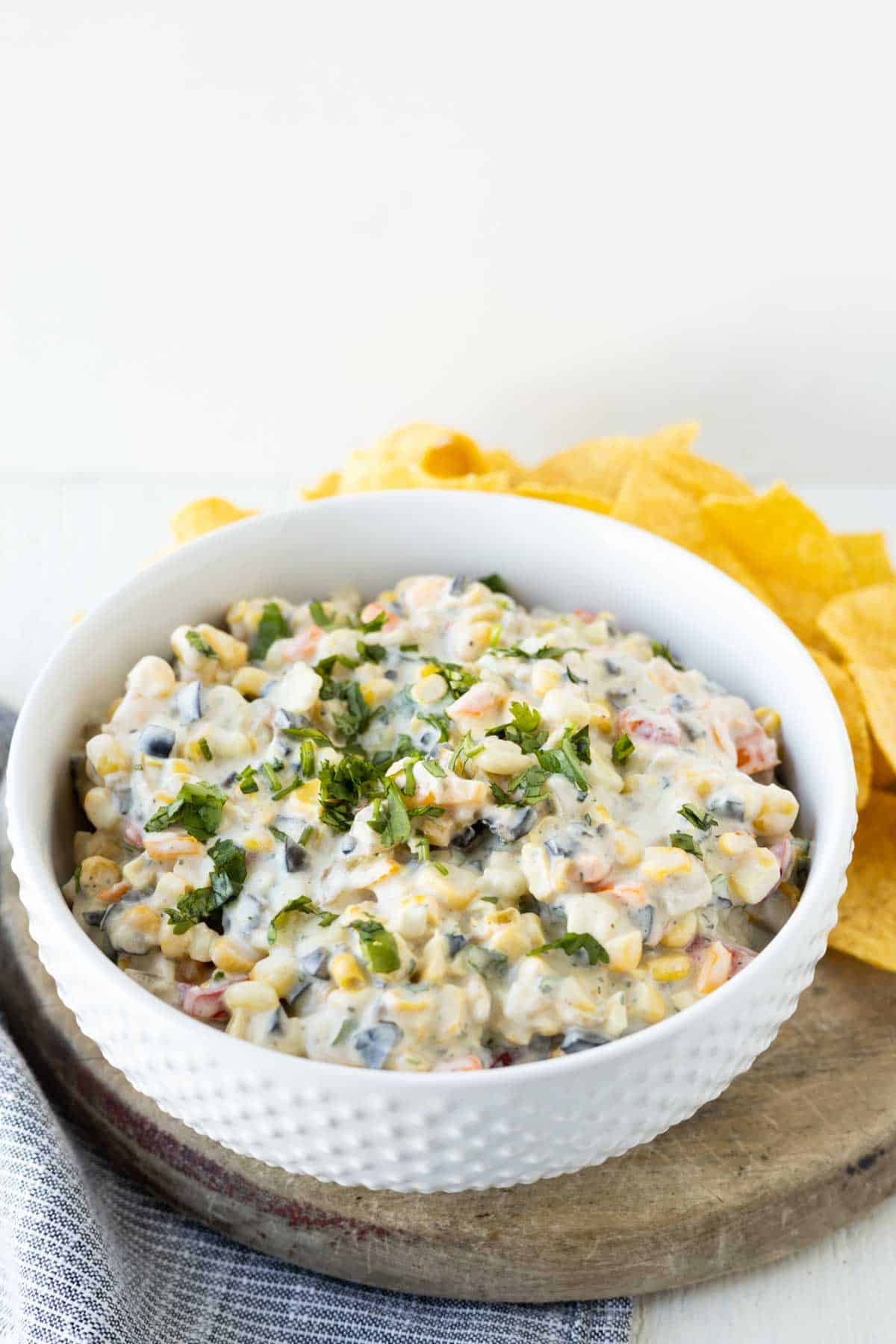 I could literally survive on dips and appetizers! They have a way of making any boring old day feel like a party!
Party it is! Since I live in Idaho it probably won't ever be a pool party, but it can still be a party!
This creamy veggie dip appetizer is a no-bake, no-cook recipe. All there is to it is opening a few cans, dicing some veggies, adding ranch dressing mix, stirring it up and you're there!
It's best made ahead of time, which is PERFECT for busy days…which, honestly, is every day!
Why This Poolside Dip Recipe is Amazing
Healthy dips and delicious dip recipes are hard to find and this one fits the bill! This skinny dip is loaded with lots of veggies. I love the crunch of the raw veggies!
One of my favorite things about this recipe is the ease of this recipe! You need about 10 minutes of prep time and that's it!
This dip is best if it's made ahead, which is a lifesaver on busy days!
It's one of the most delicious recipes for summer! It's basically lots of veggies tossed in a creamy ranch dip!
Ingredients for Veggie Ranch Dip (Poolside Dip)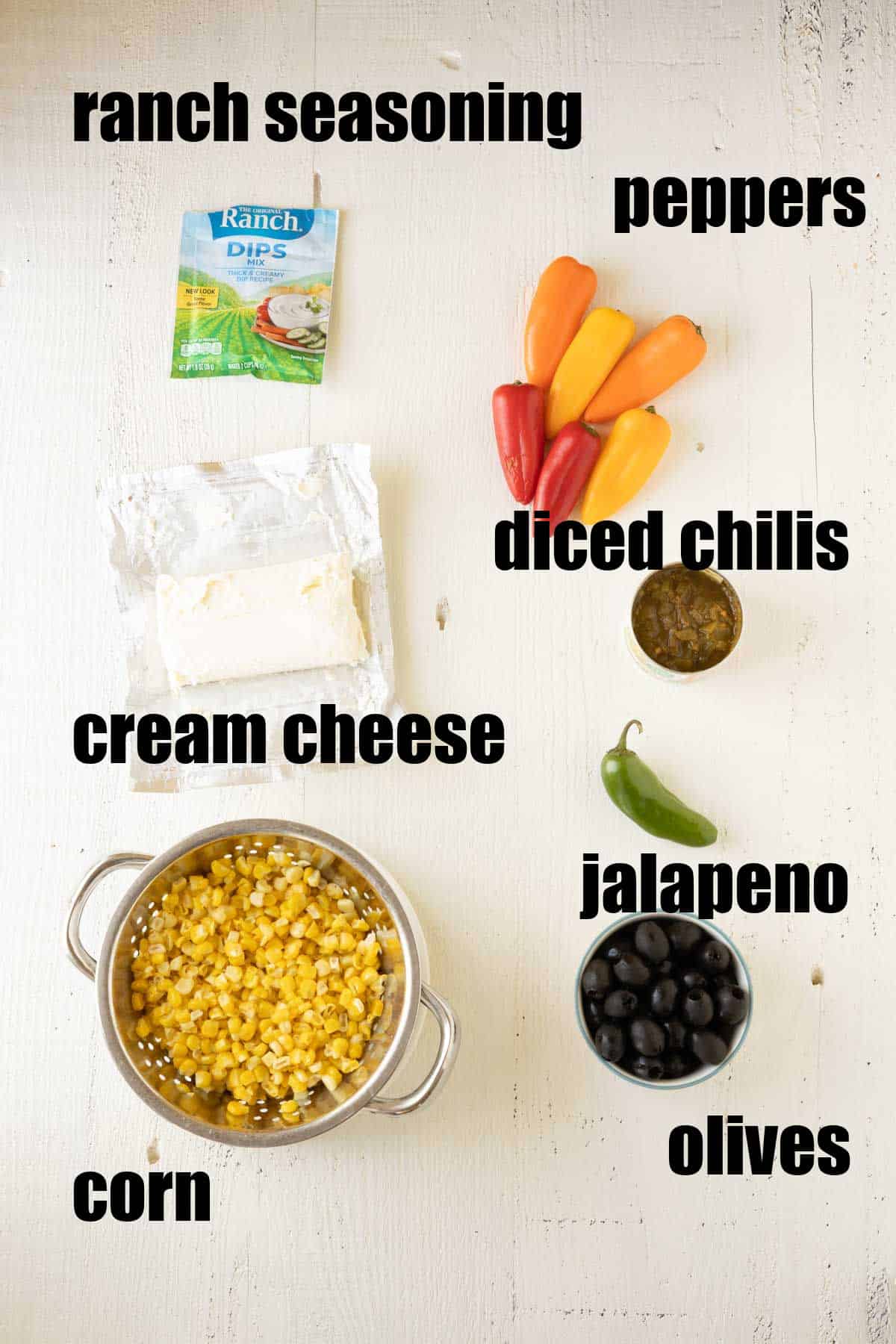 All you need is simple ingredients that are easy to keep on hand, plus a few veggies. Let me give you a few options in case you need to make substitutions.
Cream Cheese: Use full-fat cream cheese for best results. Greek yogurt cream cheese, or low fat cream cheese (Neufchatel) can be used but they have added liquid which will make the dip runnier. I always use regular cream cheese. However, for a true skinny poolside dip you'll want to use low-fat ingredients.
Ranch Seasoning Packet: Use whatever brand you like. Classic Hidden Valley is what I use. Using a packet hidden valley ranch dip seasoning mix is a quick and easy way to add ranch flavor without having to measure and add all the ingredients separately.
Corn: Use any sweet corn. Fresh corn cut off the cob, grilling corn, a can of whole kernel corn drained, or use frozen corn drained. Check out my freezer corn recipe!
Diced Green Chilis – I like mild, but anything goes! You can also use fresh jalapeno peppers to add a little heat. For more spicy heat leave the seeds and membranes when dicing the peppers.
Black Olives – a can of diced olives, or finely dice them yourself if you don't have a can of already diced.
Red BellPepper – Red bell pepper adds crunch and a pretty pop of color. You can use yellow, orange, or green peppers too.
Variations
It's easy to customize poolside dip to make it exactly what you want it to be! Add as many of the following ingredients as you'd like! I like it best loaded!
Green Onions: I love adding green onions, but my family is not a fan! Do what your family likes!
Black Beans: Adding black beans is common in poolside dip. It's a great way to add fiber!
Cheese: Grated cheddar cheese is an excellent addition! Cheese makes everything better!
Instructions
You need to use room temperature cream cheese or else the dip will be lumpy. Here are a few methods for getting room temperature cream cheese.
Countertop: Leave it on the countertop for about 30 minutes. depending on the temperature of your room.
Quick Countertop: Cut cream cheese into 1/2 cubes making sure they have space between them. The smaller cubes will come up to room temperature quicker than a whole brick of cream cheese.
Microwave: Microwave unwrapped cream cheese on a microwave-safe plate at half power for 15 seconds. Check to see if it's soft, and continue microwaving in 15-second intervals until it's soft.
Making skinny poolside dip really couldn't be easier!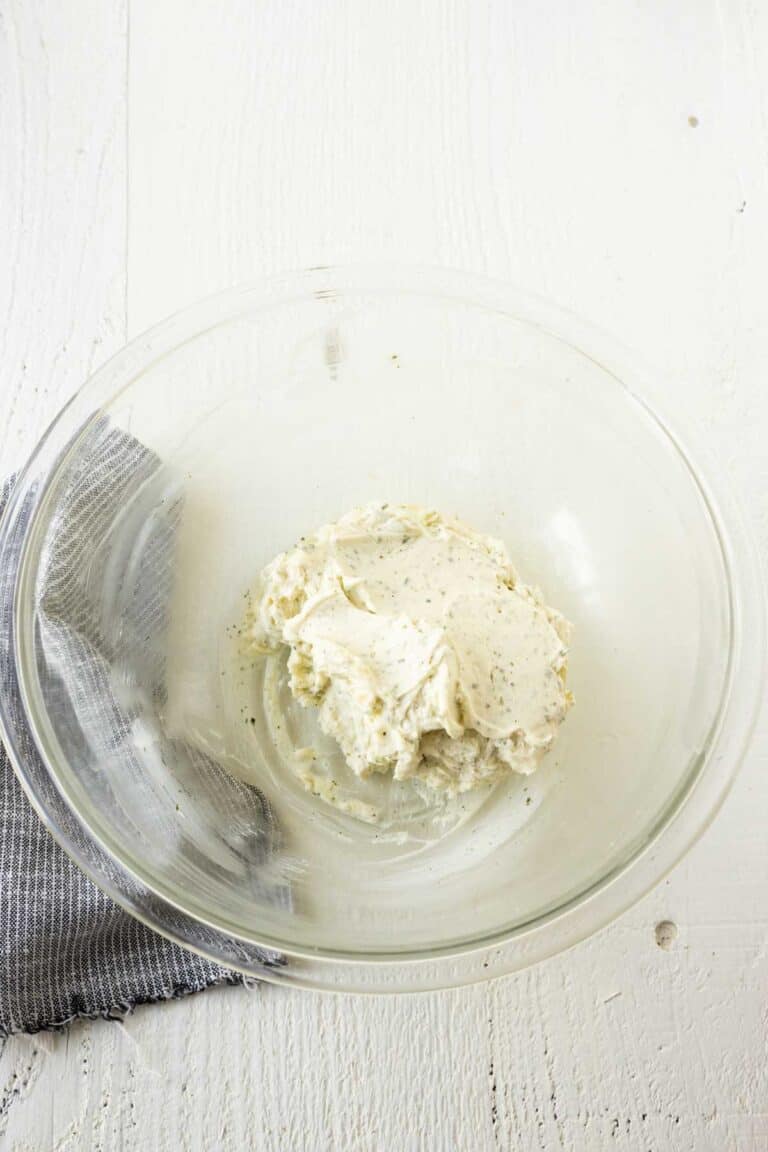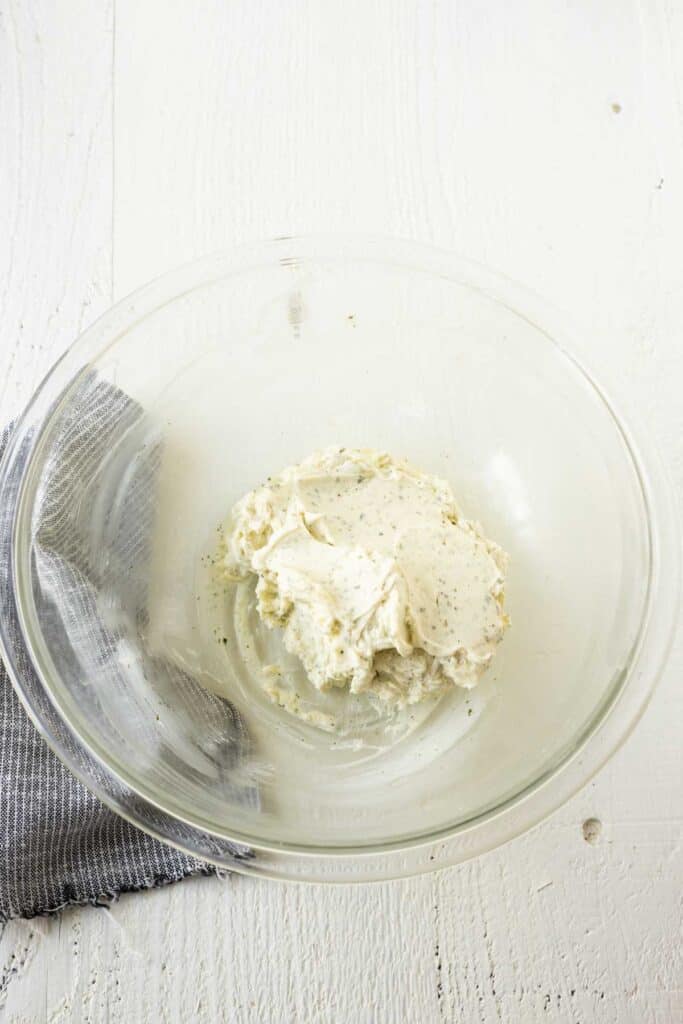 Step 1: Make the cream cheese mixture. Add room-temperature cream cheese and dry ranch seasonings to a medium bowl. Mix it together until it's smooth and doesn't have lumps. I like using my KitchenAid electric hand mixer.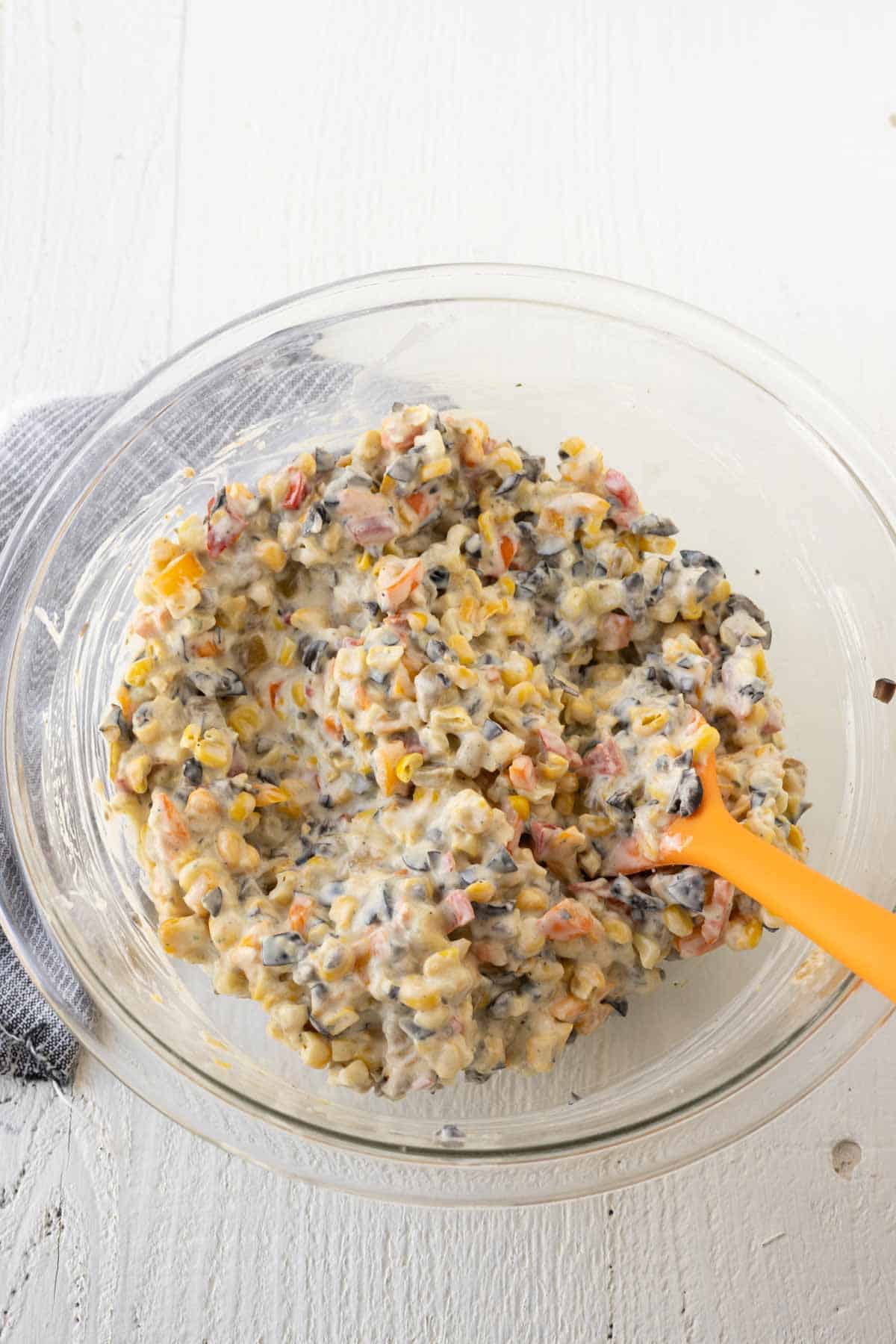 Step 3: Refrigerate for at least 30 minutes, or until ready to serve.
Finely dice the veggies (peppers, onions, olives, etc). It's easier to scoop the dip up with a chip if there aren't big huge chunks of veggies. I like to cut them about the size of a black bean.
What to Serve With Skinny Poolside Dip
There are lots of fun options! I have to admit I've ditched all the dippers before and eaten this dip with a spoon. I guess it would technically be a salad!
Crackers: Butter crackers like Ritz or whole wheat crackers like Triscuits or Wheat Thin crackers
Chips: Tortilla chips, corn chips, or potato chips
Pretzels
Raw Vegetables: Cucumbers, crunchy bell peppers, or mini sweet peppers
Pork rinds: for a Keto option.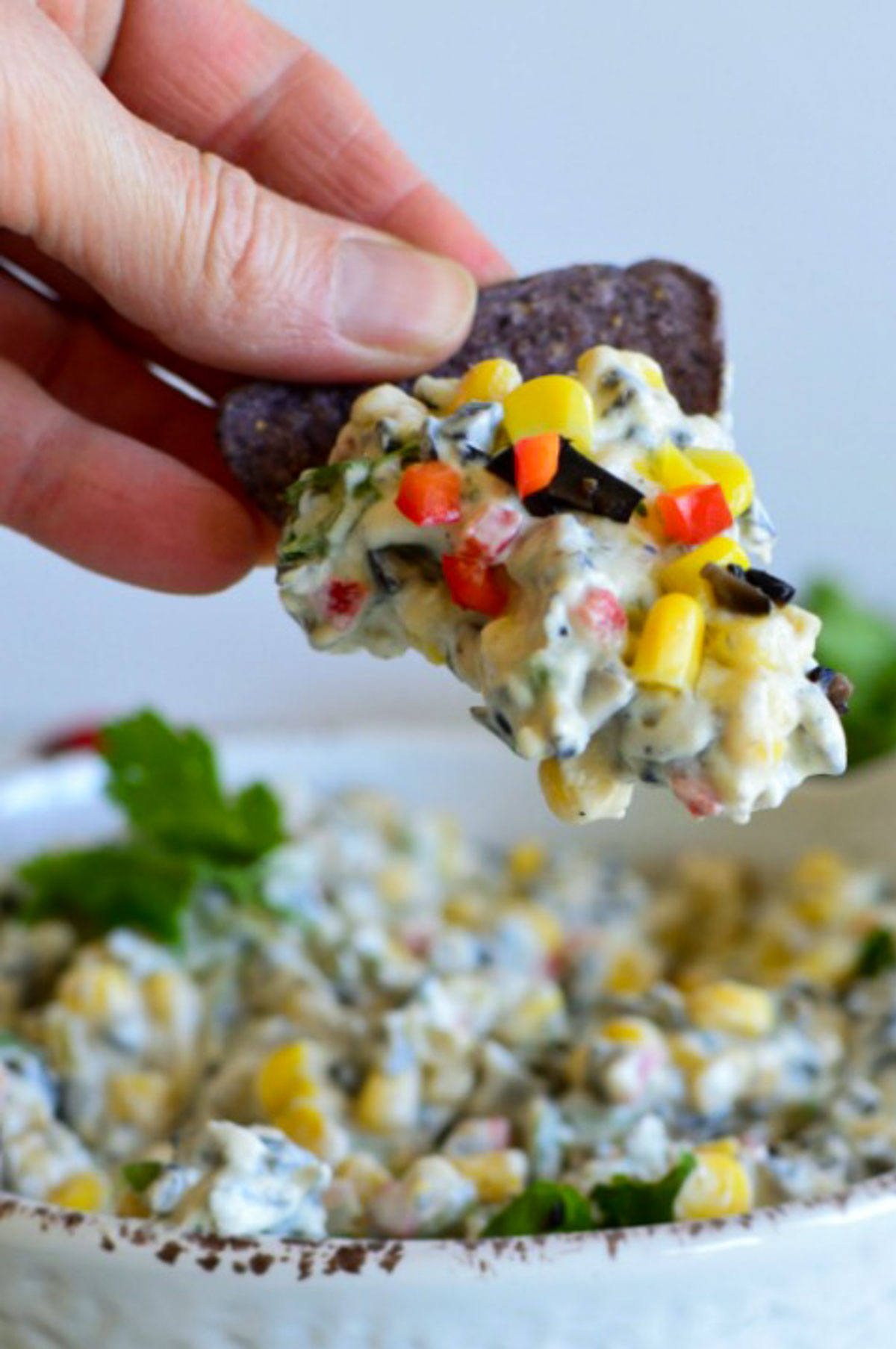 How to Store Poolside Dip
Store leftover skinny poolside dip in the fridge in an airtight container for 3-4 days. If it starts to separate just stir the dip before serving.
I don't recommend freezing this dip because it will alter the texture.
We rarely have leftovers and you probably won't either! Just in case though…
Refrigerate for later. This cream cheese dip will keep in the fridge for up to 3 days. You can serve it exactly as you did the first time.
Pinwheels – Spread it on a flour tortilla and roll it up. Wrap in plastic wrap. Cut into 1-inch slices.
Ham Rollups – Spread on a slice of deli ham and roll it up. Cut in slices.
Easy Cream Cheese Dip Recipes
Cream cheese appetizers and dip recipes are always a huge hit for holidays and parties! Or, they're perfect for hot summer days when you don't feel like cooking!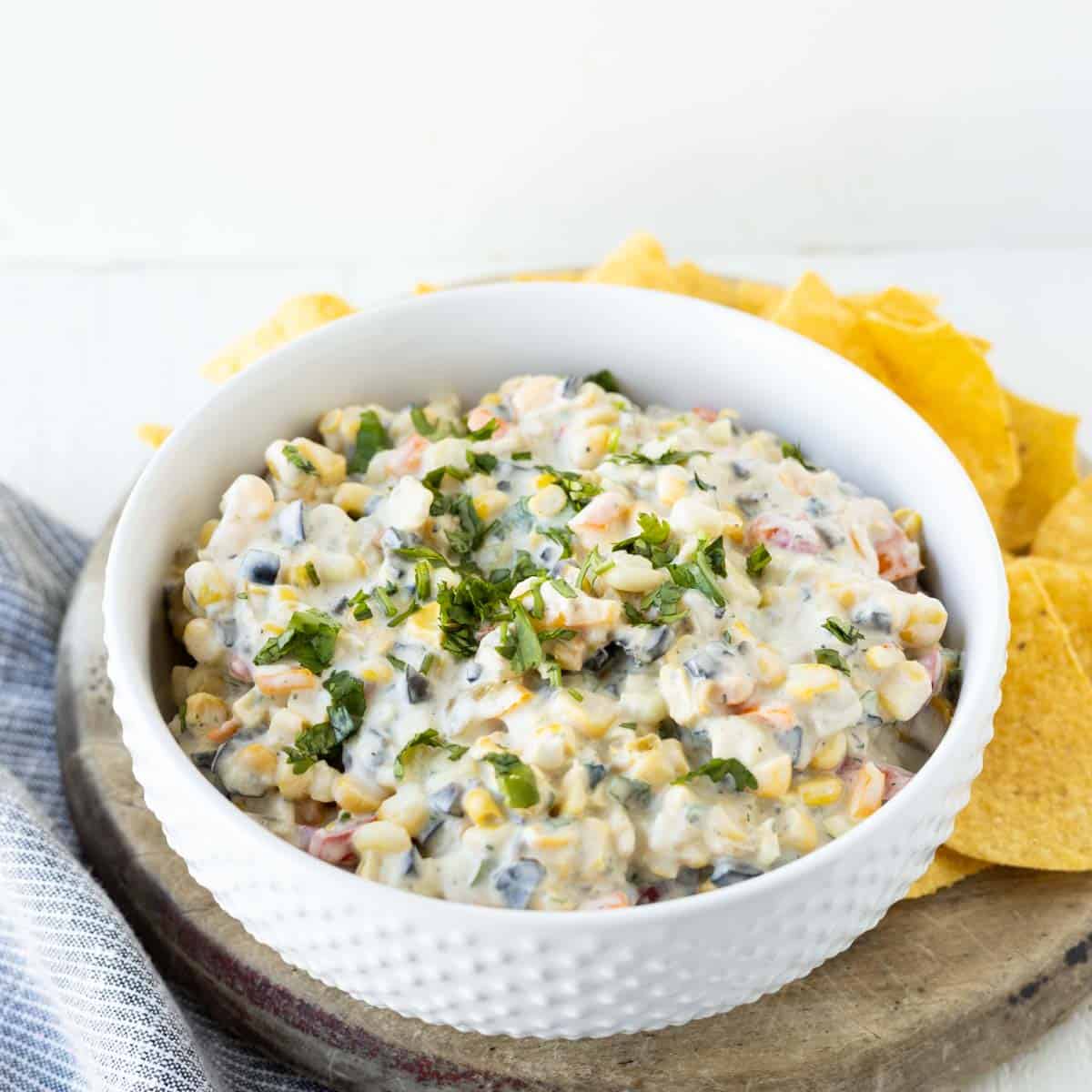 Poolside Dip Recipe
Skinny Poolside Dip is the ultimate summertime recipe. With its creamy ranch goodness and fresh, crunchy veggies, it offers a guilt-free snacking option that doesn't compromise on taste.
Whether you're lounging by the pool, hosting a gathering, or simply looking for a light and refreshing snack, this dip is a winner. It's easy to make, versatile, and perfect for dipping or spreading.
So go ahead, and indulge in the flavors of summer while keeping your healthy lifestyle intact. With our Skinny Poolside Dip, you can savor every bite without any regrets.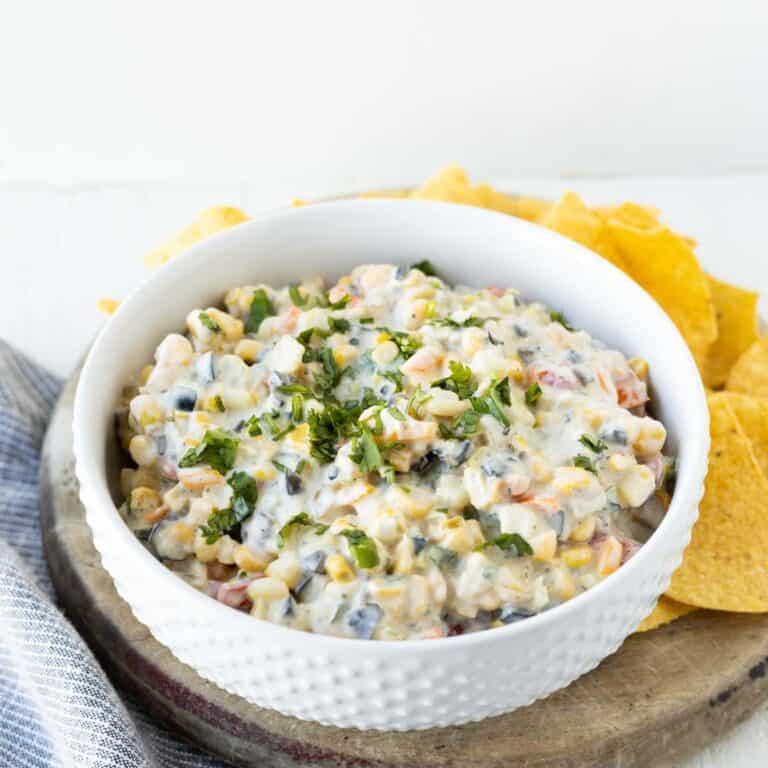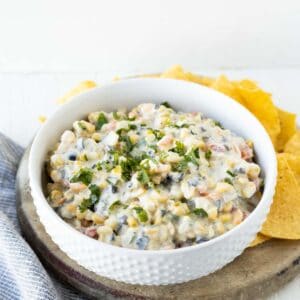 Skinny Poolside Dip
Dive into our refreshing Poolside Dip recipe! Packed with fresh ingredients like crisp veggies, tangy Greek yogurt, and zesty herbs, this dip is a crowd-pleaser. It's a breeze to make and pairs perfectly with your favorite chips or crackers. Whether you're lounging by the pool or hosting a summer gathering, this dip is a must-have for all your snacking needs. Get ready to make a splash with this delicious and healthy treat!
Ingredients
8

ounces

cream cheese

room temperature

1

packet

ranch dressing mix

the dry mix only

15

ounce

canned corn

drained

1

small can

black olives

1

cup

red bell pepper

finely diced

4

ounces

green chilis, drained

optional

1

whole

jalapeno

optional
Instructions
Mix room-temperature cream cheese with dry ranch dressing seasoning.

Add drained corn, chilis, diced olives, diced red pepper, and corn. Stir to mix.

Serve immediately or refrigerate until ready to serve.
Notes
Ingredient Substitutions:
Cream cheese – Use full-fat cream cheese, reduced-fat cream cheese, or Greek yogurt cream cheese.
Chilis – I use mild chilis, but you can use hotter chilis if you can handle the heat!
Olives – If you have whole olives, finely dice them.
Store leftover dip in the fridge in an airtight container for up to 4 days.
Nutrition
Calories:
228
kcal
|
Carbohydrates:
14
g
|
Protein:
4
g
|
Fat:
18
g
|
Saturated Fat:
7
g
|
Polyunsaturated Fat:
1
g
|
Monounsaturated Fat:
8
g
|
Cholesterol:
29
mg
|
Sodium:
1247
mg
|
Potassium:
159
mg
|
Fiber:
2
g
|
Sugar:
3
g
|
Vitamin A:
1157
IU
|
Vitamin C:
27
mg
|
Calcium:
55
mg
|
Iron:
0.5
mg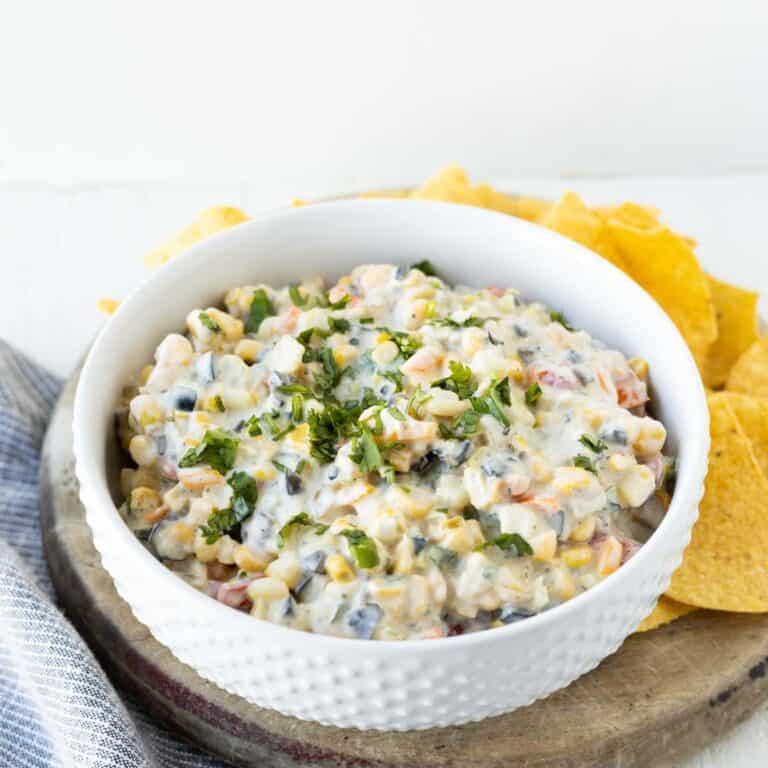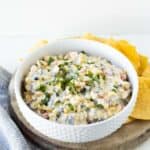 tried this recipe?
Make sure to share it with me! Leave a review or tag me on Instagram