Fiesta Corn Dip is a super addicting appetizer that is loaded with fun flavors! It's extra cheesy, a little spicy, and it's always a favorite!
Before we get to the Fiesta Corn Dip, I have to show you what's happening around here!
My fourth grader just started playing football. Is there anything cuter than a little fourth grader playing football? It's the best when they are little and so excited. He can't wait to tackle somebody. Although he is a little nervous because he is not sure who he is supposed to tackle. Thank goodness for Grid Kid coaches who teach little players.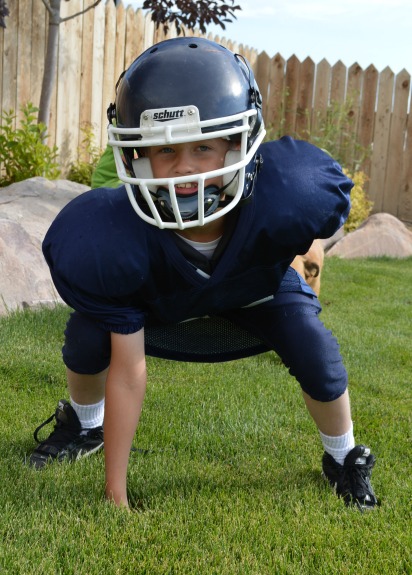 Having early morning (leave my house at 5:30 a.m.) football practice makes me think about football food. It's never too early to start planning your football parties. This Fiesta Corn Dip is the perfect thing to eat while watching the big game. It's a little spicy, but not too spicy. And a lot cheesy. You will love it, and so will the football fans in your house!!
Here's the way we do this. Dice 1/4 of an onion. (I would use 1/2 except the wimpy men in my family can't handle it).
Sautee it in some butter until tender.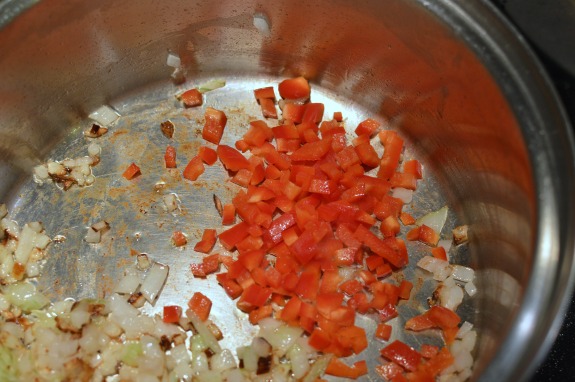 Add diced red pepper and sauté until onion and peppers have some nice color.
Turn the heat down to medium to low. Add 4 ounces of cream cheese and a big scoop of sour cream. That's how I usually measure sour cream, no extra dirty dishes around here. Stir until cream cheese and sour cream are soft and melted.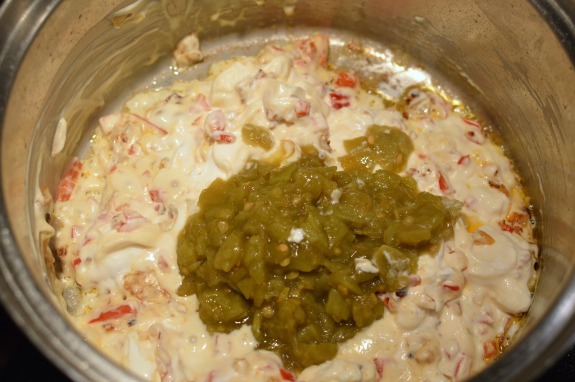 Add an undrained can of diced green chili's. Once again my wimpy men insist on mild. Use whatever heat your men are man enough to handle. Stir it all together to combine.
Add salt, pepper, garlic powder and hot sauce. Stir it up.
Add lots of cheese and stir until melted.
Add corn and stir.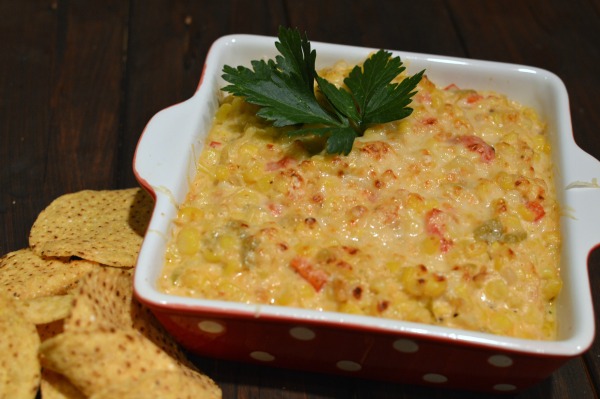 Pour in a greased baking dish. Top with grated Parmesan Cheese. Broil until the top is browned. Serve warm with tortilla chips.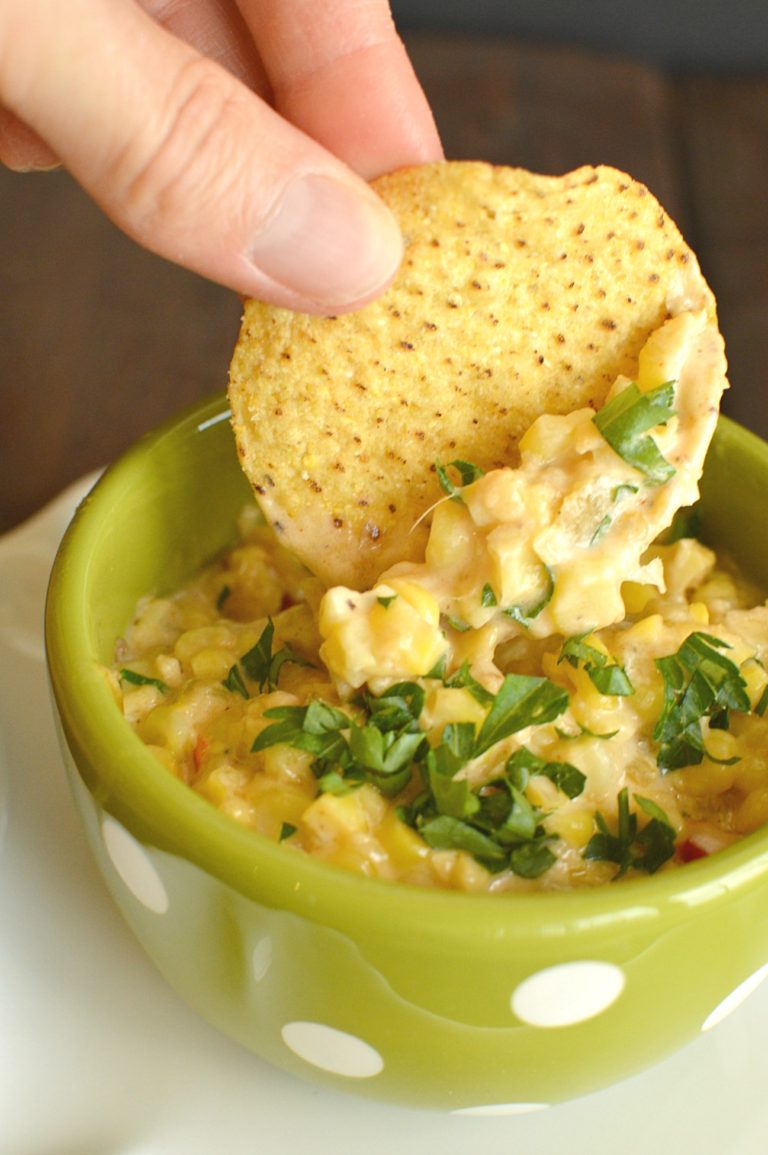 Note: This can be made ahead. Put in greased pan, top with Parmesan Cheese and cover with foil. Bake at 350 degrees for about 20-30 minutes or until warm through and bubbly. Broil until cheese is golden brown.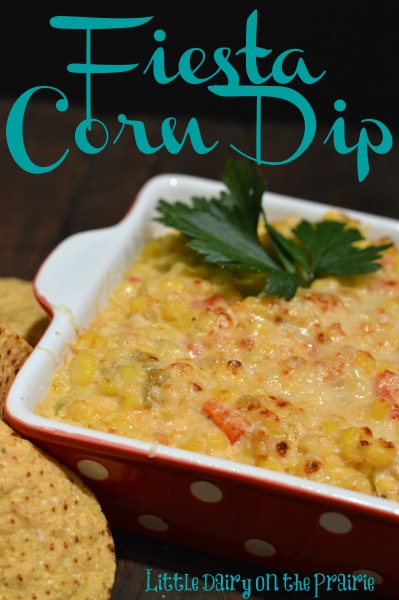 Fiesta Corn Dip
Fiesta Corn Dip is a little spicy and a lot cheesy!! It's fantastic with corn chips. One of my favorites to eat while watching a football game.
Ingredients
2

T

butter

1/2

onion

diced

1/2

red pepper

diced

1 4

oz.

can diced green chili's

1/2

cup

sour cream

4

oz.

cream cheese

1

tsp.

salt

1/2

tsp.

pepper

1/2

tsp.. garlic powder

Hot Sauce

to taste

1

cup

cheddar cheese

1/2

cup

grated Parmesan Cheese

divided

3

cups

fresh or frozen corn

Cilantro for garnish

optional

Tortilla chips for serving
Instructions
In sauce pan melt butter. Sautee onions over medium-medium high heat, until tender. About 5 minutes.

Add red pepper and Sautee until onions and peppers have a nice golden color.

Turn heat down to medium-low. Add cream cheese and sour cream. Stir until melted and combined.

Add undrained green chili's, salt, pepper and garlic powder. Add hot sauce to taste. (I used about 5 dashes.) Stir all together to combine.

Add grated cheddar cheese and 1/4 cup Parmesan cheese. Stir until melted.

Add fresh or frozen corn, stir to combine.

Grease a baking dish. Pour corn dip in dish. Top with additional Parmesan Cheese.

Broil until cheese is golden brown. (This can be made ahead. Just refrigerate until you are ready to bake. Bake at 350 degrees until bubbly, about 25 minutes. Then broil for a few minutes to brown cheese)

Garnish with cilantro. Serve with tortilla chips.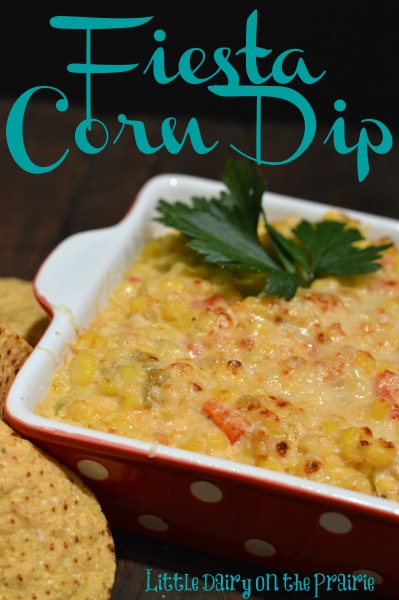 tried this recipe?
Make sure to share it with me! Leave a review or tag me on Instagram