This ranger cookie recipe (also called Cowboy Cookies) is the best chocolate chip cookie with oats, cornflakes, and coconut! You'll love the chewy texture on the inside and the crispy edges!
If one of your favorite things is making a batch of homemade cookies at least once a week as I do, be sure to check out these cookie recipes; Snickerdoodle Cookies, Peanut Butter Chocolate Chip Cookies, and M&M Sugar Cookies!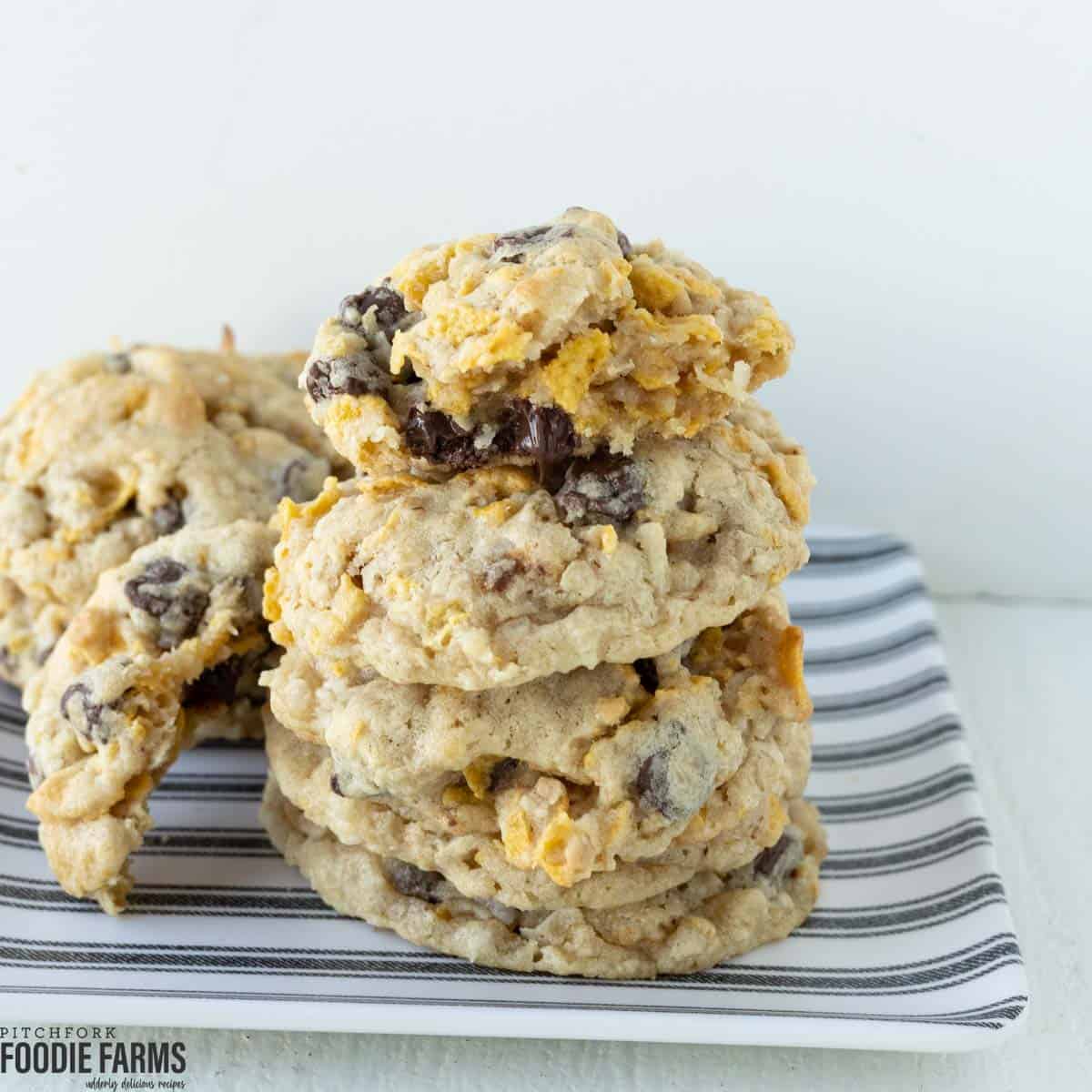 This post was originally published in 2013 and updated in 2023 with new images and tips.
My boys LOVE Ranger Cookies! I'm not sure if they fell in love with the name or the cookies first! They've been cowboys/farmboys since they were born and a cookie with the name "Ranger Cookies" seems to just fit!
Ranger cookies are delicious oatmeal-based cookies that typically include ingredients like oats, shredded coconut, crispy rice cereal or corn flakes, and sometimes nuts or raisins. They are known for their unique texture, combining chewiness from the oats with a crispy crunch from the added cereal.
Ranger Cookies vs. Cowboy Cookies
What is the difference between ranger cookies and cowboy cookies anyway? Or, is there a difference?
Ingredients: While both cookies typically contain oats as a base ingredient, the additional ingredients can vary. Ranger cookies commonly include shredded coconut and crispy rice cereal or corn flakes, which contribute to their unique texture and flavor. On the other hand, Cowboy cookies often feature ingredients like chocolate chips, chopped nuts (such as pecans or walnuts), and sometimes even raisins.
Origins: The names "Ranger cookies" and "Cowboy cookies" reflect their different regional associations. Ranger cookies, sometimes called Lone Ranger Cookie, are believed to have originated in the United States, with the term "Ranger" potentially referring to the Texas Rangers, a famous law enforcement agency. These cookies were often prepared as portable snacks for long journeys or outdoor activities. Cowboy cookies, on the other hand, are closely associated with the American West and cowboy culture. They were traditionally made as hearty treats for cowboys during their arduous adventures on the range.
Flavor and Texture: Ranger cookies tend to have a combination of textures, thanks to the addition of crispy rice cereal or corn flakes. The shredded coconut adds a tropical touch and a slightly chewy texture. Cowboy cookies, with their inclusion of chocolate chips and nuts, offer a richer, nutty flavor with occasional bursts of chocolatey goodness.
Why This Recipe Works
I've made at least one batch of cookies a week for the last 25 years! These cookies are on regular rotation around here because they always turn out and they're easy to make! There isn't anything tricky or fancy about this recipe. They're simply the best ranger cookies I've made!
Quick and easy! You don't need to chill the dough or mess with any fussy steps. Simply mix the dough and bake the cookies!
Customizable! It's easy to swap the add-ins for other candies or the kind of cereal that you love, or that you have on hand! They can be made into huge cookies for Texas Ranger Cookies or smaller.
The perfect texture! Adding oats and cornflakes gives these cookies a soft and chewy center. Yet, they have that irresistible crunchy and crispy edges! These delicious cookies are loaded with texture and flavor!
Ingredients
Scroll to the bottom of the post to see the recipe card with a complete list of ingredients and instructions.
Although you'll need simple ingredients let's go over the list. I want to share ideas for substituting certain ingredients just in case you don't have them on hand. Who wants to have to run to the grocery store to make cookies?
Butter: Salted or unsalted. No substitutes. Butter gives the cookies the best flavor and texture.
Sugar: Granulated sugar and either light or dark brown sugar
Eggs: Use whole eggs. I haven't tested with egg substitutes.
Vanilla: Use real vanilla extract
Kosher salt: I love using Kosher salt because it has bigger flakes of salt than table salt and adds a pop of savory salt to offset the sweetness of the cookies. However, you can use regular table salt if that's what you have. Use 3/4 a teaspoon instead of 1 teaspoon.
Baking soda and baking powder
All Purpose Flour
Oats: Quick oats are my favorite because they are ground a little finer than old-fashioned oats or steel-cut oats. You'll still get a chewy cookie, but it won't have big chunks of oatmeal.
Coconut: I use sweetened shredded coconut. You can also use unsweetened.
Cornflakes: You can use other types of cereal if you don't have corn flakes. Rice krispies, corn Chex, and frosted flakes are all great options. I prefer ranger cookies with corn flakes. Check out my chocolate chip rice krispie cookies recipe, too!
Chocolate chips: Semi-sweet, milk chocolate, butterscotch chips, white chocolate chips, peanut butter chips, or M&M candies are perfect. Adding chopped nuts such as walnuts or pecans are delicious too. Some people like raisins.
How to Make Ranger Cookies
Let's walk through how to make these easy ranger cookies!
You don't need any special equipment. I use a stand mixer, but you can use a hand mixer.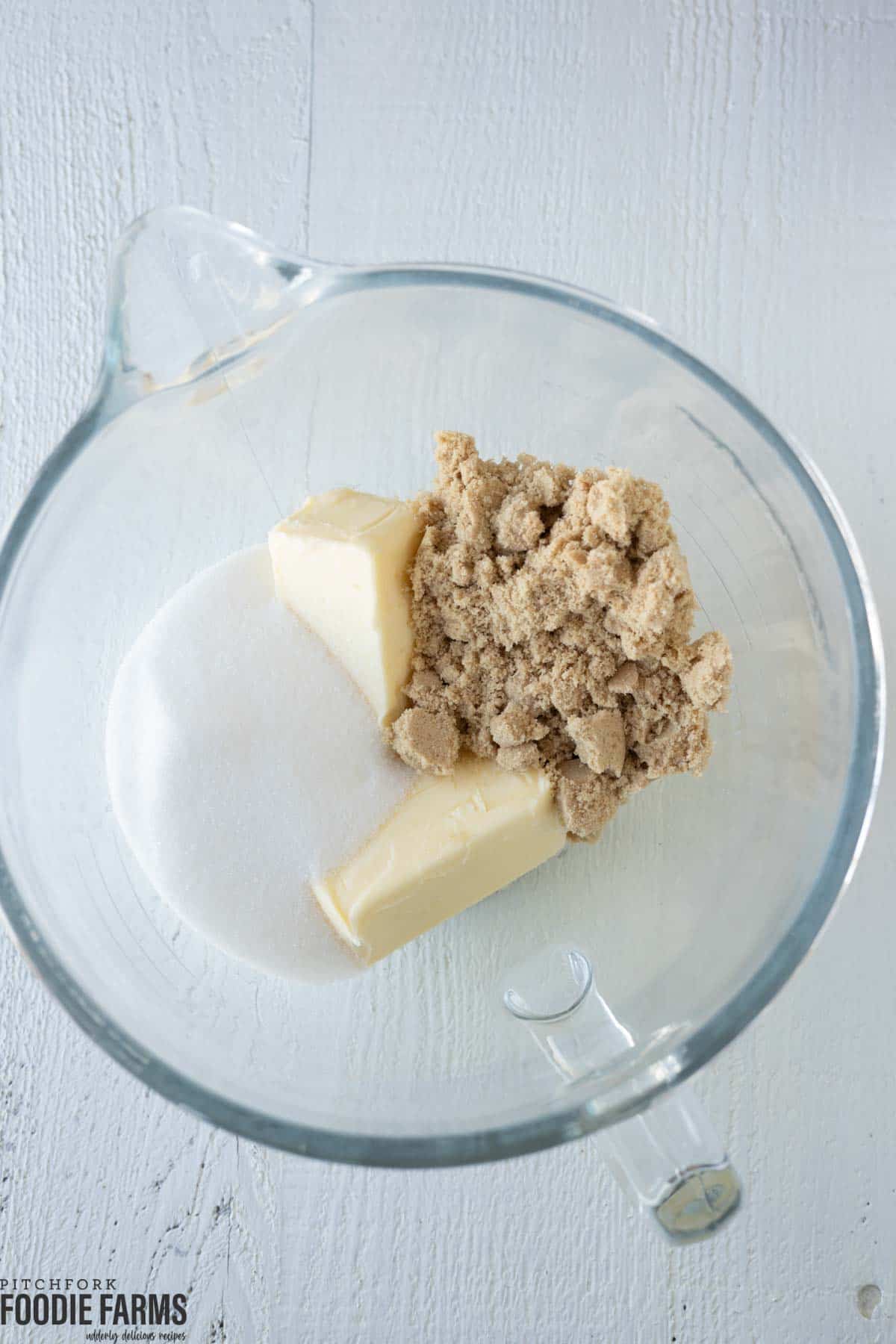 Step 1: Cream butter and sugars. Add butter and sugars to a large bowl for an electric mixer. Using a paddle attachment, beat on medium speed until light and fluffy, about 2 minutes.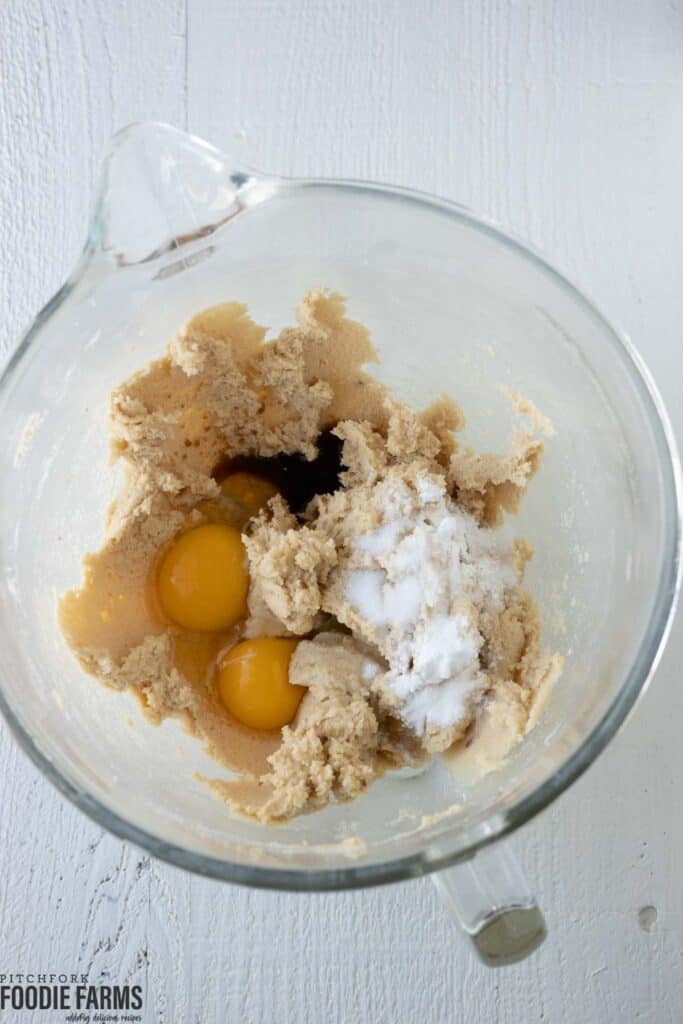 Step 2: Add eggs, vanilla, salt, baking powder, and baking soda to the mixing bowl. Beat until light and fluffy. About 2 more minutes.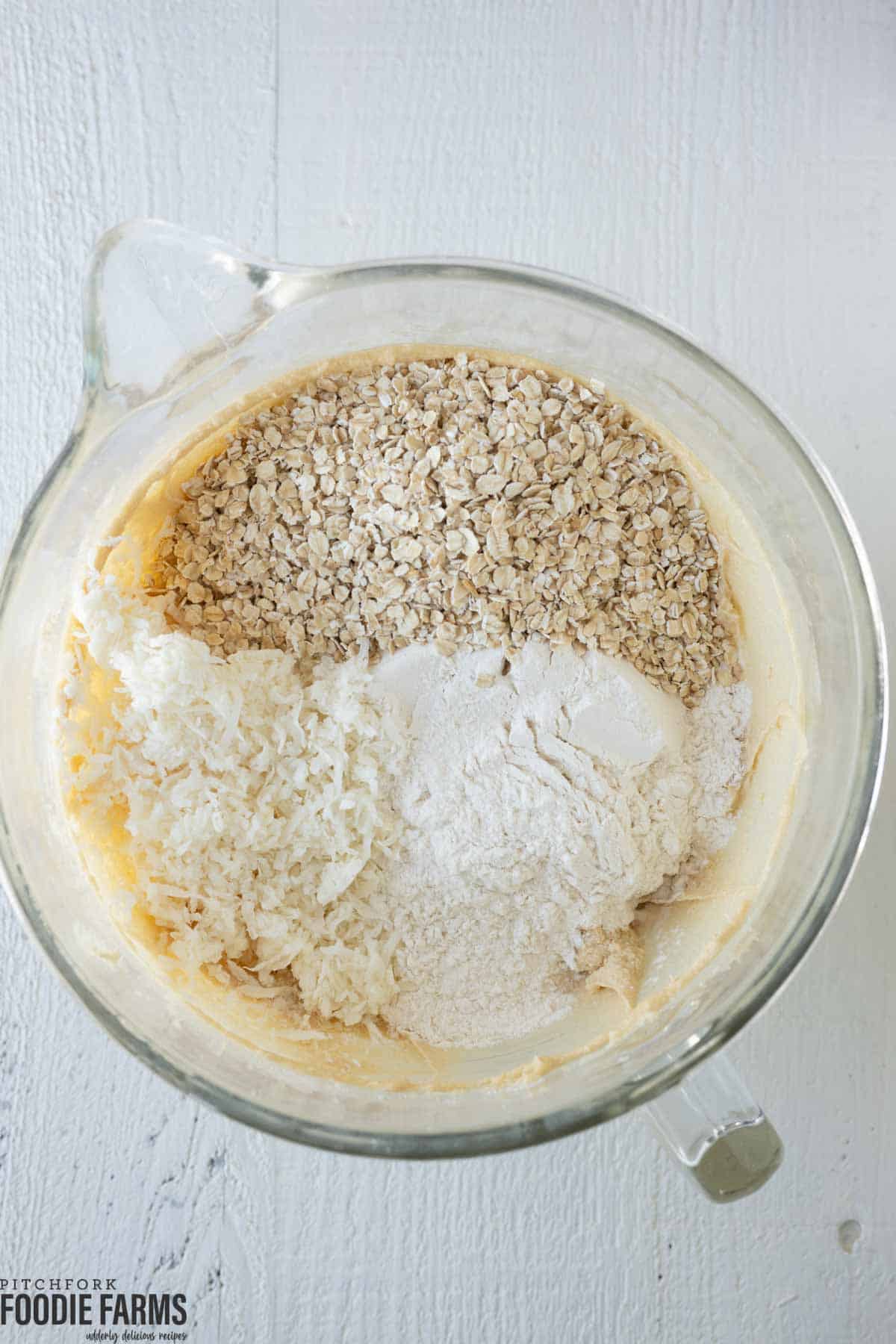 Step 3: Add all-purpose flour, coconut flakes, and oats. Mix just until incorporated. Overmixing will create tough cookies.
Step 4: Stir in chocolate chips and cornflakes. I prefer to stir the chocolate chips and cornflakes in by hand so I don't smash the cereal. You can use the electric mixer if you'd like, just be careful not to overmix.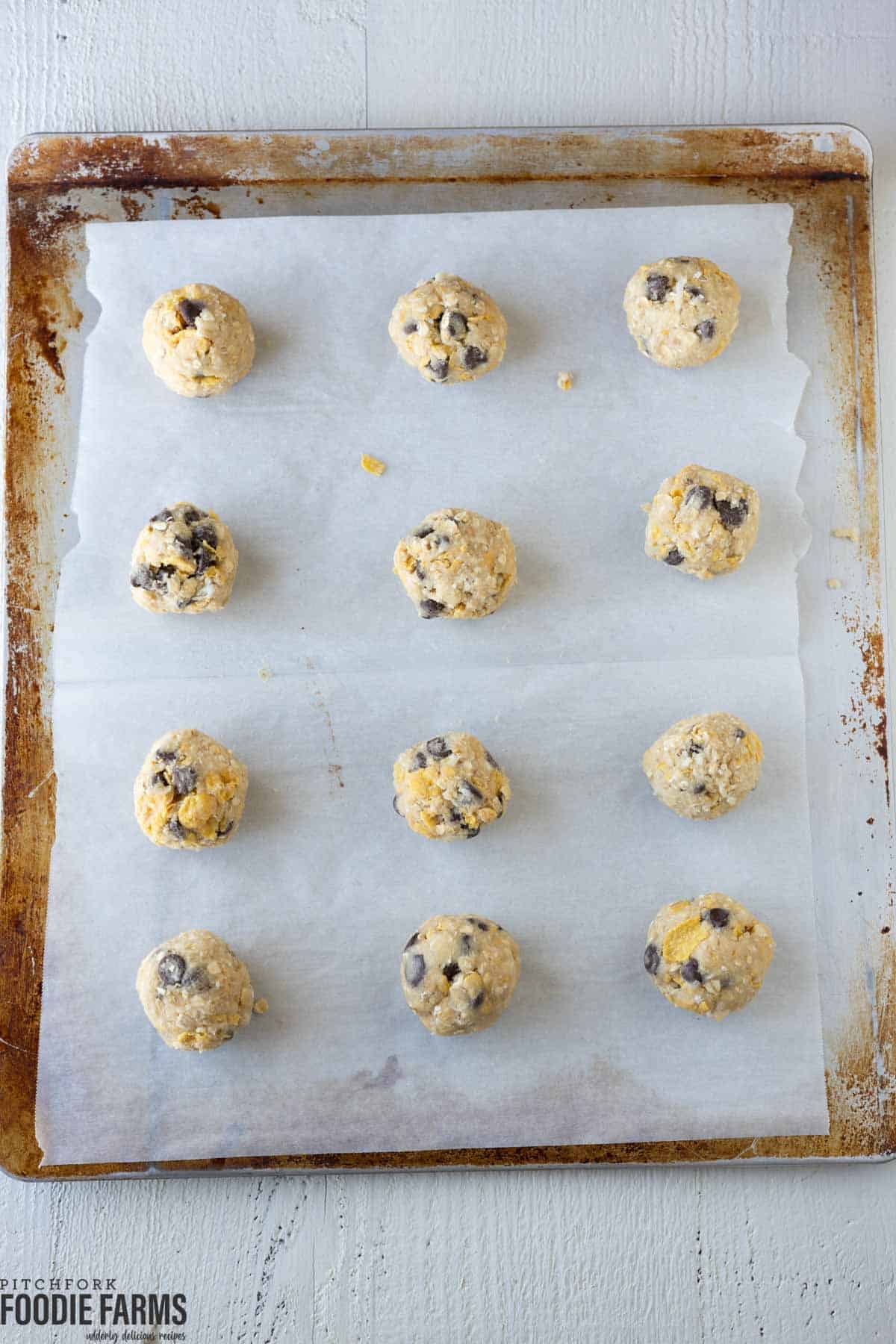 Step 5: Drop dough on a parchment paper lined cookie sheet using a medium-sized cookie scoop.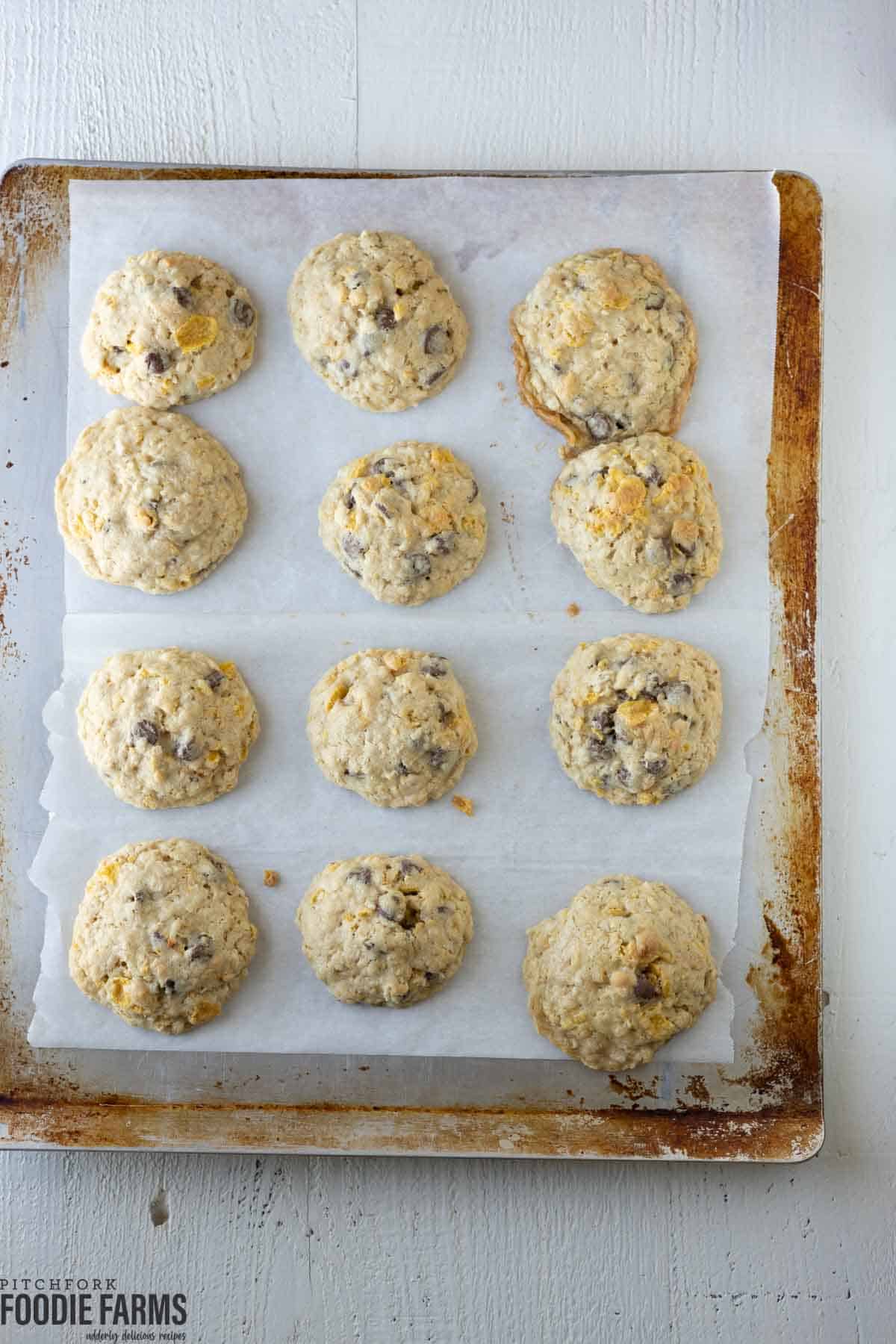 Step 6: Bake at 375 degrees for 8-10 minutes. The cookies will be golden brown but still be a little bit jiggly and look undercooked in the middle. That's okay! Let them sit on the baking sheets for a few minutes to finish cooking.
Step 7: Remove to a wire rack to finish cooling.
I'm all about saving steps! You can definitely add the dry ingredients to a medium bowl and stir together then add the flour mixture to the cookies all at once. But, I've found that adding the baking soda, baking powder, and salt to the creamed butter helps them to get incorporated into the dough without having to get another bowl dirty!
Expert Tips
Crush the cornflake a little bit before adding to the dough for a less chewy texture.
Line a baking sheet with parchment paper for easy cleanup.
For best results, use a cookie scoop to make sure the cookies are all the same size. They will bake evenly if they are uniform in size.
Don't overbake the cookies! You don't want dry cookies! They'll still be a bit wiggly and shiny on the top and that's okay! They're going to bake a little bit more after they come out of the oven while they sit on the hot baking sheet.
Storage:
Room temperature: To maintain their freshness, store Ranger cookies in an airtight container at room temperature. If you live in a humid climate, you can place a piece of bread in the container to help absorb excess moisture and keep the cookies from becoming stale.
Freezer: Ranger cookies can be frozen for longer-term storage. Place completely cooled cookies in a freezer-safe container or zip-top bag, separating the layers with parchment paper or wax paper to prevent sticking. Thaw them at room temperature when you're ready to enjoy them.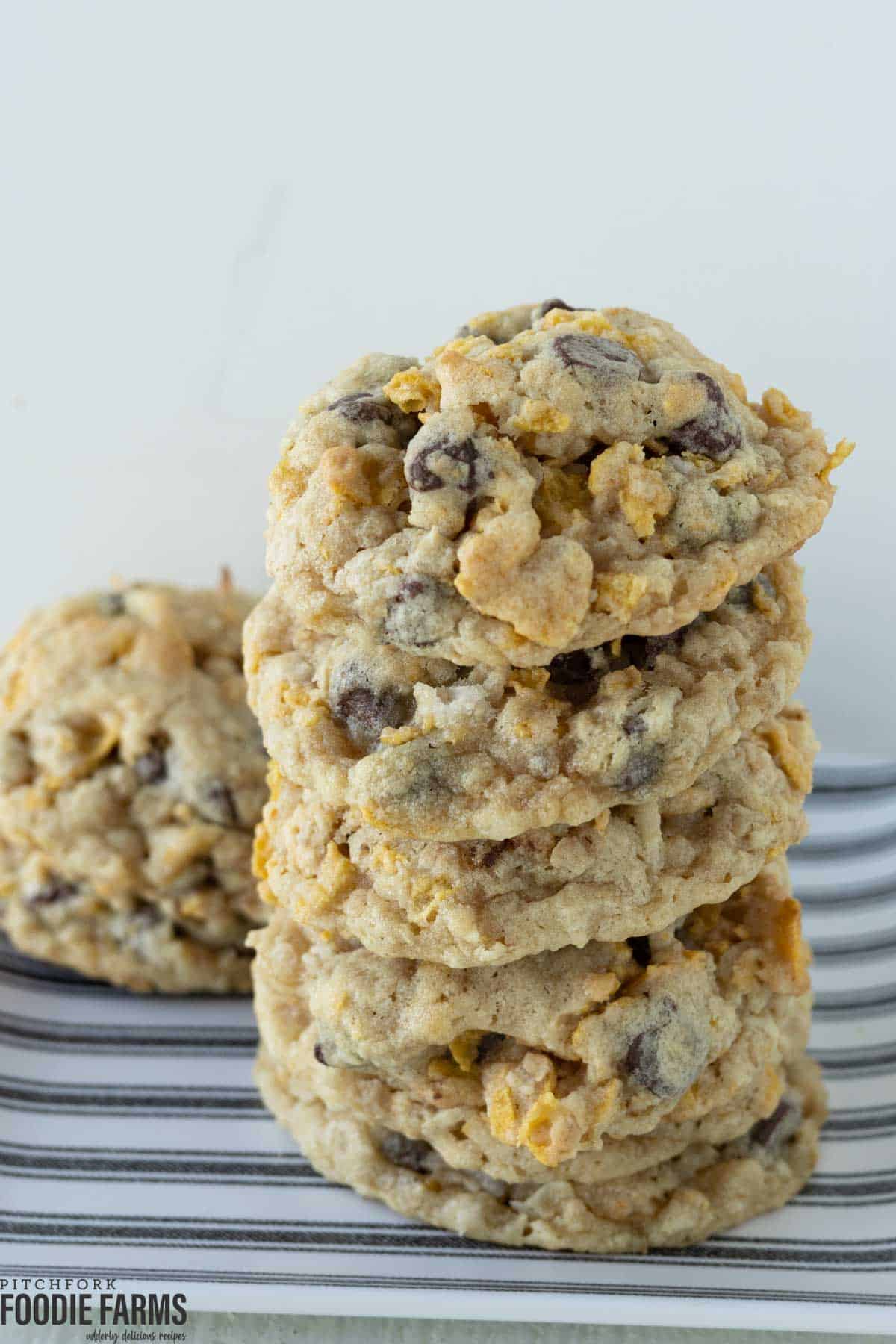 FAQs
Can I customize Ranger cookies with additional ingredients?
Ranger cookies are quite versatile, and you can add your own twist by including ingredients like chocolate chips, chopped nuts, dried fruits, or even spices like cinnamon or nutmeg. Feel free to experiment and tailor the recipe to your taste preferences.
Why are my cookies dry and hard?
Overmixing can cause cookies to be dry and hard. Be sure to only mix until the dry ingredients are combined. It's okay if the cookie dough still has a few streaks. Overbaking will also cause dry and hard cookies. You can soften cookies by adding a piece of bread to the airtight container the cookies are stored in. Or, microwave cookies for a few seconds.
Other Easy Cookie Recipes
Cookies are life! I literally don't think I can survive for one week without them! Here are some other great recipes you need in your life!
Recipe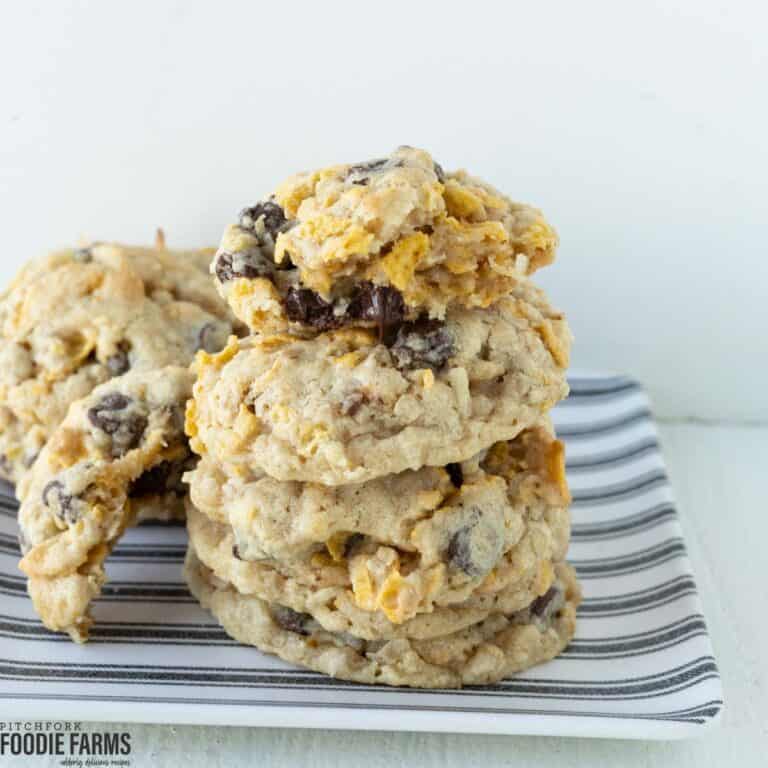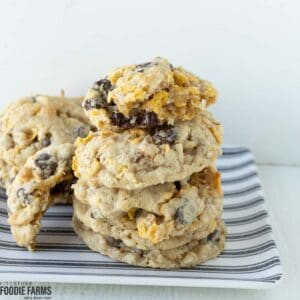 Ranger Cookies with Corn Flakes
These Ranger Cookies are the perfect amount of chewy and crispy. They are quick to make and even faster if your men eat half of the dough.
Ingredients
1

cup

butter

no substitutes

1

cup

brown sugar

1

cup

granulated sugar

2

eggs

2

teaspoon

vanilla

1

teaspoons

Kosher salt

1/2

teaspoons

baking powder

1/2

teaspoons

baking soda

2

cups

flour

2

cups

cornflakes

2

cups

oats

1

cup

shredded coconut

1 1/2

cups

chocolate chips
Instructions
Preheat oven at 375 degrees.

On medium speed, cream together butter and sugars until light and fluffy, about 2 minutes.

Add eggs, vanilla, baking powder, baking soda, and salt. Beat on medium speed until light and fluffy. About 2 minutes.

Add flour, oats, and coconut. Mix just until incorporated.

Stir in the chocolate chips. Then gently, stir cold cereal in by hand, or on low speed with an electric mixer. Overmixing will smash the cornflakes.

Drop on greased or parchment lined cookie sheet. Bake for 8-10 minutes. The cookies should be golden brown, crispy on the edges, and still a little bit jiggly in the center. Let cookies rest on the baking sheet for a couple of minutes then remove to a wire cooling rack to completely cool.
Notes
Variations:
Butterscotch Chips
White Chocolate Chips
Peanut Butter Chips
Add raisins or dried fruit
Use rice cereal instead of cornflakes.
Storage:
Room Temperature: Store cooled cookies in an airtight container for up to 3-4 days. If the cookies start to dry out add a slice of bread to the container.
Freezer: Set cooled cookies in a single layer on a baking sheet. Freeze until firm. Remove to an airtight container or zip top freezer bag.
Nutrition
Calories:
144
kcal
|
Carbohydrates:
21
g
|
Protein:
2
g
|
Fat:
6
g
|
Saturated Fat:
4
g
|
Polyunsaturated Fat:
0.3
g
|
Monounsaturated Fat:
1
g
|
Trans Fat:
0.2
g
|
Cholesterol:
18
mg
|
Sodium:
165
mg
|
Potassium:
36
mg
|
Fiber:
1
g
|
Sugar:
13
g
|
Vitamin A:
162
IU
|
Vitamin C:
0.3
mg
|
Calcium:
18
mg
|
Iron:
1
mg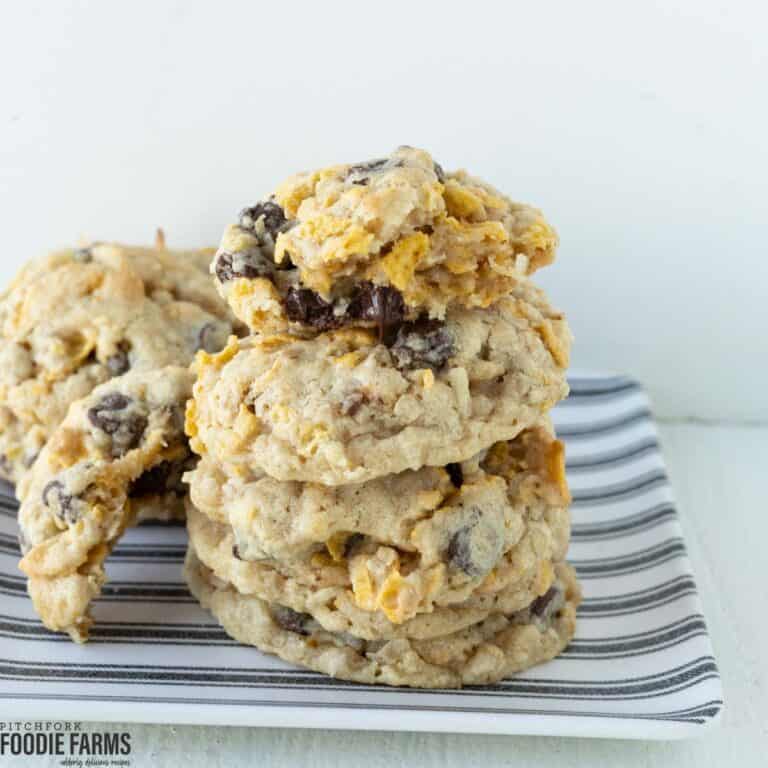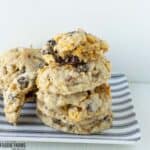 tried this recipe?
Make sure to share it with me! Leave a review or tag me on Instagram