Our sugar cookies with m&ms is sure to be a hit with everyone who tries it. With simple ingredients and easy-to-follow instructions, you'll be enjoying these delicious cookies in no time. So why wait? Whip up a batch today and indulge in the ultimate sweet treat! This is a soft and thick sugar cookie recipe that's packed with colorful M&M candies!
I LOVE holiday-themed food! I'm also in love with sugar cookies, but hardly ever have time for rolling, cutting, frosting, and decorating sugar cookies. Making this sugar cookies with mms recipe is the answer!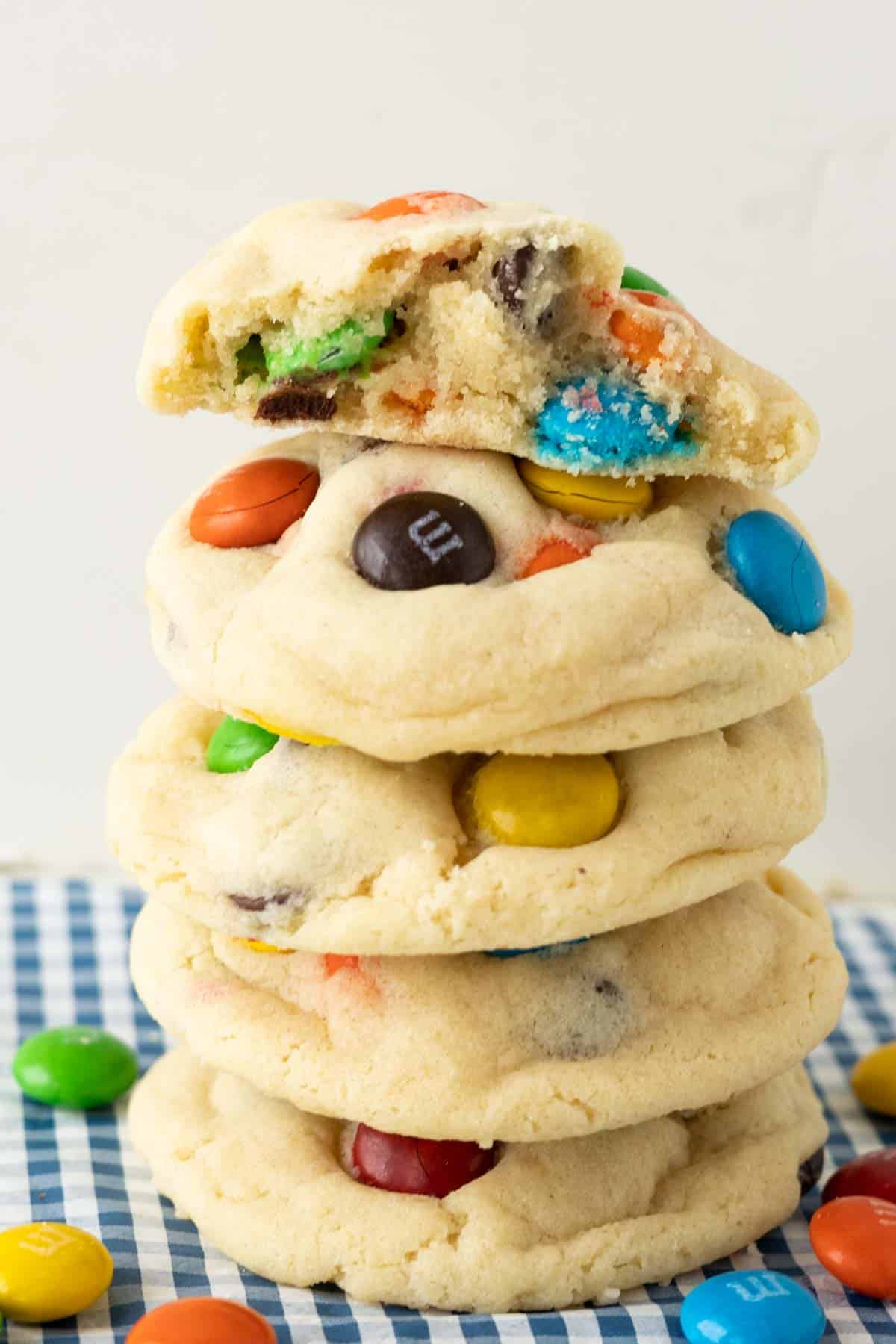 This post was originally written in 2014 and updated in 2023 to include new tips and images. The original recipe was a great recipe, but I slightly changed it to improve the texture of the cookies so they are perfect cookies!
These M&M sugar cookies are a drop cookie recipe, which means all you have to do is mix the cookie dough, drop the cookies on a baking sheet, and bake. No cookie cutters or icing involved!
This favorite cookie is basically the best of chocolate chip cookies and sugar cookies all combined in one amazing recipe!
Get festive and add red, white, and blue for the 4th of July, pastel Easter M&Ms, or red and green candies for Christmas! Sugar cookies with M&Ms are perfect for celebrating any holiday season or birthday party. Or, use plain old milk chocolate M&Ms for everyday cookies! There's nothing wrong with that!
Why This Recipe Works
Simple ingredients you most likely already have in your pantry.
No chilling time is needed. Mix, scoop, and bake!
Customizable cookies are the best! Switch up the M&Ms to match the holiday. Christmas, Easter, Halloween, and Fourth of July are all fun versions!
They taste amazing thanks to the combination of the classic sugar cookie with colorful and crunchy M&M candies! These cookies have a unique flavor and texture that's irresistible! They have soft centers and crisp edges!
What You'll Need
Butter: I'm a die-hard real butter fan! Probably because my family owns a dairy farm, but also because it simply tastes the BEST! Salted or unsalted butter either will work in this recipe. This image shows shortening. You can use shortening, but after testing this cookie recipe with all butter and using half butter and half shortening I definitely prefer it with all butter. The cookies have a buttery rich flavor!
Granulated Sugar: Most sugar cookie recipes don't have brown sugar, although most m&m cookie recipes do include brown sugar. Adding brown sugar makes them taste more like a chocolate chip cookie. This recipe definitely tastes more like classic sugar cookies.
Wet Ingredients: Whole eggs, vanilla extract, and almond extract. I use real vanilla and almond extract instead of imitation. It's worth the extra money because it has better flavor.
Dry Ingredients: All-purpose flour, baking powder, baking soda, cream of tartar, and salt
Candy Add-ins: I like using traditional milk chocolate M&M's. You could use any flavor of M&M you'd like. You can use mini M&M candies, too. Chopped candy bars also work great. I like adding semi-sweet chocolate chips too.
I forgot to add eggs to this image! You WILL need eggs!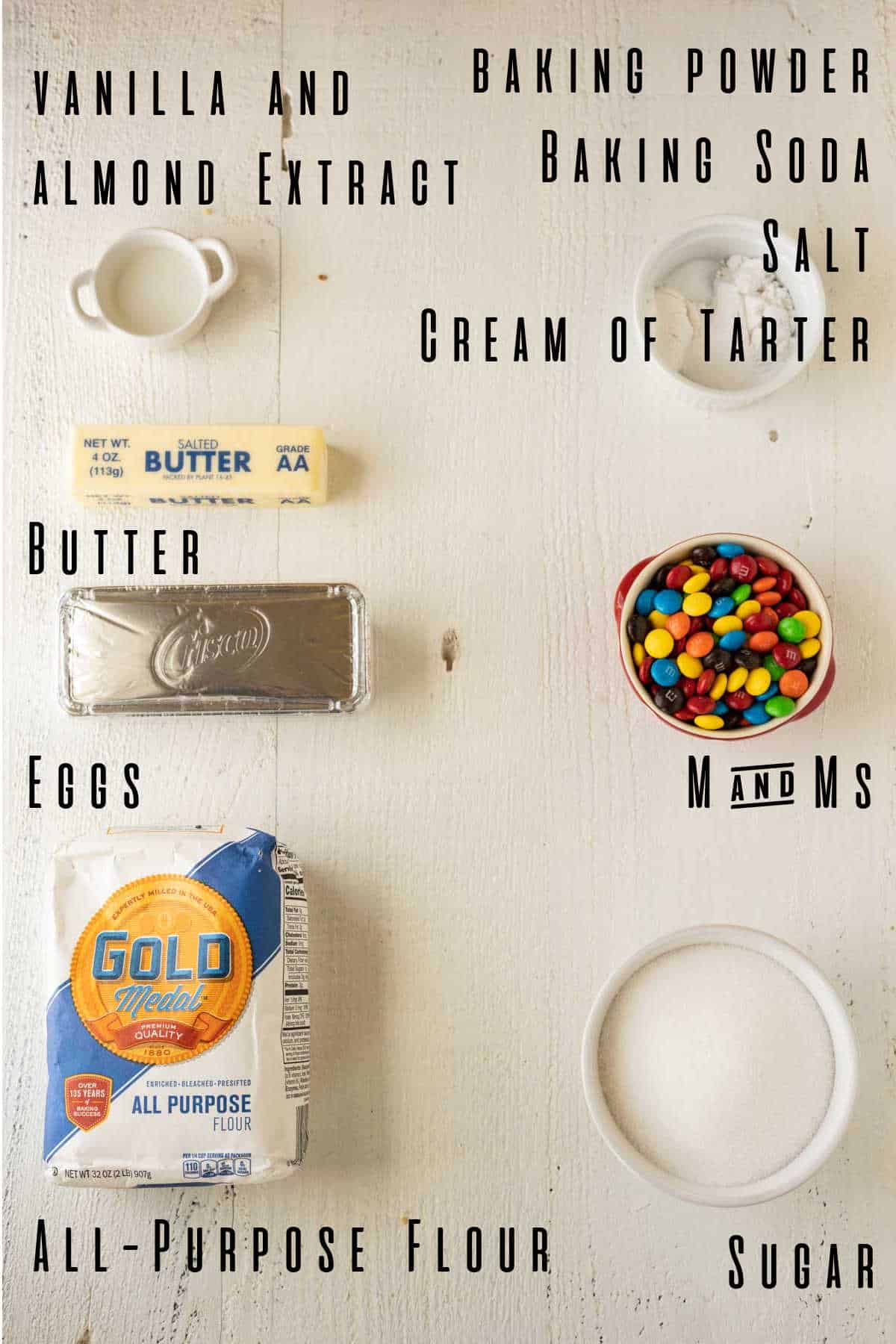 How To Make M&M Sugar Cookies
This m&m cookie recipe is really simple to make! Let's walk through it! Scroll to the bottom for the full recipe!
Preparation: Preheat the oven to 350 degrees. Line the sheet pan with parchment paper or spray the cookie sheet with nonstick spray.
Cream Butter and Sugar: Add room temperature butter and granulated sugar to the bowl of a stand mixer. Or, a large mixing bowl if you're using a handheld electric mixer. Cream on medium speed for 2-3 minutes. It should be light and fluffy.
Add Wet Ingredients and Some Dry Ingredients: Add room-temperature eggs, vanilla extract, almond extract, baking powder, baking soda, cream of tartar, and salt. Mix on medium speed for 2 minutes.
Add Flour: Add flour to the creamed mixture. Mix only until combined. Be careful to not overmix.
Add M&M: Stir in 3/4 of the M&M candies by hand. You don't want to use the stand mixer for this step because it will crush the m and m's.
Drop Cookies: Using a medium-sized cookie scoop drop the cookie dough balls onto the prepared baking sheet. Sprinkle a few of the remaining candies over the tops of the cookies.
Bake: Bake the cookies for 8-10 minutes making sure you don't overbake. They should be soft in the middle when you take them out of the oven. Let rest on the cookie sheet for a couple of minutes, they'll continue to cook while they're on the hot baking sheet. Move to a wire rack to cool.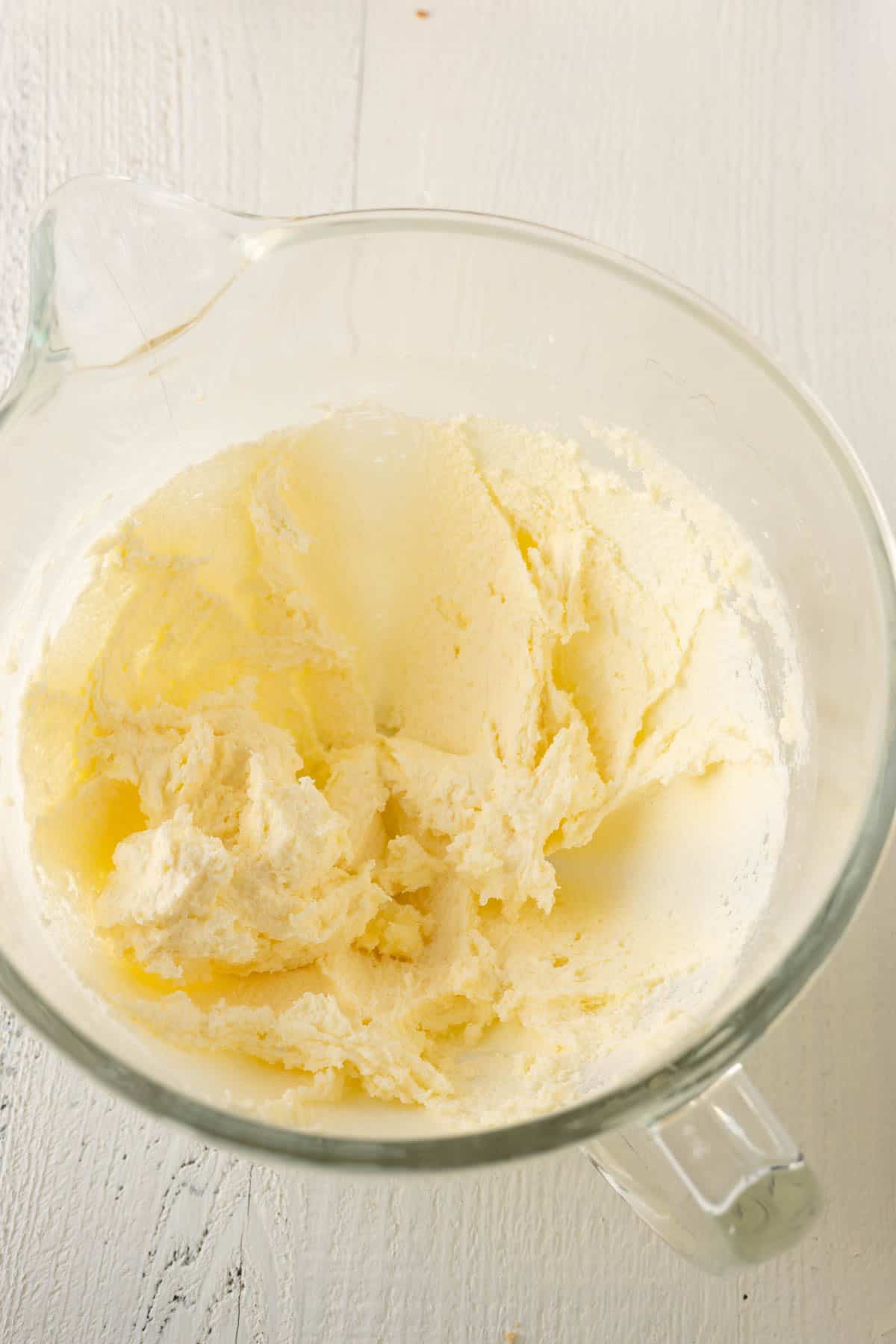 This recipe creates really thick cookies! If you want thinner, chewier cookies gently and slightly flatten the cookies with your hand before baking.
Tips for Success
Use room-temperature butter. It shouldn't be overly soft, but it shouldn't be too firm either. You should be able to slightly indent the butter when pressing it with your finger.
Don't overmix the dough because it creates tough and dense cookies.
Gently fold in the M&Ms so the coating doesn't break off.
Using a cookie scoop ensures that all of the cookies are the same size and bake evenly.
For pretty cookies with M&Ms on the top of the cookie either press candies in the cookie dough balls. Or, drop the cookie dough. Break the balls in half which will expose the M&Ms. Set the inside of the cookie dough ball on top of the other cookie dough ball. So the insides become the outsides!
Don't overbake! These cookies should be crisp on the edges and soft in the center. They won't be the same golden brown color as chocolate chip cookies because they don't have brown sugar in them. They will continue to cook as they sit on the warm baking sheet. So, err on taking them out of the oven too early, rather than overbaking!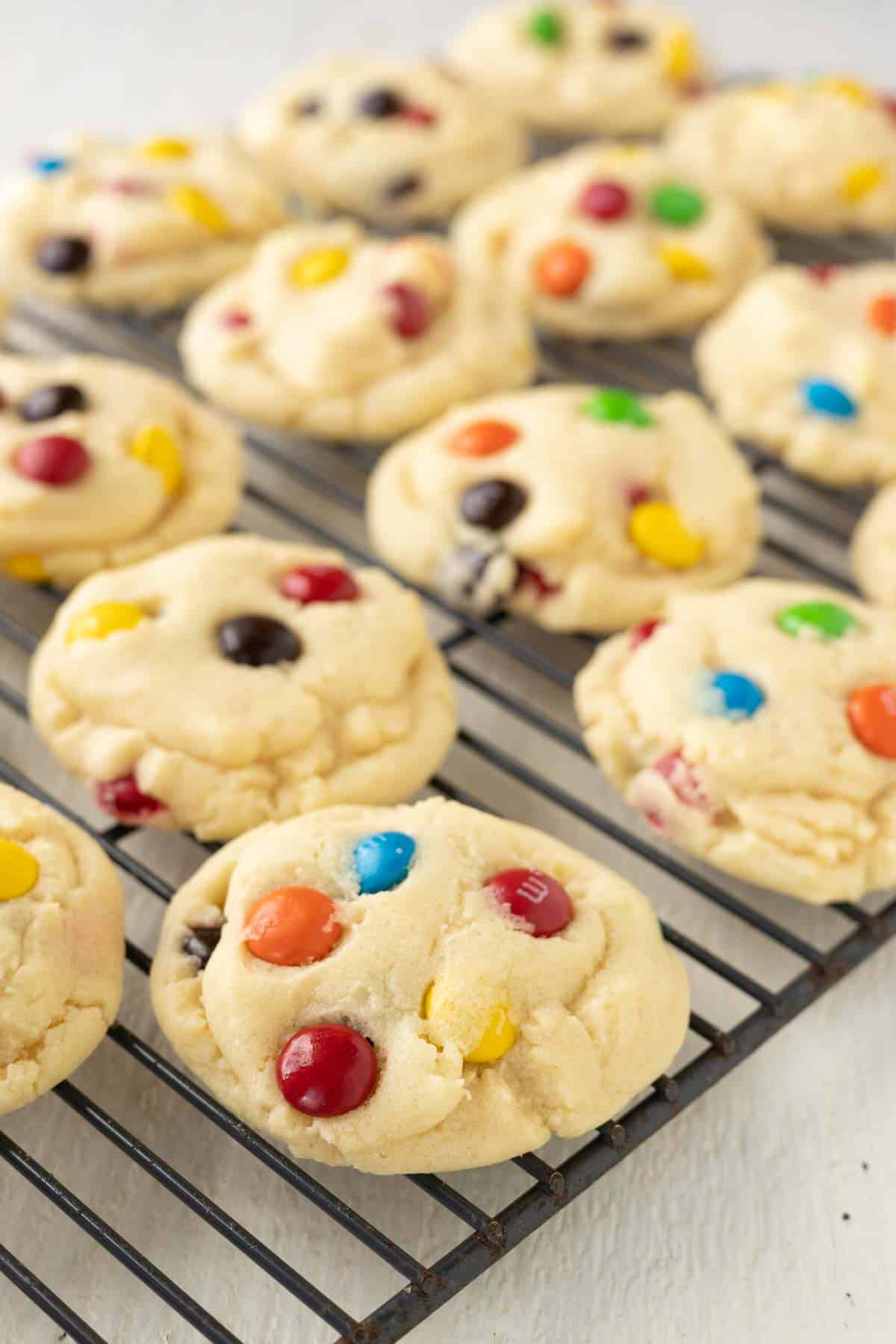 Make Ahead Instructions
I love that these cookies don't have to be chilled before baking. But, if you want to make them ahead of time you totally can!
To Refrigerate Cookie Dough
This works great if you don't have time to mix the dough and bake the cookies all at once. Chilling the dough will create a thicker and softer cookie too.
Mix the dough, but don't add the M&Ms because the pretty colors might bleed into the dough.
Cover the mixing bowl with plastic wrap and refrigerate for up to 24 hours.
Before baking mix in the M&Ms. This will be a bit tricky because the dough will be stiff. I recommend letting the dough sit at room temperature for about an hour before adding the m&ms.
Drop, and bake. If the dough isn't room temperature you will need to increase the baking time a little bit. I'm guessing 2 minutes will be perfect, but it will depend on the size of the cookies, the temperature of the dough, and your oven. You'll need to watch them and take them out of the oven just when they are still a bit wiggly in the center.
To Freeze Cookie Dough
Keeping cookie dough in the freezer is a great way to be prepared for whatever…bake sales, company, or when that craving hits! Cookie dough will keep in the freezer for about 6 weeks!
Mix the cookie dough according to the instructions.
Drop the cookies onto a parchment-lined baking sheet.
Freeze the cookies until they are solid. Remove from the baking sheet and freeze in an airtight freezer container or bag.
To bake cookies, remove them from the freezer and place them on a baking sheet. Either allow the cookies to thaw then bake as directed. Or, bake frozen cookie dough balls at 330 degrees (20 degrees cooler than what is listed in the recipe) and increase the baking time by about 5 minutes.
How to Store Sugar Cookies
Room Temperature: Store completely cooled cookies in an airtight container at room temperature for up to 3-4 days. If the cookies start getting a little bit dry and hard add a slice of bread to the container.
Freezer: Store cooled cookies in an airtight container or freezer ziptop bag for up to 2 months.
Variations
These cookies are amazing as is! But, you can get creative and experiment with add-ins.
Chopped nuts: walnuts and pecans
Mini M&Ms or other flavor M&Ms
Add chocolate chips: semi-sweet, milk chocolate, white chocolate, mini chocolate chips, or mint.
FAQs
Can I add other mixins to my M&M sugar cookies?
You can add other mix-ins to your M&M sugar cookies, such as chopped nuts, dried fruit, or even mini chocolate chips. Be sure the total amount of mixins equals the amount of M&Ms listed in the recipe or the cookies may not hold their shape or texture as well.
Why are my M&M cookies flat?
Cookies flatten when the fat in them is baked. It's important to have the right ratio of flour to fat. Refrigerating the cookie dough before baking helps cookies stay thick. This recipe created thick cookies!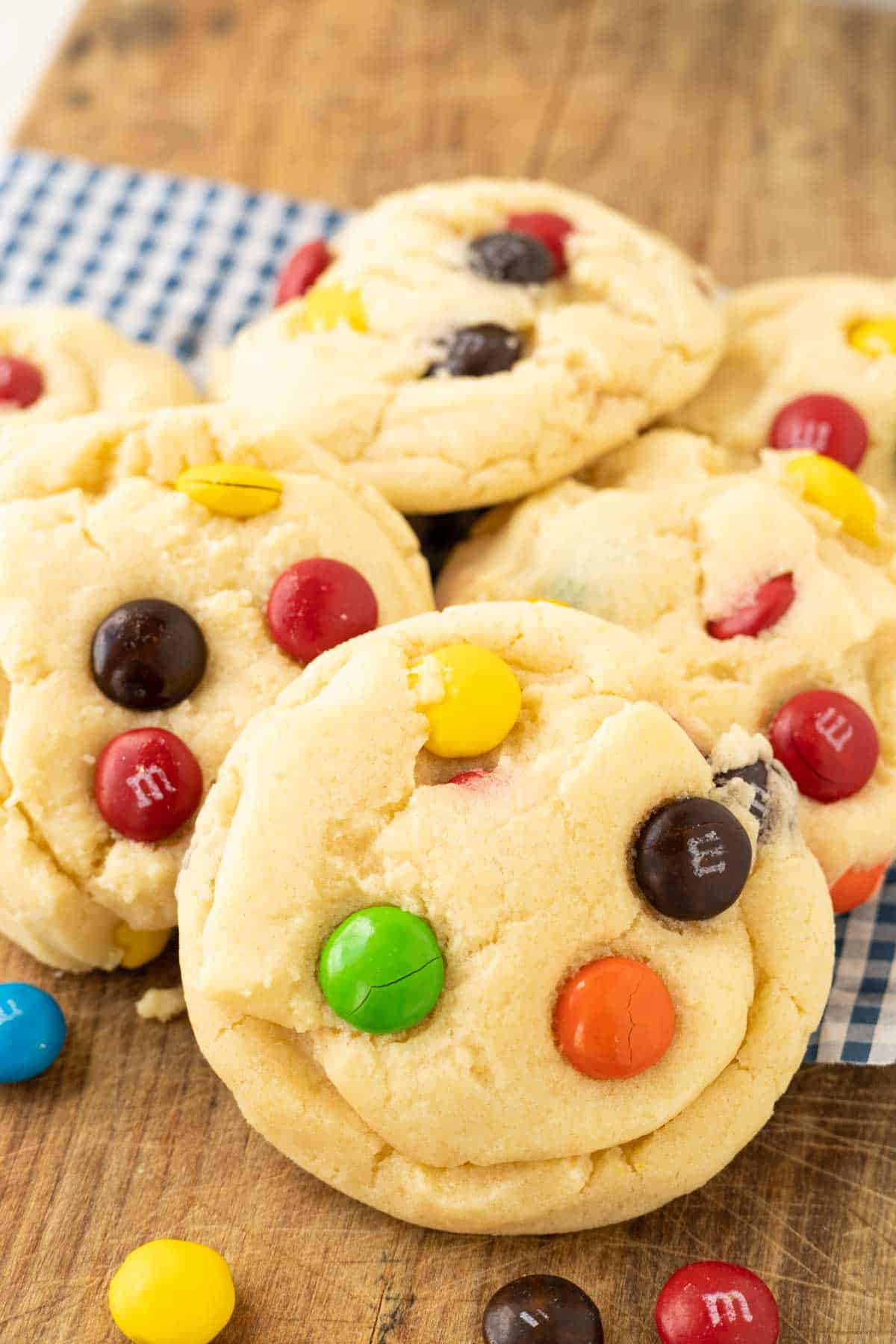 Other Easy Sugar Cookie Recipes
Making easy cookie recipes is probably my favorite dessert in the world to make! Here are a few more delicious sugar cookie recipes to try!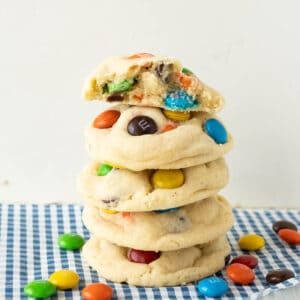 Sugar Cookies with M&Ms
These cookies are soft, thick, and chewy, and packed with colorful M&M candies that add a burst of flavor and texture. Whether you're baking for a party, a holiday, or just for fun, these cookies are sure to be a hit with everyone who tries them.
Ingredients
1

cup

butter

softened

1 1/2

cups

sugar

2

whole

eggs

2

teaspoons

vanilla

2

teaspoons

almond

2

3

cups

flour

2

teaspoon

baking powder

1

teaspoon

baking soda

2

teaspoons

cream of tarter

1/4

teaspoons

salt

1

cup

M&M candies

1

cup

semi-sweet chocolate chips
Instructions
Preheat oven to 350 degrees. Line a baking sheet with parchment paper or grease cookie sheet.

Cream butter and sugar for 3 minutes.

Add eggs, vanilla, almond, baking soda, baking powder, cream of tarter, and salt. Beat 2 more minutes.

Add flour and beat only until combined.

Stir in chocoalte chips and M&Ms.

Use a medium size cookie scoop to drop cookies on the baking sheet. Press extra M&Ms on the tops of the cookies if desired.

Bake for 8-10 minutes being careful to not over bake. Let sit on the baking sheet for a couple of minutes.

Remove to a wire cooling rack to finish cooling.
tried this recipe?
Make sure to share it with me! Leave a review or tag me on Instagram