Healthy peanut butter banana oatmeal cookies are the perfect flourless, eggless, gluten-free cookie! This is a super quick and easy, one-bowl recipe that you can make in about 20 minutes!
Of course, this simple recipe makes a healthy snack or dessert, but we love eating them as breakfast cookies! And who doesn't get excited about cookies for breakfast!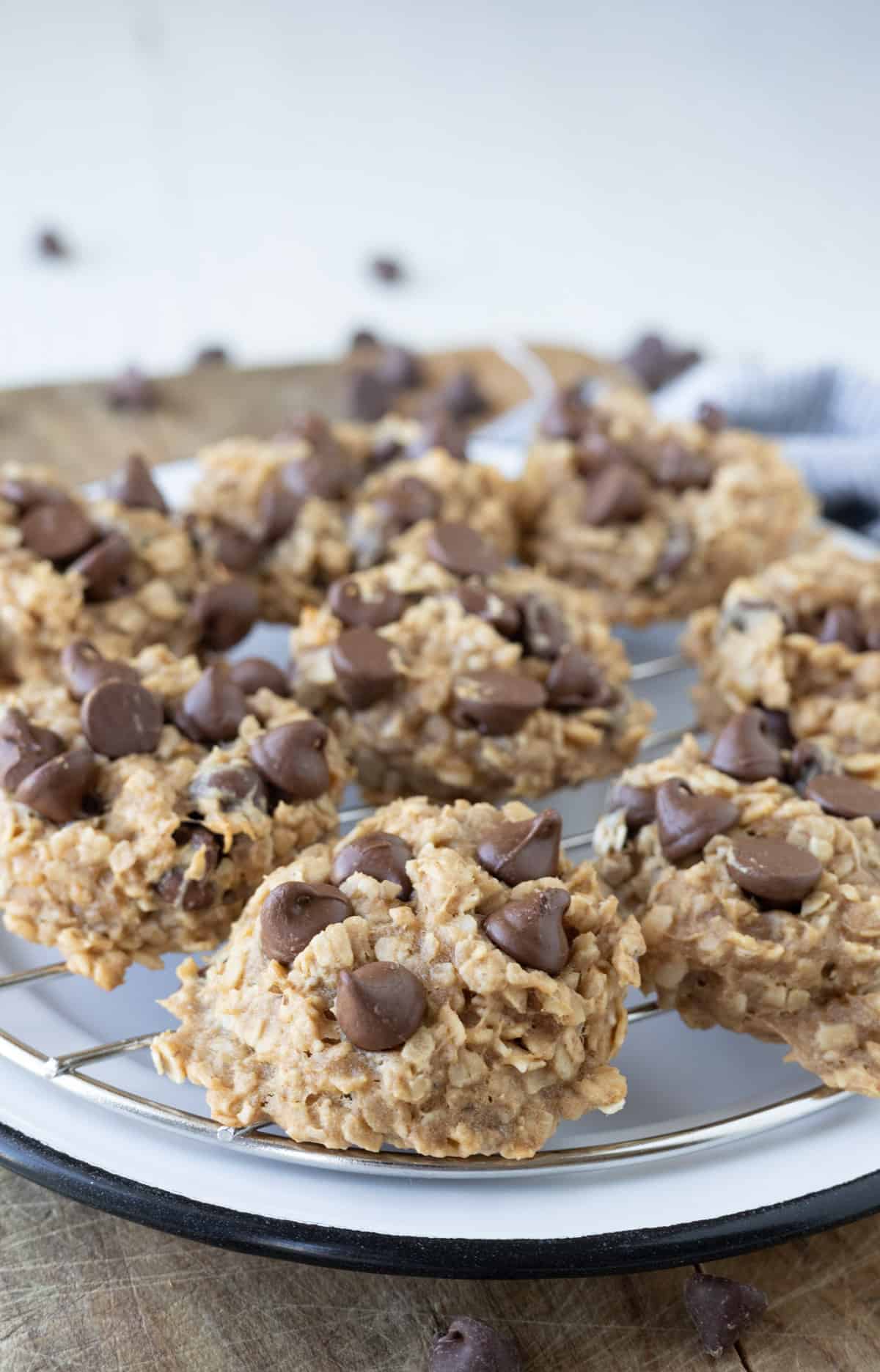 Don't get me wrong, I love traditional decadent cookies like chocolate chip peanut butter cookies, pumpkin oatmeal cookies, chocolate zucchini cookies, butterscotch bar cookies, and snickerdoodles!
There are times when I want a more healthy dessert and can't get cookies out of my head! That's when recipes like banana peanut butter cookies come into play.
These cookies are soft and fat, more like a muffin than a cookie, but they still take care of those cookie cravings.
The best part is that you'd never know they're healthy because they taste AMAZING! I mean really peanut butter and banana are a match made in heaven!
Why You'll Love This:
One bowl! You don't even need an electric mixer to make banana cookies! Grab a bowl, a fork, and a spoon, and you're ready!
No added sugar! The banana naturally sweetens these cookies. I like adding a little bit of honey, but you can leave it out. Obviously, chocolate chips add sugar, but you can leave them out or use no-sugar-added chocolate chips.
Lots of options! Make a small batch, or double the recipe and make a big batch. Add cinnamon, chopped walnuts, raisins, other dried fruit, or pretty much whatever your heart desires!
Ingredients Needed: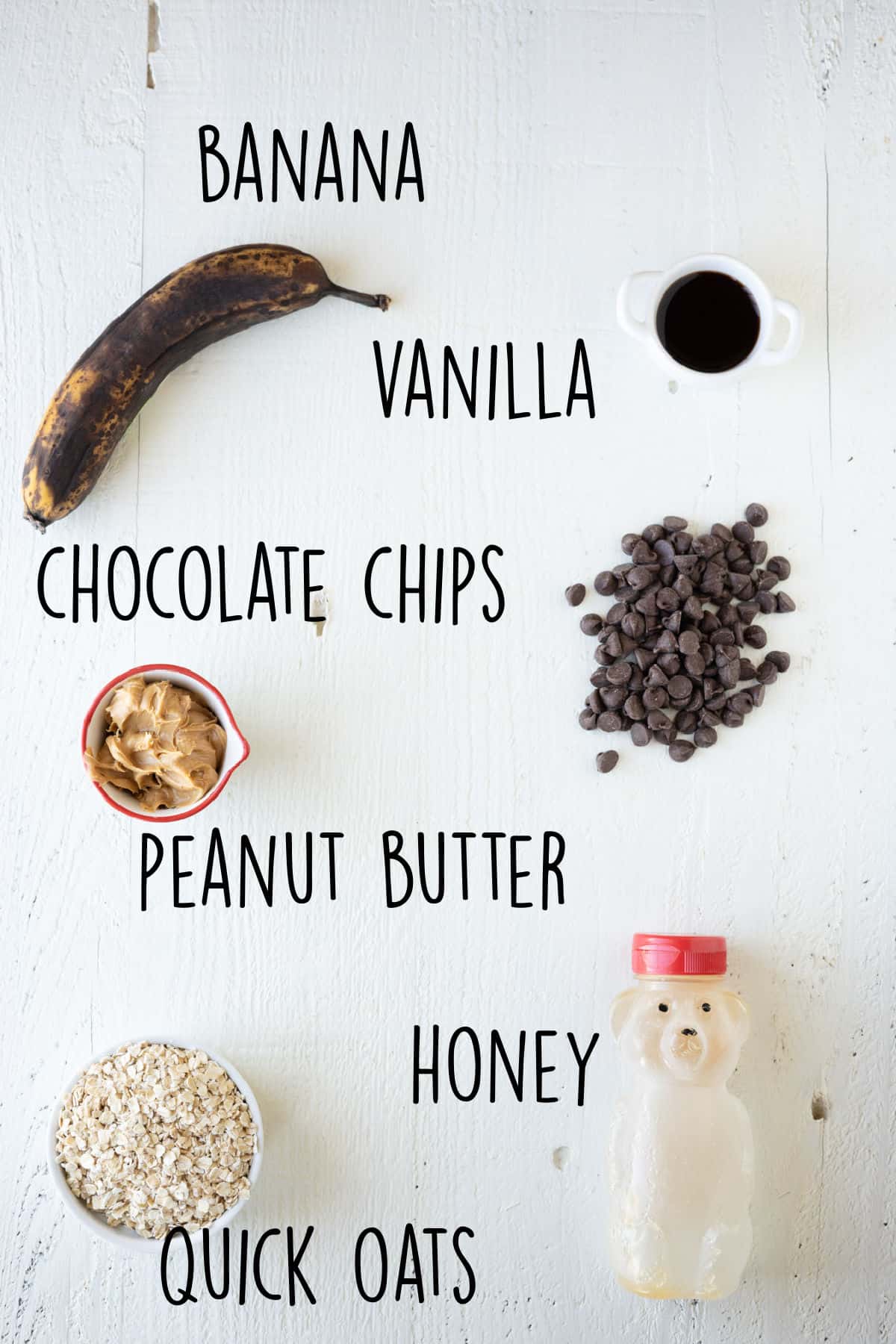 You really only NEED 3-ingredients to make these cookies. I really prefer making them as 5-ingredient cookies because I do love adding a few other things like honey and chocolate chips. See the recipe card below for a complete list of ingredients.
Bananas: Overripe bananas or soft bananas with black spots are the best bananas for baking. They have the perfect texture and are sweeter than bananas that aren't as ripe.
Oats: I always use quick oats because they are fine, have a smooth texture, and are a bit soft. Old-fashioned oats are flat and have a firm texture and will work in these cookies too, but they'll be a bit more chewy. Steel-cut oats are more like chopped grain and will be chewy. Since these cookies are made without flour they're naturally gluten-free, but be sure to use gluten-free certified oats.
Peanut Butter: I typically have traditional peanut butter on hand so that's what I use. I usually buy a brand that doesn't have added sugar or minimal added sugar. You can also use natural peanut butter in this recipe. Be sure to stir it first. This recipe will also work with other nut butters like almond butter, cashew butter, or sunflower seed butter, too.
I really like adding extras to these cookies! A few of my favorites are chopped walnuts, pecans, or peanuts, raisins or other dried fruit, mini chocolate chips, or white chocolate chips. Just be sure all the ingredients you're throwing in add up to 1/4 a cup.
It's also fun to experiment with adding different spices. Cinnamon is a great one to add. You can also use almond or coconut extract instead of vanilla!
How to Make Banana Peanut Butter Cookies:
So easy! They're really isn't much to making these healthy peanut butter banana cookies! Let me share just a few tips and tricks I've learned from making these a million times!
Preheat the oven to 350 degrees. Line a baking sheet with parchment paper. It makes cleanup easy!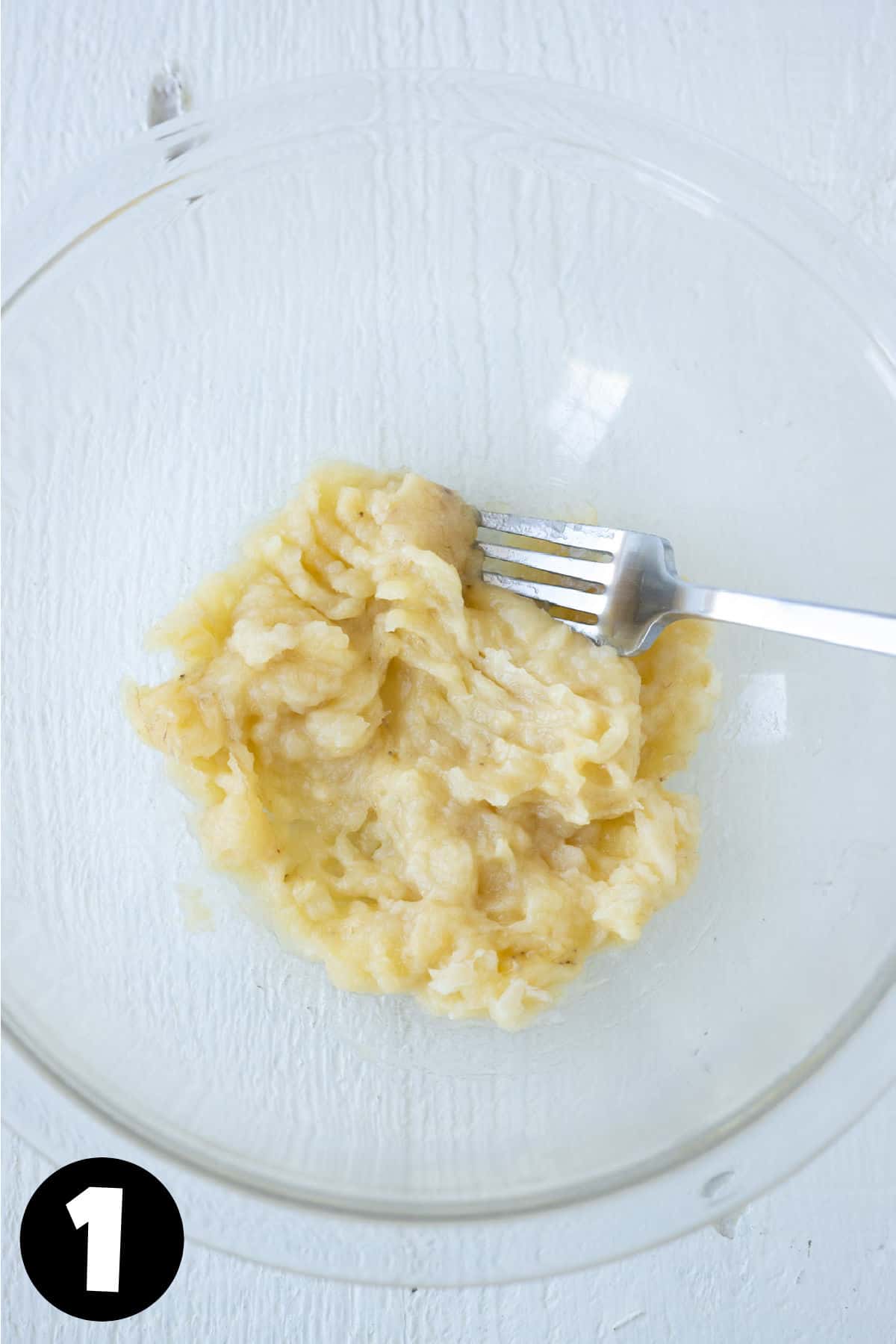 Step 1: Add a banana to a mixing bowl. Mash with a fork until it's smooth.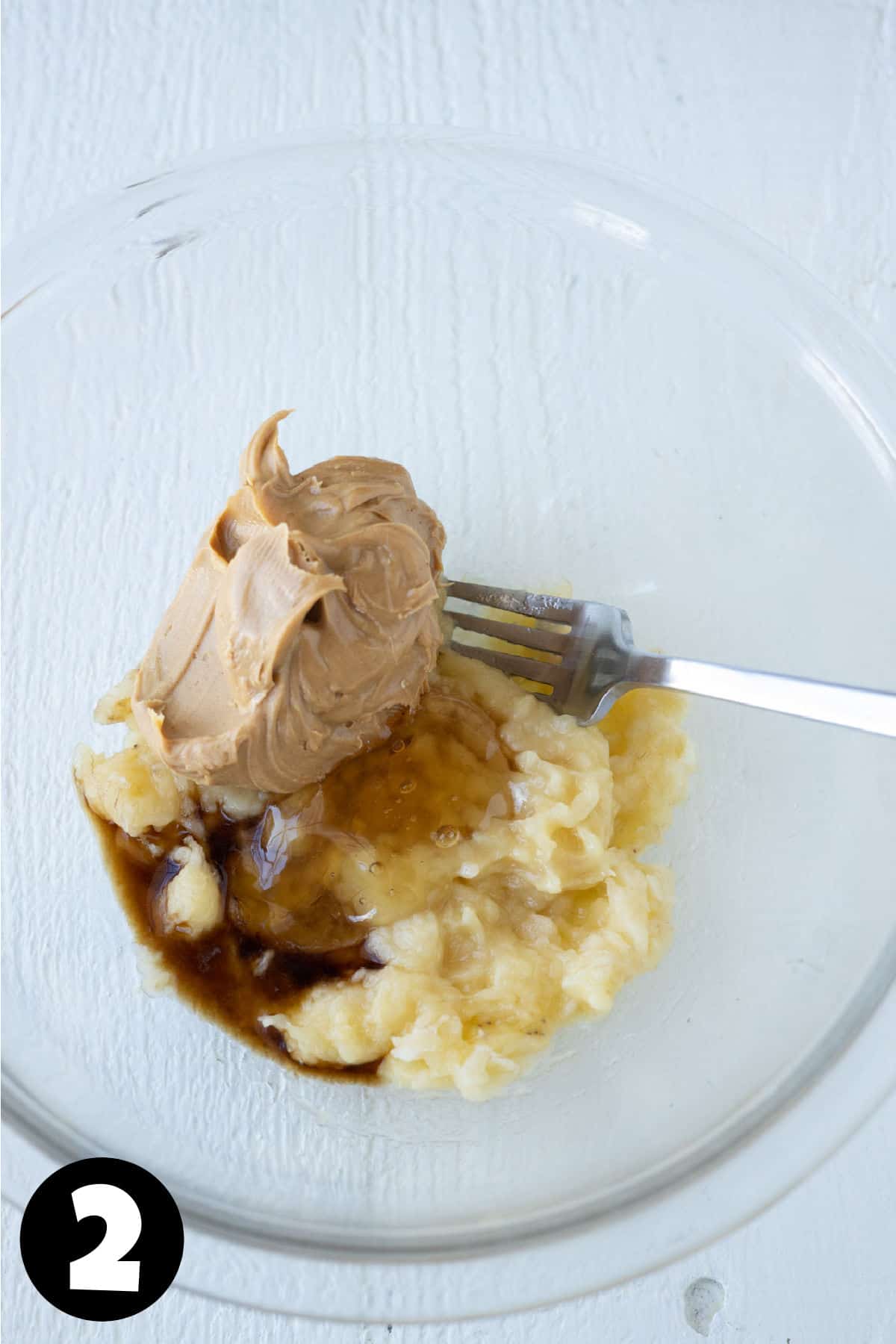 Step 2: Add peanut butter. If you want to add extra sweetener you can add honey (or maple syrup works too) and vanilla for flavor. I also like adding a pinch of salt. Stir until combined and smooth.
Peanut butter cookies and banana cookies both tend to hold their shape while baking. Since these cookies are both peanut butter and banana cookies, they really hold their shape! I like to press the cookie dough down a little bit so it's a bit flatter and doesn't make cookies balls.
You can press them into a flat cookie, or a mounded cookie. I like it about half way pressed down. Flatter cookies need to be baked for a shorter time (maybe 8-10 minutes). Fatter cookies need to be baked longer. You might need to adjust baking time depending on the thickness of the cookies. They'll be done when they spring back when touched.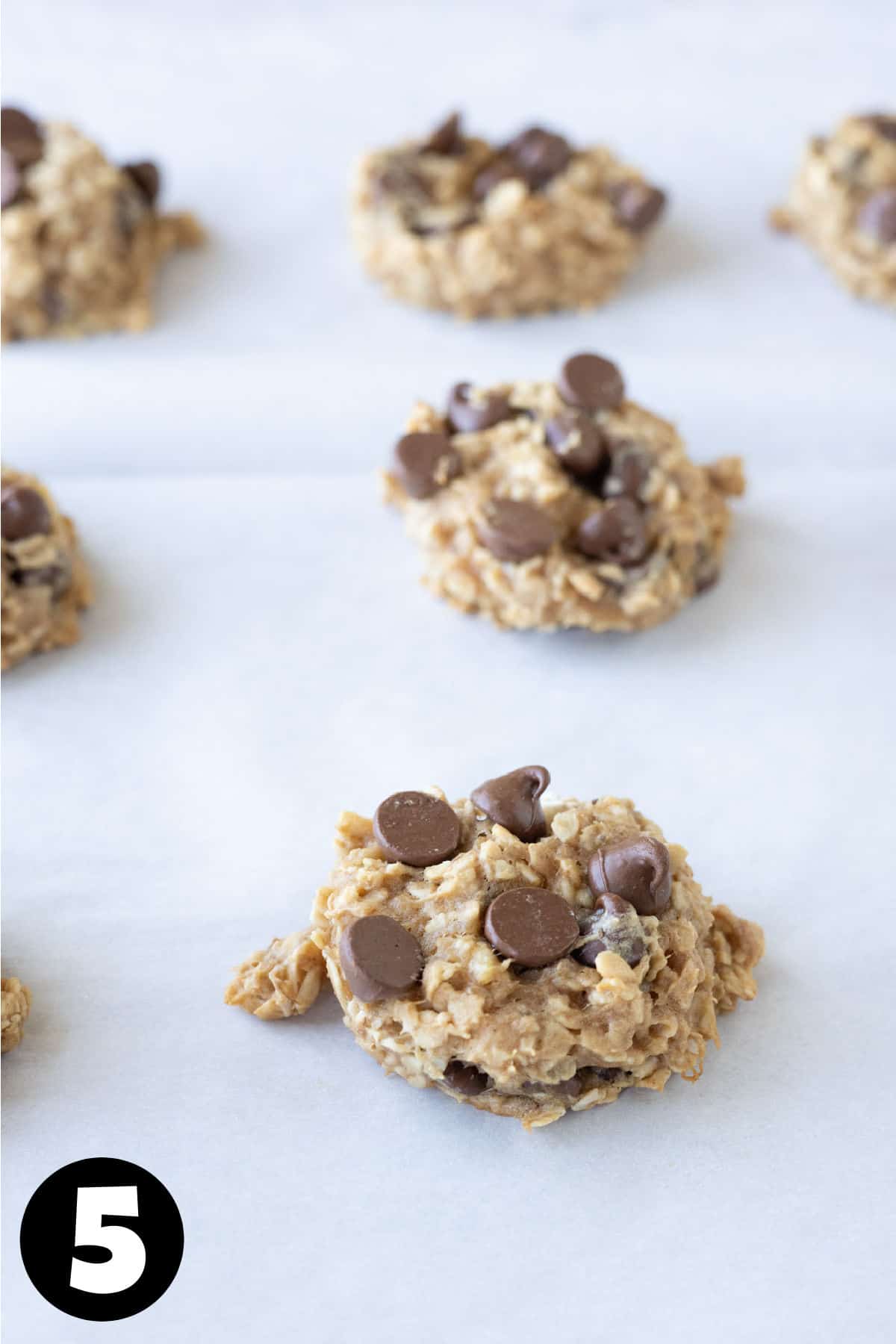 Step 5: Bake for 10-12 minutes. Let cookies rest on the baking sheet for 5 minutes. Then move to a wire cooling rack to completely cool.
Banana Peanut Butter Cookies should be stored in an airtight container. They'll keep at room temperature for about 3 days, or in the fridge for about 5 days.
FAQs:
Can I freeze peanut butter banana cookies?
Yes! They freeze really well! Freeze on a baking sheet. Then move to an airtight freezer container. They'll keep for up to 4 months. Thaw at room temperature or microwave for a few seconds before eating.
Can I make banana cookies with frozen bananas?
Yes! Frozen bananas are great for baking. I like peeling bananas before freezing them. You'll need to thaw the banana before using it. You need to understand that thawed bananas are ugly and kind of slimy! Not to worry! It will work just fine!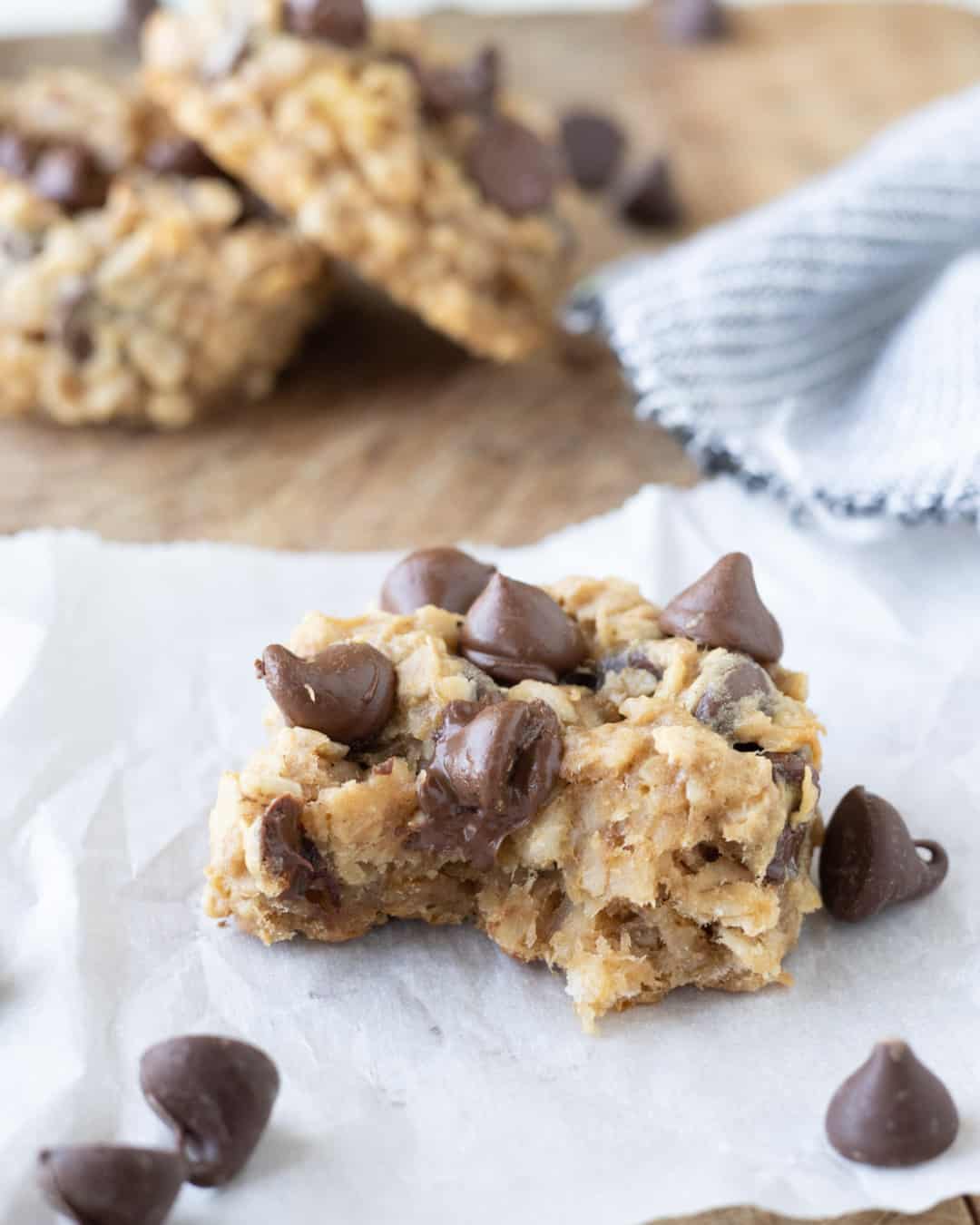 Other Easy Banana Recipes:
We always have a tendency to overbuy when it comes to fresh produce and that's why I'm always looking for a few more ways to use overripe bananas or even perfectly ripe bananas! Here are a few of our favorites!
Printable Recipe: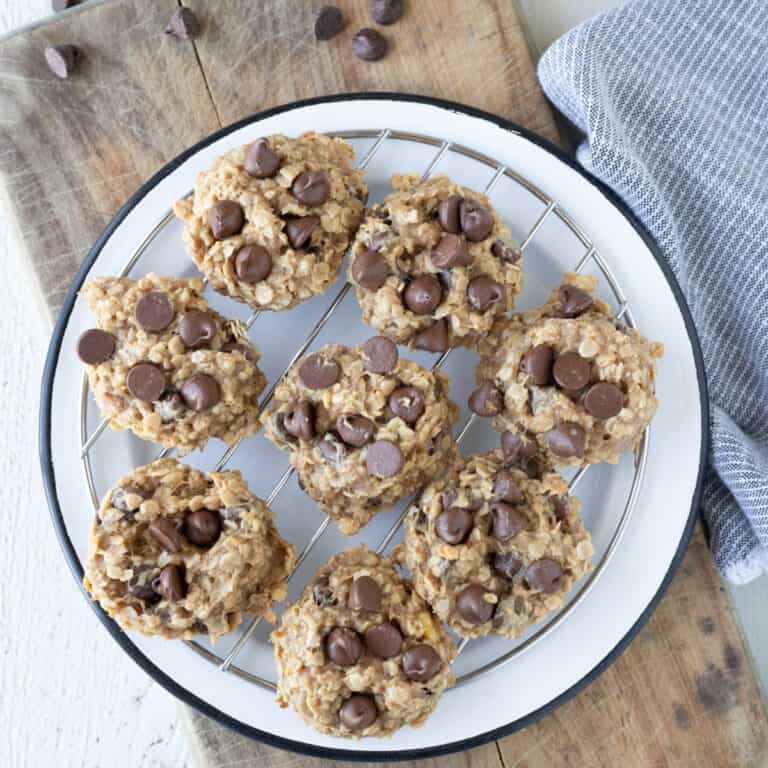 Peanut Butter Banana Oatmeal Cookies
These fat and soft flourless peanut butter banana oatmeal chocolate chip cookies are yummy enough for dessert and healthy enough for breakfast! Keep it simple and make them with 3 ingredients, or add as many options as you like!
Ingredients
1

whole

banana

overripe

1/4

cup

peanut butter

1

cup

quick oats
Optional Ingredients (counted in nutritional facts)
1

Tablespoon

honey

1

teaspoon

vanilla

1

dash

salt

1/4

cup

semi-sweet chocolate chips
Instructions
Preheat oven to 350 degrees. LIne a baking sheet with parchment paper. Set aside.

Add banana to a small mixing bowl and mash with a fork.

Add peanut butter, honey, vanilla, and a dash of salt. Stir with a spoon.

Add oats and chocolate chips. Stir until incoporated.

I use a 1 1/2 tablespoon-sized cookie scoop to make these cookies. You can also heap a 1 tablespoon size scoop. Drop cookies on the prepared baking sheet. The cookies won't spread as they bake so I like to press them down a little bit before baking. You can also add a few extra chocolate chips to the tops.

Bake for 12-15 minutes. I baked mine for 12 minutes. Bigger and fatter cookies will take a little longer to bake.

Let cookies sit on the baking sheet for about 5 minutes. Then remove from the baking sheet and completely cool on a wire rack.
Notes
You can easily make these cookies by using a banana, peanut butter, and oats. Or you can add the rest of the ingredients to add extra flavor. Nutritional facts are calculated including the optional ingredients.
Chopped walnuts can be substituted for chocolate chips.
This recipe is for a small batch, but can easily be doubled to make more cookies.
Store cookies in an airtight container for up to 3 days.
Nutrition
Calories:
102
kcal
|
Carbohydrates:
11
g
|
Protein:
3
g
|
Fat:
6
g
|
Saturated Fat:
2
g
|
Polyunsaturated Fat:
1
g
|
Monounsaturated Fat:
2
g
|
Trans Fat:
1
g
|
Cholesterol:
1
mg
|
Sodium:
32
mg
|
Potassium:
93
mg
|
Fiber:
1
g
|
Sugar:
4
g
|
Vitamin A:
2
IU
|
Vitamin C:
1
mg
|
Calcium:
10
mg
|
Iron:
1
mg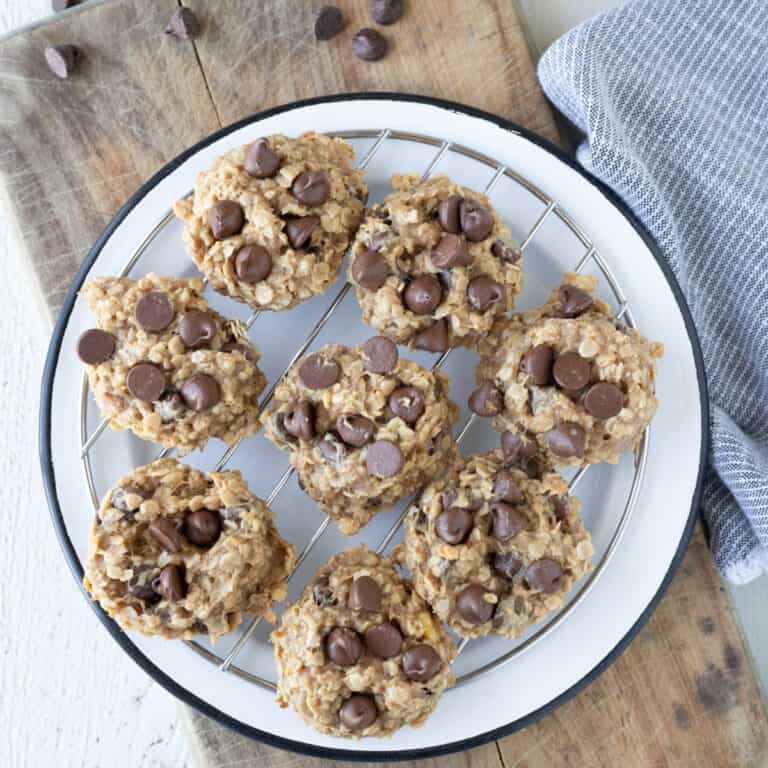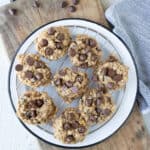 tried this recipe?
Make sure to share it with me! Leave a review or tag me on Instagram