If you love chocolate chip cookies, and banana bread, you are in luck! Healthy Chocolate Chip Banana Cookies are a perfect marriage between the two. They are just sweet enough they will pass for dessert or even breakfast!
Can I hear a hip hip hooray? The kids are finally out of school and we are thrilled. That means the cutest part of our work crew is back to help on the farm. I guess for some families that means their kids get to sleep in and hang around the house all day. That's not exactly how it works on the farm. We bounce them out of bed pretty early so they can help with all kinds of chores.
My kids bring a lunch from home to school every day. And I feel the need to send them a little treat in their lunches. You know, just to show them I love them. Not having to pack lunches is such a relief. But, now that the kids are home they are bopping in the house throughout the day to grab a quick snack. It needs to be quick and easy to grab and go. And it needs to be quick for me to make because I don't want to be in the house any longer than I have to. Chocolate chip banana cookies are a little healthier than Death By Chocolate Crispy Treats or these super easy Butterscotch Bar Cookies but they still deliver.
Grab a few ripe, or overripe, bananas and add them to the bowl of a mixer. Cream them until they are mashed and smooth. I didn't do this next step right because I got distracted while I was on the phone trying to fix an employee's, who no longer works here, child support problem. Why is his child support problem my problem anyway? Okay, back to the cookies. Add the butter and sugar to the bananas and cream again. This way the butter won't be lumpy.
Then add the eggs and vanilla and cream again for about 2 minutes.
In a separate bowl mix all the dry ingredients together except nuts and chocolate chips. Add to the banana mixture and beat until combined.
Add chocolate chips and nuts. Stir until they are incorporated.
Line a baking sheet with parchment paper of spray with nonstick cooking spray. Drop cookies using a medium size cookie scoop.
Bake for 8-10 minutes for flatter and chewier cookies, or 10-12 minutes for a more puffy cake like cookie.
You know my rule, if any food contains fruit, it's healthy, and can be considered breakfast! Go ahead and grab a healthy cookie first thing in the morning! After all, they do have bananas!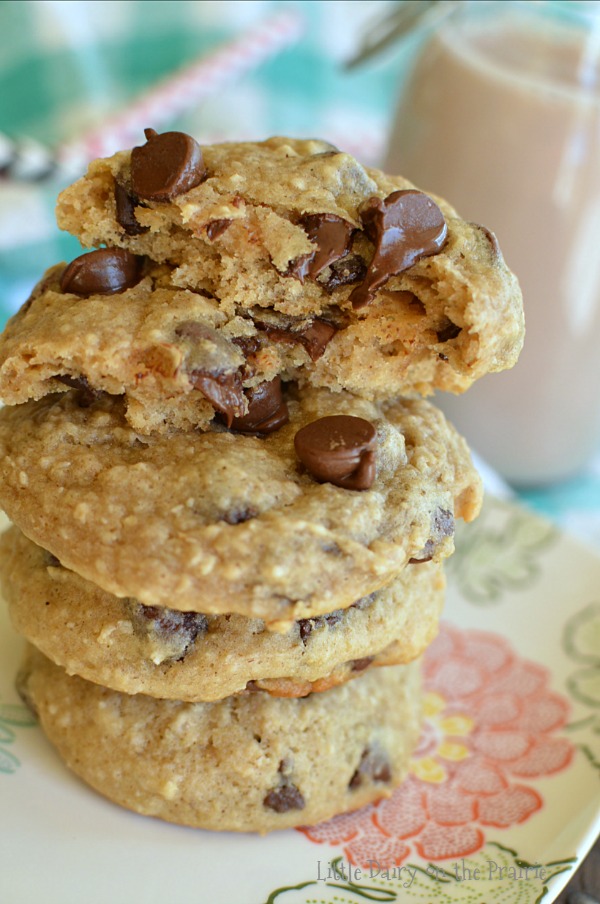 These cookies are like having chocolate chip cookies and banana bread in the same bite! Besides that healthy banana cookies are so easy to grab and go!
Banana Cookies (Healthy)
Ingredients
2

bananas

1/4

c.

butter

softened

1

egg

1/4

c.

sugar

1/2

c.

brown sugar

1

tsp.

vanilla

1 1/4

c.

flour

1 1/2

c.

oats

ground into flour

1/2

tsp.

salt

1/2

tsp.

baking soda

1/2

tsp.

cinnamon

1/4

tsp.

nutmeg

1 1/2

c.

semi sweet chocolate chips

1/2

c.

chopped walnuts
Instructions
Preheat oven to 350 degrees. Line baking sheets with parchment paper.

Add bananas to bowl of stand mixer. Mix until mashed and creamy.

Add butter and sugar to bananas and mix again until creamed.

Add egg and vanilla and mix until well beaten, about 2 minutes.

In a separate bowl add flour, ground oats, salt, baking soda, cinnamon, and nutmeg. Stir to combine.

Add flour mixture to banana mixture and mix until combined.

Stir in chocolate chips and walnuts if desired.

Drop cookies onto parchment lined baking sheets using a small cookie scoop, about an 1/8 cup.

Bake 8-10 minutes. Watch carefully so you don't over bake.
tried this recipe?
Make sure to share it with me! Leave a review or tag me on Instagram