Cauliflower Salad with Peas is a healthy salad that's loaded with flavor! This easy recipe is made with fresh cauliflower florets, frozen green peas, and crispy bacon tossed in a creamy ranch dressing! I love that it can be made in about 10 minutes!
Cauliflower and pea salad is a favorite easy side dish for serving with most main dishes. It goes well with these delicious meals; BBQ Pork Chops, Grilled New York Strip Steak, and Grilled Citrus Chicken.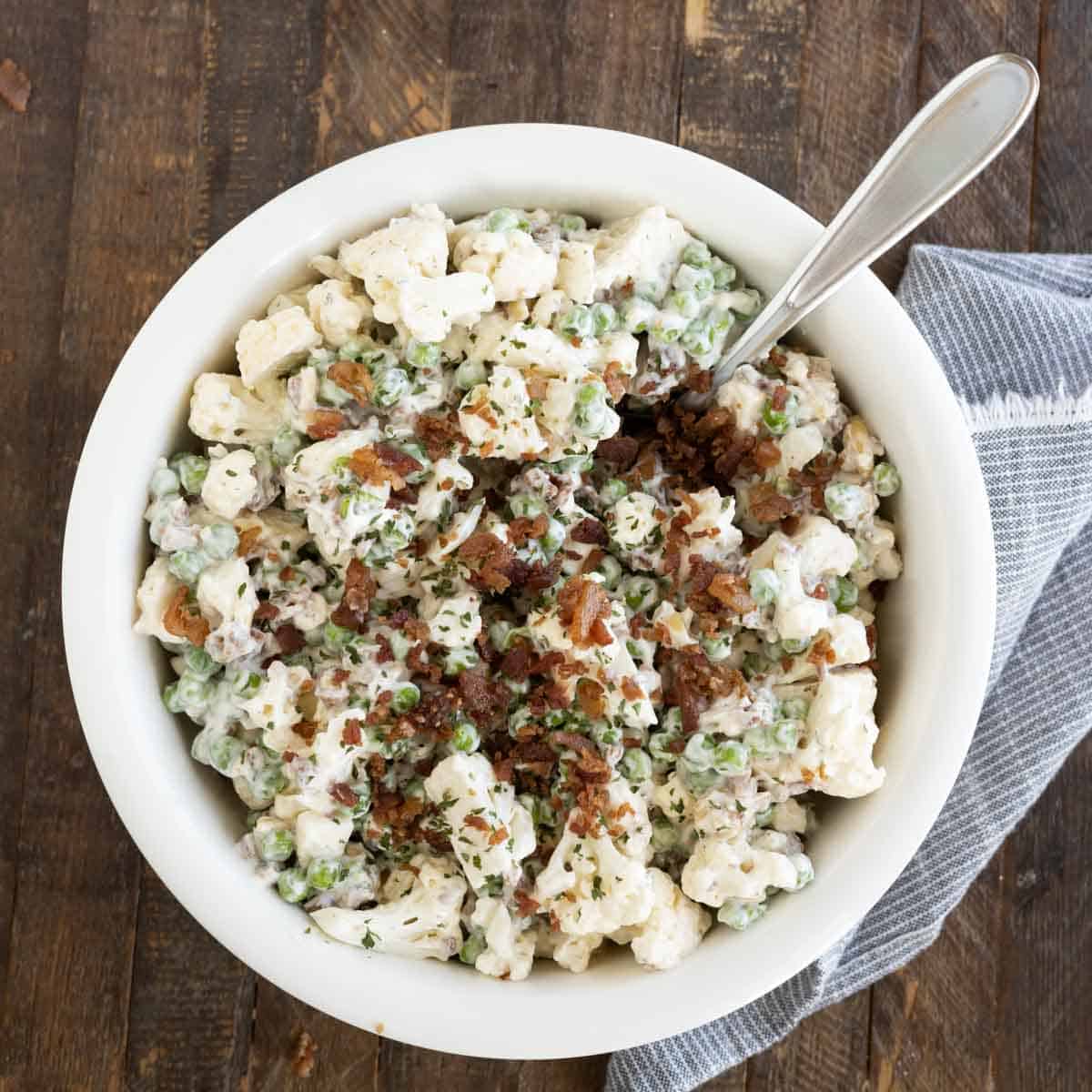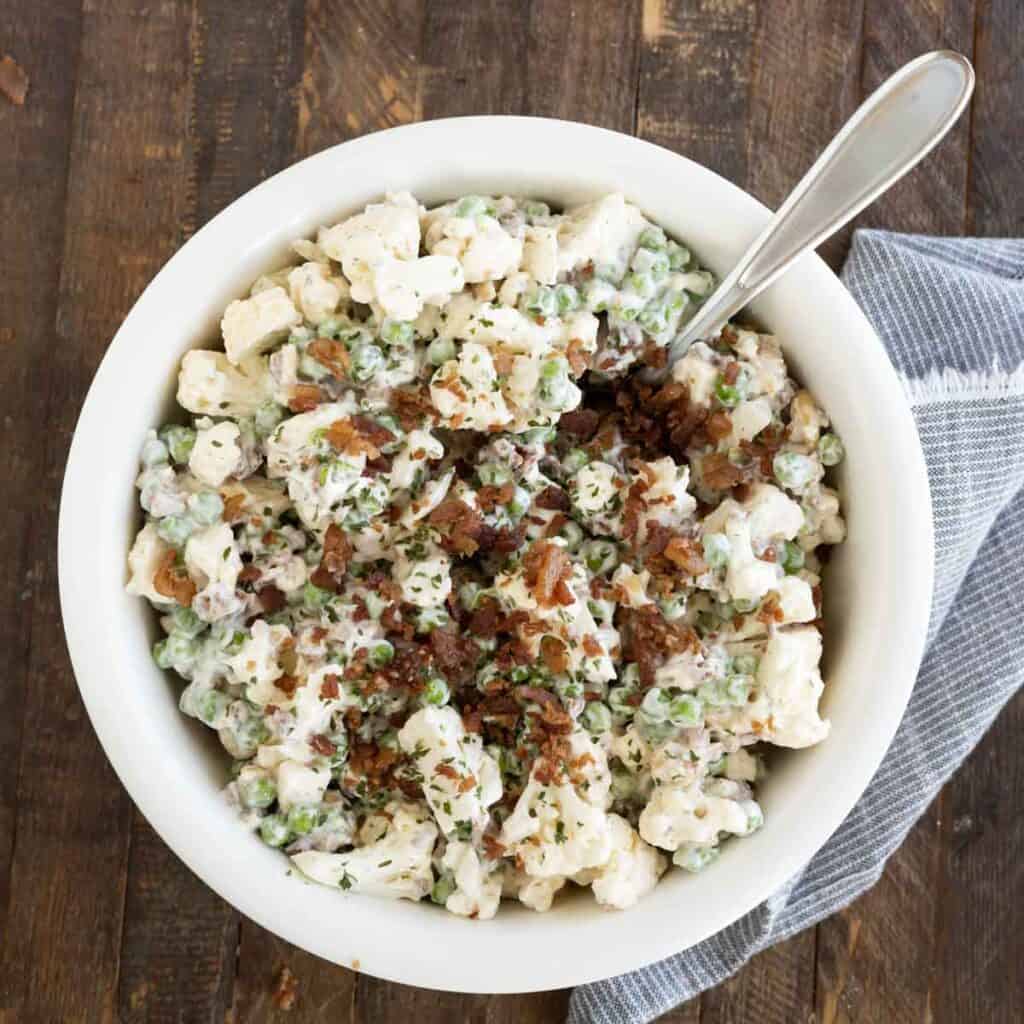 This post was originally written in 2014 and updated in 2023 to include new images and extra tips!
Cauliflower Pea Salad is such a fun recipe! Springtime is my favorite time of the year to serve this easy salad recipe, but it's always a winner with any grilled main dish in the summer, too!
I love serving it as an Easter side dish because it goes really well with Sweet Ham!
Cauliflower salad with bacon and peas is the perfect recipe and one of my favorite ways to get my family to eat more vegetable salad.
These crunch veggies in a creamy dressing are a fun change of pace from a boring simple salad made with lettuce. Besides, if you add bacon even picky eaters will fall in love with it!
Why Cauliflower Pea Salad is a Favorite
This cauliflower salad recipe is one of those old-fashioned cauliflower recipes! It's always a welcome change of pace!
Quick and easy! It literally takes about 10 minutes total time to throw this salad together! I have a few tips for making it extra quickly!
Make ahead! Simple recipes like this are the best because you can do the prep work ahead and then toss this salad a bit before serving.
Healthy! Cauliflower and peas are two powerhouse healthy ingredients and they've never tasted better! Plus, it's a low carb salad!
Tastes amazing! This is one of our favorite salads and is always a hit at barbecues, picnics, potlucks, holidays, or weeknight dinners!
Ingredients
You'll need simple ingredients that are mostly pantry/freezer ingredients. Let's go over variations and substitutions so you can use what you have on hand instead of making an extra trip to the grocery store.
Veggies and Add-ins
Raw cauliflower: You need fresh cauliflower for this recipe. I like buying a whole head of cauliflower because it' lasts longer than buying the precut cauliflower. Frozen cauliflower won't work for this recipe.
Peas: Frozen peas are perfect in this recipe because they are a pretty bright green and have a great texture. You can use canned peas but they are a bit softer than frozen peas. Fresh peas may also be used.
Cashews: I love salted bits and pieces.
Bacon: You can certainly fry bacon strips, let them drain on paper towels, and then break them into small pieces. But, I really prefer using store-bought precooked and crumbled bacon pieces. I always use real bacon pieces. Imitation bacon just isn't the same. You can also make a batch of my oven baked bacon ahead of time.
For the Dressing
Sour Cream: I love using a combination of sour cream and mayo. You can also use plain Greek yogurt. Or, if you're really in a pinch just use a bottle of ranch salad dressing.
Ranch Seasoning Mix: I prefer Hidden Valley Ranch dry dressing mix, not dip mix. You can use dip seasoning if that's what you have on hand.
Garlic: I love using Gourmet Gardens garlic paste. You can also use minced cloves garlic or a teaspoon of garlic powder.
If you're using fresh green peas you'll need to cook them for a few minutes before adding them to the salad. Add to boiling water for about 3 minutes. Immediately add to an ice bath with cold water to stop the cooking process. Drain.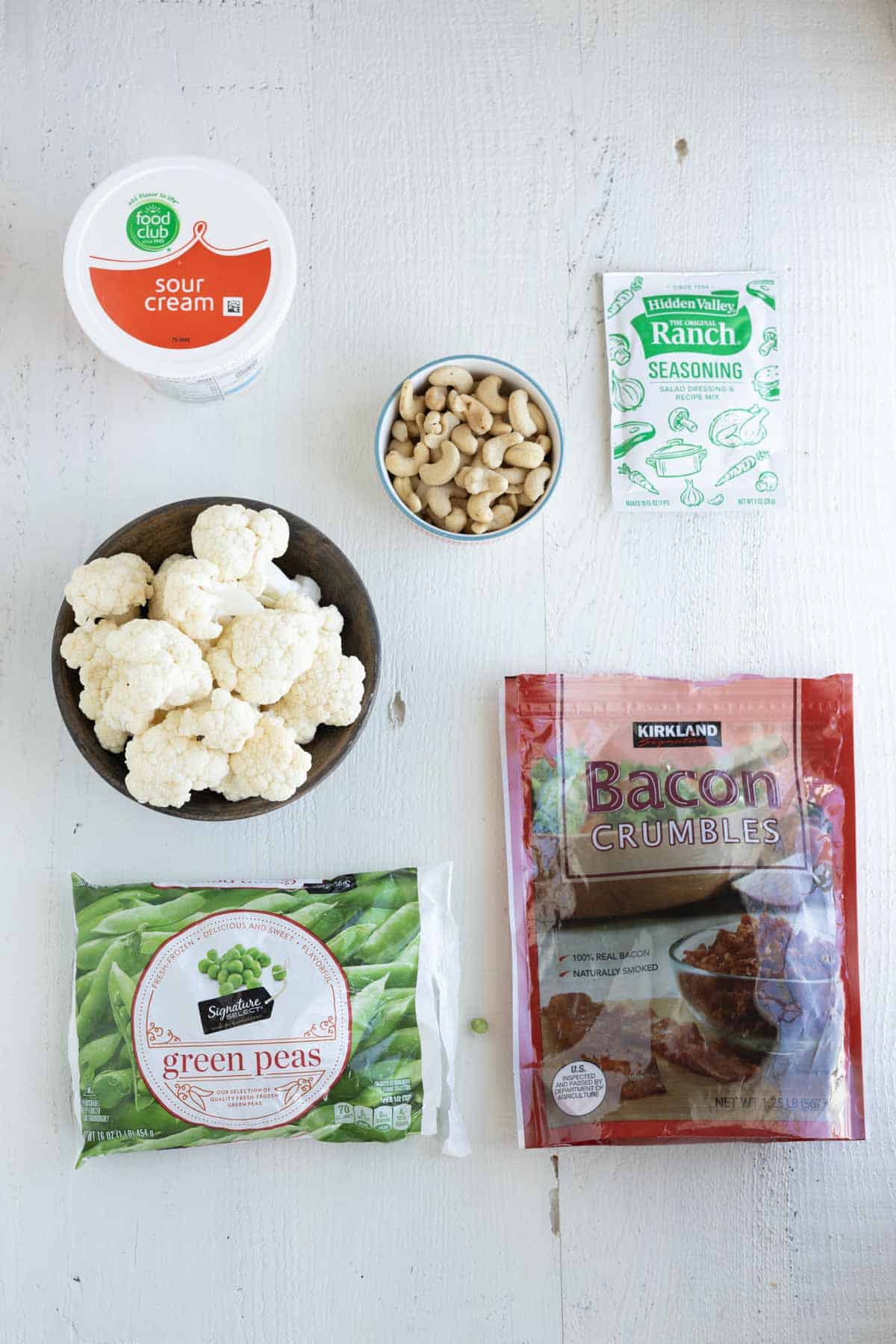 Variations
I love cauliflower salad with peas just the way it is! But, adding other ingredients is a great way to switch it up! Here are a few ideas!
Cheese: Add cubed or grated cheddar cheese
Fresh broccoli
Onions (diced red onion or sliced green onions)
Fresh Herbs: I love the addition of dill, but you can also add fresh parsley.
Other nuts: Use peanuts or sunflower seeds instead of cashews.
Pasta Salad: Replace half of the cauliflower with cooked and drained pasta.
How to Make Cauliflower Pea Salad
Let the salad rest for a couple of hours to give the flavors time to develop. If you want crisp cauliflower salad don't let it rest longer than a couple of hours before serving. I think it's best with crunchy veggies.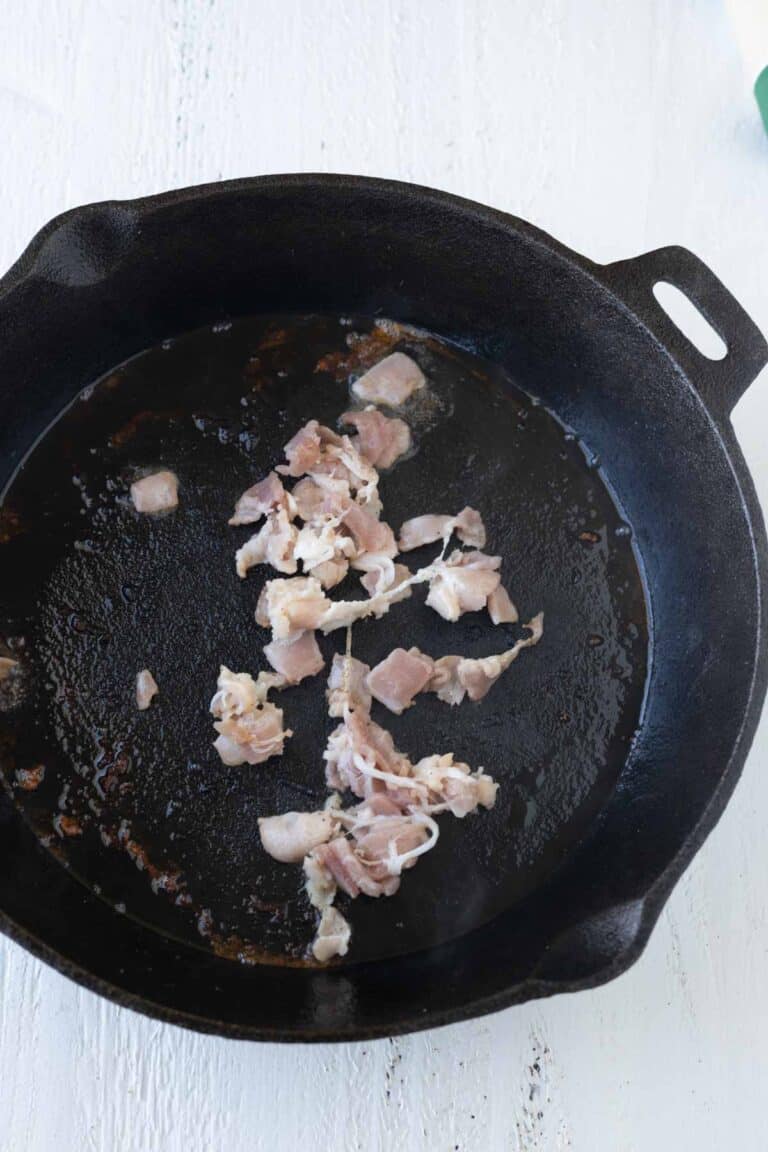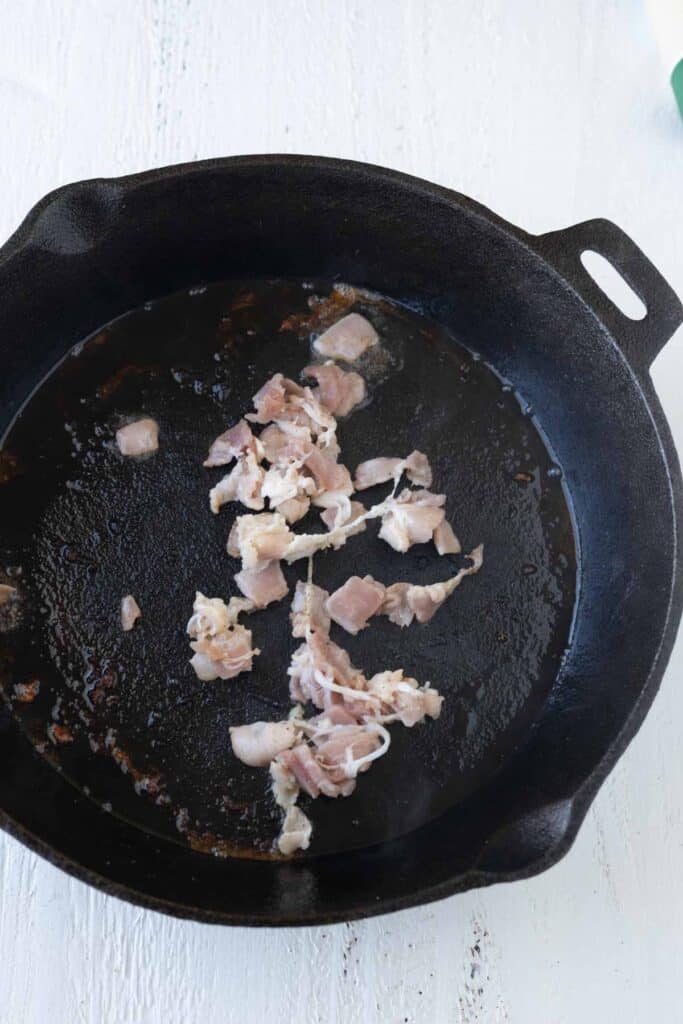 Step 1: Brown the bacon in a skillet over medium heat. Drain on paper towels. Break into pieces. Or, use precooked and crumbled bacon pieces.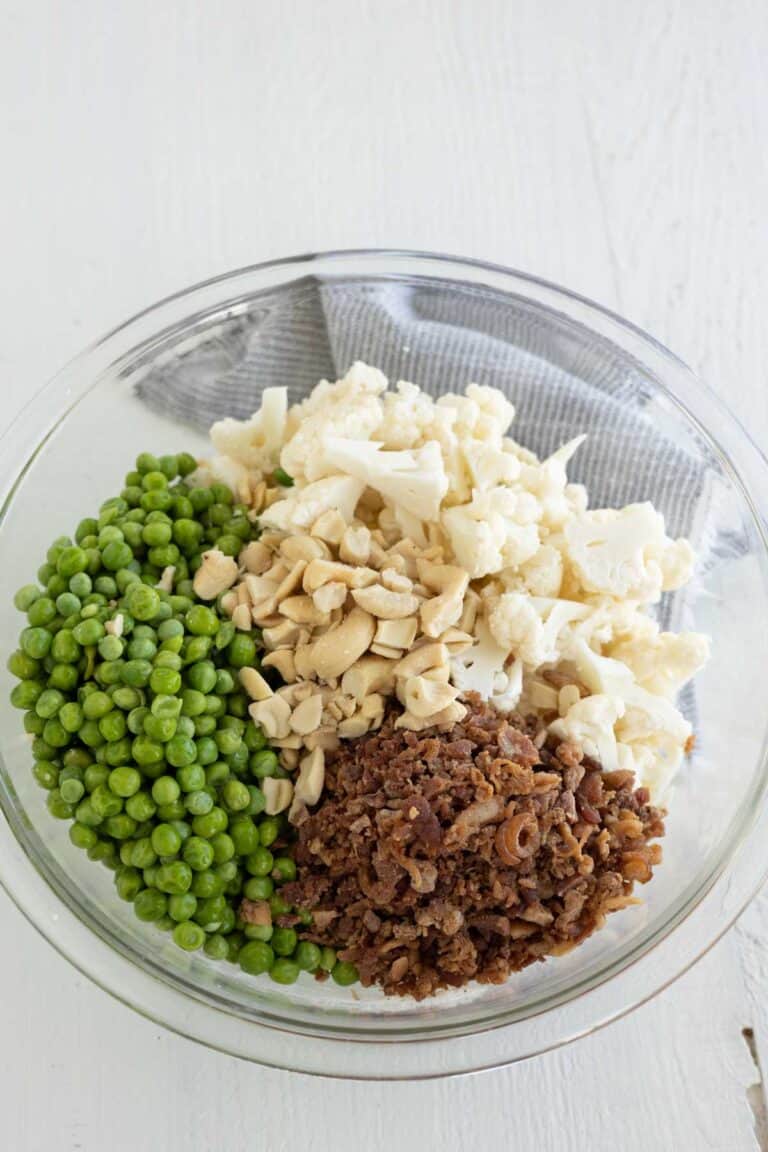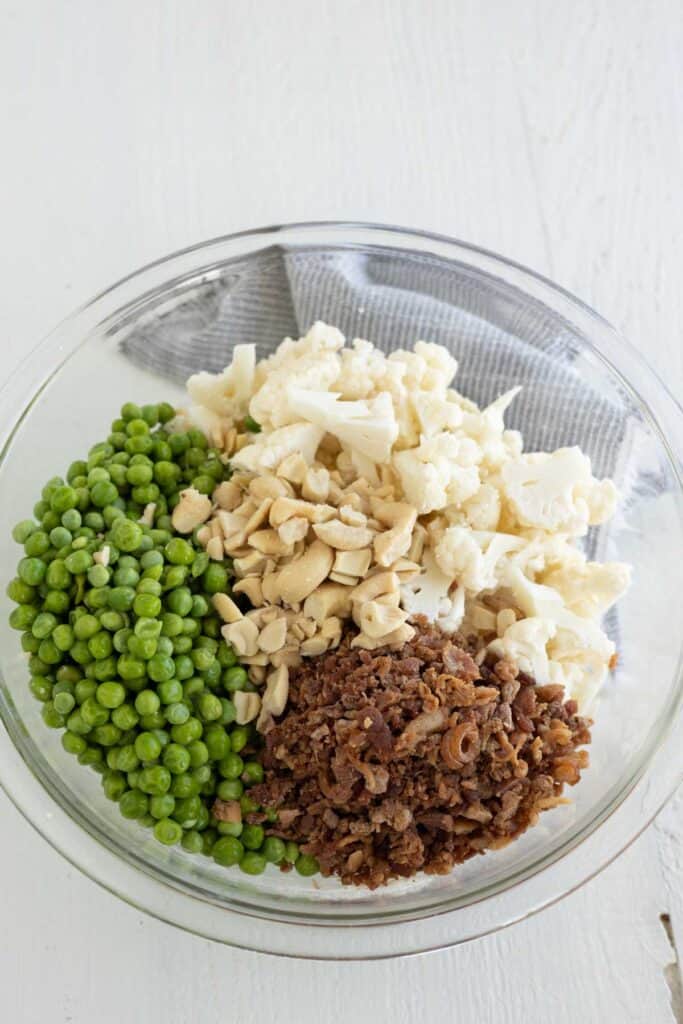 Step 3: Make the creamy dressing. In a large bowl mix sour cream, mayo, ranch dressing mix, garlic paste, dill weed, salt, and black pepper together.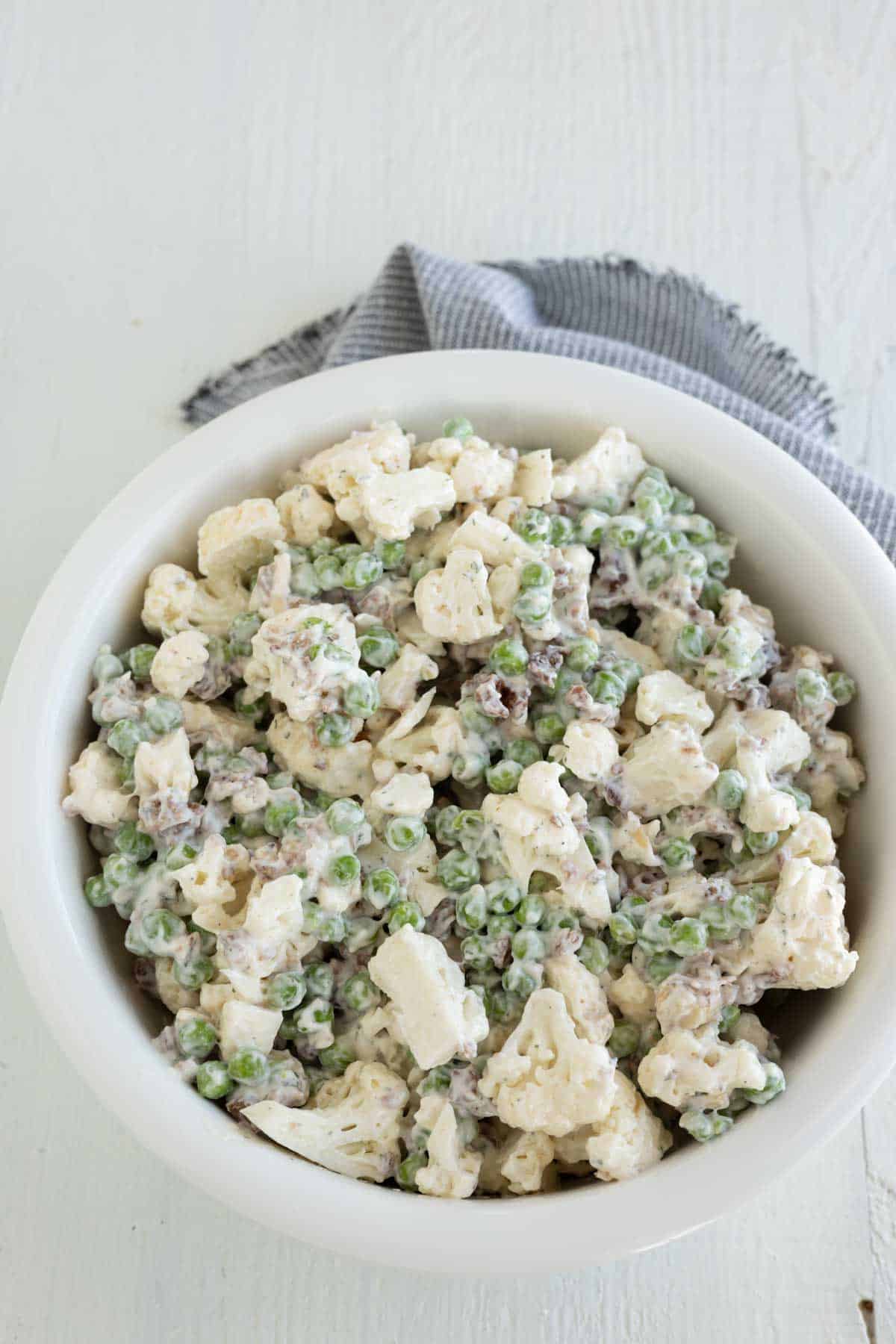 Storage
Store leftover cauliflower and pea salad in the fridge in an airtight container or a bowl covered with plastic wrap.
It will last in the fridge for up to 3-4 days.
This salad does NOT freeze well.
FAQs
How can I tell when cauliflower is bad?
Fresh cauliflower has a strong smell. If it's overly pungent, strong, or discolored it is bad and needs to be thrown away.
How do I cut cauliflower into pieces?
Remove the leaves from the cauliflower head. Cut the cauliflower in half through the stem, then cut it into quarters. Then it's easy to break the florets from the stem with your fingers or a paring knife.
Other Easy Salad Recipes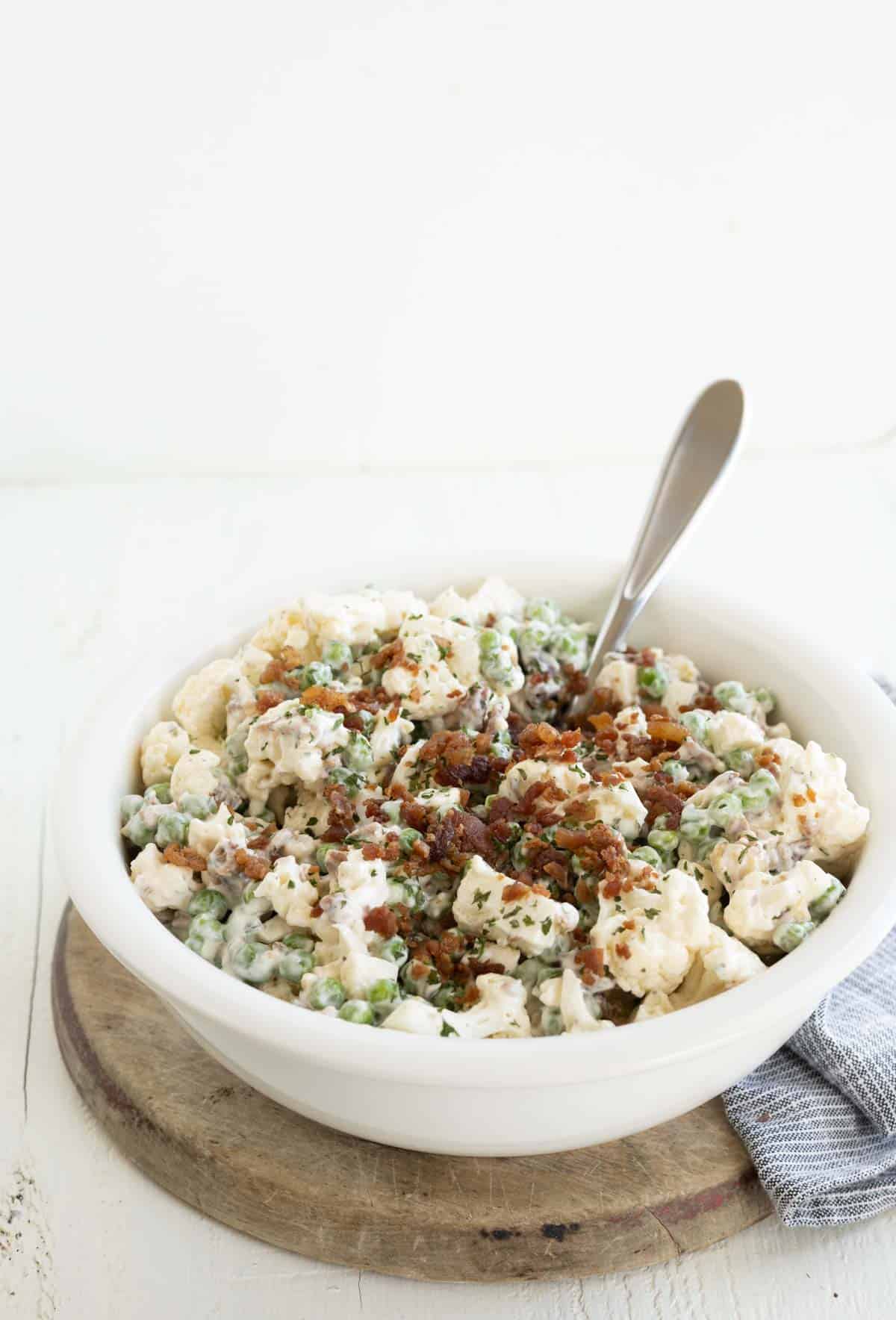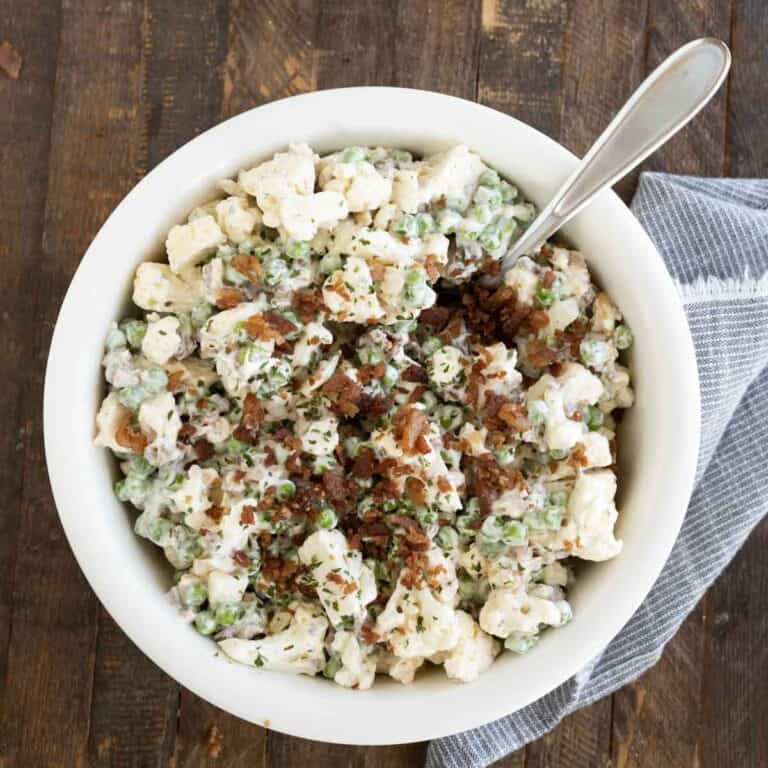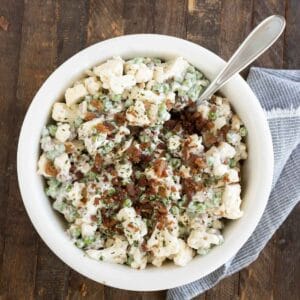 Cauliflower Pea Salad with Bacon
Cauliflower Pea Salad is an easy and healthy salad that's loaded with flavor! It's made with raw cauliflower, frozen green peas, cashews, and bacon all tossed in a creamy ranch dressing! This easy cauliflower salad can be made in minutes, or made ahead of time and served later!
Ingredients
2

cups

cauliflower florets

2

cups

green peas

1/8

cups

green onions

4

slices

bacon

1

ounce

ranch dressing mix

1/2

tsp

dill weed

3/4

cup

sour cream

1/2

cup

cashews
Instructions
Brown the bacon in a skillet over medium high heat. Remove to a paper towel lined plate to drain. Cool. Crumble.

Wash and cut cauliflower florets into bite size pieces. Thaw green peas and make sure they are drained. Slice green onions.

Mix dry ranch dressing mix and sour cream together. Add dill weed if you'd like. It's optional but I absolutely love the flavor! See the note below about using mayo instead of sour cream.

Add peas, cauliflower, bacon, and cashew pieces to the ranch dressing mixture. Toss to coat.

You can serve this salad immediately, but it's much better if it has a chance to chill for a couple of hours.
Notes
Sour Cream: I love using sour cream because I like the tangy flavor. You can definitely use mayonnaise instead. Plain Greek yogurt works well. Or, use a combination, which is a great option! Bacon: I love using precooked and crumbled bacon bits. It's such a timesaver and makes this recipe so much faster to make. Cheese: This cauliflower salad is fantastic with cheese in it. Cube or grate cheddar, monterey jack, or swiss cheese. Make-ahead: Mix the ranch dressing an sour cream ahead of time and refrigerate until you're ready to make the salad.
Nutrition
Calories:
179
kcal
|
Carbohydrates:
12
g
|
Protein:
6
g
|
Fat:
12
g
|
Saturated Fat:
4
g
|
Polyunsaturated Fat:
2
g
|
Monounsaturated Fat:
5
g
|
Trans Fat:
0.01
g
|
Cholesterol:
20
mg
|
Sodium:
356
mg
|
Potassium:
270
mg
|
Fiber:
3
g
|
Sugar:
4
g
|
Vitamin A:
432
IU
|
Vitamin C:
27
mg
|
Calcium:
41
mg
|
Iron:
1
mg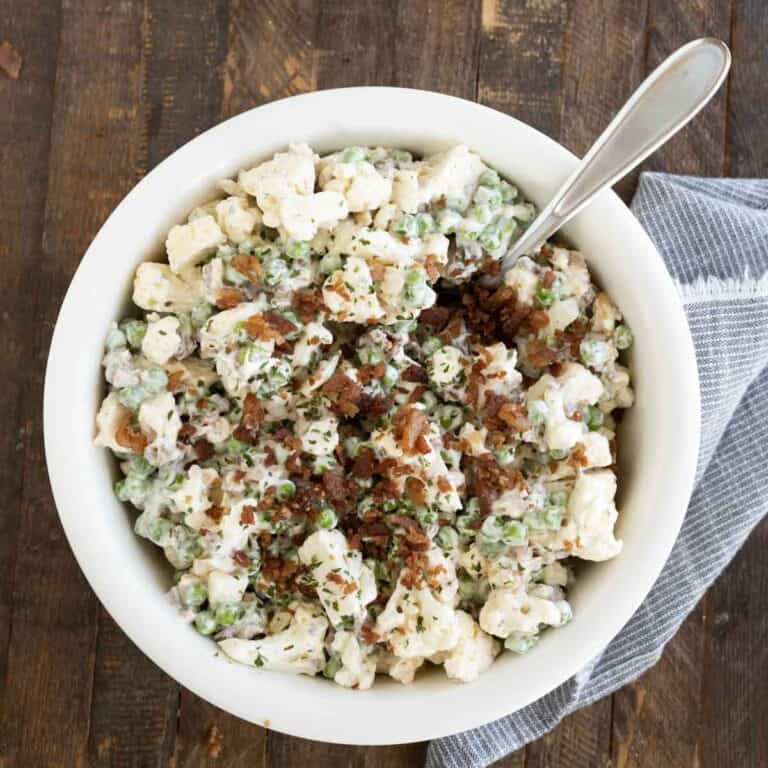 tried this recipe?
Make sure to share it with me! Leave a review or tag me on Instagram