Greek yogurt banana bread is extra moist and flavorful! Adding Greek yogurt is the perfect way to add a little bit of protein and extra moisture to this classic banana bread recipe! Grab some overripe bananas and get baking!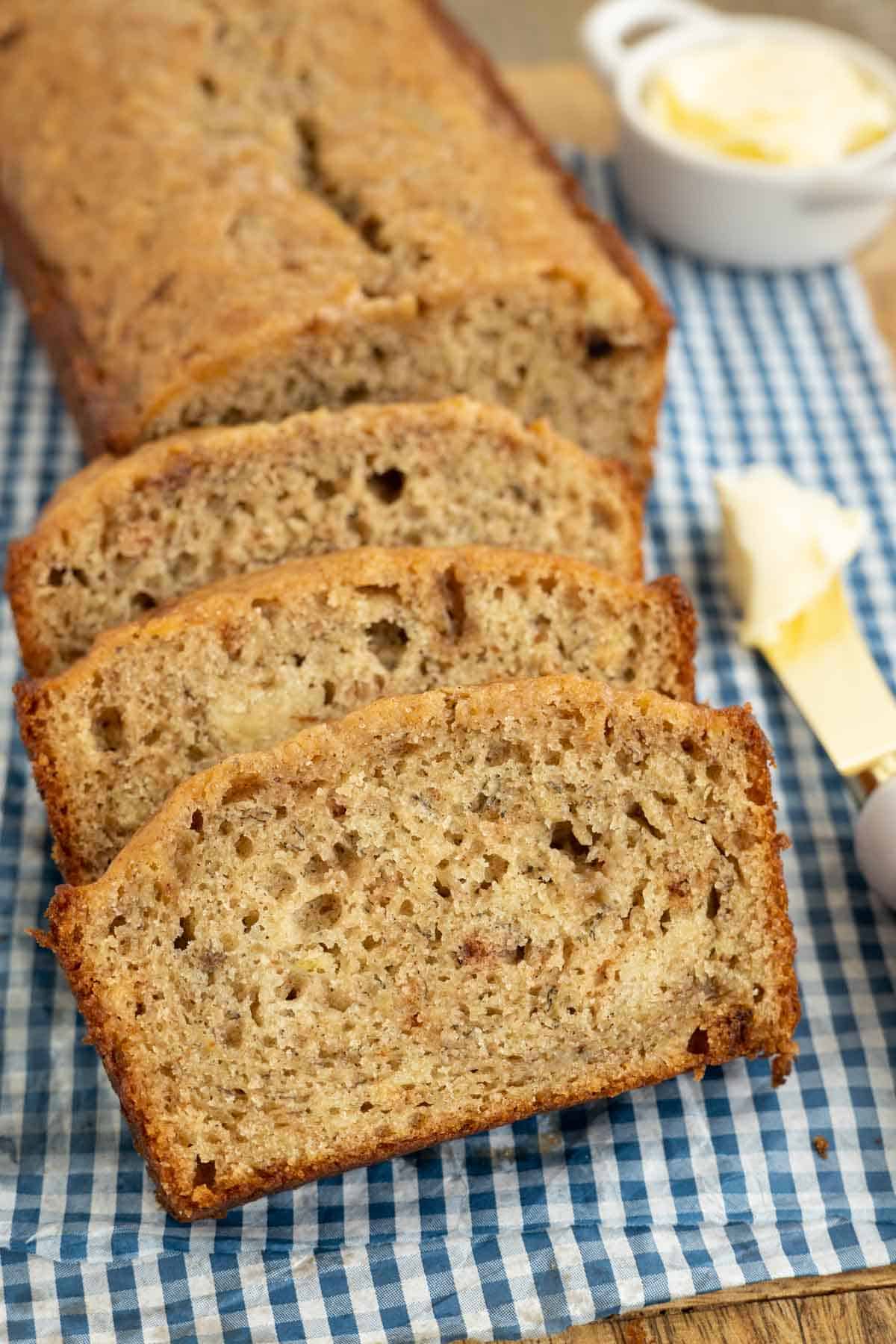 It's crazy how many banana bread recipes (coconut banana bread, cake mix banana bread, and this Greek yogurt banana bread) I have on this site because I'm actually not a fan of bananas. At least, I'm not a fan of eating bananas by themselves. I do love an easy banana bread recipe though!
Banana bread is a quick bread and sounds easy to make. For some reason, it is kind of tricky to get the banana bread loaf to bake all the way through and find the perfect balance between gooey in the middle banana bread and overbaked dry banana bread.
After tweaking this Greek yogurt banana bread recipe several times to work out the flaws, I can tell you that this is it! This is the best banana bread recipe!
Banana bread with Greek yogurt is fluffy and light, a little tangy, and basically foolproof!
My sister loves to bake and has also tried so many different banana bread recipes over the years and once she tried this banana bread recipe with yogurt she quit experimenting! It's the winner!
Why This is the Best Banana Bread Recipe:
Not all banana bread recipes are the same! Some are really heavy, others are light, some are dry and others are moist. This one is just right!
Greek yogurt banana bread is light and fluffy because the acid in the yogurt activates the baking soda.
Simple ingredients: Making banana bread with Greek yogurt uses the same simple ingredients you need for other banana bread recipes, plus the addition of Greek yogurt makes it a bit of healthy banana bread.
One Bowl: Fewer dishes are always a good thing!
Tastes Amazing: Adding Greek yogurt makes this banana bread super moist and it gives the bread the best flavor especially when it's slathered with homemade whipped butter or whipped cinnamon butter!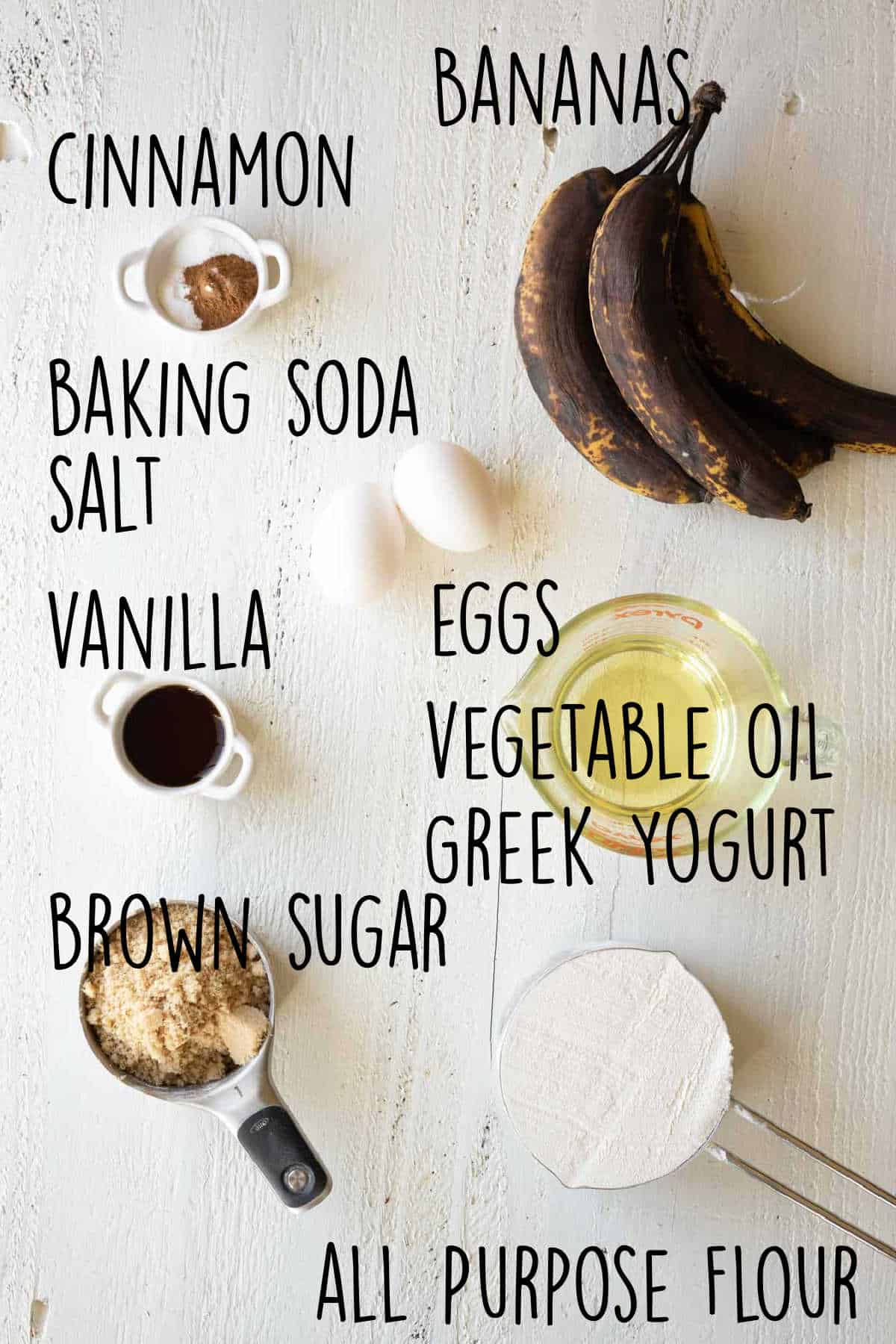 Ingredients:
You'll need traditional banana bread recipe ingredients for this recipe. Scroll the recipe at the bottom of this post for the full recipe and instructions.
Let's talk about a few substitutions you can make.
Yogurt: I like using plain greek yogurt or using vanilla greek yogurt gives the bread great flavor. You can also easily swap sour cream instead of plain yogurt. I don't recommend using regular yogurt because it's too thin and won't give you that perfect texture.
Brown Sugar: Light or dark will work.
Flour: I always use all-purpose flour. If you want to make an even healthier bread you can use half whole wheat flour and half all-purpose. It will change the texture of the bread and make it a bit more dense, but also healthier.
Instructions:
This Greek yogurt banana bread recipe is really easy to make! I've tried dozens of banana bread recipes and this one is foolproof! Let's go over how to make banana bread!
My favorite bread pans are these nonstick bread pans because they are 10 inches by 4.5 inches. Since they are longer and skinnier the bread will bake faster and the bread bakes more evenly throughout. The center will bake faster helping to avoid that sunken gooey center.
For a traditional sized bread loaf I really like my cast iron bread pans. These disposable bread pan liners are also game changers! They make cleanup so easy!
Step 1: Preheat the oven to 325 degrees. Prepare two loaf pans by spraying them with nonstick baking spray or lining them with parchment paper. Set aside.
Step 2: Mash bananas in a large bowl for an electric mixer (you can also use a hand mixer) You can smash the banana with a fork, or use the mixer.
Step 3: We're going to add the wet ingredients; vanilla extract, eggs, brown sugar, yogurt, and vegetable oil to the mashed banana in the mixing bowl. Mix until creamy.
Step 4: Add salt, baking soda, and ground cinnamon, if you're using it, and mix.
Step 5: Add flour and mix on low speed just until incorporated. It's okay if there are still a few streaks of flour.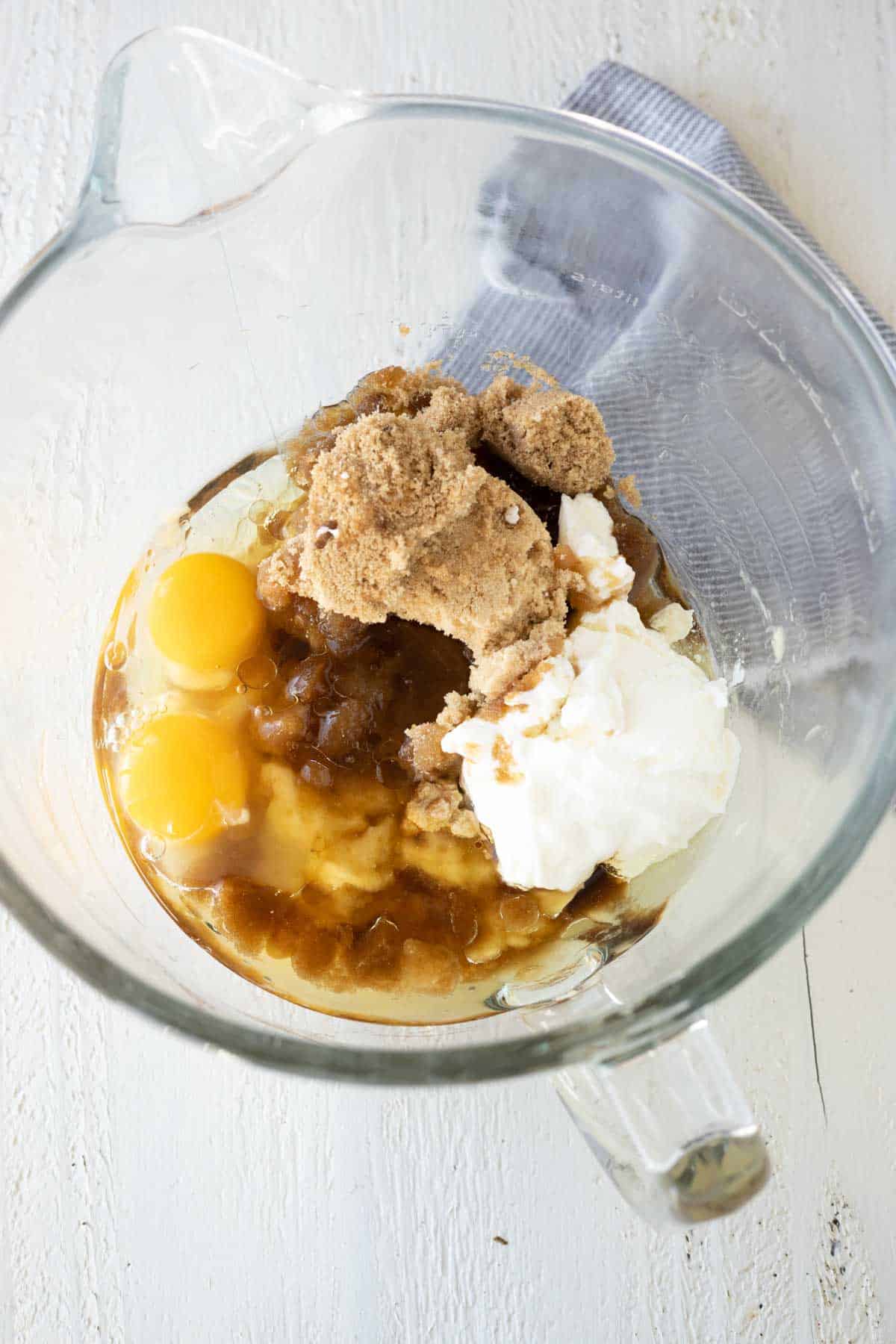 Step 6: Stir in mini chocolate chips, dark chocolate chips, chopped walnuts, or your favorite mix-ins you would like to add extra flavor.
Step 7: Pour half of the banana bread batter into one prepared pan and the other half into the other pan. Sprinkle cinnamon and sugar over the top of the batter if you'd like.
Step 8: Bake in the preheated oven for 40-45 minutes. Baking time will vary depending on the size of the bread pan.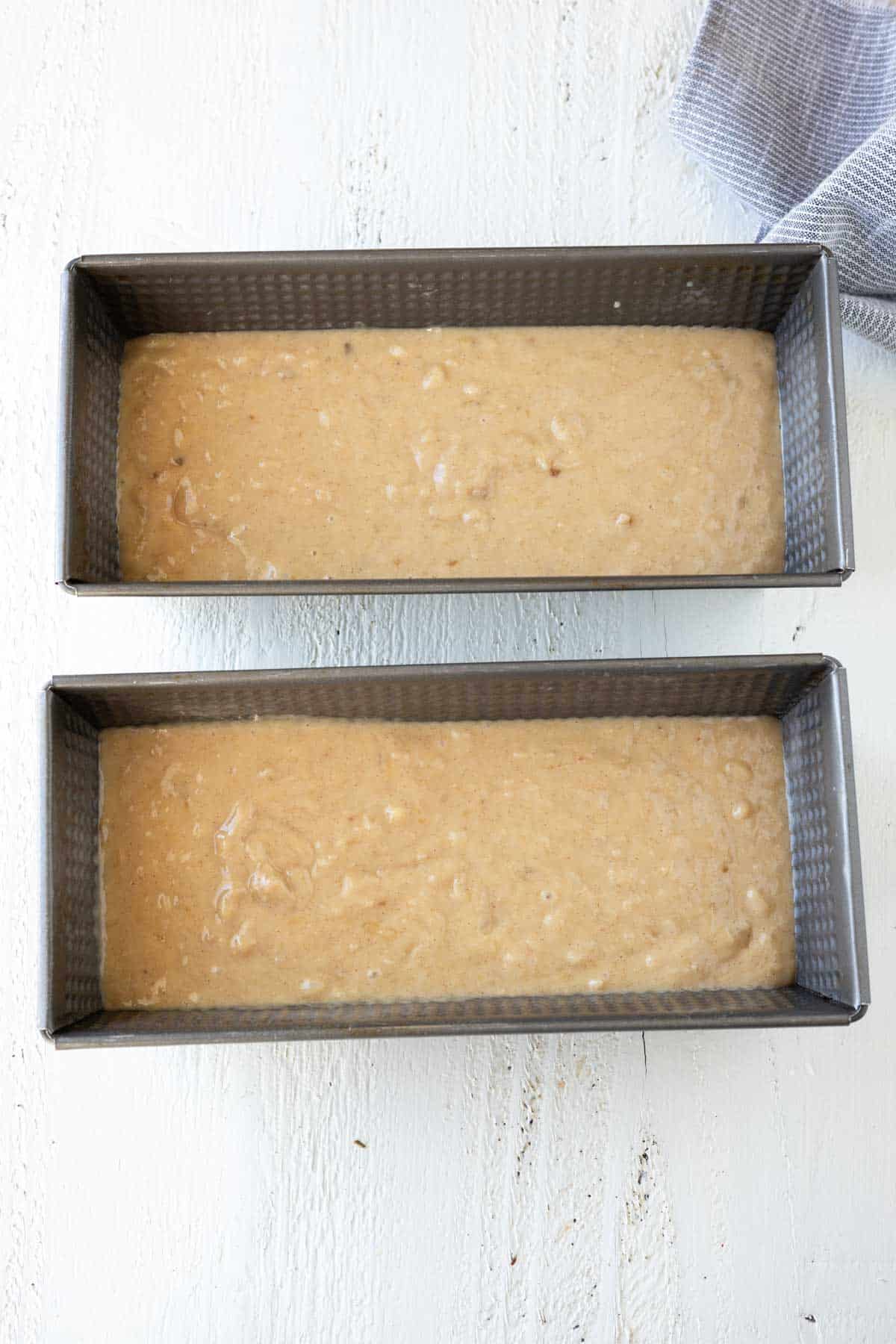 Step 9: Cool in the loaf pan for about 5 minutes then remove to a wire cooling rack to completely cool. Then cut into individual slices.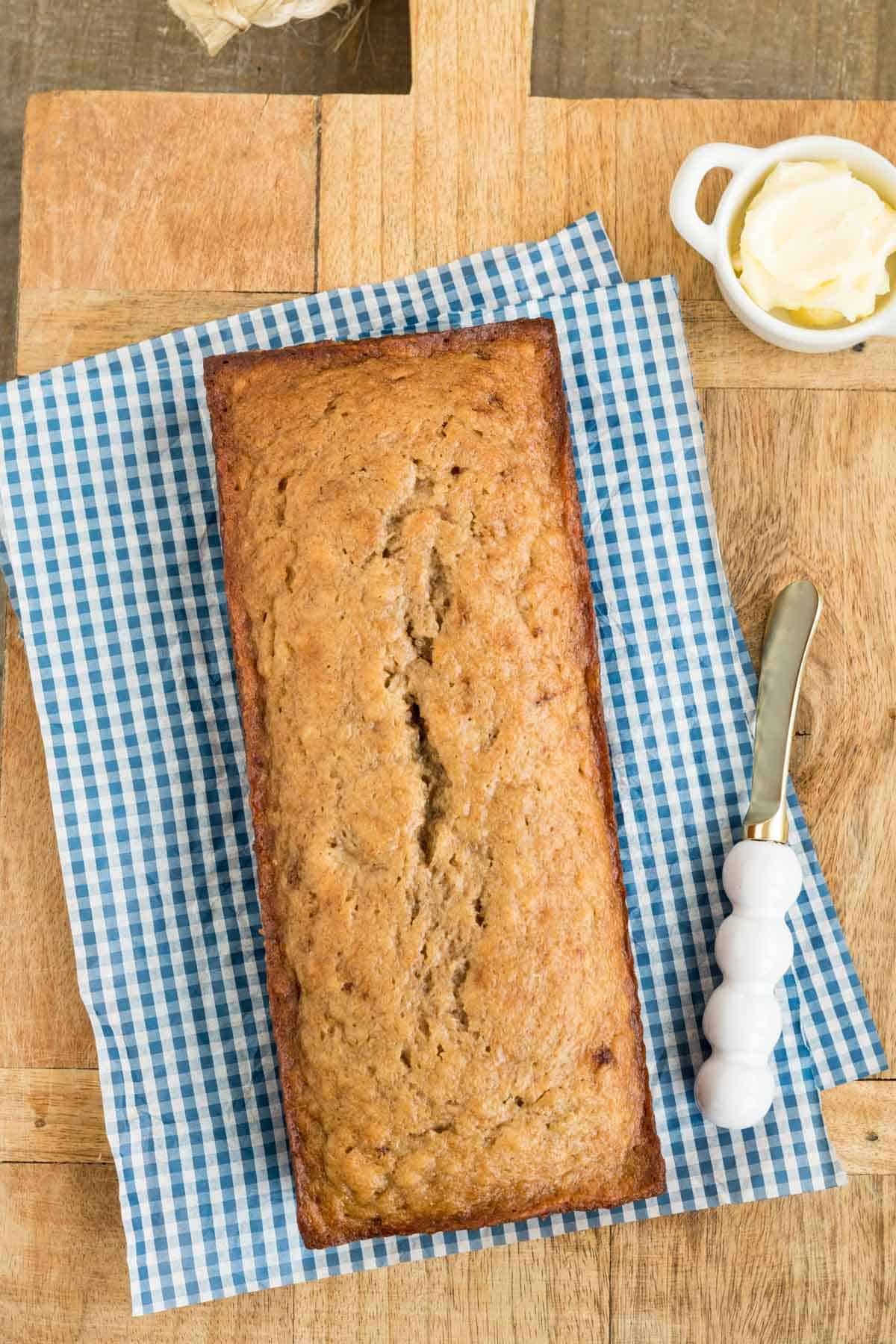 How to tell when banana bread is done? It can be a little tricky knowing how long to bake quick bread so it's perfectly done. The best way to know when quick bread is baked is to measure the temperature of the bread with an instant read thermometer rather than baking it for a certain amount of time. Banana bread will be perfectly baked when the internal temperature of the center of the bread is between 200 and 205 degrees.
FAQs:
What does Greek yogurt do in baking?
Adding Greek yogurt to banana bread makes it ultra moist and also gives it a nice tangy flavor. The acidity in Greek yogurt (and sour cream) helps activate baking soda which gives the bread a fluffy and light texture.
What is the difference between Greek yogurt and plain yogurt in baking?
Both can be used in baking. Greek yogurt is thicker because the whey has been drained off of the yogurt giving it a thicker and creamier texture. For this recipe, Greek yogurt works best.
How ripe is too ripe for bananas for banana bread?
Bananas get sweeter as they get riper. They should be black or have black spots or black and brown streaks. With spotty bananas, the darker the better! That's why banana bread is the perfect way to use leftover bananas.
How to Store Banana Bread
It's important to COMPLETELY cool banana bread before storing it. Banana bread is almost better the next day because the banana flavor gets stronger and sweeter.
Banana bread will keep at room temperature for up to 3-4 days. Make sure to store the loaf of banana bread on a paper towel in an air-tight container. Or you can store banana bread in an airtight container in the refrigerator for up to a week.
Banana bread can be stored in the freezer for up to four months. Wrap completely cooled banana bread in plastic wrap, and aluminum foil, and then store in a freezer bag. To thaw let come to room temperature, then slice.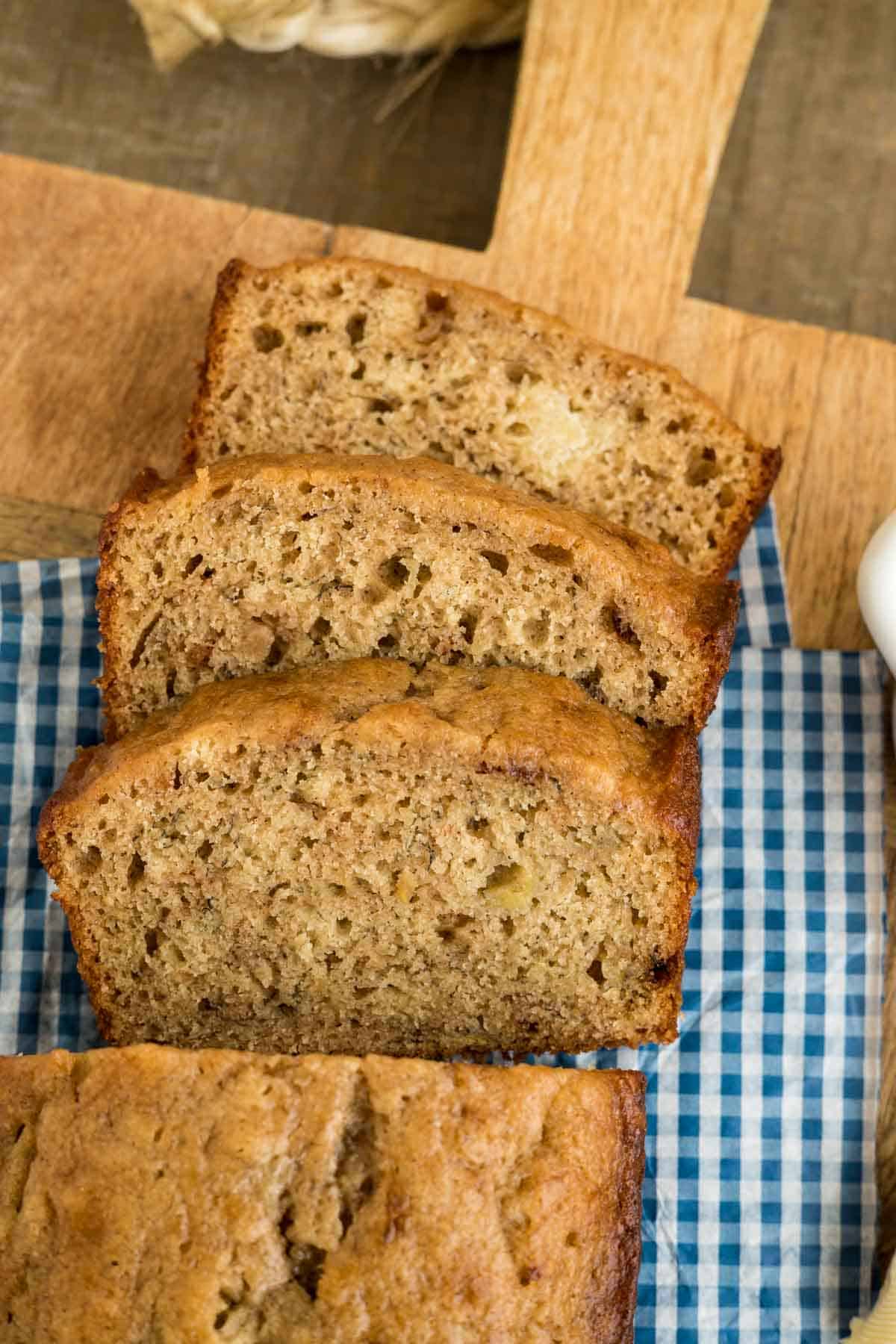 Other Banana Recipes:
If you're looking for more ways to use overripe bananas be sure to check these recipes out next time!
Peanut Butter Banana Oatmeal Cookies
Banana Bars with Cream Cheese Frosting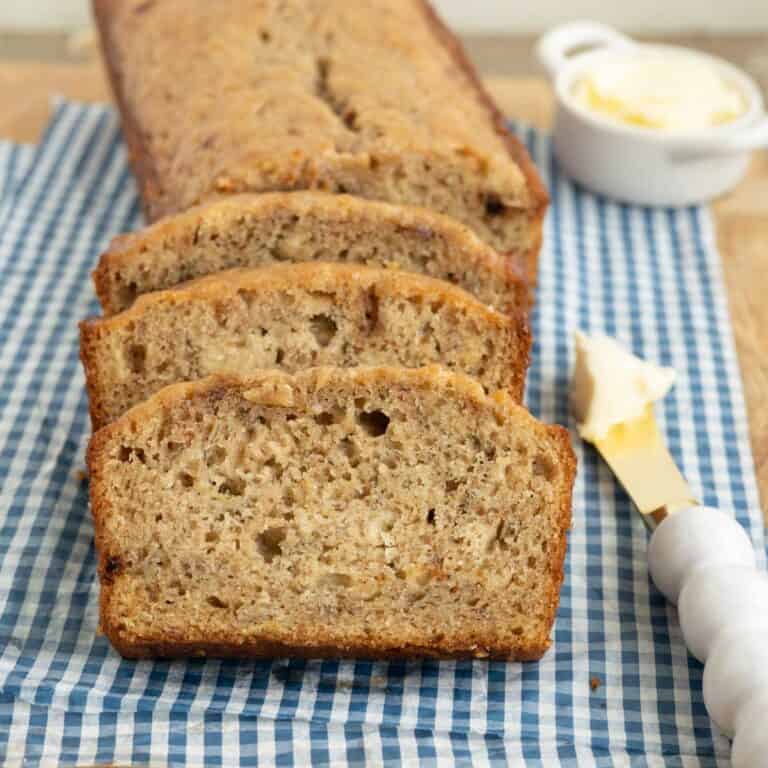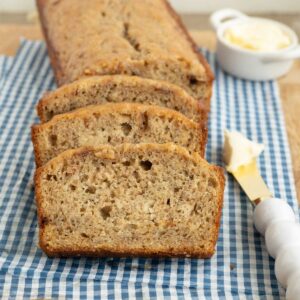 Greek Yogurt Banana Bread
Adding Greek yogurt to banana bread is the best because the acidity in the yogurt activates the baking soda and makes the banana bread extra fluffy, light, and moist! It's an easy recipe!
Ingredients
3

mashed bananas

2

teaspoons

vanilla

2

whole

eggs

1 1/2

cups

brown sugar

1/2

cup

plain Greek yogurt

2/3

cup

canola oil

or vegetable oil

2

cups

all-purpose flour

3/4

teaspoon

salt

3/4

teaspoon

soda

1

teaspoon

cinnamon

optional

cinnamon and sugar

optional
Instructions
Preheat oven to 325 degrees. Prepare two loaf pans by spraying with nonstick baking spray, or lining them with parchment paper. Set aside.

Mash bananas in an electric mixer mixing bowl with the paddle attachment or using a fork.

Add vanilla, eggs, brown sugar, yogurt, and oil to the bananas. Mix on medium spped until creamed.

Add baking soda, salt, and ground cinnamon. Beat until combined.

Add flour and beat on low speed just until the flour is incorporated. It's okay if there are still a few streaks of flour.

Stir in extra flavor add-ins, like chocolate chips, chopped walnuts, etc. Add-ins are optional.

Divide the banana bread batter evenly between the two prepared loaf pans. Sprinkle with extra cinnamon sugar if you'd like!

Bake bread for 40-45 minutes. Insert a toothpick in the center of the bread until it comes out with only a few moist crumbs. Or, test the doneness with an instant-read thermometer. The internal temperature of the bread should be 200-205° F.

Remove from the oven and let it rest for about 5 minutes in the bread pan. Remove from the bread pans and completely cool on a baking rack before slicing or storing.
Notes
Sour cream may be substituted for Greek yogurt.
Vanilla or plain Greek yogurt may be used.
This recipe can be made into one loaf of bread or muffins. Making it into one loaf will require a longer baking time (about 55-60 minutes)since the bread will be thicker. Muffins will take about 15-20 minutes to bake.
Nutrition
Calories:
162
kcal
|
Carbohydrates:
25
g
|
Protein:
2
g
|
Fat:
6
g
|
Saturated Fat:
0.5
g
|
Polyunsaturated Fat:
2
g
|
Monounsaturated Fat:
4
g
|
Trans Fat:
0.02
g
|
Cholesterol:
1
mg
|
Sodium:
79
mg
|
Potassium:
89
mg
|
Fiber:
1
g
|
Sugar:
15
g
|
Vitamin A:
10
IU
|
Vitamin C:
1
mg
|
Calcium:
18
mg
|
Iron:
1
mg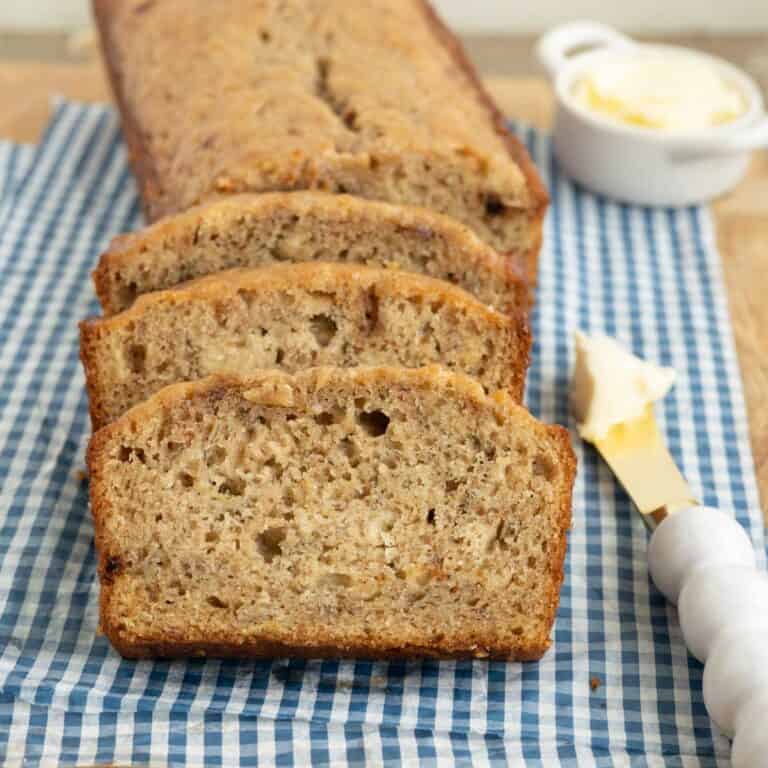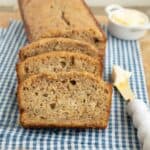 tried this recipe?
Make sure to share it with me! Leave a review or tag me on Instagram