Indulge in this irresistibly soft chocolate pudding cookie recipe! These double chocolate cookies are a quick, easy, and decadent treat made with instant pudding mix and plenty of chocolate chips! Perfectly soft and delicious!
There's something magical about sinking your teeth into a soft, gooey chocolate chip cookie that practically melts in your mouth. Imagine combining that delightful texture with the rich flavors of chocolate pudding – a match made in cookie heaven!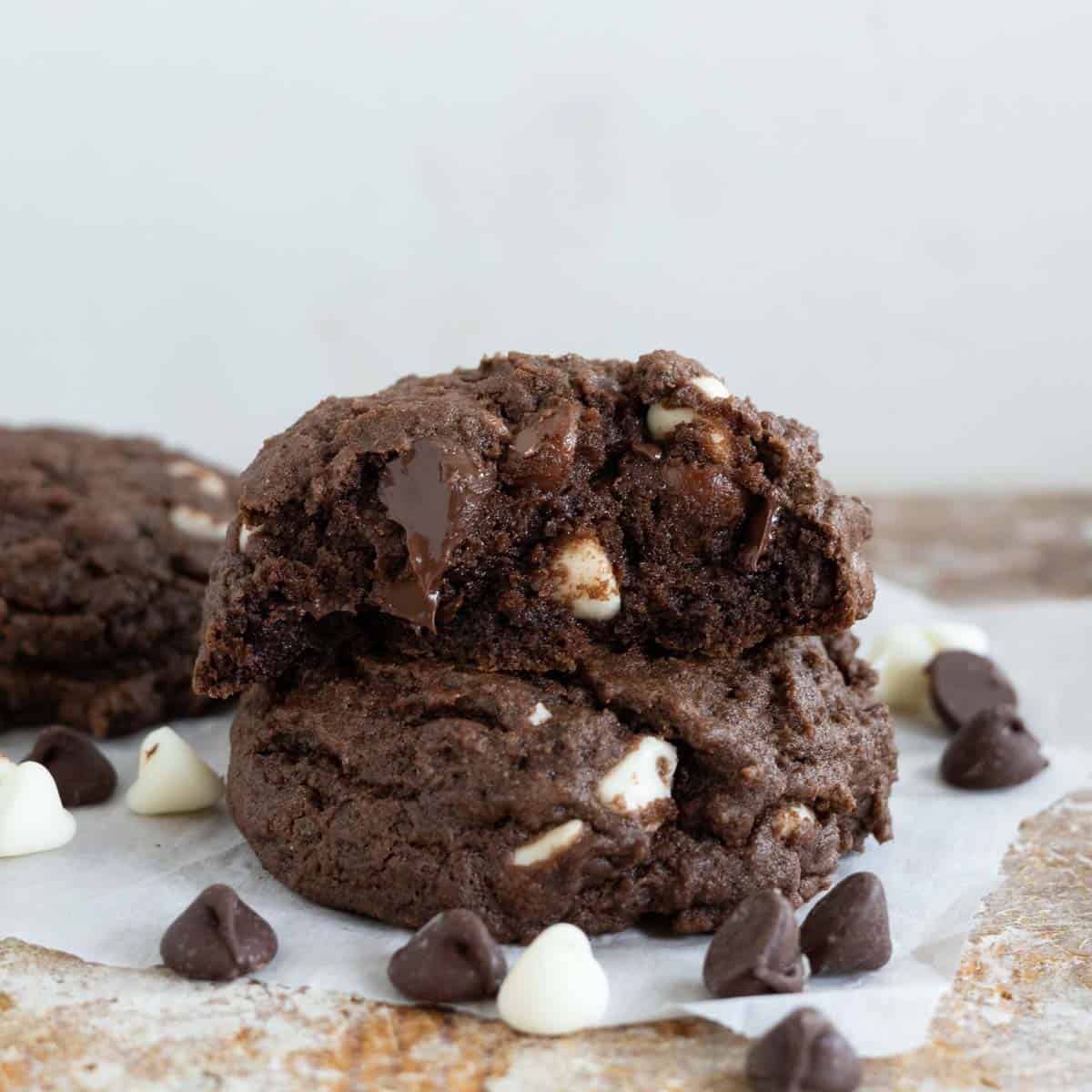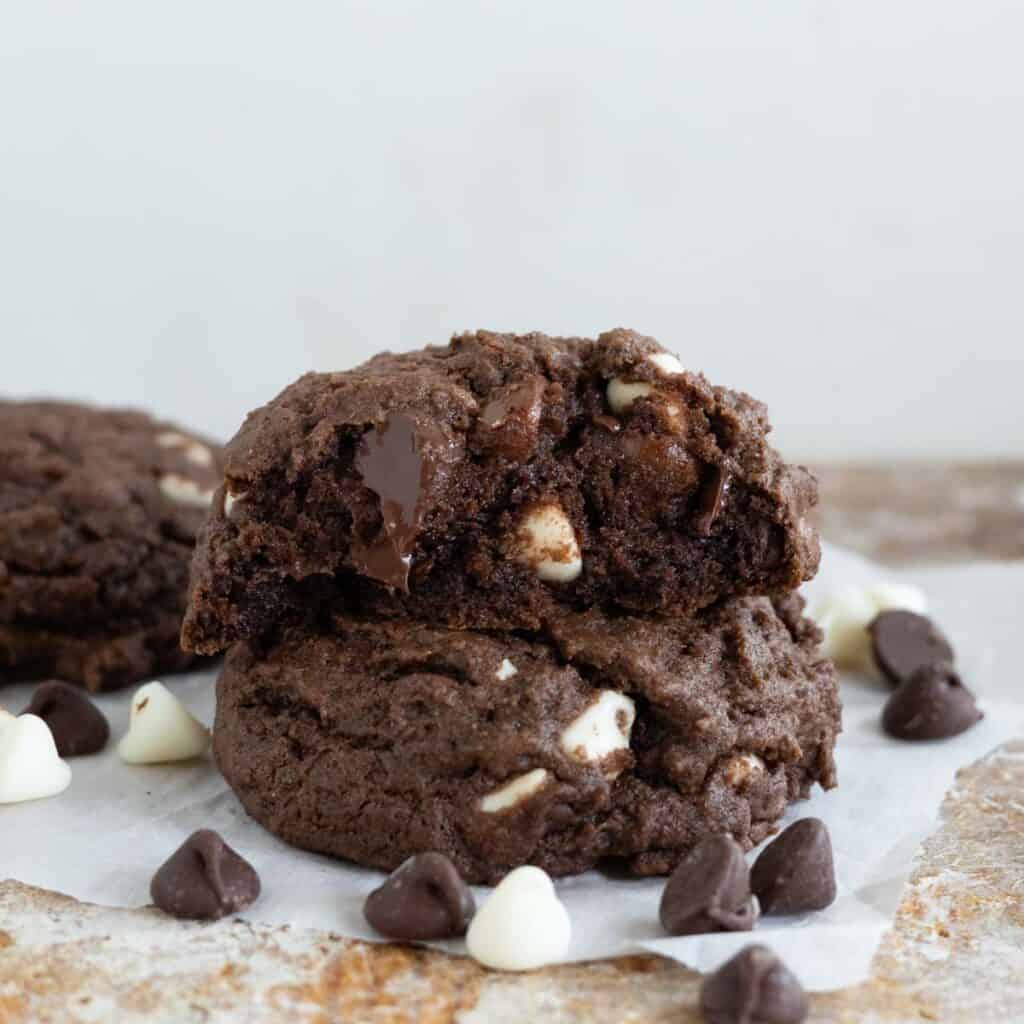 This post was originally published in 2014 and updated in 2023 to include new images and text. The recipe stayed the same!
If you're craving a treat that's quick, easy, and guaranteed to satisfy your sweet tooth, look no further than these Chocolate Pudding Cookies. With the perfect blend of convenience and decadence, this recipe is a must-try for both baking beginners and seasoned pros.
Cookies are definitely my favorite dessert! I love them all…soft cookies, crispy flat cookies, chewy cookies, thick cookies, chewy cookies, frosted cookies, and drop cookies! Cookies always hit the spot whether it's strawberry cookies, pumpkin oat cookies, or frosted sugar cookie bars!
When I was a kid my grandma made classic chocolate chip cookies with pudding and I declared them as my new favorite cookie! It was my first pudding cookie and I was in love!
Since then I decided I needed to switch things up just a little bit and make a chocolate version of her cookies! Using instant pudding mix is the secret ingredient in making the perfect double chocolate chip cookies!
These chocolate cookies with pudding have ALL the things! They're loaded with that rich chocolatey flavor that I can't live without!
​Why You'll Love This Recipe
Quick and easy! This chocolate cookie recipe is pretty much made like any basic cookie recipe, PLUS it has a dry pudding mix! All you have to do is add the dry pudding mix (don't make the pudding according to package directions) with the rest of the dry ingredients. You can make the cookie dough ahead of time and chill it until you're ready to bake, or mix the dough and bake it right away.
So much chocolate! These cookies are loaded with four different types of chocolate! They have chocolate pudding mix, cocoa, chocolate chips, and white chocolate chips! These are the best cookies, especially for chocolate lovers!
Customizable! It's easy to switch this cookie recipe up to make it exactly as your family likes. Use different kinds of chocolate chips or flavors of pudding.
Why Instant Pudding Cookies?
If you aren't familiar with adding instant pudding mix to cookies, you're missing out! Chocolate pudding cookies are typically soft, thick, and full of flavor! Instant pudding mix has cornstarch in it which helps the cookies stay soft. It also adds extra chocolate flavor.
Be sure to use instant pudding mix. Cook and serve won't work for this recipe. You only need the dry pudding mix. Don't make the pudding according to the package directions. The cookies won't turn out!
Of course, this recipe is all about chocolate pudding cookies. But, switching up the pudding flavors to make different kinds of cookies is really fun! I recently made Chocolate Chip Coconut Cookies with instant coconut pudding mix. So good! You can also use vanilla pudding mix, butterscotch, caramel, cheesecake, and pistachio pudding mixes.
Ingredients
Before you start your baking adventure, gather the following ingredients:
Butter: I love salt so I always use salted butter. You can use unsalted butter to control the amount of salt in the cookies. My family owns a dairy farm, so I can't recommend using margarine!
Sugars: Brown sugar and granulated white sugar
Whole Eggs
Vanilla Extract
Packet of Instant Chocolate Pudding Mix: Sizes of small boxes vary from brand to brand. They are typically between 3-4 ounces. You'll need one small box. Use any chocolate flavor pudding mix… hello chocolate fudge pudding mix!
All Purpose Flour
Unsweetened Cocoa Powder
Baking Soda
Salt: I love Kosher
Chocolate Chips: Use any combination you like as long as they add up to 3 cups. White chocolate chips, chocolate chunks, dark chocolate chips, milk chocolate chips, or semi-sweet chocolate chips are all great!
How to Make Chocolate Pudding Mix Cookies
This recipe really is simple! Let's walk through it!
For a thicker cookie make the dough ahead of time and shape it into cookie dough balls. Refrigerate the individual balls for up to 3 days. Bake chilled cookie dough as directed. You can also freeze the cookie dough balls in an airtight container for up to 3 months. If baking frozen cookie dough increase the baking by about 2-5 minutes (the baking time will vary depending on the size of the cookies). Or, allow cookie dough to thaw in the refrigerator before baking according to instructions.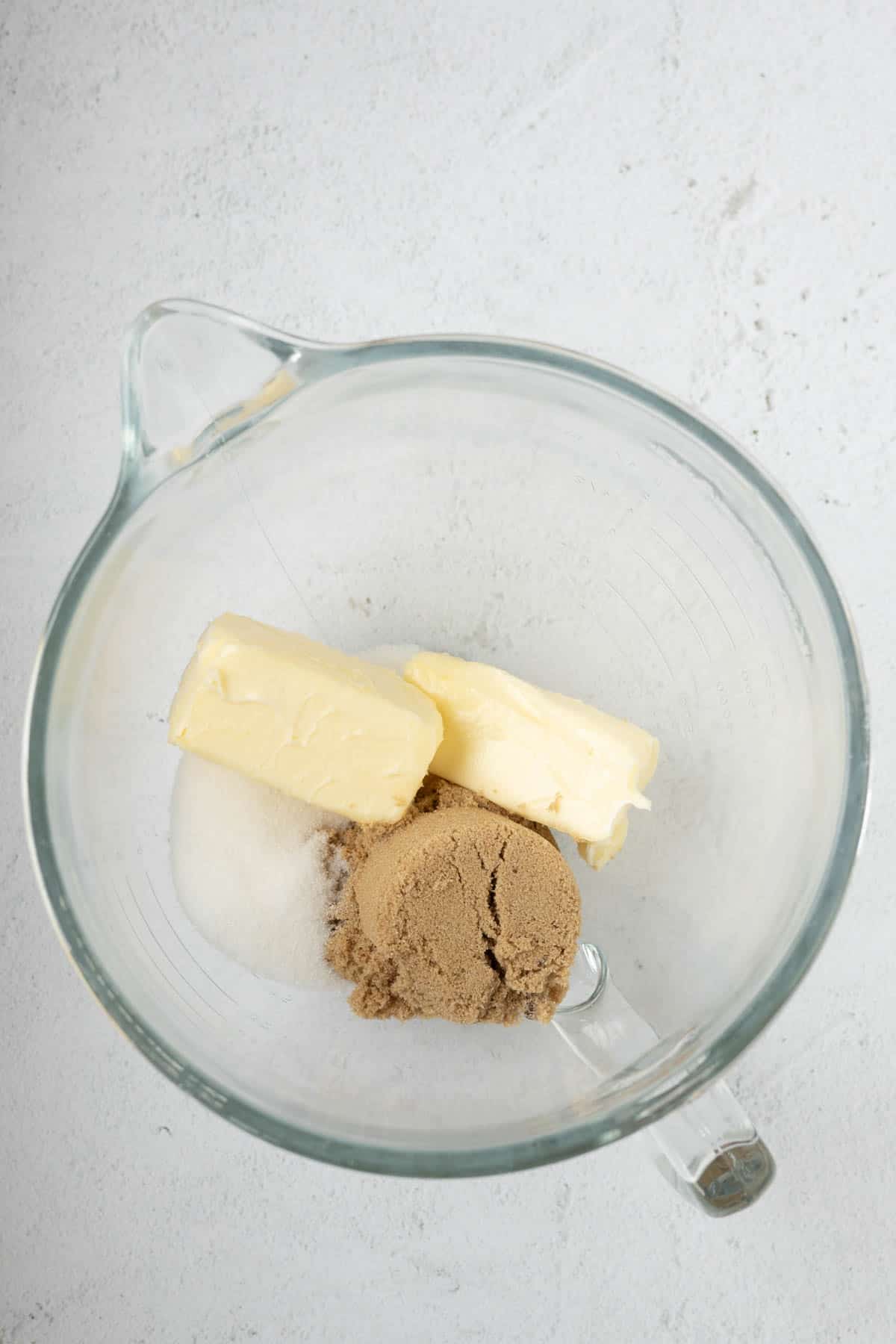 Step 1: Cream butter and sugars. Add room temperature butter, white sugar, and brown sugar to a large bowl for an electric stand mixer. Using a paddle attachment cream on medium speed until light and fluffy, about 2 minutes.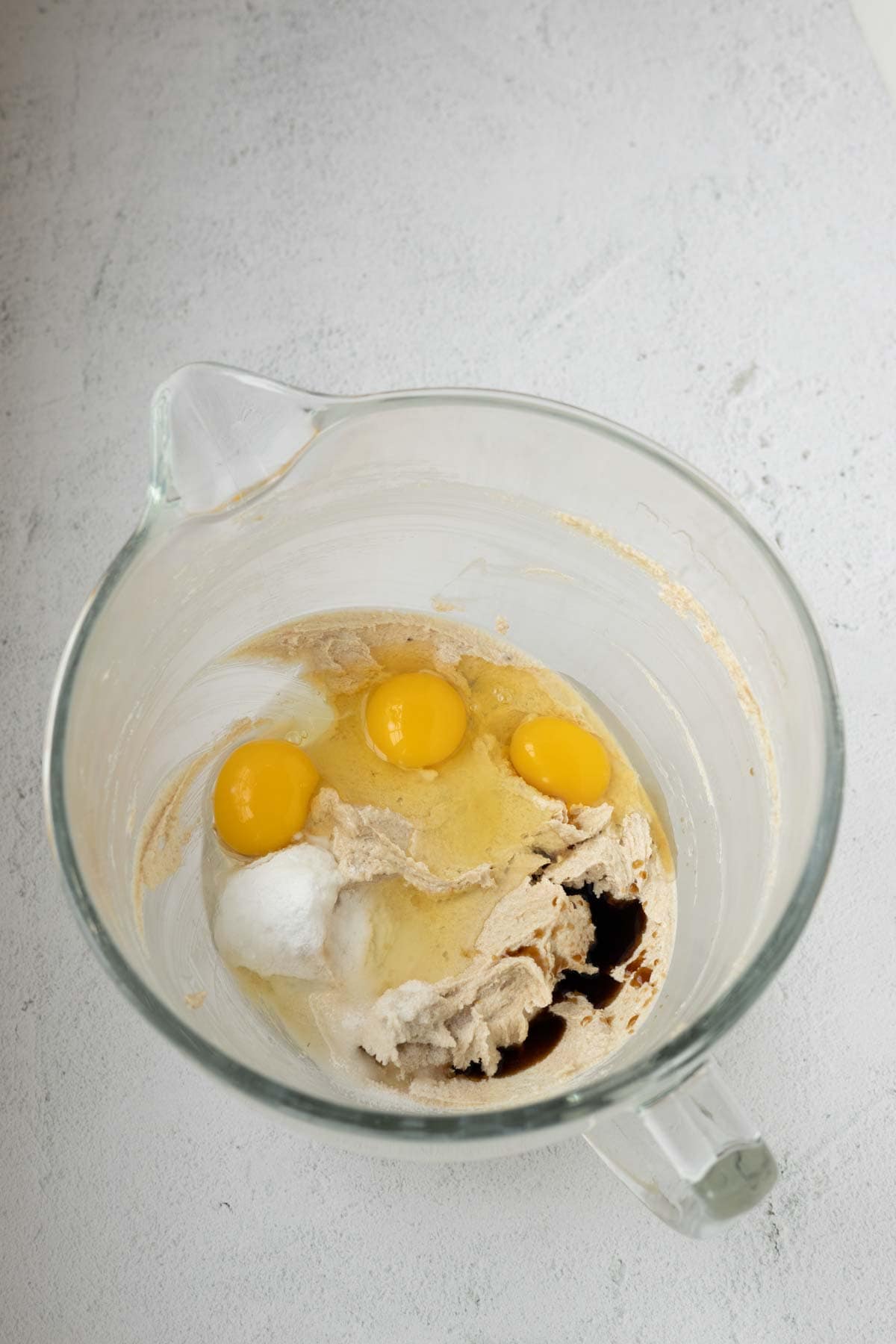 Step 2: Add eggs, vanilla, salt, and baking soda. Mix until smooth.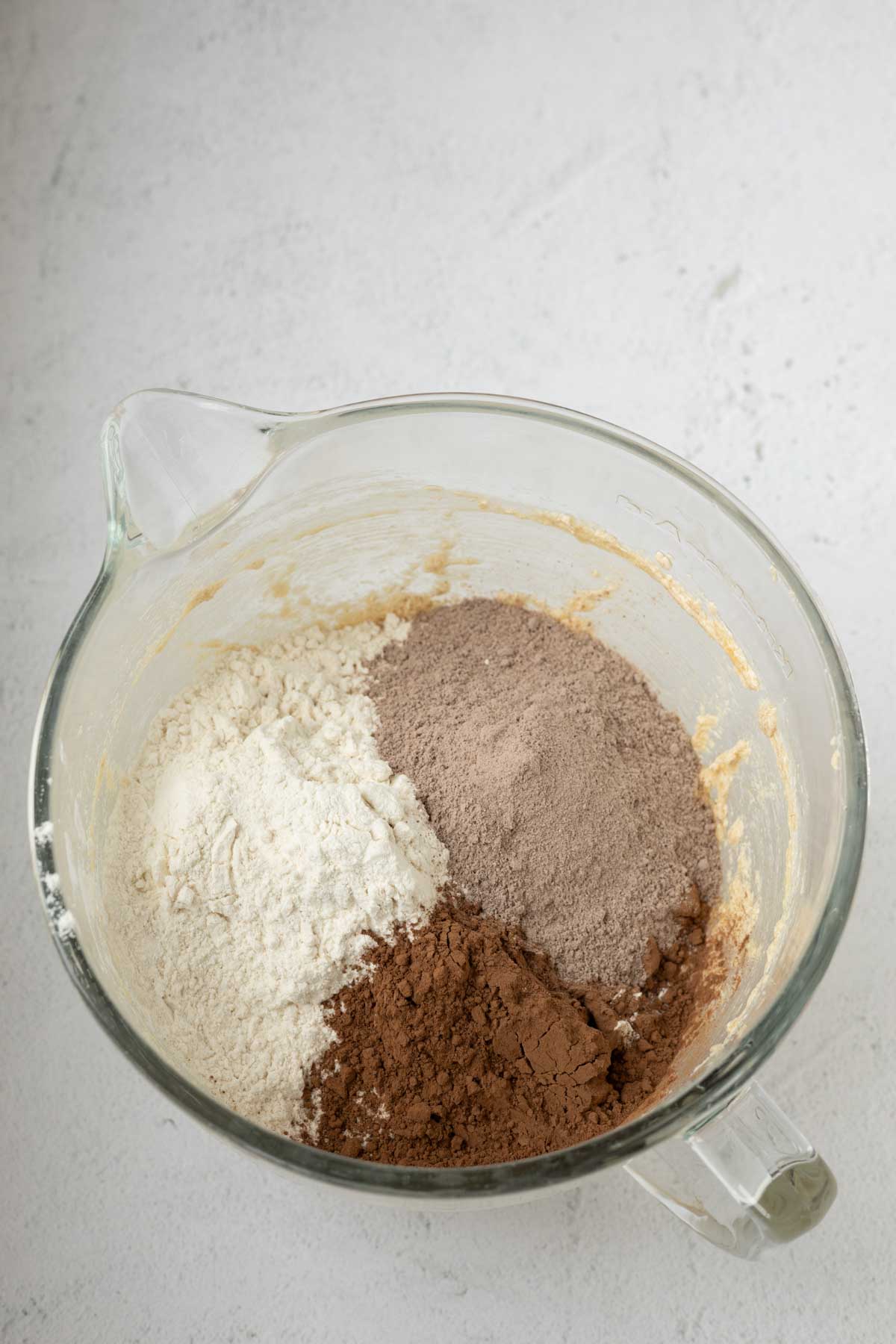 Step 3: Add flour, cocoa, and pudding mix. Mix only until combined.
Step 4: Add chocolate chips. Stir to incorporate the chocolate chips.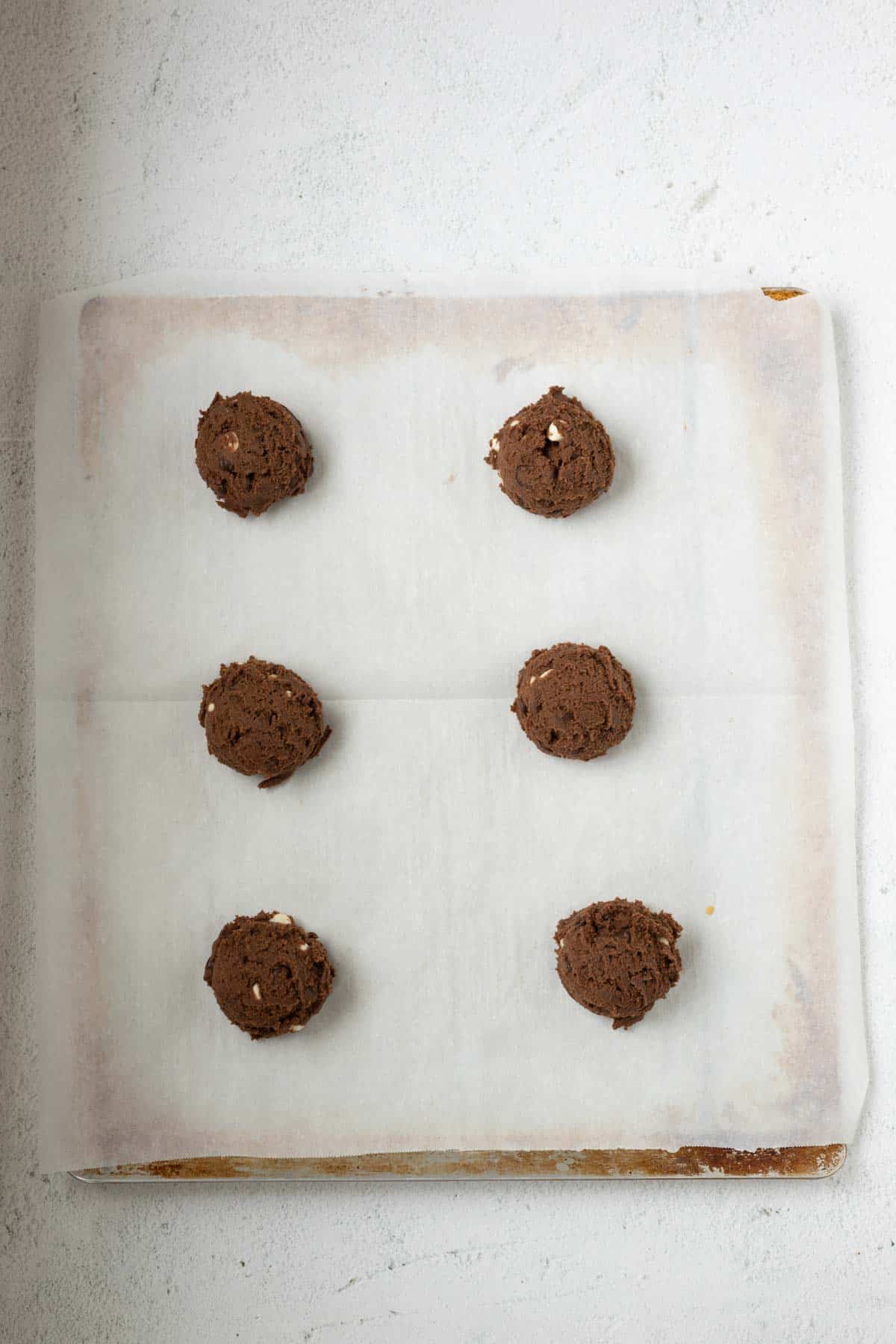 Step 5: Scoop. Use a 1/4 cookie scoop to scoop the cookie batter into balls. Drop dough on a parchment paper lined cookie sheet about 2 inches apart.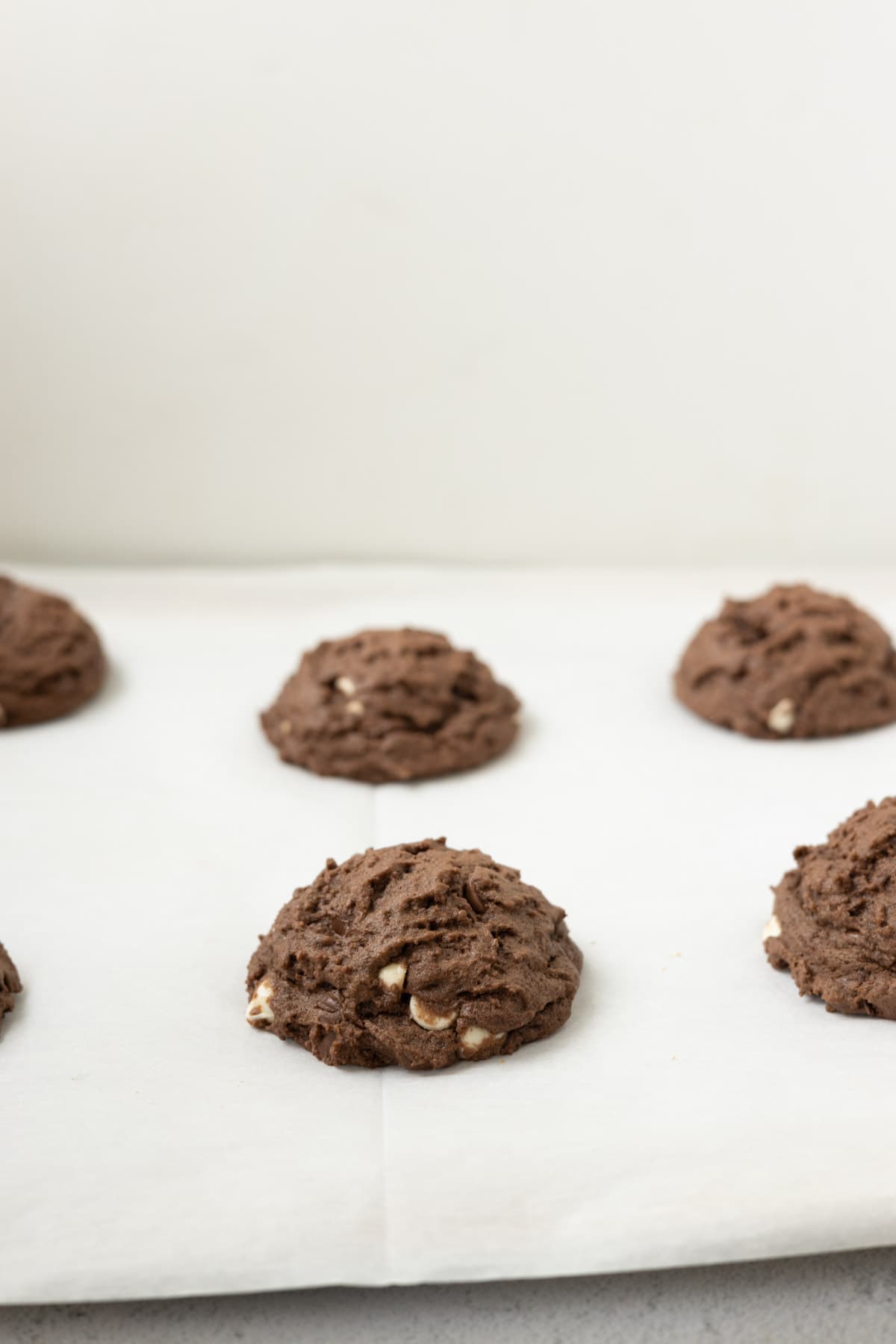 Step 6: Bake for 9-10 minutes. Let cool on the baking sheet for 1-2 minutes, then remove to a wire rack to completely cool.
Tips for Success
Room Temperature Ingredients: Using room temperature butter and eggs helps create a smoother cookie dough and promotes even baking.

Don't Overmix: When incorporating the dry ingredients into the wet mixture, mix just until combined. Overmixing can lead to tougher cookies.

Use a Cookie Scoop: Cookies the same size will bake evenly. I like this large cookie scoop (affiliate link).

Don't Overbake: The secret to moist cookies is to not overbake! The cookies will keep cooking for as they cool on the baking sheet.

Customize Your Mix-ins: Feel free to add chopped nuts (for a little crunch), white chocolate chips, or even dried fruit for an extra layer of flavor and texture.
Storage Tips
To keep your Soft Chocolate Pudding Cookies at their best:
Room Temperature: Store the cookies in an airtight container at room temperature for up to 5 days. Place a slice of bread in the container to help maintain its softness.
Freezing: You can also freeze the baked cookies for up to 2-3 months. Make sure to place parchment paper between the layers to prevent sticking. Store in a freezer container of freezer bag.
​FAQs
Remember, experimenting with ingredients and techniques is part of the baking fun. Don't hesitate to try different approaches to find the perfect chocolate chocolate chip pudding cookies that suit your taste and preferences!
Can I use a different flavor of pudding mix? Absolutely! While this recipe features an instant chocolate pudding mix, you can experiment with other flavors like vanilla, butterscotch, or even cheesecake for unique variations.
Why do my cookies spread too much? If your cookies are spreading too thin during baking, consider chilling the dough in the refrigerator for about 30 minutes before scooping and baking. This will help the cookies hold their shape better.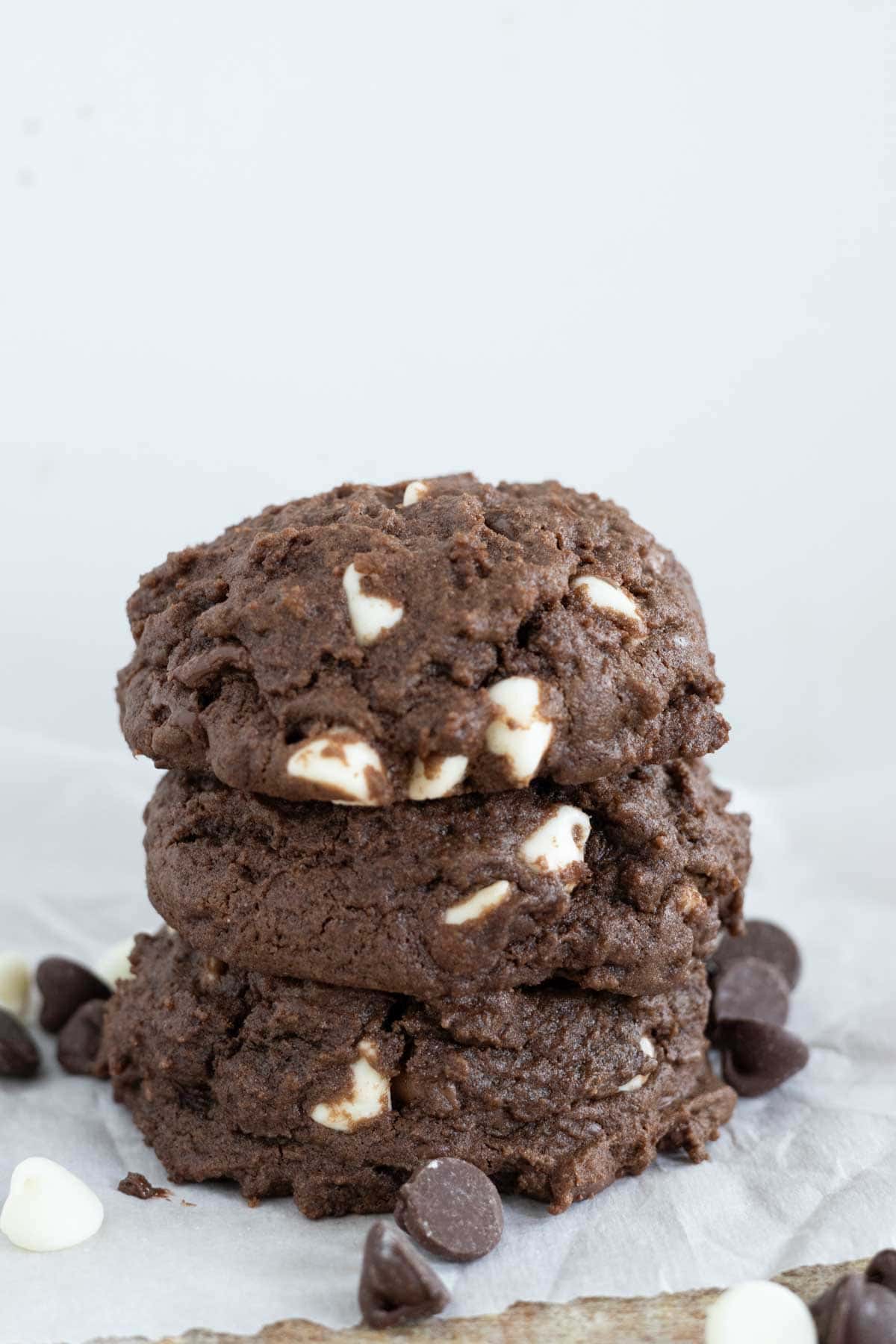 Other Easy Cookie Recipes
​If you're here I'm guessing you're a fellow cookie lover! Here are a few of our favorite easy cookie recipes!
Chocolate Pudding Cookie Recipe
The Chocolate Pudding Cookies recipe is a testament to the joy of simple pleasures.
With the convenience of instant pudding mix and the classic allure of chocolate chips, these cookies offer a delightful twist on the traditional chocolate chip cookie.
Whether you're baking them for a special occasion or just a cozy evening treat, these soft and gooey cookies are sure to bring smiles and satisfy cravings with every bite. So, grab your apron and get ready to enjoy the magic of baking these irresistible treats!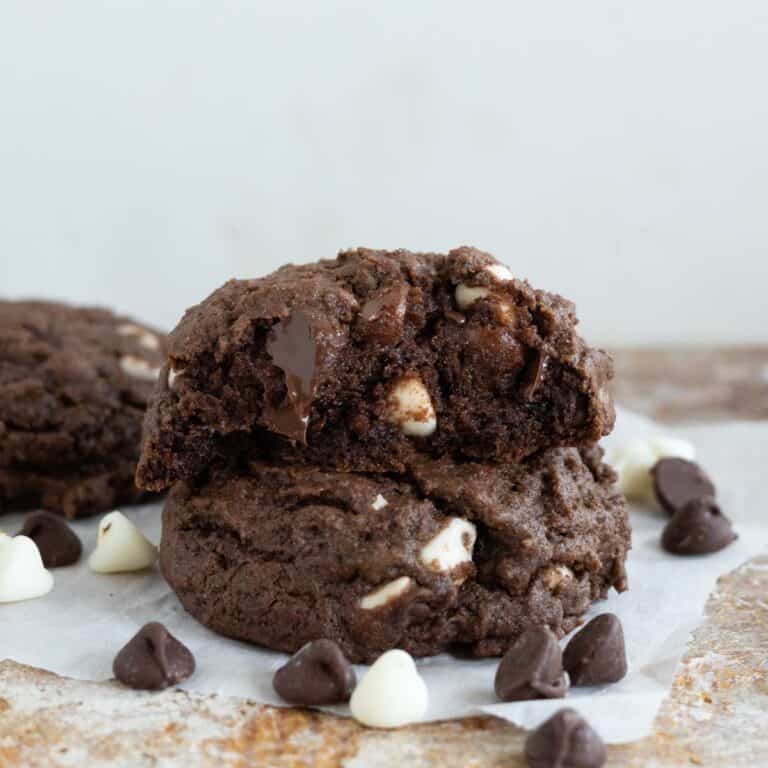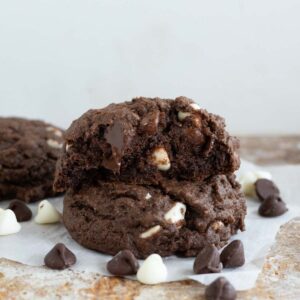 Chocolate Pudding Cookie Recipe
Indulge in irresistibly soft chocolate pudding cookies with gooey chocolate chips. A quick, easy, and decadent treat. Perfectly soft and delicious
Ingredients
1

cup

butter

1

cup

brown sugar

1/3

cup

granulated sugar

3

whole

eggs

3

teaspoon

vanilla

1

3.7 ounce package

instant chocolate pudding mix

1/3

cup

baking cocoa

3

cup

flour

1 1/2

teaspoon

baking soda

1/2

teaspoon

kosher salt

1

cup

semi sweet chocolate chips

1

cup

milk chocolate chips

1

cup

white chocolate chips

1

cup

walnuts

optional
Instructions
Preheat oven to 350 degrees.

Cream butter, brown sugar, and granulated sugar until light and fluffy, about 3 minutes.

Add eggs, vanilla salt, and baking soda. Mix on medium speed until light and fluffy.

Add cocoa, pudding mix (the dry mix only), and flour. Mix only until the dry ingredients are incorporated.

Stir in all the chocolate chips and nuts.

Form cookies in 1/4 cup size drop on a parchment paper lined baking sheet.

Bake for 8-10 minutes. Don't overbake!

Let the cookies rest on the baking sheet for about 5 minutes then move to a wire cooling rack to finish cooling.
Notes
Use any combination of chocolate chips you like. Just make sure they equal 3 cups of chocolate chips.
Nutrition
Calories:
262
kcal
|
Carbohydrates:
31
g
|
Protein:
3
g
|
Fat:
15
g
|
Saturated Fat:
8
g
|
Polyunsaturated Fat:
2
g
|
Monounsaturated Fat:
3
g
|
Trans Fat:
0.3
g
|
Cholesterol:
19
mg
|
Sodium:
155
mg
|
Potassium:
109
mg
|
Fiber:
2
g
|
Sugar:
19
g
|
Vitamin A:
209
IU
|
Vitamin C:
0.1
mg
|
Calcium:
38
mg
|
Iron:
1
mg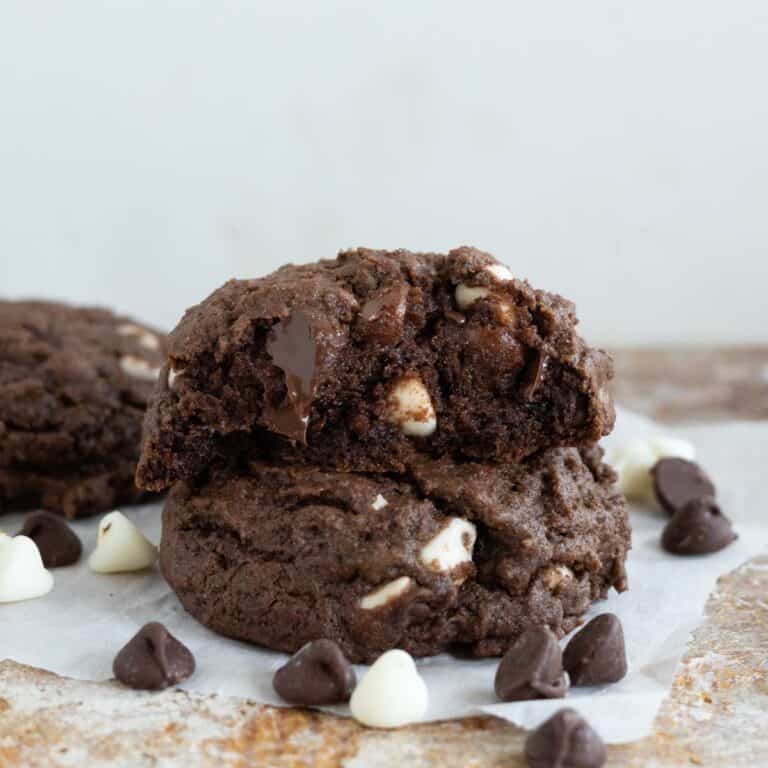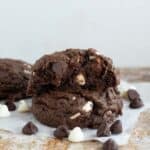 tried this recipe?
Make sure to share it with me! Leave a review or tag me on Instagram