Check out these Weekly Meal Plan Recipes to switch up your menu planning! These ideas will make breakfast and dinner exciting again! All the recipes are kid-friendly, inexpensive, and quick and easy to make!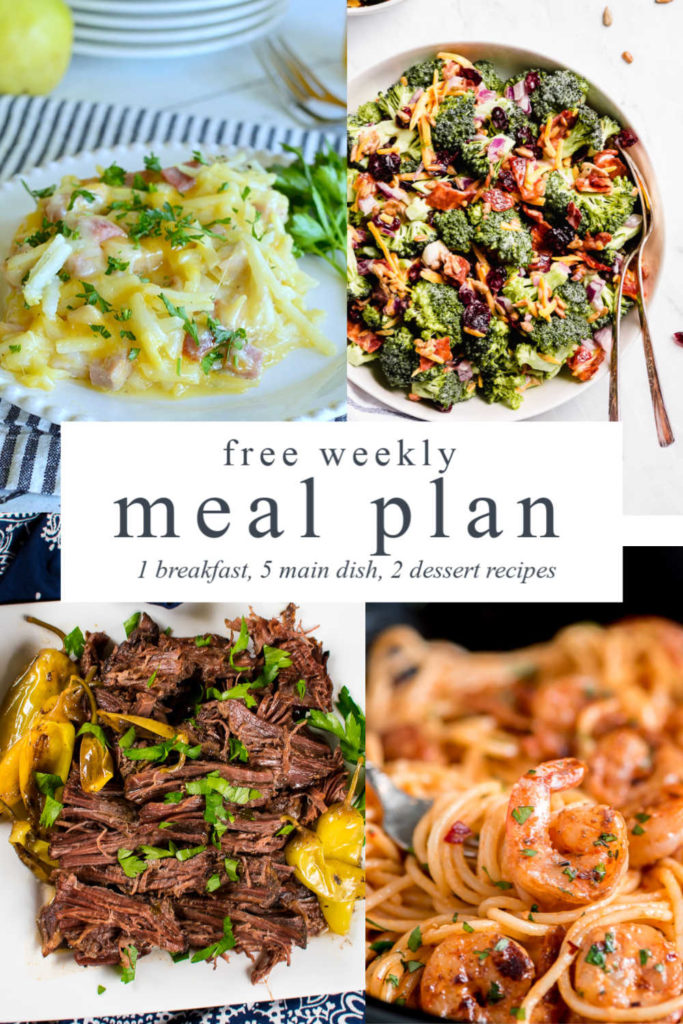 Meal planning can get so ho-hum and boring! And I'm just not ready to pay for a free meal plan. So, I threw together these free weekly meal plans for you!
My favorite way to plan meals for the week is to be flexible about which meals are going to happen on which days. Feel free to adjust as plans change throughout the week. It's good to have a plan, but don't feel married to it!
This weekly menu has everything from slow cooker, 20 minute meals, and baked dishes. And, you can choose from beef, shrimp, turkey, chicken, and pasta! There's something for everyone!
Do whatever works best for you! Having my family gather together for meals is so worth the effort! Even if it's a super easy meal, I'm always glad we spent that time together!
Make-ahead Breakfast Recipes
Here are a few of my very favorite make ahead breakfast recipes! There's nothing as nice as grabbing breakfast out of the fridge and throwing it in the oven in the morning!
Main Dish Weekly Meal Plan Recipes
Easy Side Dish Salad
This salad is loaded with flavor and goes with just about any main dish in your weekly menu plan!
Dessert Weekly Meal Plan Recipes
Chocolate desserts are life! No-bake desserts are even better! So, here's a divine chocolate dessert. I'm not leaving my fruit desserts, lovers, out though, I've got you covered too!