Strawberry Salad Dressing is made with fresh strawberries which gives it a gorgeous color and Greek yogurt makes it creamy and healthy! This recipe only takes 5 minutes to make in a blender! It's delicious served over Poppyseed Spinach Salad! Make a big batch because you'll want to serve it over everything!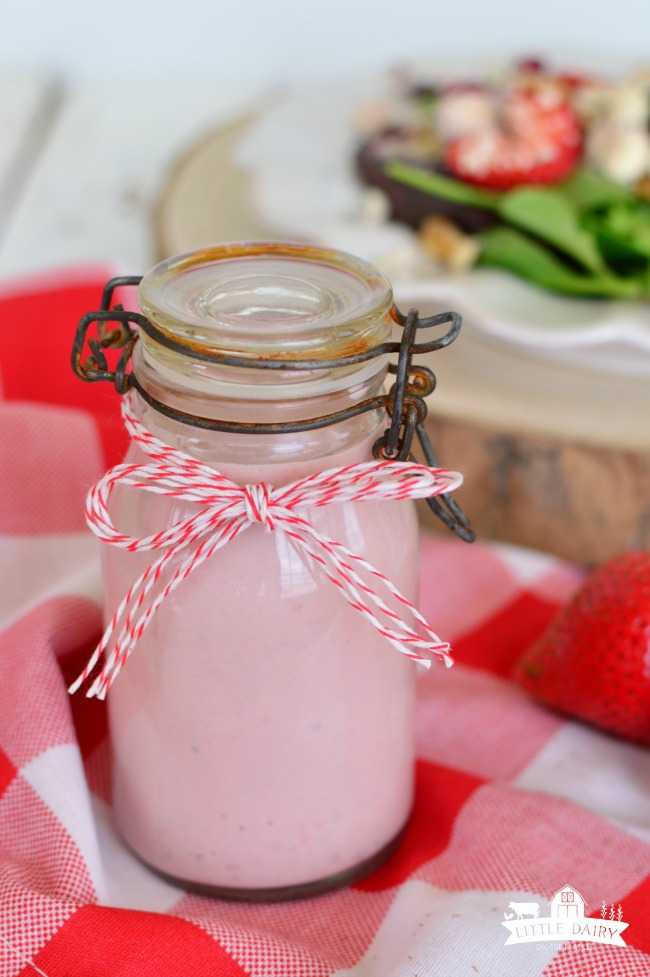 Salads were made for spring! I especially love adding juicy fresh fruit to my green salads! I've always been a salty-sweet kind of girl and maybe that's why I like adding fruit to savory salads so much. How about you? Do you love it? Are you ready to try it? Asian Cabbage Salad, Orange Spinach Salad, Watermelon Blueberry & Feta Salad, Chicken Pasta Salad with Grapes, Broccoli Pasta Salad with Apples, and Grape Salad are amazing!
Justin's cousin and her husband own a little restaurant and all their salad dressing recipes are made in house. After tasting their strawberry dressing I just knew I had to try making my own homemade version! The trick is to use fresh strawberries. Make sure they are perfectly ripe because they add the perfect amount of sweetness and fresh flavor! There's such an explosion of flavors because adding vinegar almost makes it almost like a vinaigrette, but Greek yogurt keeps it creamy! Call it whatever you want, but this stuff is seriously good enough to eat with a spoon!
Strawberry Salad Dressing Ingredients
You'll only need 5 simple ingredients! Most homemade salad dressing recipes only have a few ingredients and are super quick and easy to make! Plus I love knowing exactly what's in my dressing! I'm giving you some options for substituting ingredients to make different variations.
Fresh Strawberries – Use perfectly ripe fresh strawberries! If you are really in a bind and need to use frozen strawberries be sure to thaw them and drain the juices before adding them to the blender.
Plain Greek Yogurt – Use plain Greek yogurt. You can use strawberry Greek yogurt, but you'll want to leave the honey out if you do. Don't use traditional yogurt.
Balsamic Vinegar – Balsamic is my favorite because it gives the dressing a balsamic vinegarette flavor. You can also use red or white wine vinegar.
Honey – Granulated sugar may also be used.
Poppy Seeds – They add that fun traditional poppy seed dressing look!
Salt and Pepper – to taste. I don't usually add any!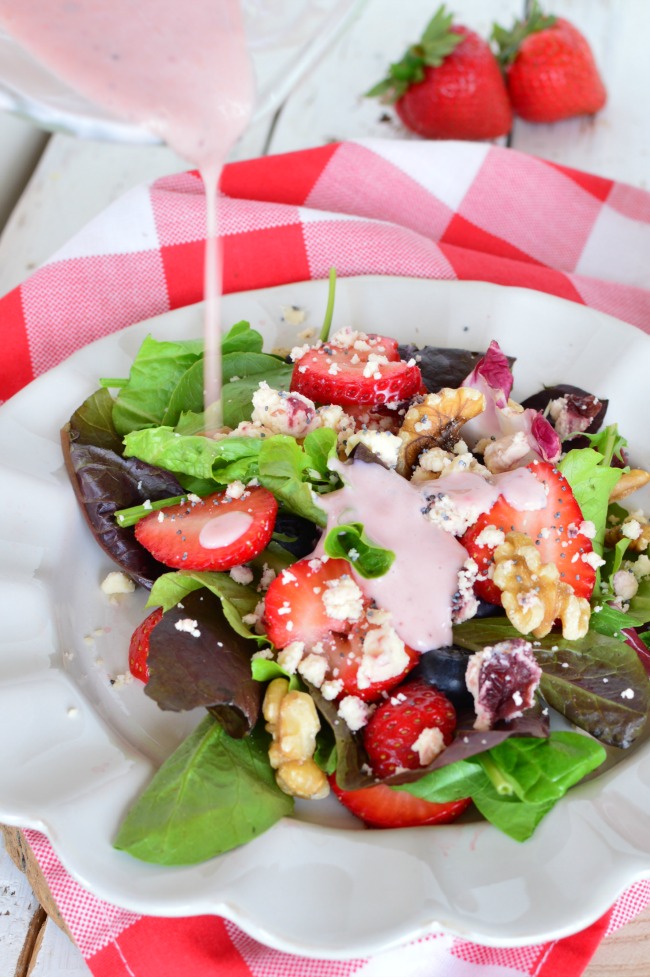 How to make Strawberry Vinaigrette
Although this recipe is really easy to make, you'll need a blender. If you don't have a blender you can use an immersion blender.
Add strawberries, Greek yogurt, vinegar, and honey to a blender.
Blend until smooth.
Stir in poppy seeds. Add salt and pepper to taste. You don't want to add the poppy seeds before blending because you won't be able to see them.
How to store Strawberry Dressing
We devour this dressing so quickly that storing barely exists!
You'll want to keep it in an air-tight container.
It will last in the fridge for up to 4 days.
How to serve Strawberry Salad Dressing
This salad dressing is really delicious served on about any salad! I've had it at a restaurant served over traditional house salad with tomatoes, cucumbers, and carrots! It's better than you think! Here are some ideas for creating the perfect salad to go with this dressing! Pick and choose from the options to create your favorite variation!
Greens – Romaine lettuce, spinach, baby spring mix, iceberg lettuce
Fresh Fruit – Strawberries, blueberries, pineapple, raspberries, oranges, apples, etc.
Something crunchy – toasted walnuts, almonds, sunflower seeds, pecans, etc. Coconut flakes are fun!
Meat – To make it a main dish meal add grilled chicken. Bacon is always a great option!
Cheese – Feta is classic! Blue cheese, Parmesan, and Swiss are perfect too!
Dried Fruit – I love adding dried cranberries. Dried apricots would be fantastic too.
Onions – Purple, or red onions are gorgeous! Soak them in ice water to mellow them. I like sliced green scallions. My family doesn't like onions at all!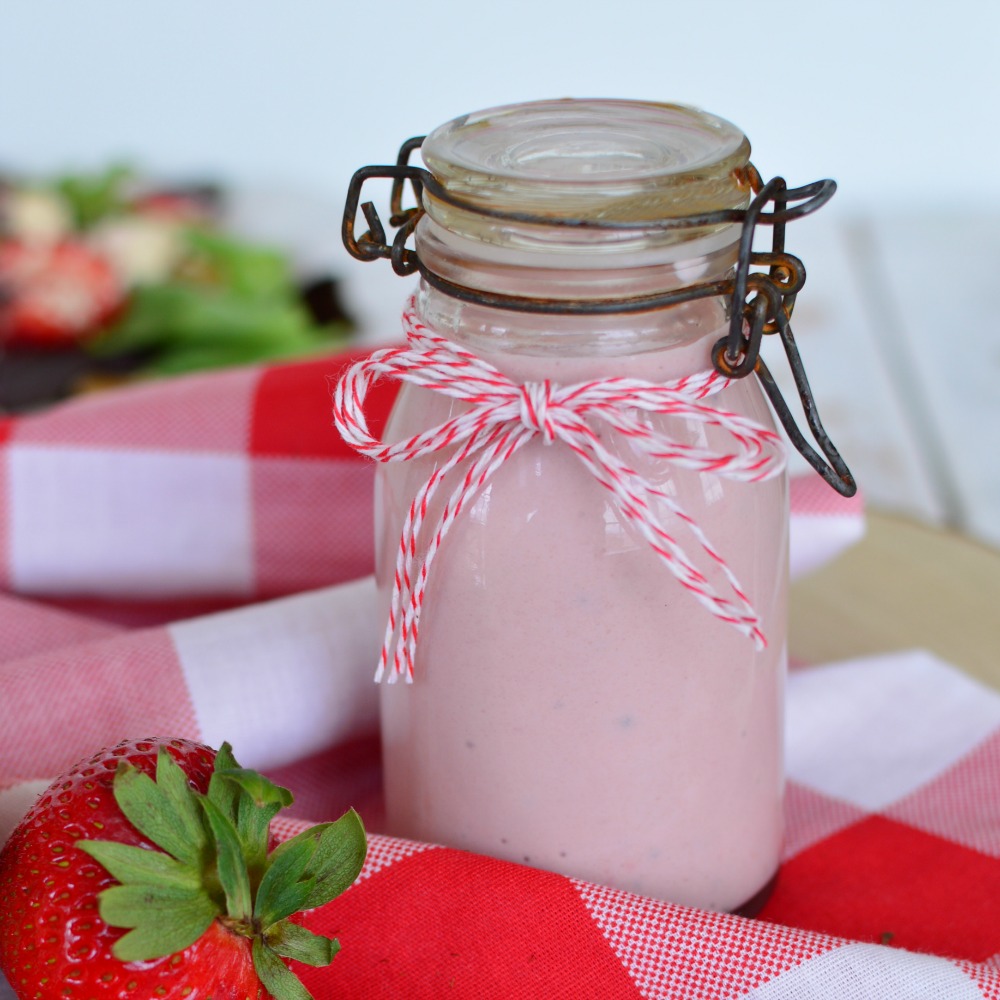 Grab my Strawberry Salad Dressing Recipe!
I can't wait for you to try the BEST Strawberry Salad Dressing! I have a feeling you might not ever want to buy store-bought dressing ever again! It's seriously even better than Bitten Salad Dressing and so much less expensive too!
Be sure to try these other homemade salad dressing recipes too!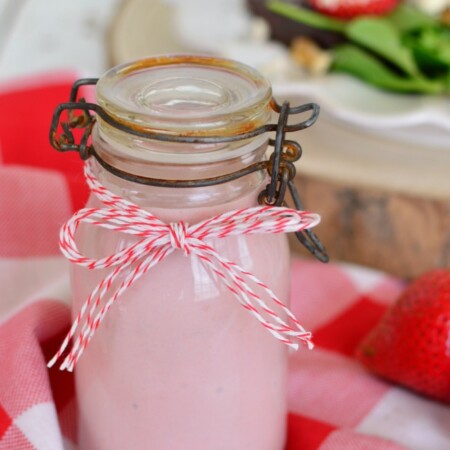 Strawberry Salad Dressing
Strawberry Salad Dressing is a healthy, homemade salad dressing made with 5 simple ingredients; juicy fresh strawberries, vinegar, Greek yogurt, honey, and poppy seeds!
Ingredients
1/3

cup

Plain Greek Yogurt

2

Tbsp

Balsamic Vinegar

1

Tbsp

Honey

1/2

cup

Strawberries

fresh

1

tsp

Poppy Seeds
Instructions
Add Greek yogurt, strawberries, vinegar, and honey to a blender. Blend until smooth.

Add poppy seeds and stir until combined.
Notes
Substitutions : Red wine or white wine vinegar may be used instead of balsamic. Do not use frozen strawberries. They will make the dressing too thin. If you don't have a blender: Use an immersion blender. How to store: Store in an air-tight container in the refrigerator for up to four days.
Nutrition
Calories:
43
kcal
|
Carbohydrates:
8
g
|
Protein:
2
g
|
Fat:
1
g
|
Saturated Fat:
1
g
|
Cholesterol:
1
mg
|
Sodium:
8
mg
|
Potassium:
60
mg
|
Fiber:
1
g
|
Sugar:
7
g
|
Vitamin C:
11
mg
|
Calcium:
32
mg
|
Iron:
1
mg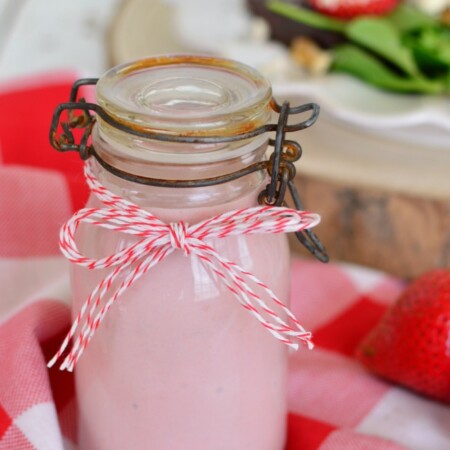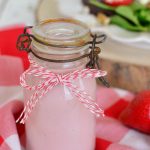 tried this recipe?
Make sure to share it with me! Leave a review or tag me on Instagram