Your house is going to smell amazing when you bake this Simple Puff Pastry Apple Tart! This dessert is every bit as delicious as apple pie, but not having to make a pie crust is a game changer! It's exactly what fall should taste like!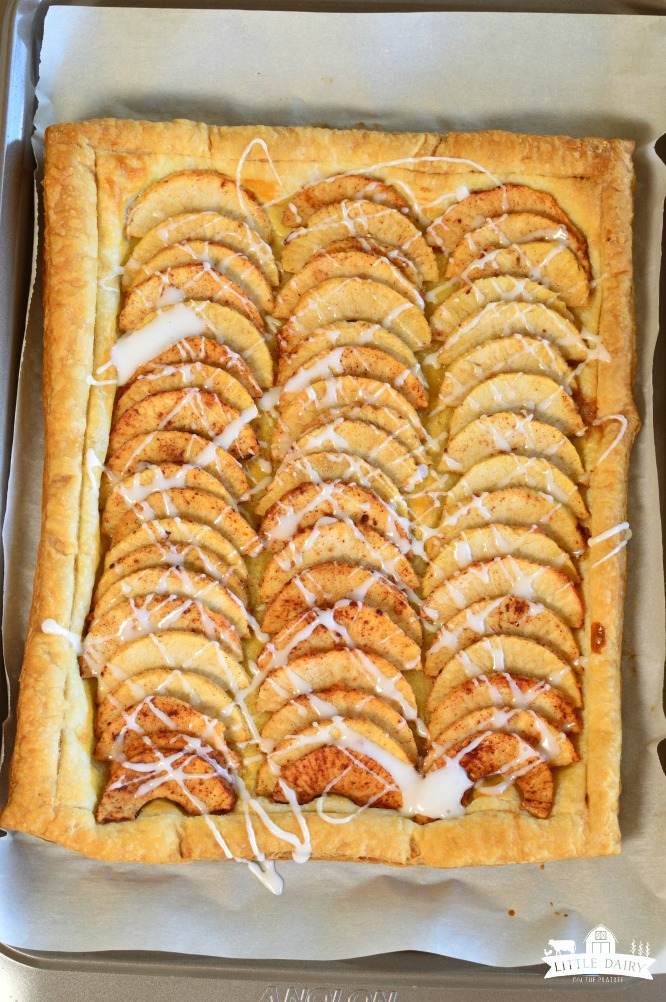 NOTE: The pictures and narrative in this post were updated in 2018. The recipe is still a favorite and hasn't changed!
Kids love this dessert!
Carson, my oldest, is always begging me to make him an apple pie. Except he chooses to use the most interesting words when he talks. He doesn't ask me to bake him an apple pie, or even to make him a pie. Instead, he asks if I will "build" an apple pie for him. I'm not sure where he comes up with these words, but that's the way he talks.
When your son asks you to "build" him and apple pie there's a part of you that wants to run in the kitchen and whip that pie up. You know, because you love your kids and you'd do anything for them?
Then there's that little part of you that wants to tell him to learn to "build" his own apple pie. You know because you want them to be successful adults and be able to do things for themselves. I'm happy to teach him, I just want him to help!
But there's the reality part of my mind that tells me I don't have time to make, bake, or build an apple pie regardless of who is helping me. That's when we say hello to Simple Puff Pastry Apple Tart!
This dessert satisfies his apple pie cravings without needing to know-how, or having enough time, to make a pie crust! He's a happy boy, and I'm a happy mamma!

Tips on how to use puff pastry
It's found in the freezer section, usually near the frozen pies and pie crusts
Buy it ahead of time and store it in the freezer
Wrap them in plastic wrap or put them in a sealable bag and lay flat to thaw. It usually takes about 20 minutes letting them sit at room temperature
Unfold puff pastry. If it has tears gently press them back together. You may need to moisten your fingers with a little water to help it stick together.
Roll it out on a lightly floured surface.
Puff pastry can be cut into shapes, slices, squares, circles, or left whole

How to quickly assemble Simple Puff Pastry Apple Tart:
Make sure puff pastry is thawed
Roll it out on a lightly floured surface until it's about an 8″ x 14″ rectangle
Transfer it to a parchment-lined baking sheet (parchment makes dishes easy and keeps food from sticking to the pan)
Create a 1/2″ border around the edges of the sheet. Be careful to only cut partway through the sheet. This helps the apple filling to stay in the middle and the outside edge to puff up creating a nice little edge that helps keep the filling inside.
Brush just inside the border with beaten egg.
Peel, core, and thinly slice apples. Toss with lemon juice, sugar, spices, and seasonings.
Arrange apples over the puff pastry.
Bake
Drizzle with icing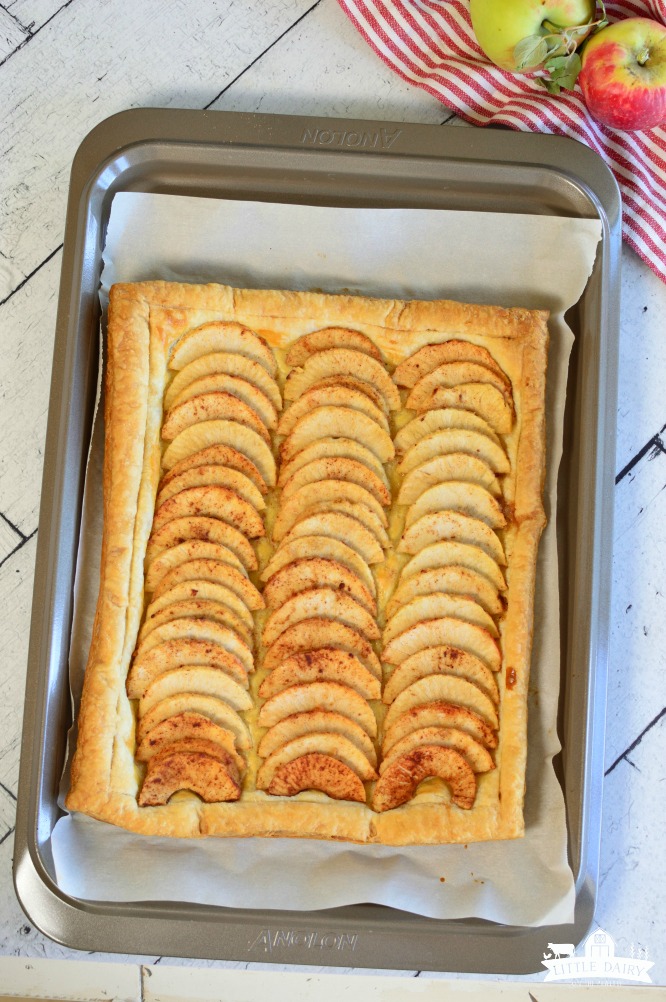 What are the best apples for baking and eating fresh?
There have been a few questions about how to get the apples without being too crunchy or too soft. Some varieties of apples are better for baking and some are better for eating fresh. It seems like there are more and more multipurpose varieties available than there used to be. I love that because I don't want to have to buy and store a couple of different kinds of apples, remember which is which, and try to teach my kids which is which. I already feel overwhelmed!
Here are a few of my favorite apples that are great for cooking as well as for eating fresh.
Honeycrisp
Fuji
Gala
Braeburn
Golden Delicious
Pink Lady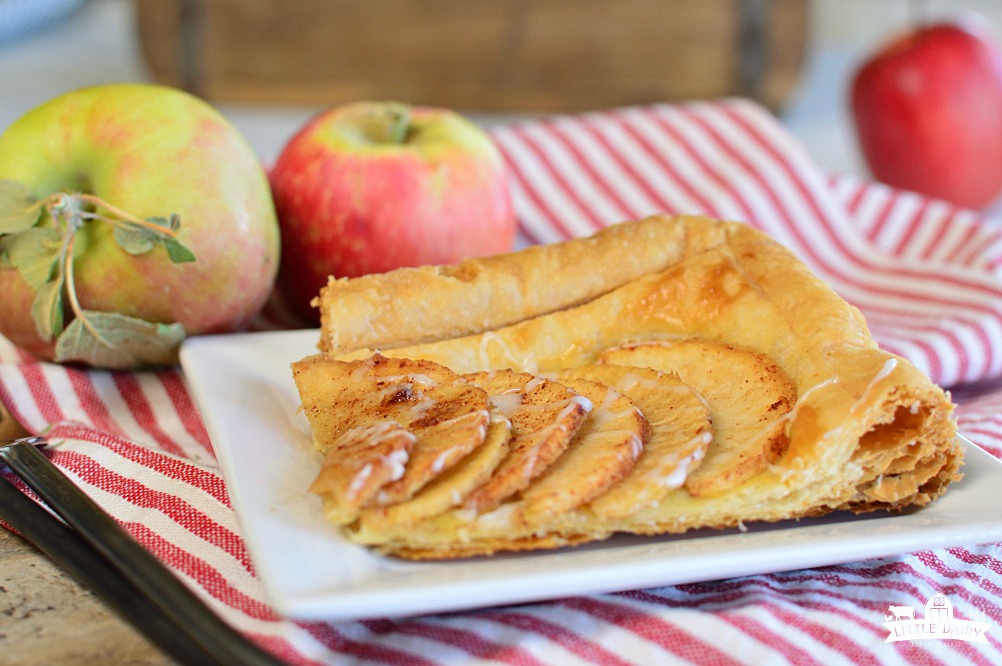 Perfect fall desserts!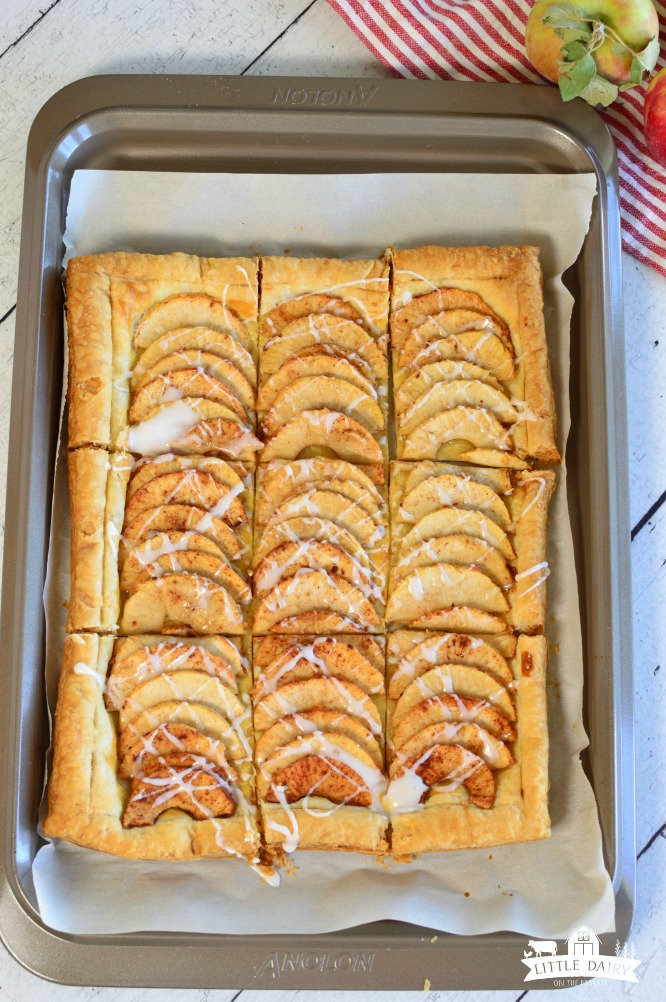 The other day I went downstairs to see exactly what Carson was doing down there. As soon as I got to the bottom of the stairs I heard him blasting his George Jones CD, yes he listens to super old country music and yes he still has a CD player and loves it! He truly was born a hundred years too late!
"What in the world are you doing down here", I asked him when I walked through his bedroom door. He informed me, "I'm cleaning up my property!" As I said, I'm not sure where he comes up with these words and I'm not going to complain because I saw his bedroom floor for the first time in a while!
Anyway, enjoy your teenagers and enjoy this super scrumptious Simple Puff Pastry Apple Tart!
Here's the printable recipe!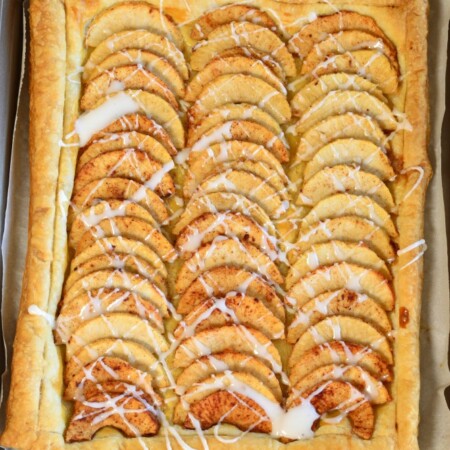 Simple Puff Pastry Apple Tart
This mouth-watering tart looks like it took hours to make and will impress any guests. It can be our little secret that it's incredibly simple to make!
Ingredients
1

sheet puff pastry

1

egg

beaten

3

medium-sized baking apples

I used Fuji

1/4

c.

brown sugar

dash salt

1/2

tsp.

cinnamon

1

T.

butter

1/2

tsp.

lemon juice

Vanilla Frosting
Instructions
Thaw one sheet of puff pastry until room temperature.

Preheat oven to 375 degrees.

Roll out into a 8" x 14" rectangle. Transfer to a parchment lined baking sheet.

Score edges of puff pastry creating a 1/2 inch border all around the pastry. You don't want to cut all the way through. Just make a score.

Brush pastry, inside of border, with beaten egg.

Peel and slice apples. Toss with lemon juice.

Melt butter in a mixing bowl. Mix with cinnamon, a dash of salt, and brown sugar. Add to apples and toss together.

Arrange apples as desired over puff pastry making sure to keep them inside scored border. Pour any remaining brown sugar mixture over apples.

Bake at 30-35 minutes or until apples are tender and pastry is golden brown.

Warm vanilla frosting in microwave until it reaches drizzling consistency. Drizzle over tart.

Serve warm or at room temperature.
Nutrition
Serving:
1
g
|
Calories:
178
kcal
|
Carbohydrates:
31
g
|
Protein:
2
g
|
Fat:
6
g
|
Saturated Fat:
2
g
|
Polyunsaturated Fat:
3
g
|
Cholesterol:
36
mg
|
Sodium:
80
mg
|
Fiber:
3
g
|
Sugar:
24
g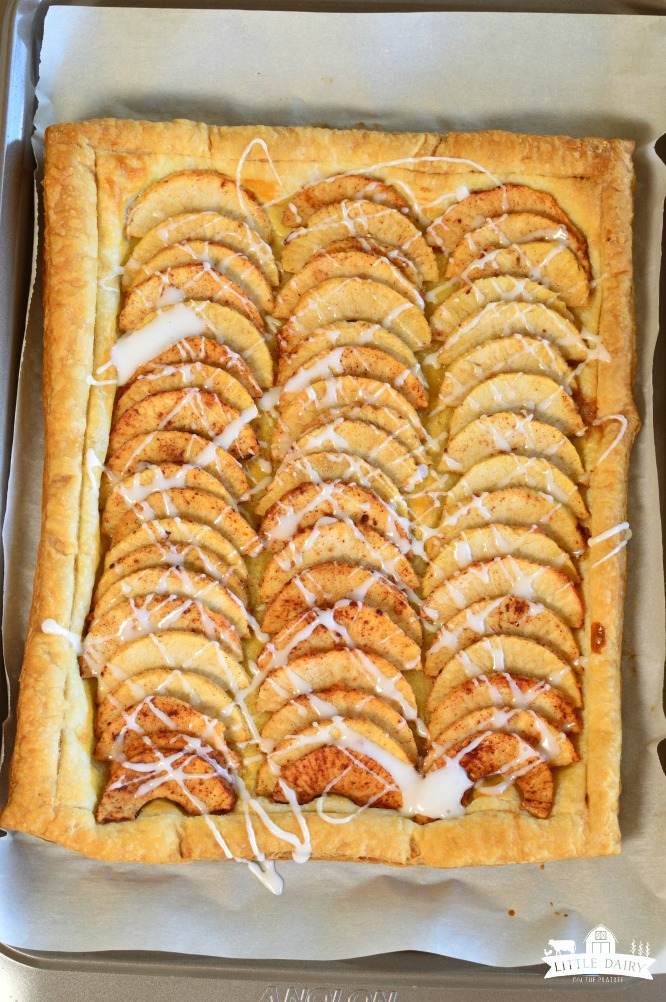 tried this recipe?
Make sure to share it with me! Leave a review or tag me on Instagram