I have to make a confession. It seems like I have been full of them lately. I really don't care for cake. It's not that I don't like cake. I really prefer warm, gooey brownies topped with ice cream and dripping with hot fudge sauce! It's been a long time since I have made a cake and decided it was about time. I'm glad I decided on this cake. It was more moist and decadent than I remembered. Who knows? Maybe I like cake more than I thought!
My mother in law introduced me to her version of this cake when I was dating Justin. Yum! I'm not sure I ever got her recipe so I concocted my own. I switched up my classic sour cream chocolate cake recipe and added frosting! I love the texture of this cake even more than the chocolate version. That's really saying something since I am a true chocoholic!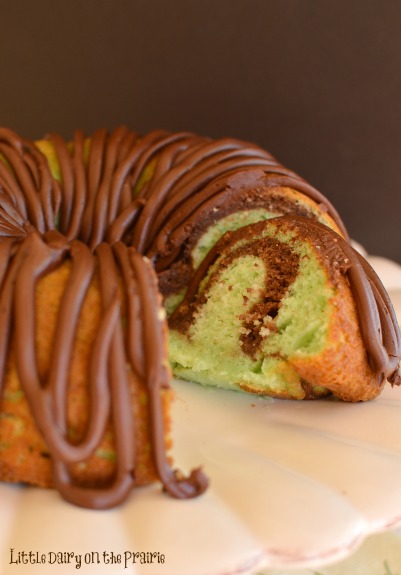 I can't seem to leave well enough alone. Which is why I drizzled chocolate frosting all over it! But look how pretty!

I love how this cake is as pretty on the inside as it is on the outside. Let's face it… it's what the cake is like on the inside that really counts. I sound like I'm teaching a confidence lesson to a group of girls.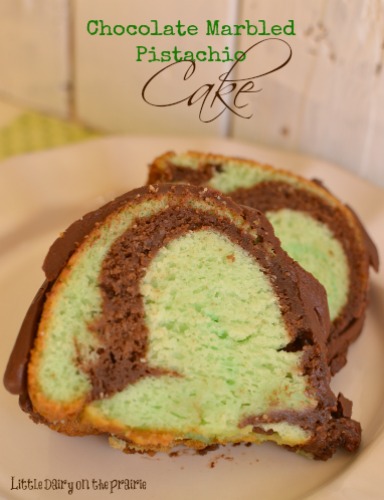 A pretty green cake like this is perfect for St. Patrick's Day, Easter or Christmas!
Pistachio Chocolate Marbled Cake
A beautiful cake! Wow your family with this incredibly moist and decadent cake! Since it starts with a cake mix its a cinch to throw together!
Ingredients
CAKE:

1

white cake mix

1 3.9

oz.

package instant pistachio pudding

1

c.

sour cream

4

eggs

1/2

c.

water

1/2

c.

vegetable oil

1

t.

almond extract

5

drops green food coloring

more or less as desired

1/3

c.

hot fudge sauce

FROSTING:

1/3

c.

cocoa

1 1/2

c.

powdered sugar

3

T.

evaporated milk

3

T.

melted butter

1/2

t.

almond extract
Instructions
Preheat oven to 350 degrees.

Grease and flour a bundt pan.

Mix cake mix, pudding, sour cream, eggs, water, oil, food coloring and almond extract just until combined. Then turn mixer on medium speed and mix for 3 minutes.

Put 1/3 of cake batter in a separate bowl. Add hot fudge sauce to this batter and stir to combine.

Layer the 1/2 of the remaining green cake batter in the bottom of greased bundt pan.

Next, layer the chocolate batter in the bundt pan.

Layer the remaining green batter in the bundt pan.

Bake for 40-45 minutes.

Let cool for ten minutes. Remove from bundt pan. Cool. Frost.

FROSTING:

Combine all frosting ingredients in a mixing bowl. Mix until combined. Add additional powdered sugar to thicken frosting. Or add additional milk to thin frosting.

Put frosting in a plastic bag. Snip the corner off and pipe over cake!
tried this recipe?
Make sure to share it with me! Leave a review or tag me on Instagram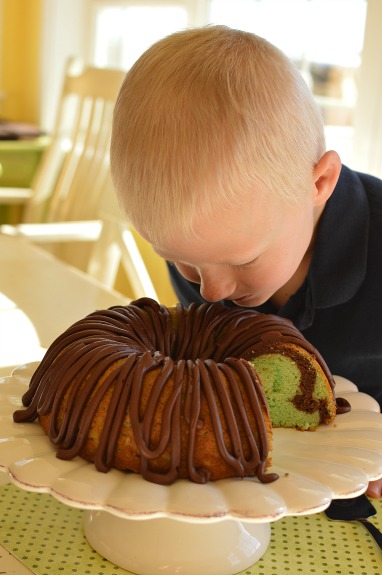 My baby thought this cake smelled amazing! It was all I could do to snap a few pics before he ate a piece or two!
If I remember right this is where my mother in law stops! And really the cake is perfect just like this. Maybe my jeans would fit a little better if I would stop right here too!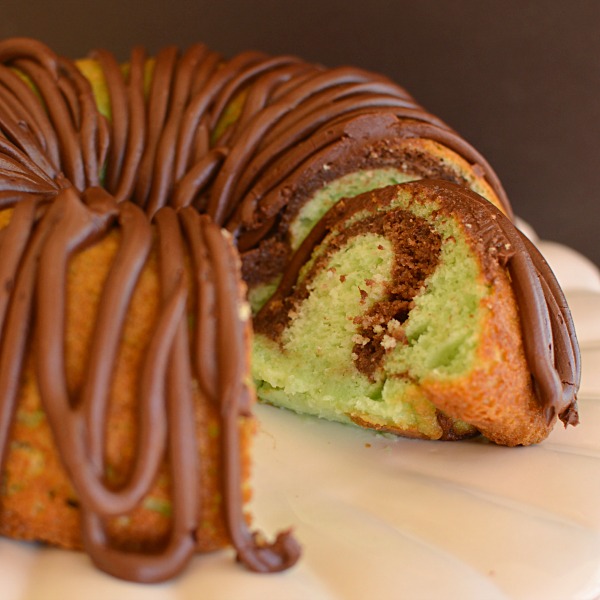 Now, a crazy real life story about this cake. I have a friend who is so good to me. She is one of those friends who shows up on my doorstep when I need it the most. She offers to give my kids rides. She even invited my kids over for a movie night with her family. She seems to always know what I need and when I need it. I'm lucky!
My friend has been sick on and off for awhile. I wanted to do something for her. You know, something to let her know that I was thinking of her and appreciate her. It seems that I almost always express my appreciation through food. It's my language. I made her some bread that did not rise AT ALL. The flavor of the bread was amazing and the consistency of dough! A few weeks went by and I decided to make her this cake. I whipped it up, took pictures and tasted it. It was perfect for sharing. I asked my husband to deliver the cake for me because I was at piano lessons. On the way the cake fell on the floor of the car. My poor car was covered with decadent chocolate frosting. My poor friend still doesn't know how much I appreciate her. Maybe I should write a thank you note instead!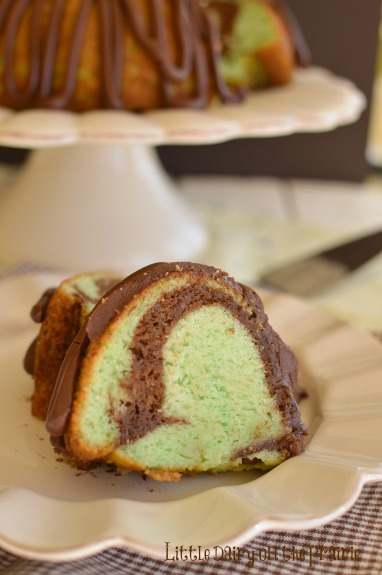 A beautiful cake! Wow your family with this incredibly moist and decadent cake! Since it starts with a cake mix its a cinch to throw together!