Looking for a delightful easy dessert recipe? Try our Pistachio Bundt Cake with a decadent chocolate layer. Made with a cake mix, pistachio pudding, and sour cream, this moist and flavorful treat is a true crowd-pleaser.
Indulge in the perfect combination of pistachio and chocolate flavors. This easy cake recipe can be made in about an hour! No frosting or decorating! Get the recipe now!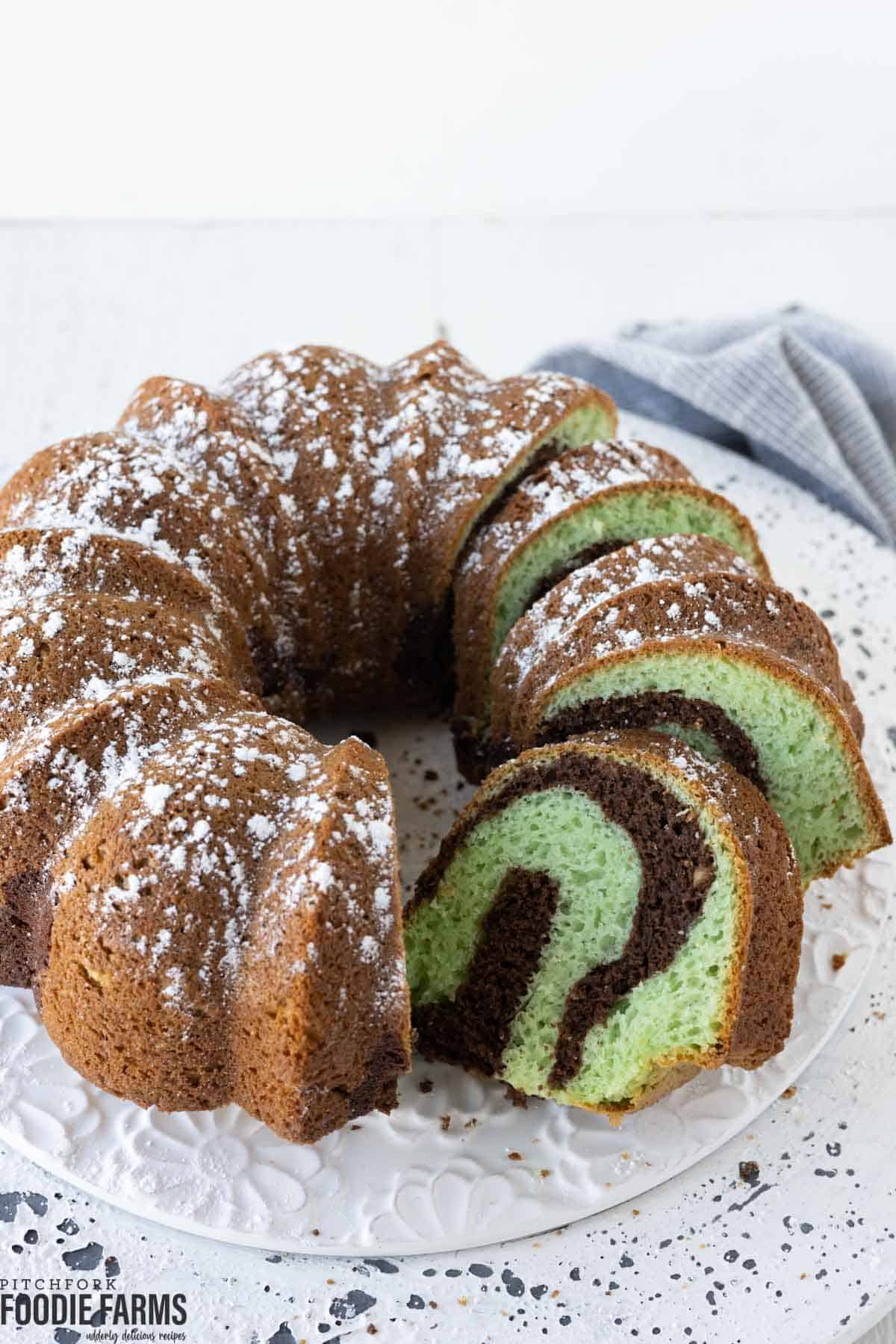 This recipe was originally written in 2014 and updated in 2023 with new images. I adjusted the recipe a little bit to make it even easier than it was before! It's still just as delicious!
About Chocolate Pistachio Bundt Cake
The first time my parents met my husband's parents my mother-in-law made a a delicious pistachio bundt cake. It was the first time I'd ever tried it. I fell in love with how incredibly moist, light, fluffy, and flavorful this delicious cake is.
Plus, it's made with really simple ingredients like a box cake mix, instant pistachio pudding, and Hershey's chocolate fudge sauce!
Apparently, a chocolate and pistachio cake is a vintage, or old-fashioned, cake recipe that I didn't know about for way too long! Sometimes it's referred to as a Watergate cake, or pistachio jello cake because it's made with pistachio pudding.
A pistachio cake is a simple bundt cake that's perfect for birthdays and celebrations. I don't know about you, but just making the cake in a bundt pan makes it seem extra fancy! Doesn't a chocolate pistachio bundt cake feel more out of the ordinary than a plain old chocolate pistachio cake in a 9×13 inch pan?
It's fun to cut the cake open and find a swirl and marble of chocolate all tucked inside a pretty green cake. The swirl makes the cake feel extra special. Even though it looks fancy it's actually a really quick and easy recipe!
Why This Recipe Works
​Quick and easy! Pistachio chocolate bundt cake can be made in about 10 minutes, plus baking time. Using cake mixes is a fantastic shortcut! It's technically not a homemade cake, but it's doctored up enough I'd call it a cake made from scratch. No need to fuss with frosting or decorating.
Moist and flavorful! No dry cake here! A bundt cake using cake mix and pudding is the perfect combination! Using a package of instant pudding adds the best flavor. Sour cream adds extra fat which makes an ultra-moist cake!
Perfect for parties! This cake is ALWAYS the first one gone! It's perfect for Christmas, Easter, St. Patrick's Day, birthdays, any other special occasion, or a simple weeknight dessert!
Ingredients
Scroll to the recipe at the bottom for a full list of cake ingredients.
You'll need simple ingredients that are easy to keep on hand. Let's go over ideas and suggestions for substitutions.
Cake mix– Any brand will work. I prefer Duncan Hines, Betty Crocker, or Philsbury. I use a white cake mix because it makes a prettier green cake. You can certainly use a yellow cake mix if that's what you have in your pantry.
Instant pistachio pudding mix– I like the Jell-O brand. Be sure to use instant pudding. (I'm actually not sure if you can even buy cook-and-serve pistachio pudding). You'll just need the pudding mix. Don't follow the instructions to make pudding.
Sour Cream– Full-fat sour cream will make the cake extra moist! You can also use plain or vanilla Greek yogurt.
Eggs, vegetable oil, almond extract (or vanilla extract)- I love the added flavor that comes from adding almond extract, if you don't have it you can use vanilla extract.
Water- Substitute with orange juice for extra flavor. I always use water because I don't usually have orange juice in the fridge. (I think the old vintage pistachio cake recipe uses orange juice.)
Hershey's syrup- This works best. If you need to you can use my homemade hot fudge sauce recipe. Be sure to warm it because it will be too thick if it's cold.
Green food coloring- It gives the cake a gorgeous green color, but it's not necessary.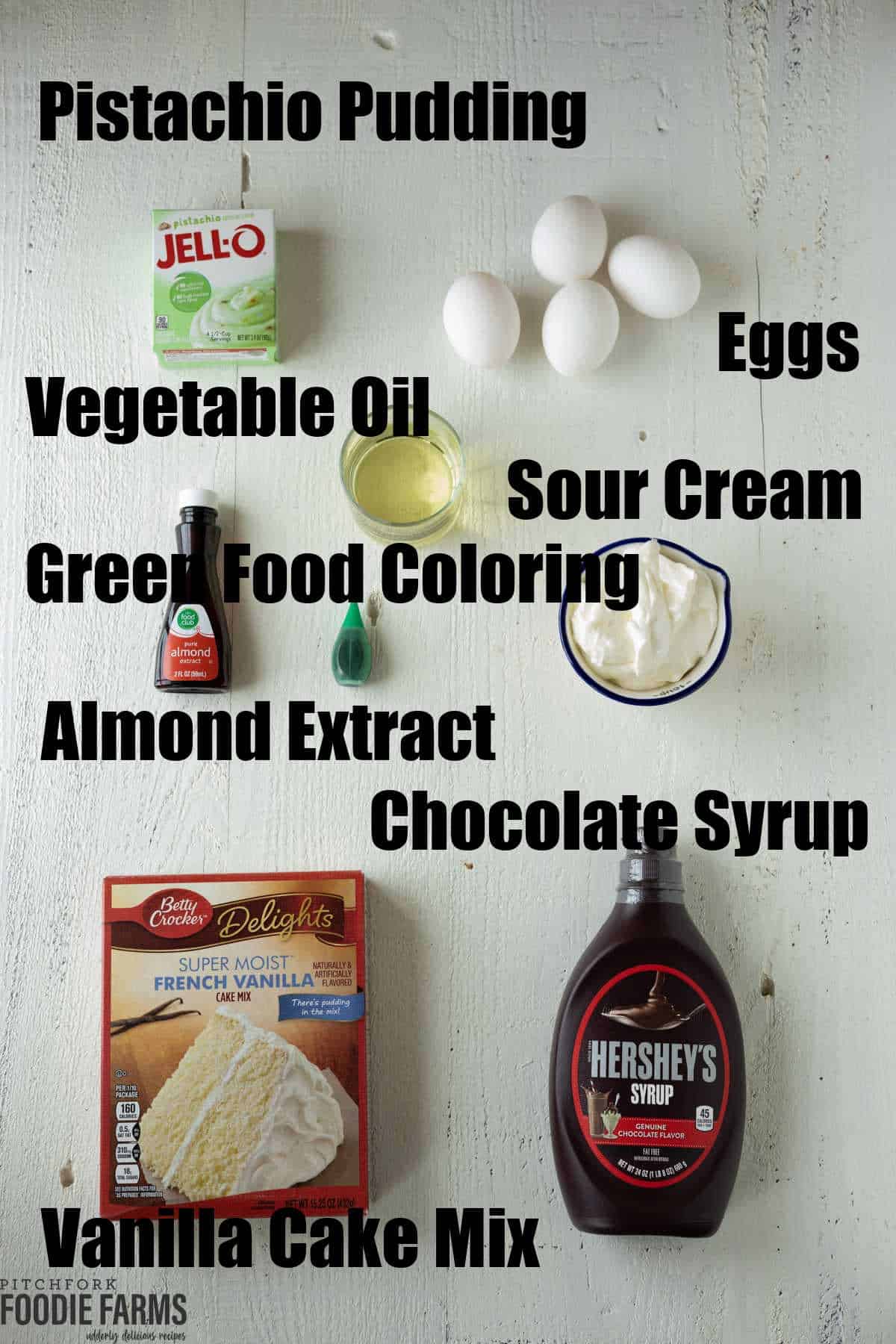 How to Make a Chocolate Pistachio Bundt Cake
Making a pistachio cake in a bundt pan is so much easier than you think! The instructions are so simple.
For best results, remember that you don't need to stir or swirl the two different colors of batter together to get that perfect marble cake.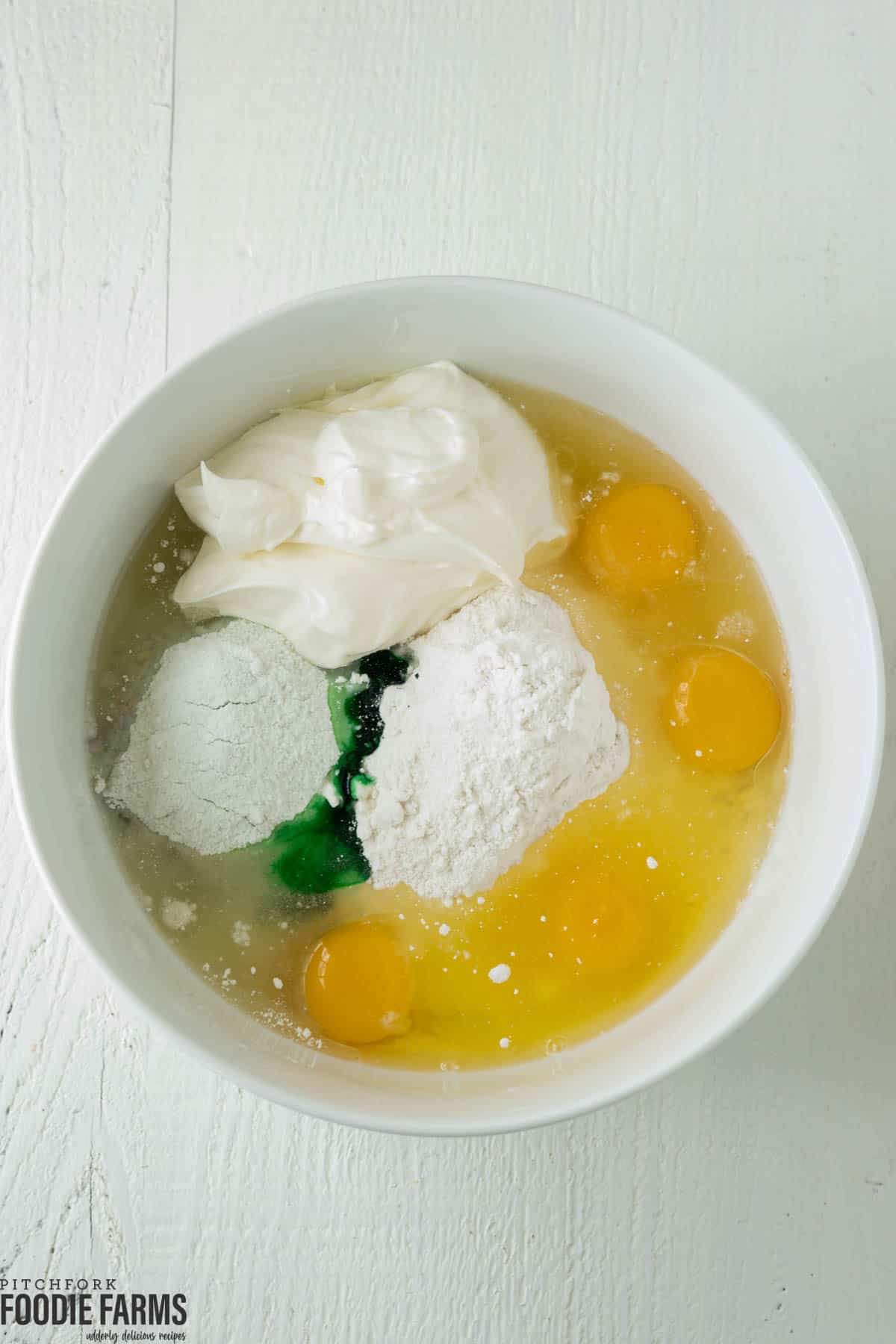 Step 1: Mix the cake batter. Add the cake mix, pistachio pudding mix, sour cream, eggs, water, and oil, and green food coloring to the bowl of a stand mixer with a paddle attachment. Or, a large mixing bowl and use an electric mixer. Mix on low speed until combined. Turn the mixer to medium speed and mix for 2 minutes.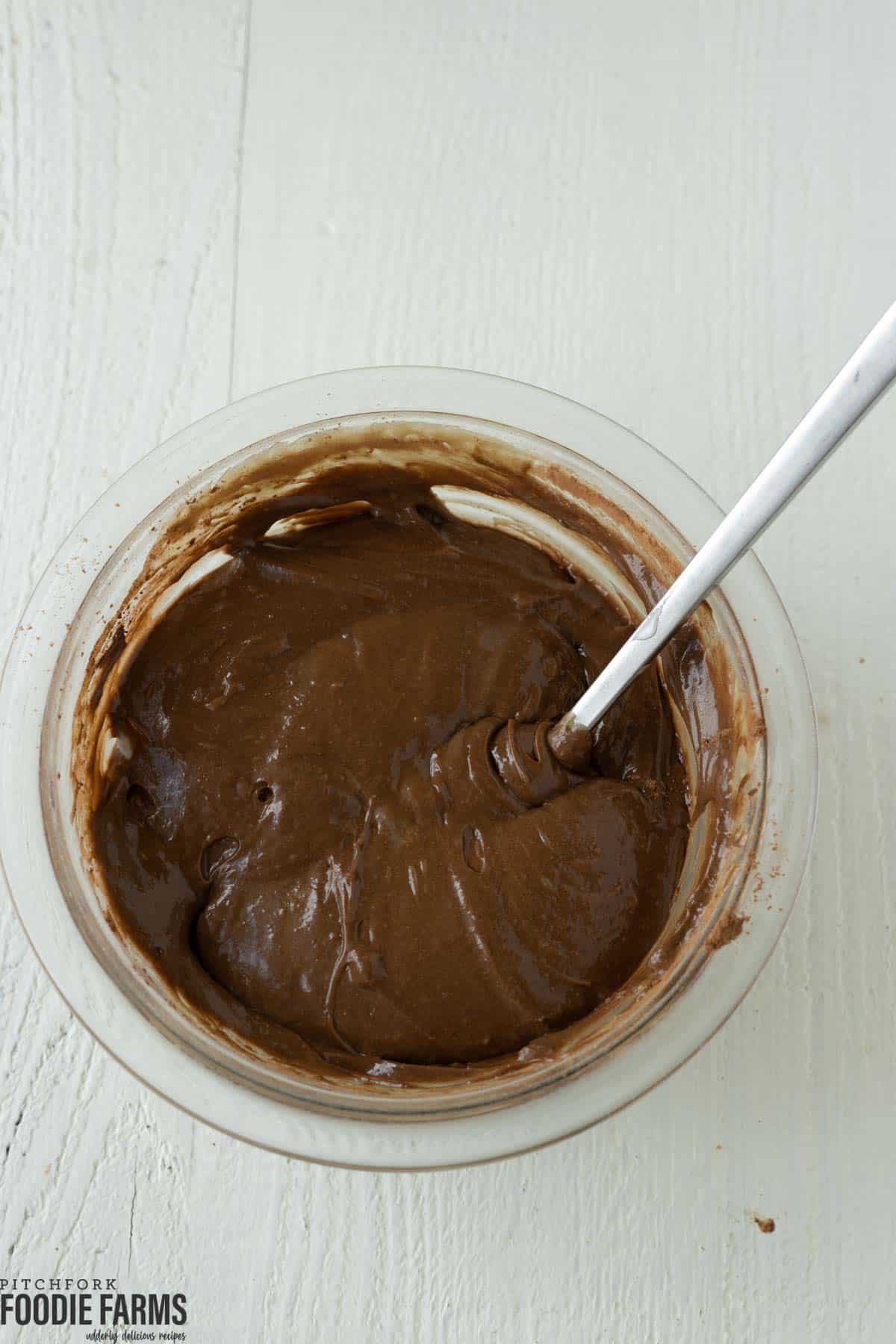 Step 2: Make the chocolate cake layer. Remove about 1 cup of the cake batter and add the chocolate syrup to it. Mix until combined.
Step 3: Assemble the cake. Grease and flour a bundt pan with nonstick baking spray. Pour half of the green cake batter into the bottom of the prepared pan. Add the chocolate layer. Add the rest of the pistachio layer. You don't need to stir the layers or swirl them together. You can use the back of a spoon to gently spread them until they are even.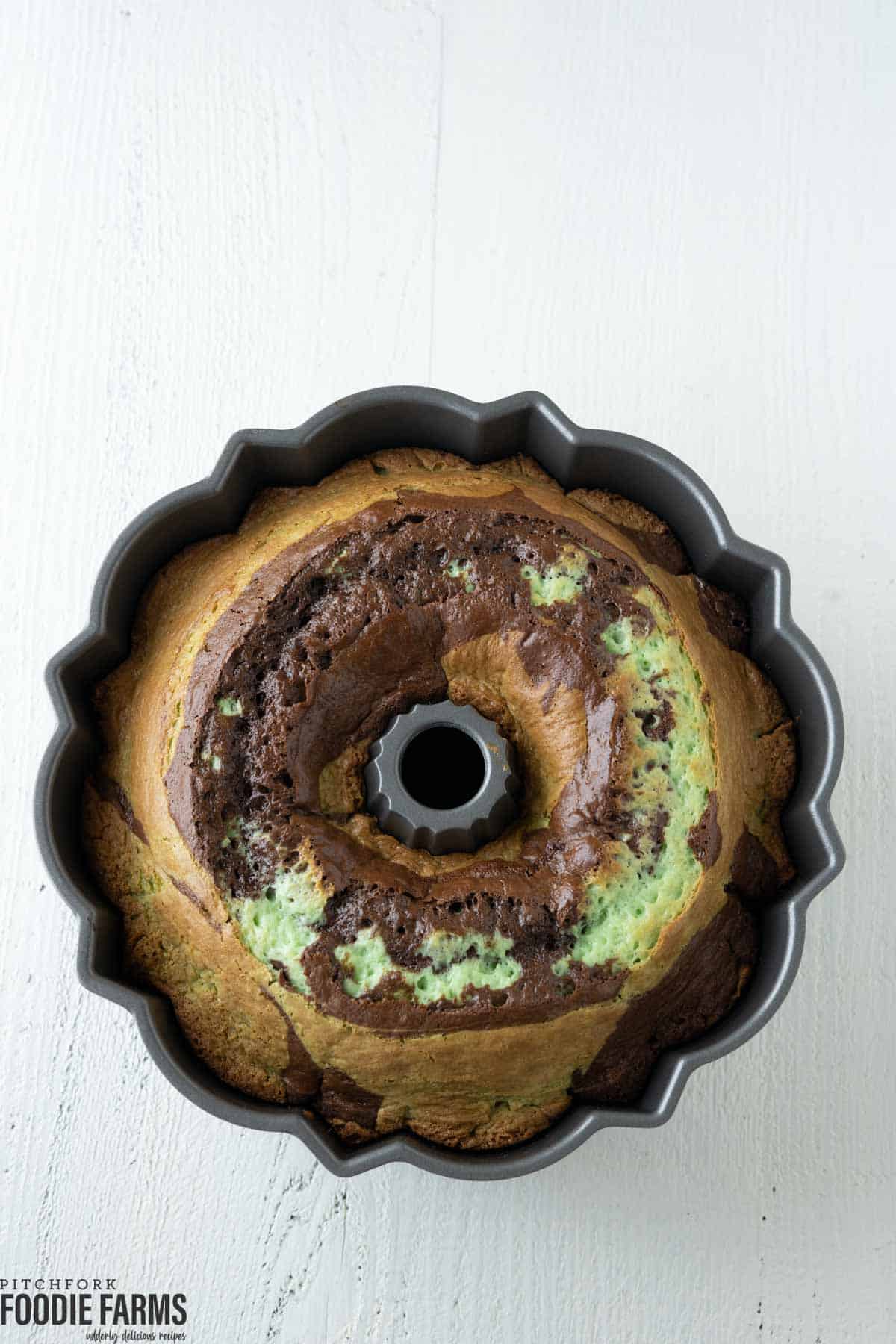 Step 4: Bake the cake. Bake the cake for 45-50 minutes in a 350-degree preheated oven. Poke the cake with a toothpick to see if it's done. It should have a few moist crumbs on it. Or, use an instant-read thermometer to check for doneness. For most cakes, the center should be 210 degrees f.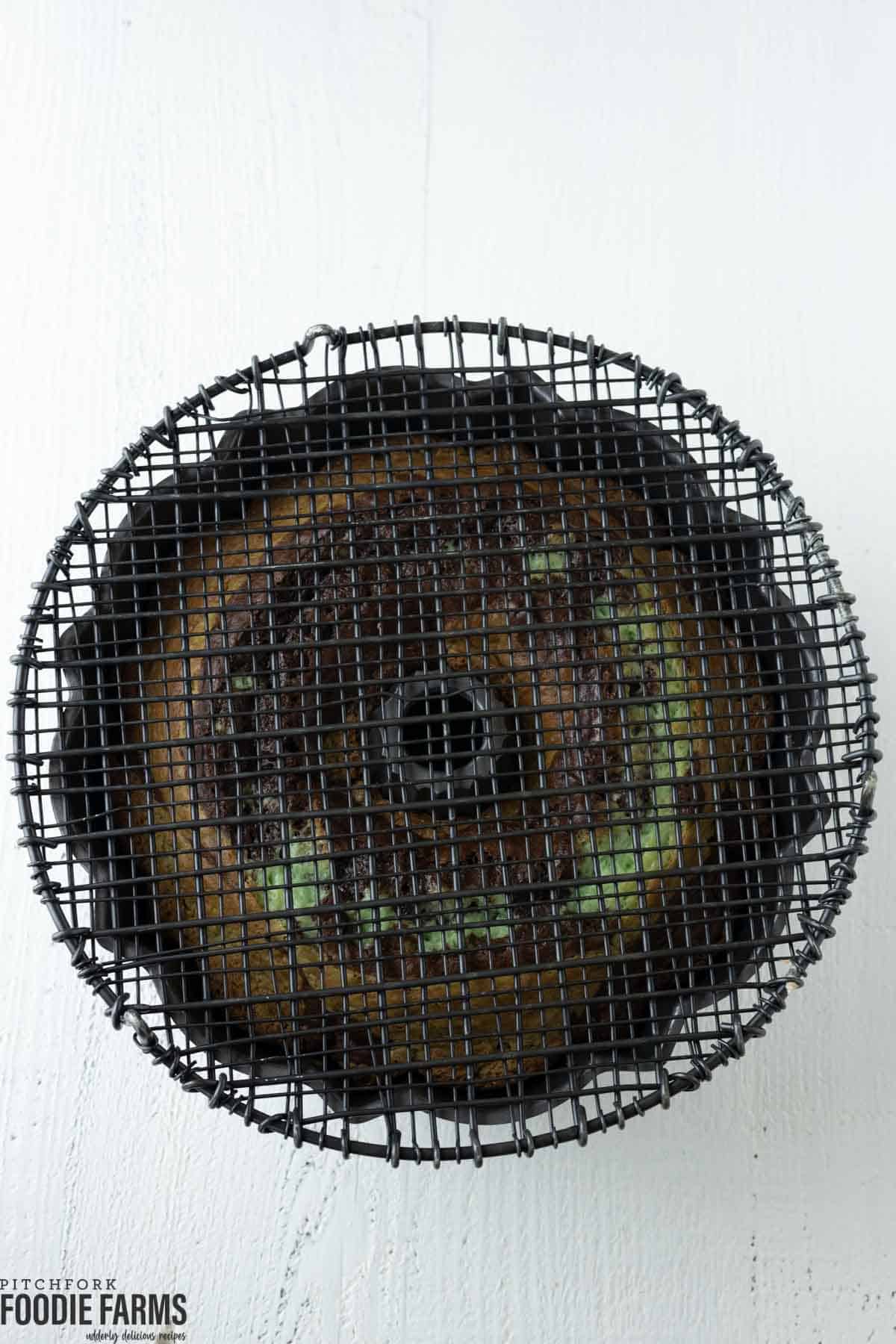 Step 7: Cool the cake. Let the cake sit in the bundt pan for 10 minutes to let the cake cool. Invert a plate or wire rack over the top of the bundt pan. Using hot pads, hold the plate and bundt pan together and flip it over. The cake should come right out! Dust the cake with powdered sugar if desired.
Bundt Cake Tips and Tricks
​Here are my best tips for greasing the bundt pan! Baker's Joy Cake Pan Spray! It's all-in-one! Since finding this product I never grease and flour a cake pan. This baking spray makes the cake so easy to remove from the pan. The cake literally just comes out without any broken cake tops or trying to gently pry the cake out. Anytime I can save myself extra steps like greasing and flouring a pan…I'm in! You'll love this product!
Don't overbake the cake! It will be dry if it's overbaked. The best way to know if the cake is done is by using an instant-read thermometer. I know it seems technical to test the temperature of the cake, but it only takes a second and it ensures a perfect cake every time!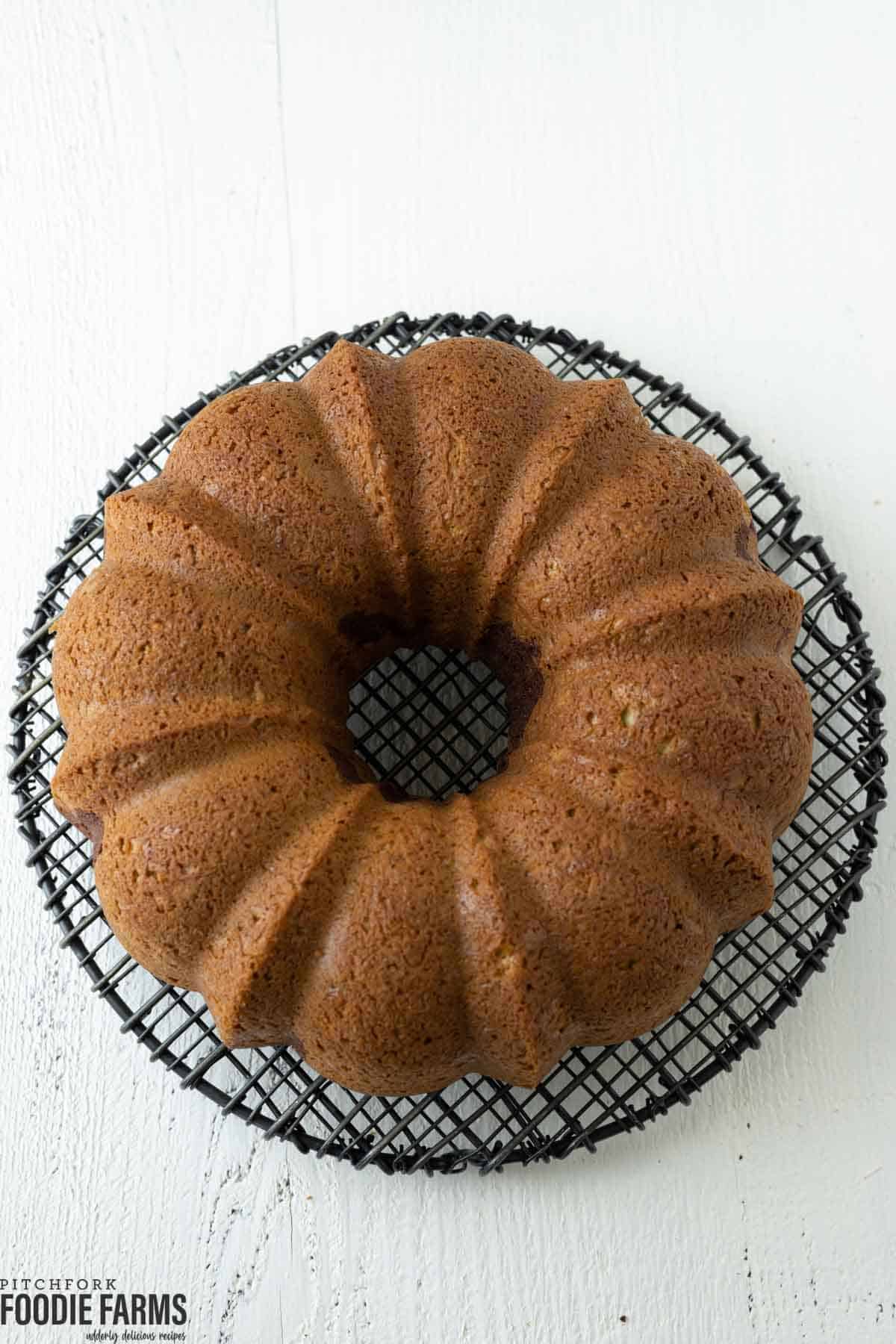 Variations
I really do love this pistachio pudding bundt cake exactly the way it is! Let's talk about options if you want to switch it up a little bit!
Pistachio nuts. Although this recipe doesn't call for adding real pistachios, you totally can! Chop the nuts up and add them to the green batter. Roasting the nuts will give them a more nutty flavor and amp up the pistachio flavor.
Chocolate chips. More chocolate is always a good thing in my book! Add about 1/2 a cup of chocolate chips to the chocolate batter.
Powdered sugar. Use a powder sugar duster to evenly sprinkle powder sugar over the top of the cake.
Frosting or a simple glaze. I don't think this cake needs frosting. But, you can add it! Chocolate frosting sprinkled with chopped pistachios is a great option. Or, add sprinkles for birthdays.
FAQs
How long will chocolate pistachio bundt cake last?
A pistachio bundt cake will last for about 3-4 days. Store the completely cooled cake in an airtight container at room temperature.
Can I freeze pistachio bundt cake?
The Pistachio pudding cake freezes really well. Wrap the completely cooled cake in plastic wrap. Place in a zip-top freezer bag or airtight container. Freeze for up to 3 months.
What is the difference between bundt cake and pound cake?
A pound cake pan has straight sides and a bundt cake pan is fluted, meaning it has decorative sides and a top. They are usually different sizes. Bundt cake recipes should be made in bundt pans.
Related Recipes
Easy desserts are the best! And what could be easier than using a cake mix as a base to make a homemade recipe? Here are a few of my favorite recipes made with a cake mix!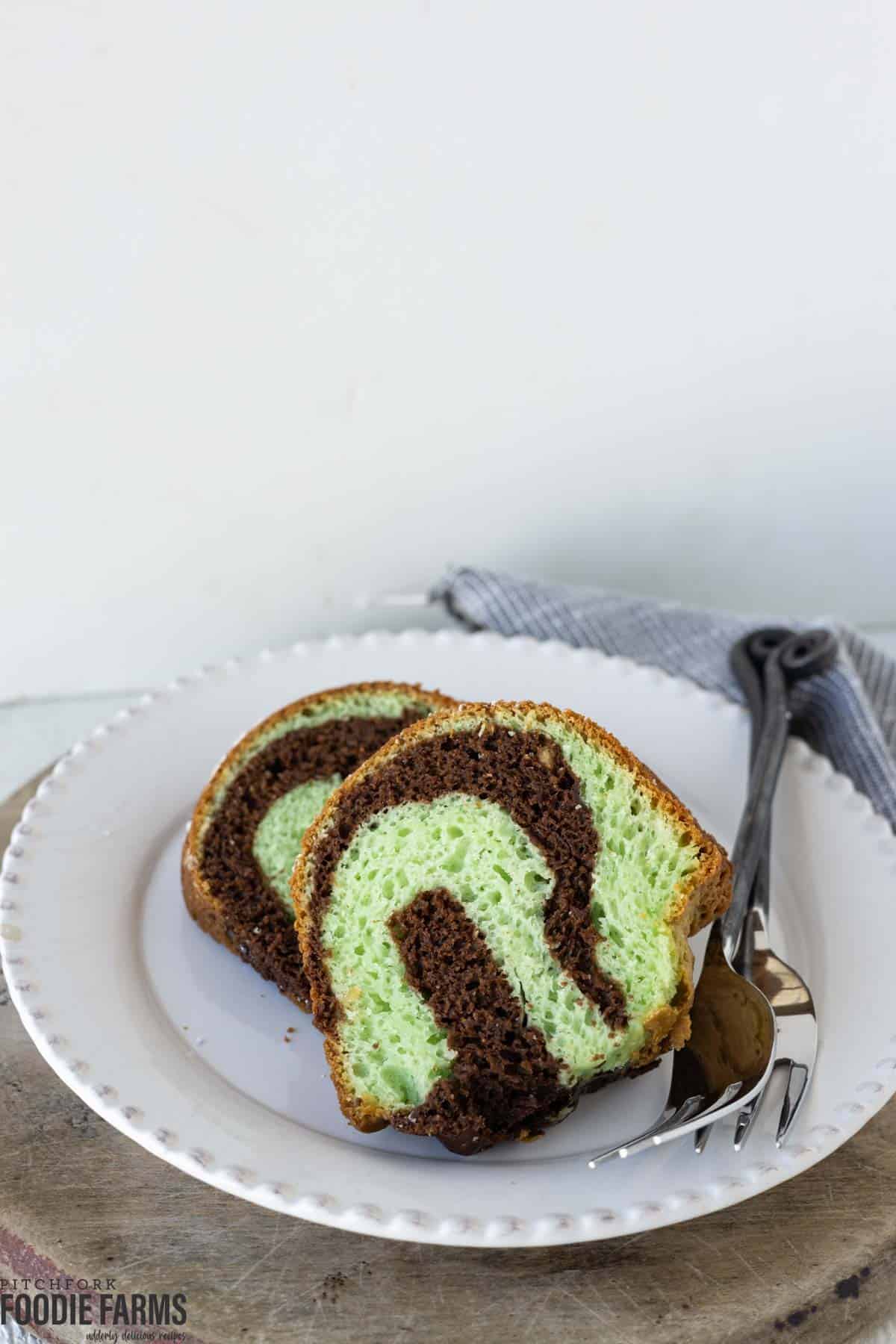 Chocolate Pistachio Bundt Cake Recipe
This marbled chocolate pistachio bundt cake is a delicious and easy to make dessert that will impress your family and friends.
Using a cake mix, sour cream, and instant pistachio pudding mix makes the process simple while still creating a flavorful and moist cake.
The addition of chocolate adds richness to the nutty flavor of the pistachios. With it's beautiful marbling effect, this cake is sure to be a showstopper on any dessert table. Give it a try for your next gathering or special occasion.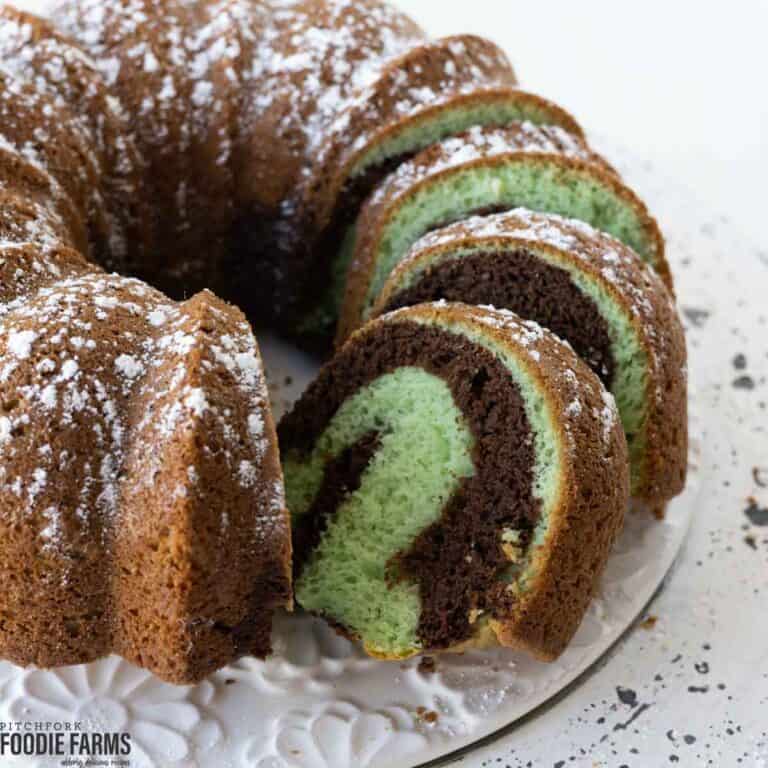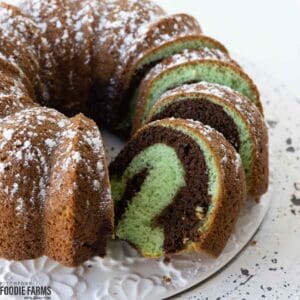 Pistachio Chocolate Marbled Cake
Indulge in a slice of heaven with our mouthwatering Pistachio Bundt Cake! Made with a cake mix, sour cream, and instant pistachio pudding mix, this dessert is a perfect balance of flavors and textures. Moist, rich, and bursting with pistachio goodness, this bundt cake is sure to impress.
Ingredients
1

box

white cake mix (15.25 ounces)

3.4

ounce

instant pistachio pudding mix (small box)

1

cup

sour cream

4

whole

eggs

1/2

cup

water

1/2

cup

vegetable oil

1

teaspoon

almond extract

3-5

drops

green food coloring

more or less as desired

1/2

cup

chocolate syrup

powder sugar for dusting
Instructions
Preheat oven to 350 degrees. Grease and flour a bundt pan, or use nonstick baking spray with flour.

Mix cake mix, pudding, sour cream, eggs, water, oil, food coloring and almond extract on low speed just until combined. Then turn mixer on medium speed and mix for 3 minutes.

Put 1/3 of cake batter (about one cup) in a separate bowl. Add chocolate syrup to this batter and stir to combine.

Assemble the cake by adding half of the pistachio (green) cake batter to the bottom of the prepared pan. Smooth with the back of a spoon.

Spoon the chocolate layer over the pistachio cake batter. Don't stir or swirl.

Add the rest of the pistachio cake batter to the pan. Smooth the cake batter with the back of a spoon. Don't stir. It will magically create a marbled effect on it's own!

Bake for 45-50 minutes or until a toothpick comes out with moist crumbs, or when the internal temperature of the cake is 210℉.

Let cool for ten minutes in the pan. Invert a wire cooling rack or plate over the bundt pan. Using hot pads hold the plate and the bundt pan together and flip the bundt pan over. The cake should easily release from the pan. Completely cool.

Dust with powder sugar if desired. Slice. Serve.
Notes
Variations:
Add chocolate chips to the chocolate cake batter.
Add chopped pistachio nuts for extra nutty flavor.
Substitute orange juice instead of water.
Use yellow cake mix instead of a white cake mix.
Green food coloring is optional.
Storage:
Room temperature: Store cooled cake in an airtight container at room temperature for up to 3-4 days.
Freezer: Wrap completely cooled cake in plastic wrap. Store in an airtight container. Freeze for up to 3 months.
Nutrition
Calories:
265
kcal
|
Carbohydrates:
52
g
|
Protein:
3
g
|
Fat:
6
g
|
Saturated Fat:
3
g
|
Polyunsaturated Fat:
0.4
g
|
Monounsaturated Fat:
1
g
|
Trans Fat:
0.2
g
|
Cholesterol:
13
mg
|
Sodium:
430
mg
|
Potassium:
81
mg
|
Fiber:
1
g
|
Sugar:
32
g
|
Vitamin A:
121
IU
|
Vitamin C:
0.2
mg
|
Calcium:
117
mg
|
Iron:
1
mg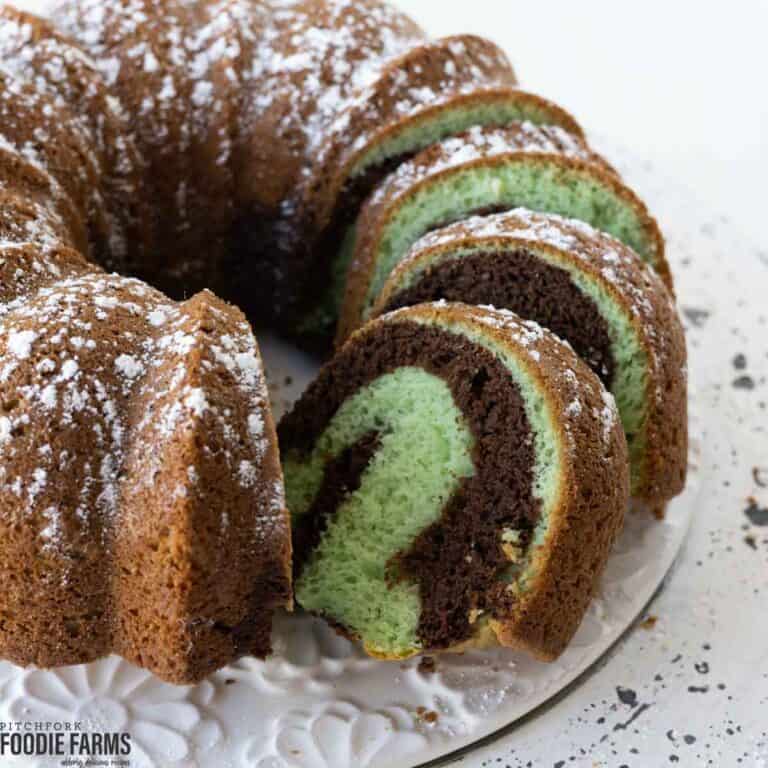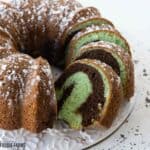 tried this recipe?
Make sure to share it with me! Leave a review or tag me on Instagram