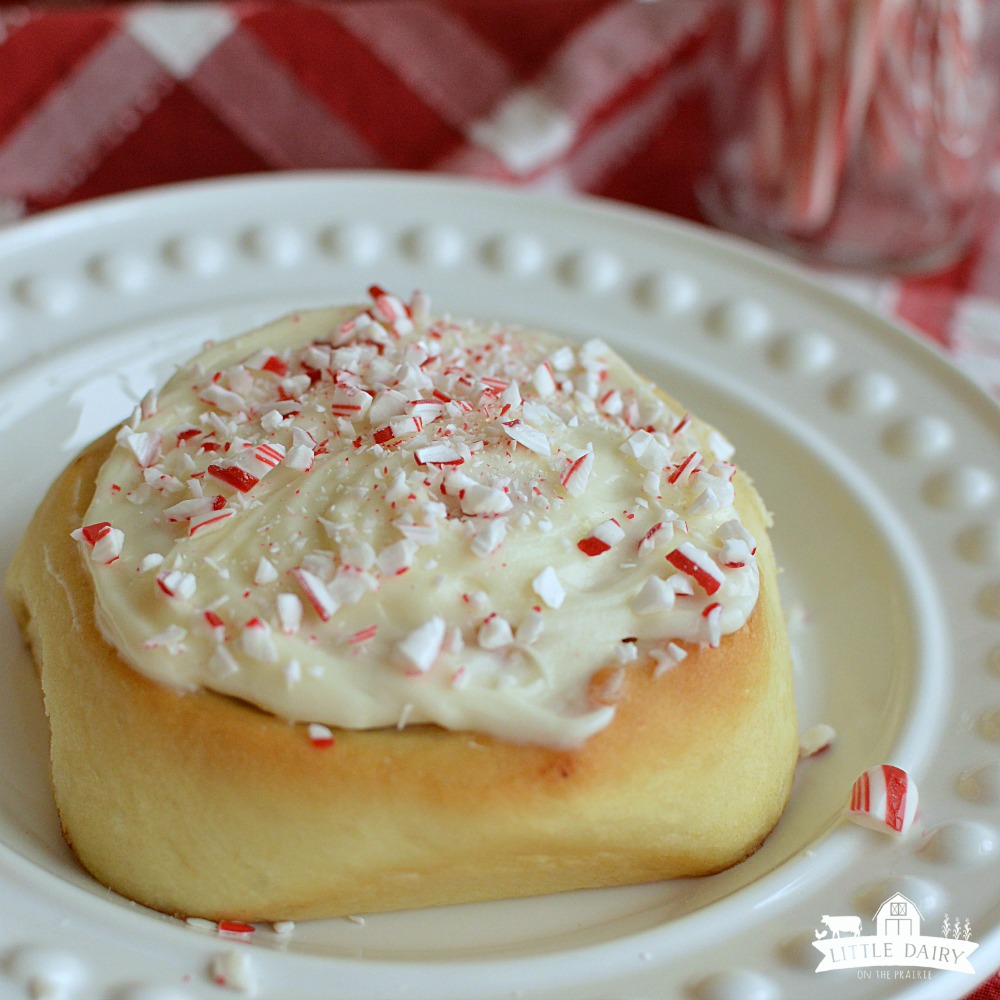 This Christmas season I have been dreaming about all things peppermint bark. I knew I wanted to make a peppermint bark version of sweet rolls. And that's when Candy Cane Sweet Rolls were conjured up in my mind.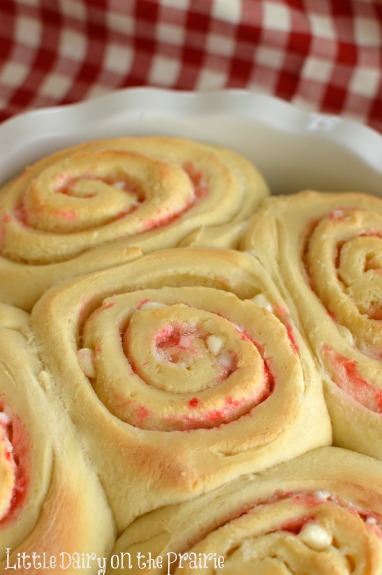 I'm one of the unlucky ones who gets to have a birthday in December. It seems like my hubby ends up stuck on the farm every year on my birthday. Oh, the farm life… Anyway this year on my birthday I decided I would celebrate by doing a few things that I have been trying to accomplish for quite awhile. Candy Cane Sweet Rolls were on the list! Happy Birthday to me! These were a-m-a-z-i-n-g. I could have stopped right here, no icing really needed. I knew it couldn't hurt a thing so I carried on with my icing plans!
A little sprinkling of crushed up candy canes were absolutely necessary since these rolls are called Candy Cane Sweet Rolls!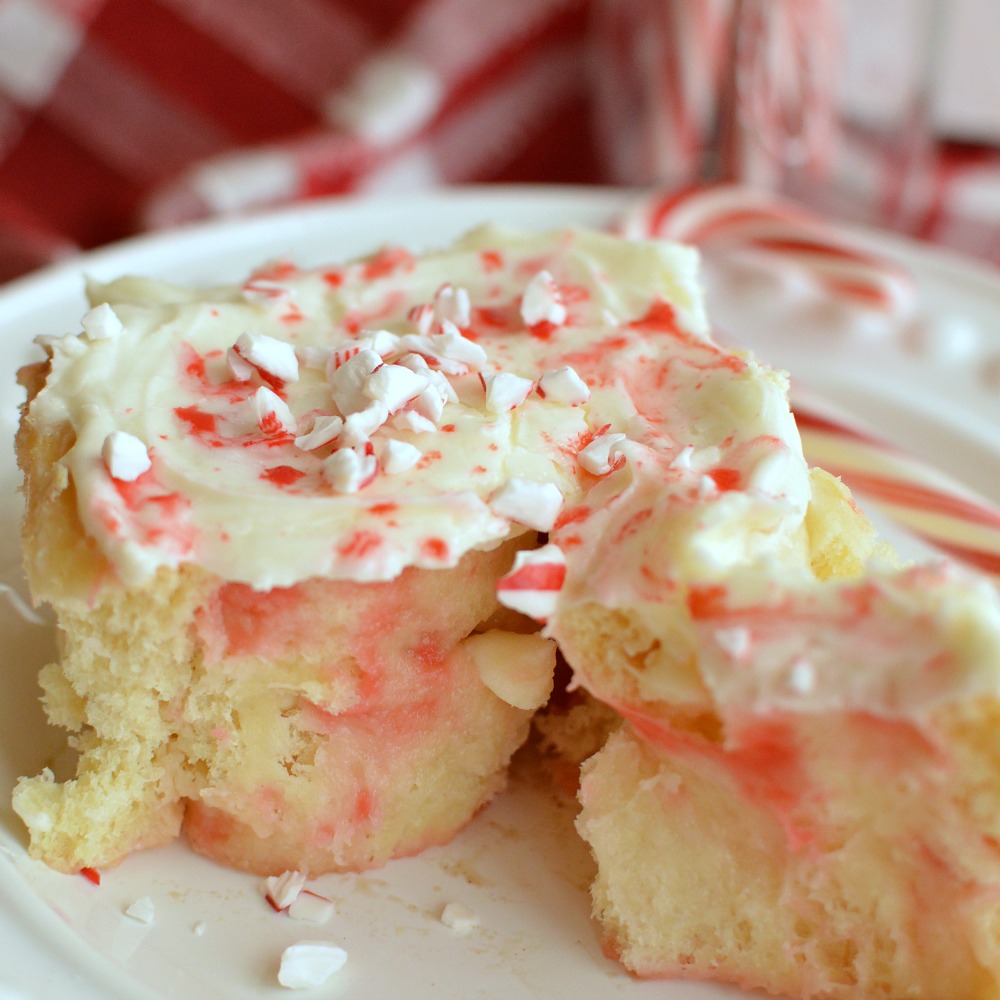 I made my sweet rolls from scratch. Someday I will give the recipe to you. Really, Christmas is the busiest time of the year. Who has time for making homemade sweet rolls from scratch when you can cheat and make them from frozen bread dough. Trust me, nobody will complain. So for now, if you already have a favorite cinnamon roll recipe use it! If you don't have a favorite one, I'm in love with my Spudnut Cinnamon Roll recipe. Make the dough the same as you normally would. Don't sprinkle cinnamon on the dough after you roll it out. Use this recipe instead. Like I said, if you don't have time for homemade sweet roll making, use thawed white bread dough.

No matter what your time budget looks like, you can impress holiday company. Or just make them for yourself and enjoy every last bite. That's what I did! I sent my boys out to do chores and then devoured the lone leftover sweet roll! Enjoy!
Candy Cane Sweet Rolls
I was hooked after one bite of my Candy Cane Sweet Rolls! These festive rolls are a little bit like having peppermint bark tucked away in a warm sweet roll, slathered in cream cheese icing!
Ingredients
1

batch favorite sweet roll recipe

or 2 loaves frozen bread dough (thawed)

white chocolate chips

crushed up candy canes

granulated sugar

butter

softened

ICING:

1 8

oz.

pkg cream cheese

room temperature

4

c.

powdered sugar

1-2

T.

half and half

more or less to get desired consistency

1/2

tsp.

peppermint extract

dash salt

additional candy canes for garnish
Instructions
You can either make your favorite cinnamon roll, or sweet roll, recipe. Follow the directions until the rolls are rolled out and ready to be spread with butter. Or, if you don't have time to make rolls from scratch, using thawed white bread dough works perfectly. I use Rhodes.

Roll dough out until it is about 1/2″ thick. The overall size will vary depending on which bread recipe you decide to use. I make sure my rectangle is about 12″-15″ from front to back.

Generously spread dough with butter. Generously sprinkle dough with granulated sugar. Sprinkle with crushed candy canes.

Roll dough up from front to back keeping it tight as you roll. Pinch seem.

Set on greased baking sheet. Cover. Rise until doubled.

Bake as directed on sweet roll recipe. If you are using frozen, actually it will be thawed at this point 😉 bake at 350 degrees for between 15 and 20 minutes. Baking time will vary depending on how large your rolls are.

While rolls are baking make icing. Beat cream cheese until light and fluffy. Add powdered sugar, extract, salt and milk. Beat until smooth, adding milk as necessary to achieve desired consistency.

Let rolls slightly cool. Frost with cream cheese frosting. Sprinkle with additional crushed candy canes. Candy canes will bleed a little if they sit over night. If I'm not serving the rolls pretty quickly after I make them I sprinkle with candy canes before serving.

NOTE: You can see the amounts on this recipe are not listed. That's because you will need different amounts according to your personal preference and which roll recipe you choose to use! In this one, I think more candy canes, sugar, butter, and white chocolate chips can't hurt a thing!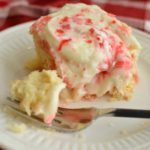 tried this recipe?
Make sure to share it with me! Leave a review or tag me on Instagram

I was hooked after one bite of my Candy Cane Sweet Rolls! These festive rolls are a little bit like having peppermint bark tucked away in a warm sweet roll, slathered in cream cheese icing! I'm have a one track mind. I get focused on one thing and that's all I can think about.