This is the most addicting Christmas Chex Mix EVER thanks to that salty-sweet combo I just can't leave alone! It's loaded with pretzels, dried cranberries, and M&M's all coated in white chocolate.
It's extra dangerous because this Chex mix recipe is made in less than 10 minutes in the MICROWAVE! It literally doesn't get any easier than this, my friends!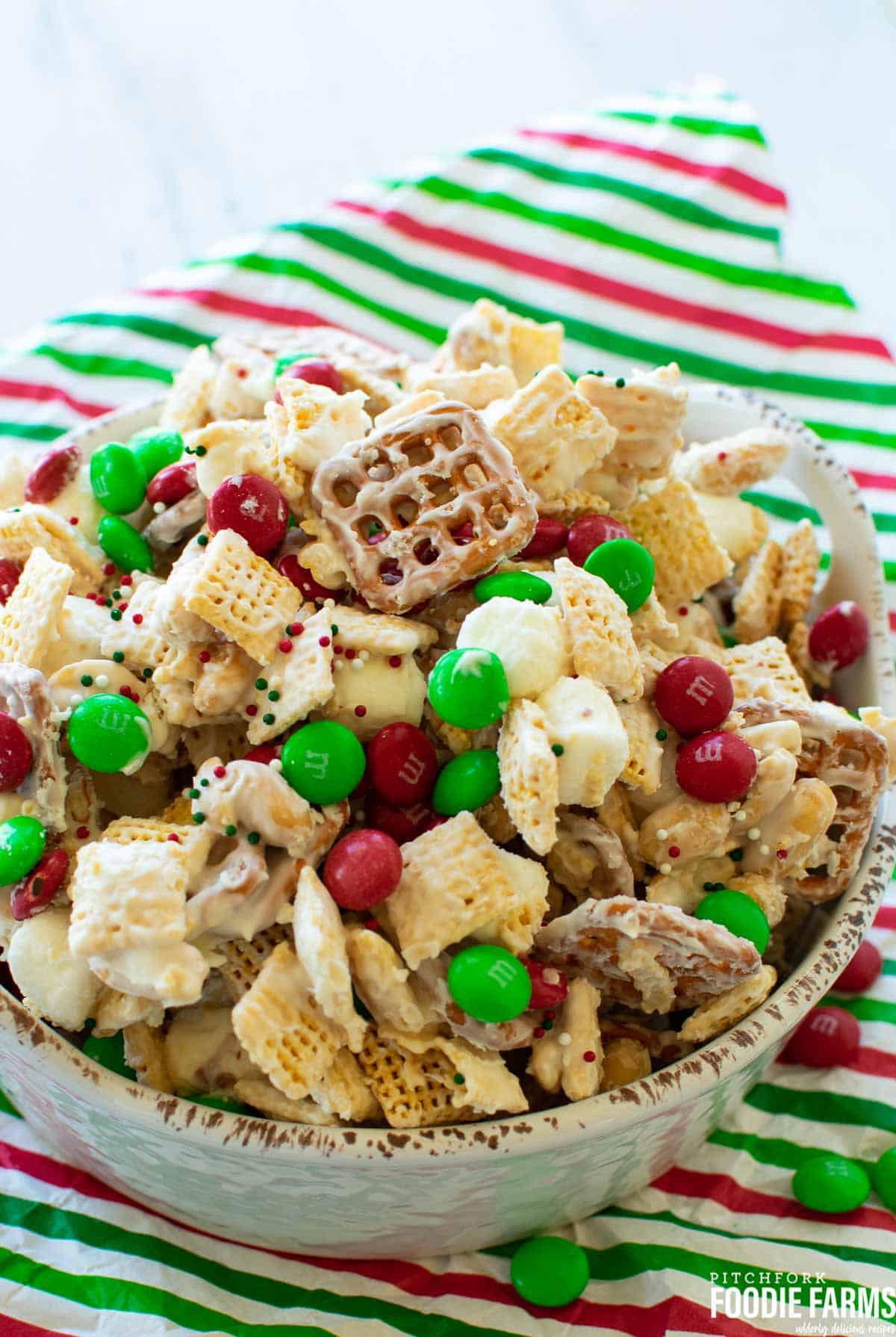 Why in the world would you name a holiday snack mix something like "Christmas Crack Chex" or "Christmas Trash Chex Mix"? Ummm, this stuff is insanely ADDICTING…like I could/do eat the entire batch in minutes which is why it's called "crack". I cannot leave it alone! It's also full of odds and ends that are lurking around in the pantry which is why it's called trash.
It really doesn't matter what you call it! Just make a big batch for the holidays and thank me later!
WHY THIS RECIPE WORKS:
10 Minutes! That's how much time it takes to make a batch. Plus, a couple mintutes of cooling time if you can contain yourself for that long!
Easy! This is a microwave recipe. It's a perfect recipe to make with the kids!
Customizable! Don't like cranberries? Leave them out and add extra peanuts! Make it exactly the way your family likes!
Freezable! Make it ahead of time, before the Christmas season gets too busy and freeze it for later.
INGREDIENTS TO MAKE CHRISTMAS CRACK: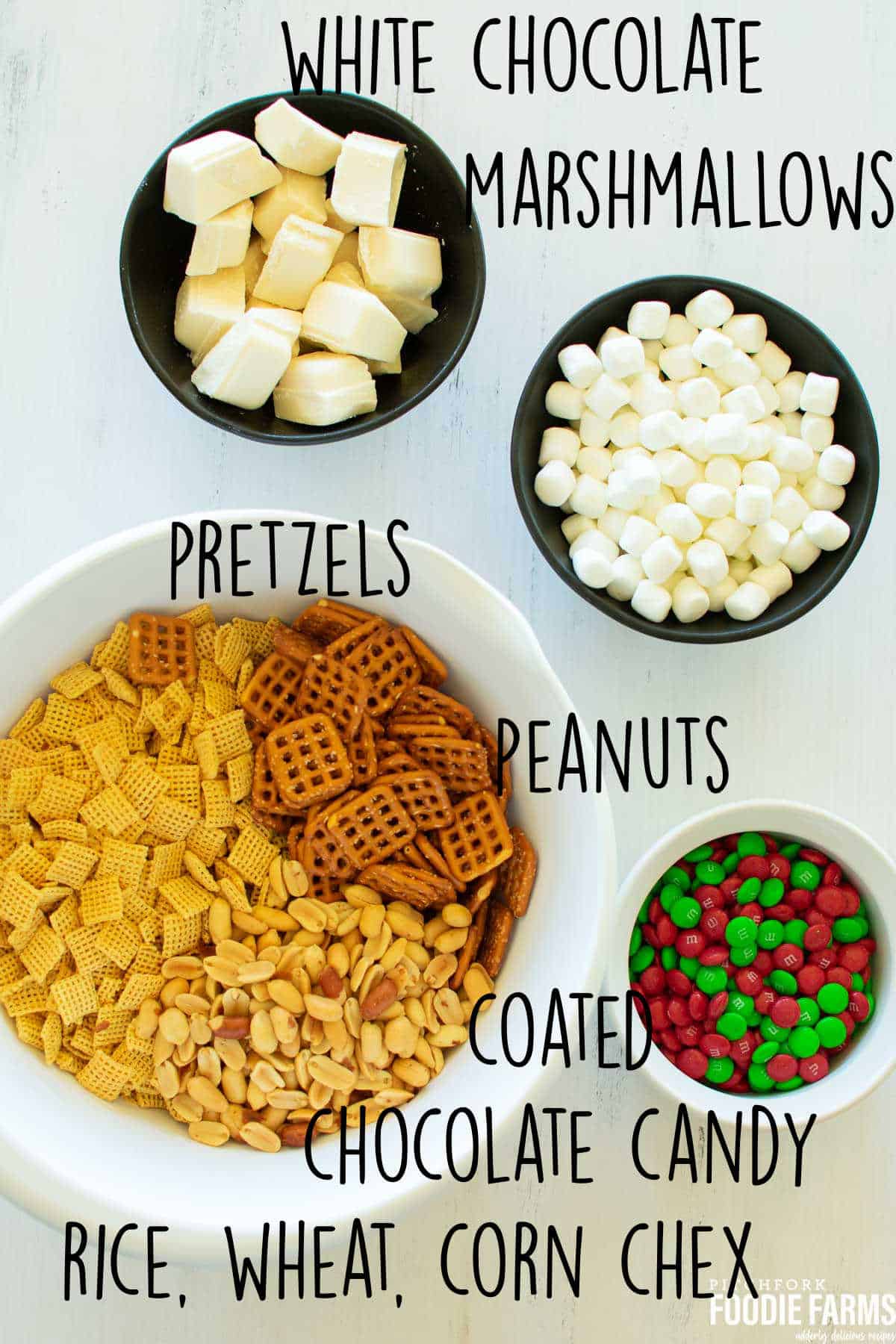 You'll need super easy, pantry-type ingredients for this recipe. I'll give you a few suggestions for substituting if you need to.
Chex Cereal: I like using corn or rice Chex. You could use a combination of the two, or substitue part of the Chex cereal with Cheerios.
White Chocolate: Use high quality chocolate. You can use almond bark, or white chocolate chips.
Pretzels: Sticks, bows, or squares. Salted are best!
Mini Marshmallows
Peanuts: Or mixed nuts
Candy Coated Chocolate: M&Ms are my go to. I love switching it up for the holidays.
INSTRUCTIONS:
STEP 1: Measure cereal, peanuts, pretzels, and marshmallows. Set aside. Add chocolate to a large, microwave-safe bowl. Melt chocolate in the microwave in 1-minute intervals at half power, stirring after each minute. Repeat until chocolate is completely melted and smooth. Watch it closely so it doesn't burn.
It's really easy to substitute the listed ingredients for other ingredients you love or already have on hand. Just be sure to keep the amounts the same. For example, this recipe calls for 7 cups of Chex. You can add more than one kind of cereal as long as when they are combined they total 7 cups. I really like adding dried cranberries instead of all marshmallows.
FAQs:
Can I freeze Chex Mix Christmas Crack?
Yes! It will keep up to 3 months in a freezer bag or container. Remove as much air as possible before freezing. Some people like it even better when it's frozen!
Can I use other brands of cereal?
Of course! Use your favorites! Chex works really well because the chocolate sticks to the ridges in the cereal.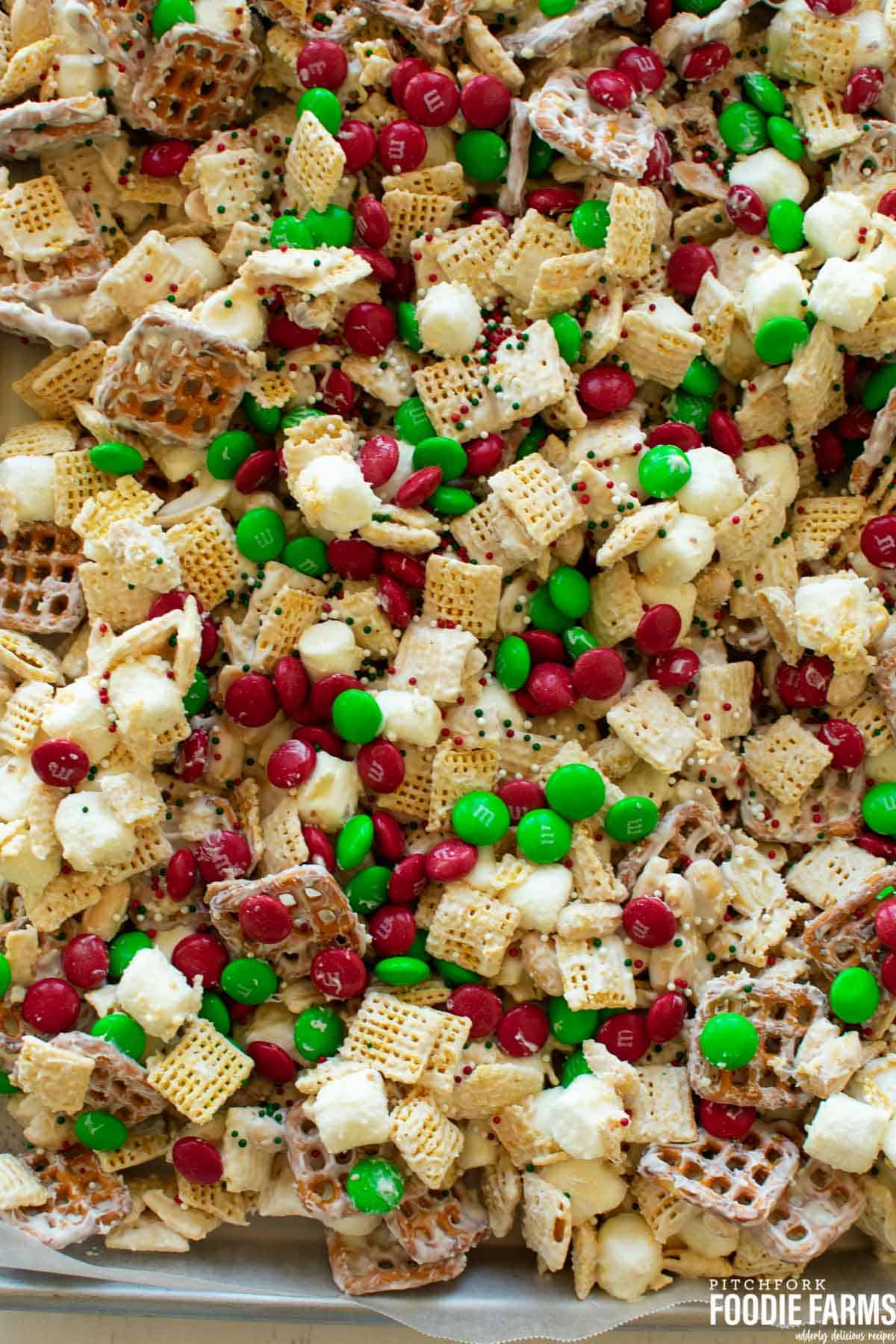 OTHER EASY CHRISTMAS CANDY RECIPES:
There are actually two different kinds of Christmas crack. One is Christmas Crack Chex mix, which is this recipe made with cereal and white chocolate. The other kind of holiday crack is made with saltine crackers and a butter/brown sugar mix. They're equally as addicting! It's gotta be the salty sweet combo!
Here's a list of a few of my favorite super EASY candy recipes for the holidays!
I love it when you make my recipes and give me feedback! If you have a minute please comment below and leave a star ranking! Also, be sure to follow me on Pinterest, Instagram, and Facebook!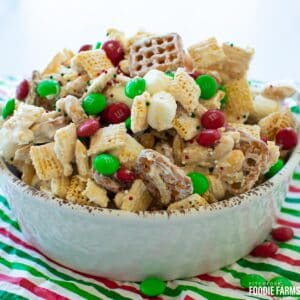 White Chocolate Christmas Crack
This is a classic Christmas Chex Mix recipe! It has a salty-sweet combination that makes it the most addicing snack mix ever! Make a batch in the microwave in minutes!
Ingredients
24

ounces

white chocolate chips

7

cups

Chex

2

cups

pretzels

2

cups

mini marshmallows

2

cups

peanuts

2

cups

M&M's

1

cup

dried cranberries

optional
Instructions
Measure cereal, peanuts, pretzels, and marshmallows in a seperate bowl. Gently toss.

Add white chocolate to a large, microwave-safe mixing bowl. Melt in the microwave in one-minute intervals at half power. Stir after each interval. Repeat until the chocolate is smooth. This takes me about 2-3 minutes.

Add measured cereal, pretzels, peanuts, and marshmallows. Gently stir to coat with chocolate.

Add M&Ms. Gently toss. (I wait to add them until the last so they keep their bright color.) You can also save a few and sprinkle them on top of the mix after it's spread on a baking sheet.

Spread mix on a parchment-lined baking sheet.
Notes
Chex Cereal: Corn and rice Chex are both great options. If you'd like you can substitute 2 cups of the Chex cereal with Cheerios.
White Chocolate Chips: Sometimes they are called white morsels. It's the same thing. They're found in the baking aisle by the chocolate chips. You can also use almond bark. Be sure to use high-quality chocolate.
Storing: Store Chex mix in an airtight container. It should last for a couple of weeks, but honestly, it's always been devoured in days at my house!
Freezing: Freeze in an airtight, freezer container for up to three months. To thaw, remove from the freezer at least an hour before eating.
Candy Coated Chocolate: It's fun to use holiday-themed M&Ms for different holidays.
Nutrition
Calories:
435
kcal
|
Carbohydrates:
56
g
|
Protein:
8
g
|
Fat:
21
g
|
Saturated Fat:
9
g
|
Polyunsaturated Fat:
3
g
|
Monounsaturated Fat:
6
g
|
Trans Fat:
1
g
|
Cholesterol:
9
mg
|
Sodium:
253
mg
|
Potassium:
216
mg
|
Fiber:
3
g
|
Sugar:
34
g
|
Vitamin A:
47
IU
|
Vitamin C:
1
mg
|
Calcium:
97
mg
|
Iron:
2
mg
tried this recipe?
Make sure to share it with me! Leave a review or tag me on Instagram