Make-Ahead Pepperoni Pizza Sliders are every bit as good as traditional pizza, but you guys…you don't have to fuss with making crust! These babies have layers of gooey cheese and pepperoni piled on rolls, then the best part is that crispy parmesan crust on top! Make a big batch so you'll have plenty of extras to freeze for later!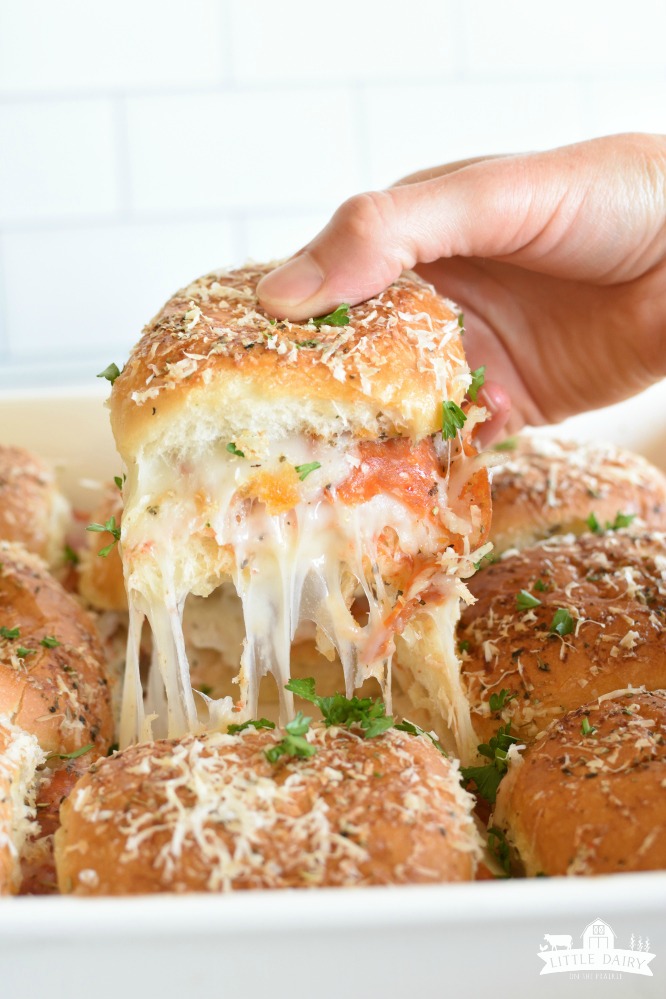 How many Pepperoni Pizza Sliders would you let your child eat in one month?
I bet I allow my middle child, Branson, to eat more than you think possible! That's because he packs them in his school lunches several times a week. And you know what? I'm totally okay with it because they are so much more exciting than a boring old PB&J.
When you are a farm boy that was ripped away from everything you love and stuck in a classroom all day, you at least deserve something you love for lunch! Pepperoni Pizza Sliders are what he loves! Besides that, they have to be better for him than eating at the cafeteria!
Make-ahead sliders are a game-changer too. Keeping a stash of them in the freezer all the time makes packing lunches as quick and easy as grabbing a slider and throwing it in his lunchbox!
If you want to make traditional pizza you need to check out my Cast Iron Skillet Pizza recipe! It's the best homemade pizza ever!
NOTE: This post was originally posted in 2016. The story and photos were updated in 2018 and a video was added.
What are sliders?
Sliders are cute little versions of sandwiches. Most of the time they are served warm, cooked either in the oven or on the grill. I love the flexibility!
Usually, sliders are made from rolls, but really you can use any kind of bread you'd like. The options are endless; croissants, Hawaiian rolls, mini buns, English muffins, etc.
Most of the time sliders involve gooey cheese (check out my Dairy Farmer's Wife's Cheese Guide to make that super easy), and some kind of buttery and seasoned concoction brushed on top. As they bake the tops get golden brown and amazing things are going to happen inside!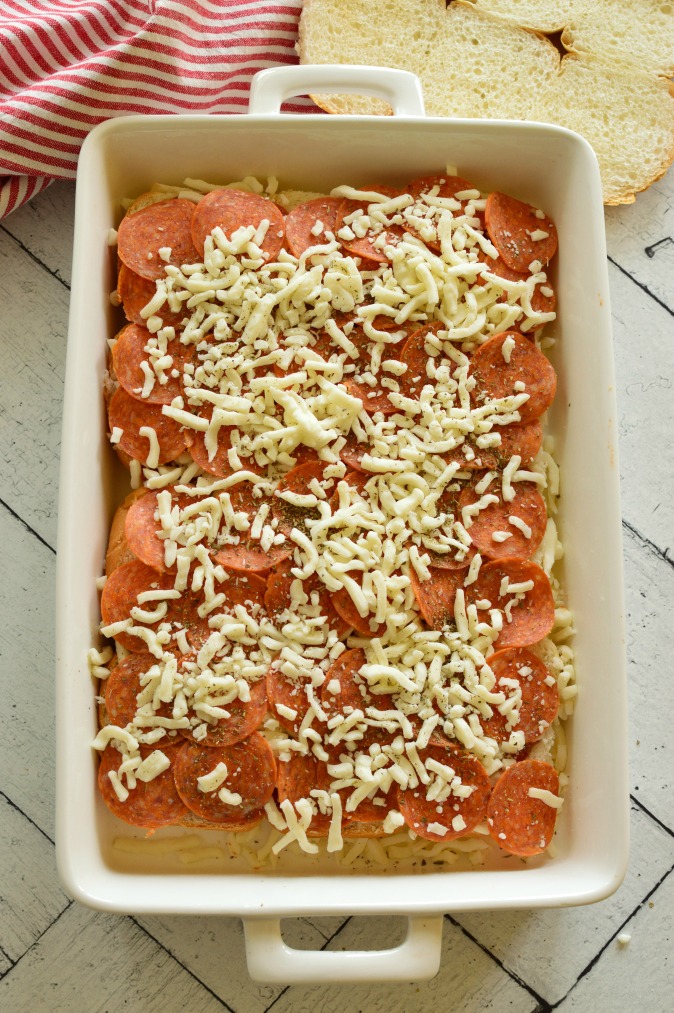 Can I make sliders ahead of time?
Yes! You don't even know how happy it makes me that sliders can be made ahead of time! It's a lifesaver! Make-ahead meals are what make my life doable!
Here's what you need to do. Assemble the sliders and stick them in the fridge until you are ready to bake them. When it's time for lunch or dinner, take them out of the fridge and pop them in the oven until the tops are golden brown and the insides are gooey.
If the tops start to get a little too brown cover them with foil while the insides get cooked through. If you've sprinkled cheese on top of the sliders be sure to spray the foil with nonstick cooking spray to prevent the foil from sticking to the cheese.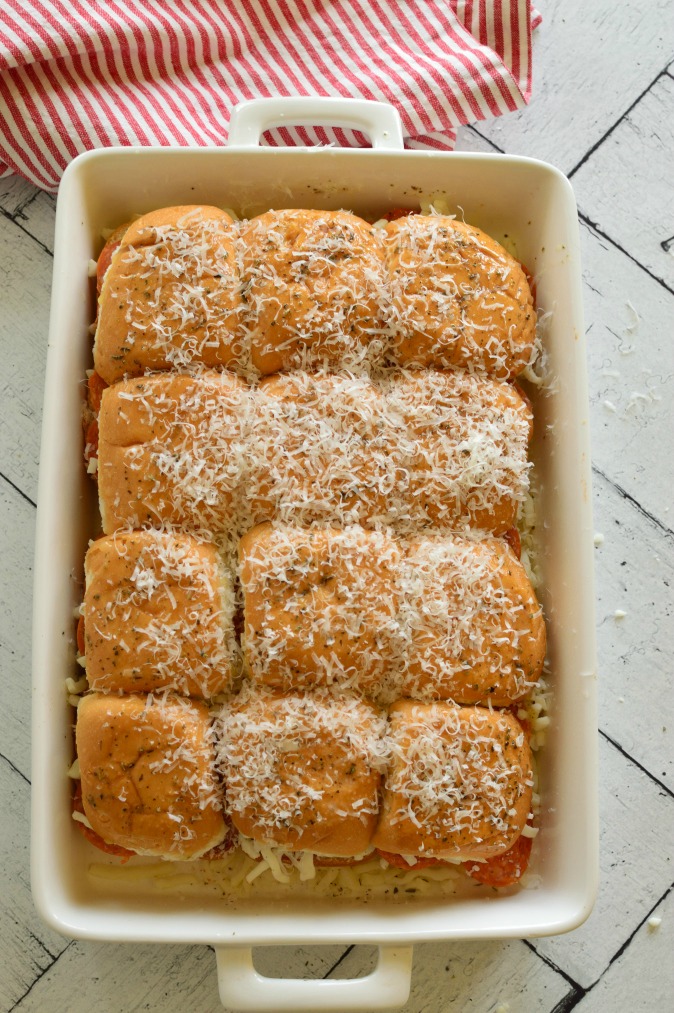 Can I freeze sliders? How do I freeze sliders?
Another awesome YES!
Assemble sliders, then bake them. Let them cool for a little bit. Then put them in a freezer bag and stick them in the freezer.
When you are ready to eat the sliders take them out of the freezer. I typically let them sit in the fridge overnight because I send them to school with my kids. Microwave them for about 20-30 seconds depending on your microwave.
If microwaving sliders straight from the freezer you'll need to microwave them a little longer.
I've never tried assembling the sliders, then freezing them before baking them. I assume you can do that although the pizza sauce might make the rolls a little soggy. I would remove them from the freezer and let them sit until they were thawed, then bake as the recipe instructs. As I said, I've never tried that method before though!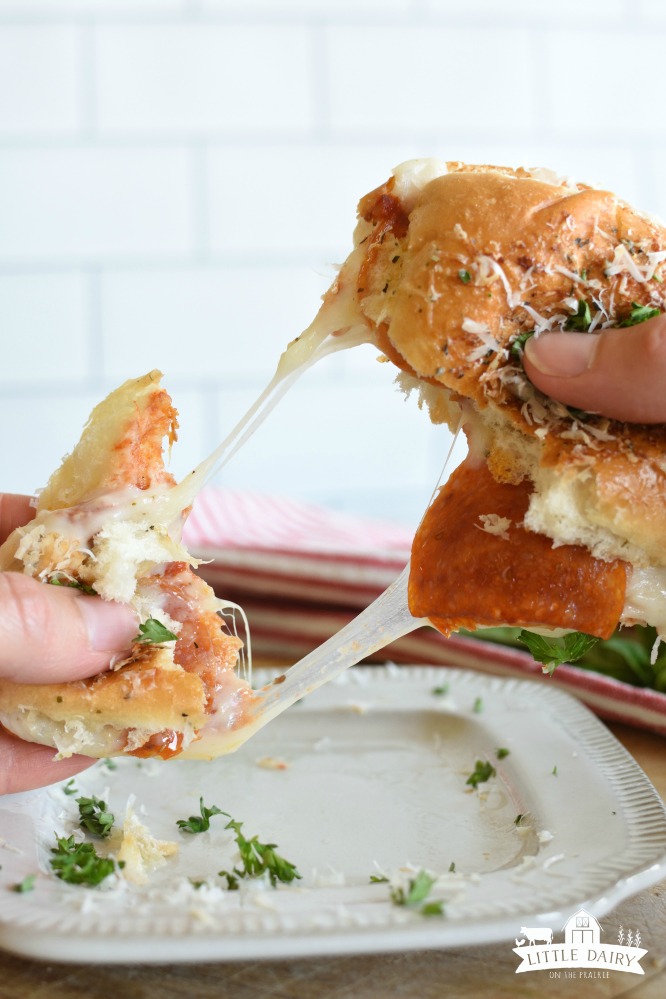 How many sliders can I make at once?
I've literally made these sliders a thousand times! Rarely do I only make enough for one meal, although it can easily be done. Heck, you could adjust the ingredients just a little and make one single slider. What an easy single-serving meal.
Most of the time I make enough to feed an army, we're talking several cookie sheets of sliders at a time!
They're perfect for feeding to a crowd, or like I said you can always freeze them for later. Never underestimate how many sliders three boys will eat in one sitting either! All I'm saying is make lots!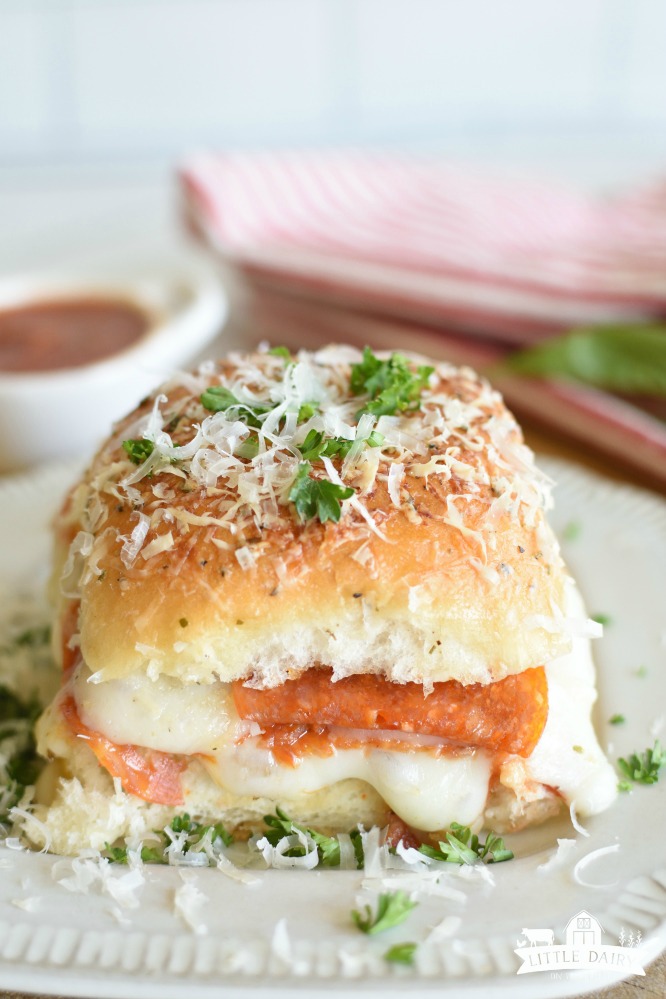 What other varieties of sliders can I make?
One of my favorite things about sliders is that you can throw pretty much anything on a roll, top it with cheese, bake it up, and call it a slider! Oh, and of course the fact that they can be made ahead is my very favorite get dinner on the table hack!
Check out these other sliders that we absolutely love!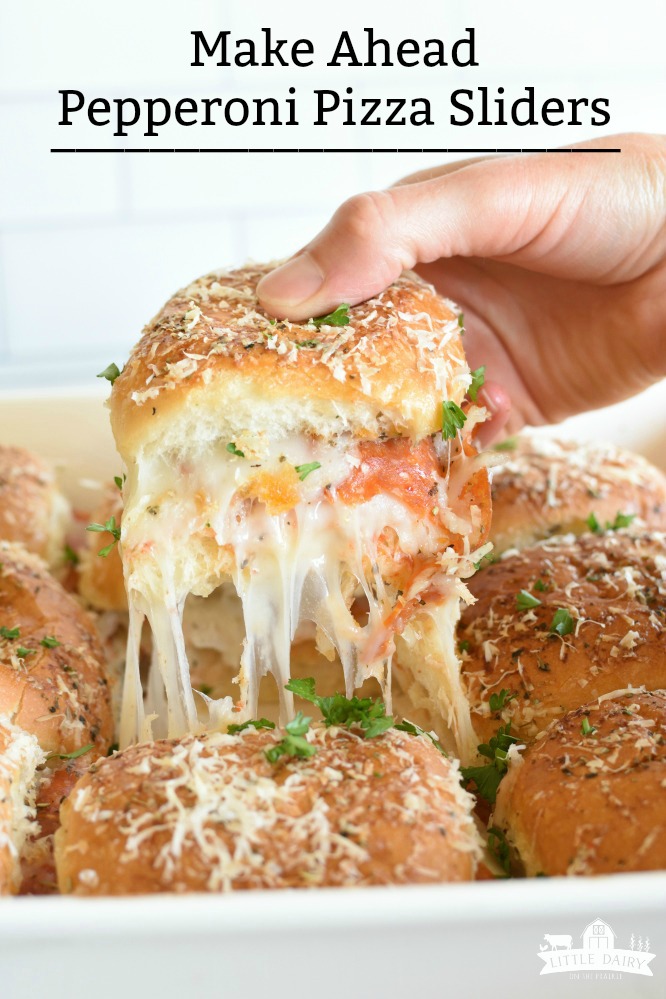 Grab the Pizza Sliders recipe!
When you live too far away for pizza delivery Pizza Sliders filled with all the good stuff hit the spot!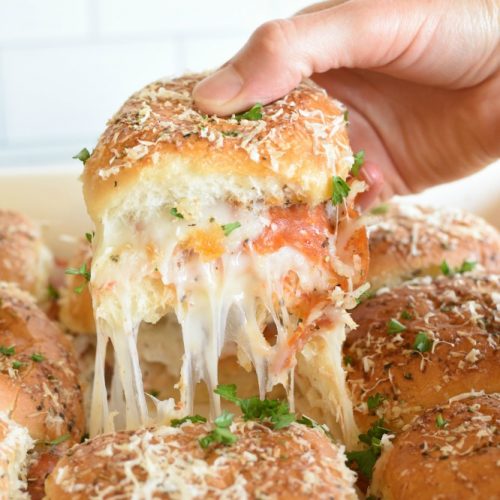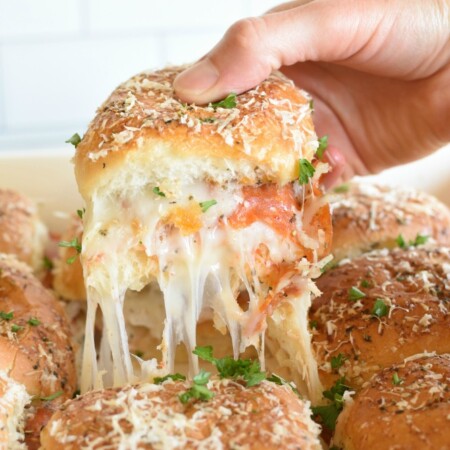 Make Ahead Pepperoni Pizza Sliders
Make-Ahead Pepperoni Pizza Sliders are a super easy and fun way to serve pizza. I'm not sure which I fell in love with first, the extra cheesy fillings, or the crispy Italian topping on the bread! Either way, these are a winner with kids and adults! They are perfect for parties too!
Ingredients
FOR THE SLIDERS
12

Dinner Rolls

I actually bake Rhodes frozen rolls and use those most of the time.

8

ounces

Pizza Sauce

more or less to taste

6

ounce

Pepperoni

24

slices

mozzarella cheese

can use grated too
FOR THE TOPPING
¼

cup

butter

1

clove

garlic

minced

1

tsp

Italian seasoning

2

Tbsp

Parmesan cheese

1

dash

sea salt
Instructions
TO MAKE SLIDERS
Preheat oven to 375 degrees.

Cut rolls in half. Set bottom halves in a greased baking pan.

Spread pizza, or marinara sauce on the rolls in the pan.

Sprinkle a layer of grated cheese or slices of cheese over marinara.

Layer pepperoni slices over cheese.

Add another layer of cheese.

Set the top parts of the rolls back on sliders.
TO MAKE TOPPING
Melt butter. Add garlic, Italian seasoning, Parmesan cheese, and a little salt. Stir to combine.

Brush over the tops of the sliders.

You can either refrigerate at this point or bake.
BAKING INSTRUCTIONS
If you are baking immediately, bake for about 10-15 minutes. You want the insides to be nice and gooey and the tops to be golden brown. If the rolls get too brown before the insides are baked, cover with aluminum foil and continue baking until insides are melted.

If you are baking later, cover sliders with aluminum foil and bake for 10 minutes. Remove foil and continue baking for about 10 more minutes. If cheese still isn't melted and the tops are golden brown, recover with aluminum foil and bake a little longer.
Notes
Sliders can be baked, cooled and frozen. We like to freeze them individually. My kids pack them in their lunches.
Add your favorite pizza toppings to make your own combination pizza.
You may use grated mozzarella cheese if you'd like.
Nutrition
Calories:
400
kcal
|
Carbohydrates:
22
g
|
Protein:
20
g
|
Fat:
26
g
|
Saturated Fat:
13
g
|
Cholesterol:
70
mg
|
Sodium:
980
mg
|
Potassium:
195
mg
|
Fiber:
2
g
|
Sugar:
2
g
|
Vitamin A:
590
IU
|
Vitamin C:
2
mg
|
Calcium:
381
mg
|
Iron:
2
mg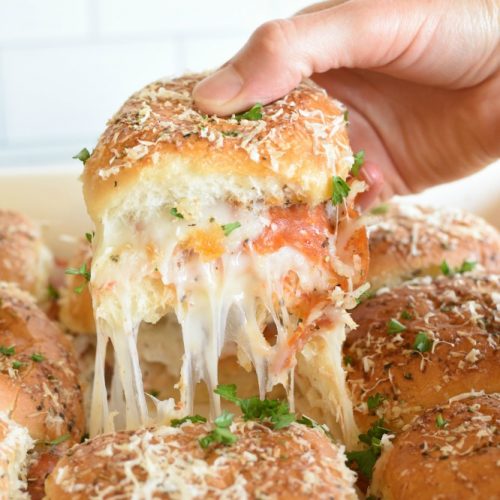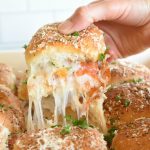 tried this recipe?
Make sure to share it with me! Leave a review or tag me on Instagram