Easy Company Dinners are the only way to go when you are having guests over for dinner! These easy recipes for guests are will not only WOW your guests, but they'll also help you get out of the kitchen so you can actually enjoy having friends over for dinner!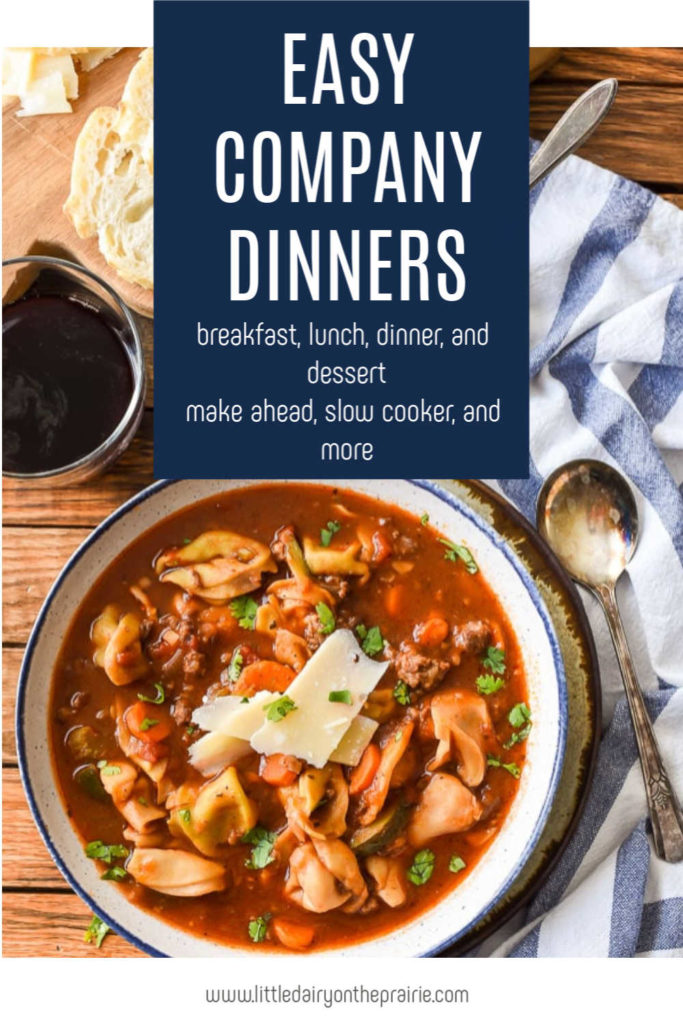 Breakfast Ideas for Guests
Every single time we have guests over, we end up chatting halfway through the night, and that's why breakfast for company has to be easy…really easy! These recipes are favorites here on the farm because they can mostly be made ahead of time! #lifesaver
Easy Side Dish Recipes to serve with Easy Company Dinners
Simple side dishes are the way to go when you're entertaining! These ones are awesome with about any company dinner…easy soup recipes, slow cooker pasta, or a classic roast beef recipe!
Easy Soup Recipes to serve for Easy Company Dinners
Easy slow cooker soup recipes are my saving grace! Seriously, they are my go-to anytime I have company during the fall, winter, or spring. It's the BEST way to make your guests feel right at home!
Easy Company Dinners
Here are a few other easy company dinners that are quick and easy, yet impressive! They're the recipes your friends are going to beg you for!
Simple Dessert Recipes for Easy Company Dinners
You guys, dessert is the most important part of the meal! These dessert recipes are easy, which makes them a perfect match for serving right alongside any easy company dinners.