Quick Shredded Beef Burritos are one of the easiest weeknight meals in the world! There are so many options with this recipe which makes it perfect for any busy night! Make them ahead of time and either throw them in the slow cooker, bake them, microwave them when it's time for dinner, or stick them in the freezer for later!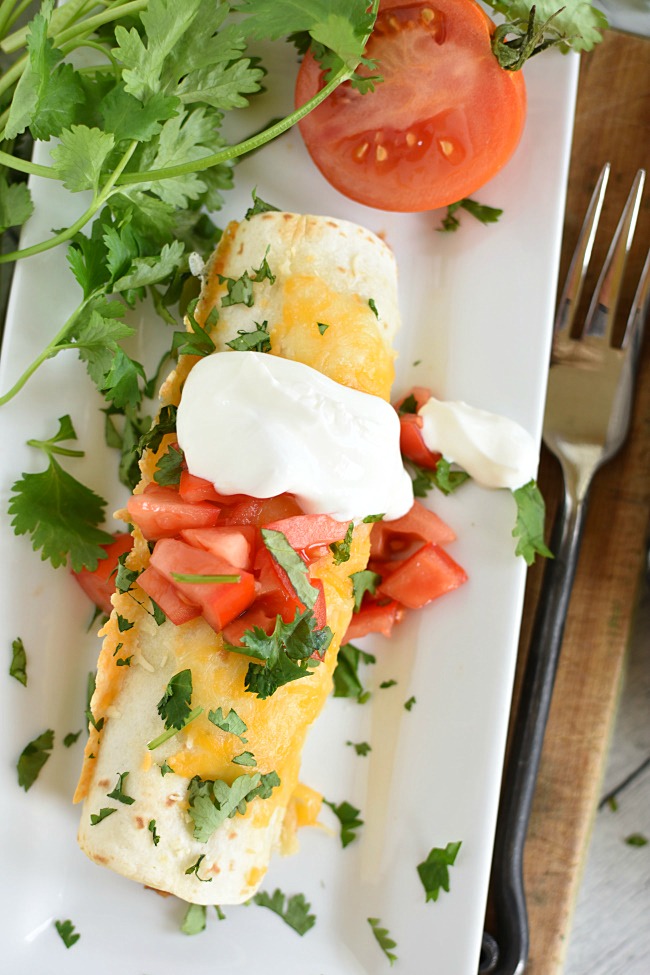 Crazy busy lives demand super quick and easy weeknight dinner recipes! We all need a few stand by meals we know our family will go crazy for, yet they require very little effort on our part. Am I right?
Quick Shredded Beef Burritos is exactly that! It's a recipe that can be made ahead of time and pulled together whenever you're ready. All that's left is throwing a few toppings, diced tomatoes, salsa, sour cream, cilantro, extra cheese, and maybe some onions, on top. If you have a few extra minutes Cheesy Spanish Rice is always amazing served with the burritos.
I know it's the holidays and you are being bombarded with all things turkey, pumpkin is overloading your social media feed, and your gearing up for mint and gingerbread to dominate the world for the next few week! And here I am bringing you a Quick Shredded Beef Burritos recipe! Ha!
Maybe I'm just keeping it real here. I mean we can't live on Mint Chip Sugar Cookies and Microwave Caramels for a whole month straight, right? Besides that I have a feeling your life is about to be kicked into some serious overdrive. Everyone needs a few recipes that are extra quick and easy to throw together. Good old stand by meals the whole family will go crazy for! That's exactly what I'm sharing with you today!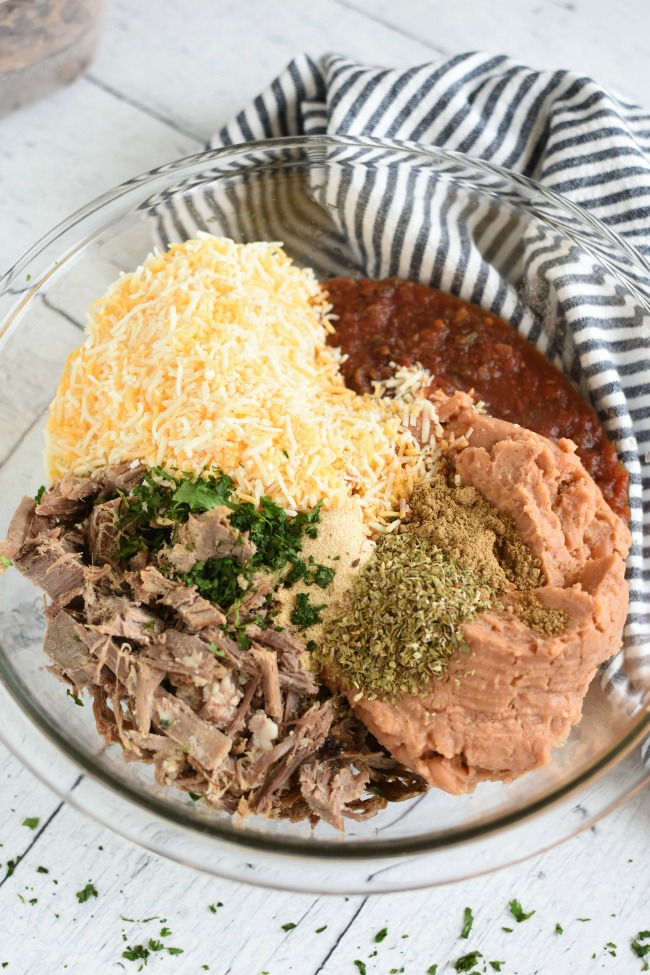 What can I make with leftover Roast Beef?
These burritos are made with Classic Slow Cooker Roast Beef leftovers. a can of refried beans, and some spices.
Here's a tip for making using shredded leftover roast beef even easier later in the week. We're going to do almost all the work at once.
Shred the whole roast beef the day it's made. This means you don't have to clean the cutting board, forks, etc twice. Roast beef also shreds much easier when it's warm.
Chop it up a little right now if you want it finer than traditional shredded beef. For this recipe, and most recipes, I like it a little finer so I don't end up with a whole chunk of roast beef in my burrito.
Store leftover beef in an airtight container for up to 5 days in the refrigerator.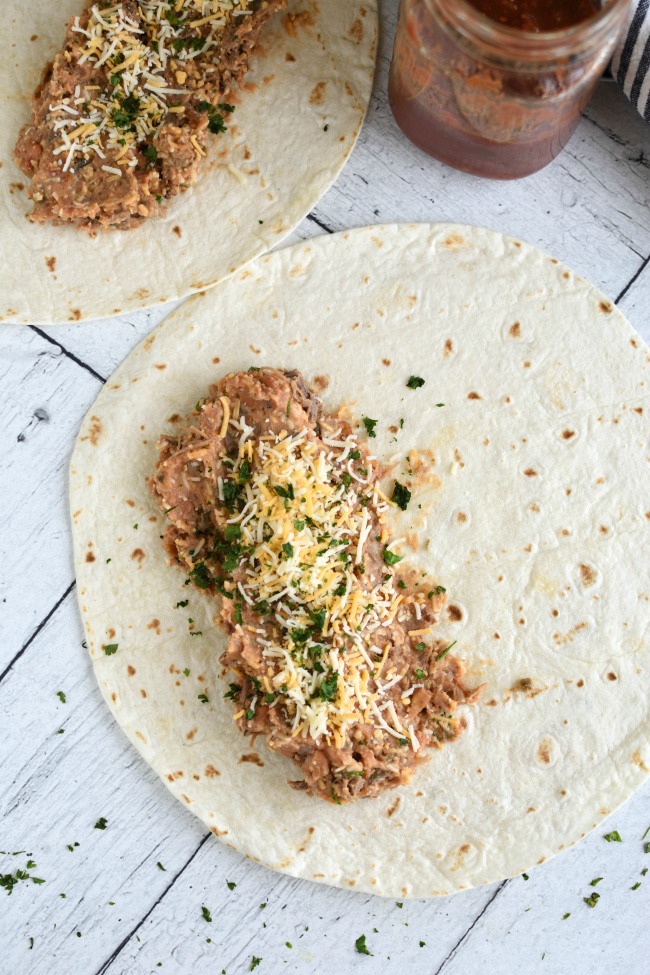 How to make and roll burritos so everything doesn't fall out?
There's really not much to it. Mix the ingredients together. Spoon it on tortilla shells. (Heck you could even make the meat mixture earlier in the day and assemble them right before dinner if you wanted)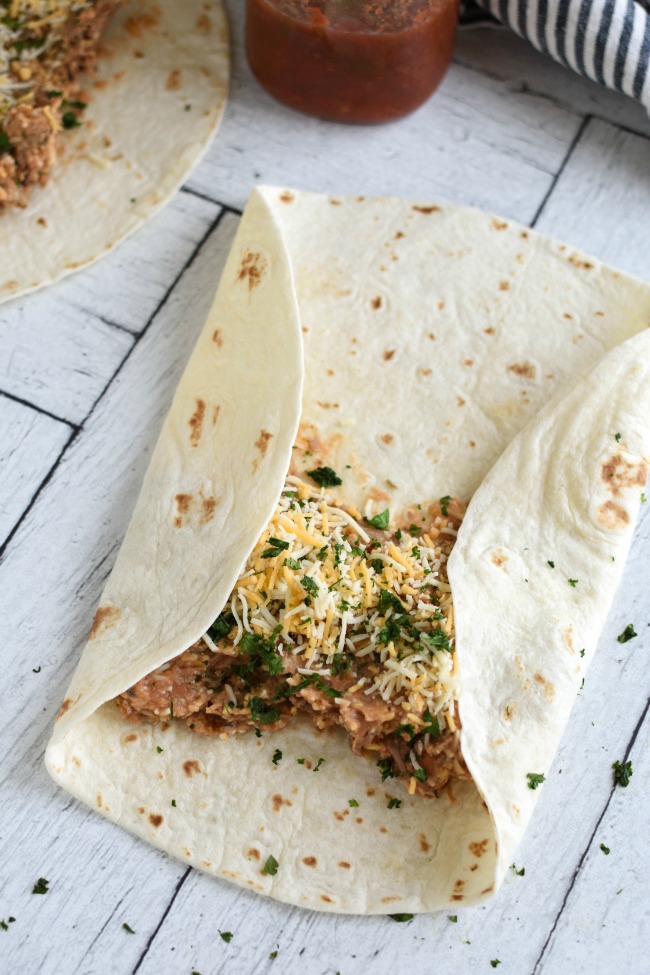 Fold the sides over like this!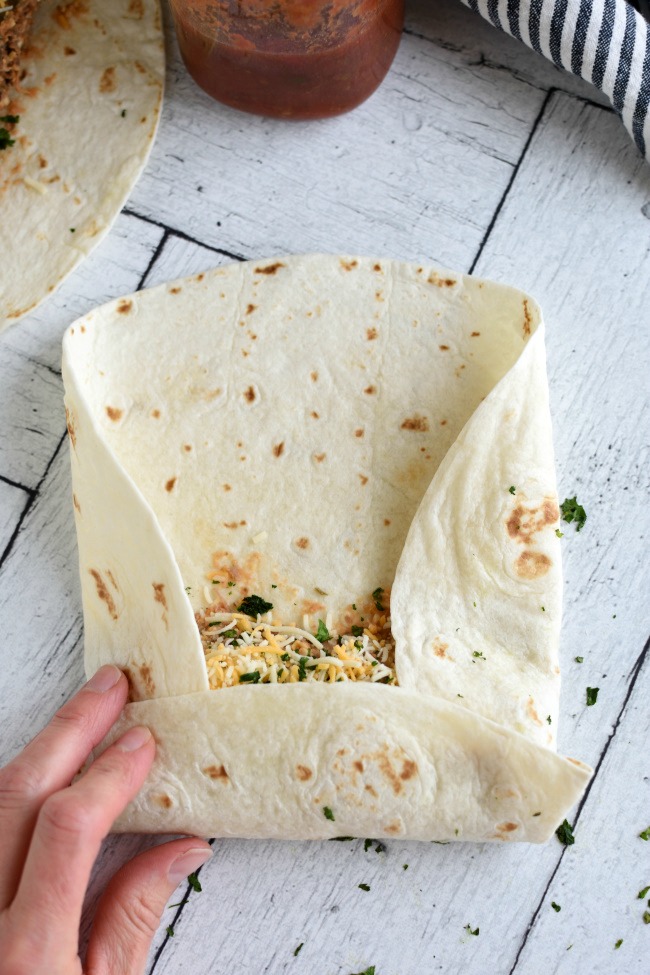 Next, fold the end up and roll tightly.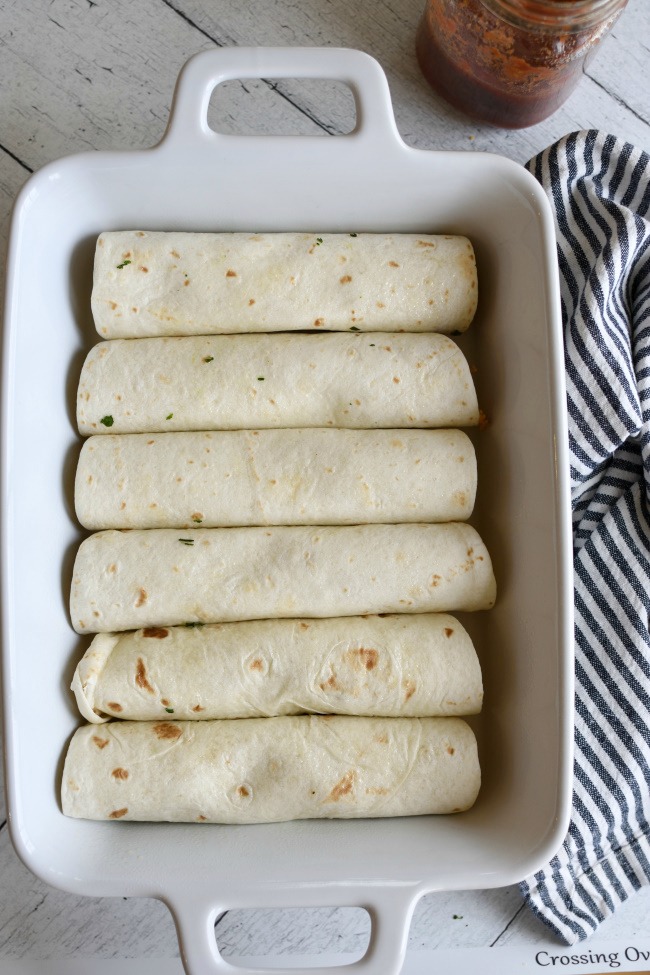 Microwave, Bake, Slow Cook, or Freeze Burritos
Once you get the burritos filled, rolled, and to this point you have lots of options. I LOVE options!
Mist burritos with nonstick baking spray. Roll burritos individually in aluminum foil. Then either bake them in the oven, cook them in a slow cooker, or refrigerate or freeze them for later. Misting burritos with baking spray helps create a crispy outside on the burritos.
Burritos can also be set in a baking dish, covered with cheese and baked.
Smother burritos with enchilada sauce, cheese, and bake.
Microwave them right now. Stick them in the oven and dinner will be ready in about 30 minutes. Put them in the slow cooker for later tonight. Or stick them in the freezer for another time.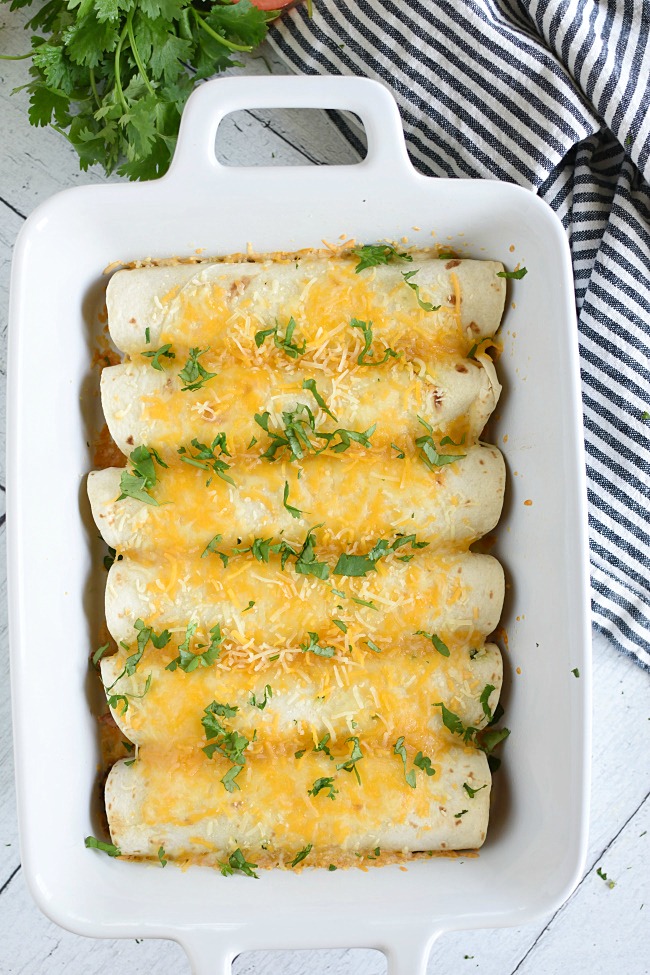 For most moms between 3-7 at night is "go time". That's when everything kicks into high gear at my house. That's exactly why I try really hard to make dinner first thing. Dinner is a morning activity. Let me tell you, it makes evenings so much easier!
Quick Shredded Beef Burritos will be just fine sitting in the fridge. Trust me, it's awesome when all you have to do is grab them, stick em in the oven, and dinner is ready!
So there you have it! A quick and easy weeknight meal for the busy days ahead!
Get a Roast Beef in the slow cooker, and then you'll be able to enjoy Quick Shredded Roast Beef Burritos with very little effort! XOXO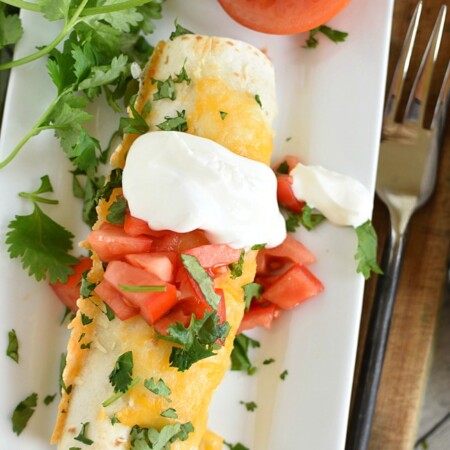 Quick Shredded Beef Burritos
Quick Shredded Beef Burritos - a super easy recipe made with leftover shredded roast beef, a can of beans, a few seasonings and plenty of cheese! Microwave, bake, slow cook, or freeze them for later!
Ingredients
2

c.

cooked and shredded roast beef

1

c.

salsa

1

16 oz. can

refried beans

2

Tbsp.

Chili Powder

2

Tbsp.

cumin

1

Tbsp.

Garlic Powder

2

tsp.

oregano

1

tsp.

onion powder

1

tsp.

paprika

2

c.

shredded cheese (divided)

cheddar, pepperjack, Monterey Jack, etc.

8

flour

tortillas

8-10 inch
Instructions
In a large mixing bowl combine all ingredients, except tortillas and 1/2 a cup shredded cheese.

Divide meat mixture and spoon on one side of each tortilla. Fold edges over filling and roll tortillas up to make burritos.
Instructions for Baking Burritos
Spray a baking dish with non stick spray and layer burritos in dish. Sprinkle with reserved cheese. Cover dish with aluminum foil. Bake at 350 degrees for 20-25 minutes.

Another option for bakign is to spray burritos with baking spray. Roll each burrito in a piece of aluminum foil. At this point burritos can be baked right now at 350 degrees for 20-25 minutes.
Instructions for Microwaving Burritos
Burritos my be microwaved for about 1 minute, depending on how hot your microwave cooks. Add toppings and serve immediately.
Instructions for Slow Cooking Burritos
Burritos can be layered in a greased slow cooker, sprinkled with cheese, and cooked on low for 3-4 hours. You could also get creative here and smother the burritos in enchilada sauce, taco sauce, etc.


I've cooked burritos wrapped individually in foil (see instructions for baking) in the slow cooker and it works really well too.
Instructions for Saving Burritos for Later
Burritos may also be refrigerated for up to 3 days, or frozen for up to 3 months. Freeze idividually wrapped in aluminum foil burritos in an airtight container or bag. They may be cooked later in the microwave, baked in the oven, or thawed and cooked in the slow cooker.

Instructions for Serving Burritos
Regardless of your cooking method, burritos are fantastic topped with diced tomatoes, green onions, cilantro, salsa, sour cream, guacamole, olives, etc.
Notes
Taco seasoning, or burrito packets may be used in place of seasonings.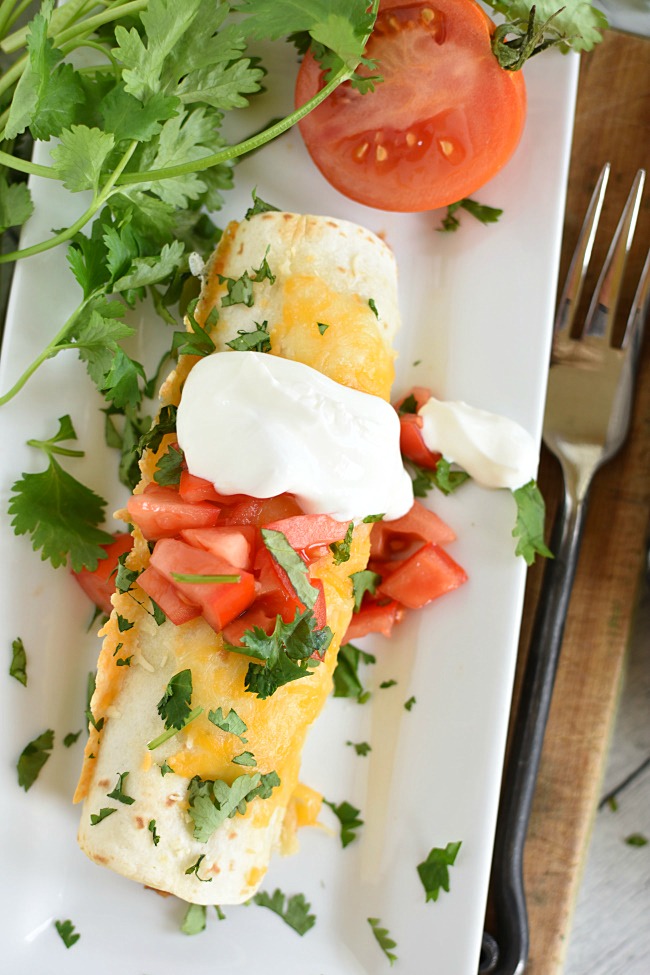 tried this recipe?
Make sure to share it with me! Leave a review or tag me on Instagram