This recipe post was sponsored by Avocados From Mexico in partnership with the Mom It Forward Influencer Network. However, all thoughts and opinions are my own.
If there was ever a reason to climb out from under your covers in the morning and face the day it would definitely be Breakfast Burrito Bowls! They have so many breakfast favorites in one scrumptious, flavor packed bowl!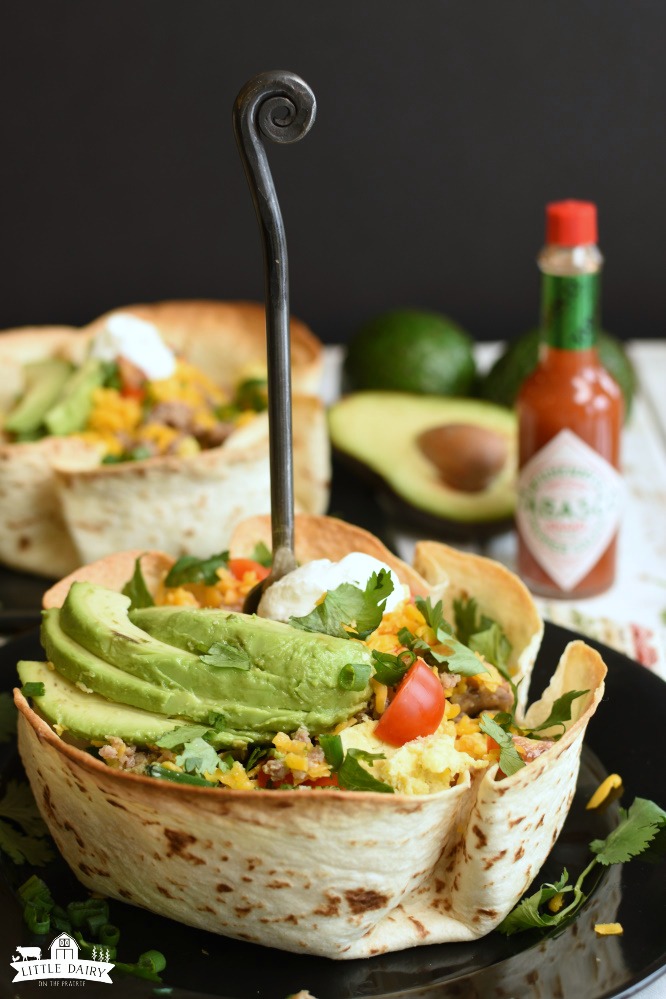 So the Big Game is right around the corner! Who's all kinds of excited? I have to be honest watching football for me is fun, but it's definitely more about the food than football!
I get so excited about football food I start planning out my homegating menu weeks before the big game! In fact, I get so carried away I even like to start game day out with something extra yummy for breakfast!
We've always loved Mexican food but after visiting Mexico last year our whole family is addicted! We go through bags of Avocados From Mexico every week! My seventeen year old watched this guy in Mexico make guac and he's been recreating it at home ever since! I think I'm in Heaven every single time he makes it!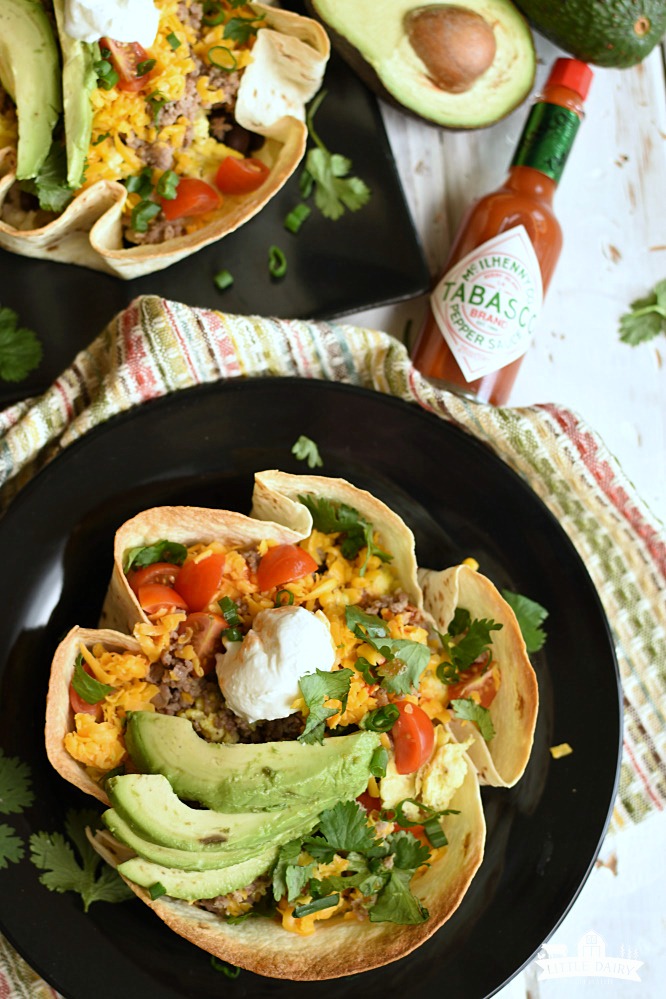 Breakfast Burrito Bowls are so simple yet so yummy and packed with all that flavor we fell in love with in Mexico! All you do is layer your favorite breakfast burrito ingredients in a Homemade Tortilla Shell Bowl ! Of course you could use a cereal bowl but the it's much more fun in a Tortilla Shell Bowl!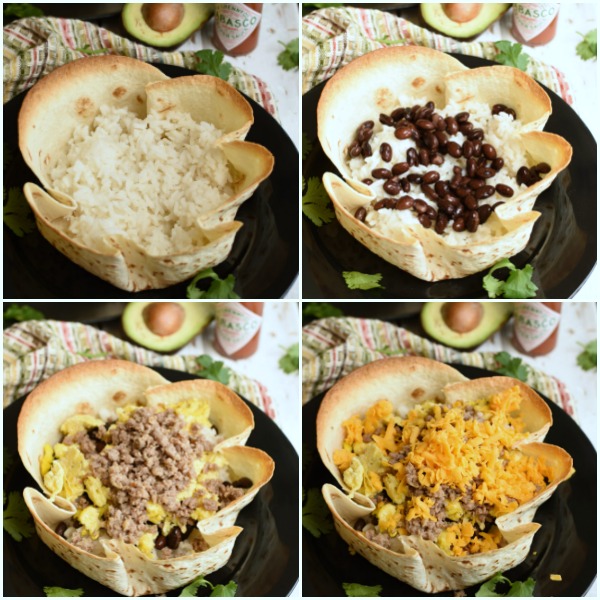 So you wanna know my know my little secret to getting the most flavorful scrambled eggs ever…TABASCO® Sauce! TABASCO® Sauce has flavor like none other and is a fantastic way to amp up scrambled eggs for Breakfast Burrito Bowls!
TABASCO® Sauce is made from three simple ingredients; hand-picked, vine-ripened tabasco peppers, a little salt, and high quality vinegar! TABASCO® Sauce pepper mash is aged for three years in white oak barrels on Avery Island, Louisiana. Just thinking about it makes my mouth water!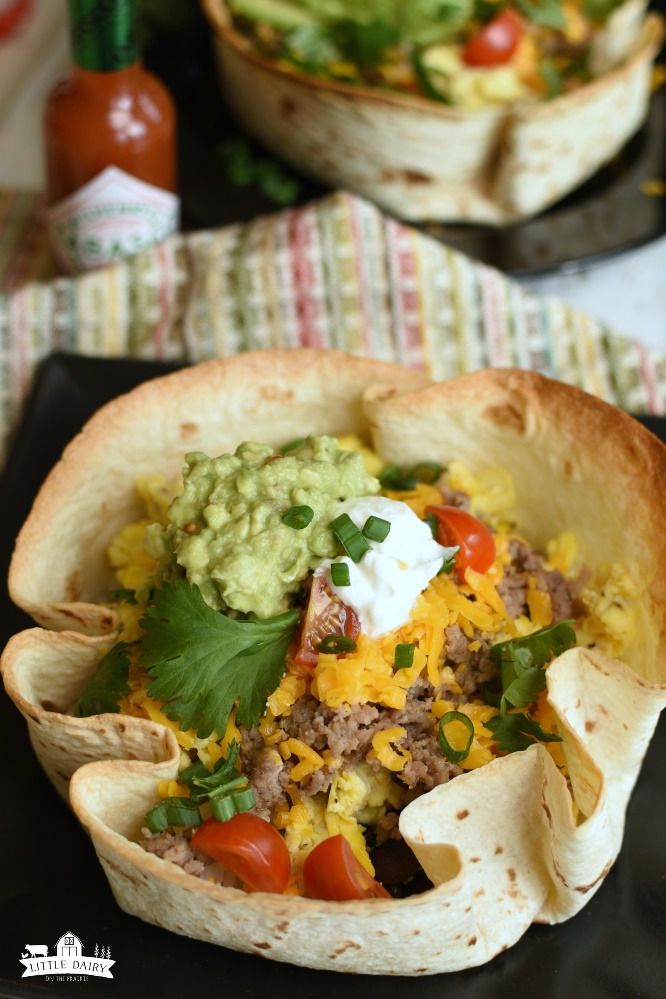 Piling your favorite toppings on Breakfast Burrito Bowls is half the fun, the more the merrier! There's always plenty of cheese, crumbled bacon, scallions, juicy diced tomatoes, and of course delicious Avocados From Mexico! Sometimes we make them into guac and sometimes we dice them up and add them just like that!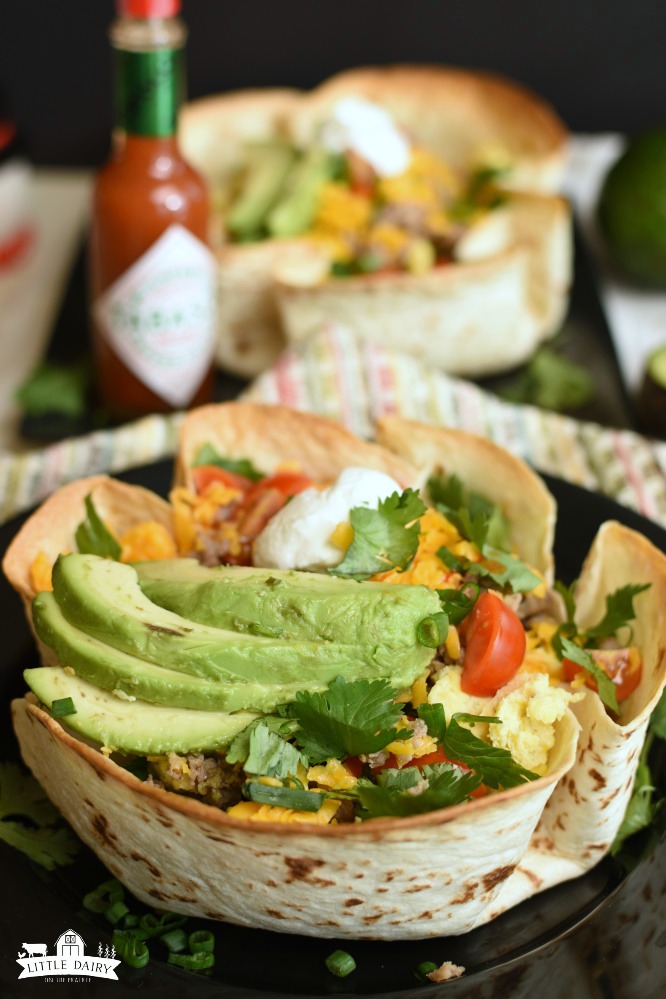 Here's a hint…If you decide to make guac, make lots because this versatile condiment is delicious on everything from grilled cheese sandwiches, to toast, to soups, enchiladas, quesadillas, and of course with chips!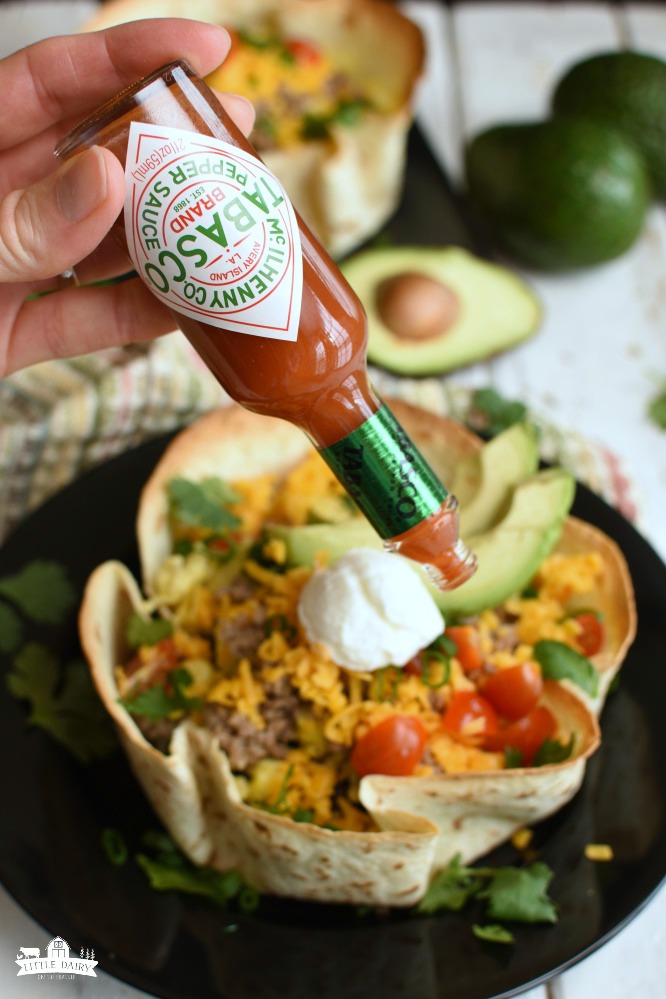 If you really want to flavor your morning I suggest adding a few dashes of TABASCO® Sauce right over your Breakfast Burrito Bowls! It will liven them them up even more! Heck, it will liven up almost any dish!
After starting out your day with Breakfast Burritos you should be all set to carry on with your other big game day activities! Keep that TABASCO® Sauce and guac handy because they are so versatile I have a feeling you are going to want add both of them to your party spread! I mean they pretty much deserve a spot piled on every handheld food!
For a chance to win $1000 prize be sure to enter this giveaway!
For more avocado and TABASCO® Sauce! recipes and ideas be sure to follow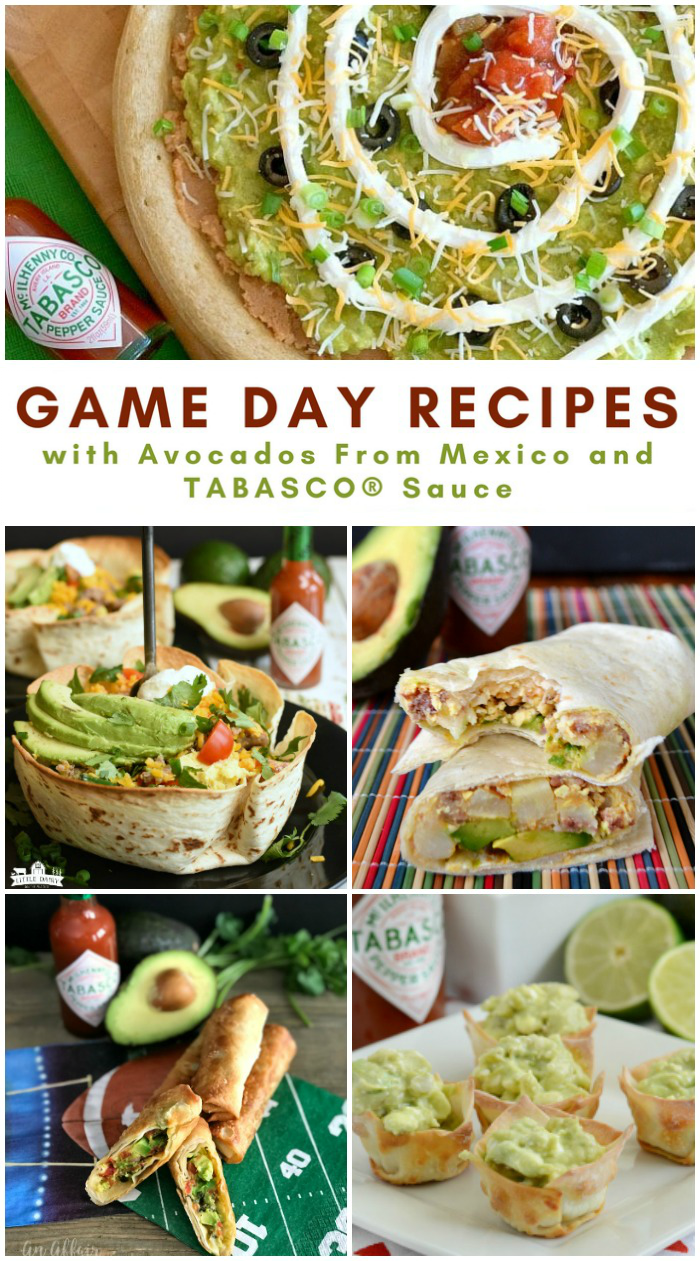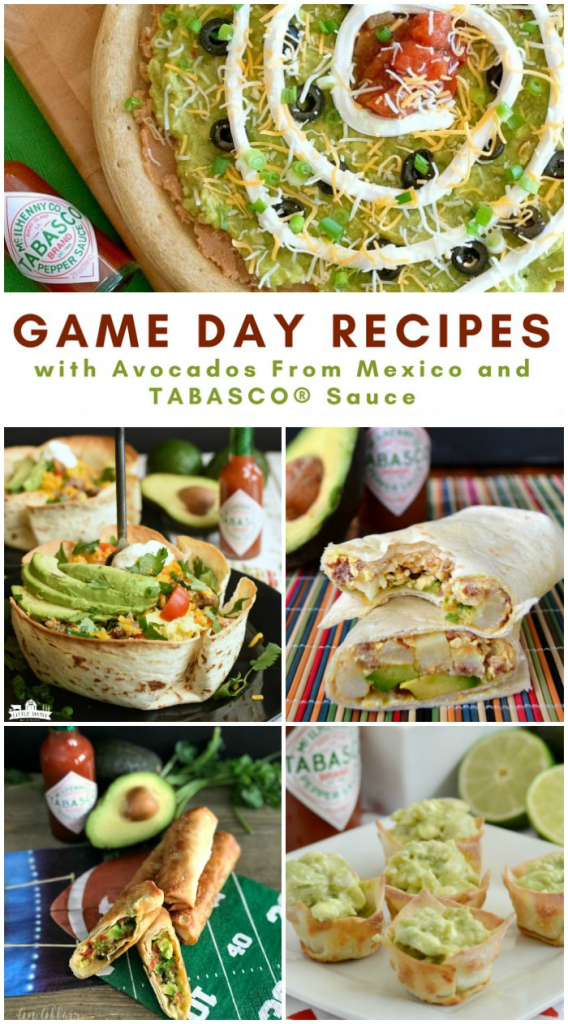 You aren't going to want to miss theses recipes from my friends either!
Have a fantastic morning and a fun big game day cheering for your team!
Breakfast Burrito Bowls
Breakfast Burrito Bowls are such a flavorful and fun way to add a little kick to your day! Add fun toppings to the bowls to add a little extra color and flavor to the bowls!
Ingredients
4

eggs

1

T

milk

salt and pepper to taste

TABASCO® Sauce to taste

1

cups

cooked rice

1/2

cup

black beans

drained

1/2

c.

ground pork sausage

cooked and crumbled

2 to

rtilla shells bowls

if you don't have tortilla bowls you can use a regular bowl

Toppings:

crumbled bacon

grated cheese

scallions

avocados

diced tomatoes

TABASCO® Sauce

cilantro

sour cream
Instructions
Before you begin assembling Breakfast Burrito Bowls cook rice and brown and crumble sausage. Sometimes I save myself the extra work in the morning and prepare rice and sausage the day before and just warm them up to put in my Breakfast Burrito Bowls. Of course you can make them just before assembling the bowls too!

Beat eggs, add milk, salt, pepper, and TABASCO® Sauce to taste. Scramble eggs in a skillet.

Warm beans for a few minutes in the microwave.

Assemble Breakfast Burrito Bowls by layering rice, beans, and scrambled eggs in the tortilla shell bowls.

Add whatever toppings you like! Sprinkle a little extra TABASCO® Sauce over the top to add extra flavor

Serve right away!
tried this recipe?
Make sure to share it with me! Leave a review or tag me on Instagram