Freezer Breakfast Burritos are always a winner at my house for three reasons; they are fast and easy, we love Mexican food, and they're hearty enough to fill up my boys!
A few months ago I joined an online "get healthy" group. To be honest, I didn't really join the group to lose weight or even for encouragement to exercise.
My main reason for joining the group was to maintain my weight over the holidays. I figured if I could just maintain that I would be winning!
As most groups like that go, I picked up a few healthy tips and tricks along the way and realized I needed to change a few things in my life.
My family does NOT sleep enough. I'm feeling well-rested if I get 6 ½ hours of sleep a night! Hint: That's not enough!

Just by changing a few small eating habits, I wake up starving in the morning. It actually feels really good to be hungry in the morning and even makes me a bit ready to conquer my day! Awww! I love it!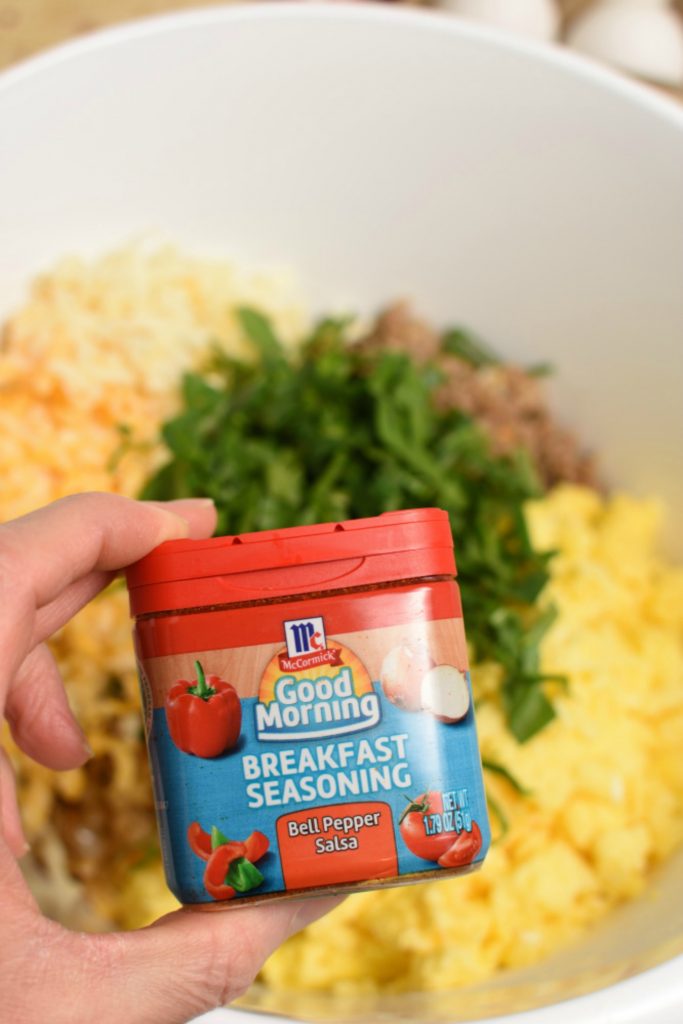 Mornings are fast, too fast. Between getting ready for your workday and preparing your kids for school, there isn't much time to create the flavorful, fulfilling breakfast my family deserves.
McCormick Good Morning breakfast is a breakthrough line of products to help you do just that!
Some of my favorite breakfasts, just like Freezer Breakfast Burritos are the ones I can make the night before and just pop in the oven just before I exercise, or the microwave when I'm ready to eat!
When the treadmill makes me feel like I'm half dead and can't move another inch it's nice to know my breakfast is cooked and waiting for me! You can't beat that!
What I'm loving about Freezer Breakfast Burritos
They are portable! Grab one on your way out the door to work, basketball practice, etc.

Make a whole bunch and stick them in the freezer for an easy breakfast.

You choose…make a lot or make a few.

Customize them by adding whatever fillings you want!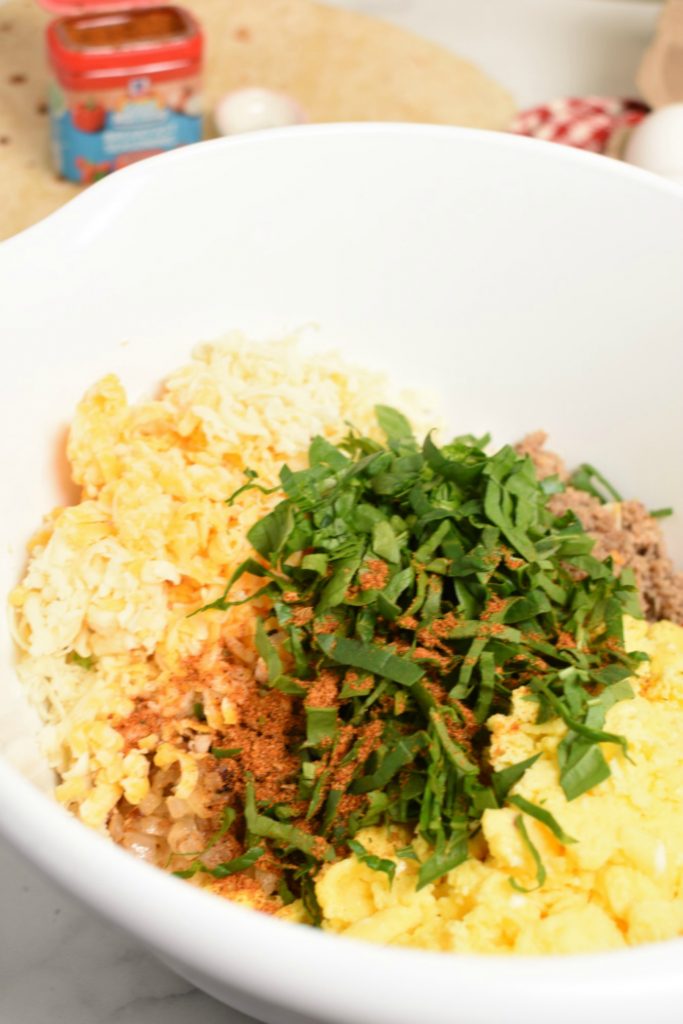 How to Customize Freezer Breakfast Burritos
You choose your own meat; sausage, diced ham, crumbled bacon OR all three!

Grab a baked potato, dice it up and add it.

No matter what use lots of cheese! Use pepper jack to make it spicy. Add Swiss or cheddar or any other kind you want!

Hello, veggies! I love sautéed mushrooms, onion, and peppers! My boys not so much! Guess what…we can each customize them exactly how we want! EASY!

I like using

McCormick Good Morning Breakfast Seasonings

for perfectly blended versatility. Adding the Good Morning Bell Pepper Salsa Breakfast Seasoning adds a savory southwest flavor that's spot on!
Get inspired to create delicious meals with sweet or savory McCormick Breakfast Seasonings that you shake on for instant flavor.
If you haven't already add getting more sleep to your New Year's resolutions you aren't too late! It's an awesome goal, completely worth it, and totally doable with quick and easy recipes like Freezer Breakfast Burritos!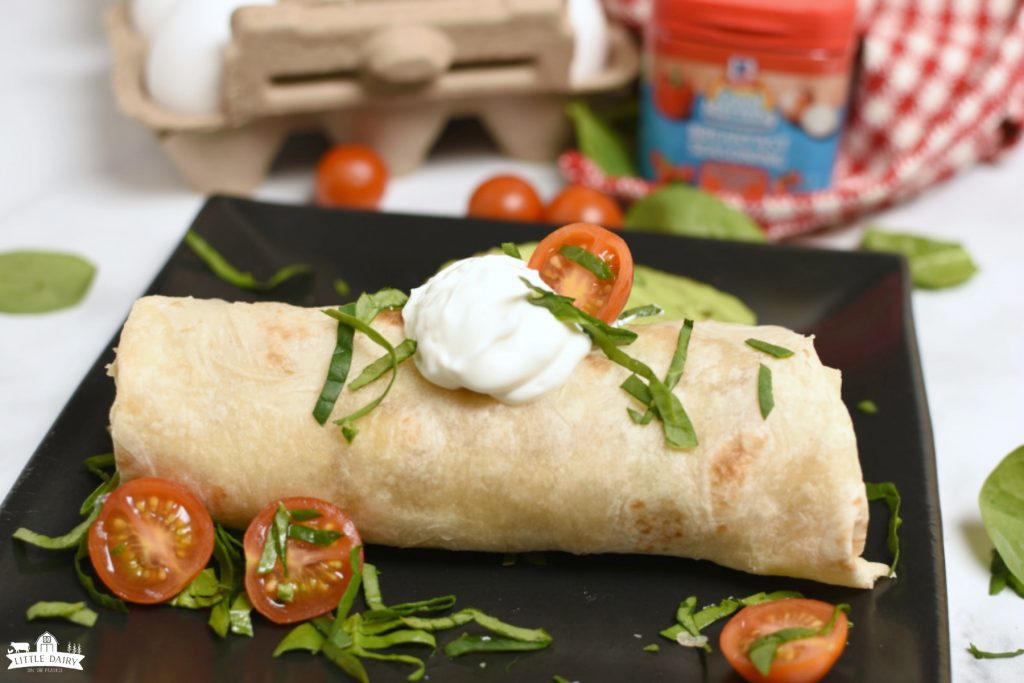 Freezer Breakfast Burritos
Freezer Breakfast Burritos are your ticket to getting some extra sleep at night and still being able to fill your family up with a hearty breakfast even on the busiest days!
Ingredients
2

cups

breakfast meat

ground pork sausage, crumbled bacon, diced ham, or a combination

2 ½

c.

shredded cheese

pepper jack, colby jack, swiss, cheddar

8

eggs

beaten with 1 T of milk

1

tsp

McCormick® Good Morning Bell Pepper Salsa Breakfast Seasoning

8 10

" flour tortillas

OPTIONAL filling ingredients:

Onions

Peppers

Mushrooms

Spinach
Instructions
For this recipe you can choose any breakfast meat you would like. You can keep it simple and just use one kind or use any combination you like.

Preheat oven to 350 degrees.

Cook and crumble sausage, cook and dice bacon, or dice cooked ham. Add breakfast meat to a large mixing bowl.

Add 2 cups shredded cheese to mixing bowl.

Scramble eggs in a skillet and add to mixing bowl.

Add McCormick seasoning to mixing bowl.

Stir all ingredients to combine.

Divide mixture evenly among tortillas. Add a remaining grated cheese on top of filling. Roll tightly.

Spray the outsides of burritos with baking spray. Lay on baking sheet. Bake for 10 minutes.

Serve immediately or freeze for later.

If you would like to save burritos for later you can

Slightly cool burritos and store them in an airtight container in the fridge.

Slightly cool burritos. Lay them on a cool baking sheet and set them in the freezer for a few hours to flash freeze. Remove burritos from baking sheet, wrap them in plastic wrap, parchment paper, or aluminum foil and store them in a sealable bag in the freezer. My favorite way to reheat frozen burritos is to set them in the fridge overnight then microwave them for 1-2 minutes or until cooked through. Or I like to stick them, wrapped in aluminum foil, in the oven at 350 degrees for about 20 minutes or until cooked through. Either way it's fast and easy!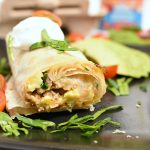 tried this recipe?
Make sure to share it with me! Leave a review or tag me on Instagram