Lemon Pesto Pasta Salad with Grilled Chicken is a light main dish salad that's full of zesty flavor! It's can be made ahead of time and includes leftover grilled chicken! Now that's my idea of a perfect summer recipe!
Hey everyone! Summer is here and I'm completely in love with it! It's been warm enough to get out and enjoy my yard, ride my bike, go for jogs, and grill!
This is the time of the year when my boys don't get home from work until about 10:00 every single night! I'm not even kidding you when I admit that I threw a cake in the oven at about 11:00 one night while I was waiting for my guys to finish up their work for the day. I knew it would have a chance to bake and cool before my bedtime would finally arrive!
These are the days when I'm always looking for make ahead meals so I don't have to start throwing dinner together when I'm ready to finally take it easy.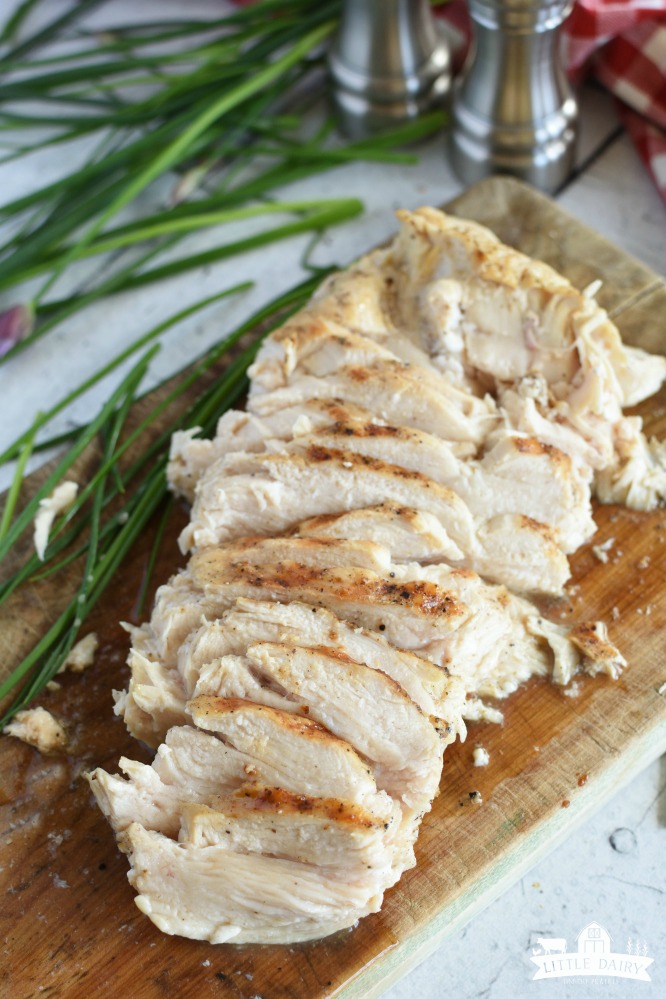 How to use leftover grilled chicken.
A few weeks ago I shared my very favorite 3 Ingredient Grilled Chicken Recipe. It's seasoned enough to give it amazing flavor, but it's versatile enough to be used as transformed into all different kinds of leftovers.
My sister was telling me how much she loves Pioneer Woman's Creamy Lemon Basil Potato Salad and we decided it would make a divine pasta salad with grilled chicken.
We were right! This salad is divine! Since I already had leftover grilled chicken in the fridge the whole salad came together in no time at all.
In fact, I made it earlier in the day and when my boys came home it was already for them! Don't panic if it seems like it's a little too saucy to begin with. As it sits the pasta will soak up some of the dressing. Saucy was never a bad thing anyway!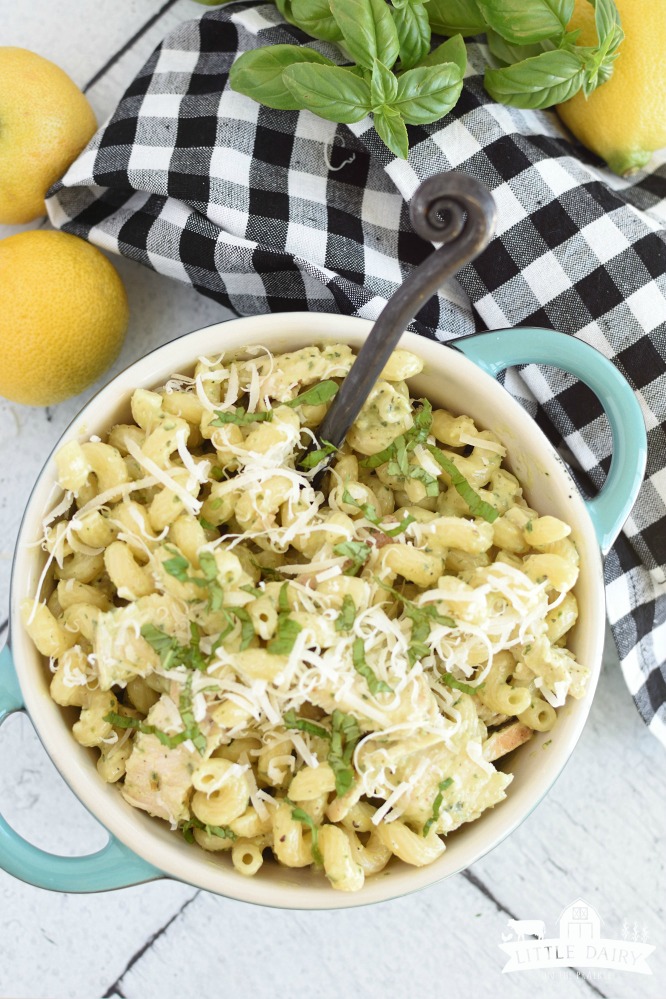 What vegetables can I add to my pasta salad?
When I first made this pasta salad I had every intention of adding cherry tomatoes. As soon as I took my first bite I completely forgot about the tomatoes and pretty much buried myself in the bowl! You could definitely add other things to it to add crunch, even more flavor, or nutritious veggies. These would all be great options!
Cherry tomatoes

Pine nuts, or walnuts

Steamed broccoli, or asparagus

Sun Dried tomatoes

Cheese

Bacon crumbles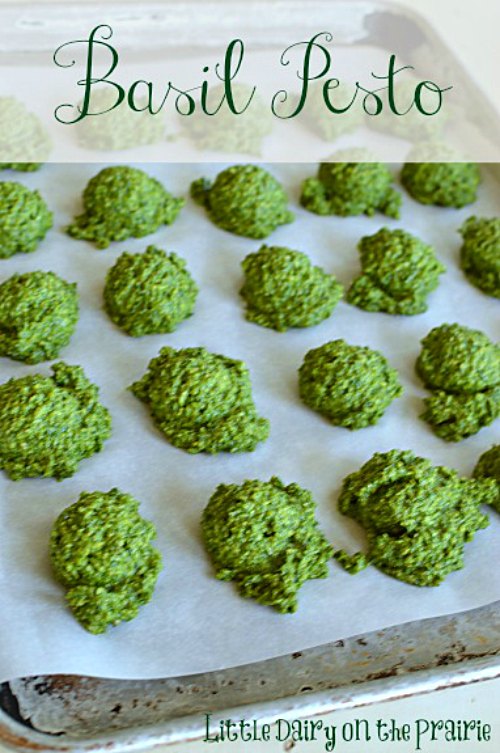 Where do I get pesto and can I make it myself?
Purchase pesto in the grocery store in the aisle near the pasta sauces. Some grocery stores have fresh pesto in the refrigerator section.
Since pesto is a bit expensive I like to grow basil and parsley in my garden and make my own Homemade Basil Pesto. This is one of my pictures from my early blogging days! It's a little fuzzy but you get the idea. Regardless of the quality of the photo, this is still the recipe I use to make and freeze my pesto!
Scoop it with an ice cream scoop and set it on a cookie sheet.

Flash freeze it for an hour or so.

Remove from sheet and place in a sealable freezer bag.

Freeze until you are ready to use it.

Thaw it by setting it on at room temperature for about 30 minutes.
Making your own pesto is so much less expensive and it's handy to have it already sitting in the freezer when you need it. It's nice to be able to thaw just a tiny bit at a time too. I add it to soups, spaghetti sauce, sauces, and salads all year long.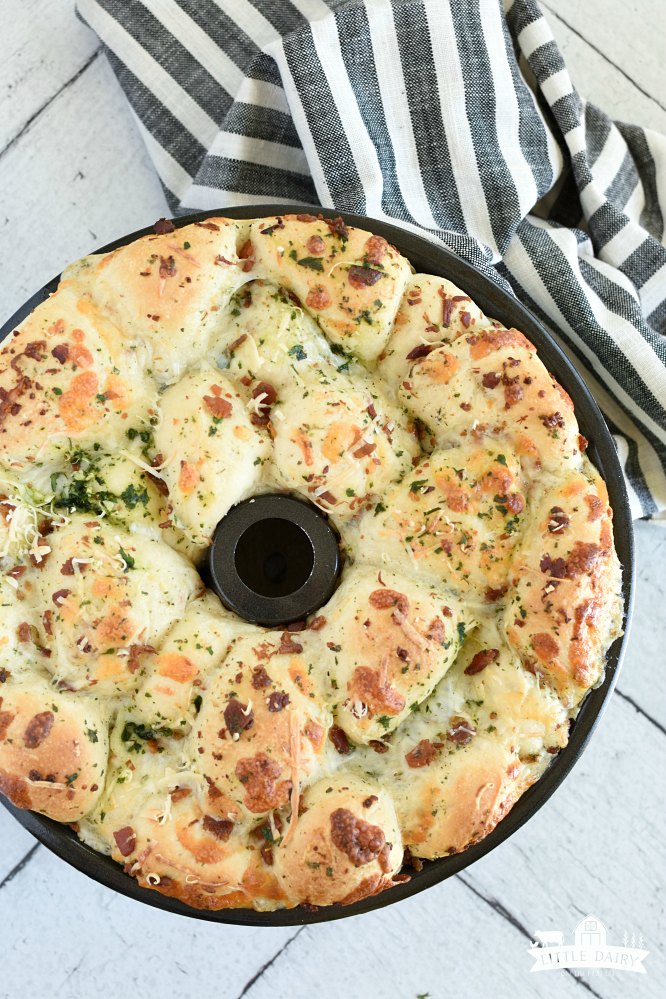 What to serve with Pesto Pasta Salad with Grilled Chicken
Well, you don't need much besides this salad since it already has grilled chicken tossed in there. Of course it's nice to have some bread to go along with it just to make it extra special
Here are some of my favorites! They are all pretty easy to make and go perfectly with this, or any, pasta!.
Butter Dips

Cheesy Bacon Ranch Monkey Bread

Easy Parmesan and Garlic Dinner Rolls

Whole Wheat French Bread

Fool Proof Wheat Bread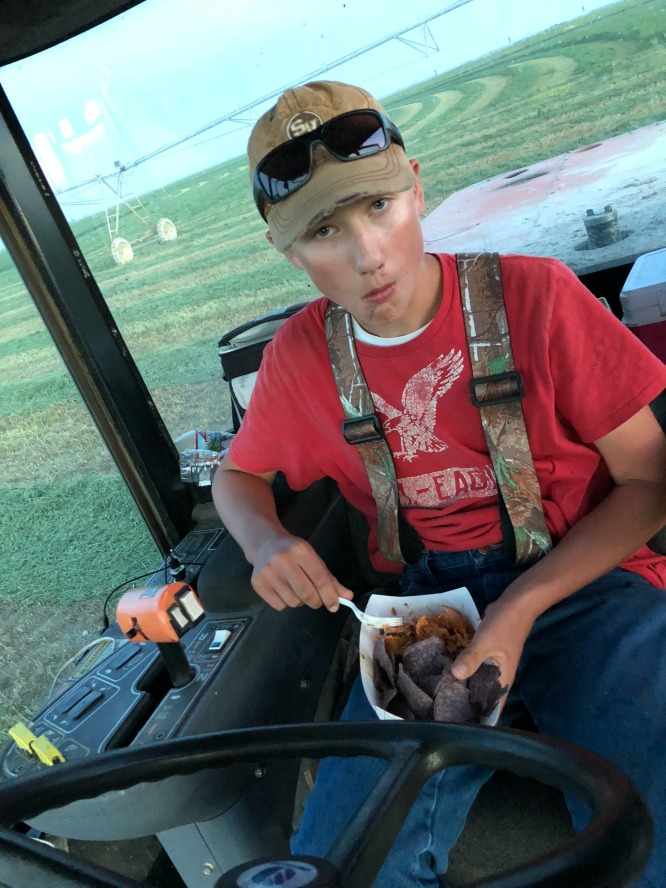 What's happening on the farm?
We are still harvesting our alfalfa hay. Basically we are putting it in long vacuum sealed bags and storing the feed until we are ready to feed it to the cows. During harvesrt we need two swather drivers, one person to rake, and one person to operate the bagger.
Sometimes harvest runs really smooth and we are able to finish quickly. This crop though…is it ever going to end? I just got home from delivering Pulled Pork Enchiladas to the crew. My car smells like a Mexican restaurant, and I'm itchy from getting chopped hay all over me. Usually I drive the rake tractor, but since I had to get all the paperwork ready for the vet to come today, so I'm stuck in front of the computer in the house. I'd much rather drive a tractor.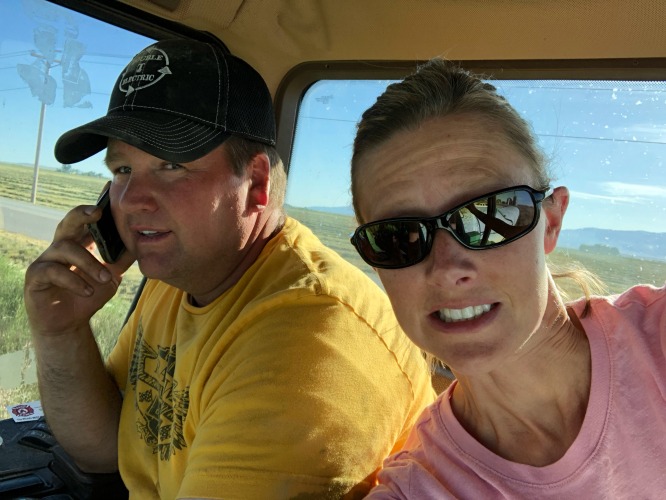 I got home from my dinner deliveries at about 11:00, and both swathers (the machine that mows the hay down) were broken. I guess they got it back up and going because Carson just came home and told me he's headed back out to swath for a few more hours. Now, let's cross our fingers and hope the darn thing doesn't break down again.
It's a super busy time of the year, but it's all good! I even got to ride in the bagger for my weekly date night tonight! It smelled like a Mexican restaurant so we can pretend like we went out to eat! Life is all how you look at it!
Grab the recipe!
Sometimes my boys turn their noses up at main dish salads because they are meat and taters kind of guys. You know what though, they polished off the whole bowl of this salad in one sitting!
The fresh lemon brightens the flavors of creamy pesto dressing and gives it just the right amount of zest! Basil pesto is exactly what summer should taste like, and adding it to a creamy sauce only makes it better! Grilled chicken makes it hearty enough for dinner. Oh, and don't forget the cheese on top! Yum!
Whip up a big bowl of it and enjoy the rest of your day knowing dinner is in the fridge waiting for you! Hopefully you are in bed before midnight tonight, and hopefully my guys are extra quite when they start rolling in tonight!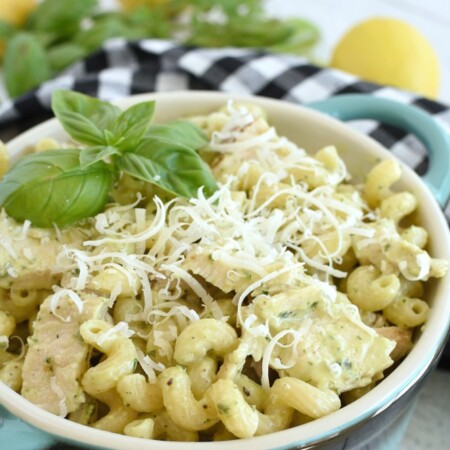 Pesto Pasta Salad with Chicken
Chicken Pesto Pasta is made with grilled chicken, noodles, and basil pesto! This pasta is tossed in a creamy sauce that makes it the ultimate comfort food! It's a perfect summer salad!
Ingredients
16

ounces

pasta

I used Cellentani

2

Tablespoons

lemon juice

3

Tablespoons

olive oil

½

cup

mayonnaise

you can use plain Greek yogurt

Salt and pepper

to taste

2

Tablespoons

pesto

2

cups

grilled chicken

sliced

¼

cups

parmesan cheese

¼

cups

sliced basil leaves

optional
Instructions
Boil pasta according to package directions. Drain. Set aside.

In a large bowl whisk together lemon juice, olive oil, mayo, salt, pepper, and pesto together.

Add drained and cooled pasta, and chicken to dressing. Toss to coat.

Put in a serving bowl if desired. Garnish with basil leaves and grated parmesan cheese.

Refrigerate for at least 2 hours. You can refrigerate longer.
Nutrition
Calories:
322
kcal
|
Carbohydrates:
5
g
|
Protein:
15
g
|
Fat:
27
g
|
Saturated Fat:
5
g
|
Trans Fat:
1
g
|
Cholesterol:
46
mg
|
Sodium:
663
mg
|
Potassium:
370
mg
|
Fiber:
1
g
|
Sugar:
4
g
|
Vitamin A:
492
IU
|
Vitamin C:
7
mg
|
Calcium:
75
mg
|
Iron:
1
mg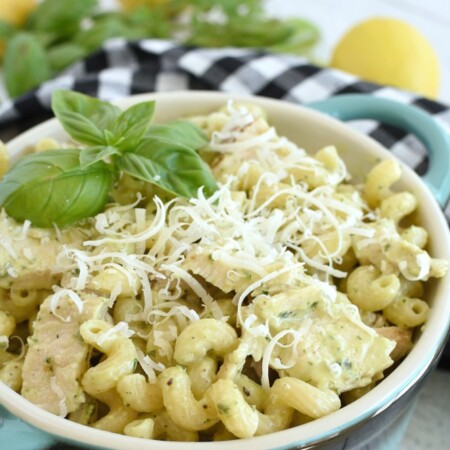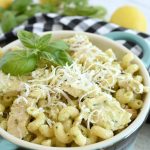 tried this recipe?
Make sure to share it with me! Leave a review or tag me on Instagram