Stocking my freezer with Easy Shredded Chicken is one of my favorite ways to get a head start on dinner. After about 20 minutes of hands on time I have perfectly seasoned and shredded chicken ready to go!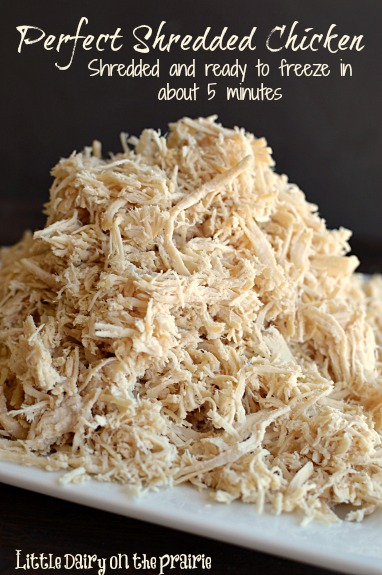 I suppose I'm not the only mom on the planet who manages to stay busy all the time. At 5:00 at night I start wracking my brain and wondering what in the world I can create in about ten minutes to feed my starving family. At that point I find serious comfort in knowing I have shredded chicken in the refrigerator or freezer. It's kind of like having a head start on the race to the plate!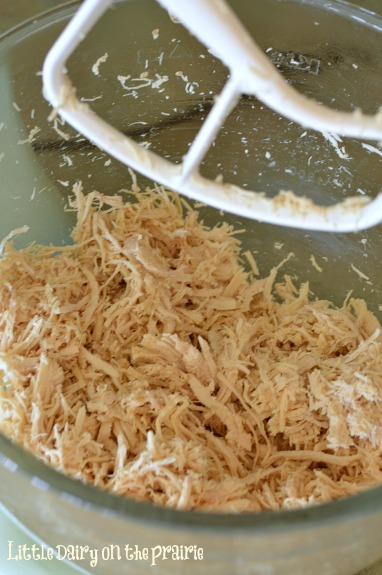 This is all there is to it!
Place chicken breasts in slow cooker. Cover with chicken broth and freshly ground black pepper.
Cook on high for 4 hours or on low for 6-8 hours or overnight.
Remove chicken from slow cooker, 3-4 pieces at a time, and place in bowl of stand mixer. My Kitchen Aide works perfectly but so did my Mom's Sunbeam stand mixer. Turn mixer on low and gradually increase speed to medium. Let the mixer work until chicken is shredded the way you like! I like mine shredded pretty fine!
Divide shredded chicken and place in freezer bags labeled with the date.
Let cool a little bit and add freeze.
Since the slow cooker and the Kitchen Aide do most of the hard work, this whole shredding chicken process is pretty easy. It's quick too. Not to mention how perfectly shredded the chicken is, no big chunks.
It's extra important for me to have some quick meal options since the nearest fast food is 50 miles from my house. That's right! My options are endless once I have my chicken ready to go.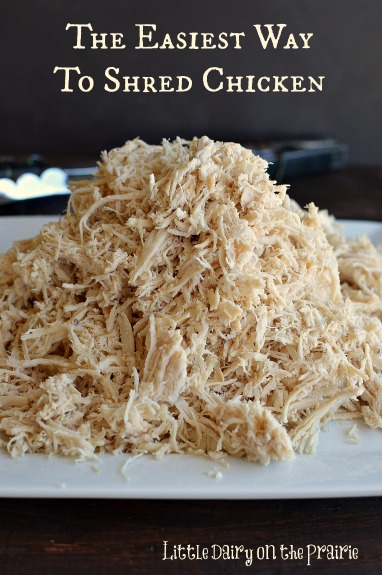 Next time chicken is on sale buy a bunch, bring it home, prepare it all at once and get it in the freezer. I love saving money and time!