A homemade Tortilla Bowl is an easy way to make a taco salad even better! It's easy to bake tortilla bowls right in the oven! They're crispy and fun!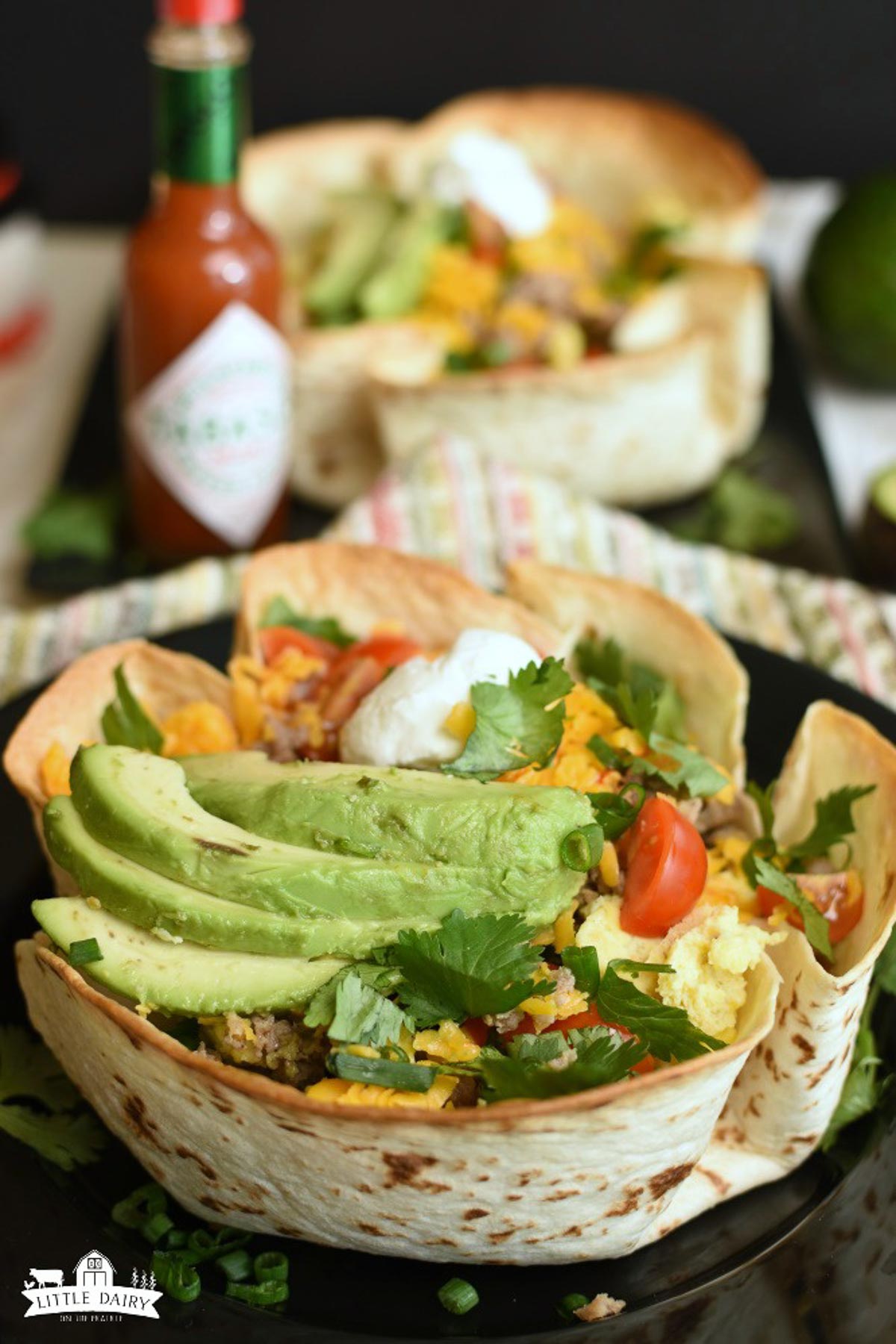 This post was updated in 2021 to include more information. The recipe stayed the same.
Taco Salad is one of my FAVORITE easy weeknight meals! I love loading them up with all the good stuff…tomatoes, beans, avocado, salsa, olives, cheese! Yum!
My boys aren't quite as thrilled about main dish salads as I am, but if they get to eat it in a taco bowl I don't hear complaining.
So, taco salad shells are the ticket to getting your kids to eat salad!
What I love about Tortilla Salad Bowls:
They're easy to make in minutes.
No special supplies or equipment needed. I know some people buy tortilla bowl makers, but you don't need to!
Make big ones or little ones.
You can make the shells ahead of time.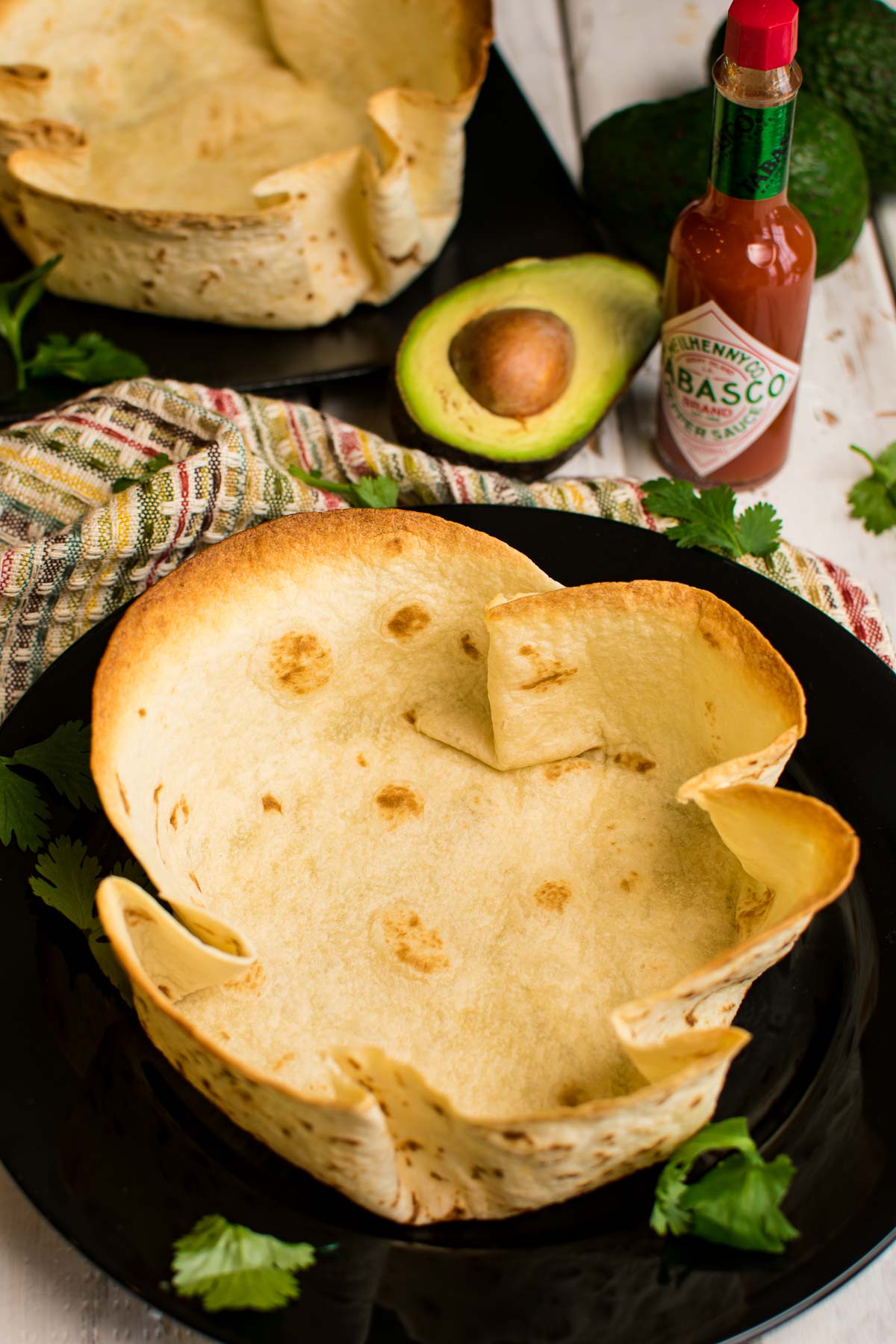 Homemade Taco Bowls Ingredients:
Flour Tortilla Shells – Whatever size you want. I like the 8 or 10 inches. You can also use mini tortilla shells. Corn tortilla shells can be used for gluten-free taco bowls.
Cooking Spray – Whatever kind you have is great.
Aluminum Foil
Oven-safe bowl, or muffin tin for mini shells for baking tortilla bowls.
How to Make Taco Salad Bowls:
Little Dairy on the Prairie Pro Tip: Before you start making the tortilla bowls, find oven-safe bowls that the tortillas will fit in. It's okay if the shells stick up a little bit over the rim of the bowl.
STEP 1: Microwave tortillas for a few seconds until they are soft. It helps keep them from tearing if they're pliable.
STEP 2: Spray tortillas with cooking spray on both sides.
STEP 3: Set tortilla in bowls. Crumple a piece of aluminum foil in a loose ball that fits inside the tortilla.
STEP 4: Bake tortilla bowls. Let cool in the bowls before removing.
Baked Tortilla Bowls Variations:
Cheesy Taco Shells – Remove aluminum foil "ball" during the last two minutes of baking. Sprinkle grated cheese on the insides of the bowls.
Mini Shells – To make mini taco cups turn a muffin tin upside down and press the street taco shells or small tortillas between the bottoms of the cupcake cups.
Corn Tortilla Bowls – Corn tortillas are smaller. Either use a smaller bowl or the bottom of a muffin tin.
Dessert Shells – Sprinkle the inside of the bowls with cinnamon and sugar before baking. These are fantastic with vanilla ice cream!
FAQs About Taco Salad Shells
How to store taco salad bowls?
Store them in an airtight container for up to 2 days at room temperature, or up to a week in the fridge.
Can I freeze tortilla bowls?
Yes! You can freeze them for up to 3 months in an airtight container. I don't recommend it though. They take up a lot of space in the freezer and they're easy to make fresh! Freeze the tortillas instead and make bowls when you're ready.
Can I use corn tortillas?
Yes! Make corn tortilla bowls the same way. They're a great gluten free option!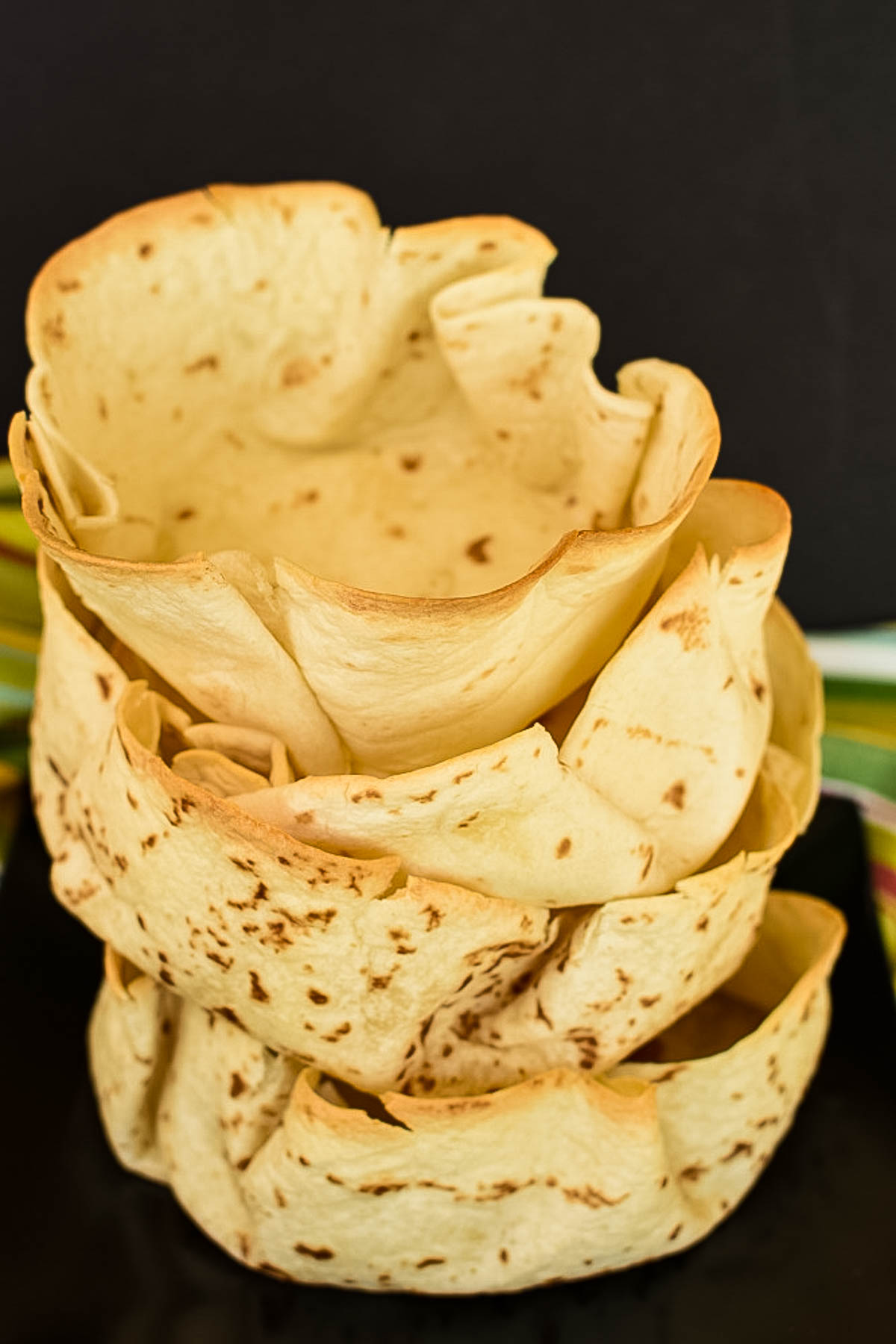 Tortilla Bowl Serving Suggestions:
You really can serve them a million different ways! Here are a few ideas to get you started!
I love it when you make my recipes and give me feedback! If you have a minute please comment below and leave a star ranking! Also, be sure to follow me on Pinterest, Instagram, and Facebook!
Tortilla Bowl Recipe: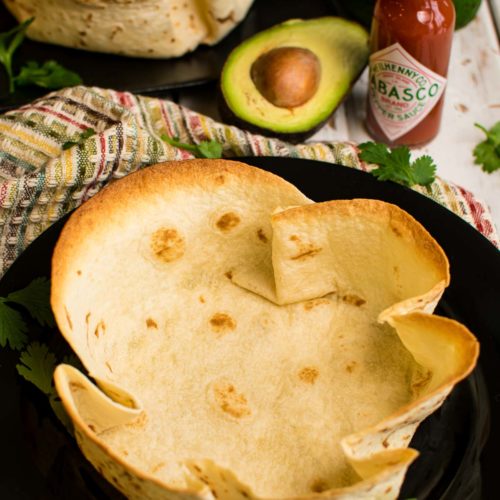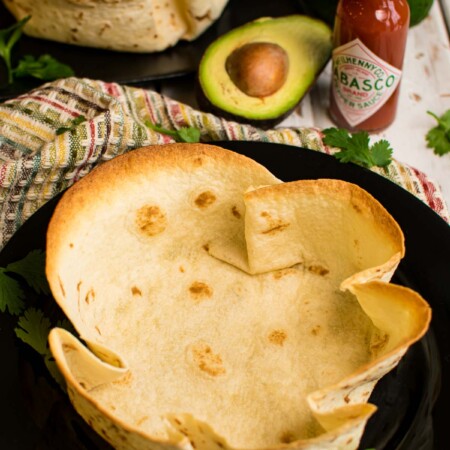 Tortilla Bowl
Homemade Tortilla Bowls transform any plain ol' salad into a fun meal! They are incredibly easy to make and super inexpensive too!
Ingredients
4

10 inch

flour tortillas

Cooking Spray
Instructions
Preheat oven to 375 degrees.

If tortillas aren't at room temperature microwave them for a few seconds until they are pliable.

Generously spray both sides of a tortilla with nonstick baking spray. I like to do this over the sink, an old newspaper, or even outside so I don't get spray all over the place!

Press the greased tortillas in bottom and up the sides of an oven-safe bowl. Don't worry if the tortillas isn't symmetrical on all the sides it will be just fine when it bakes!

Scrunch a piece of aluminum foil into a ball that fits inside the taco bowls. It helps make sure the shells stay open during baking.

Bake for 10 minutes. Remove foil and bake 5 more minutes, or until golden brown and crispy.

Cool 5 minutes in bowls. Remove to a wire rack to finish cooling.
Notes
Tortilla Shells:
Corn shells are a great gluten-free option. Smaller shells may also be used.
If you are making smaller tortilla taco shells turn a 12 muffin tin upside down and press the tortillas between the bottoms of the muffin wells.
You can also use a smaller oven-safe ramekin or bowl. Smaller shells are a little harder to work with.
Nutrition
Calories:
211
kcal
|
Carbohydrates:
36
g
|
Protein:
6
g
|
Fat:
5
g
|
Saturated Fat:
1
g
|
Sodium:
480
mg
|
Potassium:
107
mg
|
Fiber:
2
g
|
Sugar:
3
g
|
Calcium:
74
mg
|
Iron:
2
mg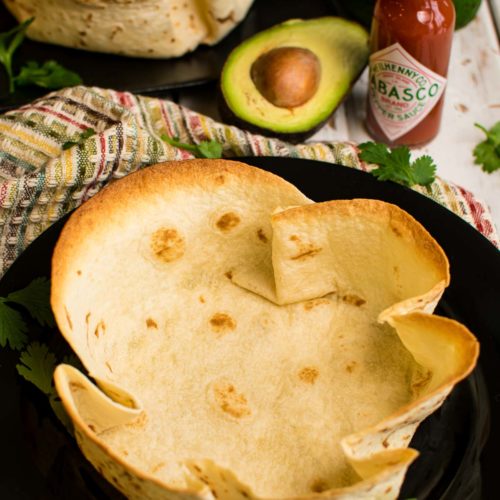 tried this recipe?
Make sure to share it with me! Leave a review or tag me on Instagram