Having a Weekly Meal Plan is one of those things that makes my life so much easier, but throwing one together never seems to happen! Sound familiar? I've gathered a bunch of recipes come together to make a perfectly well-rounded menu to get you through the week!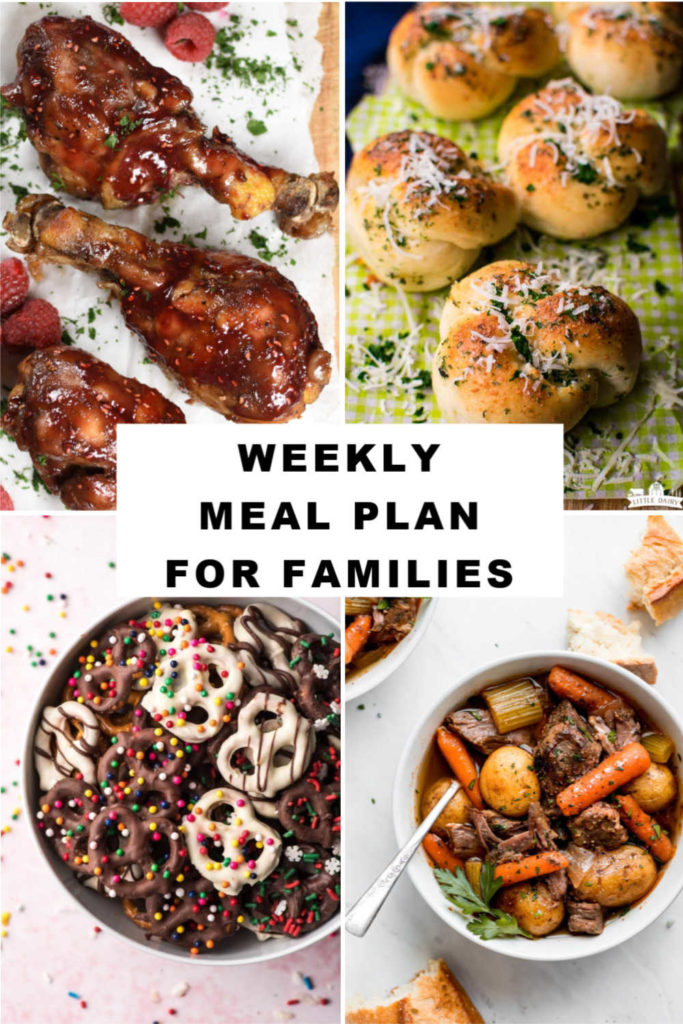 My favorite way tip for meal planning is to gather five main dish recipes, a breakfast recipe, a side dish, and a few desserts. It's best to choose from a variety of cuisines and recipe types; slow cooker, soup, chicken, pork, beef, etc.
Put the recipes ideas on a loose schedule, meaning they aren't assigned to a particular day, rather they're just on the menu anytime this week. It gives me the flexibility to make whatever happens to fit into my schedule that particular day.
These recipes are all super easy, family-friendly recipes that accommodate the busiest of lives! Hopefully, you enjoy this week's weekly meal plan as much as we do!
Easy Weekday Breakfast Recipe
No time in the morning? These muffins are the perfect addition to your weekly meal plan!
Make Ahead Appetizer Recipe
This easy appetizer recipe is a great way to make an ordinary weeknight dinner feel extra special!
Weeknight Side Dish Recipe
These semi-homemade cheese twists are so easy and would be wonderful served with any of the main dish recipes on this weeks menu plan!
5 Easy Weeknight Dinner Recipes
Yes! All of these dinners are super easy to make and are favorites with kids! Feel free to add them to your menu wherever it fits this week!
Easy Weekday Dessert Recipes
Life isn't complete without dessert! With these super easy dessert recipes, you can still have dessert even when you're short on time!