Gorgeous tart cranberries pair perfectly with sweet apples in this refreshingly healthy smoothie! There's no added sugar to this one! We love them for breakfast or afternoon snacks!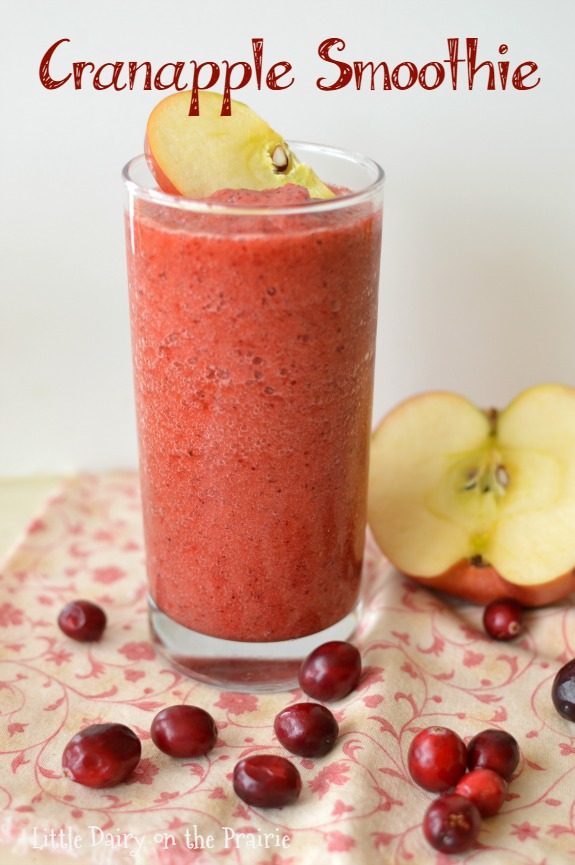 Okay, I might be a little bit behind…maybe a lot behind. I know apple and cranberry season are basically over. But I always buy extra bags of cranberries when they are on in the fall and winter then use them throughout the next few months. Cranberries are packed with good for you "stuff". I'm not a health nut and don't know the names of all the good "stuff" they pack. I just heard they are good for you. That's it! And because it's January, this post is all about being healthy!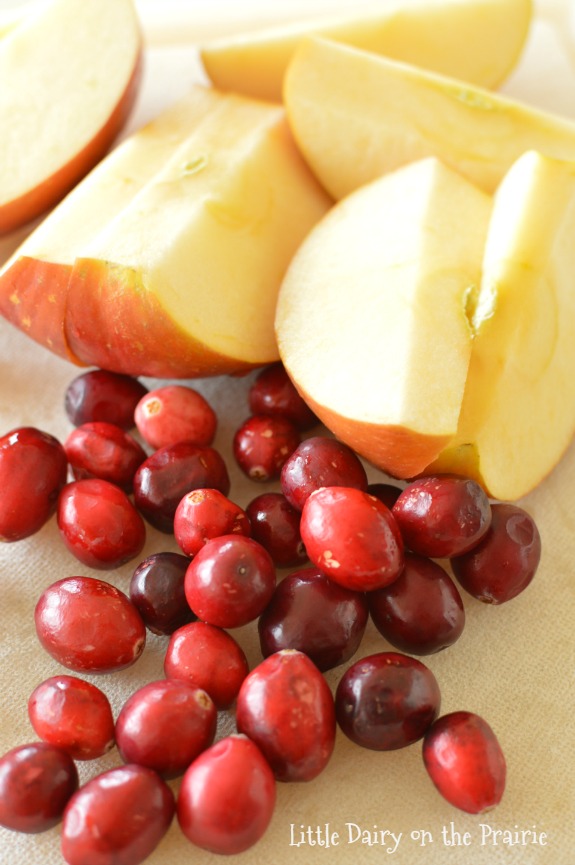 Cranberry Apple Smoothies have been on my blog list since fall. And I've have made them quite a few times since then, and for some reason haven't ever snapped pictures of the lovely concoction. Today though, the kiddos were at school and I decided to whip up a smoothie just for me, and miraculously, I remembered to take pictures before I devoured the whole thing for lunch. I had a smoothie for lunch because I can no longer breathe while wearing my jeans, and because I'm lazy at lunch and can't wait to devour my food and take a nap! I LOVE naps! I think I like naps more than I like lunch!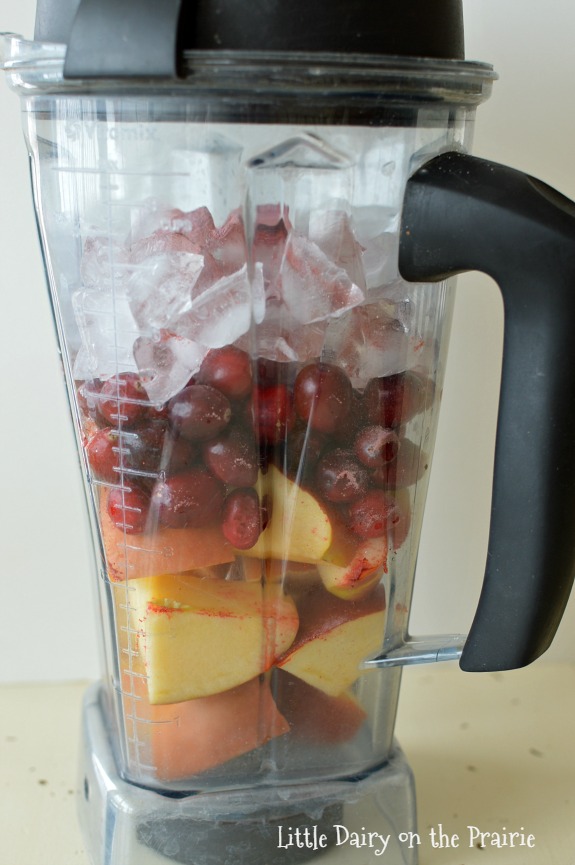 I diced up some apples, I think these were Gala, but any variety will do. You know, a granny smith apple will taste more tart, a honey crisp will be more sweet. You get it! I always leave the skin on my apples when I make smoothies because I heard they are good for you. I usually leave the seeds in my apples too. Again, I heard they have lots of fiber. And because my Vitamix will puree them in a jiffy and I never know they are in there.
Add the apples, cranberries (frozen of fresh), ice, apple juice, and a packet of Crystal Lite (single serving size). Blend everything on high speed until pureed.
Garnish with a straw and a slice of apple, because the kids are at school and they don't care if food is pretty, but I do and today it's for me! Serve immediately. Take nap! (I heard napping is healthy for you, and I believe everything I hear! And January is all about getting healthy!)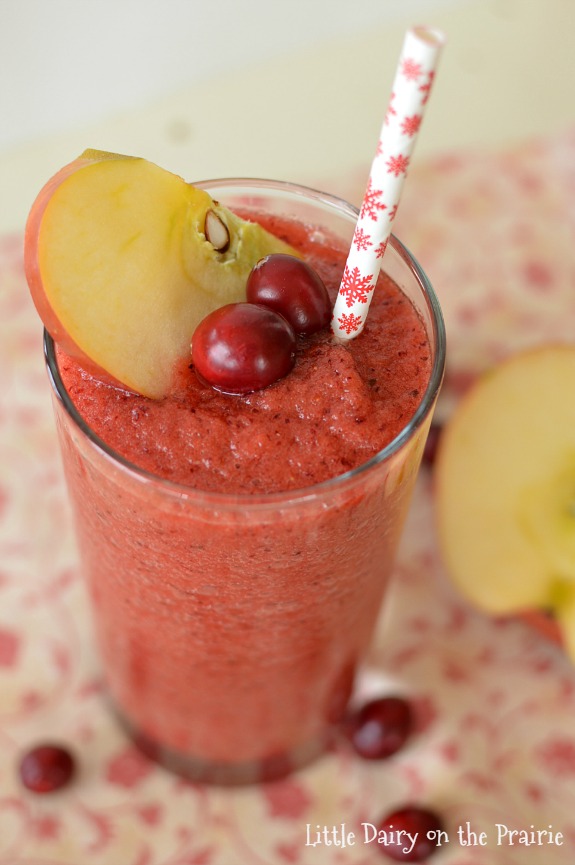 Happy sipping and napping!
Cranberry Apple Smoothie
Ingredients
1

large or 2 medium apples

cored and diced (I used Gala)

1

c.

fresh or frozen cranberries

1

c.

ice if you are using fresh cranberries OR 1/2 c. ice if you are using frozen cranberries

1

single serving size Crystal Lite

I used Cherry Pomegranate but I'm sure other berry flavors would be good too

1/2

c.

apple juice
Instructions
Add all ingredients to a blender.

Blend on low for a few seconds and gradually increase speed to high.

Blend until fruit is completely pureed.

Pour in glasses and garnish if desired. Serve immediately!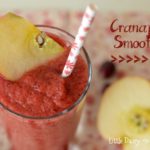 tried this recipe?
Make sure to share it with me! Leave a review or tag me on Instagram
Smoothies are such a fast and easy way to get my kids to drink their daily servings of fruit. If you love smoothies as much as we do you are going to want to check these out!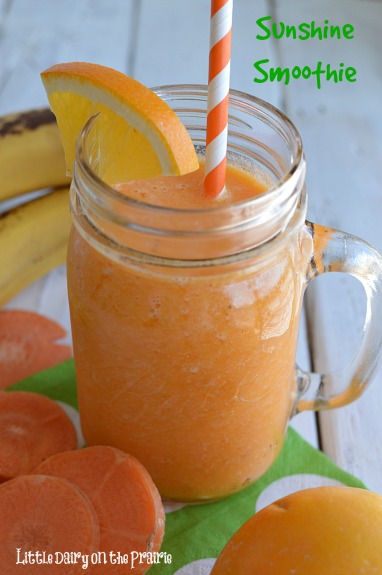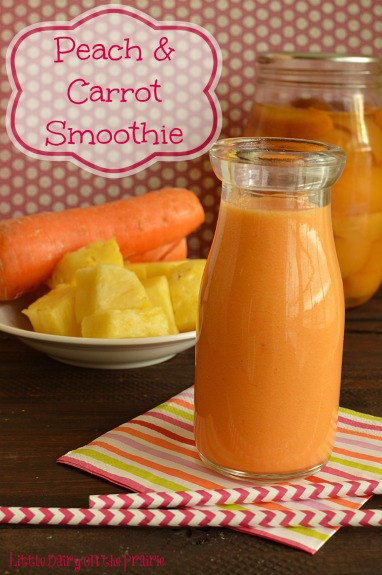 Peach and Carrot Smoothie (If you can get the kids to eat veggies first thing in the morning, consider yourself a genius!