Carrot Breakfast Cookies make a delicious, and nutritious, on the go breakfast! I like to make a big batch and put them in the freezer for those extra crazy mornings! My kids love to throw these in their backpacks on their way out the door in the mornings.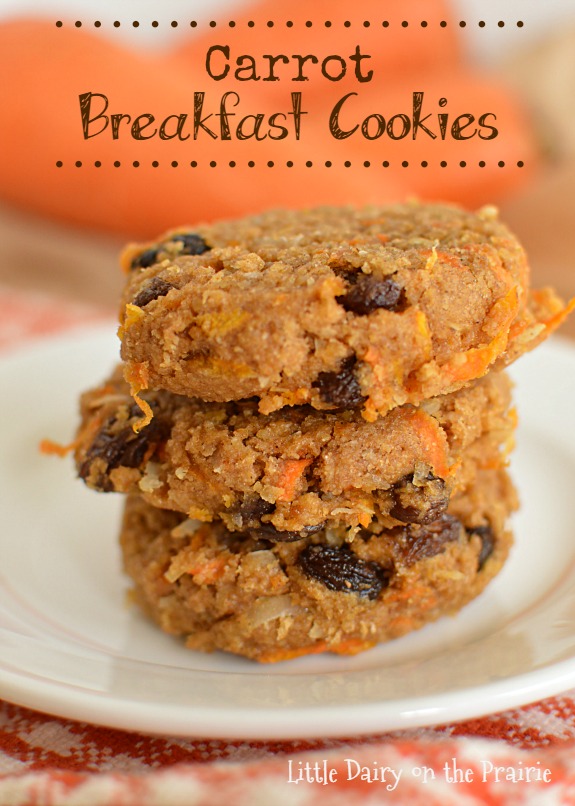 So it's already the second week in January and I'm just getting around to wishing all of you a Happy New Year! Of course the holidays are a super busy time of the year for everyone, but what ever happened to the whole "slow down after the first of the year" idea? I thought once the kids got back into school I would accomplish so much during those school hours. I'm happy to report I have been accomplishing lots! I've been catching up on my laundry, my book work, my filing (my least favorite job), I started exercising again, and I've been attempting to vacuum those pesky pine needles out of my carpet!
Since school is back in session, so are basketball practices, scouts, and piano lessons. Oh, and don't forget the dreaded homework. Fifty problems of math homework with problems like this, 28 times y to the 4th, divided by 98. Let y equal 8, 12, and 24. Solve for each value. And NO CALCULATOR! Oh grr! I think sixth graders should be proficient at solving multiplication and division problems, as well as knowing how to do exponents. But 50 problems of this stuff with no calculator…come on? Anyway, enough about my 6th grade math rant.
One of my kids has to meet his carpool at the end of our road at 5:40 a.m. for basketball practice on Tuesdays and Thursdays. Another child has early morning piano lessons at 7:00a.m. on Wednesdays. Since his piano lessons are about 50 minutes from my house, and because the roads have been slick, we have to leave at about 6:00 in the morning. I guess what I am saying is that on Tuesdays, Wednesdays, and Thursdays I have at least one child who isn't able to eat breakfast at home. I've conjured up a few "on the go" breakfast that my kids love. Since my Zucchini Breakfast Cookies were such a hit I knew a Carrot Breakfast Cookies version would be a hit around here too!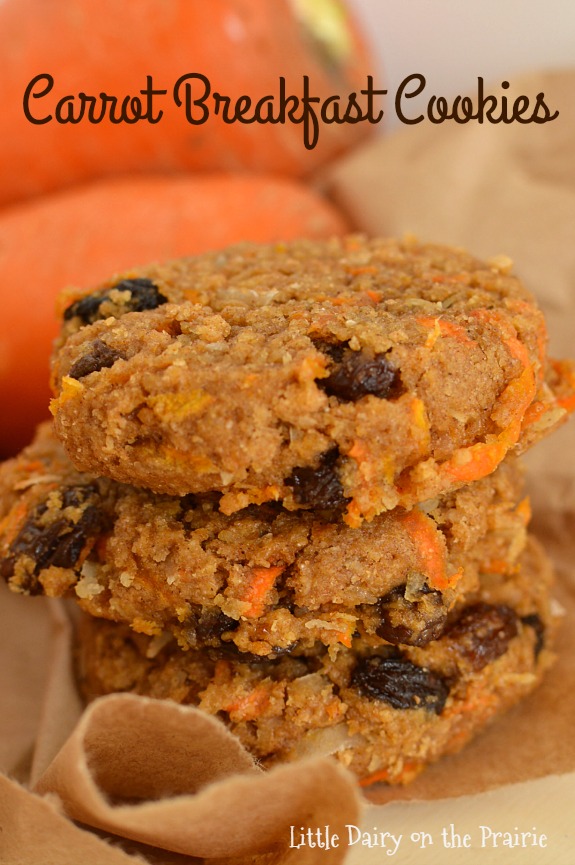 Carrot Breakfast Cookies are pretty healthy, so you don't have to feel bad about feeding cookies to your kids for breakfast. I'm in love with the super soft texture of these cookies. Since they are packed with extras like coconut, chocolate chips, and raisins, every bite has a little something special in it! Even thought they aren't too sweet, they are so yummy I even eat them for dessert, and I'm a die hard dessert fan, so you know they are good!
If I ever have any cookies leftover I put them in a sealable freezer baggie, and stick them in the freezer for those crazy mornings when I don't have anything else ready. Grabbing a healthy breakfast cookie out of the freezer makes me feel like a super mom! And today we are focusing on being a super mom and not on the fact that we still have to remind our kids to brush their teeth EVERY SINGLE MORNING!
For the next two months I'm going to need a few portable breakfasts stowed away in the freezer. Carrot Breakfast Cookies are a good start. Since I'm always open to new ideas…comment below and let me know what your go to breakfast meals are! Thanks for sharing!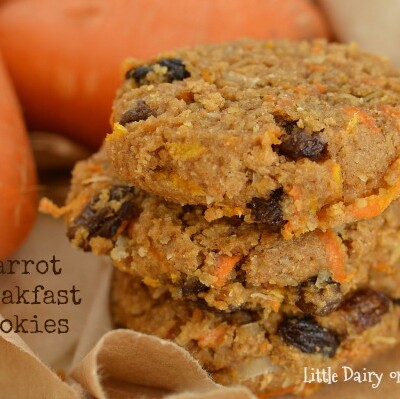 Carrot Breakfast Cookies (Healthy and Freezable)
Anybody else crave cookies first thing in the morning? With these cookies you can eat cookies for breakfast and not even feel bad about it! They're perfect for an on the go breakfast too!
Ingredients
1/3

c.

brown sugar

1/3

c.

oil

2

eggs

1/2

tsp.

vanilla

1 1/2

c.

whole wheat flour

1 1/2

c.

oat flour

I grind quick cooking oats in my blender until they make a flour

1 1/2

tsp.

baking powder

1/4

tsp.

baking soda

1 1/2

tsp.

cinnamon

1/2

tsp.

ginger

1/4

tsp.

salt

1

c.

finely shredded carrots

1/2

c.

raisins

1/4

c.

coconut

½

c.

semi sweet chocolate chips
Instructions
In a large mixing bowl, mix brown sugar and oil. Add eggs, and vanilla and cream together.

In a separate bowl combine wheat flour, oat flour, baking powder, soda, cinnamon, ginger, and salt. Add to wet ingredients and mix until incorporated.

Add shredded carrots, raisins, and coconut. Mix gently to to combine.

Add chocolate chips and stir.

Preheat oven to 350 degrees. Drop cookies onto parchment lined paper in tablespoon sized balls. Bake for 8-10 minutes. Cookies will look puffy and underdone. Remove from oven. I didn't want my cookies to be too puffy so I smashed them down with the bottom of a glass. Of course it's optional, but I like them this way!

Note: These cookies freeze beautifully! I put 3 cookies in individual bags. They are perfect for grabbing out of the freezer and throwing in a backpack as we are headed out for the day.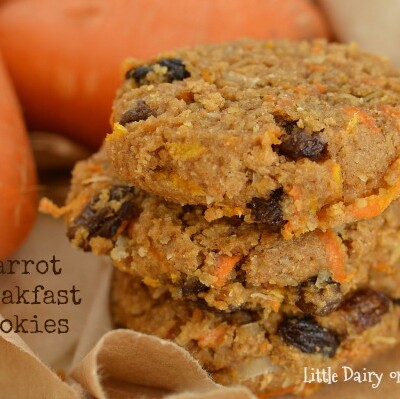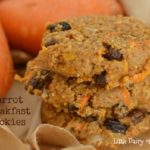 tried this recipe?
Make sure to share it with me! Leave a review or tag me on Instagram