If I had to live on one kind of food for the rest of my life I'm pretty sure it would be Mexican food and Wonton Burrito Cups would show up often! They are such a quick and easy spin on traditional burritos making them a great weeknight dinner. And they are so cute they are a perfect addition to party food!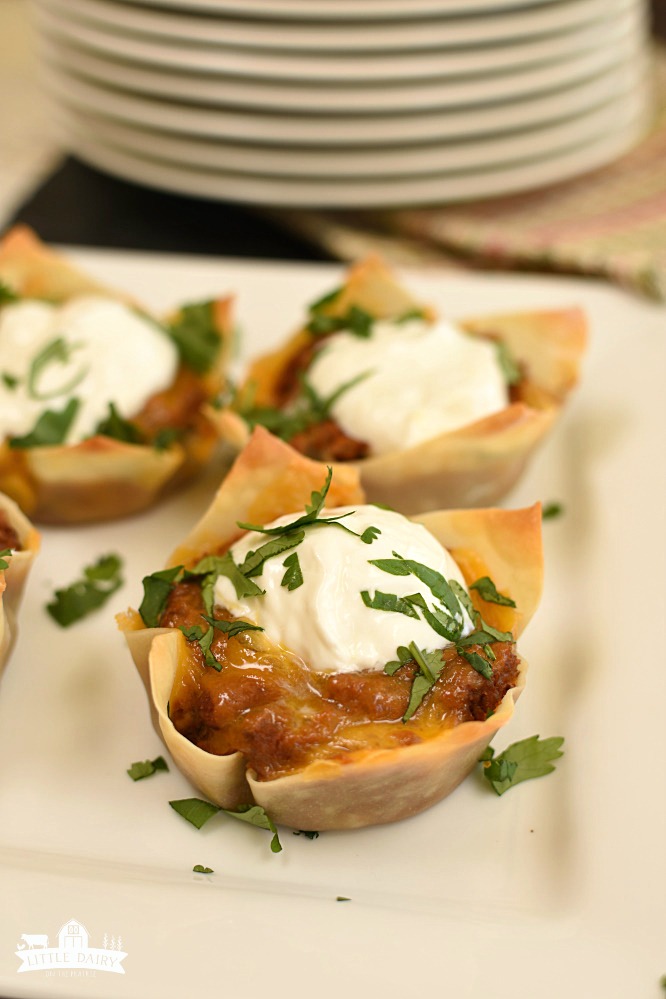 Today is one of the most dreaded days of the year…parent teacher conferences. I hear these are much more enjoyable if your student is a girl! Nope, no girls for me, three awesome farm boys who want very little to do with being cooped up in a classroom all day!
I must add a little plug for my kids teachers! Almost all of my kids teachers are the most awesome teachers in the world! They go above and beyond, care about the kids, have fabulous lessons, and bend over backwards to help the students. I can't say enough good about them or express enough appreciation for them. School teachers make ALL the difference!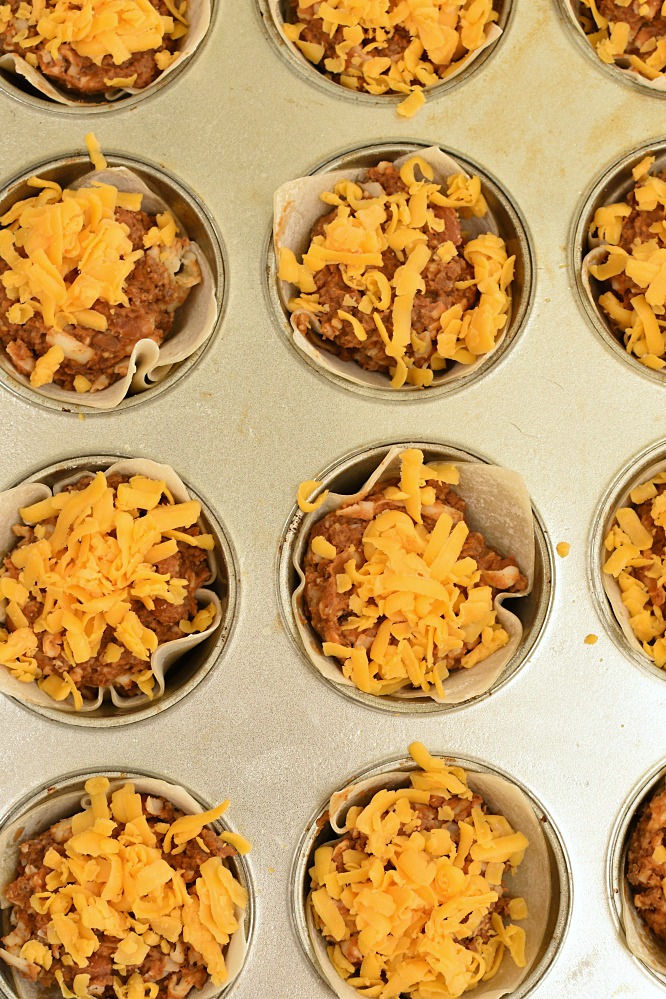 Even though we have awesome teacher the parent teacher conference system drives me a little, okay a lot, crazy! I kind of get ticked off before I even meet with my first teacher because I'm the least patient person on Earth and I really don't like waiting. The school used to have appointments and it drove me crazy because I always ended up waiting in the appointment line forever because the teachers were always running late. Now we are supposed to just show up and wait in line.
Gah, I can't stand wasting my time when it seems like there should be some solution to the problem. Oh, and it makes my blood boil even faster when they send a paper home telling me what time the conferences will begin, then when I arrive only about ⅓ of the teachers are present!
When I show up I'm eager to go to one child's teachers because I know I'm going to get rave reviews!
Then there's one child that I know has been working like a dog for the last week to get caught up on all the work that mysteriously was lost or must have been due the day he was deer hunting and he didn't know about it! Grrr!
Then there's at least one teacher that I have a hunch just doesn't teach anything at all. What in the world am I supposed to say to them? Good teachers are worth their weight in gold, on the other hand, teachers that don't teach the kids are so detrimental to kids learning! I think I'll send my husband to that teacher! That's my game plan for now!
Rant over!
So my parent teacher conference game plan might be a bit shaky, but my dinner game plan is solid! Wonton Burrito Cups are just right for any day really! But they are especially awesome for days when you know you are going to get hung up on some other activity and end up needing an ASAP kind of dinner!
Wonton Burrito Cups are so easy! I think they are even faster than messing around with rolling burritos! These cute little things only take 5 ingredients! They are normal ingredients too! Check out my video to see exactly how to make them!
Add this to your list of ASAP dinner options! If you want to make the whole process even faster you could mix the meat mixture ahead of time then assemble the Wonton Burrito Cups just before you are ready to eat! I love make ahead tips!
Make a batch of Cheesy Spanish Rice and Easy Cheesy Refried Bean Dip to turn this into a meal just like you would get at a restaurant for a fraction of the cost!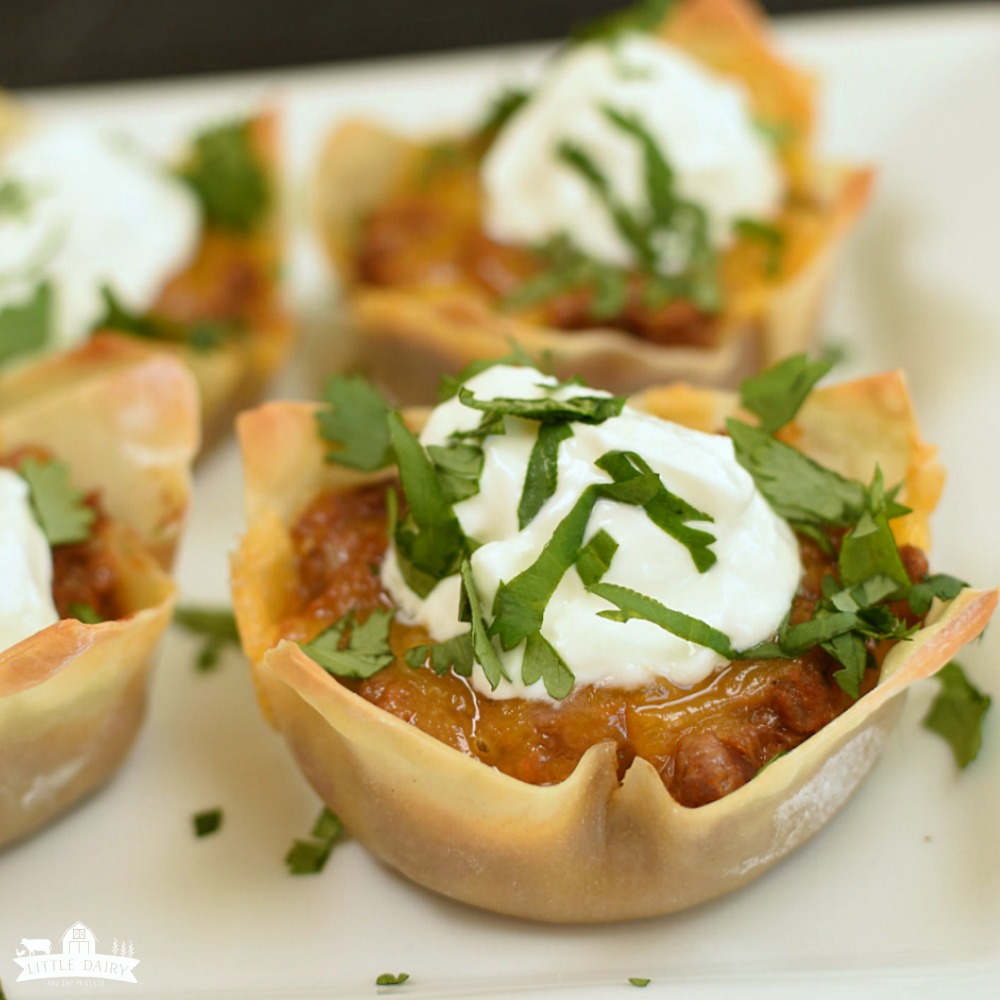 Wonton Burrito Cups are hearty, a little spicy, cheesy, and have that crispy shell that seals the deal! They're perfect for grab and go meals too! My family goes crazy for these!
Wish me luck today! Wish my kids luck when I get home with a whole stack of progress papers! This morning I'm trying to get myself all prepped for Parent Teacher Conferences by reminding myself that time is just that, time. It's okay if I have to wait for a while, even a long while! 🙁 And since I'm already starting to feel my stomach tighten at the thought of wasting time I will never get back I'm going to focus on being patient and probably on Wonton Burrito Cups while I'm waiting! It will be like going to my happy place!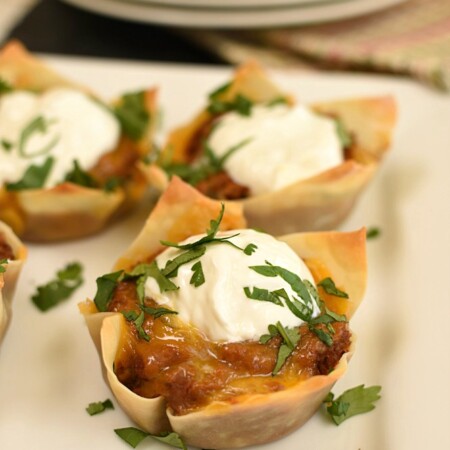 Wonton Burrito Cups
Wonton Burrito Cups are hearty, a little spicy, cheesy, and have that crispy shell that seals the deal! They're perfect for grab and go meals too! My family goes crazy for these!
Ingredients
12

wonton wrappers

1

pound

ground beef

browned and crumbled

1

pkg. burrito seasoning mix

1 16

oz.

can refried beans

2

c.

grated cheese

cheddar, pepper Jack, Monterey

Optional: Sour cream

cilantro, and salsa for serving
Instructions
Preheat oven to 350 degrees.

Mix browned beef, beans, and burrito seasoning together. Add half of the cheese. Mix again.

Generously grease a muffin tin. Set wonton wrappers in muffin tin. You might need to push them down a little to get them to stay.

Scoop meat mixture into wonton lined muffing tins, Fill them about 2/3 of the way full.

Sprinkle remaining cheese over meat mixture.

Bake 10-15 minutes. Baking times will vary according to how much meat mixture you add to the wonton wrappers. Just make sure you don't bake them so long that the wrappers burn!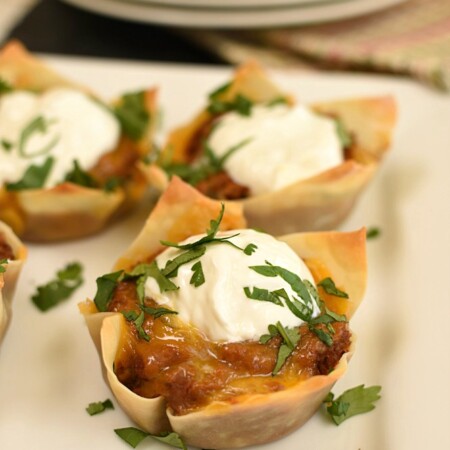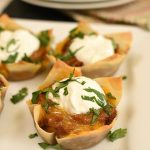 tried this recipe?
Make sure to share it with me! Leave a review or tag me on Instagram