Here's my Free Weekly Meal Planner for this week! It's the easiest way to come up with fun new recipes and menu ideas for families! I've got you covered with 1 breakfast recipe, 5 main dish recipes, 1 side dish recipe, and 2 desserts!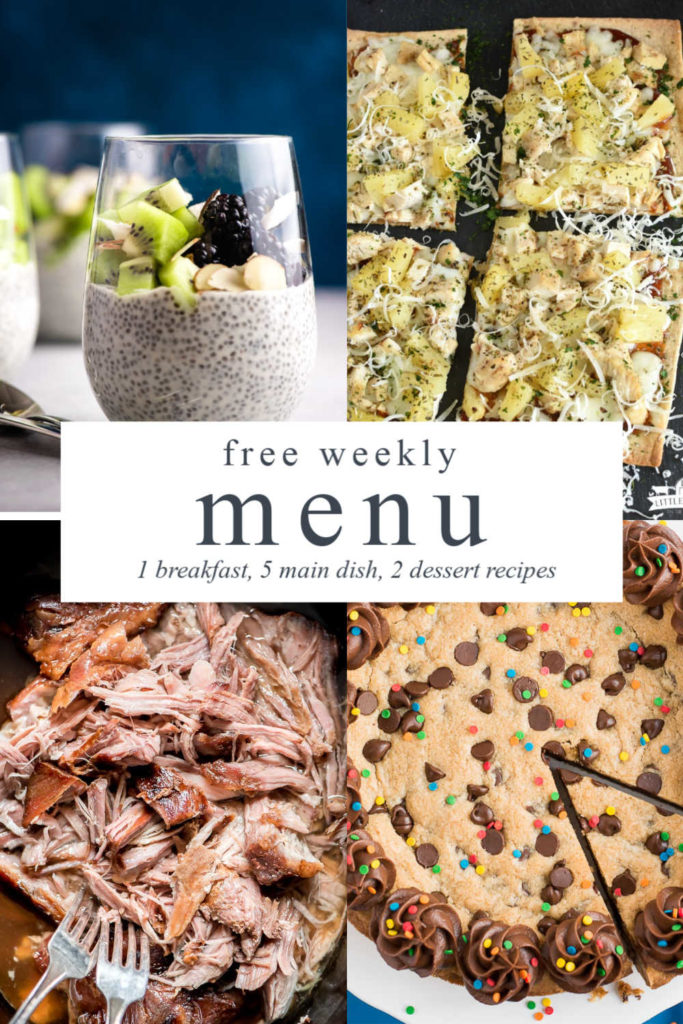 I love this easy weekly meal plan! It's perfect for families with busy lives! Go ahead and choose from the list and add them to whichever day works best for you!
The best weekly meal planner includes lots of variety, uses pantry staples, is inexpensive, and has recipes kids love!
This easy meal plan has plenty of options to choose from! Because there's pork, beef, chicken, and seafood you're guaranteed to find something everyone will love.
Choose from main dish salad, pizza, tacos, casserole, and more!
For instance, I usually decide what to make for dinner depending on how much time I have. Some of these recipes use leftover chicken or rotisserie chicken. Others can be made ahead of time. And one is an instant pot main dish that can be made in minutes!
Talk about an easy weekly meal planner!
Meal Planning- breakfast recipe
Here's a super easy breakfast recipe that even better made ahead! The perfect kind of recipe for meal planning!
Weekly Meal Planner – Five main dish recipes
Here are five main dish recipes that create an easy and well rounded weekly meal plan! You've got tacos, pizza, main dish salad, a casserole, and a quick instant pot meal!
Choose from beef, pork, chicken, and seafood this week!
Easy side dish recipe
These muffins are divine with just about any meal! But, they are especially good with the main dishes for this week! For instance, they'd be amazing with the pork!
And, serve the extra for breakfast with honey butter!
Easy family dessert recipes
Dessert is my very favorite part of the day and is a really important part of any weekly meal plan! Make a batch of cookies to add to lunches for the week!