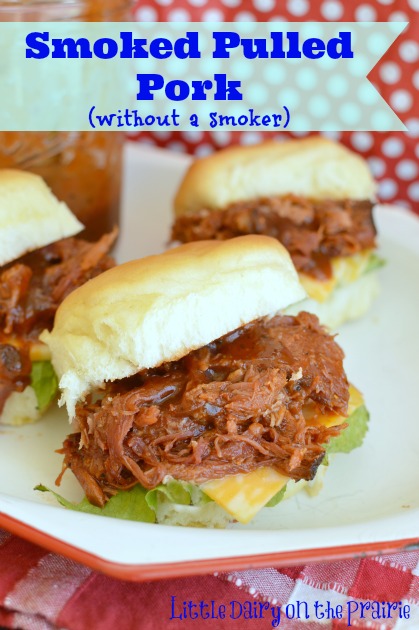 August is the busiest month of the year on the Little Dairy. It is the time of the year when we harvest our grain. After the grain is harvested, we bale the straw and haul it to the dairy. In addition to hauling our own straw, we buy and haul about 10,000 bales from our neighbors. The straw is used throughout the year to make a bed for the cows. During August, we typically harvest our 2nd crop of hay. Besides all of that, we have the normal grind of the dairy.
August also means the boys start football practice. Our county fair is in August. My kids are involved in the horse show, the swine show and they volunteer at the scouts snow cone booth. So we live at the fair grounds for a week. Then the dreaded school begins.
Now that you know our "August" life story…I will give you a recipe that is so dang good. One simple change puts this pulled pork over the top. It is perfect for August because I can make a big slow cooker of the stuff. I can microwave it one at a time. Or I can warm the whole thing up if I find out that I am feeding a whole harvesting crew. This would be the perfect thing for a Labor Day party!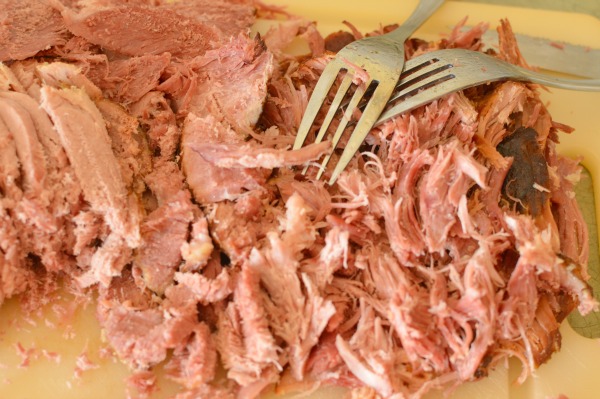 This is the secret. Cook one ham, yes a ham. It's such a simple little trick that makes all the difference in pulled pork. I love it when I think of things like this!! You see, ham is pork that is already smoked. There you have it, smoked pulled pork. Anyway, cook the ham in a slow cooker on low until it is tender. I cooked mine about 6 hours.
Shred the ham with two forks, or however you like to shred meat.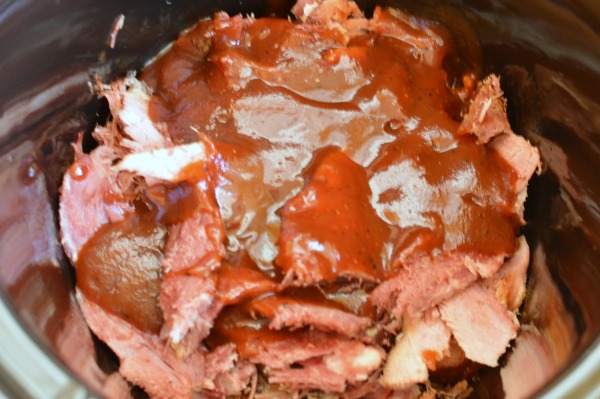 Return shredded Pork to the slow cooker. Cover with your favorite BBQ sauce and stir to coat. Or make some of your own. If you have time, you will be glad you did. Here's a link to my favorite homemade BBQ sauce recipe https://pitchforkfoodie.com/sweet-and-smoky-bbq-sauce/.
Continue to cook in slow cooker until warmed through.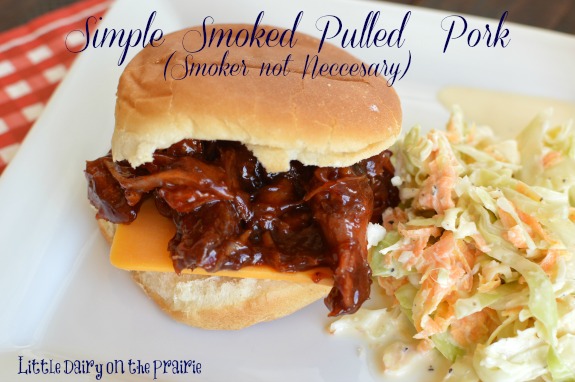 Today I made Pulled Pork Sliders out of my Smoked Pork. There are lots of ways to serve them.
1. Sliders (I already said that), hamburger buns, tortilla shells, or over potatoes
2. Top sandwiches with coleslaw
3. Or top them with lettuce, CHEESE, tomato
4. Sautee onions put on top
5. If you are going the tortilla shell route, you could top them with CHEESE, diced tomatoes, sliced olives and a little sour cream.
6. I could keep going, but I won't.
7. See how you can serve leftovers several days in a row and it's really not the same thing over and over.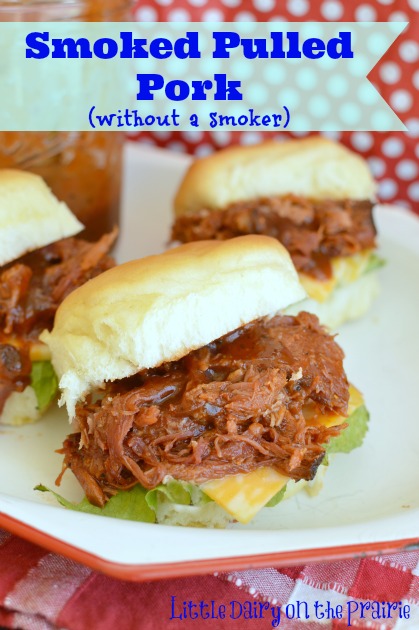 Simple Smoked Pulled Pork (without a Smoker)
Substituting a ham for a pork roast amazingly puts this pulled pork over the top!! It's so simple to pull together and quick to serve!
Ingredients
1 4-5

pound

ham

1 18

oz.

bottle BBQ sauce
Instructions
Cook ham in slow cooker until tender. About 6-8 hours on low or 4 hours on high.

Shred with forks. Return to slow cooker.

Pour BBQ sauce over ham. Stir to coat.

Continue to cook in slow cooker on low for an hour.

Serve as sandwiches, in a tortilla shell, or over a potato.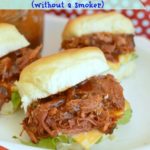 tried this recipe?
Make sure to share it with me! Leave a review or tag me on Instagram