Pumpkin Cheesecake Crumb Bars is the best dessert recipe for those of us that don't have time to make a pumpkin pie or a cheesecake! These pumpkin bar cookies have the most dreamy cream cheese pumpkin filling sandwiched between crispy oatmeal crumb crust! This is the easy recipe you NEED this fall!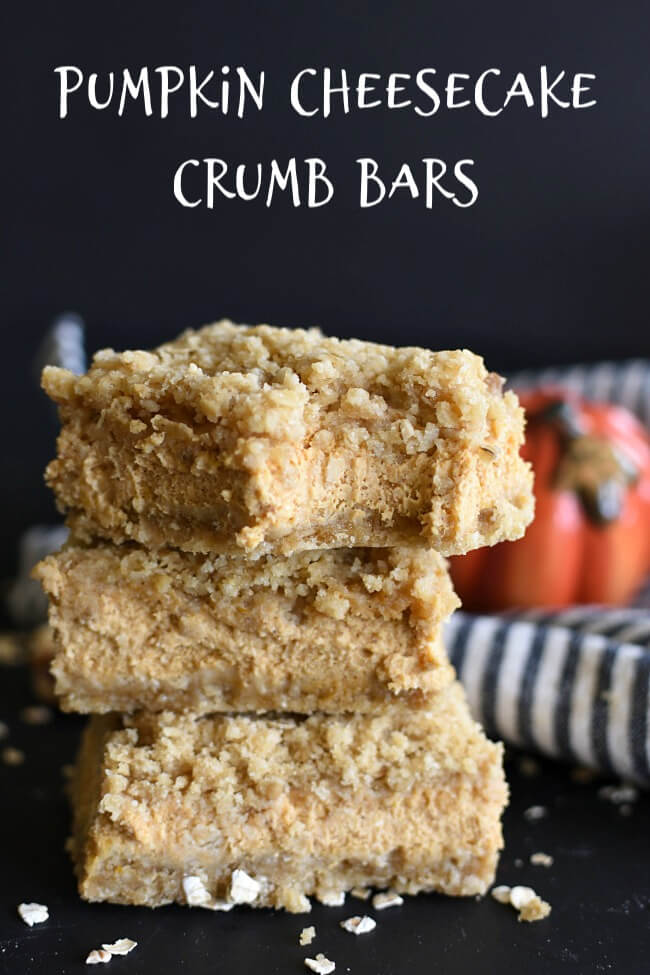 Hey friends! Please tell me you have room in your hearts for one more, yes just one more, pumpkin dessert this fall! I know Thanksgiving is only four days away and the minute it's over you'll be ready to move on to all things Christmas. I can't say I blame you! Bring on 20 Minute Christmas Crack, Mint Chip Sugar Cookies, and Pimento Cheese Spread! But you guys, we have four more days to devour pumpkin!
By the way, when does pumpkin season end for you? Or does it end? After Thanksgiving I'm ready to ditch pumpkin and move on to other things. Well, except Chocolate Chip Pumpkin Zucchini Muffins! Those babies are for enjoying all year long!
Cheesecake is life! Who's with me?
Now I'm sitting here thinking about life! Cheesecake has a way of doing that to me! I guess that means I'm going to dump what's been happening in my life on you!
This year my youngest is in fifth grade. He's a bit of a wild child. Honestly, I bet when the school sees him coming the think, "Oh no, he's here today!" Don't misunderstand me, he's a very tender kid. He's just there for a good time. That's all.
Anyway, I think the principals office has my phone number on speed dial. He's been in there for going off campus to buy soda pop, for pushing a kid who was bullying another boy, breaking up a fight, and leaving after the Veterans Day program without his teacher knowing, and going to the high school to catch a ride home with his brothers. Sounds pretty innocent right?
Side note: Using a food processor is the easiest way to make a crumb crust! And no doubt, real butter makes all the difference! No margarine here!
Apparently the principal told the kids to have their parents sign them out before they left the Veterans Day program. Well, since Payson didn't have any parents attending the program he thought he was exempt from having his parents sign him out. You know, that was kind of impossible. In his eleven year old mind, he though he should open the door for the Veterans to show a little respect, and then go home! Yep, he didn't know he was doing anything wrong.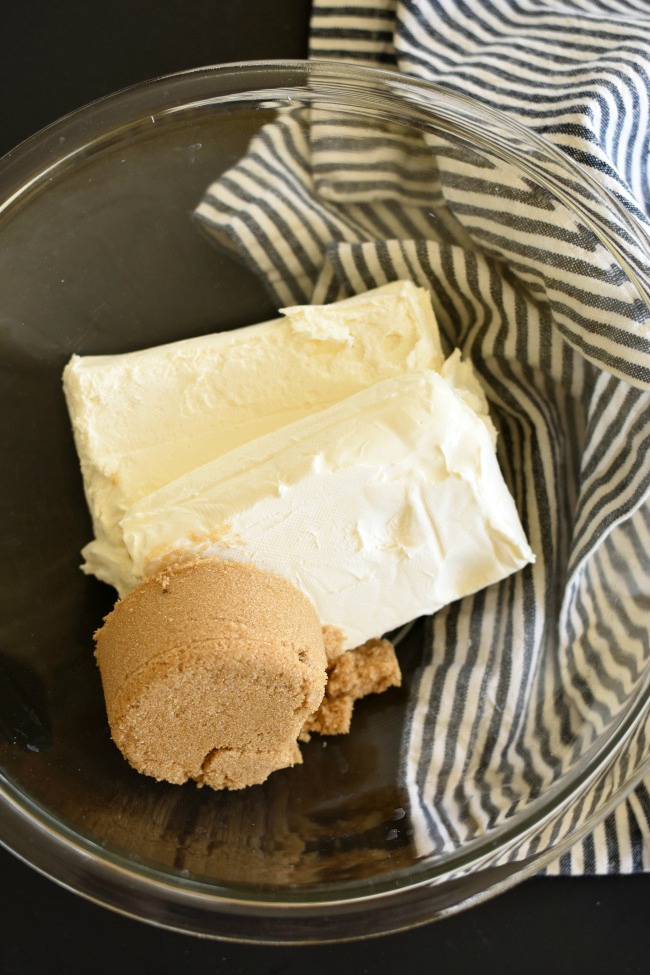 The other day at breakfast Payson told us the biggest problem with going to the principals office is sitting on the darn chairs waiting to go in. I thought he was referring to waiting for his punishment. Nope! He said the chairs out there are hard as a rock and not comfortable, but the ones in the principals office are soft and cushy!
Okay, back to the recipe for a minute. Using real, full fat cream cheese produces thicker, creamier results. The lower fat stuff has more water content and changes the consistency in baked goods. So for this recipe, stick with the regular old cream cheese.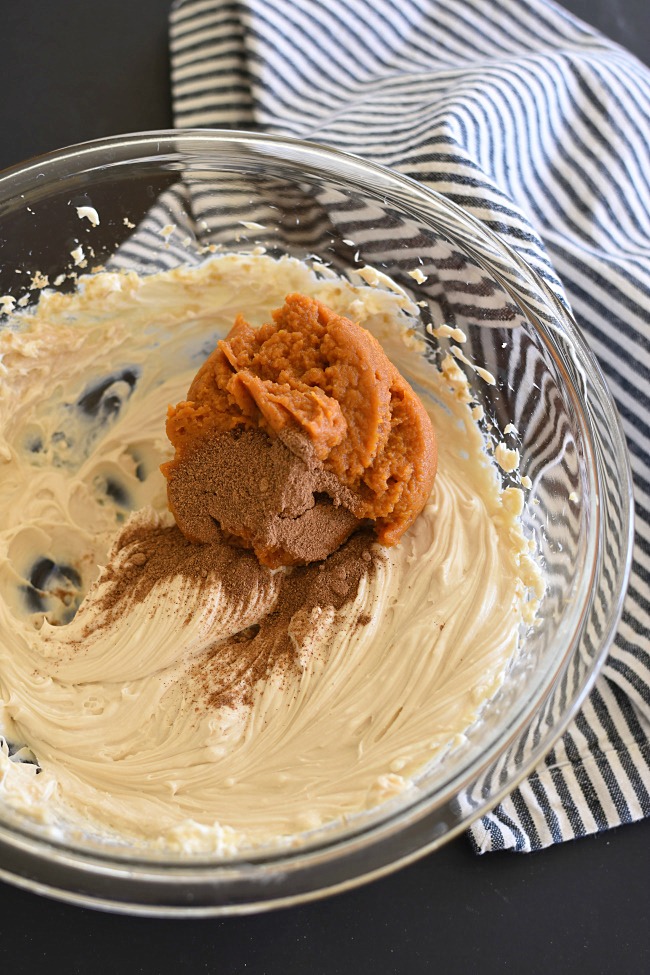 My goodness! I'm in love with the warm and cozy pumpkin pie spices!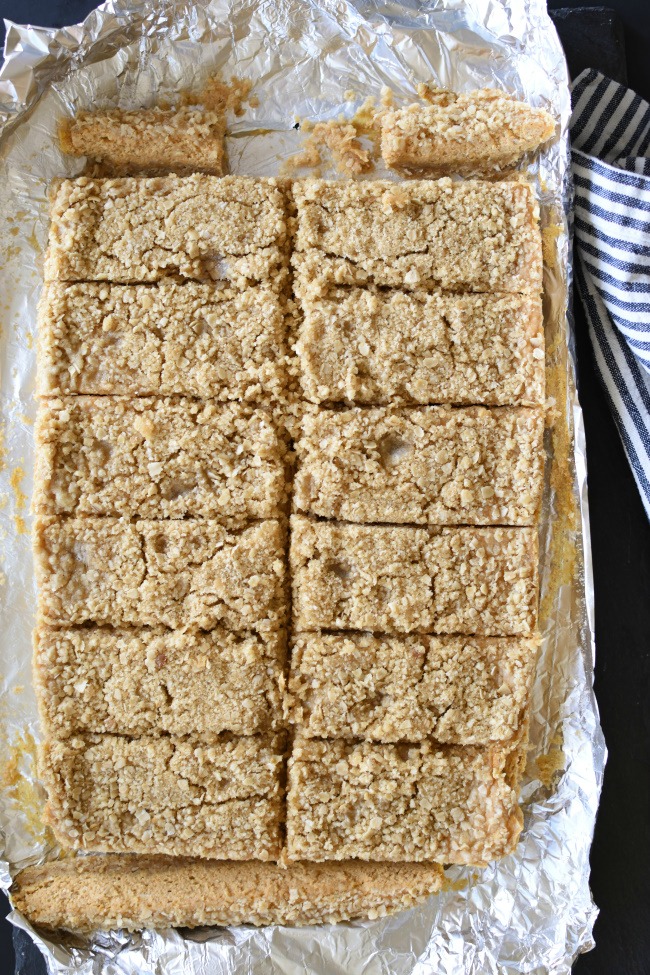 Make sure you allow plenty of time for the cheesecake bars to cool completely. They're much easier to cut after they've had a chance to cool.
Isn't that oatmeal crumb crust begging to be eaten! It's a little crunchy which adds a perfect texture contrast to that creamy pumpkin cheesecake filling!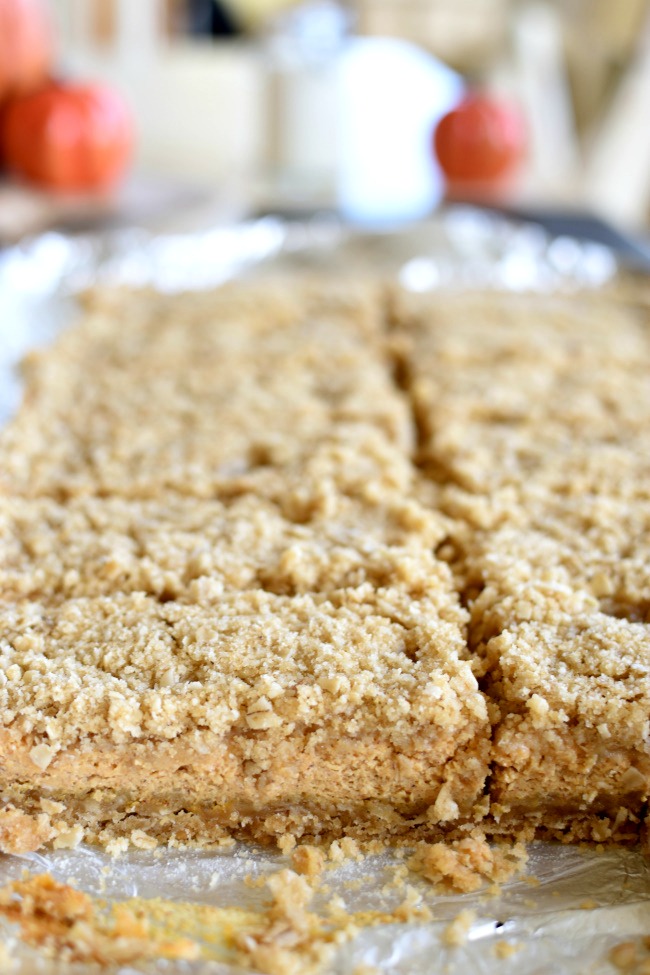 My mom is always trying to find a new alternative to pumpkin pie. I guess she's bored with eating the same old thing all the time. I must say, I still love traditional pumpkin pie and Thanksgiving wouldn't be Thanksgiving without it.
A few years ago I decided to start having a dessert buffet and including TONS of desserts! You guys, life is about dessert sometimes! Thanksgiving is one of those times! Well, it's about Make Ahead Three Cheese Mashed Potatoes, and dessert!
Pumpkin Cheesecake Crumb Bars make a fantastic, and easier than pumpkin pie, addition to any Thanksgiving spread!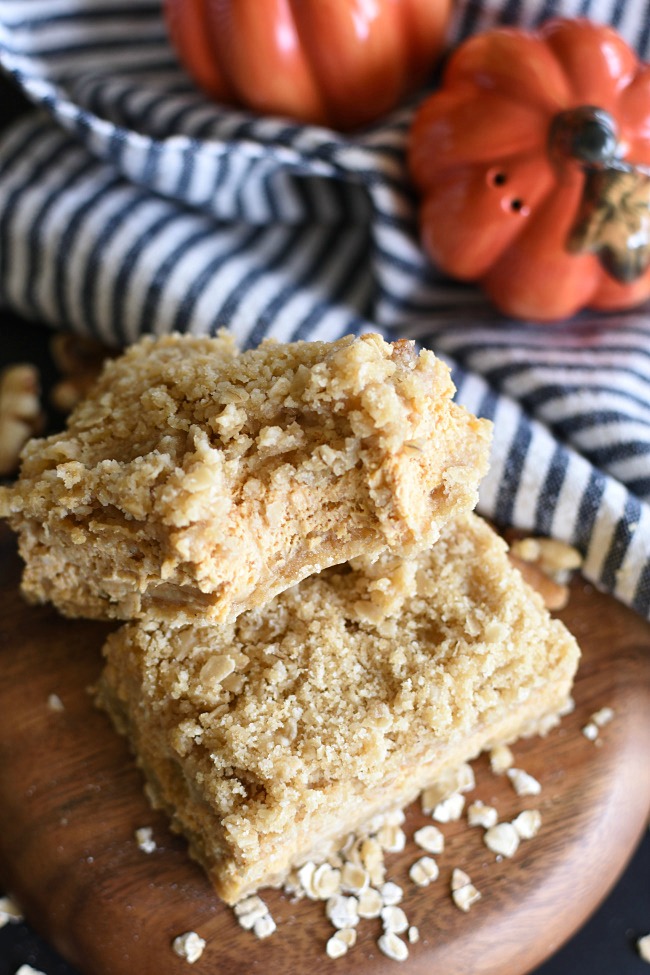 Do me a favor, do yourself a favor, and add these to your Thanksgiving menu! Trust me, you won't regret it one bit!
Oh, and FYI the principals office is the only room in the school that's warm in the winter and has air conditioning in the summer! Now that makes those soft chairs even more enticing!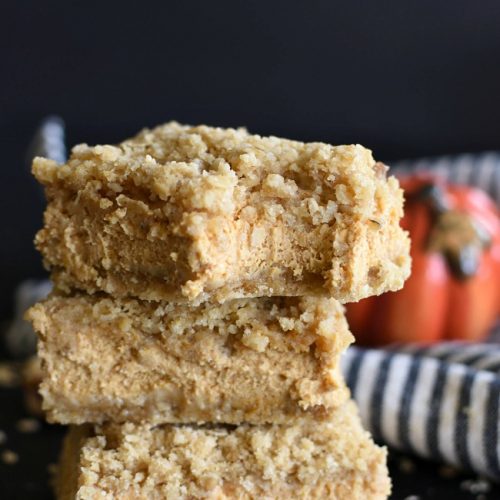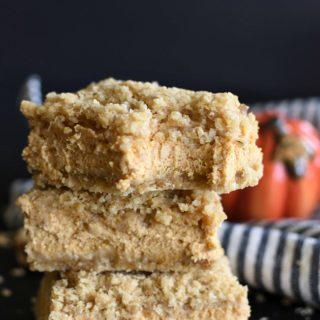 Pumpkin Cheesecake Crumb Bars
If you're lookin got a new, and easy, alternative to traditional pumpkin desserts look no further than Pumpkin Cheesecake Crumb Bars! They have a pumpkin spiced cheesecake layer sandwiched between melt in your mouth, buttery oatmeal crust! It's dreamy!
Ingredients
Crumb Crust
2

c.

flour

1 1/2

c.

brown sugar

1

c.

butter

cold

1 1/2

c.

oats
Pumpkin Cheesecake Filling
2

8 oz. pkgs

cream cheese

room temperature

1/2

c.

sugar

3

eggs

1/2

c.

pumpkin puree

2

tsp.

pumpkin pie spice

1

tsp.

vanilla
Instructions
Preheat oven to 350 degrees. Grease a 9 x 13 inch pan or line with greased aluminum foil.
Crumb Crust
Mix flour and brown sugar in a food processor. Slice butter in then add to food processor and pulse until crumbly. Add oats and pulse again.


Reserve 1½ cups crumbs for top. Press remaining crumbs in the bottom of prepared pan and pack lightly. Bake for 10 minutes.

Pumpkin Cheesecake Filling
Meanwhile, beat cream cheese and sugar until smooth. Add eggs and blend. Add pumpkin puree, pumpkin pie spice, and vanilla. Blend until smooth.


Pour cream cheese mixture over baked crust. Sprinkle reserved crumbs on top of cream cheese layer. Press gently.


Bake 15-20 minutes or until browned on top.


Cool. Cut into bars. Store in refrigerator.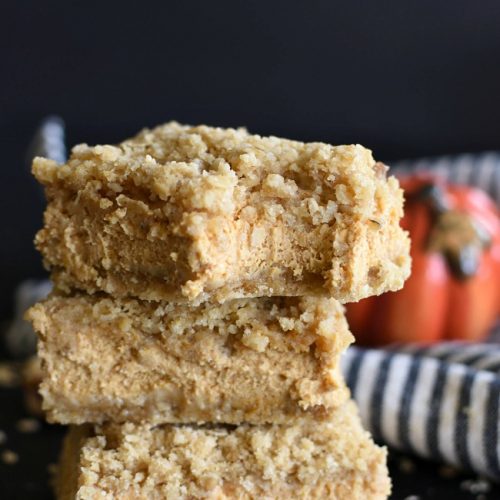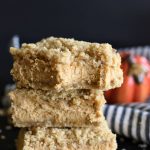 tried this recipe?
Make sure to share it with me! Leave a review or tag me on Instagram