Lemon Cheesecake Bars are packed with soooo much goodness; two buttery oatmeal crumb layers with a happy lemon cheesecake layer sandwiched right between them! These cookies are easy to make and always a crowd-pleaser!
Thanks to my friends at Dairy West for sponsoring today's post! #DairyWest #UndeniablyDairy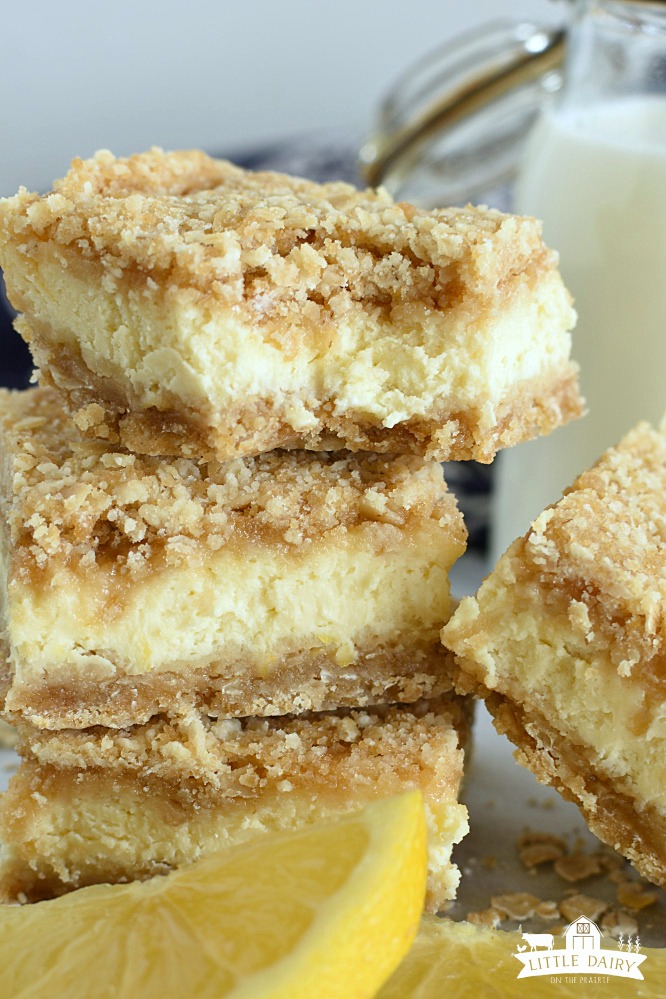 Isn't there something magical about lemon that makes you want to root around in the back of your closet and drag the long lost flip flops to the front! Lemon is like a promise of warm weather and happy days to come!
These Lemon Cheesecake Crumb Bars will definitely make you feel like summer is right around the corner and after a long winter who doesn't want that!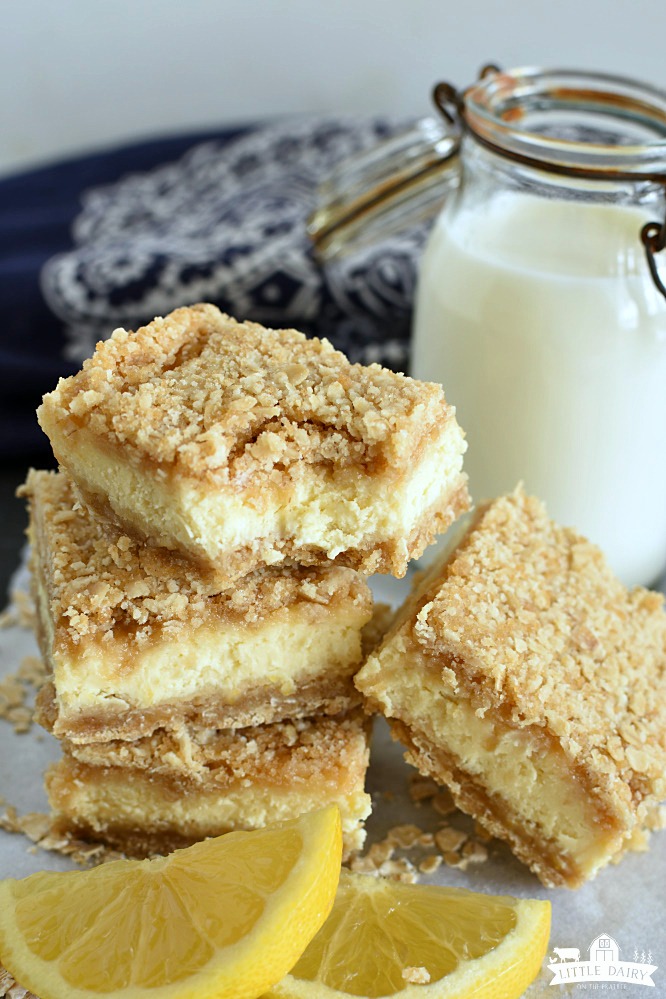 Lemon Cheesecake Bars are easy to make!
I've been a lover of cream cheese for as long as I can remember and these zest Lemon Cheesecake Crumb Bars are right up on my list of super easy and extra yummy desserts!
Oh, and that oatmeal crust reminds me of that crispy, comforting topping on apple crisp! The crispy crust pairs perfectly with the creamy lemon middle!
They are perfect for Easter, for weeknights, to share at picnics, or just for because! I made them to help me get past hump day this week!
What I'm saying is you really don't need a good excuse to make Lemon Cheesecake Crumb Bars…just make them ASAP!
Does milk have antibiotics in it?
Now I have to share a little something that has been on my mind lately. Cuz we are friends and that's what friends do!
The other day I was talking to a neighbor, obviously she's a country bumpkin too, about milk. She started telling me that she wishes she could drink milk except that she's afraid of consuming antibiotics found in the milk. So she's completely eliminated it from her diet.
Oh no! She's been misinformed and so she's missing out! And I couldn't pass up an opportunity to fill her in on how the whole antibiotic thing shakes down here on the farm! So today I'm going to pass it on to you…straight from the horses mouth! I happen to know how the process goes and I want you to know it too because you'll be surprised at how much effort goes into making a high quality consumable product!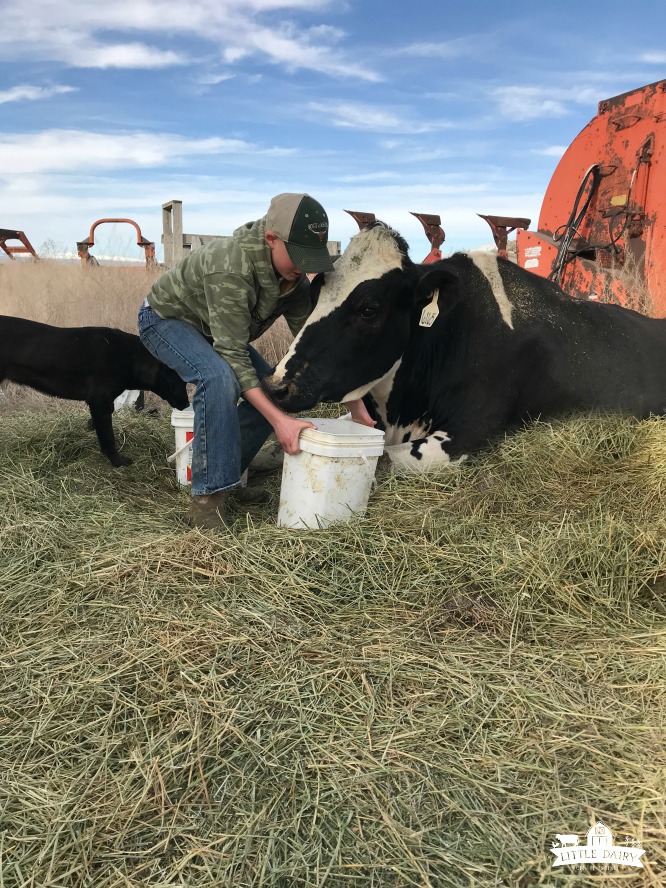 Do farmers give their cows antibiotics?
A little while ago one of our older cows on our farm injured herself. That's never a good thing.
First of all you should know we feel bad for her and try to do everything we can to help her get better. This cow was moved to a soft, wind protected spot where she could rest. My youngest was given the task of bringing fresh water and feed to her several times a day.
The veterinarian assesses her and suggests medicines, which might include antibiotics, aspirin, ibuprofen, or vitamins and minerals. Sometimes we are able to use natural approaches in getting a cow better. Sometimes she needs prescribed antibiotics.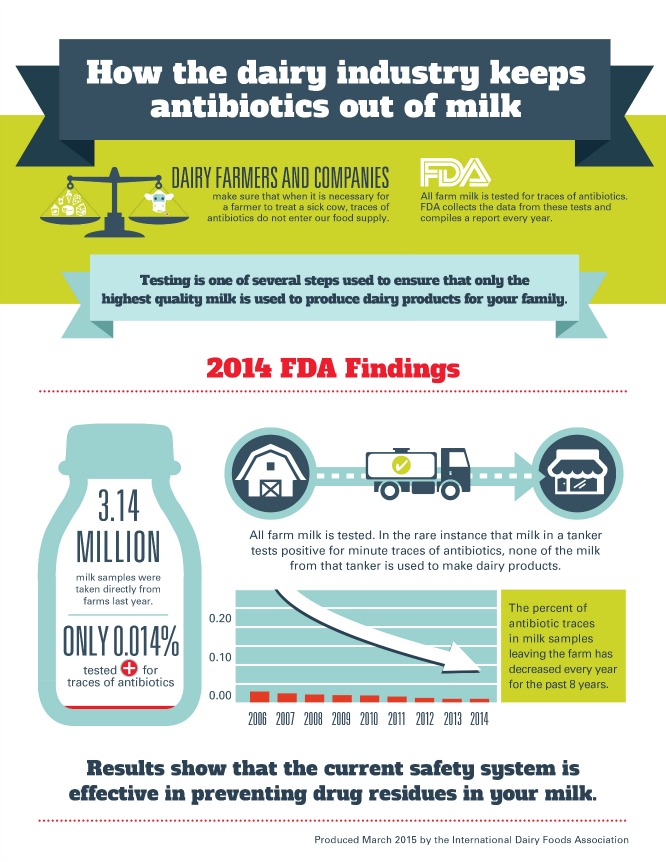 How do farmers ensure milk is antibiotic free?
If a cow is given antibiotics her milk is withheld from the shipping tank at least for the amount of time specified on the label, sometimes longer.
After that her milk is tested here at the farm with an antibiotic tester to ensure that there isn't ANY antibiotic residue remaining in her milk. If her milk is clear from all antibiotics it qualifies to be added to the shipping tank and sold for consumption.
BUT, that's not all. Once the milk arrives at the processing plant it is tested again by the plant before it's even unloaded from the truck.
Should the milk test positive for antibiotic residue it must be disposed of and not used for human consumption. If that happens the farmer is not compensated for the value of milk that is dumped.
Justin told me that last year of all the milk that was produced in America less than .01% of the milk had to be disposed of due to antibiotic residue found in the milk at the time it arrived at the processing plant. That means farmers are getting really good at making sure they aren't shipping any milk containing antibiotics. That's a small margin of error considering how much milk is produced in the US!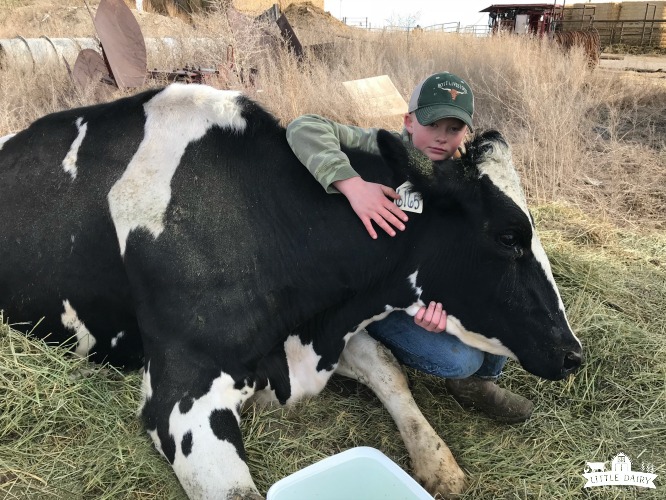 Interesting points about dairy farmers.
So there are a few other often misunderstood things I think consumers should know about dairy farmers.
We implement as many precautionary procedures to help our cows stay healthy and avoid injury as possible. (We feed them vitamins and minerals every day. Each pen is frequently given fresh, clean straw to sleep on.)

Dairy farmers would not farm if they didn't love it! The hours are long and often times the pay barely exists, if at all. (We have lived through years of extremely low milk prices and it cost us thousands, and thousands of dollars to be dairy farmers. Yes, that means the milk check isn't always enough to pay the bills let alone ourselves)

We care about our cows for more reasons than just money (See #2) but it is expensive when a cow is injured/sick.

We can't sell her milk which is a loss in revenue for us.

Each cow is worth about $1400 and if she happens to die that's a huge loss for us.

Sick cows take extra TLC which means longer days, sleepless nights, and a little added stress!

Dairy farmer's commitment to consumers.
Rest assured that dairy farmers feel the weight of producing food for the world very seriously. It's no light task and we know it!
The bottom line is that the USDA has very strict regulations on food production. It meets specifications or it's not sold for consumption. Milk you purchase from the grocery store does not have antibiotics in it! Period. That's the bottom line!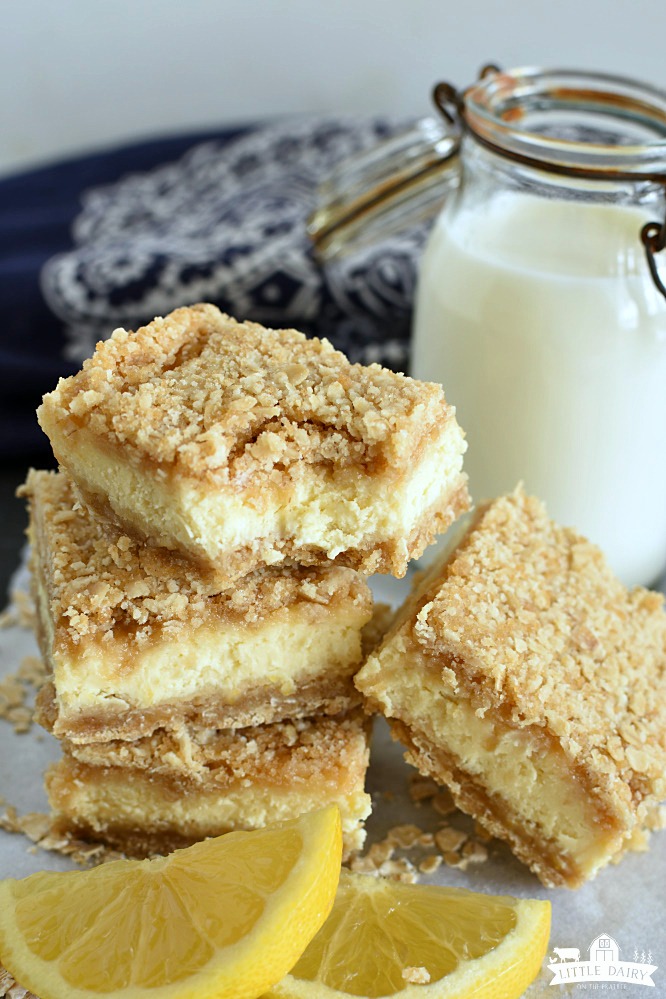 What would you see on a farm tour?
If I could only take each of you on a tour of our farm and you could see how passionate we are about our animals and just how much blood sweat and tears goes into taking care of them. I want you to come sit at my kitchen table and hear our conversations about how to improve our facilities to make our cows more comfortable. You would see us miss many important functions and activities because our cows need us more. Then you'd understand that on profitable years we invest the extra on making life better for our cows and employees.
I wish you could come visit! You'd feel our passion! I wish you could hear my little boy talk to that sick cow like she is his first born child, and see his tears when one of them doesn't make it.
We'll be here taking care of our family and our cows so you can enjoy healthy dairy products!
So grab a glass of ice-cold milk, a Lemon Cheesecake Crumb Bar and enjoy the rest of your afternoon!
Here's the Lemon Cheesecake Bars Recipe!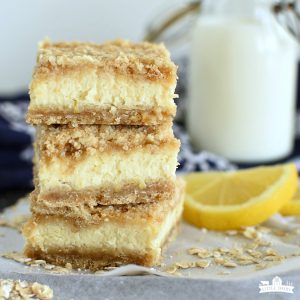 Lemon Cheesecake Crumb Bars
Lemon Cheesecake Crumb Bars are packed with that irresistible cheery lemon flavor sandwich between layers of buttery cookie crumb crust! They are perfect for picnics or sharing with neighbors!
Ingredients
2

c.

flour

1 1/2

c.

brown sugar

1

c.

butter

cold

1 1/2

c.

oats

2 8

oz.

pkgs. cream cheese

room temperature

1/2

c.

sugar

3

eggs

1/4

c.

milk

1

tsp.

vanilla

1/4

c.

lemon juice

1

tsp.

lemon zest
Instructions
Preaheat oven to 350 degrees. Grease a 9 x 13 inch pan or line with greased aluminum foil.

Mix flour and brown sugar in a food processor. Slice butter in then add to food processor and pulse until crumbly. Add oats and pulse again.

Reserve 1 1/2 cups crumbs for top. Press remaining crumbs in the bottom of prepared pan and pack lightly. Bake for 10 minutes.

Beat cream cheese and sugar until smooth. Add eggs and blend. Add milk, vanilla, lemon juice, and lemon zest and blend until smooth.

Pour cream cheese mixture over baked crust. Sprinkle reserved crumbs on top of cream cheese layer. Press gently.

Bake 15-20 minutes or until browned on top. Cool. Cut into bars. Store in refrigerator.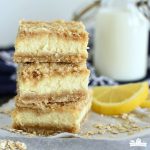 tried this recipe?
Make sure to share it with me! Leave a review or tag me on Instagram